As I continue to build out the photographic knowledge base on the site with articles like Understanding Neutral Density Filter Names and Numbers, and Understanding Aperture, I thought I'd write a quick post about how to calculate field of view for a photographic lens.  Lenses are usually described by their focal length, expressed in mm, but how does this translate to field of view?
If you read lens specifications (yes, I'm that kind of guy) on manufacturer's websites, they'll often quote the field of view (F.O.V) of a lens as well as the focal length.  When they do this in photographic terms, they're talking about horizontal field of view in degrees, and whilst any lens will also have both a vertical and a diagonal field of view, they are rarely talked about in relation to photographic lenses.
The larger the field of view, the wider the lens is and the more of a scene you are going to see with your camera.  Telephoto and super telephoto lenses have very small fields of view, just a few degrees, so they aren't able to see very much of the scene in front of them, although the compensating virtue is that what they do see, is much larger in the frame.  A wide angle lens for landscape photography has a very small focal length, and therefore a large field of view that lets you record broad landscapes in a single shot.
Equation For Calculating Field of View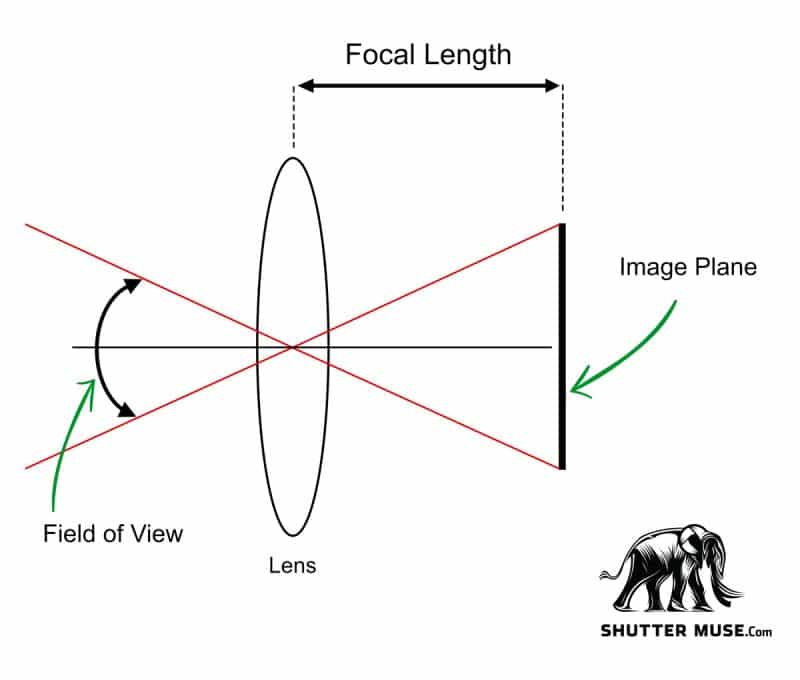 Simple geometry will give us the equation:
field of view (in degrees) = 2 ArcTan( sensor width / (2 X focal length)) * (180/π)
Note: If your calculator is working in radians, you need the (180/π) part at the end.  if your calculator is working in degrees, you do not need that bit! If you aren't sure… it will become pretty obvious when you run the equation as results will be wildly wrong.
Common Focal Lengths and Their Corresponding FOVs
Since the equation for field of view contains the sensor width, which determines the crop factor of a lens, this is another way to see the effect that the crop factor of a camera has on an image. The smaller the sensor, the larger the crop factor, and the smaller the field of view for a given focal length. Below I have included data for full frame field of view, as well as the three most common digital crop factors. If you want to learn more about crop factor, you can read my tutorial: How To Calculate a Camera's Crop Factor.
If you want to use the field of view equation on this page to calculate the field of view for a sensor size other than the four that have been provided, you'll need to refer to this post to get the sensor width to plug into the equation: Common Digital Sensor Sizes and Crop Factors.
Full frame 35mm (36mm sensor width)
| | |
| --- | --- |
| Focal Length | Field of VIew |
| 15mm (Fisheye) | 180.0 |
| 11mm | 117.1 |
| 14mm | 104.3 |
| 16mm | 96.7 |
| 24mm | 73.7 |
| 35mm | 54.4 |
| 50mm | 39.6 |
| 85mm | 23.9 |
| 100mm | 20.4 |
| 150mm | 13.7 |
| 200mm | 10.3 |
| 300mm | 6.9 |
| 400mm | 5.2 |
| 500mm | 4.1 |
| 600mm | 3.4 |
| 800mm | 2.6 |
| 1000mm | 2.1 |
| 1200mm | 1.7 |
Nikon DX APS-C (1.5x) (23.6mm sensor width)
| | | |
| --- | --- | --- |
| Focal length (35mm) | Equivalent focal length | Field of View |
| 11mm | 16.5 | 94.0 |
| 14mm | 21 | 80.3 |
| 16mm | 24 | 72.8 |
| 24mm | 36 | 52.4 |
| 35mm | 52.5 | 37.3 |
| 50mm | 75 | 26.6 |
| 85mm | 127.5 | 15.8 |
| 100mm | 150 | 13.5 |
| 150mm | 225 | 9.0 |
| 200mm | 300 | 6.8 |
| 300mm | 450 | 4.5 |
| 400mm | 600 | 3.4 |
| 500mm | 750 | 2.7 |
| 600mm | 900 | 2.3 |
| 800mm | 1200 | 1.7 |
| 1000mm | 1500 | 1.4 |
| 1200mm | 1800 | 1.1 |
Canon APS-C (1.6x) (22.3mm sensor width)
| | | |
| --- | --- | --- |
| Focal length (35mm) | Equivalent focal length | Field of View |
| 11mm | 17.6 | 90.8 |
| 14mm | 22.4 | 77.1 |
| 16mm | 25.6 | 69.7 |
| 24mm | 38.4 | 49.8 |
| 35mm | 56 | 35.3 |
| 50mm | 80 | 25.1 |
| 85mm | 136 | 14.9 |
| 100mm | 160 | 12.7 |
| 150mm | 240 | 8.5 |
| 200mm | 320 | 6.4 |
| 300mm | 480 | 4.3 |
| 400mm | 640 | 3.2 |
| 500mm | 800 | 2.6 |
| 600mm | 960 | 2.1 |
| 800mm | 1280 | 1.6 |
| 1000mm | 1600 | 1.3 |
| 1200mm | 1920 | 1.1 |
Micro Four Thirds (2x) (22.3mm sensor width)
| | | |
| --- | --- | --- |
| Focal length (35mm) | Equivalent focal length | Field of View |
| 11mm | 22 | 78.6 |
| 14mm | 28 | 65.5 |
| 16mm | 32 | 58.7 |
| 24mm | 48 | 41.1 |
| 35mm | 70 | 28.8 |
| 50mm | 100 | 20.4 |
| 85mm | 170 | 12.1 |
| 100mm | 200 | 10.3 |
| 150mm | 300 | 6.9 |
| 200mm | 400 | 5.2 |
| 300mm | 600 | 3.4 |
| 400mm | 800 | 2.6 |
| 500mm | 1000 | 2.1 |
| 600mm | 1200 | 1.7 |
| 800mm | 1600 | 1.3 |
| 1000mm | 2000 | 1.0 |
| 1200mm | 2400 | 0.9 |
---