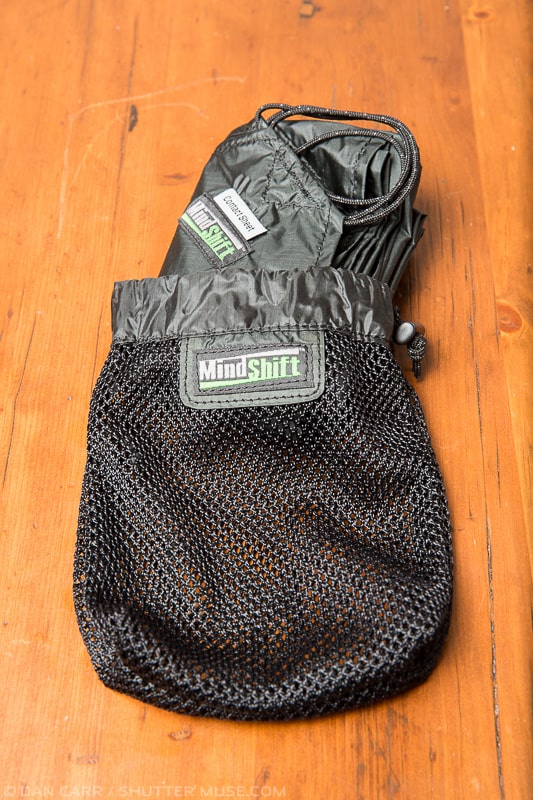 Think of the Mindshift Contact Sheet as the photographer's picnic blanket.  Instead of a food basket though, you'll be placing your camera bag on it and laying out a spread of filters and lenses!  We've all been there….. the light you've been waiting for is slowly coming to fruition but there's mere minutes left until the sun sets.  Light levels are changing rapidly and you're frantically changing filters and lenses, trying to make the most of the last golden minutes.  All previous care for your gear goes right out of the window as you toss lenses onto your jacket that's laying in the mud beside your bag.  Come on now…. I know you're nodding your head along with me!
Wouldn't it be great it you had a tiny, lightweight waterproof sheet that you could lay out next to your tripod to keep all your gear dry and clean? THAT is what the Mindshift Contact Sheet is all about.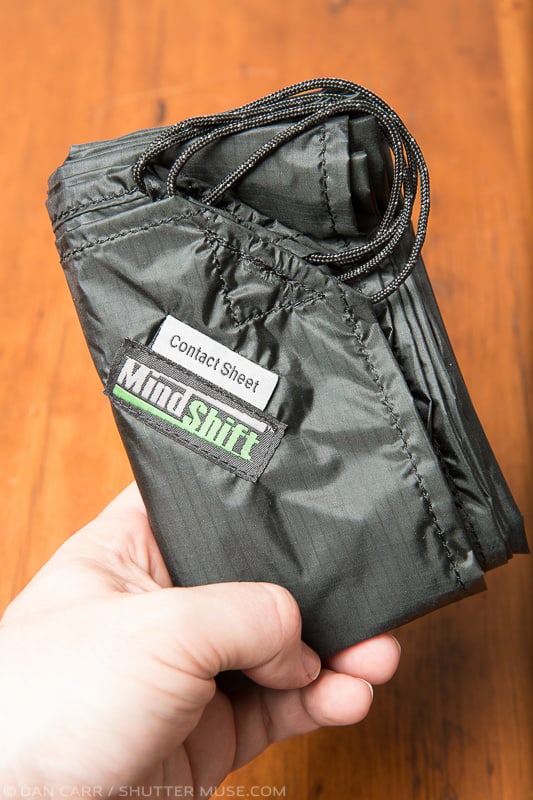 You see the guys at Mindshift Gear (Think Tank's sister company) are all outdoor photographers like you, and they've set out to solve every single problem faced by nature, adventure, travel, landscape and wildlife photographers.  No matter how small the problem is, they're finding a solution for it because when you're outdoors a seemingly small problem can become a big annoyance.  The Contact Sheet is a 5′ X 3.5′ (152cm X 107cm) and made from 30D RIPSTOP Polyurethane.  Each corner of the sheet features an elasticated loop which makes it ideal for tying to a tree for extra shelter, or pegging to the ground for security in high winds.  The 5'x3.5′ sizing means it will easily accommodate you and your photography backpack as you sit there waiting for the light conditions to be just right.  It's fully waterproof so it doesn't matter where you set it down!
The Contact Sheet also comes with a small mesh stuff sack which is great because you can pack the sheet away when its wet and the mesh bag allows it to start drying out right away.  I've had this little thing for about 4 or 5 months now and it's traveled through Cambodia in the rainy season with me.  I used it on numerous occasions to cover my pack in the daily monsoons and even tie it to trees for shelter in the jungle up North near the Thai border when we were searching for some of the more remote, hidden temples.  It only weights 5 ounces (142 grams) so it's really no trouble to bring along,  even on a long hike or a prolonged expedition where overall weight is a concern.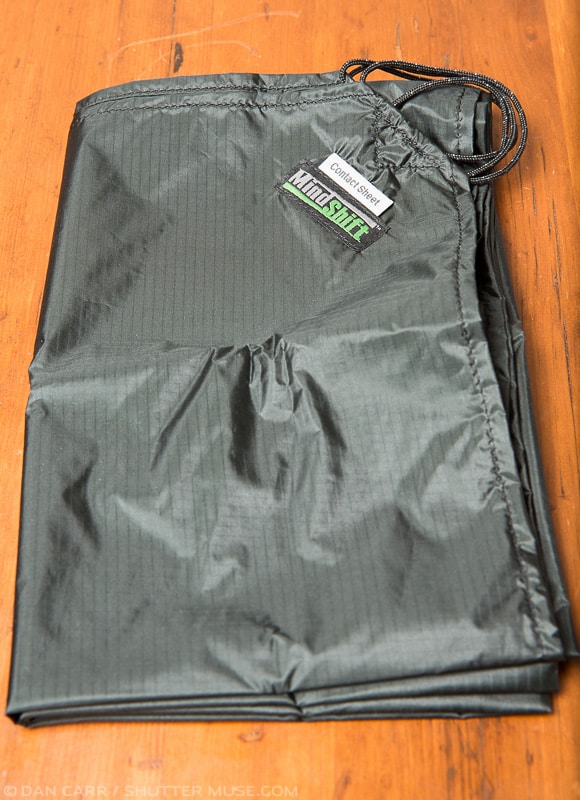 Conclusion
This is a little product that I'm moving to my 'must have' list.  It's something you might not think about but trust me when I say that you'll be glad you have it one day.  It's small enough and light enough that that you can easily stash it in your bag somewhere without even knowing it and it can serve double duties as an emergency poncho, shelter or camera cover.  For only $39.99 it's a perfect gift for a photo enthusiast who's got it all, or just add it to your next Mindshift backpack order.  It pairs perfectly with the Rotation 180 and the Panorama photography backpack.  Not much more you can say really!  Sometimes it's the simple things that are the best!
Further Reading – Other MindShift Gear Reviews
---
Support the site - It's easy!
Did you find this post useful and interesting?
- I've invested thousands of hours into creating the content you find for free on this blog. The best way to say thanks is check out our
online store
, or use the product links in the post when you make your purchases. We may make a small commission when you do this, and that helps to keep the site running. Click
here
to find more links that support the site, or use these primary ones:
B&H Photo|Amazon|Adorama|Think Tank (free gift on $50+ spend)
|
Coffee. - Thanks for your support and readership!
.