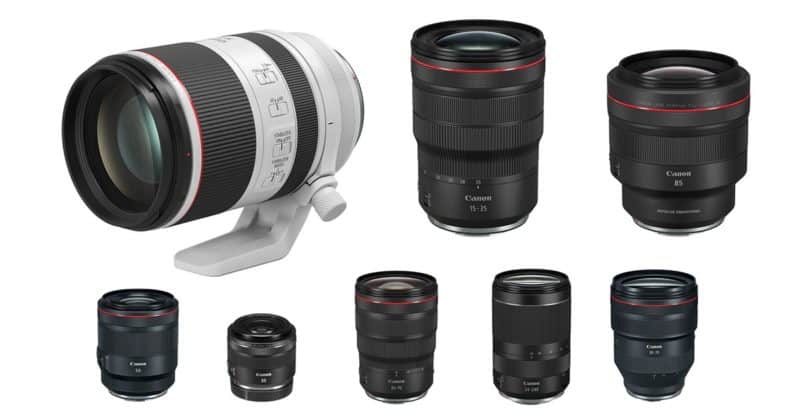 The RF lens mount was developed by Canon and launched in 2018 to replace the EF mount. The shorter flange distance of the RF mount means that RF lenses are only able to be used on Canon's mirrorless EOS R cameras, they are not backwards compatible with DSLR lenses that use the older EF mount. While Canon initially continued to develop several more EF mount DSLRs after the launch of the RF mount, they stated publicly at the beginning of 2020 that there would be no more EF lenses. It's RF all the way from here on out and there are some amazing looking lenses such as the new RF 100-500mm.
The RF lens list continues to grow at a reasonable pace, but it'll still be some time before it matches the breadth of the old EF lanes catalogue. Thankfully, EF lenses can be used on all Canon EOS R mirrorless cameras using one of their EF to EOS R adapters. I have reviewed all the adapters on this site in the past, but by far my favourite is the Control Ring adapter. You can find the review of that one here, if you are thinking of adapting EF lenses to use with your EOS R camera: Canon Control Ring Adapter EF-EOS R Review.
If you are unfamiliar with the nomenclature that Canon uses to describe their lenses, I recommend you read our previous post entitled Canon Lens Terminology and Abbreviations.
Canon RF Lens List
Table Notes
The data in the tables can be re-sorted using the arrows in the header. For example, you could sort by lens weight, focal length or release date.
Displaying large data tables on mobile devices is tricky. If you are viewing this on a phone, you can touch and scroll horizontally through the additional columns in the table. You'll also have a better experience if you turn your phone horizontally.
| Lens Name | Release Date (MDY) | Focal length | Aperture Range | Angle of View (diag) | Length | Diameter | Weight | MFD | MM | Optical Design | Filter | Aperture Blades | IS | Check Price |
| --- | --- | --- | --- | --- | --- | --- | --- | --- | --- | --- | --- | --- | --- | --- |
| RF 15-35 f/2.8 L IS USM | 08/28/19 | 15-35mm | 2.8-22 | 110° 30' to 63° | 4.99" / 126.8mm | 3.48" / 88.5mm | 1.85 lb / 840 g | 11.02" / 28 cm | 0.21x | 16 Elements in 12 Groups | 82mm | 9 | Yes | Amazon / B&H |
| RF 24-70 f/2.8 L IS USM | 08/28/19 | 24-70mm | 2.8-22 | 84° to 34° | 4.95" / 125.7mm | 3.48" / 88.5mm | 1.98 lb / 900 g | 8.27" / 21 cm | 0.3x | 21 Elements in 15 Groups | 82mm | 9 | Yes | Amazon / B&H |
| RF 24-105 f/4 L IS USM | 09/05/18 | 24-105mm | 4-22 | 84° to 23° 20' | 4.22" / 07.3mm | 3.29" / 83.5mm | 1.5 lb / 700 g | 1.48' / 45 cm | 0.24x | 18 Elements in 14 Groups | 77mm | 9 | Yes | Amazon / B&H |
| RF 24-105mm f/4-7.1 IS STM | 02/12/20 | 24-105mm | 4(7.1)-40 | 84° to 23° 20' | 3.5" / 88.8mm | 3.02" / 76.6mm | 13.93 oz / 395 g | 5.16" / 13.1 cm | 0.5x | 13 Elements in 11 Groups | 67mm | 7 | No | B&H / Amazon |
| RF 24-240mm f/4-6.3 IS USM | 08/28/19 | 24-240mm | (4-6.3)-22 | 84° to 10.3° | 4.8" / 121.92mm | 3.2" / 81.28mm | 1.65 lb / 751.26 g | 1.64' / 50 cm | 0.26x | 21 Elements in 15 Groups | 72mm | 7 | Yes | Amazon / B&H |
| RF 28-70 f/2 L USM | 09/05/18 | 28-70mm | 2-22 | 75° to 34° | 5.5" / 139.8mm | 4.09" / 103.8mm | 3.1 lb / 1430 g | 1.28' / 39 cm | 0.18x | 19 Elements in 13 Groups | 95mm | 9 | No | Amazon / B&H |
| RF 35mm f/1.8 IS Macro STM | 09/05/18 | 35mm | 1.8-22 | 63° | 2.47" / 62.8mm | 2.93" / 74.4mm | 10.8 oz / 305 g | 6.69" / 17 cm | 0.5x | 11 Elements in 9 Groups | 52mm | 9 | Yes | Amazon / B&H |
| RF 50mm f/1.8 STM | 4/10/20 | 50mm | 1.8-22 | 46° | 1.6" / 40mm | 2.7" / 69mm | 5.6 oz / 160 g | 11.8" / 30 cm | 0.25x | 6 Elements in 5 Groups | 43mm | 7 | No | Amazon / B&H |
| RF 50mm f/1.2 L USM | 09/05/18 | 50mm | 1.2-16 | 46° | 4.25" / 108mm | 3.54" / 89.8mm | 2.1 lb / 950 g | 1.31' / 40 cm | 0.19x | 15 Elements in 9 Groups | 77mm | 8 | No | Amazon / B&H |
| RF 70-200mm f/4 L IS | 4/10/20 | 70-200mm | 4-32 | 34° to 12° | 4.7" / 120mm | 3.3" / 83mm | 1.5 lb / 695 g | 24" / 60 cm | 0.28x | 16 Elements in 11 Groups | 77mm | 9 | Yes | B&H / Amazon |
| RF 70-200mm f/2.8L IS USM | 10/24/19 | 70-200mm | 2.8-32 | 34° to 12° | 5.75" / 146mm | 3.54" / 89.9mm | 2.35 lb / 1070 g | 2.3' / 70 cm | 0.23x | 17 Elements in 13 Groups | 77mm | 9 | Yes | Amazon / B&H |
| RF 85mm f/1.2 L USM | 05/08/19 | 85mm | 1.2-16 | 28° 30' | 4.62" / 117.3mm | 4.06" / 103.2mm | 2.63 lb / 1195 g | 2.79' / 85 cm | 0.12x | 13 Elements in 9 Groups | 82mm | 9 | No | Amazon / B&H |
| RF 85mm f/2 Macro IS STM | 07/09/20 | 85mm | 2-22 | 28° 30' | 3.56" / 90.5 mm | 3.07" / 78mm | 17.64 oz / 500 g | 1.15' / 35.05 cm | 0.5x | 12 Elements in 11 Groups | 67mm | 9 | Yes | B&H / Amazon |
| RF 85mm f/1.2L USM DS | 10/24/19 | 85mm | 1.2-16 | 28° 30' | 4.62" / 117.3mm | 4.06" / 103.2mm | 2.63 lb / 1195 g | 2.79' / 85 cm | 0.12x | 13 Elements in 9 Groups | 82mm | 9 | No | Amazon / B&H |
| RF 100mm f/2.8 L IS Macro | 04/14/21 | 100mm | 2.8-32 | 24° | 5.8" / 148mm | 3.2" / 81.5mm | 1.6 lb / 730 g | 10.2" / 26 cm | 1.4x | 17 Elements in 13 Groups | 67mm | 9 | Yes | Amazon / B&H |
| RF 100-500mm f/4.5-7.1 L IS | 07/09/20 | 100-500mm | 4.5-7.1 | 24° to 5° | 8.17" / 207.6 mm | 3.69" / 93.8mm | 3 lb / 1365 g | 2.95' / 90 cm | 0.12 to 0.33x | 20 Elements in 14 Groups | 77mm | 9 | Yes | B&H / Amazon |
| RF 400mm f/2.8 L IS | 04/14/21 | 400mm | 2.8-32 | 6° | 14.4" / 367mm | 6.4" / 163mm | 6.4 lb / 2.9 kg | 8.2' / 2.5 m | 0.17x | 17 Elements in 13 Groups | 55 mm (Drop-In) | 9 | Yes | B&H |
| RF 600mm f/11 IS STM | 07/09/20 | 600mm | f/11 only | 4° 10' | 10.61" / 269.5 mm | 3.66" / 93mm | 2.05 lb / 930 g | 14.76' / 4.5 m | 0.14x | 10 Elements in 7 Groups | 82mm | unknown | Yes | B&H / Amazon |
| RF 600mm f/4 L IS | 04/14/21 | 600mm | 4-32 | 4° 10' | | 18.6" / 472mm | 6.6" / 168mm | 13.8' / 4.2 m | 0.15x | 17 Elements in 13 Groups | 55 mm (Drop-In) | 9 | Yes | B&H |
| RF 800mm f/11 IS STM | 07/09/20 | 800mm | f/11 only | 3° 5' | 13.85" / 351.8 mm | 4" / 101.6mm | 2.77 lb / 1260 g | 19.69' / 6 m | 0.14x | 11 Elements in 8 Groups | 95mm | unknown | Yes | B&H / Amazon |
| RF 1.4x Extender | 07/09/20 | N/A | N/A | N/A | 0.8" / 20.32 mm | 2.8" / 71.12 mm | 7.9 oz / 224 g | N/A | N/A | N/A | N/A | N/A | N/A | B&H / Amazon |
| RF 2.0x Extender | 07/09/20 | N/A | N/A | N/A | | | | N/A | N/A | | N/A | N/A | N/A | B&H / Amazon |
Canon EF-EOS R Lens Adapters