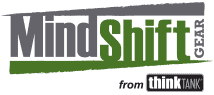 MindShift is Think Tank Photo's line of outdoor photography gear. When you spend more than $50 on the Think Tank Photo website after clicking one of my links, you'll get a free gift which you can choose at checkout.
Free gift options
Remember, you need to click one of my links, like this one, in order to trigger the free gift options in the checkout process. These are the items you can choose from:
If you have a problem…
In some rare circumstances, if you do not see the pop up box to select your gift, empty your browser history and cookies and click THIS LINK again. If it still doesn't work, try a different browser.
Remember that you can do this as many times as you like! Every time you place an order for more than $50, so bookmark this page for the future!