NOTIFICATION OF COPYRIGHT INFRINGEMENT:
Shutter Muse respects the intellectual property rights of others and expects its users to do the same.
Pursuant to Digital Millennium Copyright Act, Title 17, United States Code, Section 512(c)Title 17, United States Code, Section 512(c), a copyright owner or their agent may submit a takedown notice to us via our DMCA Agent listed below. Shutter Muse will respond immediately to claims of copyright infringement committed on the shuttermuse.com website that are reported to Shutter Muse's Designated Copyright Agent
As an internet service provider, we are entitled to claim immunity from said infringement claims pursuant to the "safe harbor" provisions of the DMCA. To submit a good faith infringement claim to us, you must submit notice to us that sets forth the following information:If you are a copyright owner, or are authorized to act on behalf of one, or authorized to act under any exclusive right under copyright, please report alleged copyright infringements taking place on or through the Sites by completing the following DMCA Notice of Alleged Infringement and delivering it to our Designated Copyright Agent. Upon receipt of the Notice as described below, we will take whatever action, in its sole discretion, it deems appropriate, including removal of the challenged material from the Sites.
DMCA NOTICE OF ALLEGED INFRINGEMENT ("NOTICE")
Identify the copyrighted work that you claim has been infringed, or – if multiple copyrighted works are covered by this Notice – you may provide a representative list of the copyrighted works that you claim have been infringed.
Identify the material that you claim is infringing (or to be the subject of infringing activity) and that is to be removed or access to which is to be disabled, and information reasonably sufficient to permit us to locate the material, including at a minimum, if applicable, the URL of the link shown on the Site(s) where such material may be found.
Provide your mailing address, telephone number, and, if available, email address.
Include both of the following statements in the body of the Notice:
"I hereby state that I have a good faith belief that the disputed use of the copyrighted material is not authorized by the copyright owner, its agent, or the law (e.g., as a fair use)."
"I hereby state that the information in this Notice is accurate and, under penalty of perjury, that I am the owner, or authorized to act on behalf of the owner, of the copyright or of an exclusive right under the copyright that is allegedly infringed."
Provide your full legal name and your electronic or physical signature.
Deliver this Notice, with all items completed, to Shutter Muse's Designated Copyright Agent: copyright@shuttermuse.com.
REPEAT INFRINGER POLICY
We take copyright infringement very seriously. Pursuant to the repeat infringer policy requirements of the Digital Millennium Copyright Act, we maintain a list of DMCA notices from copyright holders and make a good faith effort to identify any repeat infringers. Those that violate our internal repeat infringer policy will have their accounts terminated.
MODIFICATIONS
Shutter Muse reserves the right to modify the contents of this page and its policy for handling DMCA claims at any time for any reason. You are encouraged to check back to review this policy frequently for any changes.
CONTEST RULES
Unless otherwise noted, you must be at least 18 years of age.
1. No purchase is ever necessary to enter any ShutterMuse giveaway or contest.
2. The entry procedure for each contest is on shuttermuse.com and/or on Twitter.com via @ShutterMuse and/or on Facebook via the Shutter Muse page.
3. Shutter Muse will not verify receipt of entries. Incomplete entries are void. Shutter Muse is not responsible for entries that are lost, late, misdirected, incomplete, incomprehensible, illegible, damaged, undeliverable or delayed. Twitter entries will be deemed to have been submitted by the authorized account holder of the Twitter address at the time of the entry. Facebook entries will be deemed to have been submitted by the authorized account holder of the collected Facebook entry e-mail address.
4. Our contests are generally open to anyone who is at least 18 years of age and who does not reside in an area where such contests are void by law. In cases where the contest or giveaway is promoted on Twitter, you need a free Twitter account to be eligible (https://www.twitter.com). You need to follow Shutter Muse on Twitter to be eligible and your tweets cannot be protected. Persons who have had their Twitter account blocked by Shutter Muse are not eligible. In the cases where the contest or giveaway is promoted on Facebook you will need a free Facebook account to be eligible (https://www.facebook.com). You need to 'Like' the Shutter Muse Facebook page to access full entry details of the contest. Persons who have been blocked from the Shutter Muse Facebook page are not eligible.
5. The odds of winning will depend on the number of entries. Unless otherwise noted, all contests and giveaway prizes are awarded via a random drawing.
6. The winner does not have to be present for the drawing unless otherwise noted.
7. Employees and affiliates (or their immediate families) of Shutter Muse, Dan Carr Photography or any subsidiary are not eligible to win our contests or giveaways. Where the contest is sponsored by a third party, employees (or their immediate families) are also ineligible to win.
8. Winners are responsible for applicable state, federal taxes or duties when receiving a prize. Winner must pay any taxes due directly to a government entity where applicable.
9. For a list of winners from each contest, send a SASE within 30 days of the contests closing date to: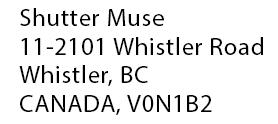 10. Shutter Muse or its employees will not respond directly to contest questions via social media platforms. If you have a question and have carefully read all of the available information presented on the contest rules page and the contest announcement page, please submit it via the contact form which is listed in the main menu.
11. Winners automatically grant the use of their name and likeness in the promotion of this and other Shutter Muse contests.
12. In the of contests where the winner is required to contact us to claim their prize, any prize not claimed within 90 days of the announcement will be forfeited.
13. Shutter Muse is not responsible for issues regarding Internet access, social media platform downtime, bounced email or any other technical malfunction beyond its immediate control.
14. All Shutter Muse contests and giveaways are subject to all federal, state, provincial, national, international and local laws and void where prohibited. It is your responsibility to refrain from entry if our contests or giveaways are illegal in your country, state, province, county or jurisdiction. If you are declared a winner but contests and giveaways like these are found to be illegal in your country, state, province, county or jurisdiction, your prize will be forfeited and a new winner will be chosen at random or based on the original selection criteria for the contest.
15. Rules are subject to change without notice. Please return regularly for updates.
16. Shutter Muse contests, sweepstakes, competitions and giveaways are not open to residents of Quebec. If, on inspection, a winner is determined to be a resident of Quebec then the prize will be forfeited and a new winner will be chosen based on the contest rules.
17. If an eligible Canadian entrant is selected as a potential winner, he/she will be required to correctly answer, without assistance of any kind, whether mechanical or otherwise, a time-limited mathematical skill-testing question administered by telephone at a pre-arranged, mutually convenient time before being declared a winner.
STORE TERMS & CONDITIONS
Our website grants you a non-exclusive limited license to use the Shutter Muse products sold through our website (https://shuttermuse.com) by Shutter Muse (the " digital products") in accordance with these Terms & Conditions (the "license") issued by our company.
The term "digital product" refers to any digital content delivered to you by our services and may include, but is not limited to, eBooks, digital training videos, digital images and audio files.
1. DIGITAL PRODUCT LICENSING
Shutter Muse grants you a personal non-exclusive and non-transferable license to access the Licensed digital product. You may reproduce and store portions of the Licensed digital product for your personal use, and non-commercial use. Full-scale reproduction of any of the products and contents is expressly prohibited.
You may not use the Licenced digital product on more than three computer systems or mobile devices concurrently, make or distribute unauthorized copies of the Licenced digital product, create by decompilation or otherwise the source code of the Licenced digital product, or use, copy, modify, or transfer the Licenced digital product, in whole or in part, except as expressly permitted by this Agreement. If you transfer possession of the Licenced digital product to a third party, the license is automatically terminated.
2. COPYRIGHT
The entire contents of the Licenced digital product and other material available through your registration are protected by copyright, unless otherwise indicated. Full-scale copying of Licenced digital product content is expressly prohibited. You may not remove, delete, transmit or create derivative works from any of the Licenced digital product content. No part of any chapter of any book,or segment of any video or audio file or any portion of any image may be transmitted in any form by any means or reproduced for any other purpose, without the prior written permission from Shutter Muse except as permitted under relevant fair dealing provisions. Any other use violates this Agreement and is strictly prohibited.
3. DISCLAIMER
The Licensed digital product is provided "as is", we shall not be liable for any damages, including but not limited to, direct, indirect, special, incidental or consequential damages or losses that occur out of the use or inability to use our products. You acknowledge that the use of this service is entirely at your own risk.
4. DELIVERY
After we have successfully processed your payment, you will receive an email with the download link. This may take up to 1 hour to arrive, but usually happens within minutes of placing the order. If you do not receive an email after this time period, please contact us.
5. OWNERSHIP
You may not claim intellectual or exclusive ownership rights to any of our products. All products are property of Shutter Muse.
6. SITE CONTENT
All site content, including imagery and documentation that is published on shuttermuse.com. Any replicated site content must be authorized in advanced. Content from this site shall not be used or exploited for commercial or non-commercial purposes without the prior written consent of Shutter Muse.
7. REFUND POLICY
As we are offering non-tangible digital goods, we do not generally issue refunds after the purchase has been made. We will be happy to consider a refund within the first 30 days of your purchase if you are unable to get the eBook viewable on your intended reading device after you have contacted our product support team to try to resolve the issue. Refunds will be granted at the sole discretion of Shutter Muse. No refunds will be given after 30 days from the initial purchase. Please note that by purchasing the product, you agree to the terms of the Refund Policy.
8. SUPPORT
Shutter Muse offers digital product "as is" and with no implied meaning that they will function exactly as you would like or will be compatible with all of your computer systems, electronic mobile device or eReader.
Support is offered by filling out the customer service form on this page here, but is limited to support for our products only.
9. E-MAIL NEWSLETTER
You may unsubscribe from the mailing list at any time by clicking the link at the bottom of the e-mail, or by sending a manual request through our contact page.
10. TRANSACTIONAL EMAILS
Shutter Muse may on occasion send you email notifications related to your Shutter Muse product. These transactional emails may include notification of new versions of your purchased eBook, changes to our terms and conditions, and other transactional emails related to your purchase of a Shutter Muse product.
11. PRICE CHANGES
Shutter Muse reserves the right, at any time, to modify or discontinue, temporarily or permanently, the price of any of our products and offerings.
12. ACCEPTANCE
By purchasing our product(s) or paying to attend an event or workshop produced by Shutter Muse you indicate that you have read and agree the Terms & Conditions detailed on this page.We reserve the right to change or modify the current Terms and Conditions with no prior notice.