Cameras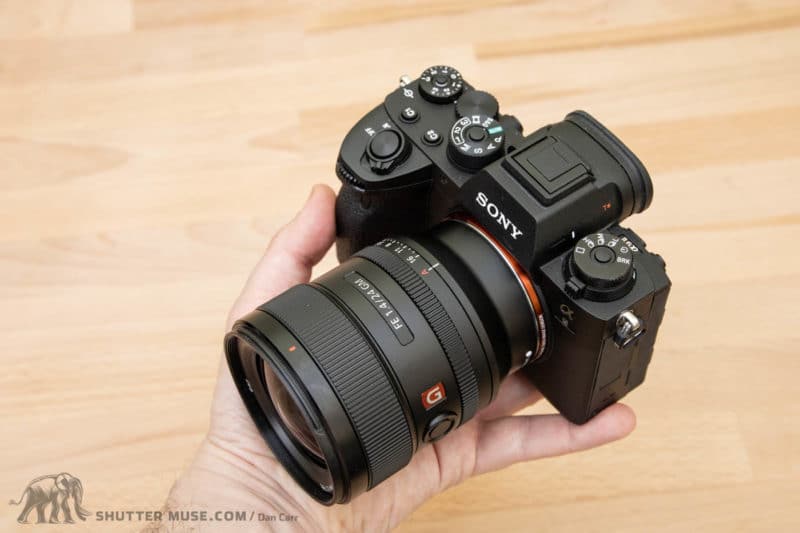 Over the years, the size and content of my camera collection have changed regularly. Still, at the moment, I find myself with a relatively simple setup – although I'm occasionally borrowing additional cameras for testing from our site's partner B&H Photo.
I recently switched to Sony mirrorless for my work cameras, having been a Canon shooter for my entire career. It was not a decision I took lightly, and I have written a detailed post on my reasons behind the Canon to Sony move. The primary reason for the switch was a desire to use Sony's state-of-the-art autofocus system for my wildlife photography while also taking advantage of their excellent dynamic range for landscape photography.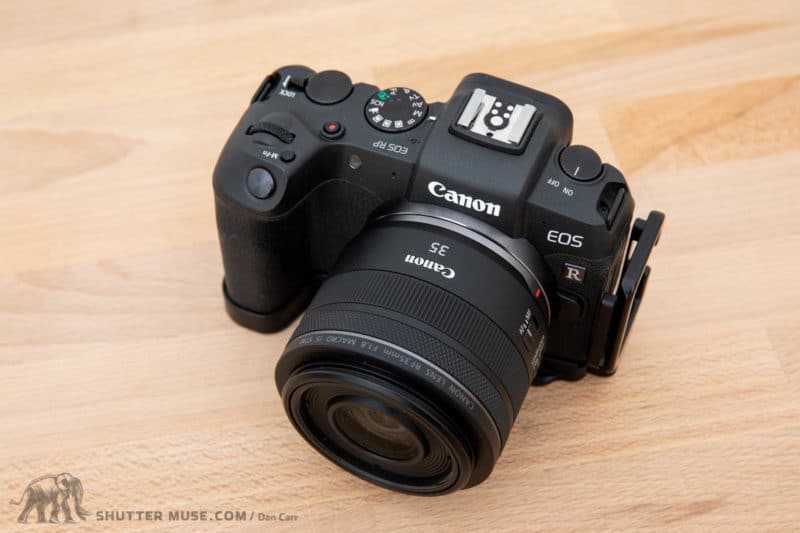 I also have a Canon EOS RP mirrorless camera. This camera is a bit on the slow side, but it produces amazing images at an incredible price point. I'm aware that there is a lot of interest in Canon's new RF lenses, so I have vowed to keep at least one RF mount Canon camera in my kit for purposes of reviewing those new RF lenses on this site. At the moment, I also use the RP to take the majority of the gear photos and behind-the-scenes photos for my websites and social media channels.
I still have a couple of Canon 6D DSLRs that I use in my wildlife camera traps, primarily because DSLRs are far more power-efficient than mirrorless cameras, and this is a big factor when you are trying to leave them in the field for months at a time.
The only other camera I have right now is a GoPro Hero 5. I mainly use this for capturing behind-the-scenes content for my social media channels and the "5" does just fine for that right now. I haven't been tempted to upgrade to a newer model yet.
Lenses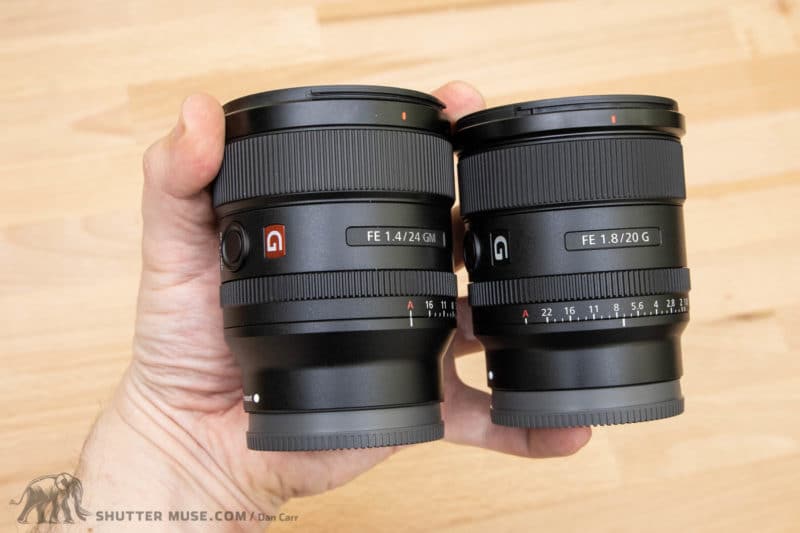 As mentioned in the camera section, I recently moved from Canon to Sony so my lens kit has gone through a huge change. One of the reasons I felt comfortable making this switch is that Sony has finally ironed out the kinks in their lens designs, and are now producing sensational glass that matches the quality I was so fond of in the Canon L-Series lenses. On top of that, they have several lenses that Canon simply did not have, like the exceptional 20mm f/1.8 G. A tiny, ultralight wide-angle lens that easily resolves on high megapixel cameras like the A7RIV. With so many other manufacturers releasing giant, heavy mirrorless lenses, it's refreshing to see these smaller options from Sony.
Then there is the 200-600mm G lens. A lens that should probably cost twice as much as it does. The focal length range of this lens is considerably more useful for wildlife than a 100-400mm or 100-500mm, and the fact that it somehow manages to work so well with a 1.4x extender means you have an 840mm lens that you can hand hold and still lock on to fast-moving wildlife such as birds in flight. I have already produced many images with this lens that I was simply never able to with my old Canon gear.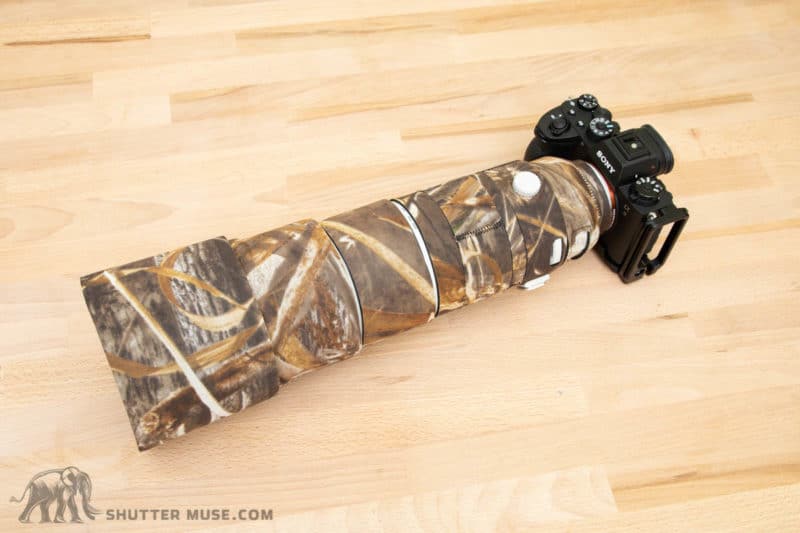 Another great reason to use Sony cameras these days, is the Tamron f/2.8 trinity. These lenses are on a par with the Sony GM lenses in terms of sharpness and autofocus speed, and the price is roughly half of the Sony equivalent. Initially I have opted for the 28-75mm f/2.8, but in the future I can see myself buying more from their range. There's a good reason that these Tamron FE lenses have been the best selling lenses in the entire photo market for the past few years. It seems odd to say that a reason to switch to Sony is Tamron lenses, but the lenses are that good that I believe that is definitely a legitimate consideration for many people.
As you will have seen in the camera section, I do still have a Canon RF mirrorless body so that I can review RF lenses on this site. With that, I also have the versatile RF 24-240mm lens, which is the lens I use for the majority of the gear review photos on this site.
Camera Bags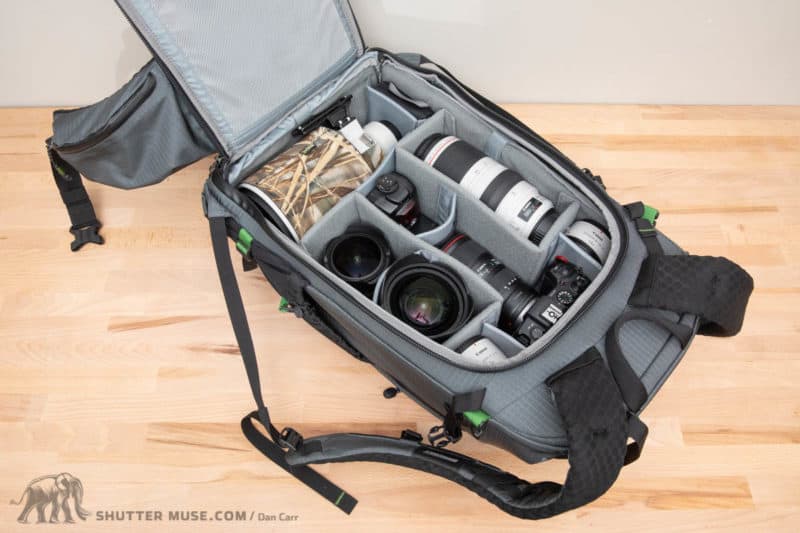 *1 If you use my links to reach either the MindShift Gear website, or the Think Tank website, and then spend over $50, you'll get a free gift at the checkout! For more details on these two special offers, please see the deals page of my site.
The majority of my camera carry gear comes from MindShift Gear and their sister company Think Tank Photo. My primary backpack is the MindShift BackLight Elite 45L pack which is designed to be the ultimate rugged outdoor photo pack for adventures anywhere in the world, in any kind of condition. I should know, I helped to test and refine the pack for over two years during the development phase before it was released to the public.
When I travel by plane, my current favourite laptop bags to use as that "personal item" for carry-on are the Retrospective 30 shoulder bag and the uniquley designed expandable Shape Shifter backpack. For big car trips where I need to take everything but the kitchen sink, I load up the gigantic Logistics Manager 30 roller bag, and if I need maximum camera gear volume in a backpack then I use the First Light 40L.
Yes the BackLight Elite 45L and FirstLight 40 are similarly sized, but the FirstLight is entirely for camera gear, where the BackLight saves a lot of space for other outdoor equipment. For bulky items like my underwater housing, the FirstLight is the right choice.
I also really like the Gura Gear Kiboko bags for safari style photography. There's no other bag on the market that can give you such easy access to a pair of ready-to-go cameras with big lenses already in place. The butterfly opening is unique and specific, but it's a worthy addition to the gear closet for wildlife photographers. These bags went off the market for some time, but I'm happy to see them back now and available exclusively through B&H.
Sometimes a very specific situation calls for a pack with a laser-targeted purpose and when that happens, I usually turn to Arc'teryx's lineup of adventure packs and convert them for camera usage by adding the previously mentioned MindShift Stash Master 13.
Tripods and Tripod Heads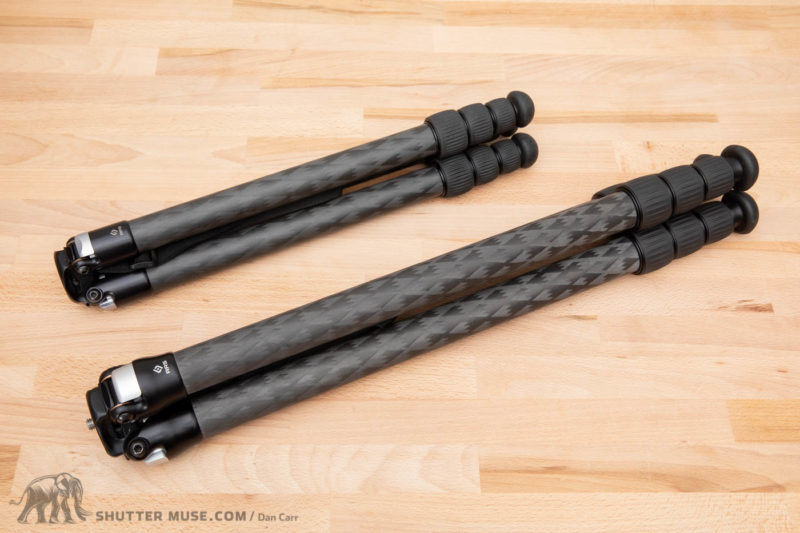 Much of my support equipment comes from Really Right Stuff. Over the years I have owned all of their heads for one purpose or another, so I wrote an extensive RRS ballhead and gimbal guide to compare them all. I also wrote a specific gimbal guide that talks in detail about the unique side mount design of the RRS PG-02 gimbal because people continually have questions about that. After that, I wrote an extensive guide to the entire range of Really Right Stuff Tripods. In the tripod guide you'll learn more about why I chose the specific tripod that I did for most of my work (TVC-24L Mk2).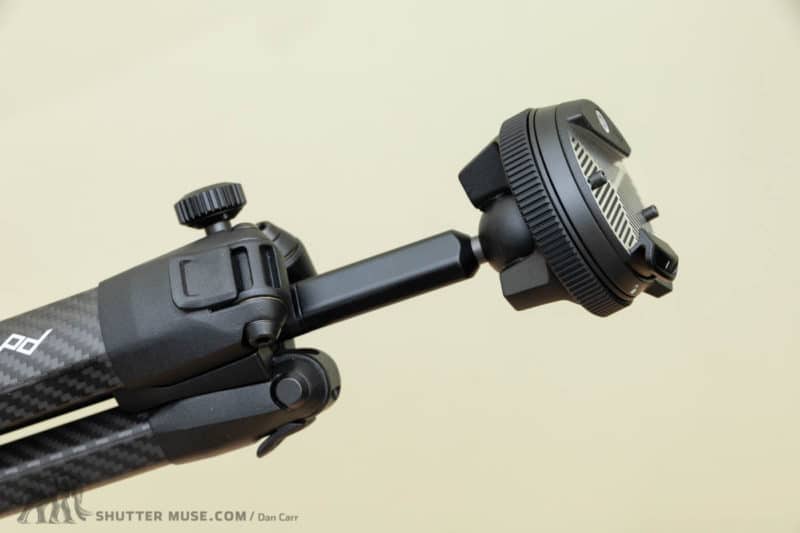 After spending some time with a prototype version of the Peak Design Travel Tripod on a trip to the Arctic in 2019, I then went on to purchase the carbon version of that tripod to add to my kit when it became available in 2020. It's a very impressive piece of kit and has been serving me well when I want to carry a second tripod on my pack alongside my primary tripod. Sometimes that is useful for shooting a simultaneous second angle, and sometimes I'm using it to take high quality 'selfies' of me working, either for tutorial content, or marketing material for several industry brands that I work with. Peak Design also make a wide variety of accessories for this tripod, which I have detailed here: Best Accessories for the Peak Design Travel Tripod.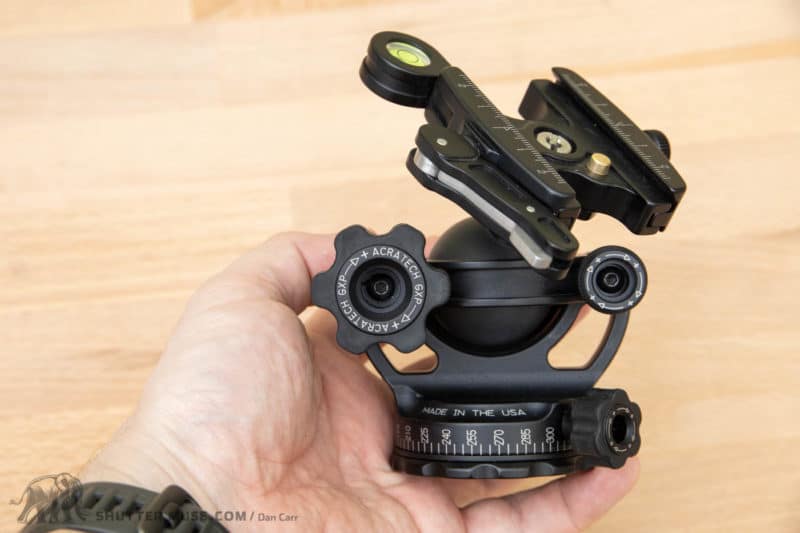 In terms of ball heads, while I still own several RRS heads I have also added an Acratech GXP ball head to my kit. You should definitely have a read through my Acratech GXP review to find out why I love it so much, and why it is the most used ball head in my collection at the moment.
For tripod gimbals, I have really been enjoying the Katana Junior gimbal from ProMediaGear. You can read the full Katana Junior gimbal review here to find out why this will be my recommended gimbal for pretty much everyone from now on. At the moment I'm still keeping my RRS gimbal, perhaps out of sentimentality for all the adventures I have had with it, but the quality/weight/price combination of the Katana Jr. is making this harder and harder to justify.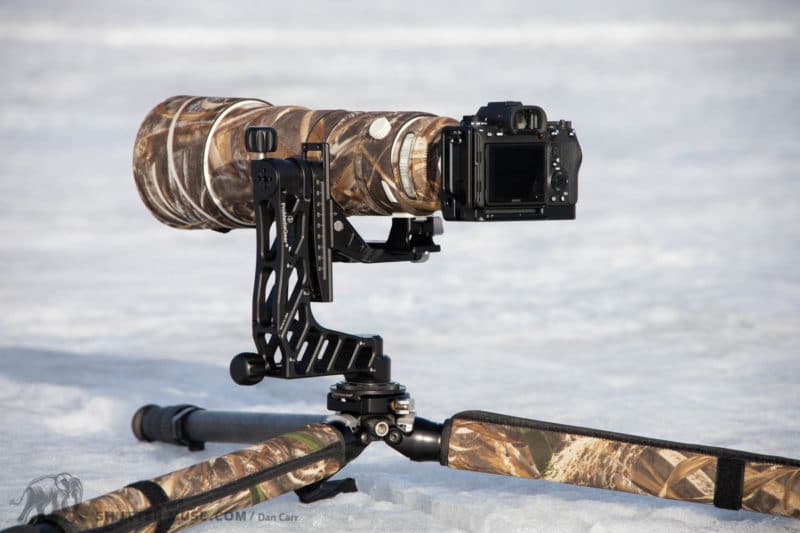 As for monopod heads, I have transitioned to the Wimberley MonoGimbal which is a unique and incredibly awesome mini gimbal head. There's not else like it on the market! You can read the full Wimberley MonoGimbal review here.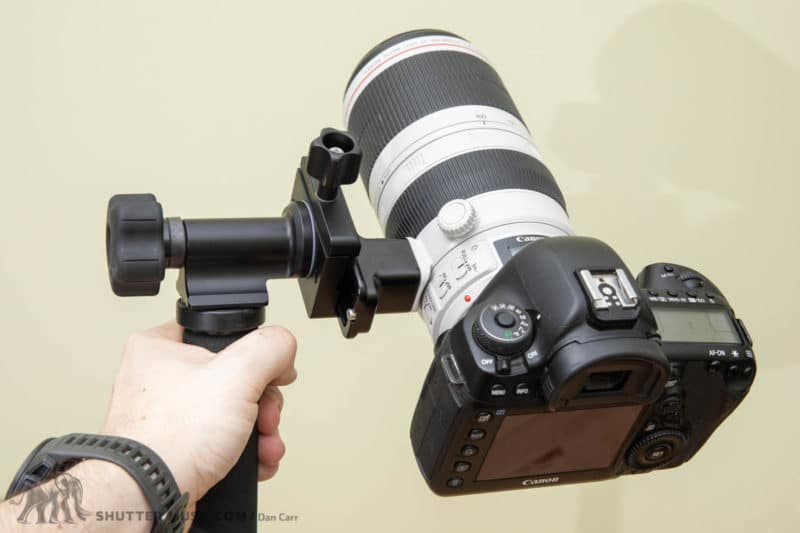 Lighting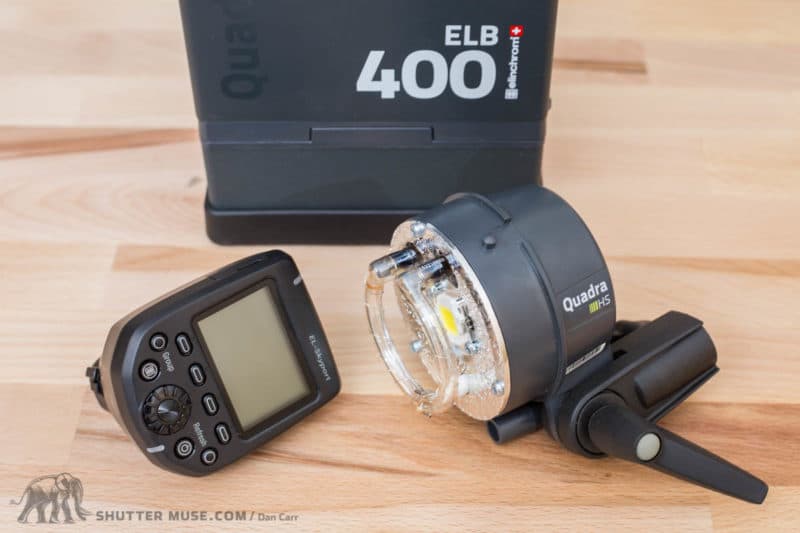 These days I don't do a huge amount of flash work, but throughout my career I have been a fan of Elinchrom gear. They consistently make robust gear that is designed to be used in the field and not in the studio. Yes there are cheaper Chinese brands, but if you need gear that can work in potentially adverse conditions, or survive life being shipped around the world in a Pelican case then Elinchrom is the real deal.
I have downsized from the 1200w/s Ranger RX to the 400w/s ELB400, but the light weight and portability suits my work perfectly these days.
I also keep one Canon flash with the wireless transmitter for use at sporting events when you need on-camera fill flash in poor lighting.
Accessories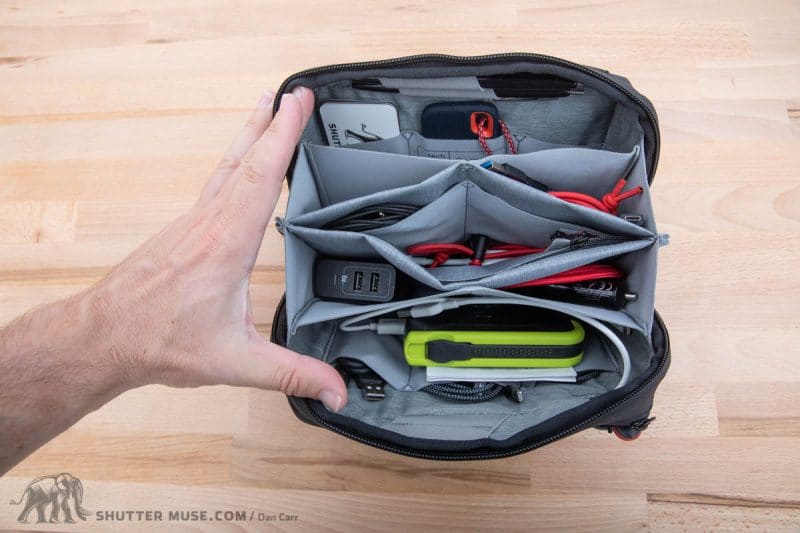 *1 Click through to Think Tank's store and spend more tan $50 to get a free gift. More details about this offer can be found here.
Most of the items in this list are things that I pack into my bags whenever I leave for a photo mission and with the exception of the big camera straps, it all fits in the the handy Peak Design Tech Pouch to keep all the small things organized. All I need to do is remember to grab it on my way out!
Photography Gloves
I live in the Yukon and spend a lot of time shooting photos in cold weather and mountainous locations. Functional photography gloves are extremely important for me. For the Shutter Muse Gear Guide series, I undertook an in-depth group test of all the photography gloves on the market, and these gloves from The Heat Company came out on top.
The Softshell 2 is a brilliant glove for milder temperatures and cold wind, and the Heat 3 Shell will keep you comfortable well below -30 degrees with the liner. Read the photography glove guide for more details.
Filter Kit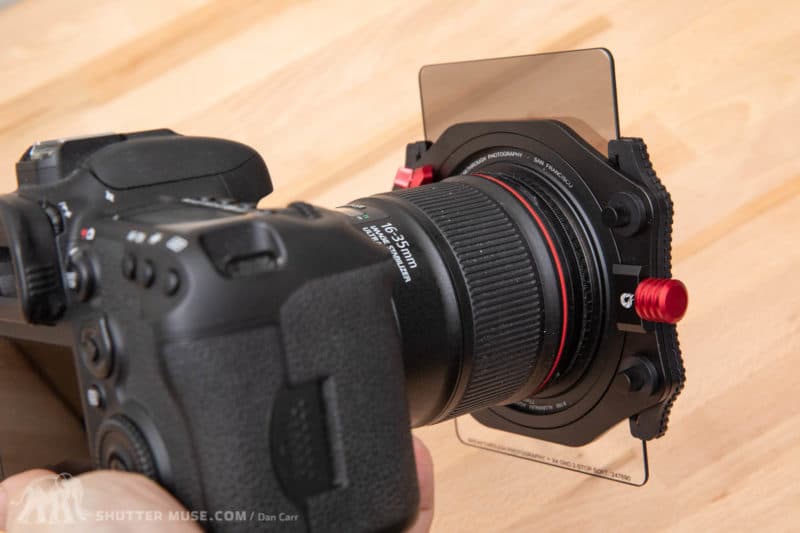 *1 If you use my links to reach either the MindShift Gear website, or the Think Tank website, and then spend over $50, you'll get a free gift at the checkout! For more details on these two special offers, please see the deals page of my site.
At the moment I'm really loving the line of filters from Breakthrough Photography. They are extremely colour neutral and the X100 filter holder is a real bargain at only $50, about half the price of some other very similar options. One thing I do find odd is that they don't sell their full range of products on Amazon or B&H Photo like most people. Selected products to pop up in those places, but to get the full range of products you need to buy directly from their website. That said, this isn't a bad thing as they have free shipping and some exceptional customer service.
Of course you'll need a case of some sort if you are going to have a few different filters, and the Filter Hive from MindShift is the only holder out there that will hold grad ND filters, circular screw-on filters and 4×4 filters. It'll even hold the filter holder so everything is packaged up an a read-to-go case. Love that!
If you're looking to get a filter "starter kit" as many people have asked me about in the past, I would suggest getting a 2-stop soft edge GND, a circular polarizer and a 3-stop ND filter. Check this article if you aren't sure about the difference between a GND and an ND filter, and check out this article for help on choosing between square and screw-on ND filters.
Computers and Drives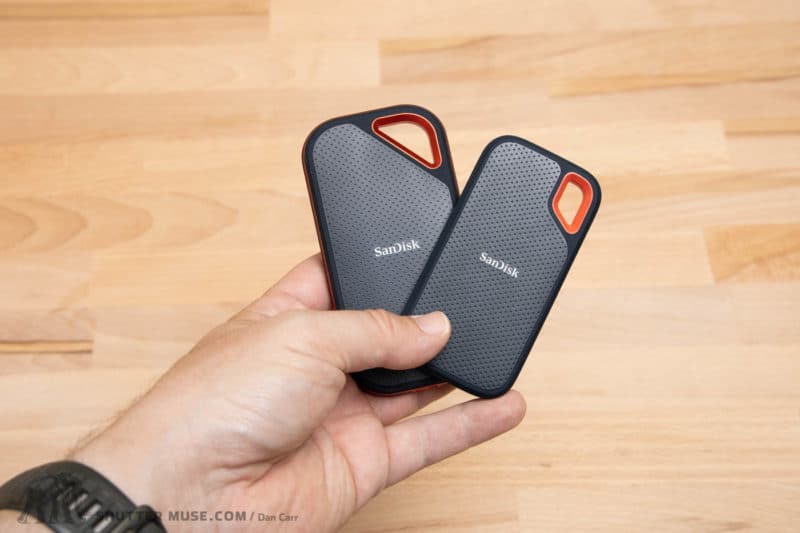 In my office I'm running a 10-core Mac Studio with am M1 Max chip and 64GB of RAM. This machine is something of a revolution for photographers. It runs photo applications at lightning speed, and is easily capable of editing 8k video. Although there is a more powerful M1 Ultra chip, that version is twice the price and delivers only modest gains in some applications. For me, the Mac Studio with an M1 Max chip is the computer I have been hoping Apple would build for many years.
I don't tend to do much editing on the road, so my laptop only really needs to be able to download cards and run Lightroom for basic editing. For this I take the small and light 13″ MacBook Air.
I take my photo backup routine very seriously. Literally my entire career relies upon it so the setup is redundant in multiple different areas. This list shows you the drives I'm currently using, but if you want to read about the actual process and backup automations I have in place, I keep a series of articles on the site that go through this in great detail.
The QNAP TVC-472XT NAS is the heart of my backup system. It's a truly incredible machine if you take the time to learn how to make the most of the complex feature-set.
Audio and Video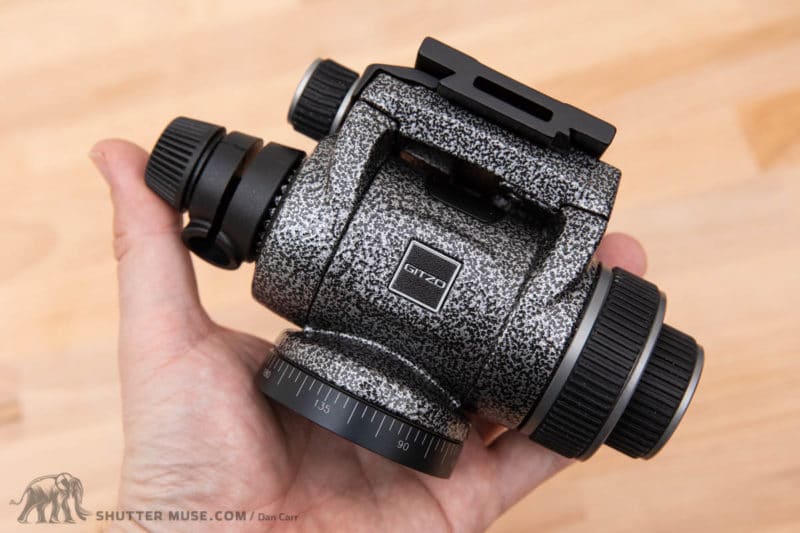 I typically don't shoot video for clients, but I do post videos on my Youtube channel and my social media channels on a regular basis. I also take part in quite a few photography podcasts and record tutorials for various photo editing applications.
All cameras these days are capable of recording video that is more than high enough quality for web consumption, but where they fall down is the audio quality. It sucks if you use the on-board microphone in the camera! Audio is hugely important, just as important as the video quality, if not more! Rode makes all kinds of excellent microphones at great prices, and the Sound Devices recorder allows me to route sound to a camera or a computer however I please.
Optics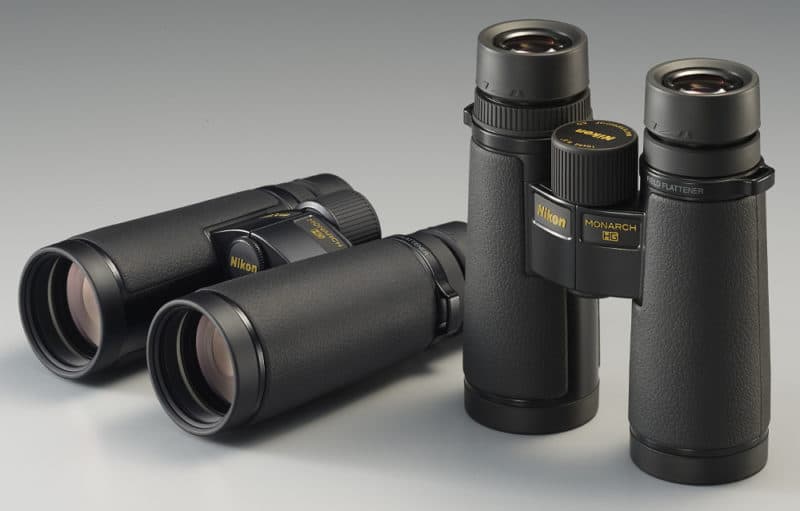 Anyone that does a lot of wildlife photography should have a good pair of binoculars. Much like a good tripod, this is something that with careful thought and research can be purchased perhaps just once or twice in your life. Good ones can be expensive, but they last well and they truly enhance the wildlife watching experience.
Yes, they are great for spotting wildlife in the first place, but they are also great for watching the wildlife that is simply too far away to get a good photo. If I can't get a good shot, you can bet I'm still going to sit there for a while and study the animal's behaviour so that I'm more familiar with their motions and patterns for future encounters.
The Monarch HGs are relatively new to the market but have quickly picked up near-legendary status for the quality that they deliver at a price point that is less than half of other binoculars with a similar optical performance. I'm sure I'll have these around my neck for my whole career.
Outdoor Equipment
| Gear | Amazon | Manufacturer Website | Notes |
| --- | --- | --- | --- |
| MSR Hubba Hubba NX Tent | Check Price/a> | N/A | General spring/summer tent. |
| Mountain Hardware Phantom Gore-Tex Sleeping Bag (0F/-18C) | Check Price | Check Price | For moderate Arctic sleeping. |
| Mountain Hardware Phantom Gore-Tex Sleeping Bag (-40F/-40C) | Check Price | Check Price | For serious Arctic sleeping! |
| Mountain Hardware Trango 2 Tent | N/A | Check Price | Expedition grade 4-season tent for extreme weather. |
| Thermarest Parsec Sleeping Bag (20F/-6C) | Check Price | N/A | |
| Thermarest Ohm Sleeping Bag (30F/0C) | Check Price | N/A | 900 fill. Weighs only 18 ounces! Great all purpose travel bag. |
| Thermarest Prolite Apex Sleeping Mat | Check Price | N/A | |
| Thermarest Mondoking 3D Sleeping Mat | Check Price | N/A | |
| MSR Guardian Water Filter | Check Price | N/A | |
| MSR WhisperLite International Stove | Check Price | N/A | Liquid fuel stove for camping in extreme cold temps when gas canisters freeze. |
| MSR Pocketrocket Deluxe Stove | Check Price | N/A | |
| Nemo Fillo Pillow | Check Price | N/A | |
| Tragopan Monal V2 Photography Blind | N/A | Check Price | Read my complete guide to the range of Tragopan blinds here |
I spend a lot of my time outside, so naturally, I have amassed a fairly large amount of outdoor and adventure equipment alongside my photographic gear. There's far too much to list all of it, but these days, the stuff on this list is what I find myself reaching for on a regular basis.
The Guardian water filter is worth a special mention. This is the new king of MSR's water treatment lineup and it's effective against protozoa, bacteria, viruses, and particulates. Whether you're camping or travelling in an area of the world with suspect water conditions, the Guardian is a great tool to keep you behind your camera and not… you know… in the bushes.
I'm also loving the new Prolite Apex sleeping pad. This is a 2″ thick self-inflating pad and whilst it's slightly heavier than the previous NeoAir pads I have been using, it's much more rugged and simpler to deal with. It's the first self-inflating style of pad that I've been comfortable on as a side sleeper.
WordPress Plugins
These are the valuable WordPress plugins that are used on the Shutter Muse website, as well as my personal professional photography portfolio. My websites are a hugely important part of my business so I spend a lot of time optimizing them and testing various plugins.
For WordPress themes, my preferred solution is Divi from Elegant Themes. There's a reason that it is the most popular WP theme in the world! It's highly versatile and wonderfully easy to use.
Equally important as these plugins and a good theme is a great hosting company. My sites are all hosted with Kinsta, which is a fabulous managed WordPress solution. Their support is second to none, and my sites have never been faster and safer!
Where to buy the best gear?
Once you've figured out what you're looking to buy, the common question is, "where should I order from?". Typically I buy my gear from either B&H Photo or Amazon and occasionally Adorama if the other two don't have it in stock. I've experienced exceptional customer service from all three at some point and can wholeheartedly recommend them all.
Even though I live in Canada, I still like to order from B&H in the USA because they allow me to pay all the applicable taxes and duties upfront, so there are no surprises. This is a service they offer for many countries worldwide, and they now ship to Canada for free on orders over $99. That's a massive deal for me! I have also placed some recent orders from Moment and have been incredibly impressed by their international shipping rates. I'm glad to see them expanding to sell many more brands, including Sony cameras and lenses.
If you are looking for camera bags for general use or sports photography use, I recommend checking out Think Tank Photo. You'll see in my gear list that I have a number of their carrying solutions in my closet for when I'm travelling or shooting at sporting events which is where their gear excels.
For all your adventure, outdoor and wildlife photography needs, I recommend looking at MindShift Gear, Shimoda Designs, Gura Gear or F-Stop Gear. All four companies have great products, many of which have been reviewed on this site.
Camera Bag Deals
Shimoda Designs has offered Shutter Muse readers a 10% discount on anything purchased in their online store. Simply use the discount code ShutterMuse10 after clicking here to access the store.
Gura Gear has offered Shutter Muse readers a 10% discount on anything purchased in their online store. Just use the discount code SHUTTERMUSE10 after clicking here to access their store.
US Customers get a free gift when they spend over $50 in the Think Tank/MindShift online store after clicking this link. For more details, or if you have any issues, see this post.