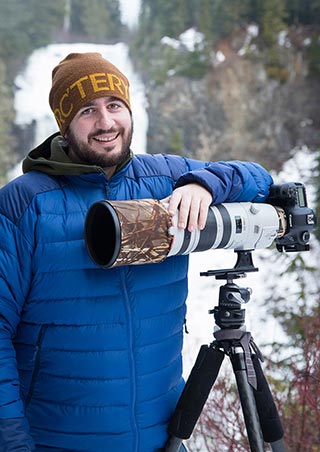 Hey folks, Dan Carr here!  That's me in the photo on the right.  I started Shutter Muse in 2013 after looking for a way to expand the photographic education side of my work.  Over the previous few years I began to discover more and more how much I enjoyed teaching people about all the things that I have learned during my career. Photography is not the kind of subject where you can go to school, complete a course and leave confidently saying "I've got this, I know photography".  It simply doesn't work like that.
Success is not counted by how high you have climbed but by how many people you brought with you. – Dr. Wil Rose
Photography is something that takes a long time, and I think that's why I love it so much.  Every time I travel to a new location, every time I shoot a new assignment, I learn a little bit more.  The other factor in all of this is that photography has changed as a medium and the way that we all consume media is changing at a rapid pace.  We have to learn to adapt as technology and media preferences change, so it is a constant process.  I also want to help people with the business side of things because I think there is a fundamental lack of knowledge in this area.  Many people jump into photography without realizing the demands that will be made on their time sorting out the more mundane business elements.  I've seen great photographers fail due a lack of understanding in this area, I've also seen mediocre photographers flourish using savvy marketing techniques and deeper knowledge of the business world.  I know I can help you guys in this area as well.
The other thing that I want to do with this website is to take you guys on a journey with me to some wonderful locations around the world.  I can't say too much about this side of things just yet, but I have some grand plans and I'm a travel junkie at heart.  You'll probably notice already from the images on the site and the eBooks already available, that I don't like to stay in one place for too long and this will also become an integral part of the site as it grows.
Thanks for joining me on this journey!