This photography glove gear guide was months in the making, and I truly believe it's the most in-depth article of its kind. Since the first publication, it has also been regularly updated with new products as they come to market.
Since becoming a professional photographer my career has had its twists and turns, but one common thread has always been the presence of snow and mountains. For many years I made a living as a professional ski photographer, shooting the worlds best skiers in winter locations all around the world. Now I live in the Yukon, in Northern Canada, where temperatures regularly dip well below -30C (-22F) in the winter, often as low as -40C (-40F) and weeks can pass without seeing the needle climb above -17C (0F).
In other words, my situation and experience really put me in a unique position to compare the functionality of the top photography gloves on the market. I didn't have to take a bag of gloves out and test 20 pairs simultaneously over one cold weekend in one location. I was able to test all of these for weeks at a time, every day for months, in temperatures that ranged from mild to downright dangerous!
To put together the contenders I did my usual due diligence by checking in with partner stores to see which were their best selling and best-reviewed products. Then I took to my social media channels and our vast email newsletter list to find out which products those people are using. Every time I do this, it turns up a couple of additional products that are worthy of adding to the test.
Generally speaking, when I do this kind of group test there ends up being one or two products that just don't make the cut at all, and I stop using them pretty quickly. This post is already going to be long enough so I don't see the point of cluttering it up with gloves that don't have any redeeming features.
The gloves I'm left with – the ones in this gear guide – are all good products in their own right. There are some that I like better than others, as you'll see, but essentially if they made it this far then it's already a solid product and now it's a case of weighing up the pros and cons of each to find the one that best suits the cold environment that you plan on shooting in.
With photography gloves, this is perhaps even more important than some of the other gear guides I have done in the past. What I set out to do here was to find great photography gloves that would work for a wide range of temperatures. There need be great gloves for temperatures around 0C (32F), just as much as there need be great gloves for temperatures below -40C (-40F).
In A Hurry?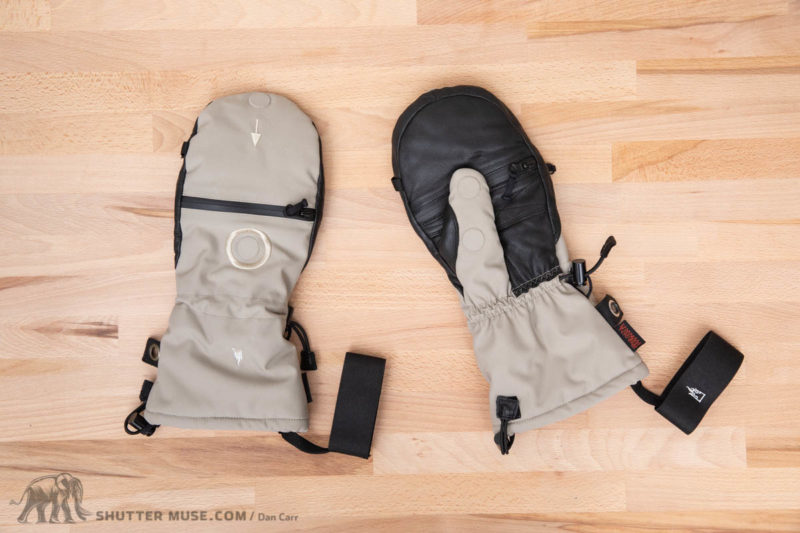 If you're in a hurry and need a quick answer without reading this entire guide, you can't go wrong with the Heat 3 Shell mitt from The Heat Company for a serious winter glove, or the Heat 2 Softshell mitt for moderately cold conditions.
These are my pick of the bunch when choosing the best photography gloves. While I would encourage you to read more of this guide to understand the special 3-layer system from The Heat Company, and the temperatures that might be suitable for these gloves, they will be great solutions for most people.
While I would recommend trying to buy from B&H first, because they offer most people free shipping and ship internationally, you can also shop on The Heat Company's website for items not stocked at B&H.
The Best Photography Gloves Shortlist (In No Particular Order)
1 – Vallerret Skadi Zipper Mitt
The Skadi Zipper Mitt from Vallerret uses a zipper along a portion of the glove's edge expose your fingers, as well as a thumb that flips backwards and secures in place with a magnet. This design neatly gives you the comfort of a mitt, but also the dexterity of all fingers and thumbs when you need it to operate a lot of smaller buttons or focus point joysticks. Whilst you can unzip far enough to reveal all your fingers, I often found it necessary to only partly unzip the glove and simply poke my index finger out to operate the shutter button.
In milder temperatures, the mitt can be worn on its own, and the merino wool lining makes it extremely comfortable. If you need to add some extra warmth, a pair of merino wool glove liners is included and I found it comfortable down to about -15°C (5°F) on days without strong winds. Considering Vallerret sell an almost identical merino liner for more than $30, it seems like a particularly good deal to have some included with the mitt for $120.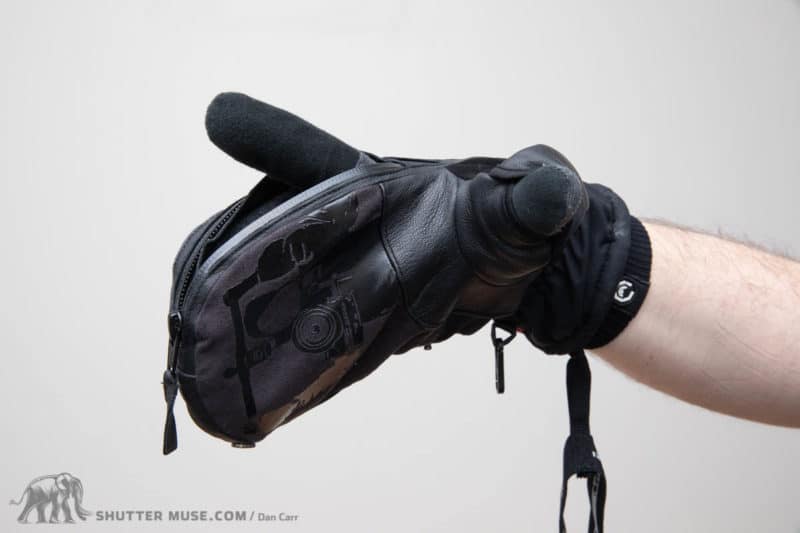 Whilst this price is by no means small change, I found the overall quality of materials and glove construction to justify the price. Goat leather and suede are used on the palm for durability, and DWR coating elsewhere provides good water resistance. On the palm, you'll also find a sticky rubber camera design that provides additional grip.
There are positive points to the design, but two negatives that also need to be considered. Firstly there is nothing to seal and secure the flip open thumb, so there's definitely potential for snow to creep into the thumb if you were to put your hand down into a lot of fresh snow. It's also the first place that you are going to feel a cold draft on a very windy day.
The second thing I noticed about using this glove is that the method for exposing and then closing up the fingers is somewhat fiddly. When pulling on the zipper in either direction, it takes a bit of practice to figure out how to get it to run smoothly. In truth, I was never able to get it to work as smoothly as I would have liked, particularly if the zipper has been opened to its full length right around the tip of the mitt.
In order to get it closed, you have to use your fingers inside the mitt to push the inside of it and counteract the pulling force you're applying on the zipper. Without doing this, pulling the zipper, even by the attached leather tab, just results in the mitt crumpling up and not closing at all. The problem is exacerbated once one of your mitts is fully closed already because this means you're fighting with it whilst having minimal dexterity from that other already mitt-covered hand. Even if you do figure all of this out, it's not the fastest glove to open and close.
Overall it's a good glove, and the best one in the $100-$130 price range if that's your budget. If you can push the budget a little higher, the Heat 3 Shell mitt by The Heat Company solves both of the negative issues I have with the Skadi mitt and also has a broader useable temperature range.
---
2 – Vallerret Ipsoot Glove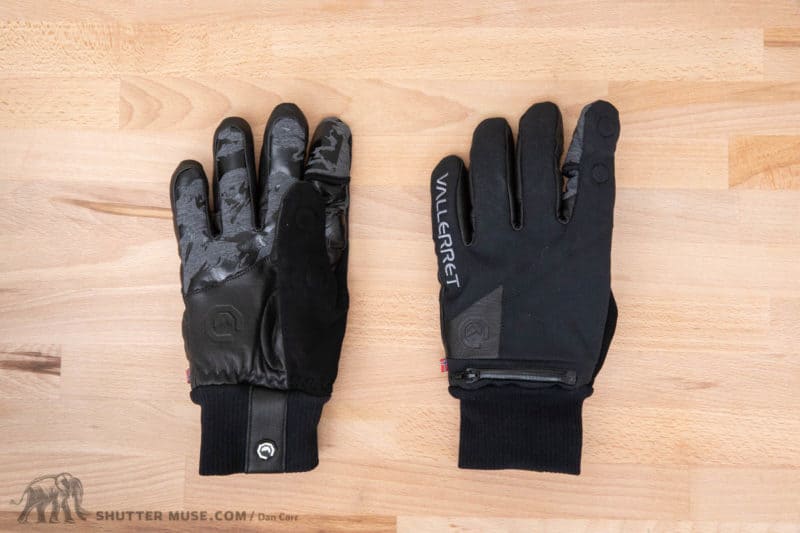 This glove has fold-back tips on the thumb and index finger to give you more control over your camera, as well as goat leather palms for durability and a merino wool lining for warmth. I found them to be comfortable in moderately cold temperatures, down to about -10°C (14°F).
The biggest issue for me was that I found the finger sizing of the Ipsoot gloves to be very strange. My three outside fingers were a perfect fit, but the thumb and index finger of the glove were both far too long. This resulted in an awkward amount of space in those digits, and it caused them to constantly fold backwards, exposing thumb and finger to the cold.
In fact, in the thumb there was an entire extra inch of space at the end, making the glove feel extremely awkward to use when trying to do anything remotely fiddly, such as tightening backpack straps or even picking up medium-sized objects… like a camera. I don't feel like I had a glove that was overall a size too big because the palm-size felt correct, as did three of my fingers. I also found the flip open thumb on the Skadi mitt to be perfectly sized and didn't experience any of the same issues with that one whilst using a large size in both the Skadi and Ipsoot.
I was confused by this but also saw that the same issue was mentioned by a customer in a review on the B&H Photo website and by at least a couple of people on the brand's own website. Having spoken to a friend who I know has used the gloves, and said he never had that issue, I can only surmise that for some reason this design is particularly susceptible to different finger lengths. Or maybe specifically thumb and index finger length.
I know that sounds weird, but there are enough good reviews out there of this glove that I feel like it must be working well for some people. (leave a comment below if you have them). With this in mind, my recommendation for this glove is to make sure you either try it before you buy it or purchase from somewhere that they can be easily returned to if you run in the same issues as me.
I also thought it was odd that these are the pro model glove of a snowboard photographer. Anyone who has ever been snowboarding will know that there will be times during the day when you are sat on the ground and need to put a hand on the ground to get back up again. Or perhaps simply put your hand in the fresh snow when it's deep. Who doesn't like to drag a hand in the powder while making a huge slashing turn? It's literally the poster moment of everyone's snowboarding dreams! But because the thumb and index finger of this glove have no way of securing or sealing them, they just scoop up snow and then it immediately gets into the glove to ruin your day. I even got cold wet fingers simply doing up my snowboard bindings on one day of testing. There are far better gloves in this guide if snowsports photography is your favourite thing.
If there's one glove in this guide that was really on the border of being allowed into it, this would be the one. I personally didn't have a good time with it at all, but at $109 I think the value is reasonable for the quality of the materials and construction that you get – so long as it fits your fingers and you are aware of the potential drawbacks of a glove with fingers that are not securely closed in any way.
---
3 – Vallerret Alta Over-Mitt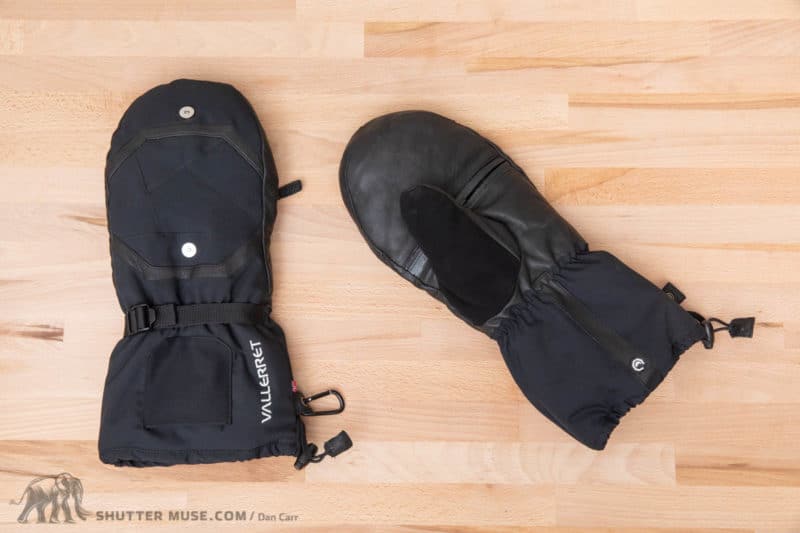 The Alta Over-Mitt was inspired by the Vallerret founders' days dog mushing in the arctic. It is a huge mitt designed to fit over existing gloves or mitts when ultimate warmth is needed for expeditions in polar regions. Not only does it add incredible warmth to existing gloves, but the long cuff also helps to lock out driving snow and extreme winds that you might find in arctic or antarctic regions.
When you need more dexterity for your tasks, you have two options: Firstly there is a zipper across the palm that opens up the mitt. In theory, the flippable part of the mitt is then held back by a small fastener on the back of your hand, although in my experience it never stayed in place. Not a huge deal, but a shame as I feel it's the only negative about this particular product and seems as though it's something that could have been easily solved.
Your second option is to use what they call a glove harness which comes with the Alta Over-Mitt. This harness wraps around your waist and then attaches to your gloves with two bungee cords. This allows you to jettison the entire mitt when needed, safe in the knowledge that the gloves are securely attached to you and won't end up in the snow. The harness itself is quite a piece of kit, and I'm definitely impressed that it comes as standard with the glove.
At $110 I think this is remarkably good value for the amount of protection, warmth and overall quality of this glove. Goat leather palms deliver durability, and DWR coated nylon gives you water resistance. I really wouldn't hesitate to use this glove in polar regions, and if anything, I found it difficult to find temperatures that were cold enough to test it in. Even with lightweight inner gloves, I was getting hot hands at -30°C (-22°F). Vallerret describes it as a sleeping bag for your hand, and I think that's entirely fair!
One thing that's important to understand about this glove is that it is not designed to be used on its own. It is deliberately oversized to accommodate regular gloves inside it, and there is no plush, comfy lining to sit up against your skin. The lining is nylon taffeta, designed to allow your regular gloves to slide inside with very little resistance. That's great, but anyone mistakenly trying to use the glove on its own (yes, that was me) will quickly find that the material doesn't feel good on the skin and causes your hands to sweat profusely. When used correctly, though, this isn't an issue.
---
4 – Vallerret Merino Glove Liner
Merino wool has a good warmth to weight ratio and its natural properties prevent funky smells from sweaty hands. This simple glove liner from Vallerret isn't really useful on its own, the wind cuts right through it, but it will add a few degrees of temperature to an existing glove.
Whilst there are other liners in this guide that can also function as gloves on their own, I would definitely warn against this with the Vallerret liner. The material is extremely thin and fragile, and they feel as though the merest hint of abrasion would cause damage. On the positive side, this thinness means that they really will fit into any other existing glove that you already own. Used as intended then, as a way to add a little extra warmth to an existing glove, they do a good job.
Importantly for photographers, they have touch-sensitive material on the index finger and thumb so the touch interface of your camera remains useable. If you currently have a generic winter glove that you are always removing to operate the camera, this liner would be a good way to improve that situation so that your hand isn't fully exposed to the cold when you take off that outer glove.
---
5 – Freehands Stretch Thinsulate Glove
Whenever I do these kinds of gear guides I try to make sure that there are options for people at various price-points. At only $30 the Stretch Thinsulate gloves from Freehands definitely fall into the budget category but manage to punch above their weight in terms of functionality.
For this kind of low price I wasn't expecting much more than a basic glove liner, but what you get is actually a much more complex design. The palms are reinforced with a grippy, flexible latex and the main wind-resistant glove body is lined nicely with soft Thinsulate material.
For ease of camera operation, the tip of the thumb and index finger fold back and are held in place securely by magnets. I was actually impressed by how well these held in this position because I have come across vastly more expensive gloves that have failed to use strong enough magnets to adequately achieve this.
Whether or not this will be a suitable glove for you will largely depend on the conditions you plan to use them in. The gloves definitely reveal their lower price point when testing them against more challenging weather. I found them to be somewhat resistant to wind, but not really resistant to moisture at all. In terms of overall warmth, they were no match for a slightly thicker liner like the Polartec Wind Pro Liner from The Heat Company. So they're cheap, but it limits the useable temperature range and makes them most suitable for an urban environment where you are more likely to be sheltered from extremely strong, cold winds and have the option to head inside if it's raining or snowing heavily.
In terms of sizing, I found these gloves to run small. After meticulously measuring my hands before ordering them from the manufacturer I should be on the border between a small and medium according to their sizing chart. Having never been a size small for any other glove in my life I opted for the medium but still found it to have short fingers and feel tight across my palms. When I discovered this I read through some reviews of the glove on B&H Photo and found plenty of other people saying the same thing. My advice would definitely be to buy one size larger than the sizing chart suggests.
Overall I was impressed by these gloves, and you really can't fault the price. If you don't plan on venturing into particularly extreme conditions and have a limited budget, these are a reasonable option.
---
6 – POW Transfilmer
POW make gloves for skiing, snowboarding and mountain biking, but they also happen to make a mitt that's designed for photographers. Unlike most of the other gloves in this guide you aren't going to find this glove in a photography store, so you'll have to keep an eye on Amazon, or perhaps order directly from POW when they have stock.
Note that the glove in the photos is a model that I have had for a few years and I was unable to get my hands on the very latest model. I don't think the overall functionality has changed much, but if you are considering a purchase you should be sure to check on this yourself.
Once the mitt is flipped back it reveals one short, open trigger finger, allowing you operate your shutter button with confidence, and have the necessary feel to half-press the shutter if needed. None of the other fingers or the thumb are open and the relatively thick leather on those closed fingers makes it tricky to manipulate very small buttons or directional control pads and joysticks. Personally, I find that there is no problem simply depressing something like an AF-on button on the back of the camera when it falls directly beneath the thumb, but it's more of a struggle if I'm trying to press smaller custom function buttons elsewhere on the camera body. Canon users will be familiar with the tiny m-FN button next to the shutter button on many of their cameras, and the button is definitely too small to manipulate through leather-covered fingers.
The POW Transfilmer is most similar in style to the Softshell 2 glove made by The Heat Company, with the main difference being the ability to flip the thumb open on the latter, and the fact that all four fingers are open. I preferred the Softshell 2 glove for the added tactility that the open fingers provide.
When the prices are roughly comparable – $60 for the Transfilmer and $65 for the Softshell 2 – I would definitely recommend the Softshell 2. That said, I have occasionally seen much lower sale prices on the Transfilmer, sometimes as low as 40-50% off through Amazon. When the price gets as low as that, the Transfilmer is a great deal.
---
7 – The Heat Company Heat 2 Softshell
The Heat 2 Softshell glove is a flippable mitt with a fingerless glove design hiding underneath it. The palms are made of soft, durable and highly water repellant goat leather, while the rest of the glove is stuffed with wind-resistant Thinsulate.
When I set out to test all of these gloves for the guide I had some pre-conceived expectations about them, based simply on price-points and details from various brand websites. More than any other glove on this list, the Heat 2 Softshell wildly exceeded these expectations, and it did it at a price ($65) that makes them very affordable compared to some of the other options on the market.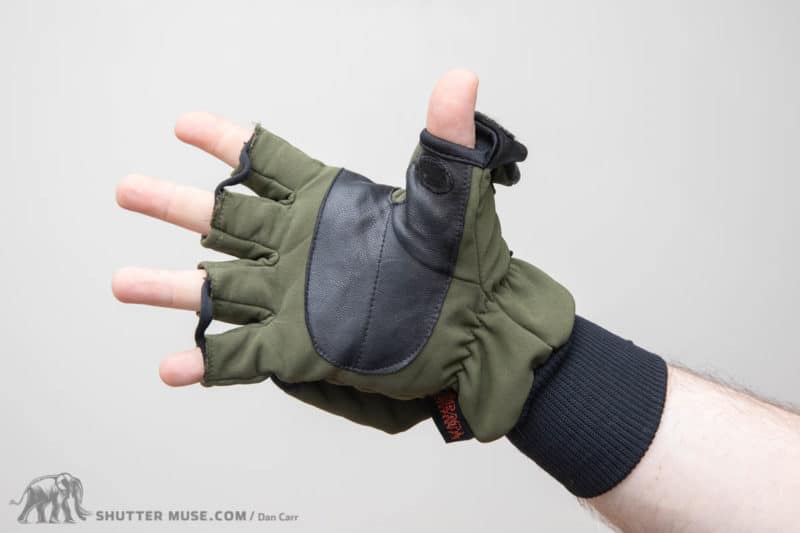 I loved how easy it was to pull back the mitt and expose all my fingers, and conversely how fast and easy it was to cover them up again. Even the very best photography gloves that seal your fingers in with zippers can't compete with the speed of the Heat 2 Softshell.
The design of this glove also gives it the widest usable temperature range of any glove in this guide. On warmer days (or during high aerobic activity) the glove is perfectly useable without the mitt portion being used at all. When the mitt is flipped back and secured with the hook and loop pad, it simply feels like you are wearing a fingerless glove. Whereas most other larger flippable mitts feel like you are temporarily wearing a mitt that has been folded back.
Does that make sense? I hope so. Essentially you can wear this glove on any day, or for any task where you don't even need the mitt portion for its added warmth, and it still operates at 100%. When you do flip the Thinsulate-lined mitt over your fingers though, the material is extremely wind-resistant and increases the warmth by a huge amount. On top of that, the mitt section also features a pocket in it to hold a hand warmer if you need even more warmth. Even without using the hand warmer option, I was very comfortable wearing this glove in temperatures as low as -18°C (0°F) in the dry (low humidity) cold that we experience in the Canadian North.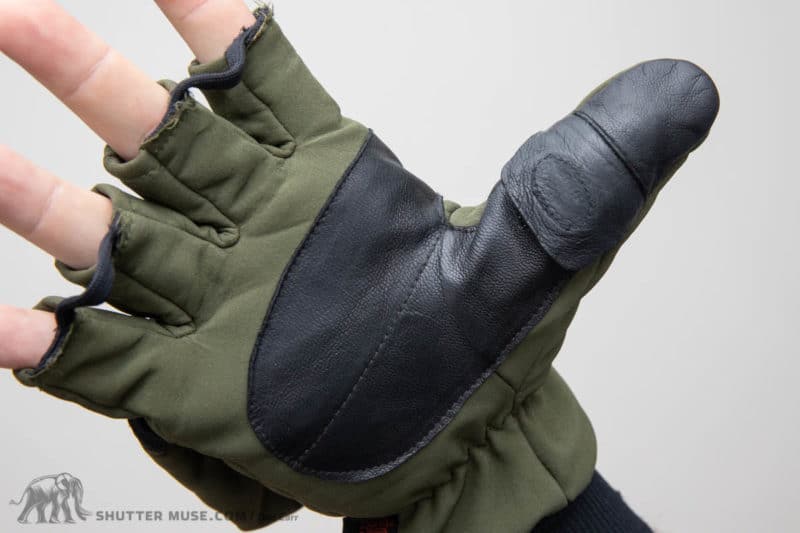 All of this makes the Heat 2 Softshell the most versatile photography glove in this guide, with one main caveat: Don't put your hand in the snow! If you're doing any kind of activity in the snow that might involve you accidentally, or necessarily, putting your hands into deep snow then this is not the right glove for the purpose. The mitt doesn't seal your fingers away and it'll just scoop up the snow and place it in direct contact with your fingertips.
For me, this prevents anyone using the glove for things like skiing and snowboarding photography, but I never really ran into any problems when I was out hiking around for cold-weather landscape or wildlife photography. If you do need to add some water resistance to this glove, you can consider adding the Polar Hood from The Heat Company, which is detailed further down the guide.
Overall, I loved this glove and its versatility meant that it spent more time on my hands during the testing period than any other glove in this guide. After all, if you live in a cold environment then you need a good glove daily and not just while you are out doing photography. Whether it was walking my dog, driving my car, carrying groceries from the store or photographing wildlife and landscapes, I found this glove to be an absolute pleasure to use.
When I first created this photography glove guide B&H Photo did not stock this glove, which made it a little harder for people to get hold of it. After testing it I knew that had to change so I spoke to the B&H buying department and explained my thoughts on this product, and they gladly agreed to start stocking it so folks in N.America can easily get hold of it. Here it is on B&H.
---
8 – The Heat Company Heat 3 Shell (and the 3-layer system)
The Heat Company 3-layer system is is comprised of:
1st layer: Optional liner inner glove, available in a large variety of materials to suit different temperatures and purposes.
2nd layer: Heat 3 Shell Mitt. The core of the system. Useable on its own, or in combination with the 1st layer and 3rd layer.
3rd layer: The optional Polar Hood. Additional protection against wind and moisture in extreme polar climates.
In the next few sections of this glove guide we will take a look at my favourite liners from the system, and the Polar Hood, but first we're going to start with the core of their system: The Heat 3 Shell Mitt – $168 from B&H Photo.
When I first learnt about these gloves I contacted the US distributor for some more information, and I was surprised to get a reply from Canon Explorer of Light, Charles Glatzer. I'm very familiar with Charles' work, but it turns out that he is also the importer and distributor of The Heat Company gloves in the US. During a quick call with Charles, he explained to me that these gloves were originally designed for military purposes so that arctic infantry could use their weapons in cold climates. He realized the potential for them to be great photography gloves, and so worked with the company to make s few tweaks to the gloves that would make them even more suitable.
What we have here is a highly water-resistant and wind-resistant technical winter mitt. More than any other glove in this guide, the Heat 3 Shell mitt just looks like an expensive, technical backcountry ski glove, and it has all the features you would expect to find on such a glove:
Long elasticated cuffs to keep the snow out
Two different drawcords to adjust cuff fit in two places
Nylon loops on the mitt to hang gloves vertically when drying them at the end of the day
Robust carabiner attachment points for connecting the two gloves together
Plastic d-rings to connect the optional glove liners to the mitt, and the mitt to the optional Polar Hood
Hand warmer pockets
Waterproof zipper
Elastic writs straps so you don't drop the gloves
Goat leather palms
On top of that, you have the features that make this work for photographers: A fold-back thumb, which unlike other gloves on the market also has a leather flap and a hook+loop pad to secure it and prevent snow/wind ingress. Then of course you have the zipper across the palm to allow you to fold back the mitt and expose all four fingers.
Whilst the various liners are a nice addition to the system, there's definitely no need to use them if you feel like temperatures won't be too much of an issue for you during the moment when your fingers are exposed. When used on their own, I was more than comfortable in temperatures ranging from about -5°C (23°F) down to -25°C (-14°F). When combined with the rest of the system, you can easily put together a glove that will get you down into temperatures of -40°C (-40°F) and below.
In all my time using this glove system I have failed to find anything major to fault it. The one minor improvement I can think of would be to install a small flap of leather on the inside of the glove behind the zipper. On a very cold day, it is possible to feel a draft coming through the zipper if you aren't wearing a liner and a tiny little flap would prevent that. Other than that, this glove is absolutely fantastic, and it was a clear winner for me when putting this guide together.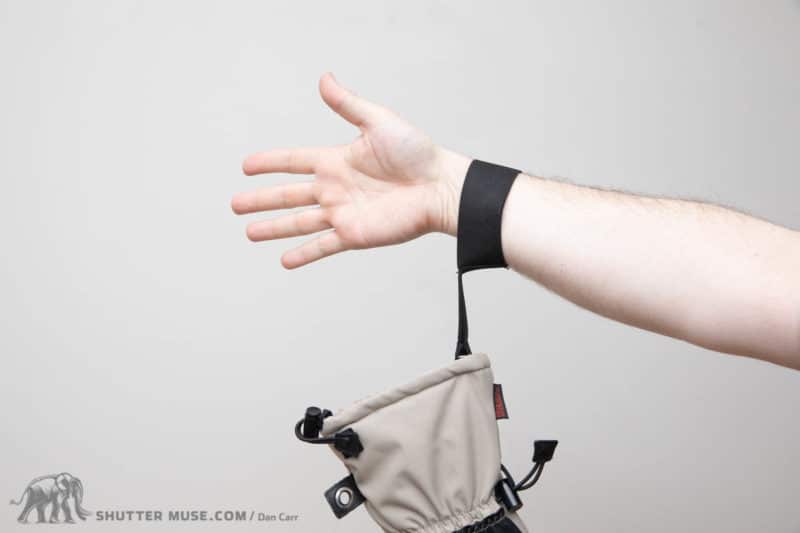 The Heat Company also make a version of this same glove called the Smart mitt, which has the liner sewn permanently into the glove. B&H Photo sells this version too, but I would absolutely avoid that one in favour of the Shell mitt with one of the optional liners. It is a far more versatile setup that lets you adapt to different temperatures with ease. It also means that if you wear out your liners, with the Shell mitt and the separate liners you can simply replace the relatively cheap liner and not the whole glove! Get the Shell and not the Smart mitt!!
Note: There is also a full leather version of the Shell mitt available for a bit more money ($208). I guess in theory the full leather version might be even more durable, but I don't really see the need to spend the extra money on it as the regular version with the leather palms is extremely durable on its own.
---
9 – The Heat Company Polartec Liner
As mentioned above, The Heat Company make a wide variety of liner options to be paired with the Heat 3 Shell mitt as part of their 3-layer system. This Polartec liner offers a good balance between wind resistance, breathability and warmth, and I found it more than comfortable down to -30°C (-22°F) when used with Shell mitt.
All of The Heat Company's liners have touch-sensitive materials sewn into the thumb and index finger, as well as a pocket on the back of the glove for use with chemical hand warmers. On top of that, a carabiner is provided to secure the gloves together using the plastic d-rings sewn into the cuffs. As far as "simple" glove liners go, these are incredibly well-thought-out and well-constructed products.
If you need something that is even warmer, check out the leather Durable liner and the Wind Pro liners coming up next in the guide.
---
10 – The Heat Company Durable Liner
NOTE: In 2020 the also launched the Durable Liner PRO, which features an updated fit and a Polartec Wind Pro backing. It's likely a better liner than the regular Durable Liner, but I haven't yet tested it. You can find it here. It's possible that they will discontinue the original Durable Liner, pictured here, and replace it with the PRO version.
This sheepskin leather Durable Liner glove provides a balance between wind protection, tactility and durability. Whilst designed as a liner for the 3-layer system, it also functions well on its own as a durable general purpose glove.
In my testing, I found that I preferred the stretch of the Polartec liner options compared to the tighter feel of the leather liner, but there's no doubt that the leather option is far more resistant to abrasion, as the Durable name suggests. Exactly what you plan on doing whilst wearing the glove should factor into your decisions here. Simply holding a camera isn't very abrasive, but I would pick this leather liner if I was going to be constantly pulling the starter cord of a snowmobile, or swinging an axe to chop firewood.
Whilst wind protection is very good, moisture protection from thin leather gloves is quite poor so you wouldn't want to choose this liner option if you plan on using it in cold, wet environments (Pacific North West winters anyone?).
When I talked to Charles Glatzer about these gloves, he was clear that the Durable Liner with the Shell mitt was his preferred combination in The Heat Company lineup.
At about $65, these are some of the more expensive liners in The Heat Company range.
---
11 – The Heat Company Polartec Wind Pro Liner
Another liner option for The Heat Company's 3-layer system, this time using thicker and more wind and water-resistant Polartec Wind Pro material. The liner is also patterned with a grippy rubber material which can aid your grip on camera gear in cold conditions.
These are a considerable step up in warmth compared to the regular Polartec liners discussed a few sections back in this guide, and I also found them to be far more breathable than the leather Durable liner option. When paired with the Heat 3 Shell mitt I was easily comfortable in temperatures as cold as -40°C (-40°F), and that's without even having to use hand warmers or add the third layer of their 3-layer system, the Polar Hood.
Used as a glove on their own, the Wind Pro material is impressively resistant to wind and moisture, and I felt comfortable for prolonged periods down to -10°C (-14°F).
After a winter of testing, this was my preferred glove liner for the part of the world that I live in. When paired with the Heat 3 Shell mitt and the Polar Hood, it's a damn near perfect photography glove solution for a wide variety of weather conditions, so long as you plan on encountering these kinds of extreme negative temperatures. The regular Polartec liner would be a better option if you don't think you'll encounter temperatures that dip below -20°C (-4°F). The Wind Pro costs $65.
---
12 – The Heat Company Polartec Heat Tube
If you're looking for something to just take the edge off a chilly morning without spoiling your dexterity and the grip you have on your camera, the Polartec Heat Tube ($28) from The Heat Company is your answer. Think of this as one step down from a full glove liner, but a good step up from just pulling the arms of your jacket down further to cover your hands.
Made from Polartec Power Stretch PRO, this is quite obviously designed for warmer climates than the other gloves on this list when used on its own. But warm climates can still have cold mornings and I can see this being a nice option to have on safari in places like Africa.
Whilst there are a lot of options for thick, warm photography gloves, there are considerably fewer options when you need something lightweight that also lets you touch the camera directly. Most other liner gloves simply go for full finger coverage with touch-sensitive material on a couple of the fingertips. This is not always optimal if you are heavily reliant on the touch controls of your camera, or trying to manipulate many small custom function buttons on the front and back of the camera body.
Of course, just like all the other liners from this company, the Heat Tube also has a pocket for a hand warmer should things get a little colder one day.
When layered inside the Heat 3 Shell Mitt as part of The Heat Company's 3-layer system, this becomes a good mid-layer for people with good circulation. Stay away from this one if you're the kind of person that always has noticeably colder fingertips than the rest of your hands and fingers.
As I've mentioned several times already, I really like to be able to touch my camera directly whenever I can. I'll always push the limits of my warmth to try and maintain that ability before switching to thicker full-coverage liners like the Polartec Wind Pro liner. This Heat Tube, in combination with the Heat 3 Shell mitt, allows me to push that just a little further by adding more core hand warmth to that mitt.
When I purchased this glove I really wasn't sure what I'd make of it, but it was so unique looking that I knew I needed to test it to make sure this guide was as thorough as possible. In the end, I used them quite often, although I will say that whenever I did have them with me, I also have a pair of full liners (mostly the Polartec Wind Pro ones) in my bag as well just in case things suddenly got a lot colder.
My recommendation for you would be to do the same thing if you are considering buying the full 3-layer system by The Heat Company, or just the first and second layers. This makes an excellent option as a second liner option in your bag alongside a primary warmer liner. As a glove on its own, it works well as a way to give you full finger dexterity for chilly dawns and dusks in the warmer parts of the world.
---
13 – The Heat Company Polar Hood
As I mentioned earlier in the description of The Heat Company's 3-layer system, the Polar Hood is the final layer of defence against the cold and the wet.
This waterproof shell glove is designed to go over the top of your primary photography glove or mitt to prevent strong winds and moisture from entering the zippers or flippable fingers. Whilst these finger accessibility options are the important features that define photography gloves and give us much-needed dexterity, they are undoubtedly a weak link when used in extreme environments, and the Polar Hood neatly solves this problem.
What's particularly nice about the Polar Hood is that it has a very universal design that will cover just about any other glove you can think of. It certainly doesn't need to be one of The Heat Company's gloves if you already have something else. They're also relatively lightweight and easily small enough to roll up into a jacket pocket or the top pocket of a camera backpack.
For big polar photography expeditions in the Arctic or Antarctic I would say that either this Polar Hood or the Valleret Alta Over-Mitt are an absolute necessity if you are using a glove that has any kind of finger access, be it a zipper or simple flip back fingers. You simply can't run the risk of letting moisture and freezing wind into the core of your glove in temperatures that have the capacity to give you frostbite.
If your primary glove is already something fairly thick and warm, like the Heat 3 Shell mitt, then the Polar Hood makes the perfect companion. Being a shell, the Polar Hood only really provides additional warmth by acting as a barrier to cold winds. On the other hand, the Alta Over-Mitt from Valleret is a significant insulated glove in its own right, so that is the best polar expedition option if your primary glove is something with less warmth like the Skadi mitt. Unsurprisingly, these two brands designed their polar options with the rest of their own glove lineups in mind!
The Polar Hood is available from B&H Photo for $76 and unlike their other gloves, the sizing is simpler with just small and large options available.
---
14 – COOPH Photo Glove Ultimate
At first glance, the Photo Glove Ultimate from COOPH looks similar in design to the Shell mitt from The Heat Company, but there's one main difference: The liner in the COOPH glove is sewn into the mitt.
This slight difference significantly impacts the way in which the glove can be used. It removes the ability to use different liners for different temperatures, or the ability to easily regulate hand temperature during a variety of differently strenuous outdoor activities. It also means that in order to touch the camera directly, you have to remove the entire mitt. Not something you are likely going to want to do if it's cold enough to be considering wearing a glove of this thickness in the first place.
The glove is also a bit of a pain in the ass to take on and off due to the choice of material for the index finger liner. Their chosen material doesn't slide easily over your skin, so the finger can get twisted up and need adjustment once the glove is on. Copious amounts of the touch-sensitive material have been used in the finger construction, and it sits directly against your skin instead of being a small patch sewn onto the tips as all other manufacturers do. I found this material to be uncomfortable against my skin and cause my fingers to get damp.
On top of that, you need to unzip the mitt to hold the liners when you remove the glove, otherwise, the liner gets pulled into the glove and you'll spend five minutes trying to invert the fingers again. But this is made harder by the puzzling choice to use a tiny zipper on the palm. A zipper that must be gripped by your big fat leather-wrapped hand.
In a straight fight between the somewhat similar styles of the Heat 3 Shell mitt from The Heat Company and the COOPH Photo Glove Ultimate, my very clear choice would be for the Heat 3 Shell. At 199Euros (approx. $220) the two options work out to be roughly equivalent in cost when you factor in the cost of a separate liner for the Shell mitt.
In my opinion, it's a real shame that they don't make this very same glove with a simple removable liner. The full black leather design doesn't suit my own personal taste, but it certainly would provide the perfect opposite styling to the more technical looks of the gloves made by The Heat Company. If everything were equal, I'm sure some people would choose the COOPH option with what I think is more of a "city-style" glove.
But things aren't equal, and that leaves a much smaller target market for the COOPH glove. Essentially for this glove to be right for you, you need to be the kind of person that puts a glove on in the morning when you step outside and then takes it off when you get home later. Secondly, you need to be someone that isn't going to want to have the option to directly touch the camera.
If you're the kind of person that struggles to regulate their temperature and is constantly taking layers on and off, and taking gloves and liners on and off trying to maintain some sort of thermal equilibrium during outdoor activities (me!), then this is not the glove for you.
With all that said, if you aren't put off by the limitations I have described then you'll at least find a beautifully made leather mitt.
From a size perspective, I found overall glove sizing to be on target with their suggestions.
---
15 – RucPac Professional Tech Gloves
Putting the name of these gloves aside – I dislike it when companies needlessly and meaninglessly insert the word 'professional' into a product name – these gloves from RucPac are a great option for those on a tight budget. They are touchscreen compatible, comfortably stretchy and provide excellent grip on your gear from a rubberized pattern across the palm.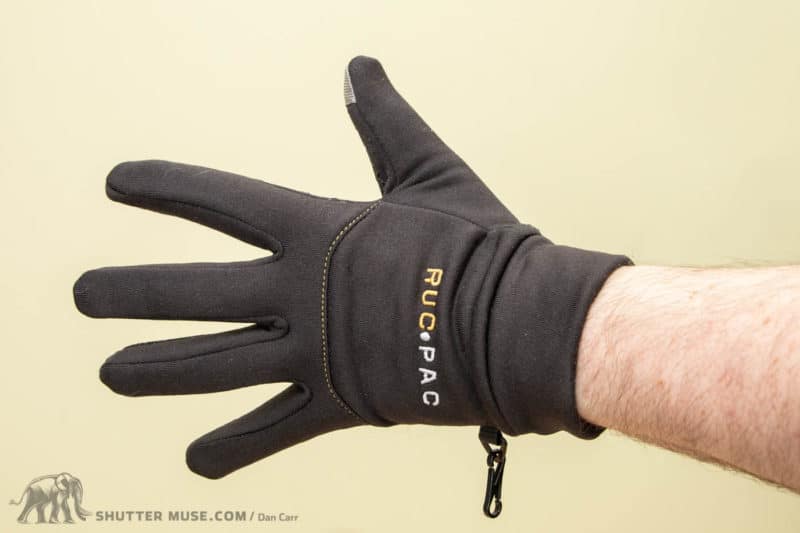 The fleece material will keep you warn in temperatures approaching zero Celsius (32F), and while that obviously doesn't match the temperature rating of some of the other gloves on this list, this glove isn't pretending to be anything other than lightweight weather protection. In reality, most people don't live in extremely cold places, but they do need a glove for the occasional chilly morning.
This is also a glove that could be worn as a liner inside a bulkier winter glove, giving you the option to remove the outer glove and work your camera while keeping the RucPac glove on.
---
16 – RucPac Extreme Tech Gloves
The RucPac Extremes are a thickly insulated full mitt flipper-style photography glove. They are the newest gloves on this list, and they may well be the most comfortable on a dry cold day. As with RucPac's other glove in this guide, the rubber material on the palm is extremely grippy, giving you much-needed confidence when using such a thickly insulated glove. Much like the similarly designed Heat 2 Softshell glove from The Heat Company, I was happy using these down to -18c(0F), but it must be remembered that this style of flipper glove is no good in wet weather heavy snowfall.
These gloves are an excellent addition to this glove guide, and the $59.99 price point makes them a top contender for best dry weather all-rounder. For more details, check out my RucPac Extreme Tech Glove review.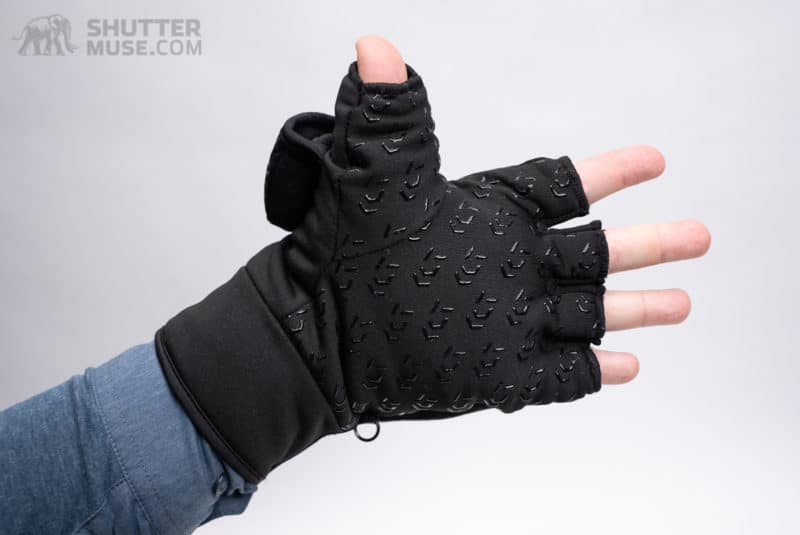 ---
Conclusion
The Heat Company was a glove brand that had stayed under my radar until I began the research for this guide, but when I started to talk to people the name just kept coming up over and over again alongside the other main companies I was already aware of. What struck me was that everyone was telling me that they had been told about these gloves by another person during a photo workshop. Their reputation was very much passed on by word of mouth and not by social media or review posts on other photography websites.
When I got my hands on their products it was no surprise to me at all that people had been telling me good things about them. The 3-layer system with the Heat 3 Shell mitt stands above the rest of the options on the market for versatility and design, and even the much cheaper Heat 2 Softshell glove was the best-of-the-rest option for slightly warmer temperatures or smaller budgets.
Other brands such as Vallerret and COOPH might be doing a better job at marketing and gaining brand awareness amongst photographers, but after lengthy testing, I can honestly say that in general their products that I tested have room for improvement, and in some respects lefts me quite disappointed.
I also want to say that I have been very impressed with the lower priced offerings from RucPac, particularly the very comfortable Extreme Tech flipper mittens. Their gloves don't offer offer the wet weather resistance of the high-end Heat Company gloves, but they are warm and well priced.
Once again I'm glad to have undertaken such an exhaustive test because I can now confidently choose the best gloves for my own work, and I hope it helps you choose yours too.
Which Photography Gloves Do You Use?
I spent a great deal of time testing and researching gloves to find what I believe to be the best solutions on the market right now, but it's always great to hear from other photographers about their experiences. What kind of gloves are you using right now, or which one are you thinking of buying?
Leave a comment below and let me know!