This guide will look at the best photo storage devices on the market this year. I will break this down into a few distinct sections: Firstly, I will discuss my recommendations for the best portable drives for photographers. These are great backup drives for travel and editing outside your home or office. Following this, I will discuss my recommendations for the best external hard drive and, finally, the best full-blown RAID storage systems for photographers, including NAS systems.
Although this might not be the sexiest gear I have ever covered in our photography gear guides, this might be the most important. Far too many photographers do not bother to create a sound backup system for their photos. They gamble with their hard-earned photos and only realize it was a bad idea when it's too late. This guide covers the best external drives for photo storage, and when you combine it with an understanding of the industry-standard 3-2-1 backup system, your precious photos will be protected.
Best Portable Drives for Photographers
A portable drive is defined as a bus-powered drive. This means that it can be powered by the USB or Thunderbolt connection to your computer and does not need a separate power supply or power cable, making it ideal for mobility. Portable drives can be solid-state drives (SSDs) or hard drives (HDDs). Hard drives are available in larger capacities, such as the 5TB LaCie Rugged or the 5TB WD My Passport Ultra. On the other hand, External SSDs lack moving parts, making them more reliable, are faster and thus better suited to video editing and in-field backups of large photo quantities.
Though portable hard drives used to be the top sellers in this segment, massive cost reductions in solid-state drives have recently seen these smaller, faster and more robust drives edge ahead in popularity. Still, I have included my favourite HDDs and SSDs in this section, as I still find plenty of uses for both types of external drive.
LaCie Rugged USB-C
The LaCie Rugged USB-C portable hard drive is an easy choice if you need rugged protection combined with a large capacity. Available in 1TB, 2TB, 4TB and 5TB capacities, with pricing that starts well under $100, this USB-C portable drive can easily connect to Macs or PCs with a USB port or a Thunderbolt 3 or 4 port. Yes – you can plug USB-C drives into a Thunderbolt 3 or 4 port! Many people don't know this.
---
Sandisk Extreme Portable SSD V2
The Sandisk Extreme Portable SSD V2 is available in 500GB, 1TB, 2TB and 4TB capacities. With its USB-C 3.2 Gen 2 (10Gb/s) connection, it can deliver 1050MB/s read and 1000MB/s write speeds in a package that is small enough to fit in a shirt pocket. IP55 dust and water resistance allow for brief submersion in water, helping to protect your photos during unforeseen circumstances. This external SSD is of exceptional value.
---
Sandisk Extreme Pro Portable SSD V2

A little larger than the non-PRO version, the Sandisk Extreme PRO Portable SSD V2 is available in 1TB, 2TB and 4TB capacities. The PRO in the name means that this portable drive uses a USB 3.2 Gen 2×2 Type-C connector capable of twice the speed of its smaller sibling – up to 2000 MB/s read and write speeds – with compatible computers.
Important: The USB 3.2 2×2 connection protocol is not common. When writing this guide, no Apple computer supports this connection type, and very few PCs support it. If you computer does not support it, the drive will only run at 1000MB/s. Effectively, that would mean that you paid for the more expensive PRO version, but get performance no better than the non-PRO version. A waste of money! Make sure your computer supports USB 2×2 before buying this drive.
---
OWC Envoy Pro Elektron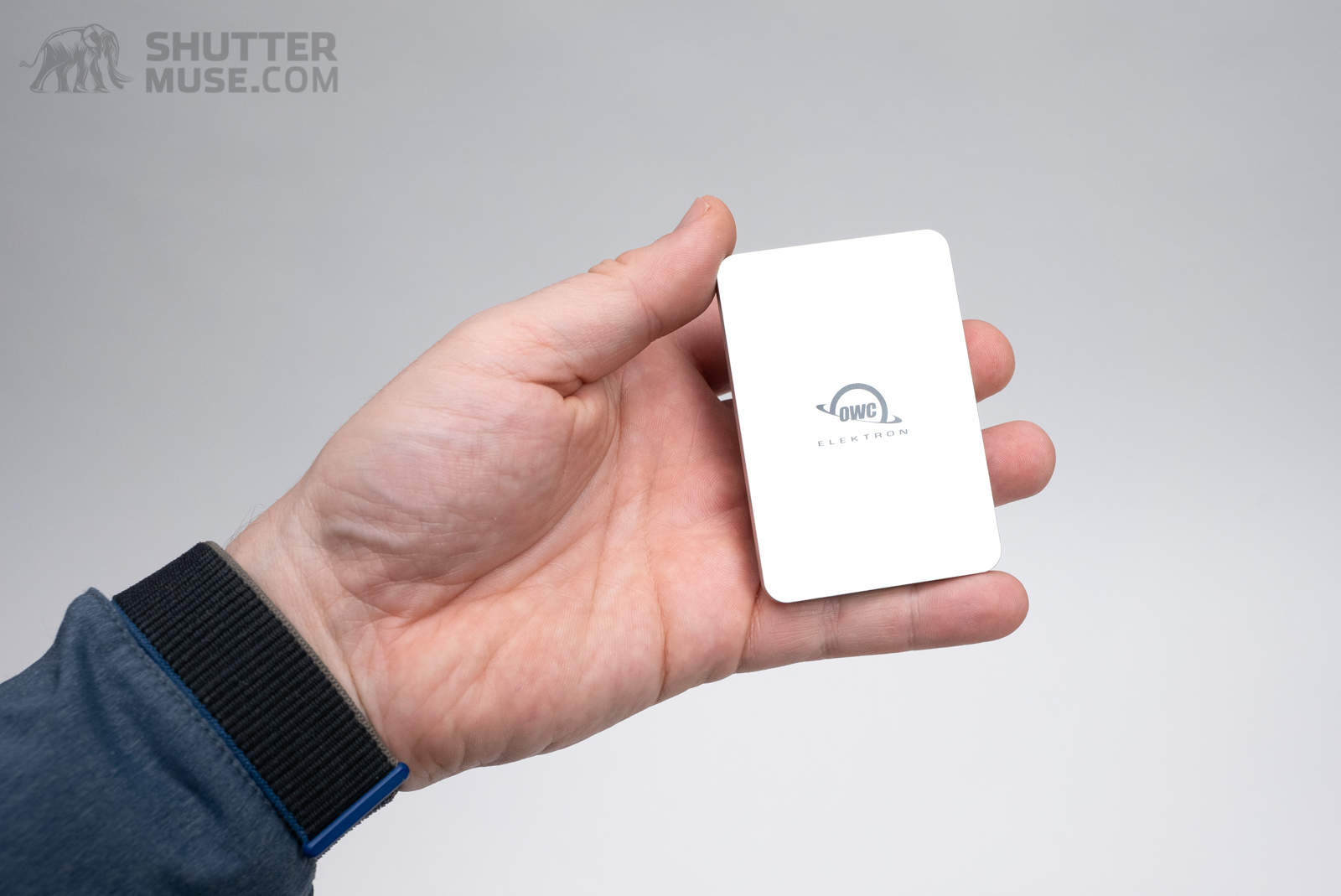 Suppose you're looking for the ultimate way to protect your files while on the road; look no further than the OWC Envoy Pro Elektron. This portable SSD is milled from a solid aluminium block, making it crushproof, dustproof and waterproof to IP67 standards.
IP67: Protected from dust and submersible in 1m of water for up to 30 minutes.
---
Samsung T5 SSD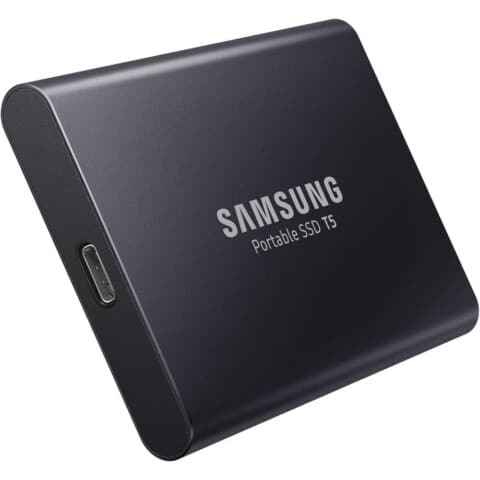 The Samsung T5 SSD is incredibly popular and widely available. If you need a no-frills SSD and find it on sale, the T5 is a reliable option. The downside is that its NAND flash SSD technology is outdated compared to the newer NVMe SSD technology used in SSDs such as the OWC Elektron and Sandisk Extreme. The result is a maximum read and write speed of around 540Mb/S, roughly half the speed of its competition.
Samsung T7 Shield SSD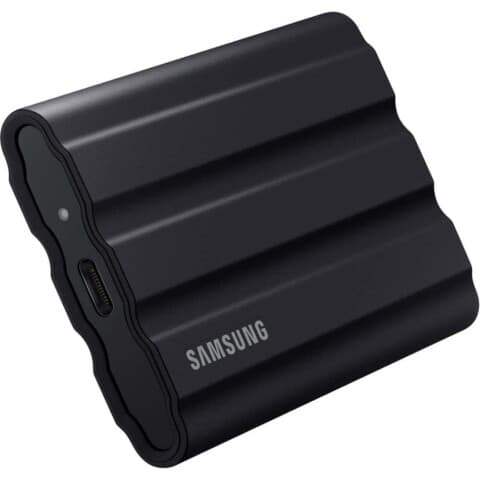 The T7 Shield is Samsung's latest solid-state drive. It uses PCIe NVMe technology to achieve speeds that are twice as fast as the T5, clocking in at 1050 MB/s, and also adds a protective rubber case with 3m drop resistance and IP65 dust and moisture protection. These specifications make it slightly more durable than its main competitor, the Sandisk Extreme SSD. It comes in a little cheaper than the Sandisk Extreme, although the latter is often on sale, so prices should be compared.
---
LaCie Rugged SSD PRO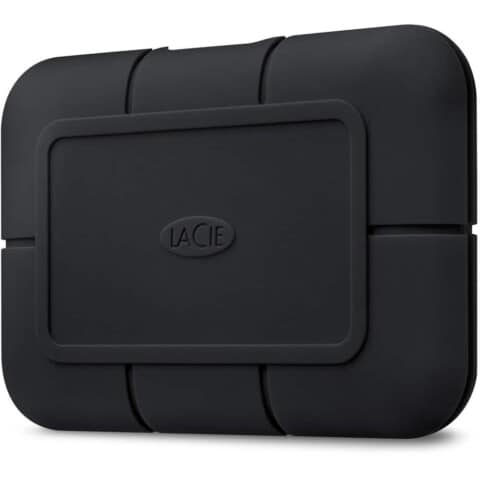 ---
WD My Passport Ultra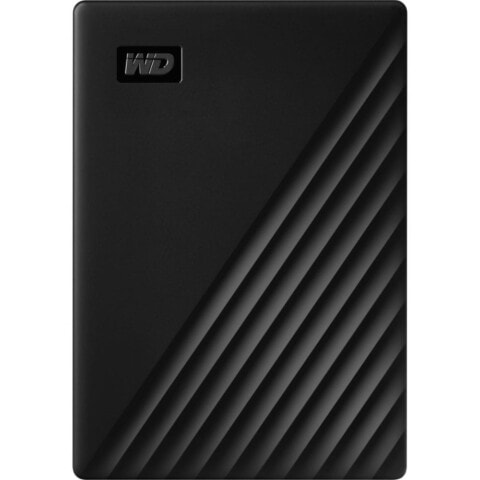 The Western Digital (WD) My Passport Ultra t is available in 1TB, 2TB, 4TB and 5TB capacities. If you don't need the protection offered by some of the more rugged portable drives on this list, the WD My Passport Ultra is a cheaper option that is often on sale. The My Passport Ultra features a USB-C port and comes with a USB-C to USB-C cable, plus a USB-C to USB-A adapter for universal compatibility with Mac or PC. Those wanting a bump in speed and reliability might also consider the WD My Passport SSD version.
WD My Passport Ultra Price Check:
---
OWC Envoy Pro FX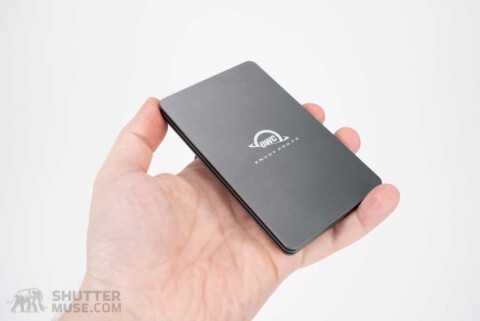 The OWC Envoy Pro FX is a very interesting SSD. Like the LaCie Rugged SSD Pro, it can reach speeds of up to 2800MB/s. Unlike the LaCie and many other Thunderbolt drives, it features a universal Type-C port that can connect over Thunderbolt or USB. This solves a massive problem for people who want to swap drives back and forth between different machines, especially between Macs and PCs, where commonly, the PCs only have USB ports.
If you want an ultra-fast SSD that you can be sure will easily plug into any Mac, PC or even a Linux machine, the Envoy Pro FX is the answer. It even comes with a Thunderbolt 4 cable featuring a built-in USB-A adapter! This means that you can plug it into Thunderbolt 3 or 4, USB4, or any USC-C or USB-A port out of the box. It's also drop-proof to MIL-STD810G standards and IP67 rated for dust and moisture protection.
---
Best External Hard Drives for Photographers
Portable bus-powered drives are helpful for people who move around a lot with their files, but sometimes you want a hard drive with a larger capacity. While current portable drives top out at around 5TB in capacity, larger 3.5″ external drives are available in capacities up to 20TB. In this section of the guide, we'll take a look at the best external hard drives for photographers who need a single drive on their desks. These drives are physically larger than the portable hard drives and SSDs from the previous section, and they all require the use of a power brick.
WD Elements Desktop USB 3.0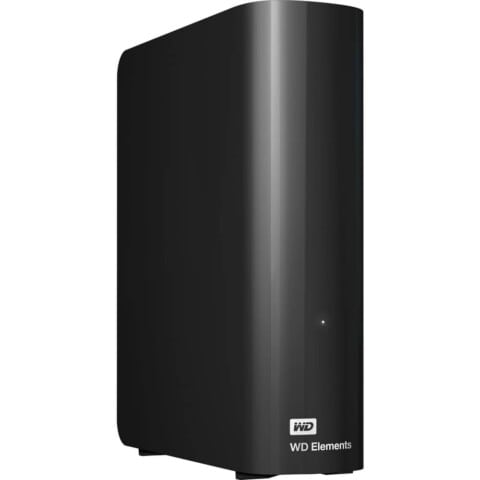 The WD Elements Desktop hard drives are available in 4TB, 6TB, 8TB, 10TB, 12TB, 14TB, 16TB and 18TB capacities. These are relatively inexpensive 5400rpm drives with a Micro-USB 3.0 connection, capable of delivering read and write performance in the region of 185Mb/s.
---
Seagate Expansion Desktop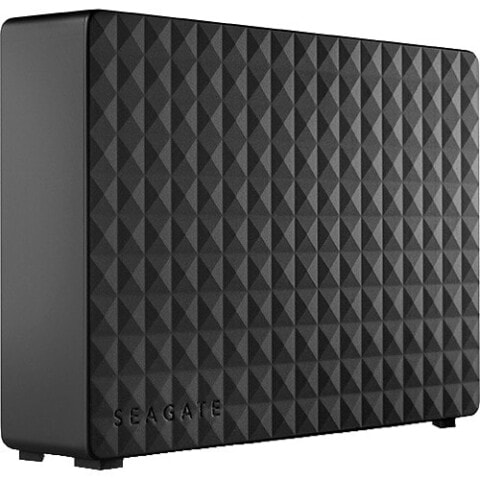 The Seagate Expansion Desktop series is available in 4TB, 6TB, 8TB, 10TB, 12TB and 16TB capacities. Just like the WD Elements Desktop drive above in the guide, this is Seagate's "cheap and cheerful" 5400rpm desktop hard drive solution with a Micro-USB 3.0 connection.
---
SanDisk Professional G-DRIVE Enterprise-Class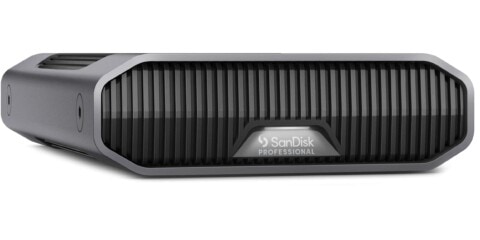 The Sandisk Professional G-Drive Enterprise Class (previously G-Technology G-DRIVE) is available in 4TB, 6TB, 12TB, 18TB and 22TB capacities. Each drive is fitted with a Western Digital Ultrastar 7200rpm enterprise-class drive capable of read and write speeds of close to 250Mb/s. The drive connects to your computer using a USB 3.2 Gen 2 Type-C connector. New for this updated model is a button on the rear of the drive to change the LED brightness from OFF to default or bright mode. The case is stackable, features a Kensington lock port for on-set DIT carts or shared office users, and is created from anodized aluminium.
---
RAID Photo Storage Systems – Knowledge Primer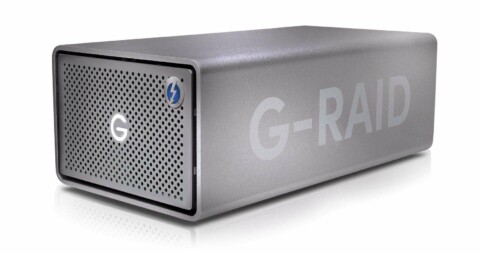 When discussing photo storage devices and backup, RAID is a buzzword. Unfortunately, many people misunderstand how these devices work and their true purpose. Before I get to the list of recommended RAID drives for photographers, I want to make sure you know the basics. Misunderstanding how a RAID works is one of the leading causes of photographers losing all of their photos.
RAID Is Not a Backup
One of the most common misconceptions is that a RAID storage system counts as a backup. When asking photographers how they back up their photos, I can't begin to tell you the number that tells me, "Oh yes, I have a backup. All my photos are on a RAID drive." This assumption is not true. A RAID is not a backup.
A backup is a copy of your data that can be used to recover lost or damaged data. While some RAID storage systems create duplicates of your data, this duplication is done in real-time. If you accidentally delete a file, the copy of that file is deleted simultaneously. If the file system on one drive becomes corrupted, the file system on the other drive becomes corrupted simultaneously. In other words, the duplicated data can never be used to restore deleted or damaged data. Therefore: Not a backup!
So you might be asking what the point of a RAID storage system is if it is not a backup of your data? A RAID drive serves two primary purposes: The first is business continuity, and the second is data transfer speed. Let's talk about these in a bit more detail:
RAID for Business Continuity
RAID systems can be configured in several modes detailed in the following sub-section. Aside from RAID 0, which I will talk about separately, all other RAID modes include some amount of protection against drive failure. Importantly, if a hard drive fails, you do not immediately lose your data. Essentially the RAID system falls back on the copy of your data spread amongst the remaining drives.
Also noteworthy is that when a drive fails, you can still access all of your data on the RAID without immediately needing to insert a replacement drive. Aside from a red light on your RAID hardware to warn you of a drive failure, your computer, connected to the RAID drive, will continue to see the RAID drive in your file browser as usual. This fault tolerance means that you can continue business as usual in the event of a drive failure.
Of course, the failed drive should be replaced, but a RAID system gives you business continuity while you organize that. If you work to a deadline and have clients that depend on you, business continuity should be a concern. Hard drive failure is inevitable, so a RAID system will prove its worth at some point.
RAID for Data Transfer Speed
Increased drive speed is the second reason that many photographers and other businesses turn to RAID systems for their digital storage needs. Every drive, whether it be a spinning disk hard drive or a solid-state drive, has maximum read and write speeds. Most RAID modes, with the notable exception of RAID 1, offer increased read and write speeds compared to using a single drive.
A simplified explanation of the process goes like this: When a file is copied to a RAID system, instead of copying that file to one of the drives within the RAID unit, the file is broken up into pieces, and those smaller pieces are copied to multiple drives within the RAID unit. Those smaller pieces are written to multiple drives much faster than writing the single file to one drive. This way, every drive can run at its maximum write speed, instead of being limited to the write speed of a single.
The same goes for reading the data back again. A RAID system pulls these pieces of your data off multiple drives simultaneously, thus increasing the potential read speed. If you want to delve deeper into the technicalities, Wikipedia has some good diagrams.
RAID Modes Briefly Explained
RAID 0 – Data is split evenly between the disks. Read and write performance is significantly increased, but there is no redundancy. If one disk in the array fails, all data is lost. Useable RAID capacity is the sum of the total capacity of all disks.
RAID 1 – Data is mirrored between pairs of disks. Read and write performance is limited to the speed of the slowest disk. An even number of drives is required and the array can survive a single disk failure. Useable RAID capacity is the half the sum of the total capacity of all disks.
RAID 5 – Data is distributed evenly between three or more disks. The more disks you use, the faster the read and write speeds become. This RAID mode can survive a single drive failure. Useable RAID capacity is (number of disks x smallest capacity of one disk) – smallest capacity of one disk. Use a RAID calculator if this sounds confusing.
RAID 6 – Sometimes called, double-parity RAID, RAID 6 is Similar to RAID 5 but it can survive two simultaneous drive failures without losing any data. Write performance is slower than RAID 5. Useable RAID capacity is (number of disks x smallest capacity of one disk) – (2 x smallest capacity of one disk).
RAID 10 – Sometimes called RAID 1+0, RAID 10 is a combination of RAID 1 and RAID 0. It offers the read and write speed advantages of RAID 0, with the redundancy of RAID 1. Useable RAID capacity is the half the sum of the total of all disks.
JBOD – 'Just a bunch of disks' mode provides no performance increase and no redundancy. All individual drives appear on your desktop or in your Finder as individual drives.
DAS Vs NAS RAID – Differences and Benefits
DAS = Directly Attached Storage
DAS refers to a hard drive or RAID storage device directly connected to your computer by a USB cable or a Thunderbolt cable. When most people think about drives to back up their data, they are usually thinking about a DAS. It is so often a DAS, that the term is rarely used. It is assumed.
NAS = Network Attached Storage
A NAS refers to a drive or RAID storage array accessed over a network. The NAS is either directly connected to a computer using an ethernet cable to create a simple peer to peer network or connected to a network switch or wireless router to allow anyone on the wired or wireless network to access it.
A DAS can only be connected to a single computer. Even if the DAS has multiple USB or Thunderbolt ports, only one computer can access its data at a time. This is not a problem for most photographers, but it does become a consideration in large creative studios with staff working simultaneously on a single project.
A DAS is also straightforward to set up. You don't need to be a technical wizard. Most DAS devices come with simple software that helps you configure the drive in just a couple of minutes. Once set up, the drive will appear in your file viewer or finder and on your desktop. With a DAS, there is no maintenance to be performed or firmware updates to be completed. For those without any knowledge of computer networks and networking settings, a DAS is almost always going to be the right solution unless you are also willing to hire an IT specialist to set up your NAS.
The primary benefit of a NAS is that multiple people can connect to the RAID storage system simultaneously over a network. You can have some people connect over a wired ethernet connection, while others can connect wirelessly from a different room in the office. If you connect the NAS to the internet, you can even access the data remotely, from anywhere in the world.
The downside of a NAS is the steep learning curve for getting everything set up. I consider myself somewhat technically minded, yet my first foray into NAS usage was fraught with difficulties, support calls and many long hours digging through the internet to understand things like subnet masks and IP protocols.
Don't expect the same "plug and play" simplicity from a NAS as you get with a DAS. But if you can make it through the technical hurdles of setting up and using a NAS, they are far more powerful than a DAS and much more suitable to larger businesses. Also, keep in mind that since a NAS is essentially a tiny PC that runs an operating system, you need to dedicate some time each month to keep the firmware updated and install updates to the various software packages that run on it.
Best RAID Systems for Photographers
---
LaCie 2big RAID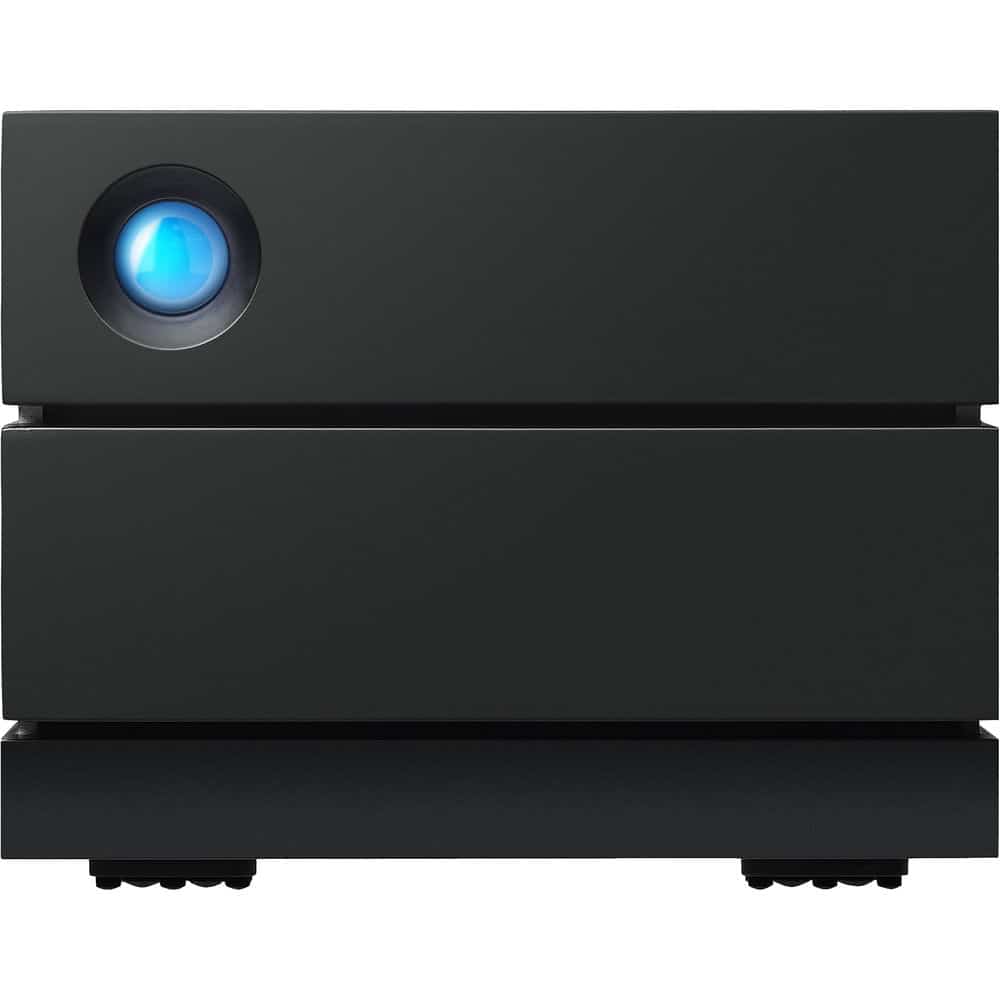 The LaCie 2big RAID is available in 8TB, 16TB, 28TB and 36TB capacities. As a Seagate brand, LaCie RAID arrays come equipped with Seagate IronWolf Pro 7200rpm hard drives. A hardware RAID controller offers RAID 0, 1 and JBOD modes, with a maximum speed of 550MB/s in RAID 0 mode.
The 2big RAID features a single USB 3.1 Gen 2 (up to 10Gb/s) USB-C connection on the rear panel. This connection is compatible with USB-C ports and Thunderbolt 3 and Thunderbolt 4 ports. Any of these connection types will deliver the full speed of the drive, making this a great universal solution.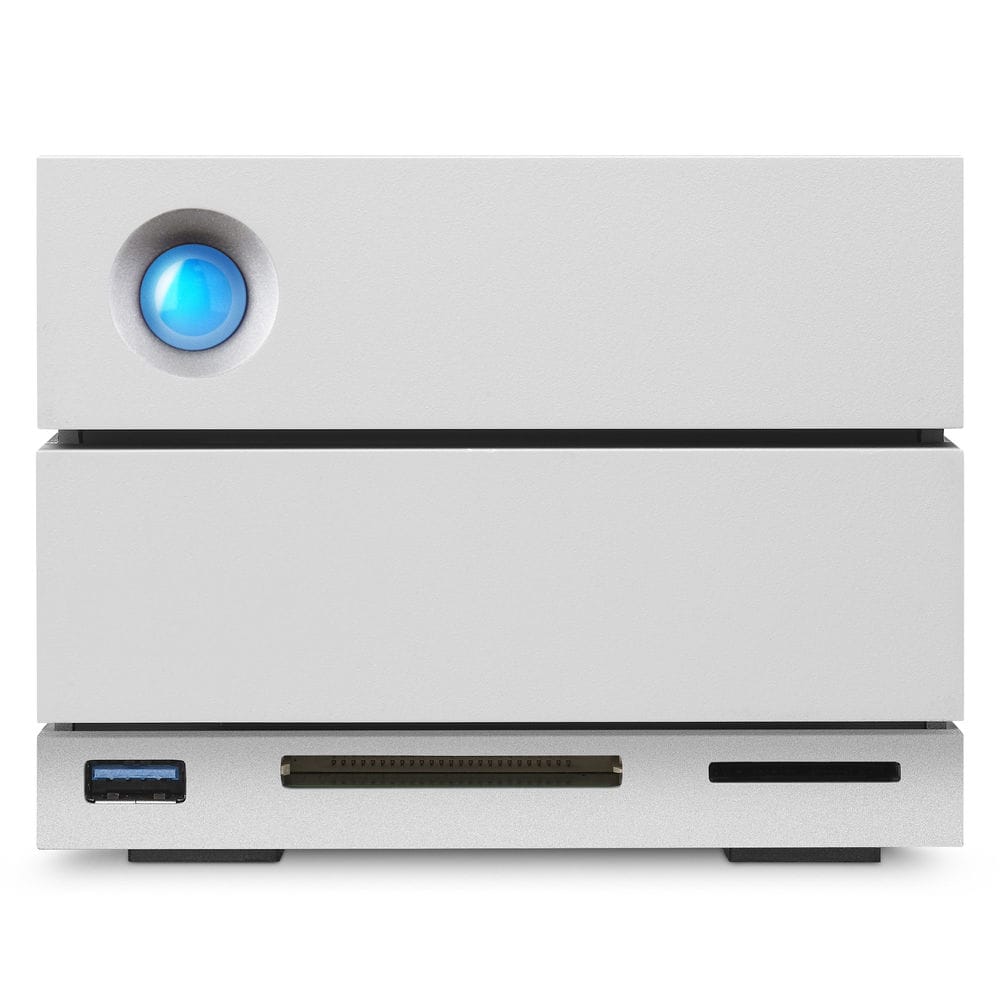 For those that enjoy the LaCie design but want a few extra peripheral ports and dual Thunderbolt ports for daisy-chaining, the 2big is also available as a "2big Dock" variation. On the front of the 2big Dock, you'll find an SD card reader, CF card reader and a USB-A port. You'll find dual Thunderbolt 3 ports, USB 3.1 Gen 2 and a DisplayPort connection for a 4K monitor on the rear panel.
---
Sandisk Professional G-RAID 2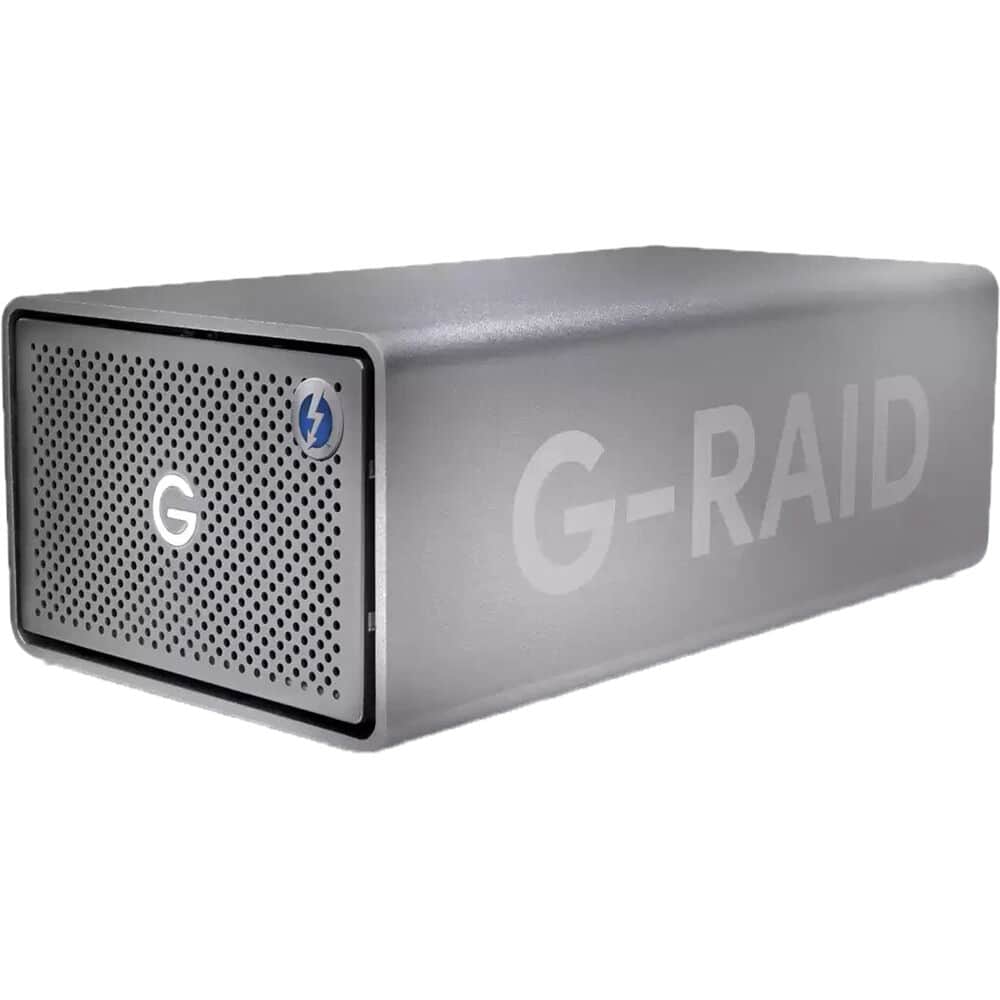 Available in 8TB, 12TB, 24TB and 36TB capacities, the Sandisk Professional G-RAID 2 is a 2-bay RAID array set up as RAID 0, 1 or JBOD. Sandisk is owned by Western Digital, which purchased the G-Technology brand. It is no surprise to find the G-RAID equipped with a pair of WD Ultrastar Enterprise-class 7200rpm hard drives. The drives are easily removable and replaceable with any 3.5″ drive for future expansion.
The rear panel of the Sandisk G-RAID features a pair of Thunderbolt 3 ports with daisy-chain support and a USB-C port running the USB 3.2 Gen 2 (10 Gb/s) standard. With a maximum speed of 440 MB/s, both the Thunderbolt port and the USB-C port can deliver this drive's full potential. The G-RAID also features an HDMI port capable of powering a 4K monitor.
---
WD My Book Duo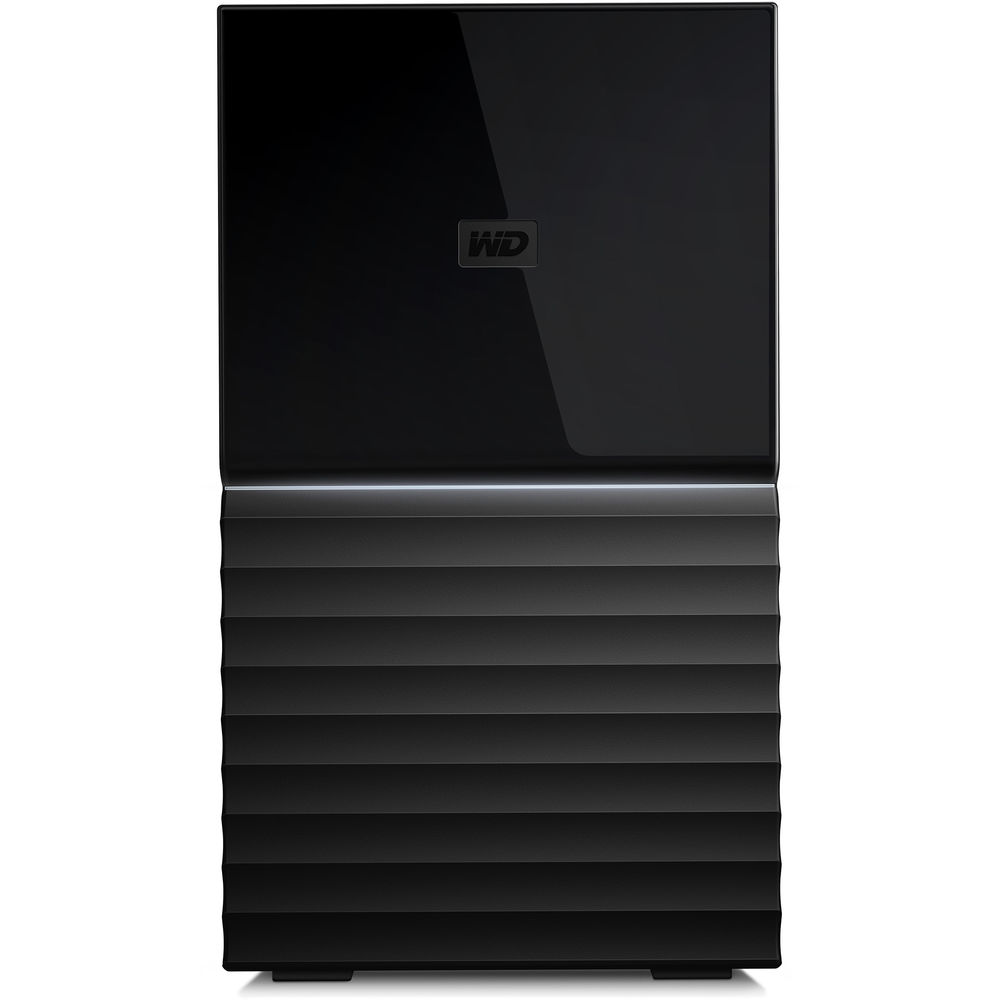 The WD My Book Duo is a popular consumer-grade RAID drive with RAID 0, 1 and JBOD modes included through the built-in hardware RAID controller. The drive is available in 16TB, 20TB, 24TB and 28TB configurations equipped with a pair of WD Red 5400rpm drives.
The WD My Book series has been around for a very long time. The first version of the drive was tested on this site nearly ten years ago, and aside from the addition of a USB-C port on the latest version, very little has changed. These are generally reliable and affordable RAID drives, but it should be noted that their affordability comes from the use of cheaper 5400rpm hard drives.
---
QNAP TVS-472XT & TVS-672XT Thunderbolt NAS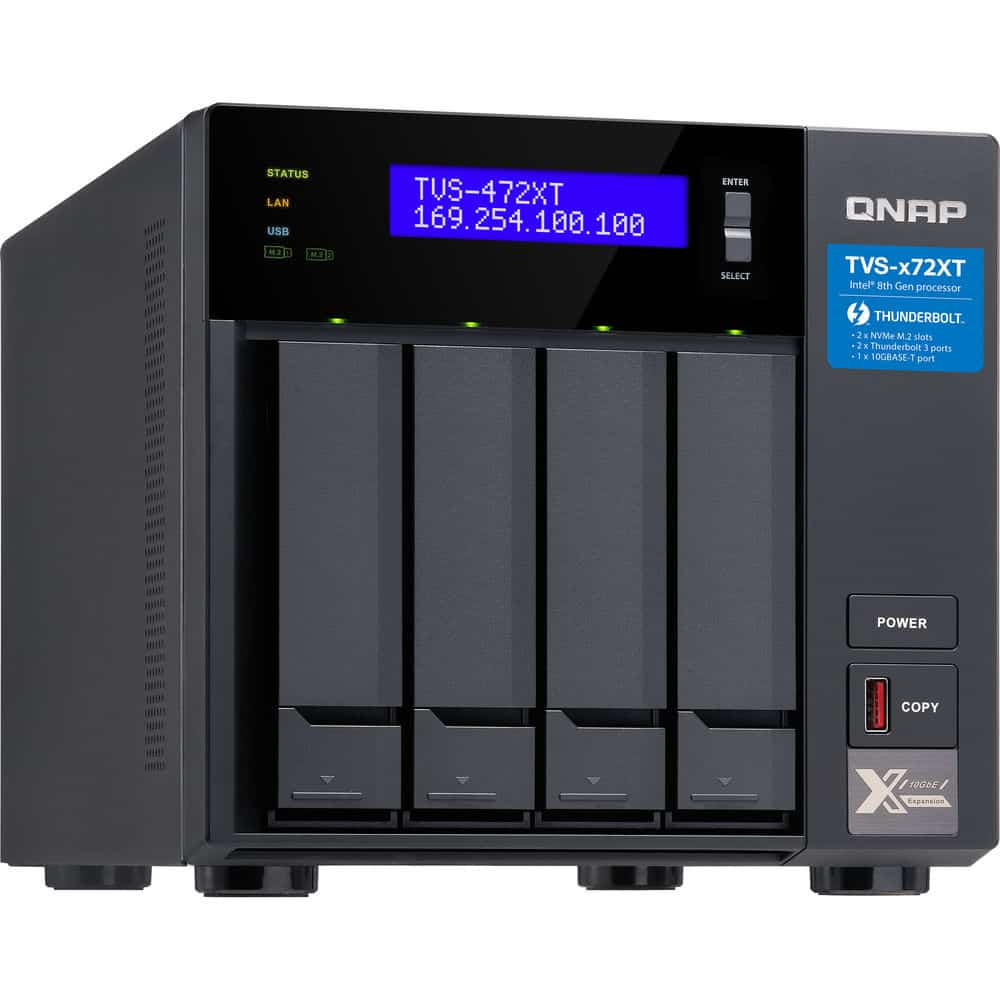 The QNAP TVS XT series is my pick for the best NAS for photographers. Most photographers will choose either the 6-bay TVS-672XT or the 4-bay TVS-472XT. Equipped with a super-fast 10Gb/s ethernet connection, this NAS can easily handle large Photoshop files and 4k video editing tasks. I use the TVS-472XT as the primary photo backup device in my office.
Uniquely, QNAP is the only NAS brand that has embraced the Thunderbolt NAS connection. The TVS XT models feature a pair of Thunderbolt 3 ports, allowing multiple computers to access files from the NAS simultaneously over directly connected Thunderbolt, a 10Gb/s ethernet network or wirelessly on your local Wi-Fi network. This is an incredible feature for photographers working in a studio with multiple computers.
---
OWC Gemini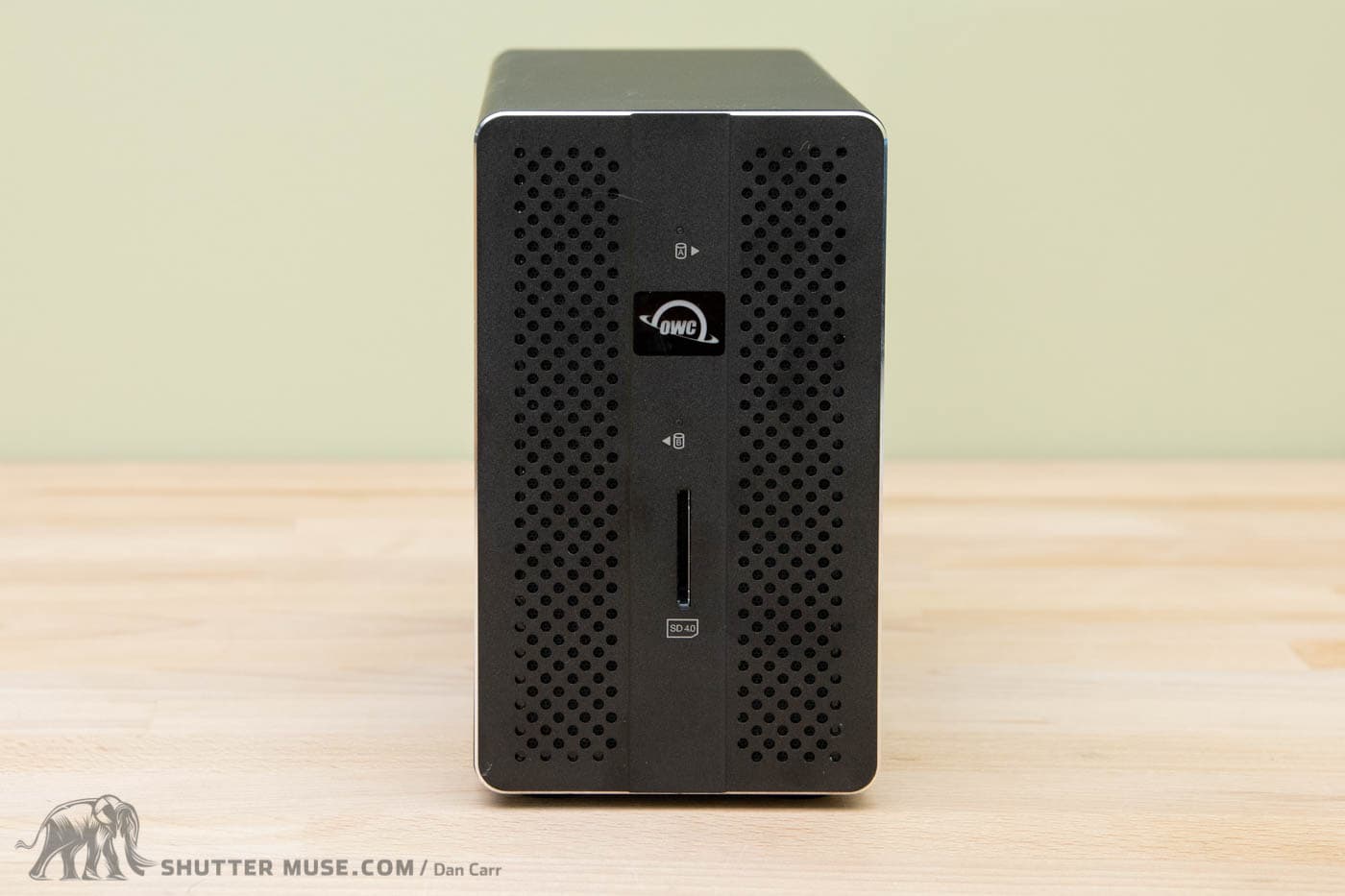 The OWC Gemini, previously called the OWC Mercury Elite Pro Dock, is a 2-bay Thunderbolt 3 RAID enclosure with built-in docking features and a UHS-II speed SD card reader. The back of the OWC Gemini has a DisplayPort 1.4 connection for a 4k monitor, a 1Gb ethernet connection and two USB-A ports with 3.1 Gen2 speeds (5Gb/s).
Inside the unit, a hardware RAID controller allows you to select RAID 0, 1, Single Disk or JBOD mode. The OWC Gemini can be purchased pre-configured with a pair of hard drives, or you can buy the empty enclosure and fit it out with a couple of your favourites. I bought an OWC Gemini (and reviewed it) some years ago, and it has been a reliable piece of my backup system ever since.
---
OWC ThunderBay 4 and ThunderBay 8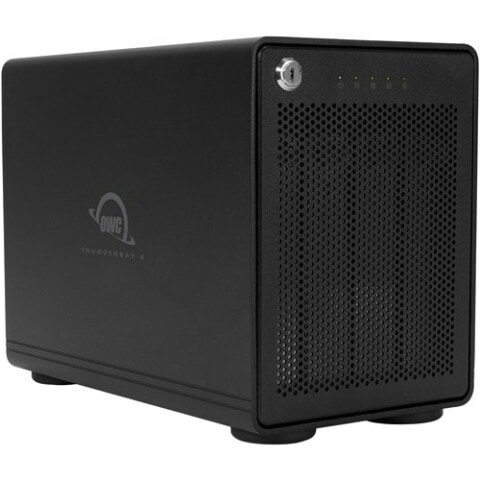 The ThunderBay 4 and ThunderBay 8 from OWC are 4-bay and 8-bay RAID enclosures that feature a pair of Thunderbolt 3 connections and a DisplayPort connection for your monitor. They can be purchased pre-configured with up to 72TB of storage, or you can buy the empty enclosure and populate them with your preferred brand and model of drive. As far as Thunderbolt-enabled RAID enclosures go, these are the most cost-effective on the market. A great choice for those that need huge storage capacity on a lower budget.
To keep the cost of these units to a minimum, they do not use hardware RAID controllers. Instead, they use software RAID controllers from a brand called SoftRaid. The SoftRaid license can be included with your unit, depending on the bundle that you are purchasing.
Some RAID devices with hardware controllers have a physical switch to switch the RAID mode. The OWC ThunderBay units are different; the SoftRaid software entirely controls them. You must install the software to configure your device. When you do, you'll have the option to configure RAID 0/1/4/5/1+0 (10) or JBOD.
When you compare the pricing of the ThunderBay 4 and ThunderBay 8, you might be surprised at how close they are. They are both excellent value, but the ThunderBay 8 model is remarkably well-priced. Even if you do not need to use all eight bays right now, for many people, the prudent decision would be to buy the larger 8-bay unit now and add drives as needed. Eventually, you will use them.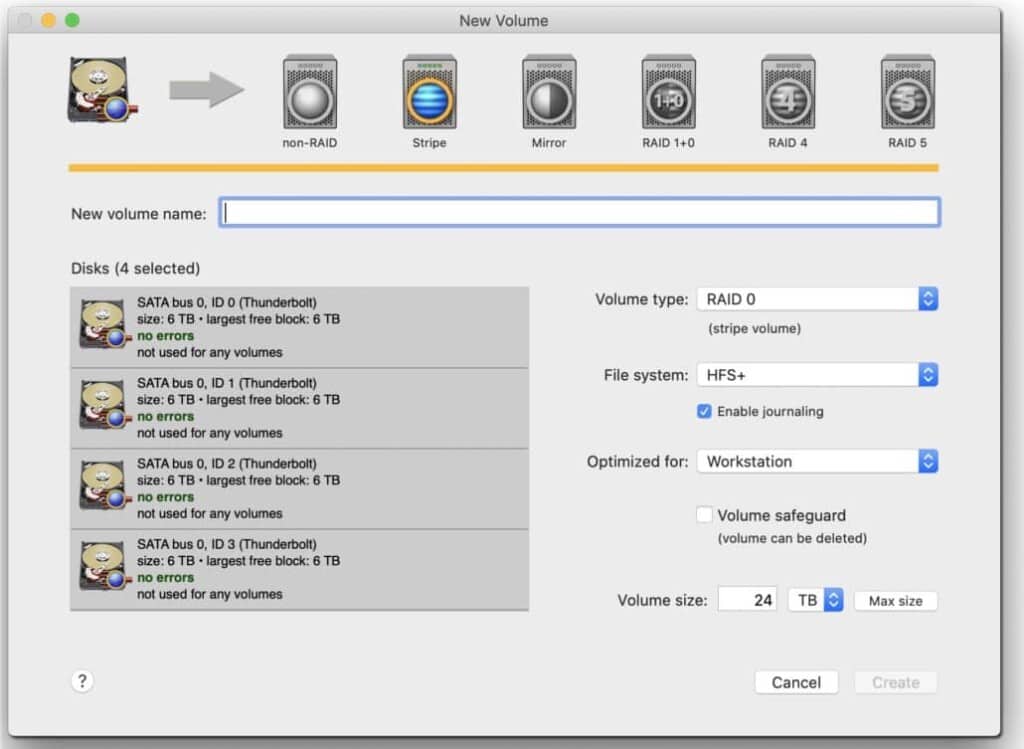 I purchased a ThunderBay 8 myself, so I'm very familiar with the system. One of my favourite things is the SoftRaid software and its flexibility with RAID configuration. For example, you can very quickly set it up to use six of the drives in a RAID 5 configuration for data redundancy while setting up the remaining two drives as a RAID 0 stripe for added read and write speed. Or you could have four drives as RAID 5, a pair of drives as RAID 0 and two remaining drives as single JBOD drives that show up on your desktop individually. Amazing stuff!
---
Sandisk Professional G-RAID Shuttle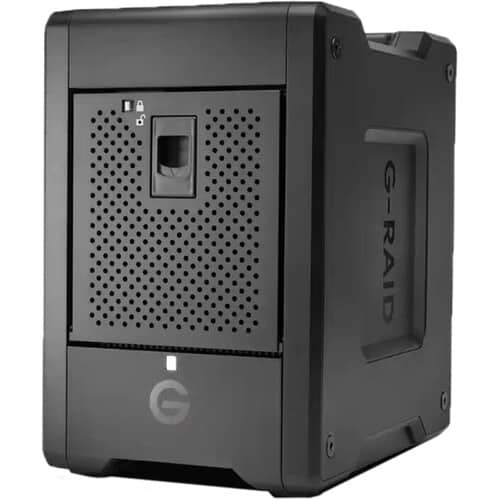 The Sandisk G-RAID Shuttle lineup (ex G-Technology) consists of a 4-bay and 8-bay model, available with various SSD and HDD configurations. Currently, capacity maxes out at 144TB in the 8-bay HDD model. The G-RAID Shuttle feature a hardware RAID controller and give you the option to choose between RAID 0, 1, 5, 6, 10, 50, 60, and JBOD.
It is not possible to buy an empty G-RAID Shuttle unit. Instead, all Shuttle RAID devices come equipped with Western Digital Ultrastar enterprise-class hard drives. That said, if you want to upgrade the capacity of your G-RAID Shuttle at a later date, you can replace the included WD Ultrastar drives with drives from any other brand.
It is commonly understood – I believe correctly – that the G-RAID Shuttles are using RAID hardware controllers from the Promise Pegasus series of products. When you examine the software interface of the Pegasus and the Shuttle, they are nearly identical. Entirely how deep the internal similarities go is unknown. This isn't necessarily a bad thing. The Promise Pegasus range is well regarded, and sold by Apple. If Sandisk wants to take their technology and package it up into a different, more robust product, that's fine with me, and hardly the first time such a thing has happened in the consumer technology market.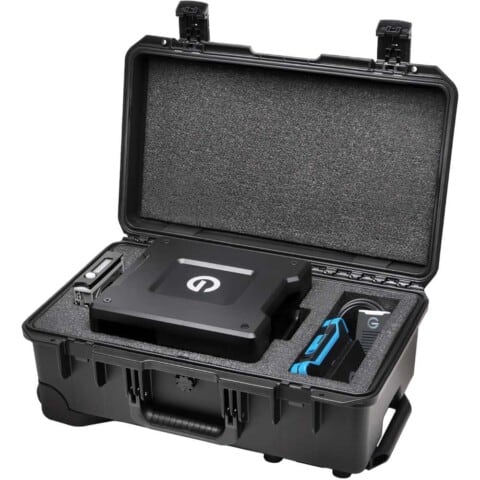 The Sandisk G-RAID products are the most expensive items on this list, but they are known for their rugged reliability. This would be my first choice if you plan to constantly move your RAID drive from one studio to another or use it on a DIT cart. Even if you don't plan to move it around and have a sufficient budget, these are a great choice. They have definitely become a staple in creative studios the world over.
---
TerraMaster TD2 and D2-310 RAID
The TerraMaster TD2 and D2-310 are similar products, so I include them under the same heading. Essentially, these 2-bay RAID enclosures are identical, aside from the fact that the TD2 features a Thunderbolt 3 connection, and the D2-310 features a USB-C 3.1 Gen2 connection. They offer hardware RAID controllers with the option of RAID 0, 1, JBOD and Single Disk mode.
I have previously reviewed these drives and found them an excellent value. The metal drive enclosure is well-built, and the fact that they come as bare, no-drive units means you can pick and choose the best-value hard drives available at the time. If you need a Thunderbolt connection, perhaps to daisy-chain into an existing set of Thunderbolt drives, the TD2 is the best value unit of its type.
If you don't need a Thunderbolt 3 connection, the cheaper D2-310 will deliver identical speeds as the TD2 through its USB-C connection. A 2-bay RAID system will never saturate the throughput of either USB-C or Thunderbolt, so in this case, the connection type has no bearing on the available read and write speeds.
TerraMaster drives are only available through Amazon: TerraMaster TD2 / TerraMaster D2-310 (links will localize to the Amazon store in your country to check local pricing)
---
What About Synology NAS?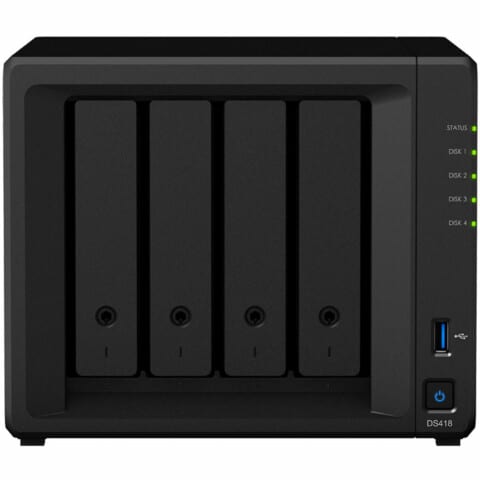 When it comes to choosing a NAS, for many years, the choice has been between Synology and QNAP. Like Canon vs Nikon or Ford vs Chevy, strong opinions were always offered by those who sided with one brand. In reality, both brands had significant product portfolios and offered a wide range of excellent devices. As long as you picked a NAS with the specification that suited your needs, you couldn't go wrong.
In this guide, though, I'm currently choosing to leave Synology off my list of recommended RAID systems for photographers. In 2021, Synology began selling branded Synology hard drives and SSDs. These drives are nothing special; they are simply rebranded Hitachi drives. But they slapped the Synology name on them and started charging a price premium.
At the end of 2021, Synology launched new models in their popular DS range of NAS units, a range that is popular with small business owners, including photographers. These new NAS models included a "recommendation" to use these Synology-branded Hitachi drives. Although a recommendation to use a brand's drives is not uncommon, people quickly discovered that in Synology's case, it went much deeper. If you use any drive other than the Synology drives, the NAS will label the disks as "not verified", and critical NAS features will be unavailable.
At first, it had been speculated that Synology might try to force enterprise users to install their somewhat overpriced Synology-branded drives. The fact that this "recommendation" has now shown up in the latest small business-oriented DS models is a huge disappointment and a clear indication that Synology plans to take this ill-advised approach a lot further than people hoped.
Until this saga unfolds further, I'm not willing to place any Synology NAS devices on this list. Some current models are excellent options for photographers (DS420, DS1621), but when I recommend a NAS, I want to feel good about the future possibilities for using that device, and other devices from the same brand. When you make the commitment to learn how to use a NAS, it's much easier to stick to one brand.
There has already been a lot of push-back from customers on this issue, and it might force Synology to change tack at some point. For now, I'd recommend choosing one of the QNAP NAS units mentioned above instead.
---
What About Drobo?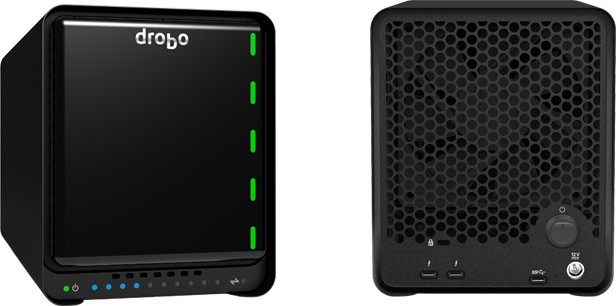 Update: Drobo filed for bankruptcy, so I was right to wave the red flag when I wrote this article.
Drobo has had a somewhat troubled history, yet those who have followed the annual updates to my photography backup routine will know that I have used at least one of them in my 3-2-1 backup system for nearly a decade. The original Gen 1 Drobos were buggy, and at the time, the company had a poor customer service system. This led to a bad reputation that the company has struggled to get away from.
I have always found this to be a shame. Drobo pitched themselves as the RAID system for everyone and created what are essentially RAID 5/6 systems without ever mentioning these terms. The idea was that many people didn't know about RAID modes and didn't want or need to understand what was happening under the hood. On the face of it, they were RAID systems simplified.
In 2013 Drobo merged with Connected Data, and the company went on to acquire the entire Drobo brand in 2015. At this point, as a Drobo user since the beginning, I began to see considerable improvements in hardware and customer service. The Thunderbolt-equipped Drobo 5Dt was launched, and the Thunderbolt 3 Drobo 5D3 followed not long after. I still run a Drobo 5Dt and a 5D3, both of which have been going strong for nearly five years.
But try as they might, Drobo has failed to shake the bad reputation that was, to a large extent, created during its early years under management by the original owners, Data Robotics. As I write the first iteration of this gear guide at the beginning of 2022, Drobo has not launched a new product in over three years. It has also been impossible to buy a Drobo of any kind for at least a year.
Though many manufacturers in the tech industry have faced supply issues during the COVID pandemic, I have not seen another that has failed to ship a single product to stores in a year. This worries me immensely. If anything, this should have been Drobo's time to shine. With more and more people retreating to home offices, there is a need for simple backup solutions that can be managed without an IT department.
Despite having a Drobo right next to me on my desk while I write this, at this time, I am no longer recommending them. I struggle to see how a company can survive without shipping any products, and I would not want people to purchase a product that shows the potential of becoming a paperweight in the coming years.
Why might it become a paperweight? As with many RAID systems in this guide, Drobos rely on software to function. The Drobo Dashboard software is installed on your Mac or PC to give you control over the hardware settings. If Drobo as a company stops existing, and thus the software is not updated to meet the needs of evolving operating systems, at some point, Drobo hardware will become useless.
While I was pleased to see that Drobo has continued to update their Drobo Dashboard software during the pandemic, notably rolling out Apple M1 chip support faster than many other RAID companies, I don't know how long this will last. Until we see more activity from the company and continued ability to ship products that fund their existence, I'm placing Drobo on my "no-fly" list.
Which Brand of Hard Drive? Western Digital Vs Seagate

If you buy a drive enclosure or RAID array that doesn't come with pre-installed drives, you'll need to choose between Seagate and Western Digital. Western Digital owns HGST and Hitachi, so even if you select one of those brands, ultimately, you are still making the same choice.
What complicates this choice is that most people read reviews on sites like Amazon. People rarely leave glowing reviews of drives that work fine for many years, so the review sections for any hard drive are just full of bad reviews from disgruntled people that experienced a drive failure. Reading public reviews of hard drives will not help you make this choice, but we can get some other great insights from the storage industry.
Backblaze is a cloud backup service. The last time I checked, they were using 190,000+ hard drives in their servers, which puts them in a unique position to comment on hard drive brand and model reliability. Thankfully for us, they publish an annual report detailing the failure rate of all the drive models from Seagate and Western Digital.
If you dig into the AFR (annualized failure rate) statistics that they provide, you will find that most drives from both Seagate and Western Digital have an AFR of between 2.5% and 0.5%. At the high end, imagine you had one hundred hard drives. This means you can expect to see roughly 2.5 drive failures per year.
Importantly, this deep data set from Backblaze shows us that there is no such thing as a "terrible" hard drive from either brand. People who write Amazon reviews that say something like, "Western Digital drives are garbage. I'll never trust them again" are just plain wrong. They are forgetting the #1 rule: hard drives will all fail at some point. The problem is not the reliability of drives from any particular brand. The problem is that photographers spend all their money on cameras and fail to maintain a 3-2-1 backup system that keeps their photos safe.
I use Seagate IronWolf drives because I once had an excellent interaction with the Seagate support team that made me feel like they had my back if there was ever a problem. But the reality is that you can safely pick and choose and mix and match your drive brands based on the current best prices available.