The Shimoda Action X70 HD is an updated version of the camera bag brand's biggest backpack. Launched alongside the Action X v2 pack series, the X70 HD's size and features differ enough from the rest of the lineup that I decided it was worth writing a dedicated review. The smaller sizes in the range, the Action X25, X30, X40, and X50, are all covered in my Action X v2 review.
In this Action X70 HD review, we'll take my usual detailed look at the bag's design and features and compare it to the previous version of the bag, the original Action X70. We'll also look at the updated Core Units and a brand new XXL Core Unit designed for wildlife photographers to get faster access to their gear. There's also a comparison with the Action X50 v2–Shimoda's second largest bag–and another bag from another brand that I consider the X70's main competitor.
I have used the X70 for several years whenever I needed a genuinely massive camera bag, so I was excited to hear of its updated replacement. Shimoda told me the new version was even more comfortable to carry and built even tougher, so much so that it had been renamed Action X70 HD for heavy duty. I've never had any issues with the build or comfort of the original. Still, a long list of other tweaks and new features made testing the latest version an exciting prospect.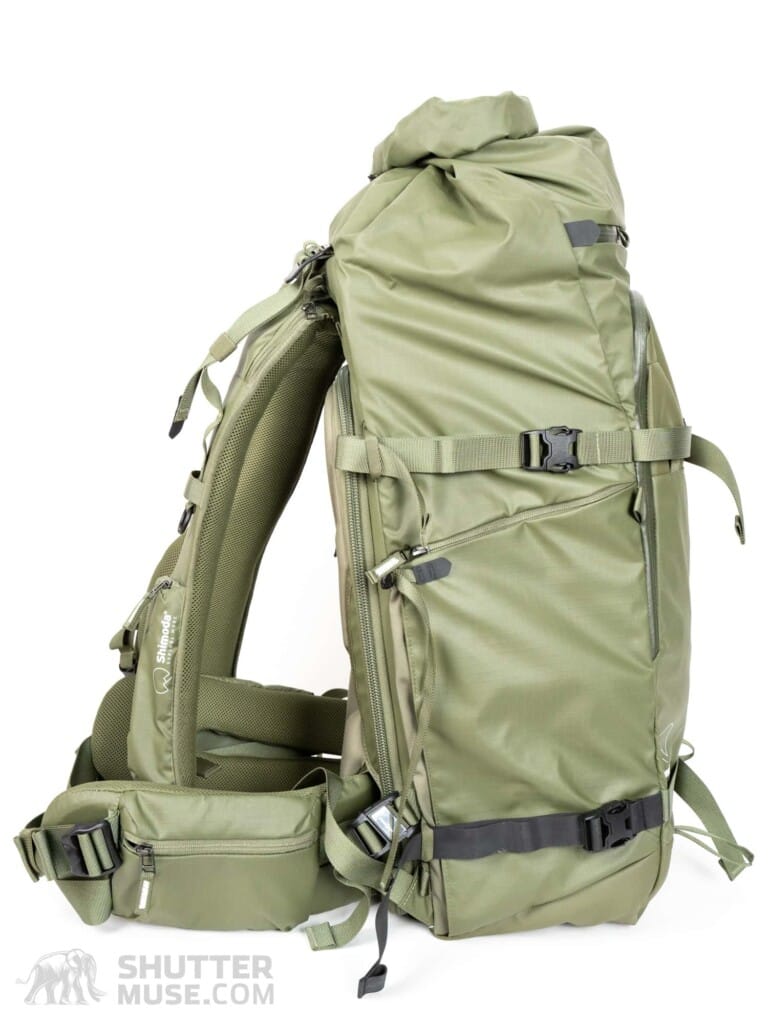 Disclosure: The original Action X70 in this review was purchased through regular retail channels. Shimoda sent me the new Action X70 HD to review. No money changed hands, and they did not see the content before it was published. These are my honest views about the Action X70 HD and the rest of the Action X v2 lineup.
Shimoda Designs has offered Shutter Muse readers a 10% discount on anything purchased through their online stores. US, UK, French, or German residents should use the discount code ShutterMuse10 after clicking here to access the store. Australian readers should use the same code on the local Shimoda distributor's site, Maxxum, instead.
Action X70 HD Specifications
Key Features of the Action X70 HD
I'll dig into these in more detail, but for now, here's a quick rundown of the impressive list of Action X70 HD features.
Removable, adjustable hip belt
Adjustable torso length
Padded handles
Luggage handle pass-through
Helmet holder
Apple AirTag pocket
16″ laptop sleeve
Ice Axe Loops
Shoulder strap pockets for phone and water bottle
Adjustable roll top for volume expansion
Reinforced base
Quick Access Zipper
Modular Core Unit camera insert system
Included rain cover
Aluminum harness adjustment buckles
Large enough for all super-telephoto still photo lenses: 400mm f/2.8, 500mm f/4, 600mm f/4, 800mm f/5.6, 1200mm f/8, etc.
Large enough for specialist natural history cinema lenses like the Canon CN20x50 50-1000mm
X70 HD Camera Bag Specifications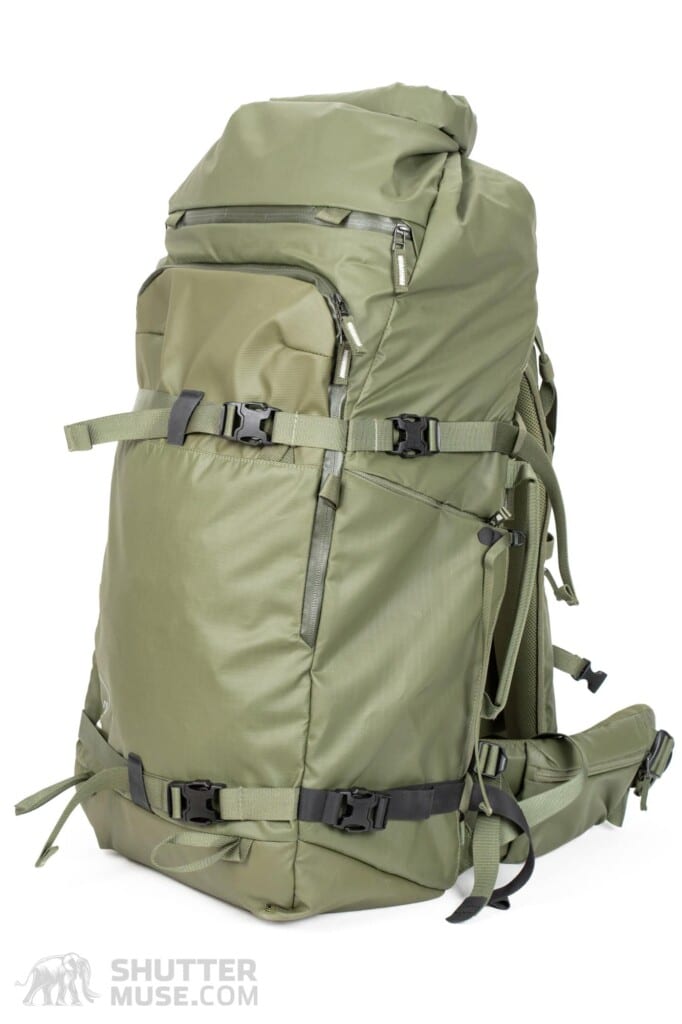 Action X70 Vs. Action X70 HD – What's New?
The Shimoda Action X70 HD is an updated version of the original Action X70. The bag's dimensions remain unchanged from the original, but many new features exist to discuss. I bought that original bag in the initial Kickstarter campaign many years ago and used it extensively before getting my hands on the new HD version. As well as bringing some updates specific to the X70 HD model, this new version includes updates from the rest of the Action X v2 lineup. In all but name, this new bag is really an Action X70 v2 HD. But my guess is they thought that was a bit of a mouthful. So, here's a list of all the updates made to this bag:
New heavy-duty adjustable, removable hip belt with zippered pockets on both sides
Improved, thicker shoulder strap padding
Thicker nylon webbing straps with heavy-duty buckles
Aluminum buckle hardware in key areas on the harness
Bigger phone pocket to fit iPhone 13/14 Pro Max
Hidden Apple AirTag pocket
Rain cover now included with all bags, and dedicated rain cover pocket included beneath the camera compartment
Side handle widened to function as a luggage handle pass-through
Base handle added
Reinforced construction at key strap and harness attachment points to suit heavier loads in extreme conditions better
Updated enlarged L and XL DV Core Units
New XXL DV Core Unit with top access
Having used the original X70 for many years before moving to the X70 HD, I'm in an excellent position to judge the updates to this bag. Overall, each change has been made with careful thought, and they all make for slight but noticeable improvements in usability. However, there is nothing game-changing in the updates to the bag's shell. These are refinements. The X70 was already the best large photography pack on the market, and I don't think existing owners will feel like they need to rush out and buy this new version unless their current one is on its last legs.
The other good news for existing Action X70 owners is that the newly updated Core Units for the X70 HD are backward compatible with the original X70. The new Large and XL Core Units feature slightly tweaked dimensions to suit some super-telephoto lenses better, and the brand new XXL DV Core Unit now allows top access to a mounted super-telephoto lens. For wildlife photographers, this game-changing feature will be discussed in more detail later in the review.
Action X70 HD Design and Features
Roll Top Section
A roll top design on the X70 HD provides a broad opening for storing large items such as winter clothing, a sleeping bag, or padded cases for specialist equipment. The bag's standard 70-liter volume is increased to 77 liters when the roll top section is fully implemented. Inside the bag's top area is a suspended gear "bucket" with two zippered mesh pockets to help with organization. The rearmost pocket contains a key clip I prefer to use as a safe place to attach my memory card holder.
This top gear bucket is attached to the bag with a zipper. If you want to use the top camera access of the XXL DV Core Unit, you'll remove this (more on this later). You might also remove the gear bucket to convert the bag into a backpacking bag with a large single internal volume for a non-photographic mission.
Quick Access Zipper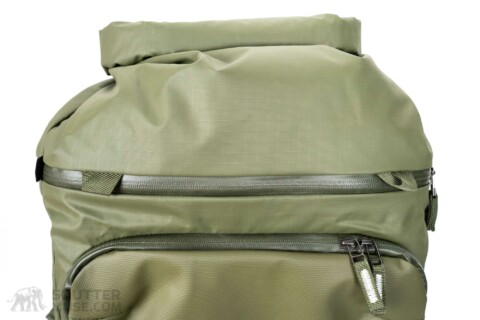 Roll tops are great for versatility, expansion, and stowing oversized jackets but aren't the quickest method of accessing a bag. For this reason, the Action X70 HD features a zipper that runs across the bag just beneath the roll. I use this zipper far more often than I unclip the roll top, as I constantly reach for items like binoculars, food, or layers stored in the interior mesh pockets.
Camera Access
The primary camera access on the X70 HD is through a zippered back panel. Rear panel access for camera gear is the preferred method on bags designed to be used outdoors as this keeps the back panel out of the dirt and, consequentially, the mud or snow off your back. The rear panel zippers are a chunky YKK gauge, running exceptionally smoothly. This one is not a weather-sealed AquaGuard, unlike other zippers on the pack, for good reason. Rear panel camera access zippers are usually not weather-sealed. Such zippers don't run well around the tight radius 90-degree corners and are largely unnecessary, being protected from the elements by the user's back.
Front Pocket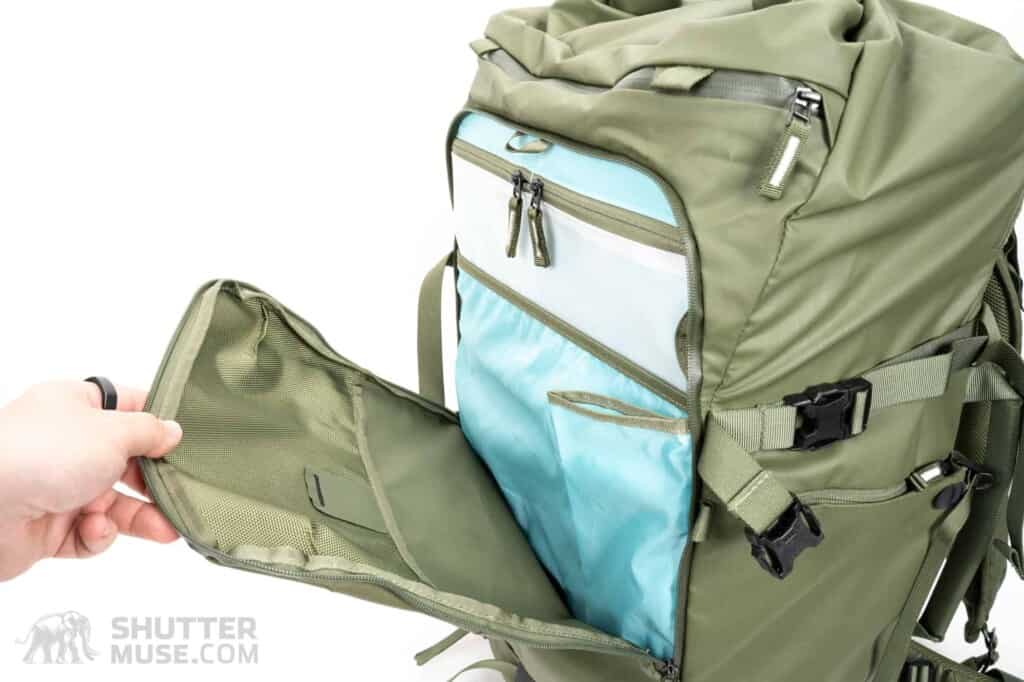 On the front of the bag is a large zippered pocket with two internal zippered pockets for small, relatively flat items. The larger pocket area features a nylon divider to give you some gear division. It's an excellent way to separate wet gear from dry or keep a water bladder away from precious items.
As well as thoughtful snowmelt drainage holes, this pocket also has a tubular nylon sleeve, primarily designed for an avalanche probe or shovel handle. Let's not forget Shimoda's core user base contains a lot of action sports photographers, and this bag, in particular, is popular among the snow sports filming community, where this kind of gear is necessary.
AirTag Pocket
I've written before about how helpful Apple AirTags can be for keeping track of your camera bag, whether in transit by air or if it were stolen from your home or vehicle. Shimoda's designers thought the same thing and added a small, fairly well-hidden AirTag pocket inside the larger front pocket of the bag.
Torso Length Adjustment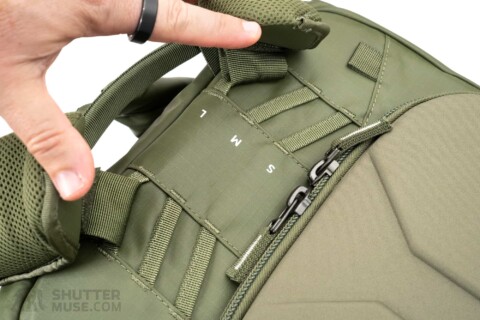 The bag's torso length can be adjusted to one of four positions. I'm told that these upper shoulder strap attachment points are one of the areas where this new HD version of the X70 has seen some additional strengthening to withstand shocks from heavy loads.
Shoulder Straps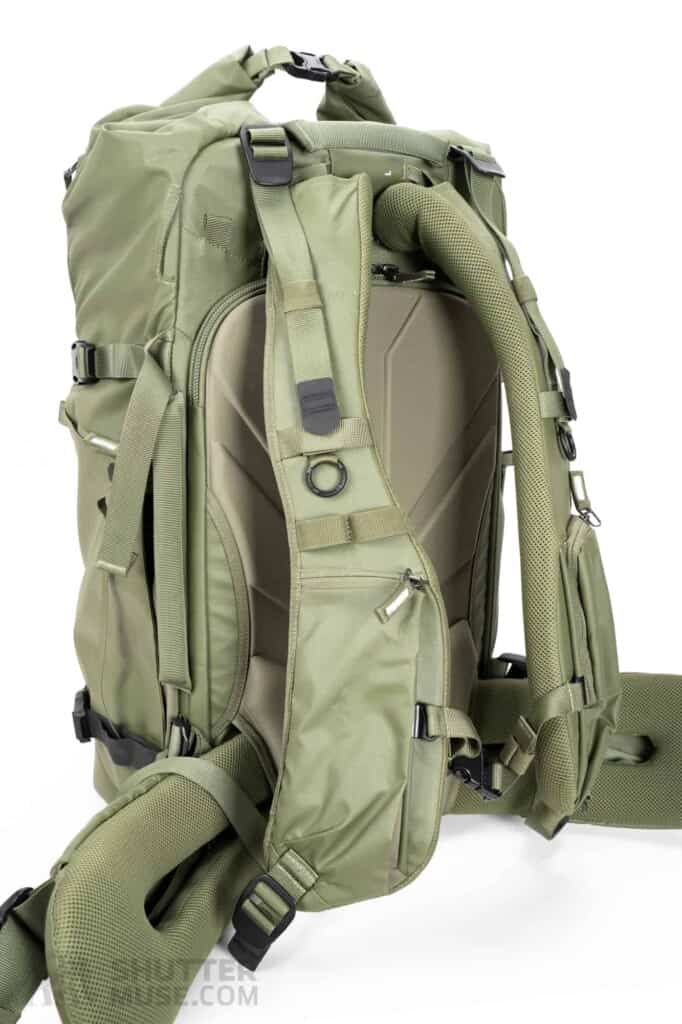 The shoulder straps of the Action X70 HD are made from thick aerated mesh to help with breathability. The heavily contoured shape does an excellent job of hugging your shoulders and chest, and the "squish" of the padding makes this pack a joy to wear. I've always chosen the X70 in the past for carrying heavy loads, but the new X70 HD has raised the comfort level even further with broader and slightly thicker padding in several areas. This level of padding would be overkill on most camera bags, but it suits the audience this bag is designed for and the heavy loads they are likely to carry.
Shoulder Strap Pockets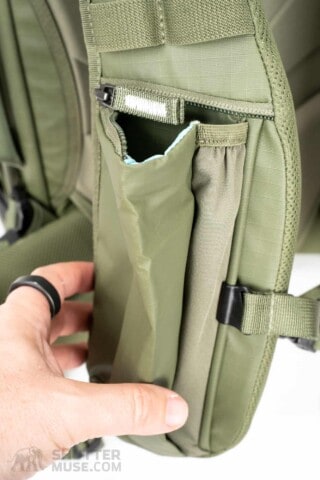 The X70 HD's shoulder straps feature a pair of pockets. I'll refer to them as if I was wearing the bag. On the left is a zippered pocket sized to hold a phone the size of an iPhone 14 Pro Max. It's a fairly tight fit if you have a chunky case on the phone, but my Pro Max phone in its Apple-branded case fits just fine. If you don't want to use it for a phone, the pocket has a couple of elastic loops that can be used to clip pens (hand for travel) or a small GPS device like an InReach Mini 2.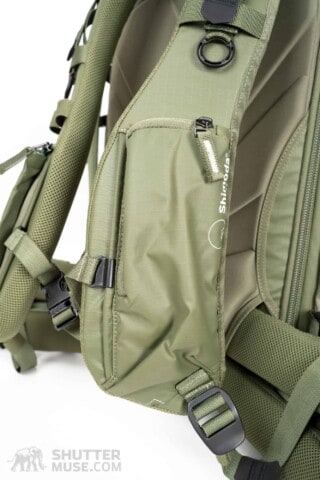 The right-hand pocket is expandable and will hold small compressible water bottles, sunglasses, sunscreen, or even a can of bear spray. I live in a place called Grizzly Valley in the Yukon, so bear spray is a daily carry item for me, and I love how easy that is with a pocket right on the shoulder strap.
Sternum Strap
The sternum strap has an emergency whistle and can be repositioned to suit your shape and chest size. A small elasticated section adds a little "give" to it when you're huffing and puffing up the next mountain.
Hip Belt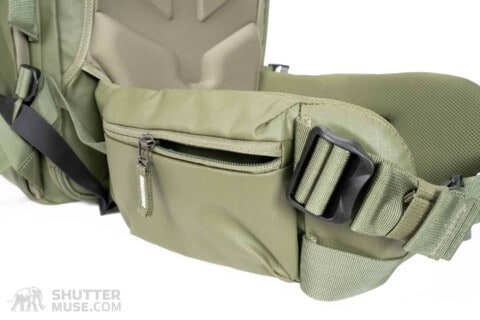 The X70 HD's hop belt features incredibly thick padding and a pair of zippered pockets large enough to hold a significant snack stash or electronic items like a GPS or phone. I've never seen such a big hip belt on a camera bag before, but it plays an essential role in the overall carrying comfort of this bag.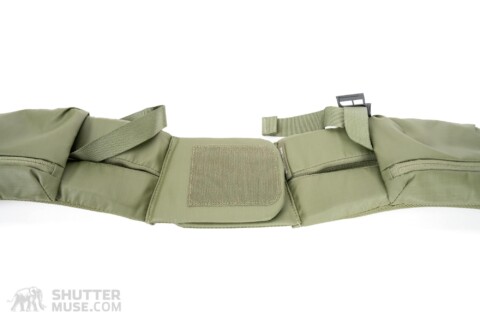 The hip belt is removable, and Shimoda has eased that process by including a handy removal tool that slides into the back panel to help you break the grip of the hook-and-loop that holds the belt in place. When you extract the belt, you will see the padding is split into two and joined by more hook-and-loop. This allows you to adjust the position of the hip belt pads and enables people with smaller or larger waists to get a more comfortable fit. This is my first time seeing a feature like this on any backpack. Shimoda deserves major kudos for leading the charge in offering camera bags that fit a wider variety of body shapes and sizes.
If you have other sizes of bags from the Action X v2 range, you'll find that the so-called HD Belt from the Action X70 HD can be used to replace the thinner, pocketless hip belts that come as standard with the Action X25, X30, X40, and X50. Or, you can buy the HD Belt as an aftermarket upgrade for those smaller models.
Handles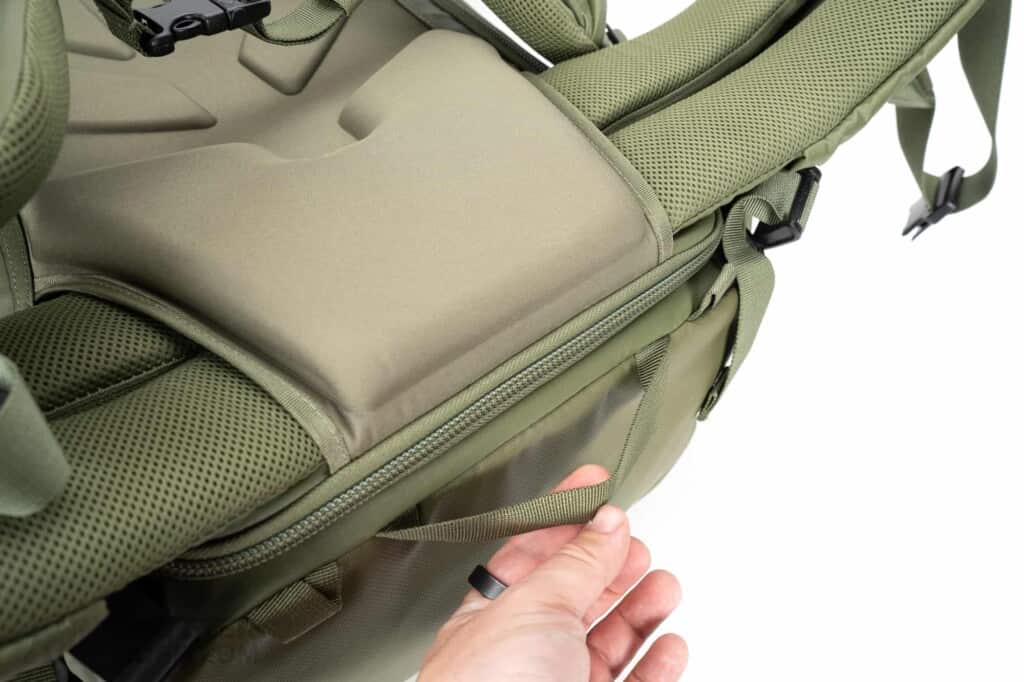 The X70 HD has four grab handles around the bag to help you lift it in and out of vehicles or move it around on the ground while working. The side handles also act as luggage handle pass-throughs for those traveling with a roller.
Laptop Carry
The Action X70 HD will hold up to a 16″ laptop in a heavily padded sleeve inside the bag's rear hatch. The sleeve sits a little above the base of the bag, so you won't shock your laptop when you set the bag on the ground. If you don't plan to carry a computer, this pocket is a helpful, thoroughly protected place to store larger filters and filter cases.
Tripod Carry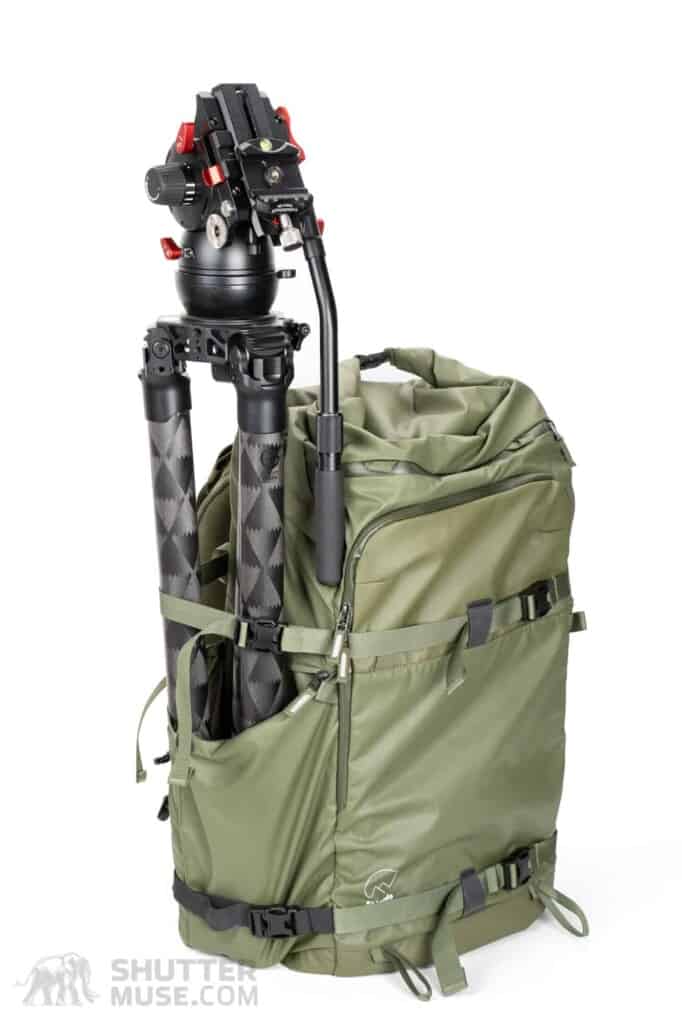 A tripod can be carried on either side of the bag, with the feet resting in the expandable pockets. Photographers will likely find they can get all three tripod feet into this pocket, offering protection to tripod feet and leg locks. Filmmakers carrying large cine-style tripods might only get two feet into the side pocket, depending on the collapsed diameter of the legs. A tripod can also be mounted to the bag's front using the permanently attached nylon webbing.
Water Carry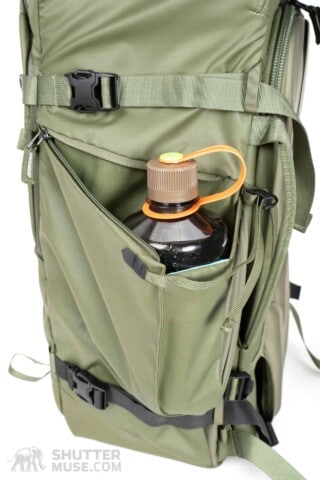 The X70 HD gives you all the options you could hope for to carry water for your adventures. Both side pockets will easily hold a 1L Nalgene bottle, and the expandable pocket on one shoulder strap can also hold one of the small, compressible water bottles often used by long-distance runners. If using a water bladder is more your thing, there's a loop to hang it from in the bag's front pocket and bladder hose routing ports on both sides to feed the tube through to your preferred shoulder strap.
Rain Cover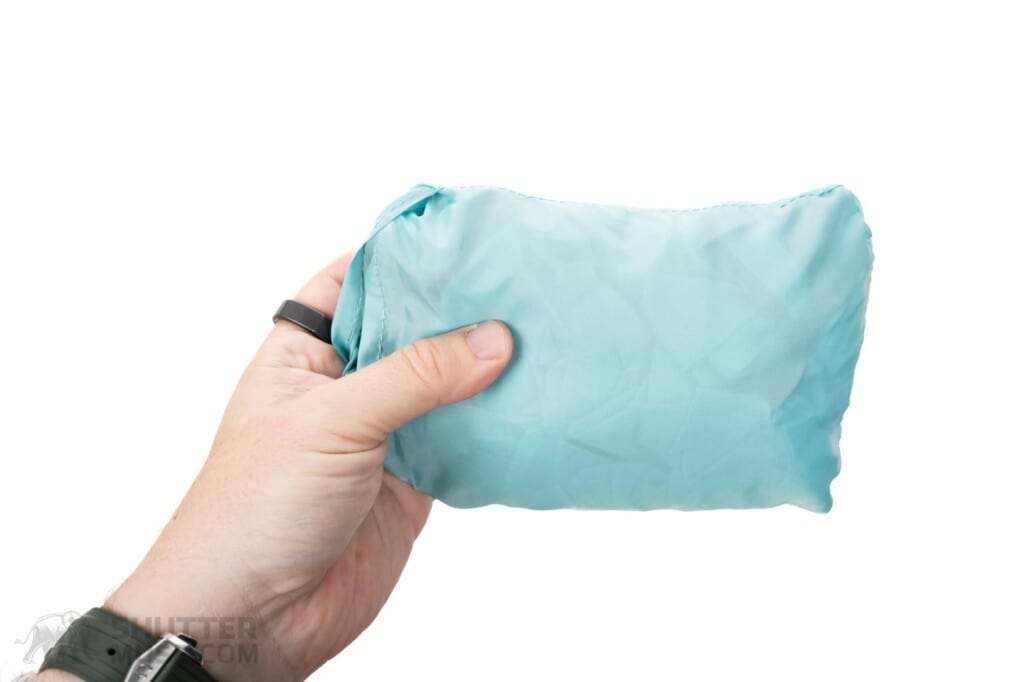 The X70 HD comes with a waterproof rain cover. While the bag's exterior materials are coated with DWR to make them water-resistant, a rain cover is always nice in case you get caught in a prolonged downpour. A new feature is a dedicated rain cover pocket inside the bag on the base beneath the Core Unit.
Helmet Holder
Yet another unique-for-a-camera-bag feature is the removable helmet holder that comes with the X70 HD. This stretchy piece of fabric clips to the existing buckles on the front of the bag, giving adventure sports photographers a secure place to store a bulky helmet while hiking or skinning to a line.
Action X70 HD Core Unit Choice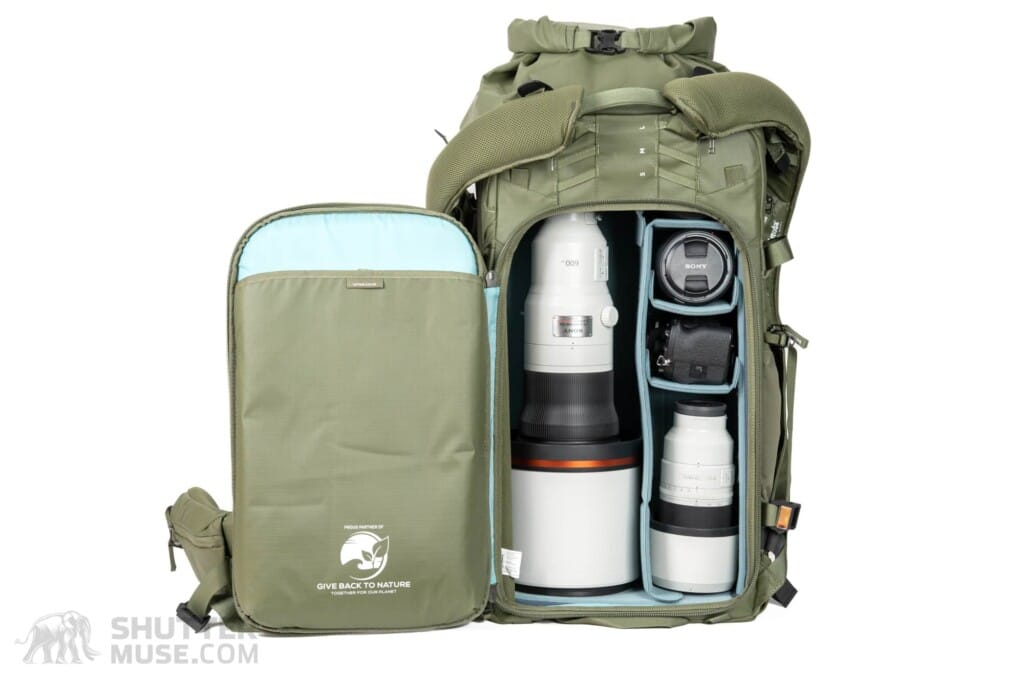 Shimoda's Core Unit system allows you to reconfigure your pack to hold various combinations of camera gear and non-photographic equipment. The Core Units are available in three depths to suit different backs in the Shimoda lineup and different sizes of cameras and lenses. The DV depth Core Units are designed specifically for the Action X70 HD; they do not fit into other Shimoda packs. The increased depth of these DV Core Units is what makes the Action X70 HD compatible with super-telephoto lenses and large cine zooms.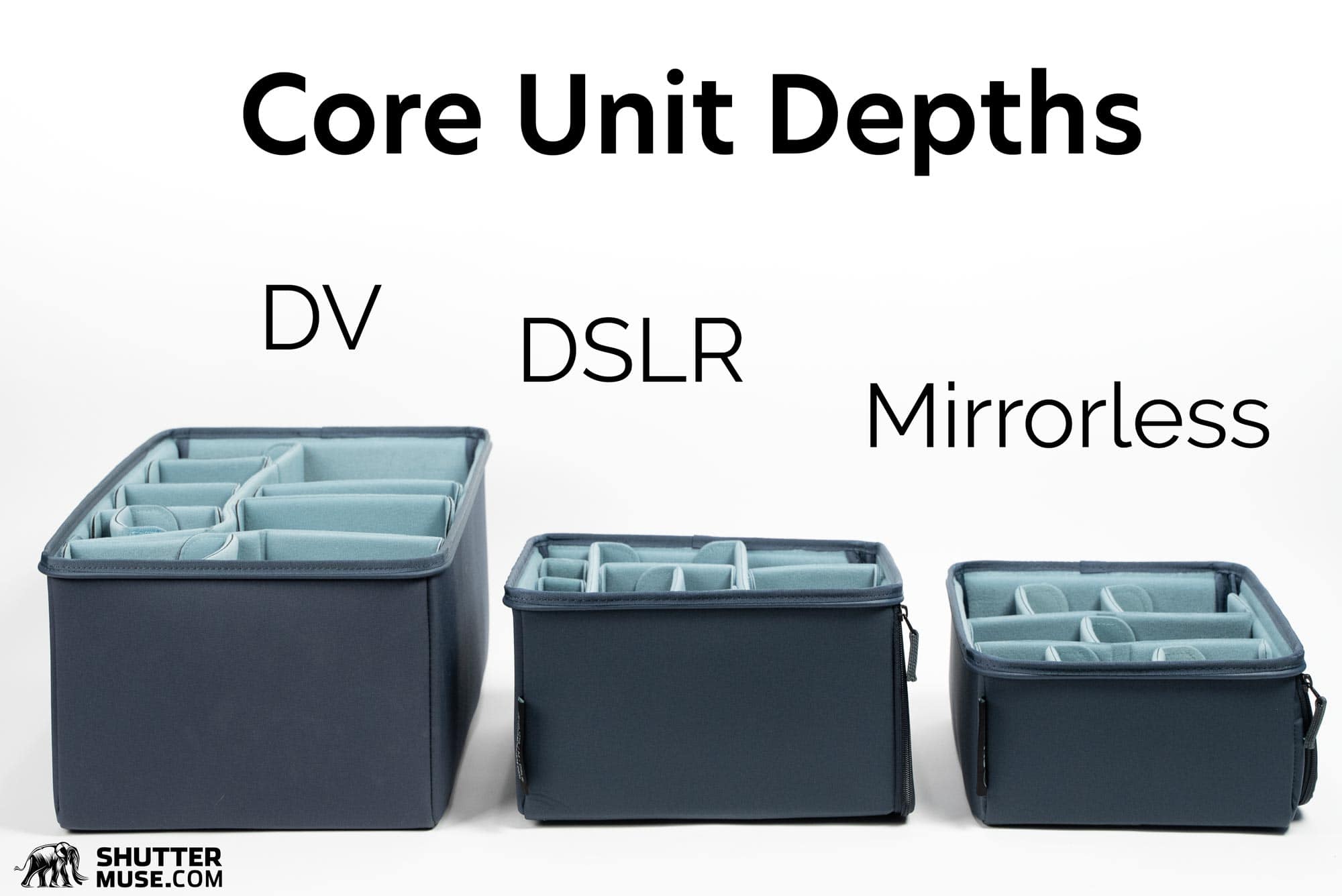 The three DV Core Units (L, XL, and XXL) share the same depth and width, while their heights vary to accommodate different lens lengths. Being designed for the X70 HD means they are a nice snug fit in the bag. Still, you also have the option to use any of Shimoda's smaller Core Units for trips that require less camera gear and more clothing, camping gear, or other non-photographic equipment.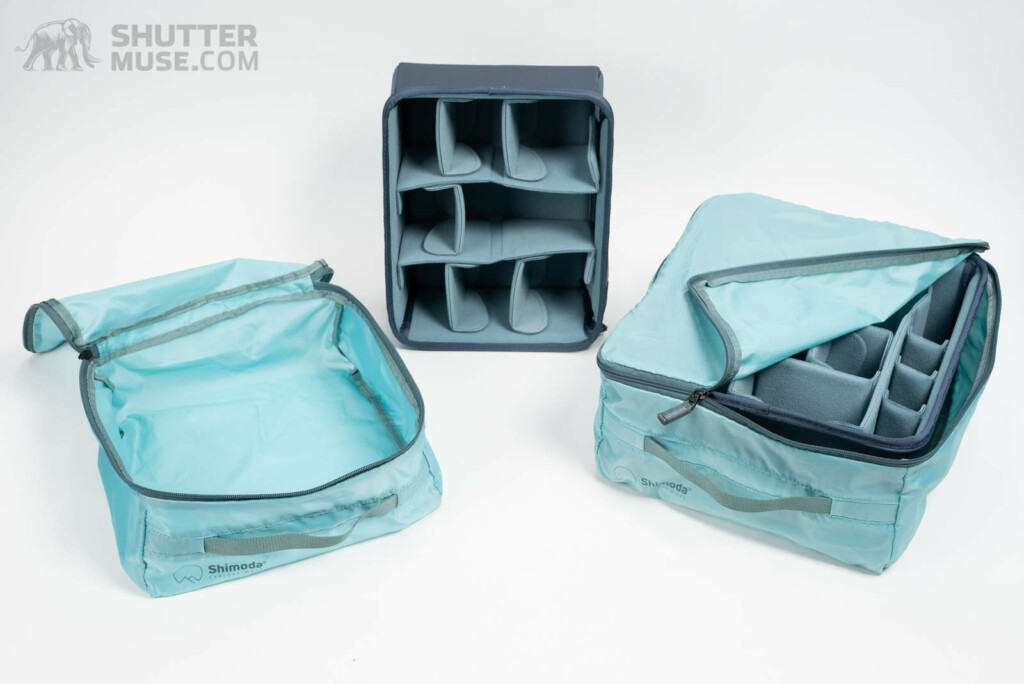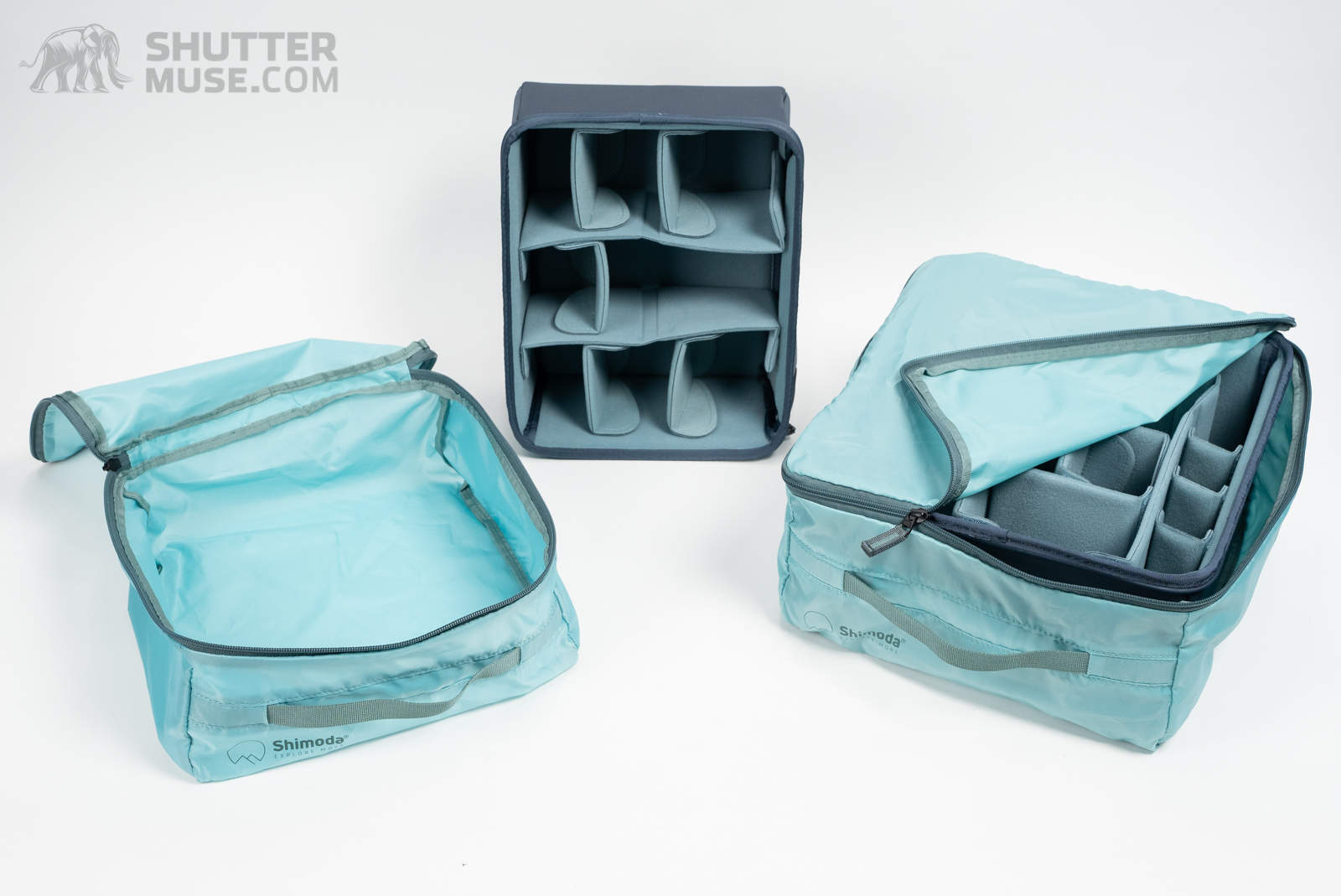 When you use one of the smaller Mirrorless or DSLR depth Core Units in the X70 HD, you'll want to wedge them in amongst your other gear and leave the included Core Unit cover on to prevent your camera gear from escaping the confines of the protective unit. Most X70 HD users will opt for the DV Core Units, but I also like to keep a Small Mirrorless Unit on my shelf for camping trips where I want to carry a body, a 24-70mm and a 70-200mm.
A Closer Look at the DV Core Units
The large capacity of the DV Core Units is an integral feature of the Action X70 HD as a whole. So, with that in mind, let's closely examine what these three units can carry and how the unique top access feature of the XXL DV Core Unit works. Internal Core Unit dimensions are more important than external ones when determining which lenses will fit:
Large DV Core Unit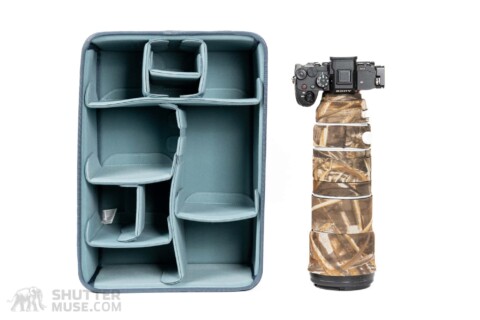 The v1 version of the Large DV Core Unit had an internal length of 14.6in (37cm). Alongside the X70 HD launch, Shimoda released a v2 version that extends the inner length to 15.7in (40cm). This newly sized v2 version better accommodates 400mm f/2.8 lenses, including the slightly longer than usual Nikon Z 400mm f/2.8 (15″ long) with its built-in teleconverter. The new size is also a better fit for the Sony 200-600mm lens with an attached body and, very likely, the soon-to-be-announced Nikon Z 200-600mm lens. This Core Unit is also perfect for the Nikon Z 800mm f/6.3.
In some cases, a 400mm f/2.8 lens will now fit in the Large DV Core Unit with an attached body, but if this is required, please check your lens and camera dimensions before you purchase it. If it's a tight fit, you can reduce the overall length of your lens by installing the lower-profile Zemlin Telephoto Lens Cap. If it doesn't look to be a good fit, you can move on to the larger XL DV Core Unit.
XL DV Core Unit
The v1 version of the XL DV Core Unit had an internal length of 18.1in (46cm). Alongside the X70 HD launch, Shimoda released a v2 version that extends the inner length to 18.9in (48cm). This newly sized v2 version better accommodates 600mm f/4 lenses, including the slightly longer than usual Nikon Z 600mm f4 (17.7″ long) with its built-in teleconverter.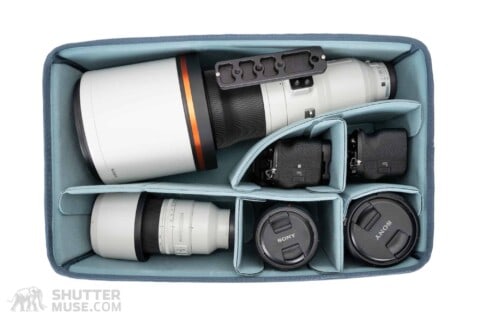 This new size will also fit a Sony 200-600mm lens with a camera attached and the lens hood in place. The same will likely be valid for the upcoming Nikon Z 200-600mm lens. For users of those lenses, this is an excellent way to have a ready-to-go camera for unexpected wildlife encounters. This XL DV Core Unit is also an excellent match for the Nikon Z 800mm f/6.3 lens with an attached body or any 400mm f/2.8 with an attached body.
XXL DV Core Unit
The XXL DV Core Unit is a new addition to the lineup, introduced alongside the Action X70 HD. With an internal length of 21.7″ (55cm), this Core Unit will hold a 600mm f/4 or 800mm f/5.6 with an attached body. I could also fit a shorter Zemlin lens hood on my Nikon Z 800mm lens with an attached body and the lens hood in place within the XXL Core Unit.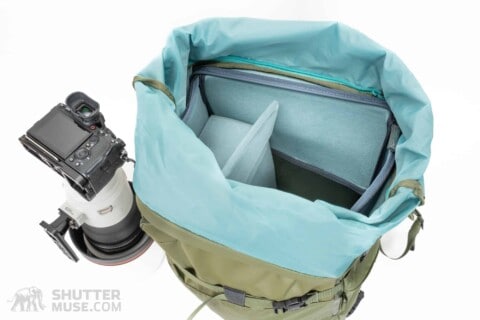 The XXL Core Unit also features a zippered top panel, allowing you to extract a super-telephoto lens with an attached body from the top of the bag. To do this, you must give up using the bag's top section as a storage area, but in some cases, the tradeoff will be worth it. What's great is that the top storage section of the X70 HD zips in and out very quickly, so you can choose to use this access point or not on a day-by-day basis.
Top Access For Super-Telephoto Lenses
Having top access to my 600mm f/4 from this bag is a real game-changer. In my first week using this setup, I found myself hiking around in the Yukon with a lens hood attached to my Sony 600mm f/4 GM and a body attached! Although the length of that setup, with the lens hood in place, is rather extreme, it still fits into the bag. The Lens hood must be reversed if you want the camera to sit within the Core Unit's complete protection, but for easy hiking, I have no problem with the camera sitting a little above that point. As long as the roll top covers everything, that's good enough a lot of the time.
A bag that offers quick access to a super-telephoto lens with an attached camera is hard to come by. One example is the LensCoat Xpandable bag I have reviewed in the past. The problem with most of these long lens bags is that they are designed solely for the lens and a camera; there's no room for anything else. Effectively, they can't be your only camera bag if you ever want to carry a second camera, a second lens, a laptop, or any other of the myriad items nature photographers often need. They're useful accessories, but not an everyday carrying solution.
The LensCoat Xpandable long lens bag is also poorly designed for hiking, offering a bare minimum shoulder harness and unpadded hip belt. The same can be said for any other long lens bags I know about. The Action X70 HD is more expensive than these long lens bags but far more versatile. And the overall cost of the X70 HD and XXL Core Unit is considerably less than buying a long lens bag and another camera pack for everyday carry. For many wildlife photographers, this is the all-in-one solution you've been waiting for, so long as the weight and size of the X70 HD aren't a hindrance to your needs.
Why is Top Access Useful?
Let's briefly discuss some benefits of top access to a long lens setup. Firstly, and most obviously, grabbing your camera and lens is faster if you encounter unexpected wildlife. When removing the pack and placing it on the ground, the bag strands upright, giving you easy access to the roll-top buckle. Not only is this faster than lying the bag on the ground and fussing with the large zippers of the back panel, but you also avoid getting the front of the bag wet and dirty, leaving only the thicker, reinforced base of the pack in the dirt.
The second reason I love to have top access to my big lens is for driving. In fact, to this point, this has been the primary way I have been using the LensCoat Xpandable long lens bag. When I head out to places where there's a chance of seeing some wildlife, I get my camera and lens ready in a bag and place it on the floor in front of the front passenger seat. If I happen upon something near the side of the road, I can quickly reach over and grab my gear. Doing this from the back panel of a backpack on the passenger seat is cumbersome and nowhere near as quick.
Now, with the new XXL DV Core Unit, X70 HD users can take advantage of this faster access in a vehicle. This top access use case is so important to me, and often so photographically fruitful, that I recently carried my LensCoat Xpandable bag all the way to Tasmania for that sole purpose. In the future, I'll often be using the X70 HD in this way.
Traveling With the Action X70 HD
The Shimoda Action X70 HD is a big pack, so it shouldn't be a surprise that it's not technically carry-on compatible with any airline for either international or domestic US flights. If you want to travel with the Action X70 HD–as many wildlife photographers will want to–it requires some forethought. While choosing a carry-on compatible pack for your travels is much easier, as seen in this review, the Action X70 HD has some significant benefits that shouldn't be overlooked. In this review section, I will cover all options and workarounds. Before we do that, let's have a little refresher on the key dimensions we need to know to solve this problem.
Option 1 – Check the Entire Bag
The first option is to check the entire camera bag, including the Core Unit. You can fill the bag with the clothing for your trip and carry your precious camera gear onto the plane in a carry-on-friendly backpack that can still hold super-telephoto lenses, like the Gura Gear Kiboko 30L+. Once you reach your destination, unpack your clothes into a compressible duffel bag that you cleverly packed into the X70, and then move your camera gear from the carry-on-friendly bag into the bigger bag.
Why take the Action X70 HD at all if you're also taking a second carry-on-friendly backpack that holds all (or most) of your camera gear? There are two reasons: Firstly, the Action X70 HD is more comfortable to carry than any other camera backpack on the market. The thick padding on the shoulder straps and hip belt make this bag a cut above the rest when hauling heavy loads. This is not a concern if you plan to spend every day in a safari vehicle, but it is potentially worth it if you'll be hiking great distances.
The second reason to go to this effort is if you plan to use the X70 HD with the XXL DV Core Unit's top opening capabilities. Having instant access to a mounted super-telephoto lens with the lens hood attached can be invaluable. There's no faster way to get your lens onto an unexpected wildlife encounter, and it might help you capture a rare moment from a once-in-a-lifetime encounter. There are no carry-on compatible backpacks that can offer this feature.
When checking the X70 HD, consider whether the bag might get damaged. While I don't worry about the bag's tough external fabrics, I would do worry about shoulder straps and nylon webbing getting caught in baggage conveyors. When I check my X70, I put the whole thing into a Pelican 1626 AIR to be safe. Then I carry most of my camera gear onto the plane in a Gura Gear backpack, leaving only a few critical items in the X70.
Some people are happy to check their entire camera kit in the Pelican case and walk onto the plane with nothing but a wallet and a passport. It's a scary concept to me, but I guess that's what insurance is for! And, if you're traveling as part of a natural history film crew, checking camera equipment in Pelican cases is the normal thing to do.
If you don't fancy taking a case the size of the Pelican 1626 AIR on your trip, you can slim things down using a Pelican 1606 AIR. This smaller case is the perfect size for the DV Core Units. I would pack the X70 HD shell into a separate duffel bag with my clothes in this scenario. Then I'd put my tripod and a few other important items into the DV Core Unit and place it into the Pelican 1606 AIR. My camera gear would go into a Gura Gear Kiboko 30L+ to be carried onto the plane. While the Pelican 1626 AIR is within airline check-in dimensions, it is a big case. The 1606 AIR is much more manageable if you must cart it around at your destination or pack it into a smaller rental vehicle.
Option 2 – Check the Shell and Carry the Core Unit
The XXL DV Core Unit is too tall to be carry-on compatible. Still, if you're using the X70 HD with the Large DV Core Unit or the XL DV Core Unit, they do fall within carry-on limits, so you can carry your camera gear onto the plane in that while checking the backpack shell into the hold in a duffel with your clothing.
While this is a useable solution in a pinch, the downside is that a fully loaded DV-sized Core Unit is a pain in the ass to cart around an airport. There are handles on the top and bottom of the Core Unit cover but no attachment points for a shoulder strap. It's not going to be a comfortable journey, but you'll get your gear there safely, and you'll have an awesome pack for it when you get there.
Option 3 – Remove the Aluminum Frame
If you plan to use the XXL DV Core Unit in the X70 HD, removing the pack's frame makes no difference, you still can't squash the bag down to carry-on compliant dimensions. However, if you plan to use the Large or XL DV Core Unit, removing the internal aluminum frame from the pack shell will allow you to cinch up all the straps and use the bag's roll-top system to get the bag down below the 21.5-22″ maximum height.
If you go down this route, I recommend removing the huge hip belt to help cut down on the perceived bulk of the pack. Toss that into your checked duffel. Having an Action X50 v2 in the close as I do, I might even go so far as swapping out the less bulky shoulder straps from that bag and putting them on the X70 HD for travel. You should also ensure you practice re-inserting the aluminum frame into the pack. There's a trick to it: lever it back in using the handle of a metal spoon. If you try it, you'll see what I mean!
Option 4 – Risk It
Some people are happy to risk taking the X70 HD as a carry-on without doing anything more than removing the big bulky hip belt. The bag's height isn't much more than the allowable limits for US domestic flights, and I know it has worked for some people. When I fly, I hate that carry-on-induced anxiety, but if you were asked to gate check the bag, you could always slide out the Core Unit and carry that onto the plane.
Whether this works for you might also depend on your usually used airline carrier. If you often travel with the same airline, you get a sense of how they operate and how likely it will be for this plan to work. I know with some certainty this wouldn't work for my local airline and the small planes they use. Since I have to fly with them every time to get from the Yukon to Vancouver for domestic or international connections, I consider this option off the table. Your mileage may vary.
Action X70 HD Vs. Action X50 v2
Given the wide disparities in volume, I don't see a need to compare the X70 HD to the entire Action X lineup in detail. The most common decision point for people will be choosing between the largest models, the X70 HD and the X50 v2. Our Shimoda Action X v2 review is always available for those that want more details on the smaller sizes in the range.
The X70 HD is designed around the DV-sized Core Units. These are deeper than the DSLR Core Units that fit in the Action X50 v2. None of the DV Core Units (L, XL, or XXL) will fit in the X50 v2. If you need to carry some camera gear that requires the overall size, particularly the 7.9″ internal depth of the DV Core Units, you must step up to the X70 HD.
For many people, the size of a super-telephoto lens will push them towards the X70 HD. The X50 v2 isn't deep enough to comfortably accommodate the lens hood diameter of a 400mm f/2.8, and the Large DSLR Core Unit–the largest Unit available for the X50 v2–isn't long enough to hold a 200-400mm, 200-500mm, 500mm f/4, 600mm f/4 or 800mm f/5.6 lens. So, if you have one of these big monster lenses, you'll want the X70 HD.
However, if you have a Sony or Nikon 200-600mm lens, you can fit it in the Large DSLR Core Unit and use an Action X50 v2. With its smaller Phase Fresnel design, the Nikon Z 800mm f/6.3 lens also fits in the Large DSLR Core Unit and, therefore, can be used in the Action X50 v2 as do the Canon RF 100-300mm f/2.8 L IS and the Olympus 150-400mm, along with older lenses like the Canon EF 300mm f/2.8, EF 400mm f/4 DO II, Nikon 120-300mm f/2.8.
Aside from super-telephoto lens carrying, the size of the X70 HD also makes it the most suitable bag in the Action X lineup for those wanting to undertake multi-day hikes with a full camping and camera kit. Fitting the X70 HD with a Medium or Large Mirrorless Core Unit still leaves plenty of room for a tent, mat, sleeping bag, stove, food, and layers. Remember, the roll-top adds extra volume, so the X70 HD can hold more than 70 liters of gear!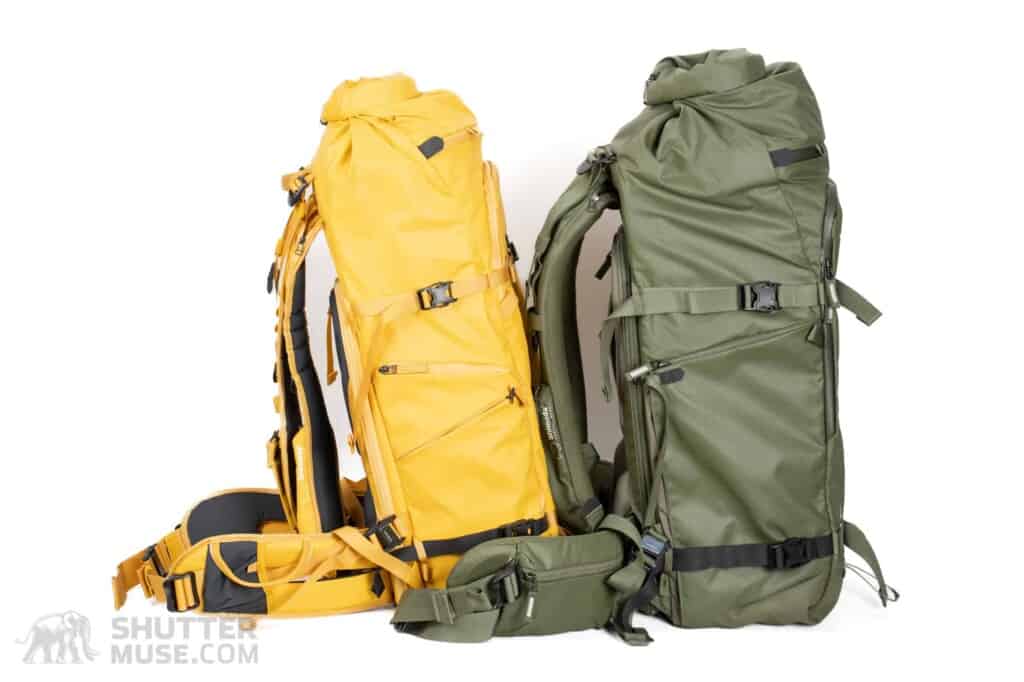 There are a few differences in the basic features of the two bags. The X70 HD has two large tripod pockets on the side of the bag, whereas the X50 v2 has two removable Drop Pockets. This makes the X70 HD more adept at carrying large tripods often used in filmmaking. Adding these two side pockets on the X70 HD meant the removal of the side camera access hatch, a feature available on the X50 v2.
Moving to the harness system, the X70 HD comes with much thicker shoulder straps made from aerated mesh instead of the X50 v2's EVA foam. The X70 HD also comes standard with the HD belt, a thicker padded hip belt made from aerated mesh, not EVA foam. The X70 HD has a laptop compartment in the rear access door but lacks the second laptop sleeve found in the front pocket of the X50 v2. Finally, the X70 HD features chunkier strap clips around the bag, aluminum buckle hardware, and additional reinforcement in all the areas where straps are attached. These latter features are really what gives the X70 HD its Heavy Duty name tag.
In terms of comfort, both bags adapt well to the weights they were designed for. It would be wrong to assume that the X70 HD's more thickly padded shoulder straps and hip belt make it a more comfortable bag by default. That is only the case if you overload the Action X50 v2. The smaller bag, with its thinner straps, is still incredibly comfortable. The thicker padding on the X70 HD only comes into its own when using massive lenses, giant tripods, or bulky cine gear. I wouldn't advise deciding between the two bags based on comfort. Besides, you can buy X70 HD's HD belt and Plus thickness shoulder straps as aftermarket upgrades for an X50 v2 if you feel they are necessary.
Shimoda Action X70 HD Vs. F-Stop Shinn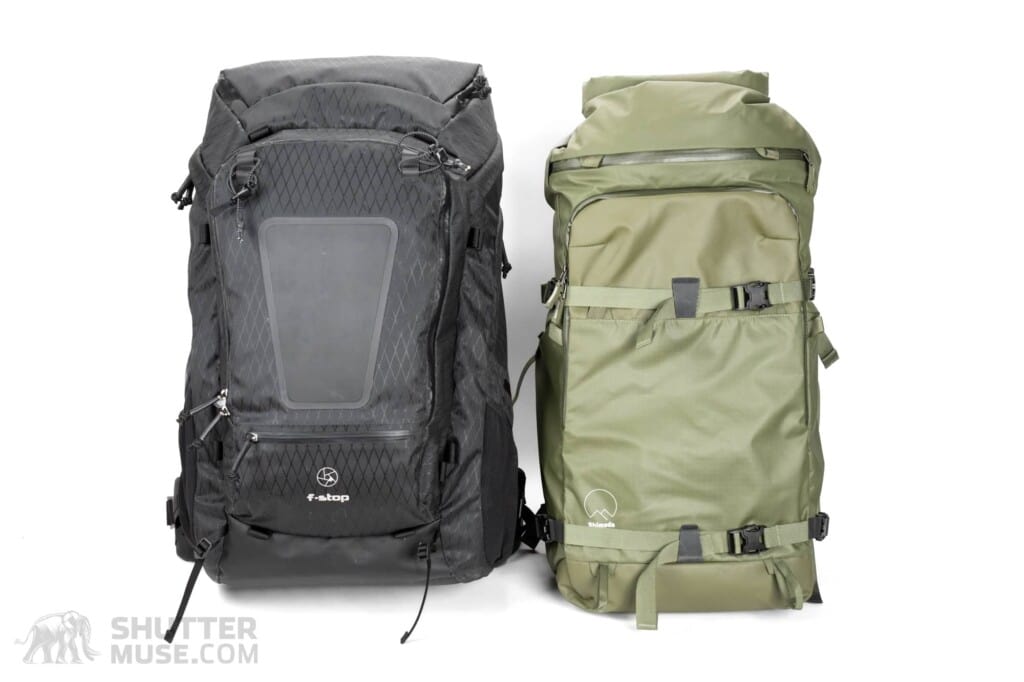 There aren't many direct competitors to Action X70 HD, but I'm sure some people, in their quest for a genuinely colossal camera bag, have seen and perhaps are considering the F-Stop Shinn. The Shinn is an 80L backpack designed for a similar market to the Action X70. I was curious to review it and compare it to the X70 HD, so I went out and bought one from B&H Photo.
F-Stop also makes a 70L bag called the Sukha. However, this doesn't compare best to the new Action X70 HD. For one thing, the Sukha is an older design that lacks all the new features F-Stop added to their most popular Mountain Series bags in recent years. Since the discontinuation of the F-Stop TeleMaster ICU, initially designed to go inside the Sukha, the bag also lacks a way for wildlife photographers to have top access to a mounted super-telephoto lens. Given the expandable volume of the Action X70's roll-top design, the overall volume capability is much closer to the 80L capacity of the F-Stop Shinn, and both the Shinn and Action X70 offer that all-important top access to long lenses.
Comparing the Shinn to the Action X70, two main things stand out. The Shinn is primarily designed to work with the MasterCine ICU, which takes up most of the bag's internal volume. This ICU provides slightly more camera gear storage than the largest XXL DV Core Unit of the Action X70, but both allow for top access to a mounted super-telephoto lens.
Regarding versatility, the Action X70 has a significant advantage with its choice of three DV Core Unit heights. This allows you to configure the bag more efficiently with a camera and non-photographic gear mix. There are smaller F-Stop ICUs available, as there are smaller Shimoda Core Units. However, the smaller F-Stop ICUs really float around in the giant interior of the Shinn. Aside from the MasterCine, there are no other shorter ICUs designed for the width and depth of the Shinn. The Action X70 HD seems designed to give you options, whereas the Shinn feels it was intended solely for the massive MasterCine ICU.
The other notable difference is comfort. The shoulder straps and hip belt of the Shinn are made from a dense foam, whereas the Action X70 straps and belt feature a softer, squishier padded mesh. With a heavy load on a long journey, I find the Action X70 HD to be a more comfortable bag. After my comparative test, I won't be keeping the Shinn, and the only reason to choose it over the X70 would be if you have some specific piece of cine gear that fits into the Shinn's MasterCine ICU and not into the XXL Core Unit of the Action X70 HD.
Optional Accessories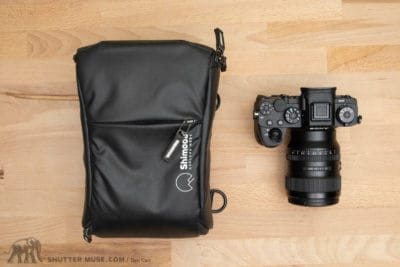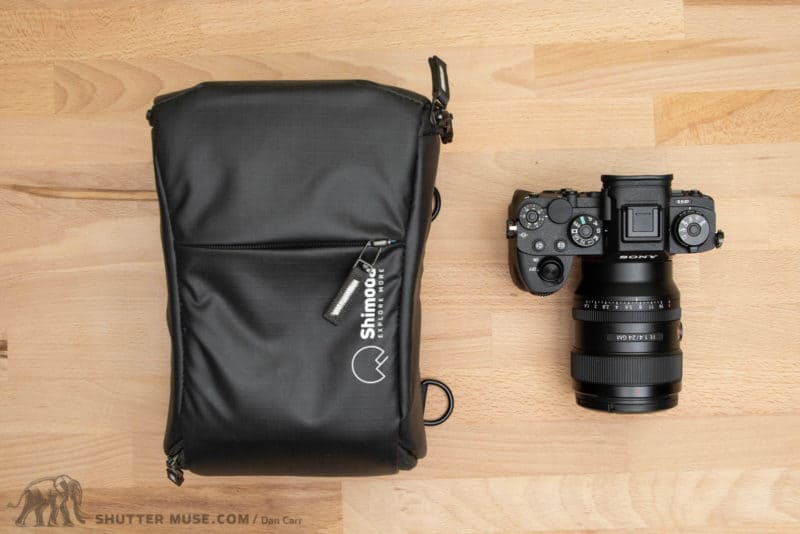 Shimoda makes a few accessories that work on all their backpacks. Most of these have been reviewed before. While none should be considered essential for the X70, all are useful and well-made.
Conclusion
The Action X70 HD is one of the biggest camera bags on the market. Designed to suit photographers and cinematographers that use large cameras and long lenses, carrying comfort was a prime consideration for the designers.
Having tested this bag while carrying my own wildlife photography kit, including my bulky 600mm f/4 lens and a heavy tripod, I can safely say no other camera backpack is as comfortable as the Action X70 HD. The heavily cushioned shoulder straps and huge padded hip belt are like nothing I have seen on a camera bag before. Add to that Shimoda's usual tough-as-nails build quality, and you've got a bag perfect for carrying vast amounts of gear during extended expeditions in the planet's most demanding environments. Truly, this bag is a beast!
To finish off a well-thought-out list of updates to the X70 HD, the new top access feature of the XXL DV Core Unit gives wildlife photographers and natural history filmmakers faster access to their gear and greater possibilities to capture unexpected moments. While air travel with such a big bag takes some extra thought and planning, many photographers will be happy to figure that out if it means having this comfort level on long days with long lenses. If it suits your needs, this bag gets my highest rating.