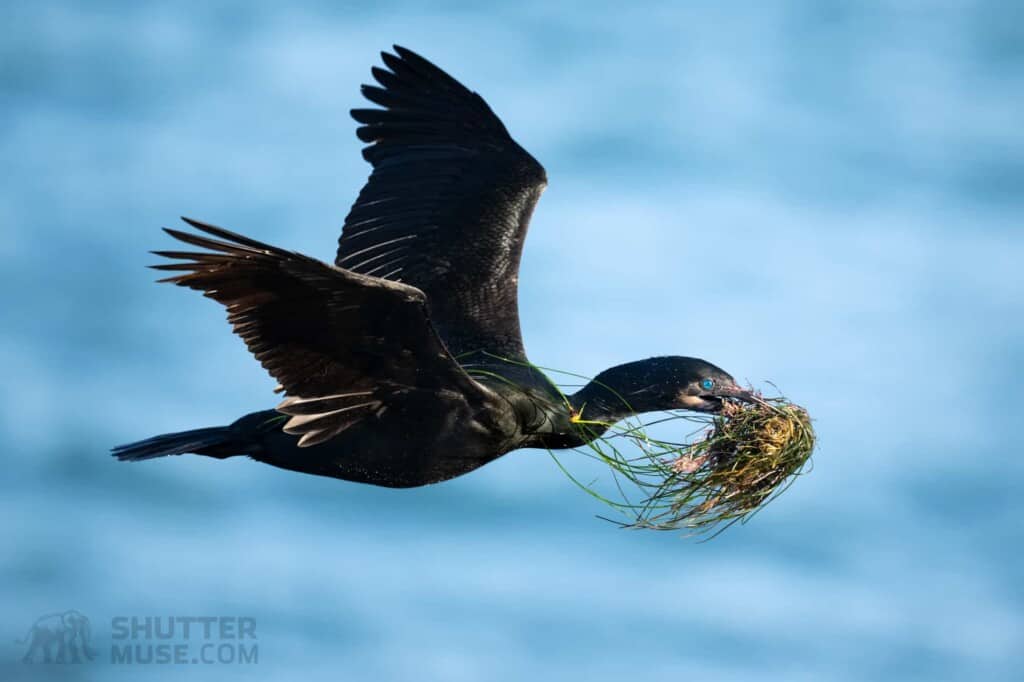 Brandt's cormorants are marine birds found on the Pacific coastline of North America. During the breeding season, they have teal-blue eyes that starkly contrast with their black and dark green bodies, and I knew that if I could capture that, it would make for a great photo. On the Southern Californian coast near La Jolla, many cormorant nesting areas provide that opportunity with ease if you're happy with a picture of a cormorant on the land. However, on this trip, I had loftier goals. I wanted the perfect behavioral flight shot.
Getting a photo of a cormorant in flight is one thing, but I had a much more specific image in mind. While the female cormorants incubate their eggs, their male partners head out to sea to feed and gather nesting material. Watching from the nesting areas, I often saw the males returning with beak fulls of green seaweed. This is the behavior I wanted to capture, and it's a great example of why it is so important for wildlife photographers to study their subjects. I would not have gotten this shot if I had been completely oblivious to this behavior.
In this case, understanding the cormorant's behavior was the first step. The second step was to make a detailed plan to capture this difficult shot. On previous days at this location, I sat and watched these birds coming and going from the nesting site, trying to figure out if they had a favored direction when returning from the ocean, as this would determine where I needed to stand to get the shot. To some extent, a bird's flight path will always be dictated by wind direction, but terrain factors can come into play once they reach the wind-sheltered areas around nesting areas on the cliffs. Taking the time to watch them for an hour, when the light was poor for photography, was ultimately helpful in getting me to the right place at the right time.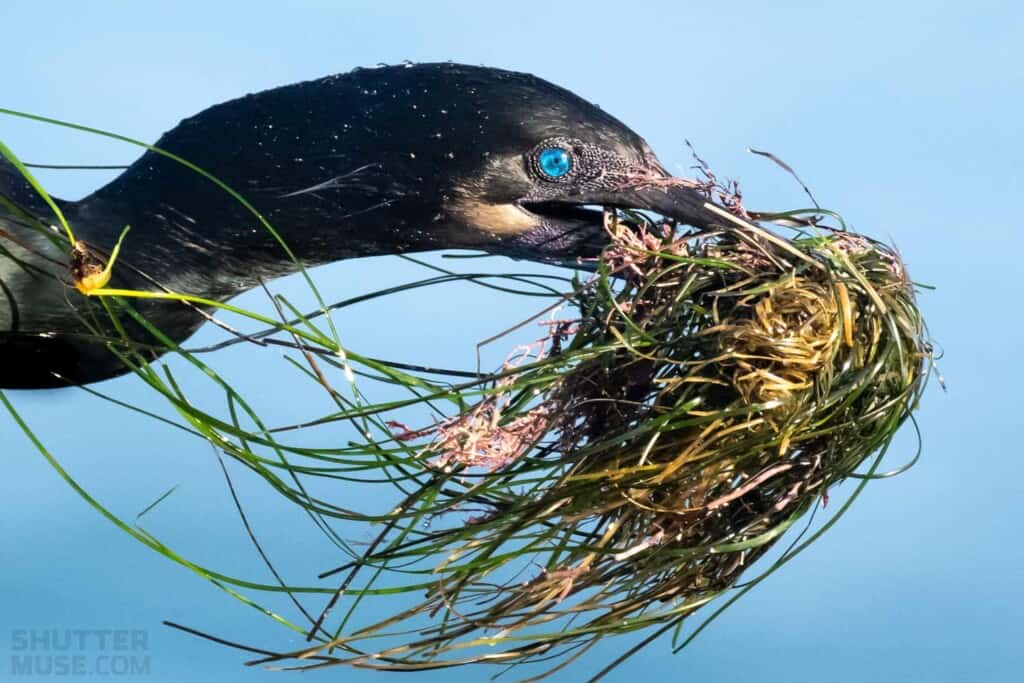 The third piece of the puzzle was the light direction. I wanted to shoot in the morning when the sun was still relatively low in the sky, and I didn't want the sun over my shoulder. Many bird photographers advocate shooting with the sun over your shoulder to avoid shadows. Still, the idea that this is the only way to photograph birds is a myth perpetuated by one particularly well-known photographer and has since filtered down through forums as if it is gospel. I don't subscribe to it as the only way to shoot birds. In this instance, being slightly off the sun's angle created more contrast in the bird's teal-blue eye and more contrast in the seaweed package it was bringing home. This added contrast helps to direct the viewer's eye immediately to the bird's head.
I chose the Nikon Z9 and the Nikon Z 800mm f/6.3 lens for this shot. While I wrote last week about some specific frustrations that bird photographers will have with the Z9, today's post shows that it's not all bad news and that the scenario I described was very specific. In this case, the camera performed beautifully by locking onto the cormorant's eye, and the lens delivered a tack-sharp shot, again proving that the Z 800mm lens can produce stunning results. (see the previous Behind the Shot post for another example.)
Though I had done my location research and made a solid plan, another challenge awaited me. Cormorants fly around 35mph. If you saw a car driving at that speed from a distance, it wouldn't look that fast, but to nearly fill the frame (this image is cropped by only a few pixels) with a medium-sized bird, you have to be within about ten feet of its flight path. Tracking anything that small, at that speed, and that distance with an 800mm lens is a real challenge. Luckily I was on day four of the trip and had been practicing every day for such an opportunity. These skills can go rusty, and it is usual to need a few hours to get back into the swing of things.
After two hours of waiting in my chosen location, I saw a few cormorants pass me at the proper distance, but none carried nesting material. I took photos of them to practice my swing and waited patiently with a good audiobook in my ears. Eventually, in the distance, I spotted the bird I wanted. It flew directly at the coast, aiming at a point some 50ft to my left. By this point, I knew from experience that it was simply taking the shortest route to get out of the wind, and once it reached the cliffs, it would turn and hug the coastline to skim right past me en route to its nest. I tracked the bird through my viewfinder long before I took the shot to help judge my panning speed at the critical moment.
As I often do when shooting wildlife, I used manual exposure with Auto ISO for this shot. I knew I would need my aperture wide open at f/6.3 to get a fast 1/5000 shutter speed while maintaining a manageably low ISO. Software like Topaz DeNoise AI can work wonders, but I still prefer to start from as clear a starting point as possible. Manual Exposure with Auto ISO allowed me to control my aperture and shutter speed while allowing the camera to determine the correct ISO for the scene.