In light of the significant difficulties that many creative professionals will be dealing with during (and long after) the COVID-19 pandemic, Adobe is giving existing customers the chance to get two months of Creative Cloud subscription for free.
It sounds too good to be true, but I have tried it myself and it worked! Shout out to Petapixel for bringing this to people's attention.
The first thing to know is that you have to be an existing Creative Cloud subscriber for this to work. You can't simply sign up with a new account and get two months for free. The second thing to know is that you will be able to get two free months of your existing subscription package. So if you currently subscribe to the Photography Plan for example, you can get two months of that plan for free.
This literally took me less than two minutes to do!
Since first publishing this post on the site here, and sending it to roughly 20,000 people on my newsletter I have had many great comments. One that particularly struck home was this:
Thanks. It worked and my company was just talking about saving every penny so no one gets laid off. You are awesome!

– Graphic Design Company Manager
While I appreciate the thanks, and am happy to use this platform to spread good news like this, I think we should actually acknowledge that is Adobe that is being awesome in this case. Adobe isn't always everyone's friend, but kudos is deserved in this case.
[UPDATES from commentors]
[UPDATE 1: It certainly worked for me in Canada. I have also seen other people in the UK, US and Australia say that it works with no problem. However, some people in other parts of the world seem to be offered slightly different options. Please let me know in the comments if you manage to take advantage of this.]
Annual plans
[UPDATE 2: It seems that some people who have an annual plan, paid monthly, might be greeted with a message about having to pay an early exit fee if they cancel. If you click past that notice, you might still be greeted with the offer before the final point of cancellation takes place. If you accept the offer, you are not actually cancelling so they wouldn't charge you an early exit fee. Sub-Update – Confirmed in the comments by several other readers, if you click past the warning of the cancellation fee, most people are able to claim 2 months credit even if you are on an annual plan! ]
Thank you for sending an email out about this! I only signed up to the annual paid monthly a couple weeks ago (previously annual paid at once) and … the cancellation fee was $423 AUD! but saw in this post that if I clicked ahead they'd do an offer and yes, next two months are free. One less thing to worry about. Thank you.

– Amanda from Australia
3 months free?!
[UPDATE 3: Several readers have mentioned that if you do not see the automated offer for 2-free months, you can click the option to open a chat (you can actually see this in my screenshot in step 6 below). In the chat, several people from the comments here have actually been offered a 3-month credit! I think this might be for annual plans only, but I'm not sure yet. If you don't seen a 2-month offer though, it sounds like it's definitely worth clicking the chat option to see if you can get three months. If you're able to get this even better deal, please leave a comment with details of where you are and what plan you have. It might be limited to some countries, or it might be limited to people with very expensive plans such as the entire Creative Cloud Suite annual subscription.]
[UPDATE 4: Confirmed that in some countries you actually see 3-months for free right away (!!), without even having to talk to the people on chat. One of my Instagram followers from Slovenia told me that this is what he was able to get, and he sent me a screenshot as proof. This automatic 3-month option seems to very limited, so count yourself lucky if you get offered that.]
How to get 2 free months of Creative Cloud subscription
Step 1.
Sign into your Creative Cloud account at adobe.com
Step 2.
Visit account.adobe.com, or click the "view account" button in the top right corner of the page. It appears when you hover the mouse over your profile photo.
Step 3.
Underneath your current Creative Cloud plan, click "Manage Plan"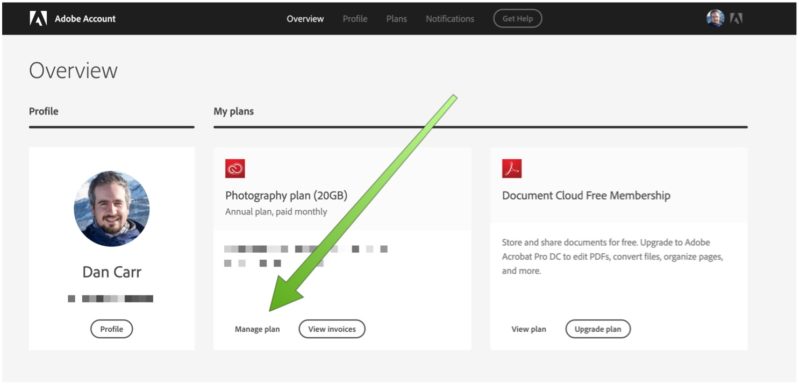 Step 4.
Click Cancel Plan. Do not worry, at this point there are still several steps before an actual cancellation takes place. There's no risk clicking this button.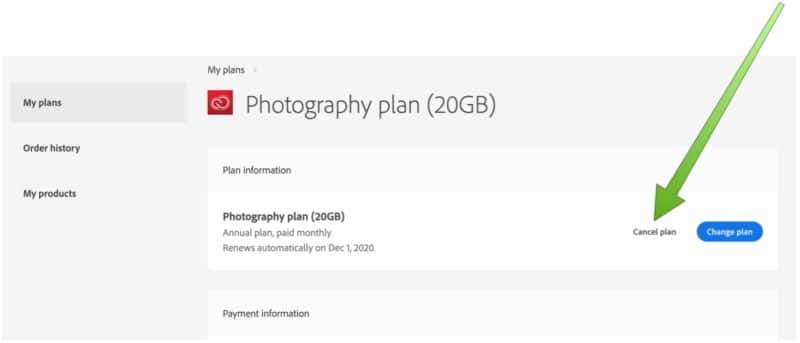 Step 5.
Next you are asked to choose your reason for cancellation. At this point I'm not sure if the chose reason has an effect on the offer you are given, but I chose to select "It's too expensive". [EDIT: Apparently it does make a difference. You should definitely say that it's too expensive.]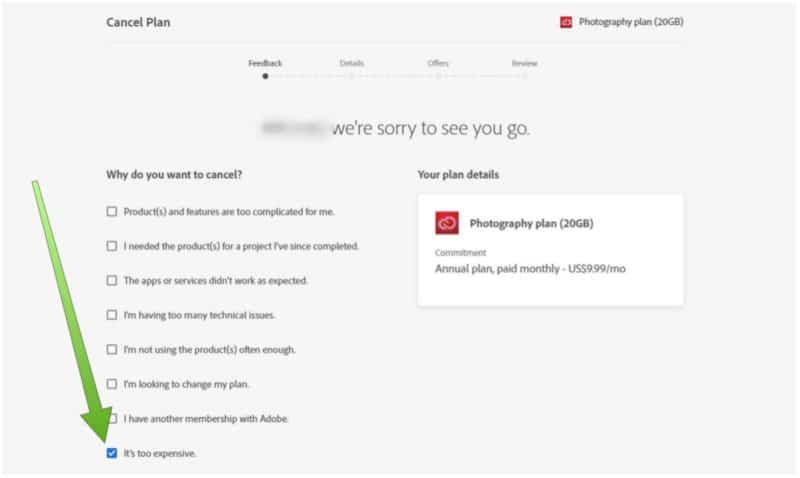 Step 6.
Next they will show you a "Details" page that just lists all the things you will be missing out on if you cancel. But if you look closely towards the top of the page, you'll see the next step in the process is called "offers". Just click continue, and you'll be taken the offer page where you should see the left-hand offer is showing you two months of free service. Just click accept offer!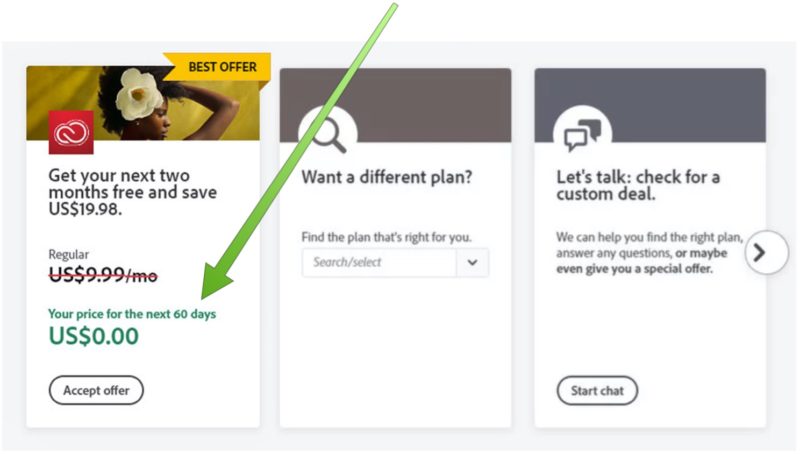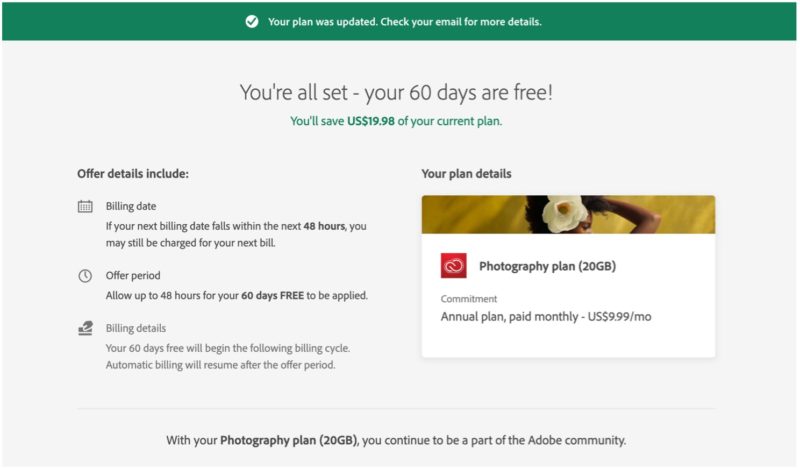 Step 7.
Check your email. You should have an email confirmation that contains the following additional confirmation: