Yesterday I wrote about how current Adobe customers can get 2 months of Creative Cloud subscription for free. Of course, a lot of people haven't been fans of the Adobe subscription model, and if that sounds like you, one of the best alternative options to Photoshop is the excellent Affinity Photo from Serif.
Today Serif announced that they are making all three of their apps (Affinity Photo, Designer, Publisher) available for 3 months as a free trial, or you can purchase them for a 50% discount. This makes each app in the suite just $25.
I already own all three of these awesome applications so it doesn't do me any good, but I had to share it with you guys! This is a truly incredible deal. By the way, these aren't affiliate links so I don't make a cent from telling you about this offer.
Affinity Photo -> Photoshop Replacement?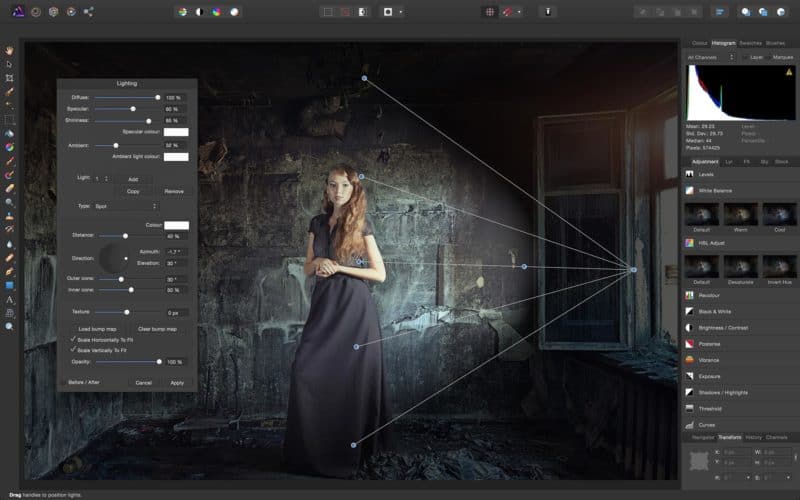 While there are several applications out there that could take the place of Adobe Lightroom (Skylum Luminar, On1 RAW, Capture One Pro 20 etc.), there aren't really any true Photoshop replacements other than Affinity Photo. Just like Photoshop, Affinity Photo goes WAY beyond the needs of most photographers by offering an insane feature set that includes things like 3D modelling and many functions that are useful for graphic design, UX design and publishers. This is definitely not just a basic photo editing tool. In fact, when you open it for the first time, you realize that it basically looks just like Photoshop, just a little more polished and flashy.
It even lets you open PSD files and save as a PSD! So if you work in an environment where some people are using Photoshop, you can still play nicely with them.
Those of you who watch Apple's new product launch videos might also remember that they have been using the iPad version of Affinity Photo for years to demonstrate the power of the iPad and iPad Pro. Yes, these iPad versions are also half price right now.
I've always thought that this software is a steal at $50, but to have it available now for $25 is unprecedented. That's a one time cost. No upgrade fees, ever! I paid $50 for my copy about 5 years ago and that is all I have ever paid. That's their policy.
Obviously, Affinity Photo is the most relevant application to most readers here, but if you are also doing any graphic design or publishing work then I encourage you to also check out their Designer and Publisher apps. Again, these are also cross-compatible with Adobe's InDesign and Illustrator files. It's mind-boggling to me that right now you could get all three for $75, and that's all you would have to pay forever. One month of Adobe subscription costs nearly that much!
Check it out for a 3-month free trial, or just buy it now for $25.