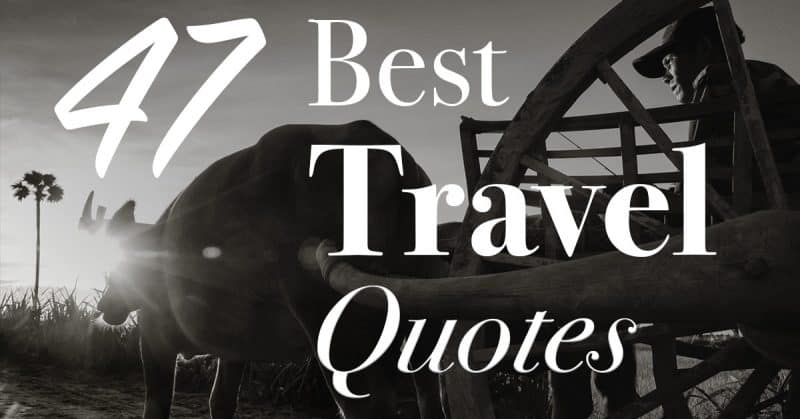 Famed National Geographic photographer Steve McCurry once said "My life is shaped by the urgent need to wander and observe, and my camera is my passport." This is how I feel as well, travel and cameras just go hand in hand as far as I'm concerned.  Here is a list of my favourite travel quotes, and hopefully they inspire you to explore the world and enjoy it with your camera as much as I do with mine.
1. "Not all those who wander are lost." – J.R.R. Tolkien
2. "I haven't been everywhere, but it's on my list." – Susan Sontag
3. "Man cannot discover new oceans unless he has the courage to lose sight of the shore." – Andre Gide
4. "Life is either a daring adventure or nothing." – Helen Keller
5. "A mind that is stretched by a new experience can never go back to its old dimensions." – Oliver Wendell Holmes
6. "Blessed are the curious, for they shall have adventures." – Lovelle Drachman
7. "It is in the compelling zest of high adventure and of victory, and in creative action, that man finds his supreme joys." – Antoine de Saint-Exupery
8. "The world is a book, and those who do not travel read only a page." – Saint Augustine
9. "A good traveler has no fixed plans, and is not intent on arriving." – Lao Tzu
10. "I am not a great cook, I am not a great artist, but I love art, and I love food, so I am the perfect traveller." – Michael Palin
11. "Travel becomes a strategy for accumulating photographs." – Susan Sontag
12. "He travels the fastest who travels alone." – Rudyard Kipling
13. "If you reject the food, ignore the customs, fear the religion and avoid the people, you might better stay at home." – James Michener
14. "One's destination is never a place, but a new way of seeing things." – Henry Miller
15. "To travel is to discover that everyone is wrong about other countries." – Aldous Huxley
16. "Traveling – it leaves you speechless, then turns you into a storyteller." – Ibn Battuta
17. "I travel not to go anywhere, but to go. I travel for travel's sake. The great affair is to move." – Robert Louis Stevenson
18. "It is good to have an end to journey toward; but it is the journey that matters, in the end." – Ernest Hemingway
19. "Travel makes one modest. You see what a tiny place you occupy in the world." – Gustave Flaubert
20. "I am not the same having seen the moon shine on the other side of the world." –  Mary Anne Radmacher
21. "To travel is worth any cost or sacrifice." – Elizabeth Gilbert
22. "Travel is fatal to prejudice, bigotry, and narrow-mindedness." – Mark Twain
23. "I have found out that there ain't no surer way to find out whether you like people or hate them than to travel with them." – Mark Twain
24. "The traveler sees what he sees. The tourist sees what he has come to see." – G.K. Chesterton
25. "A journey is best measured in friends, rather than miles." – Tim Cahill
26. "Live, travel, adventure, bless, and don't be sorry." – Jack Kerouac
27. "To awaken alone in a strange town is one of the pleasantest sensations in the world." – Freya Stark
28. "Life begins at the end of your comfort zone." – Neale Donald Walsch
29. "Every dreamer knows that it is entirely possible to be homesick for a place you've never been to, perhaps more homesick than for familiar ground." – Judith Thurman
30. "To travel is to live." – Hans Christian Andersen
31. "Once in a while it really hits people that they don't have to experience the world in the way they have been told to." – Alan Keightley
32. "Our happiest moments as tourists always seem to come when we stumble upon one thing while in pursuit of something else." – Lawrence Block
33. "because he had no place he could stay in without getting tired of it and because there was nowhere to go but everywhere, keep rolling under the stars…" – Jack Kerouac
34. "People don't take trips, trips take people." – John Steinbeck
35. "Why do you go away? So that you can come back. So that you can see the place you came from with new eyes and extra colors. And the people there see you differently, too. Coming back to where you started is not the same as never leaving." – Terry Pratchett
36. "Travel, in the younger sort, is a part of education; in the elder, a part of experience." – Francis Bacon
37. "A ship in harbor is safe, but that is not what ships are built for" – John A. Shedd
38. "Voyage, travel, and change of place impart vigor" – Seneca
39. "You don't have to be rich to travel well." – Eugene Fodor
40. "When preparing to travel, lay out all your clothes and all your money. Then take half the clothes and twice the money." – Susan Heller
41. "Make voyages! Attempt them… there's nothing else." – Tennessee Williams
42. "I have wandered all my life, and I have also traveled; the difference between the two being this, that we wander for distraction, but we travel for fulfillment." – Hilaire Belloc
43. "I met a lot of people in Europe. I even encountered myself." – James Baldwin
44. "Don't tell me how educated you are, tell me how much you traveled." – Mohammed
45. "Adventure is worthwhile." – Aristotle
46. "I'd rather wake up in the middle of nowhere than in any city on earth." – Steve McQueen
47. "Tourists don't know where they've been, travelers don't know where they're going." – Paul Theroux
WHICH IS YOUR FAVOURITE QUOTE?  LET ME KNOW IN THE COMMENTS BELOW!