NOTE: As you scroll through this guide, you're going to see that I put a TON of time into this for you guys. To show your appreciation, it would really help me out of you used the sharing buttons to help spread the knowledge around!
Air travel can be a stressful process at the best of times, but throw in a bunch of interesting looking, and often heavy camera equipment, and it can be a recipe for disaster if you aren't prepared. I've undertaken over 100 long haul flights with my photography gear, so I thought it was about time I condensed all my experiences into one single article that I can point to as a reference. Read on if you want to know what to say to the gate agent when they ask you to check your hand luggage, or if you want to find out how I managed to delay a Boeing 747 full of people when I was escorted from the plane by security…!
The Basics: Carry It or Check It?
When flying with camera equipment, you should always carry on everything you're going to need to get the job done. For most people, this means carrying on your cameras and your lenses, as well as some other basics like a couple of spare batteries and a battery charger. If you take enough flights, it's only a matter of time before the airline looses one of your checked bags, so you want to be able to hit the ground running and get shooting as soon as possible with what you have in your carry on. This doesn't necessarily mean carrying everything you plan on using, though. For example, I usually put my flash equipment in my checked luggage because even if I had planned on using it, I know that push came to shove, I could do the shoot with ambient light instead. If you have a lot of camera gear, then these are the kinds of decisions you'll have to make.
Of course, carrying on your camera equipment is always going to be much safer than checking it anyway, so I'd recommend taking as much of it as you can on board.  If you have to check any of it, make sure it's well protected because baggage handlers are notoriously rough with your luggage.  My personal preference is to place accessory items like additional battery chargers, inside a padded camera insert that's designed to go into a bag or backpack. My go-to solution is Think Tank's range of Stash Master photo cubes because they also include an internal zippered pocket for small items. A few more examples of similar padded cases can be found in another post about protecting your camera gear inside a regular bag or backpack.
If I have to check in any more substantial equipment like flash gear or lenses then these go into a Pelican hard case which again contains more of the previously mentioned camera inserts. I wouldn't bother with the Pick 'n Pluck foam that sometimes comes with those types of cases; it's an absolute nightmare and highly inefficient use of space.
Related Reading: Best Carry-On and Check-In Pelican Cases for Photographers
Items like clothing, toiletries and AA batteries should not be in your carry on bag. These can be easily replaced at your destination, so put them in your checked luggage; if they get lost or delayed, then it's not a huge deal. Many airlines will give you a stipend to spend on clothing and toiletries if they lose your bag anyway, but they won't allow you to go and buy a new camera! If you have multiple camera chargers, put one in your carry on and check the others. Most of us could get by with just one charger if we had to.
The Personal Item
Check with your airline before you fly, but most will allow you to take one carry on bag and one personal item which can be a laptop bag. This is a great loophole for photographers these days because the reality is that laptops have gotten pretty small, but what's deemed as a laptop bag is still quite big! You can take a bag like the MindShift Exposure 13 or Exposure 15 as your personal item, and easily fit something as large as a Canon super telephoto lens inside it, along with your laptop. (Read my review of the MindShift Exposure)
This is by far the best trick for being able to transport more camera gear, so when you're choosing a laptop bag for your travels keep this in mind. It's not always the best idea to get the absolute smallest one! The idea is that your carry on bag will go in the overhead locker, but your personal item must be able to fit under the seat in front of you.
Dan's Recommended "Personal Item" Bags for Photographers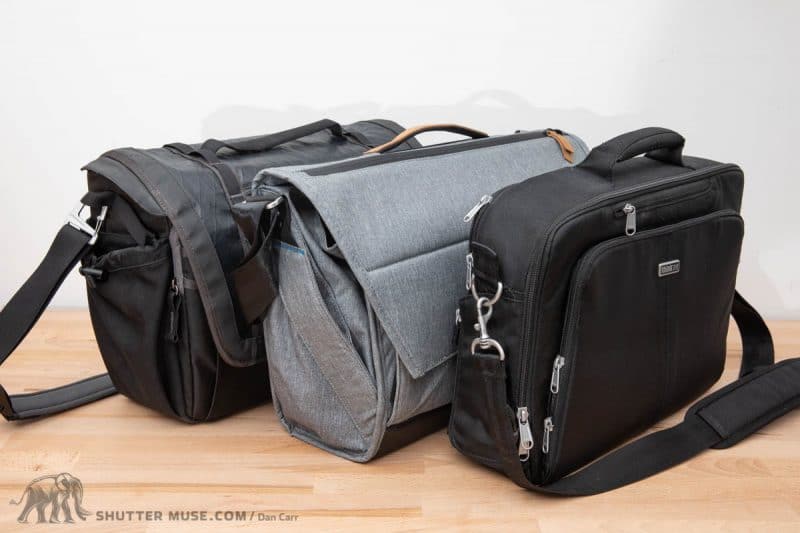 These bags are all capable of carrying your laptop, as well as some additional photographic gear in order to maximize your carry on allowance. I personally use the Exposure 15, and the Everyday Messenger at the moment.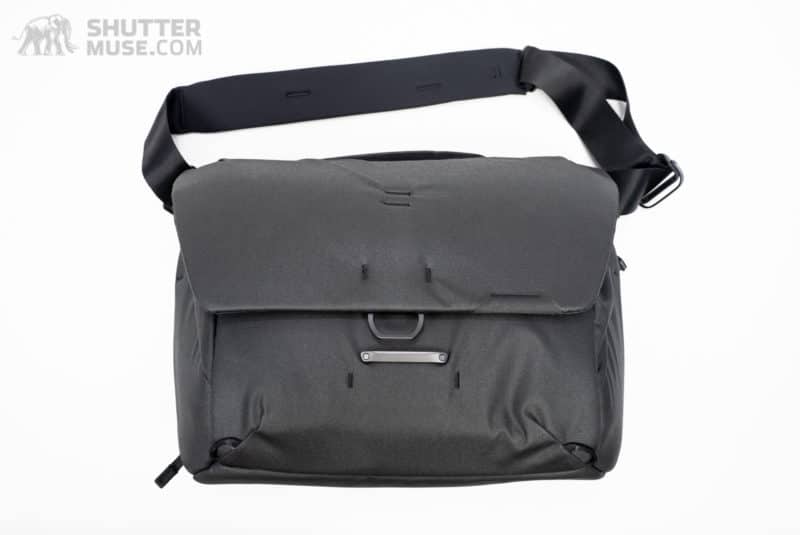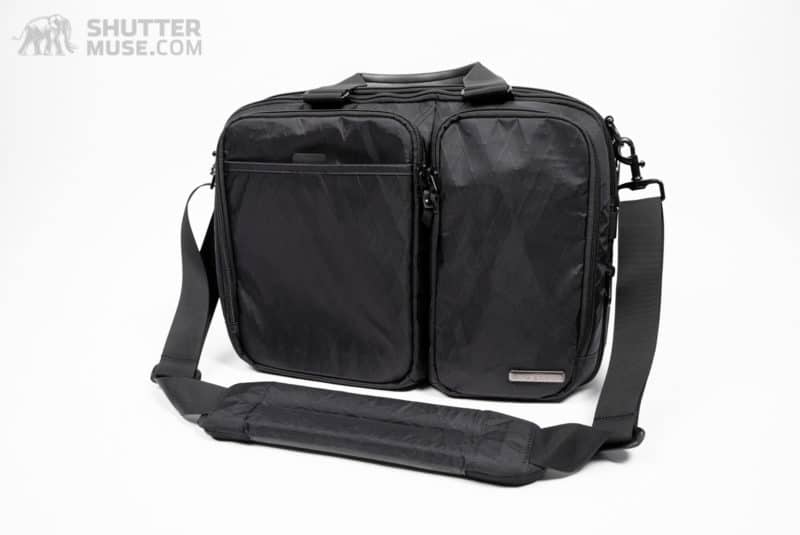 Dan's Recommended Carry On Bags for Photographers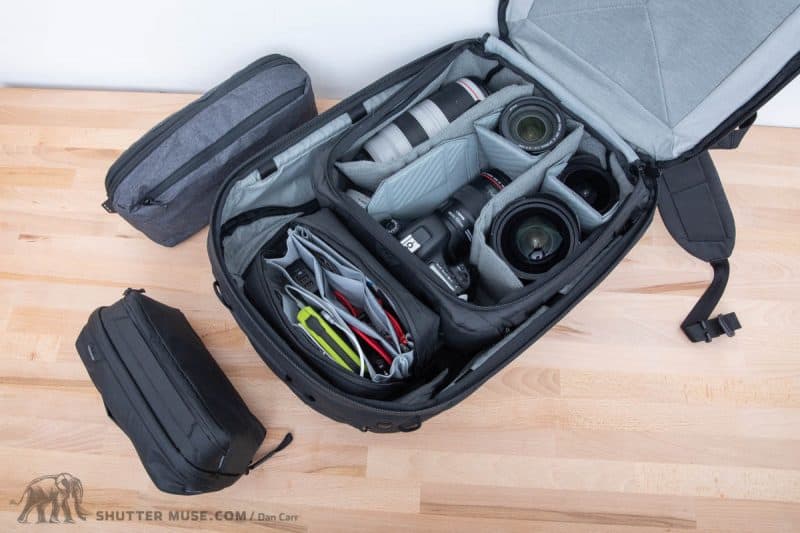 We can all appreciate the benefits of having a roller bag for those long travel days with lots of gear, but unfortunately the wheels and handle mechanism usually cut down on available internal space for camera gear. I usually keep at least one roller and travel specific camera bag in my closet so I can pick the best solution for the trip. Below are my current picks from the ones I have used in the past, or am still using right now.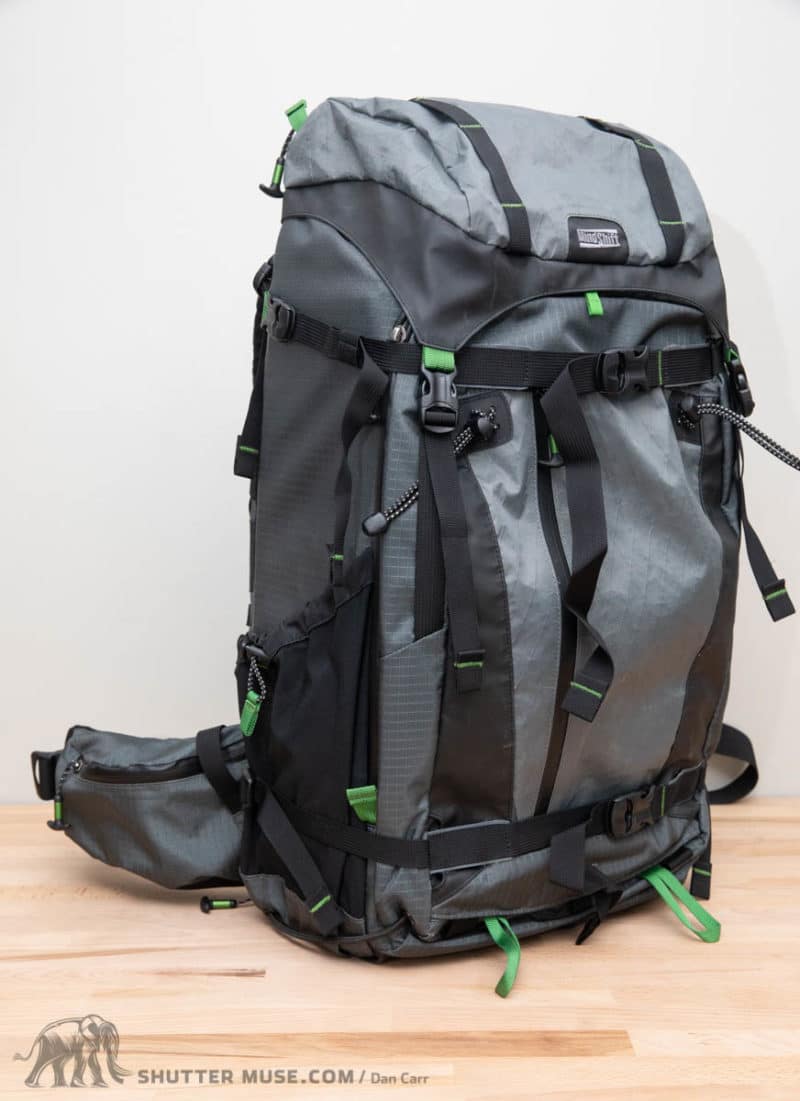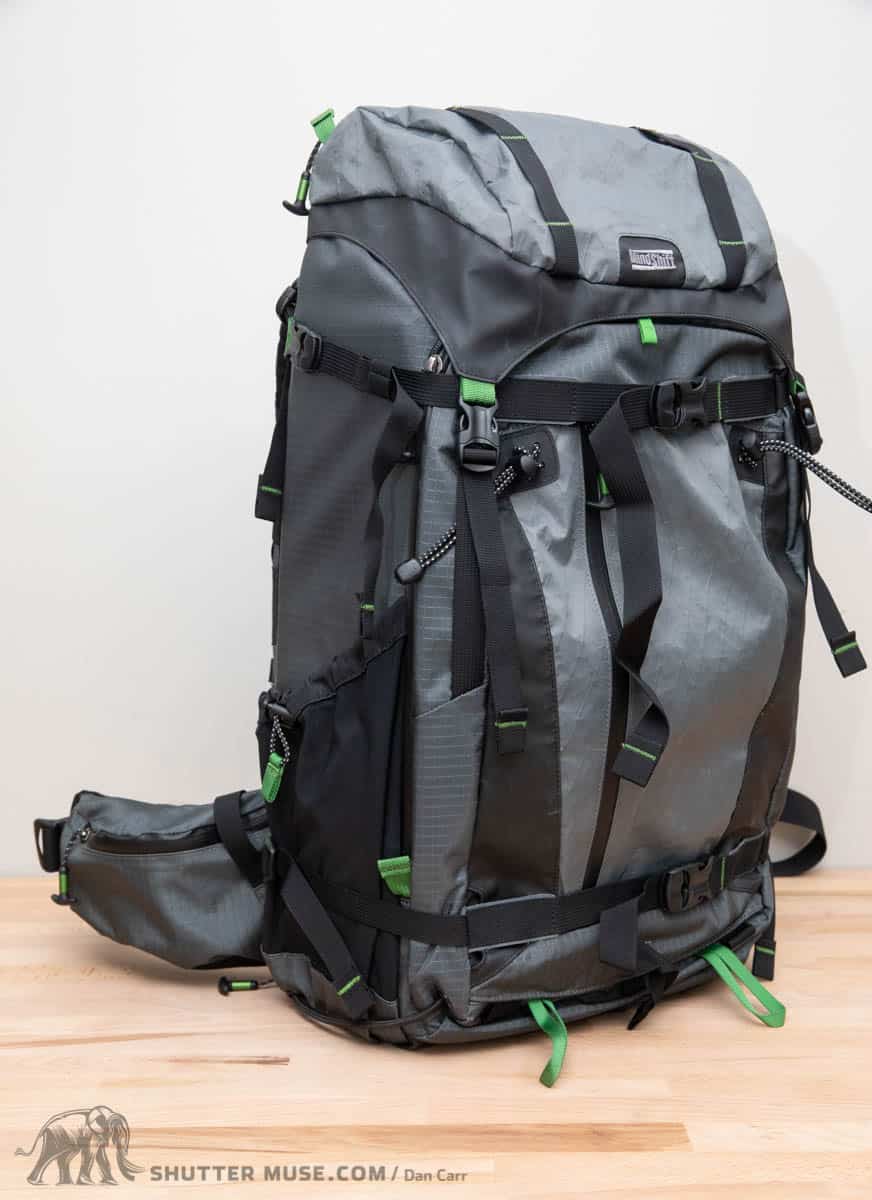 The BackLight Elite has several clever features to make it more suitable for air travel, but the best one is probably the emergency shoulder straps on the removable camera insert. If you do run into major trouble with the size or weight of your carry-on bag, simply slide out the camera insert and put it on your back. At least you'll have all the most important, expensive gear with you on the plane.
Computer Gear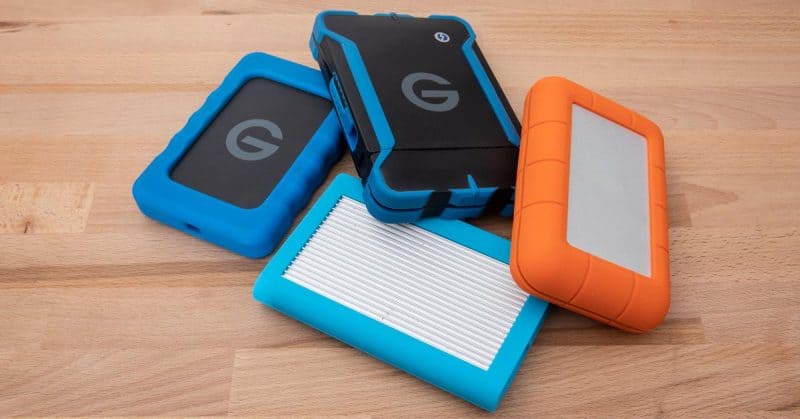 This is not the place to go into a long blurb about on-the-road backup routines; you can read more about that here. What I do want to quickly mention though, is that you should split your hard drives up when you fly. Put one in your carry on bag and at least one backup drive in your checked luggage. Never put all your drives in your checked luggage because that's asking for trouble, but at the same time, if you have them all in your carry on bag, then you're also opening yourself up to trouble from awful things like muggings and thieves. It's rare, but sadly it does happen.
This means that there are a lot of RAID enclosures out there that I don't recommend for flying. A RAID drive is a drive that contains two mirrored drives within it for redundancy, but then the problem is that the majority of them (not all of them) cannot be split up in the manner in which I've just described. It's for this reason that I usually use multiple LaCie Rugged USB-C Drives instead. If I do decide to use a RAID, I'll use two of them so there's double redundancy and the drives can be split. Rugged drives are definitely preferable for travel, so you might want to check out my guide to the best rugged drives for photographers.
The Inevitable Security Inspection & Talking to the TSA
If you have a camera and a lens amongst a heap of other items in your carry on bag then, probably won't influence whether your bag gets a further check after being x-rayed. If you have a dedicated camera bag with several lenses and perhaps a couple of cameras, then your chance of getting a secondary check seems to increase exponentially. I'd estimate that my bag gets the secondary inspection about 60% of the time. Typically the TSA agent will open the bag and take a swap from a couple of lenses to test in their machine. I assume they are looking for drug or explosive residue, but I must confess that I don't actually know for certain.
Sometimes the agent will want to remove a number of the items in the bag and at this point it's worth remembering that not everybody knows the value of all this gear. You and I know that a white canon lens means $$$, but they might not appreciate this. Particularly with a super telephoto lens, I will ask if I can remove it from the bag myself and place it on the table for them, or instruct them on how best to handle it. If you are polite about this, I don't see it being a problem.
Being prepared for the inspection can make things go all the more smoothly, though. If you stuff your bag full of loose items so that it explodes with trinkets and cables when it's opened, things will not proceed so quickly. Keep your carry on bag tidy, and pack small accessories and cables into zippered pouches so that they can easily be removed and inspected. I'd also shy away from wrapping lenses up individually in neoprene cases, because it only means they will all have to be opened up. Make sure that you also have your laptop ready to be removed from your bag prior to the x-ray as well, and in some countries they will want the same of your tablet computer. Personally, I remove my wallet and phone and other small items from my pockets prior to the security lineup, and I place them in my shoulder bag. By being organized, not setting off the alarm, having my laptop ready for removal and having a tidy bag internally, I'm through most security checks faster than other people even when I get the secondary search and swab.
If you do run into any difficulties, then the most important thing is that you remain calm about it when talking to the TSA agents. It doesn't do anyone any good to get flustered, even if you feel that they are in the wrong. Ask politely for the opportunity to speak to their supervisor and hopefully they can take you aside and set things straight.
A note on taking photos around security areas: Whilst there is technically nothing illegal about doing this, there's also nothing illegal about the TSA agents questioning you about it at great length. If you're taking a photo of your family with your phone, you'll probably be ok, but if you're going to use a DSLR I would really recommend saving the photos for 5 minutes later once you have left the security area. It's simply not worth the inevitable hassle it's going to cause you.
Useful links
Prohibited Items
Before you head off to the security check, make sure you don't have any items on you that are prohibited. Refer to the TSA site for more information, but the common culprits for photographers are going to be multitools which contain knives, and screwdrivers which are longer than seven inches. I always have a multitool in my pack when I'm out shooting, so I need to remember to place this in my checked baggage every time I fly. Being smart about this stuff will save you a lot of time at the airport, and also prevent you from having your items confiscated.
Carry On Size and Weight Regulations
Unfortunately for most people, IATA is pushing to come to some sort of agreement on what a cabin bag should be. This would make it all much less confusing, but the downside is that the proposed sizing for the so-called Cabin-OK program is very small and would discount many existing carry-on bags. At its rollout, the program was met with fierce consumer opposition and it is unknown at the moment how fast this will happen, or if it will happen at all. The proposal is that with standardized sizing, bag manufacturers would be able to add a Cabin OK tag to a bag that meets the requirements and this would then save a lot of time. Watch this space…. but for now, below you'll find a list of resources to help you track down specific information for your next flight.
Links to Airline Carry On Baggage Restriction Information (alphabetically)
If you notice that any of these links have gone dead, or there's an airline missing, please leave a comment below. If you think this is amazingly useful, please consider using one of the social sharing buttons to help spread the word. It really helps 🙂
It Weighs How Much?!?
The biggest problem you're likely to encounter with carry on luggage isn't actually the size of your bag, but the weight. Assuming you've got yourself a bag that's within, or darn close to the specified limits, you're going to find it next to impossible to stay within the weight limits that are given by many airlines if you travel with a good set of lenses, cameras and accessories. It varies, but I've been known to have twice the allowable weight!
The key to making this work is to not look like it weighs a huge amount and don't draw attention to it. You really only need to do this at two points in your journey: when you first step up to the check in desk, and when you are presenting your boarding pass to get on the plane. The security check points don't matter because they deal with all the airlines and aren't there to enforce specific baggage rules on you unless you are clearly trying to board the plane with a full-sized suitcase.
Just be mindful of this and don't strain to pick up your backpack or make grunting noises as you try and drag your 40lb roller bag towards the front of the boarding lineup 🙂
I also like to remove as much clutter from my backpacks as possible to help them look a bit smaller. If you have a lot of external straps and accessories hanging off it then consider removing them if you can, or at least tightening them up and using some elastic bands to cinch up excess webbing. Best not to look like you're about to go and climb Mount Everest! You want to get on and off the plane without them taking a second look at you.
Plan For Failure
If you're really pushing the weight limits with your carry on bags, or smashing right through them, then it's only prudent to plan for the possibility of failure. It's happened to me on two occasions where I was asked to put my carry on bags on the scales just before boarding the aircraft. When this happens, keep calm! The first thing you have to do is remember that the gate agents are just doing their job and there's no need for you to ruin their day by getting upset about a rule that you already know you are breaking.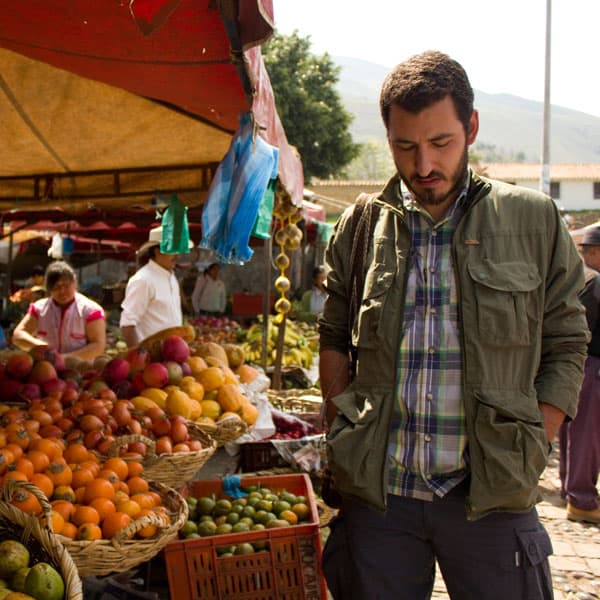 My advice would first be to explain to them that your bag contains extremely expensive camera equipment that is worth tens of thousands of dollars. Then politely ask them if the airline will be taking responsibility for this value if you have to check it into the aircraft's hold? This worked for me on one occasion, but on the second occasion it did not. If the polite approach doesn't work, then you have very few options, but the best one is to put as many of your lenses as you can into various pockets, then put the biggest lens on the camera and sling it over your shoulder. This is in fact what I had to do, so I put a 300mm f/2.8 lens on my camera, and filled the large pockets of a skiing jacket with much of my other precious glass. The key thing here is that I had deliberately taken the jacket with me just in case this happened. It had two very large internal pockets and two large external ones as well. Once on the plane, I wrapped my camera in the jacket and slid it under the seat in front of me. Far from ideal, but I was able to carry about 90% of the value of my bag's contents onto the plane in this cumbersome fashion. Another good option is to keep a photographer's vest of some sort in the front pocket of your bag, or one of the many interesting carry options from Scott-E Vest. The Paramo Halcon Traveller jacket, (Amazon)or Halcon Waistcoat are also great looking options.
I recently had the chance to test out the Featherweight vest from SCOTTeVEST and I came away very impressed by the quality of the construction and the materials. They definitely don't shout PHOTOGRAPHER as much as many dedicated photo vests do, and that's definitely a good thing!
Know Your Aircraft
For longer international flights it's not so much of a problem, but occasionally you might find yourself on a much smaller regional jet, or even a smaller turboprop aircraft. These have much more limited carry on restrictions that you might not be fully aware of. If in doubt, ask your airline before you fly so that there are no nasty surprises. If you aren't sure what you're flying on, the website Seat Guru can help you!
Sensible Bookings
If you don't have priority boarding, then it can be a good idea to get a seat towards the back of the aircraft. You'll board first, and this means you're guaranteed to have space for your carry on bags. I hate it when there's no space left, or when I'm forced to put my bags a long distance away from me!
I also recommend avoiding things like tight connections between flights. It can seem tempting at the time of booking because it might mean you'll make it home a bit faster, but it can easily lead to missed flights or separated luggage. Perhaps you can run that fast to the next plane, but did your bags make it from one flight to the next? Maybe not…
For comfort, I personally try to get an aisle seat so I can stretch a leg or two here and there. I'm not much of a sleeper when it comes to flying, but if you are, then the window might be a better bet as you'll get something solid to lean on. Try and avoid booking the seats in the last row as they sometimes don't recline!
Flying With Film
Some folks out there are still flying with film, and this does require a little caution when it comes to the X-Ray machines at security checkpoints. I've never flown with film myself, so for this small section I can't speak from my own experiences, but I have researched it for this post, and found some useful information. Let's get one thing straight here: it seems that film doesn't always get damaged if you X-Ray it, but it can be damaged sometimes. The TSA says that machines won't damage film with an ASA below 800, but also vaguely mentions that this might not be the case if your film is x-rayed more than 5 times.
The first line of defence is to politely ask your security agent to hand inspect your film, but make sure that you allow yourself some extra time to pass through security if this is your plan.
From the TSA:
"If you are transporting high speed (800 ISO and higher) or specialty film, you may request to have it physically inspected when presented at the screening checkpoint instead of undergoing x-ray screening. You may also request that all of your undeveloped film be physically inspected instead of undergoing x-ray, particularly if your film has or may be screened by x-ray more than five times. To facilitate physical inspection, remove your undeveloped film from the canister and pack it in a clear plastic bag. We recommend leaving your film in the unopened manufacturer's packaging."
The problem here is that it merely says you can request the physical inspection. It doesn't say they have to grant it. In fact this guy was told by the head of Heathrow Airport security, the world's busiest airport, that they basically never grant that request because they don't have time. In other words, you can ask for hand inspection of your film, but you should assume that the answer is going to be "no".
The Answer
The best line of defence is to purchase a lead lined film bag that is designed for just this purpose. Be aware that some bags are rated for different ASAs, so make sure you get one that will cover your intended film speeds. This one goes up to ASA3200 for example, but these cheaper Domke ones ($22) only go to ASA800.
If I were flying with film, then I would first ask for a hand inspection, even if I had these bags. If (when) that was denied I would politely ask if I could ask a supervisor the same question. If the request was still denied by the supervisor, then I would settle for just using the bags.
Useful links:
Locking Your Bags
Technically, if you lock your bags with a padlock, then you are supposed to use the TSA-approved locks that allow the inspectors to pop them open. The problem with these is that the keys for them are quite simple and if you know where to look, then you can get hold of one in no time at all. Shockingly, whilst researching this article I found that you can actually download the designs for the TSA keys to a 3D printer and make your own if you wanted to. In other words, a TSA lock is probably better than nothing, but it's not going to keep a determined thief away. The other problem is that I've had at least three TSA locks simply removed from my bags, presumably at legitimate security checks, and then not reattached to the bags! Might as well just throw money down the drain if they are going to do that…
Realistically, no amount of security is going to prevent a truly determined thief, so our goal is simply to deter the opportunistic ones. Zip ties on your zipper pulls will actually do a great job of this, and you can include some spare ones inside your bag with a friendly note to the TSA officer asking them to please replace one if they cut it to do a check. I've never heard of any issues with this method and it's much cheaper than buying lots of seemingly pointless TSA locks.
All of this is related to your checked luggage so far, but I would recommend paying attention to your hand luggage as well. Since this will always be on your person, there's no need for special locks but it's always slightly worrying to me that you can be made to unpack tens of thousands of dollars worth of camera equipment in front of so many strangers at the security check points. All of a sudden, the people behind you, beside you and in front of you now know the contents of your hand luggage is worth a small fortune. Worth remembering!
My main hand luggage concern in airports is when I fall asleep, though. If you travel a lot, there will inevitably be times when your layovers are several hours in length, or sometimes overnight. I've spent more than a few nights sleeping in airports after various flight mishaps. This is probably when your hand luggage is most at risk, so I like to keep a cable lock in one of my bags that allows me to lock the bags to a seat or bench. This Pacsafe Retractable Cable Lock is ideal for the purpose. If you are looking to upgrade your carry on luggage to a roller bag then you can't go wrong with the Think Tank rollers because they actually contain a built-in cable lock for this very purpose.
Once again, this might not prevent a determined thief, but it'll stop an opportunistic one. If you're sleeping in a departure terminal waiting to check into your flight the next day, remember that literally anyone can wander into and out of the terminal. Even if you've just made yourself comfortable on the floor somewhere, you can at least cable your two carry on bags to a belt loop so that anyone trying to sneak off with one will wake you up.
Media Rates For Excess Baggage
Some airlines will allow a flat rate for media when flying with equipment. If you plan on moving a lot of equipment around, this might be something to look into as it could save hundreds of dollars on each flight. Airlines that offer this option include United, Delta, American and Southwest but I'm sure there are others as well. Most of the media policies are pretty well buried in the fine print and if you're going to play this card, make sure you have printed copies of the policies with you, as well as identification that proves your media credentials. Since it is not well known, this is something that many check-in agents will not have encountered before, so don't be surprised if you have to explain it to them or ask them to call a supervisor to confirm it.
Have you ever flown with anyone else and got a sweet media rate on excess gear? Leave a comment at the bottom of the page please!
Disguising Your Gear
If you've checked some of your camera gear in Pelican cases or something similar, then it's worth considering a simple disguise for it because these kinds of cases just scream EXPENSIVE GEAR INSIDE. My recommendation is to use a simple duffle bag, but you could also use the Ugly Cover from Lightware if your case will fit in it. Yes, this is a product that is designed specifically to disguise expensive camera cases! (I bet you never knew that existed, right?)
I use an old duffle bag that I got on sale at my local Eddie Bauer store, but you can find any number of good alternatives on Amazon as well. The disguise won't pass a detailed inspection by a would-be thief, but that's not the point. All we are trying to do here is make something look a little less interesting as it's making its way around the luggage belt in your arrival terminal, and sad as it is to say this, also as it makes its way through the bowels of many airports. If anyone should pick the bag up, they'd likely recognize that it contained a heavy hard case, but as it passes by amongst other luggage then it should be fairly discreet.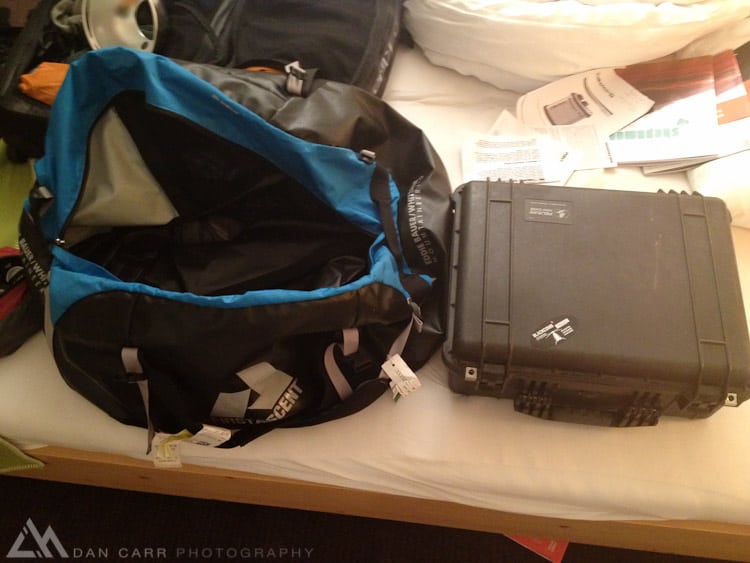 The other reason that you might consider disguising your case is to speed up the customs entry process. Customs officers are often more interested in taking a look inside a case that obviously contains something of importance and value. By packing the case into a duffle bag, you might avoid attention as you pass through and therefore speed up your entry into your destination.
IMPORTANT NOTE: I'm not at all suggesting that you do this as a way to smuggle equipment into a place where it should not be! I must stress this point. It's up to you to determine what you are legally allowed to bring into your destination country, and if you have something to declare on entry, then of course you must do this. I'm simply pointing out that if you have nothing to declare, and you are legally transporting your equipment, then you can potentially save a few minutes by not drawing attention to your luggage. It's no different to saying "walk through customs quietly instead of running and shouting". Of course, the latter is going to draw more attention and increase your chances of getting pulled aside, even if you are simply running and shouting because you're excited to be home. If you have ANY questions about what you are and are not allowed to bring into a country, you should always ask a customs official; ideally before you leave on your trip so that you don't get anything confiscated at the airport.
Flying with Large Battery Powered Strobes
Let's start this section with a little story… A few years ago I was flying back from a skiing photoshoot in New Zealand. I boarded a small plane in Queenstown which took me on the relatively short flight up to Auckland International Airport where I was to connect with a much larger Boeing 747 for the long haul flight to Vancouver, Canada. The turnaround time between landing at Auckland on one plane, and taking off in the other one was quite short, but the first flight was on time and I was safely aboard the second plane in just a matter of minutes. Unfortunately, whilst I was on the plane, my luggage was not. It was being subjected to additional international security checks that had not been performed to it upon leaving the smaller Queenstown airport a few hours earlier.
There I was, headphones on and getting all relaxed in my seat wen I felt a hand on my shoulder. "Mr Carr? Can you come with us please…"
If you think you've ever had people stare at you, I can almost guarantee you that it wasn't as bad as being led from a packed 747 by airport security in front of hundreds of people. Passing row after row of people…do you know how big those planes are?! Mortifying! After being led of the plane, I was quickly put on one of those electric carts and whisked at high speed across the terminal, yellow lights flashing as we went. It was explained to me that the "suspicious items" in my checked luggage needed to be investigated, and New Zealand laws prevented the luggage from being opened without my presence!
Of course, the item they were referring to was the large battery pack for my Elinchrom Ranger strobe. If you aren't familiar with such things, it's a lead-acid battery that weighs over 15lbs. I opened the case for them and demonstrated the flash. They were satisfied as to its purpose, but they told me that it was illegal to fly with the battery on a commercial flight! I knew this wasn't true because I had flown with it many times before, as had countless other photographers. Nonetheless, it was made clear to me that there was no time for dispute on this matter and my Pelican case was promptly impounded and I was whisked back to the waiting plane. Yes, the plane was waiting for me because whilst the pelican case had been pulled for inspection, my other suitcase had been put on the plane. Another common rule of the skies is that a plane cannot take off containing luggage belonging to a passenger who is not on board. The airport/airline had really shot themselves in the foot on this one and they just had to wait.
I'll cut this short as I've waffled on a bit… when I got back home it took me several weeks of communication with Auckland Airport to get my gear flown back to me. I had to get technical battery specifications from Elinchrom and send them to the airport inspectors before they finally agreed that yes, actually my battery was perfectly legal after all.
So what's the moral of this story? How could I have prevented all this drama in the first place?
A lot of existing advice will tell you to place the specifications and certifications of your battery packs inside your luggage so that airport security can have a look at them. In my situation, this wouldn't have helped at all because as they told me, they can't actually open the case without me being there! I can't say for sure how many countries employ this specific rule, but the safe bet is to assume that lots of them do and then plan around it as best you can. If you are transporting battery packs in pelican cases, consider getting some stick-on document pockets to add to the outside of the case. They're often used by shipping companies to put customs paperwork in, but you could use them for battery certificates as well. You should also carry copies of certifications and present them to the check-in agents when you drop your bags off.
In many countries it is fine to put the documents in the case as well, so my advice is simply to do all of these things, and then make sure you have extra copies in your hand luggage as well. Had I been carrying copies on me, I could have shown them to the security folks right away and chances are that my gear would have flown home with me. You live and learn…
Where to Find Battery Certifications
An IATA safety sticker on a battery probably isn't going to cut it if you are getting questioned more seriously about your battery pack. Make sure you consult the user manual for your battery or the manufacturer before you fly. These companies are ready and prepared for the questions, so most of them now have readily available information that you can download and print, if the information isn't clearly defined in the user manual. Remember, if it's in the manual then you'll want to make a ton of photocopies of that to keep in all your bags, and to give to the check-in agents.
As soon as I had this first major problem with that particular pack, I started to do all of this and it wasn't long again until it saved my bacon on a trip to Japan. I was taken aside by Japanese security who were performing random bag checks in the check-in lineup. They appeared to be very concerned about my battery and I didn't really know what was going on. I handed them all the paperwork, and after a couple of phone calls they came back and wished me a pleasant flight. Crisis averted. I've actually blogged about this issue in the past as well and several people have emailed me to let me know that this advice also got them out of a jam.
Useful links:
Lead or Lithium??
Lead-acid batteries are much less common these days but they are still used in a number of strobes. Whilst it's possible to get legally flyable sealed lead-acid batteries, they all MUST be packed into checked luggage with the fuse removed. Conversely, larger Li-Ion batteries MUST be carried in your carry on luggage! Confusing, right?!
That's why it's important to know exactly what you're carrying, and with lithium batteries you also need to know how big they are because there's a lot of regulation on the amount of lithium that can be carried by one person. Here's what the FAA says about lithium batteries, but note that not necessarily every country goes by the same regulations, so you might have to check with your airline before flying if you are unsure. Most manufacturers, like the drone industry leaders DJI, manufacture their batteries to exactly meet the maximum allowable power in a single Li-Ion unit, but it's still one more thing you should add to your checklist before you leave. Be especially wary of third-party batteries that you might have purchased for things like flashes, drones and cameras. Sometimes it's very easy for a third-party to come along and say "Hey! We make batteries with much more capacity than your OEM ones." The reality can be that the OEM batteries maxed out at a particular capacity for a very good reason!
Additional information: Lithium battery guidance from IATA (International Air Transport Association)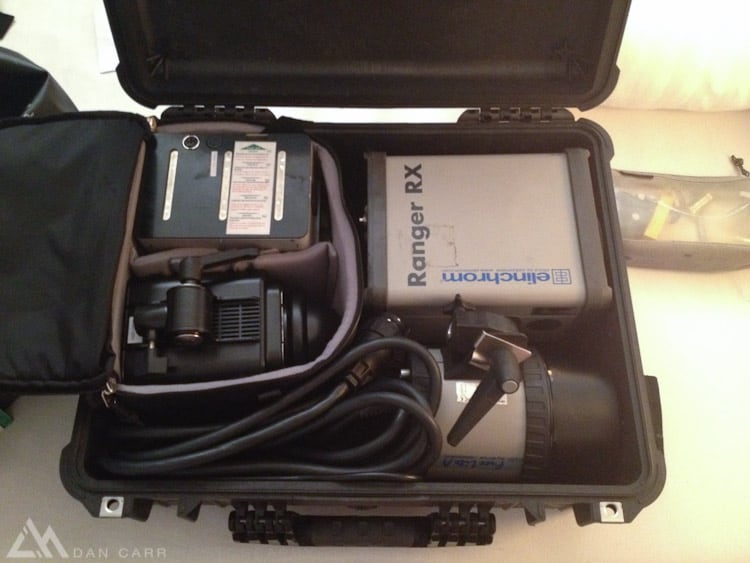 Collecting Miles
Whilst most people equate airline mileage programs with collecting points for free flights, the main benefits for photographers are free additional checked baggage, and priority aircraft boarding. Every points program is slightly different, so you'll have to do a little research into the program offered by your preferred airlines, but pay close attention to those two important things. I have saved thousands of dollars in excess baggage fees over the years by being able to bring a third checked bag for free on Star Alliance flights! For international flights, that's 3 bags of up to 32KG each for no charge.
Priority boarding can also be useful because it means you are guaranteed a place to put your carry on luggage. Those coming on at the end of the boarding procedure often find that all the overhead locker space has been taken, and hear the dreaded phrase "We're going to have to check your bag". Whilst it's not a policy with anyone I know of, I can't help but think that priority boarding customers are also much less likely to have their hand luggage weight questioned. Clearly you must be a good customer if you have achieved that status and they wouldn't want to rock the boat. Just my opinion.
Get Insurance
I'm not going to make a big song and dance about this because I think you guys all know that you really ought to have insurance for your expensive camera gear. For some people, certain amounts of it can be covered under household insurance policies, but that's usually only the case for a small kit and for someone who is not a professional. If you have a lot of gear and you make your living from photography, you definitely need to get yourself insured. Here in Canada, I have a photography-specific policy through CG&B Group. This is only relevant to Canadian residents, though. If you are from anywhere else, you'll have to do a little digging around to see who offers similar policies in your home country. Feel free to leave a comment below if you have any options to share!
Here's just one awesome thing about having a specific photography policy like mine: if the airline loses my bags on the way to a shoot, my policy also covers the cost of renting equipment to get the job done.
You should also check with your insurance provider that your destination is covered by their policies. Some extreme locations like the Antarctic, might not be covered, and some policies might just need you to inform them of your travel plans prior to departure. I've also heard it mentioned that some policies don't cover you while you are on open water, so if you're flying somewhere like Svalbard to photograph polar bears, or the Southern Ocean in search of penguins, make sure you have a policy that covers you for the oceanic portion of your journey as well.
Customs Information and the Carnet
If you are flying with a lot of camera equipment then you may come across a situation where the customs officials at your destination want to know whether you are importing all of this gear to the place you are visiting, or whether you are returning home having purchased it all abroad. Of course, neither of these things are true, but how do you prove it?
Standard disclaimers apply at this point. Please check with your local customs agents to get the correct information for your home country or the destination that you are travelling to. Everywhere is a little different!
In Canada where I live, you can go to the customs office at any airport and request a Y38 form ("Identification of Articles for Temporary Exportation"). This small green card allows you to list the serial number of all your photographic items which will then be checked by the customs officer. They'll sign it and stamp it and if you hang onto that, it should go a long way to helping you on your return to Canada if they have any concerns. I do this every time I leave the country and it takes just five minutes.
In the UK, there appears to be a procedure called the Duplicate List which is similar to the Canadian Y38 form. You can find information about it HERE.
In the USA, the equivalent program required a Form 4457 and information about it can be found HERE.
What is a carnet?
A Carnet is the more official way of doing things and it's an internationally recognized program for 85 different countries. You can think of it as a passport for your gear. When you leave a country, a customs official will stamp your gear out, and then another agent in your destination will stamp it in. This insures that the movement of all the equipment is accounted for and nothing is left anywhere. Of course they aren't doing this for your benefit so you don't lose something; they are making sure you don't import something without paying import duties and taxes! When you get back home, the customs officials will make sure you have everything you left with and nothing more.
To get a Carnet in the first place requires either a deposit for the value of the equipment listed on it, or in some countries you can get a broker to front the deposit for you, for a fee, of course.
Do you need one? This is a pretty grey area and I'll have to leave it up to your judgement after reading the information on the ATA Carnet website. If you are just carrying a single camera bag then I can't say I've ever met a photographer who was using a Carnet for that. They tend to be used by larger productions when flying with a much larger amount of equipment. For many people, the options described above using serial numbers seem to work well.
Flying to Trinidad? Read This…
I love it when readers get involved to share their stories, and shortly after posting this article there was a fascinating comment from Ryan Mason of Heliweb. He mentioned that in Trinidad, camouflage items (bags, clothing etc.) are prohibited on planes. He also mentioned that his flight helmet and safety harness were treated suspiciously and that they had to travel separately from him until he reached US soil again! I doubt too many people travel with flight helmets, but I do sometimes have a harness with me for securing myself into a helicopter, which I think is why Ryan had one as well.
Has anyone else ever experienced this treatment of camouflage in other countries? Please do share your experiences in the comments; t's a huge help to many people. Thanks again for your valuable input, Ryan!
Update: A little research and I actually discovered from the Tourism Trinidad website that camouflage isn't just prohibited on planes in Trinidad and Tobago, but everywhere in the country unless you are military personnel. If you have one of those popular camo LensCoats, you might want to remove it before your trip!
If in Doubt, Ask!
Hand luggage dimensions, checked luggage weight limits, maximum lithium-ion battery capacities and excess baggage pricing… there can be a lot to check up on. Due to the sheer number of regulatory bodies, and the rate at which their rules are changed, it's simply not possible for me to reference all answers directly in this post. I've provided useful links where possible, but if you are unsure about anything, don't be afraid to give the airline a call before you leave and get some sort of confirmation from them.
Do you have a story, or travel advice to share with us in the comments?
Pin This Post