The ScreenBar LED is an interesting product that showed up for review this month from the folks at BenQ, makers of some truly excellent computer monitors. The concept of the ScreenBar is pretty simple: Light up your keyboard and workspace, without casting glare on your computer screen and effecting colour accuracy whilst editing photos or video. I liked the overall idea of a device like this because I tend to edit photos in a very dimly lit room, to keep screen glare to a minimum. Unlike a laptop keyboard, my wireless Mac keyboard doesn't have integrated lighting in the keys so an LED that can shine onto the desk might help to prevent eye strain and generally contribute to a more healthy working environment. I'm a stand-up-desk kind of guy already, and I'm acutely aware that a comfortable working environment can lead to increased productivity.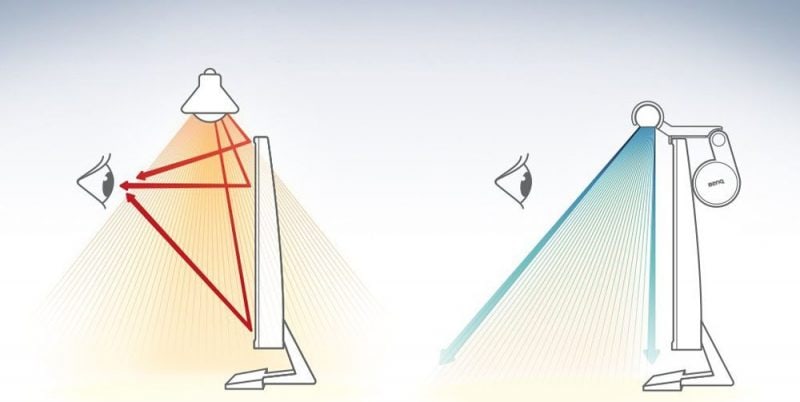 The very solidly built, powder-coated aluminium tube is powered by a USB port and uses a clever counterweight design to balance it on the top of your monitor. The spring-loaded weight is really rather clever, and once the LED is seated in place there's no danger of it sliding off, even if you were to accidentally bang against your desk. Whilst it works well with the majority of monitors, it doesn't work at all with BenQ's own line of high-end photo and video editing monitors that come with screen shades. This is a rather disappointing omission because the LED bar itself is a separate piece to the counterweighted monitor clip, meaning that they could have designed a second mounting solution for those professional monitors, and still used the exact same LED bar. In fact, I would say that professional photo and video editors are some of the most likely people to have a dark working environment in the first place, so that would have made this product even more appealing.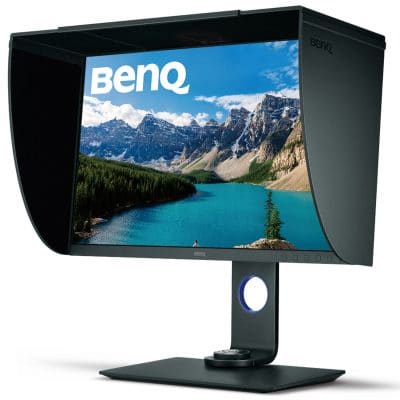 For users of those professional monitors, perhaps the allure of the well-lit working environment created by the LED will be great enough to get them to remove the screen shade from the monitor. If that's the case, it will fit onto those monitors just as it would any other.
On top of the LED bar you'll find a series of buttons that allow you to control the brightness and colour temperature of the emitted light, as well as another to turn on an automated mode that takes care of brightness for you. You'd expect brightness controls of course, but I was pleasantly surprised by the colour temperature controls. Studies in recent years have shown that people relax and sleep much better at night if they view warmer colour temperatures before bedtime. It's for this reason that Apple introduced Night Shift mode in both the OsX operating system and their iOS devices, so warming the light colour up whilst you're editing photos late at night could help you sleep better. Of course if you're editing photos then you will want to have Night Shift mode turned off on the actual monitor so that you can view accurate colours, but warming up your desk light is a step in the right direction and will balance things out with the tungsten lighting from the majority of lightbulbs. The way my office is lit, I didn't really need the light during the day so I set a fairly warm temperature and just manually turned it on at might.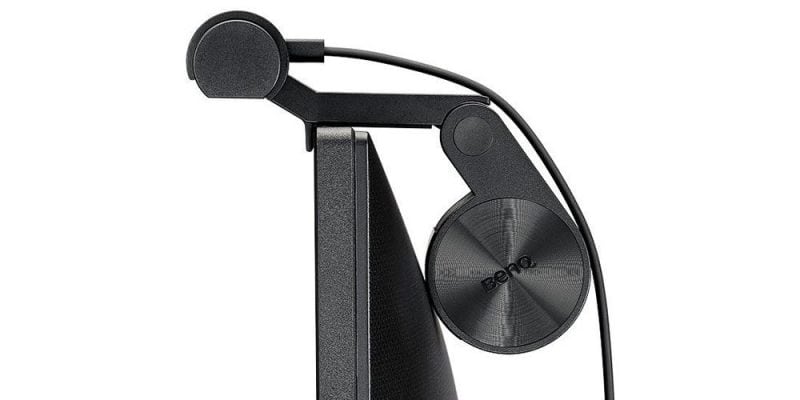 Colour temperature is controlled by using a mixture of orange and white LEDs. In some LEDs this can limit the overall brightness of the light because if you shift the temperature to one or other end of the spectrum, you're essentially only using half the LEDs in the light. However, I really can't fault the brightness of the ScreenBar. BenQ claim that it's 500lux, and whilst I have no device that's able to measure such things, all that I can say is that it is definitely bright enough, even for usage in a typically bright room where you just want to even out the lighting on the desk. If you're working at night, or in a very dim room, you'll need to dial the brightness back a long way. Personally I found that if I left this to the automated mode to take care of, it still left things a little bright when my room was dark, so I preferred to work in manual mode.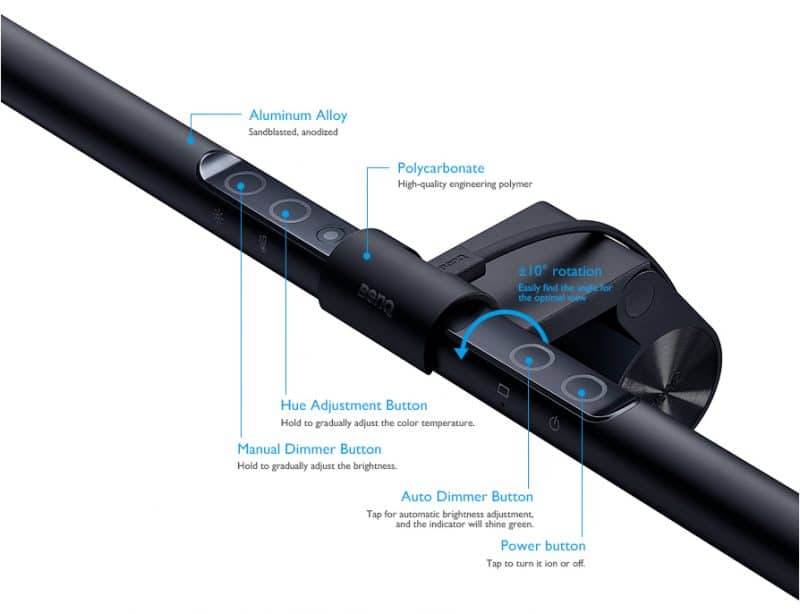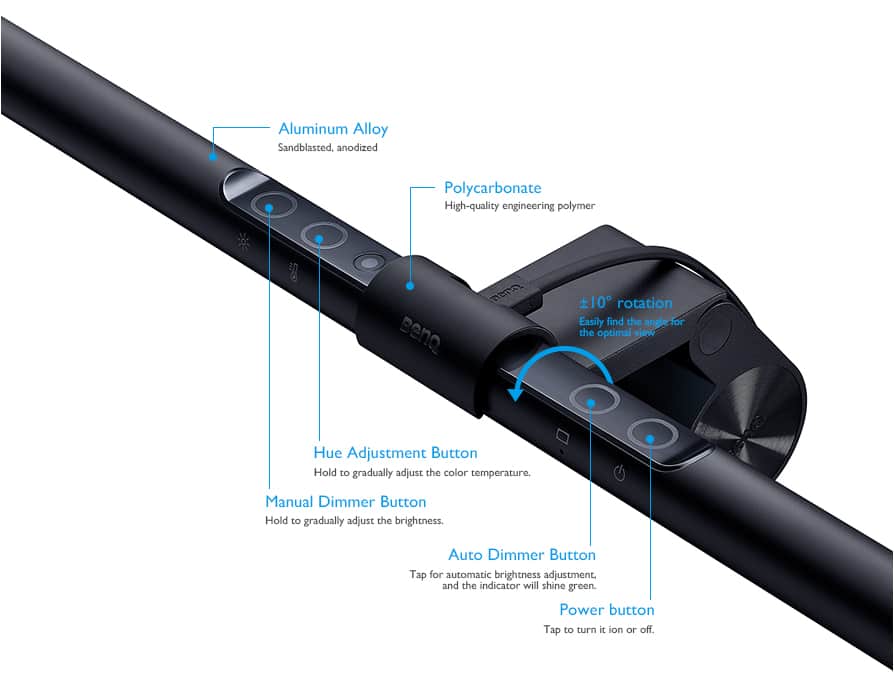 The brightness and colour temperature controls are touch activated, and they take some getting used to. Instead of moving through the temperature scale in a circular manner, the temperature adjusts one way and then reverses and goes back the other way again once you have reached its limit. To me it just seemed unintuitive, and I also struggled with the brightness control in the same way. I would like to have seen two buttons each for brightness and colour temperature – one to go up and one to go down through the settings.
The ScreenBar is $99, which I'm guessing is going to seem quite pricey to a lot of you when you're just looking at photos of it. Whilst I do agree that a $99 product might initially be a tough sell for a desk accessory, I can assure you that once you get your hands on the product you will instantly see that the price is validated by the excellent build quality. This is a very well made and sleekly designed product that would look great adorning any kind of computer monitor, including something like the iMac or iMac Pro. In fact, I think it would look rather stunning atop the black iMac Pro screen!
Conclusion
The ScreenBar works as it's designed to in terms of shedding light on the desk and not onto your screen. I would definitely rather have one of these mounted to my LCD screen than have a typical desk lamp. Not only does this also offer adjustable temperature and brightness, it also looks much better and helps to free up desk space. From a photographer's perspective, you're getting a nicer working environment for those long evenings in the editing cave, without compromising on colour accuracy. For a lot of people I'd say that's definitely worth it, although they could make this even more appealing to some people by offering an additional mounting option for those that are using screen shades.