Why Use a Camera Holster Bag?
There are many different types of camera bags on the market. How do you choose the one that is right for you? Well, let's be honest here, most people are not going to choose just one camera bag, are they? Different styles of camera bags are useful for different situations. On some days, with some gear, a backpack is the right solution. On other days a shoulder bag might be the right call. Sometimes, though, a camera holster is exactly what you need! Here are two reasons why:
Ease and Speed of Access
Camera holsters are sometimes called top-loaders because the camera access is always on the top. If you wear the holster on a belt, or the front of a camera pack, this gives you fast and easy access to a camera with an attached lens. Particularly when you're hiking, you will find that you take far more photos when you have your camera accessible in this way. There's no stopping to take your pack off when something catches your eye.
Camera Protection In a Backpack
Although holster-style camera bags typically have many ways to externally attach them to your body, one of the other great uses of them is to protect your camera inside another bag or backpack. In some cases, you might want to use a specific bag that isn't a camera bag, but you still want to take a camera and a lens with you on a day out. The most common situation is people who have a favourite hiking pack or a sport-specific bag such as one designed for mountain biking or skiing.
In those situations, a holster camera bag is a perfect way to protect your camera and organize a few small accessories. With some careful packing, you can usually position your holster at the top of your bag so that the camera is easily accessible. While I always use a dedicated camera bag when I'm working, I often carry a camera in this way when I'm out on the weekends with my family and don't want to be burdened by my larger packs.
The Best Camera Holster Bags
Shimoda Top Loader
The Top Loader holster from Shimoda Designs is a sleek-looking bag made from durable, weatherproof nylon and priced at $64.95 (discount available below). There's a single, slim accessory pocket on the front of the bag that is suitable for a couple of spare batteries and a memory card wallet.
This holster is perfectly sized for a mirrorless camera without a battery grip. It comfortably fits a mirrorless camera with an attached L bracket, too. A non-gripped DSLR will fit, but things get a little tight if it has an attached L bracket. The bag will not fit any pro-sized gripped body – DSLR or mirrorless.
In its standard form, the size is perfect for an attached 24-70, but a zippered expansion will allow something slightly longer, such as a 100mm prime lens or a 24-70 with the hood attached. In expanded form, the bag will carry an attached 70-200 f/2.8. The expansion could also be used to carry a small second lens tucked at the bottom if you wrapped it up in a protective case like the Tamrac Goblin.
Shimoda Designs has offered Shutter Muse readers a 10% discount on anything purchased in their online store. Simply use the discount code ShutterMuse10 after clicking here to access the store.
The Top Loader has a wide rear mesh loop for attachment to a backpack hip belt. This works particularly well with Shomoda's Action-X pack series, as the belt padding is designed to match the Top Loader perfectly. It can also be worn on your shoulder with the included shoulder strap or attached to the front of a pack using optional straps and four d-rings on the holster. If you want more details and photos of this holster, you should also look at my detailed Shimoda Top Loader review.
Shimoda Top Loader Video Review
If you prefer to read the written review, you can always watch the video review below. Remember to like, comment and subscribe! It really helps the channel.
Think Tank Digital Holster 150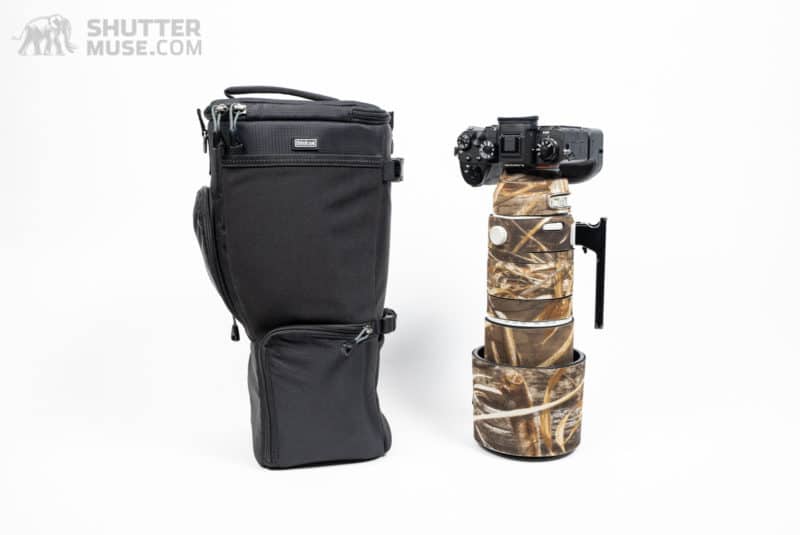 Think Tank's Digital Holster series spans seven different sizes, but the 150 is a real standout and deserves a specific mention in this guide. The Digital Holster 150 is the largest model in the series. It sells for $109 and can comfortably accommodate a pro-sized body and a telephoto zoom lens such as the Tamron or Sigma 150-600mm, the Sony 200-600mm, the Nikon 200-500m, the Canon RF 100-500mm or any 100-400mm.
Related Post: 8 Easy Tips for Photographing Wildlife from Your Car
The size of this holster makes it a unique offering on the market. I love using it to carry a Sony 200-600mm lens attached to my camera when driving around national parks on the lookout for wildlife. In the past, I have written about how important it is to have a telephoto lens accessible at a second's notice when searching for wildlife, and this Digital Holster 150 is perfect for the job.
It has a pocket for your teleconverter and two more for miscellaneous accessories. There's a pocket and straps to carry a monopod or attach additional gear pouches on the outside. Read my ThinkTank Digital Holster 150 review for more details on this bag.
Get a free gift when you spend over $50 in the Think Tank/MindShift online store after clicking this link. For more details, or if you have any issues, see this post.
---
Wandrd Route Pack
The Route Pack ($69) from WANDRD is designed to be the perfect companion for their Fernweh backpack (our review), but there's no reason you can't use it with any of the other WANDRD packs or a bag from another brand. The Route Pack has an expandable design, just like the Shimoda Top Loader, but it will hold a significantly larger camera than the Shimoda bag. The Route Pack will be the best choice if you use a larger DSLR or a gripped mirrorless camera.
Another big difference is the amount of padding and protection offered by the bag. This bag has the thinnest padding out of all the options, but this isn't necessarily a bad thing. Some padding still exists, and it's plenty to protect from bumps and dings on tree branches while hiking with the bag on your chest. Because it is so light and thinly padded, you can squash it flat when you no longer want to use it and stuff it quickly into the top of your bag. The same cannot be said for any of the other camera holsters in this guide.
Like the Top Loader, the Route Pack comes with a shoulder strap, as well as chest mount straps and a sizeable belt pass-through so that you can use it on your backpack's waist belt. Check out my in-depth Wandrd Route Pack review for even more information about this one.
WANDRD Route Pack Video Review
If you prefer to read the written review, you can always watch the video review below. Remember to like, comment and subscribe! It really helps the channel.
---
MindShift Outbound Holster
The Mindshift Outbound Holster used to be called the Multi-Mount Holster. When it went through this name change, it also went through a change of colour. The version I own is the old green Multi-Mount. The newly named Outbound Holster is grey and not green. All the features are the same.
The Outbound Holster comes with a shoulder strap, a lightweight belt and all the straps you need to mount it onto the front or rear of your pack. This is a nice bonus because some of these strap options are extra purchases with other holsters.
Note about availability: For some reason, MindShift does not sell this product on their website. It is usually in stock at B&H Photo and sometimes at Amazon.
---
Hyperlite Mountain Gear Camera Pod
Hyperlite Mountain Gear is known in the hiking gear industry for its expertise in working with the high tech material, Dyneema. With the Camera Pod, they have taken their knowledge of this ultralight fabric and used it to create the lightest camera bag in the world.
The smaller of the two available sizes weighs a mere 2.71oz (76.8g), while the larger size (pictured above) weighs just 3.73oz (105.7g). To put that into context for you, this bag is over three times lighter than the next most lightweight holster bag on this list! Honestly, it takes your brain a second to figure out what's going on when you pick it up.
Dyneema is expensive, so the $109 price point will probably keep this bag out of the hands of your average user. Still, if you plan a multi-day hike with your camera, where every ounce counts, there's no better option than the Hyperlite Mountain Gear Camera Pod. Read my review of the Hyperlite Camera Pod for more details.
---
F-Stop Navin
The Navin holster from F-Stop Gear is made from the same proprietary DuraDiamond fabric as their latest Mountain Series backpacks. This high denier rip-stop weave is waterproof and incredibly durable. The Navin comes with a shoulder strap but can also be worn on a hip belt or strapped to your chest on a backpack harness. Uniquely among the camera holster on this list, the Navin also features standard Molle webbing, making it an obvious choice if pairing it with a Molle-equipped camera bag.
In terms of payload, the Navin will carry any non-gripped DSLR or Mirrorless camera with a lens up to 70-200mm f/2.8. When paired with smaller lenses such as 24-70mm, the side compression straps can shorten the bag to a more suitable depth.