Most types of photography require a slightly different set of gear. For more than a decade, I have tested and reviewed a broad range of photographic equipment. In the past, I've written about other genres such as wildlife photography gear, macro photography gear, even gear for the travelling photographer. Still, today I'm finally ready to piece together a list of landscape photography gear essentials.
In this article, I'll walk you through the landscape photography gear that I take with me every time I head out on a landscape mission, and I'll make some recommendations for similar products at different price points, based on my experiences with a wide selection of gear over the years.
1 – A Circular Polarizing filter
A circular polarizing filter (CPL filter) cuts down reflected light in a photo, removing glare from water, foliage, clouds and other reflective surfaces. They can dramatically alter the look of a landscape photo, almost infinitely more than any camera or lens upgrade that you might be considering. For this reason, a circular polarizing filter is the first thing I recommend buying when you are looking to get more serious about landscape photography.
When you use a polarizer, leaves will get greener, skies will get bluer and everything will pop with more contrast and vivid colours – all controllable by simply rotating the polarizer on the front of your lens. Certain effects of a polarizer can't be recreated in editing software, such as the ability to see down through the water in a lake, where normally the water's surface would be reflecting the sky.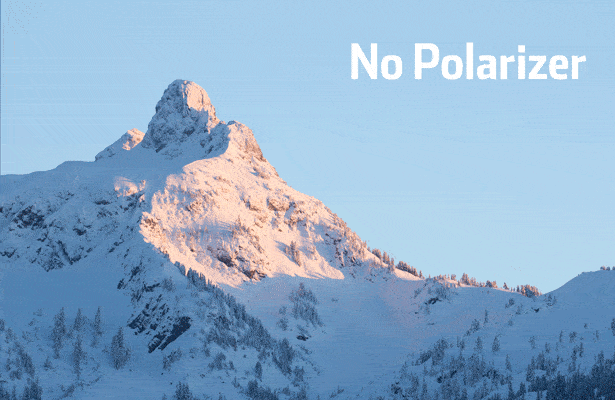 Be careful though, because a poor quality polarizer can cause a colour cast on your photos, soften the images and make your lens more susceptible to flare. Breakthrough Photography makes the very best ones on the market at the moment, but the Amazon Basics polarizer is also surprisingly good, and an absolute bargain! I can't think of anything else this cheap and simple that can have such a dramatic effect on your photography.
If your lenses have varying filter thread sizes, just make sure you get a polarizer to fit the largest one, and then use step-up rings to fit it to the smaller lenses. Be sure to protect your filter in a suitable photography filter case, too.
2 – ND Filters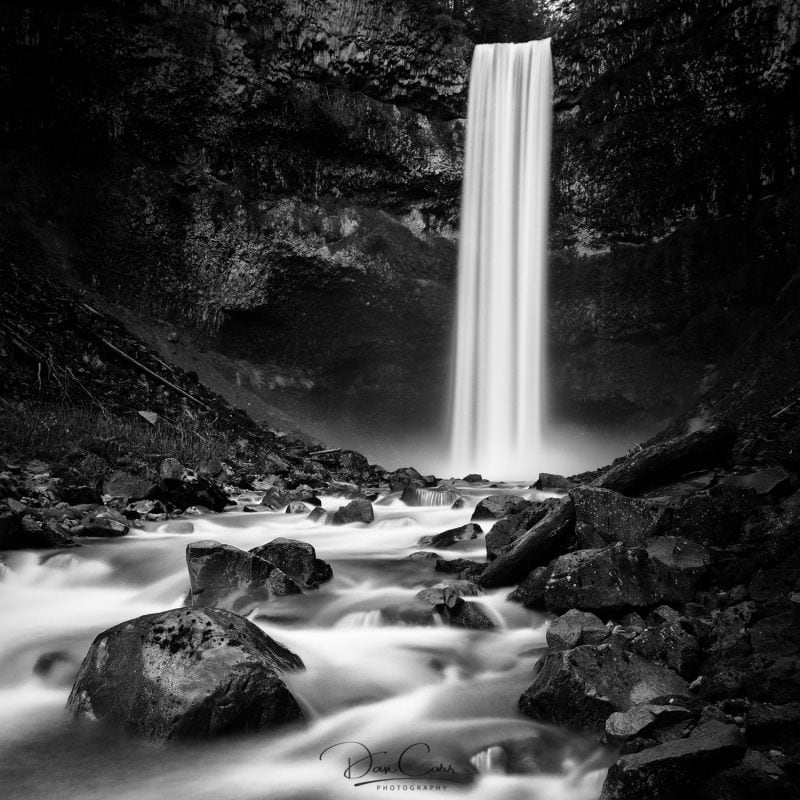 If you want to blur the motion of water or clouds in your landscape images, the easiest way is to use a neutral density filter (ND) on the front of your lens. The ND filter cuts the amount of light that hits your camera's sensor and allows you to use a much longer shutter speed while still maintaining the correct exposure.
Blurring water or clouds in this way adds an intriguing element to your image that often captivates viewers. It can also be used as a way to simplify an image by smoothing out water ripples and specular highlights that might otherwise be a distraction from the scenery and composition. When used correctly, an ND filter is a powerful tool whose effect is difficult and time-consuming to recreate in Photoshop.
Buying a poor quality ND filter will leave a nasty colour cast on your photo that is a real pain in the ass to remove during editing. As with the CPL filter, I'm a big fan of the Breakthrough Photography X4 ND filters. I believe they make the best, and most colour-neutral ND filters on the market. Their popularity can make them hard to get hold of, but if you see that they are in stock on their website, you simply can't go wrong.
A 3-stop or a 6-stop ND filter is the most common type for landscape photographers to carry. If I could only carry one in my filter case, it would be the 6-stop because it gives long enough exposures to blur open water such as lakes and the ocean. Breakthrough Photography even makes a product called the Dark CPL, which is a CPL filter combined with an ND filter. If you can only buy one filter for your landscape photos, their 6-stop Dark CPL is a great choice.
Note: ND filters are available in two different types: Screw-on and square. I have written in-depth comparing screw-on filters with square ND filters, so you should definitely check that out before making your choices.
3 – Shutter Release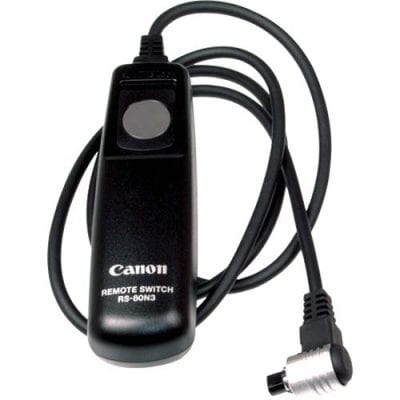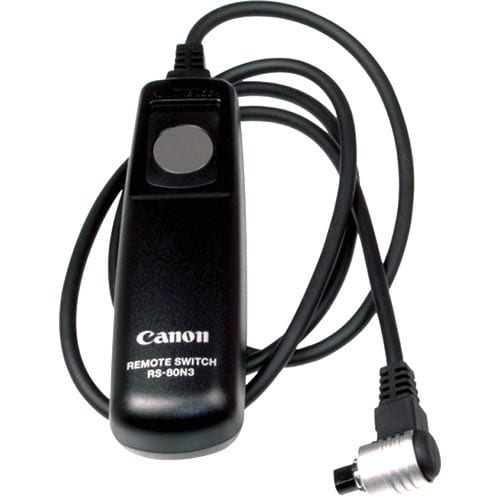 A shutter release is a remote control for your camera that allows you to take a photo without touching the camera body. If you're working with longer exposures on a tripod, touching the camera can introduce vibrations that lead to softer photos. A shutter release is a quick, easy and relatively cheap way to improve the sharpness of your landscape photos.
Shutter releases come in two types: Cabled releases that attach to the remote port on the side of your camera, and Bluetooth remotes that work wirelessly. The most basic cable releases are cheaper, don't require a battery and will be less prone to technical glitches at inopportune moments. More complex battery-powered cable releases are only needed for creating time-lapses.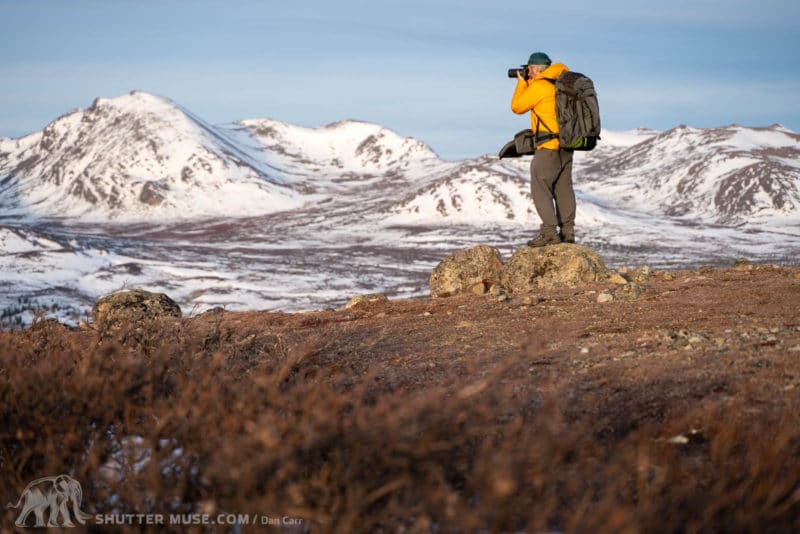 Bluetooth wireless remotes, such as the Sony RMT-P1BT that I use, are convenient and offer the added benefit of being able to trigger the camera from a distance when you want to include yourself in the photo or start a video recording when you are in front of the camera. Something I often do for review images on this site.
4 – A Backpack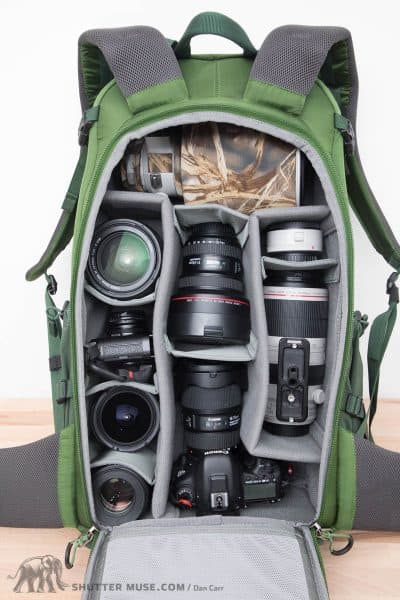 For landscape photography, I can't think of a better way to carry your gear than a dedicated photography backpack. When you really need to cover some distance to get to a location, the carrying comfort of a good backpack can't be beaten. I know that a lot of people like shoulder bags in an urban situation, but they're simply not comfortable when walking long distances.
Not all photography backpacks are suitable for landscape photography. A few features you should be on the lookout for are: Water bladder or bottle holder, solid tripod strap system, durable materials on the base of the bag, thickly padded shoulder straps and a wide, padded waist belt to sit on your hips to distribute the load.
For landscape photography, my favourite backpacks are the MindShift BackLight series and the Shimoda Designs Explore series. Both these series offer backpacks in a range of sizes, so there is sure to be one that fits your gear perfectly. For more details, check out my Shimoda Designs Explore review, my MindShift BackLight Elite review and the Backlight 36 review. If MindShift or Shimoda don't have something that suits your needs, I also like the lightweight LowePro PhotoSport packs.
Note 1: Use the discount code ShutterMuse10 to save 10% in the Shimoda store!
Note 2: When you click on my links to the Think Tank Photo/MindShift website and spend more than $50 in their store, you'll automatically get the option to choose a free gift when you get to the checkout.
5 – Tripod
A good tripod is one of the most important items in any landscape photographer's kit. If you want to shoot at the lowest possible ISO to maximize image quality, and with a small aperture to maximise your depth of field, the only way to do it is with a tripod. You'll also need one if you want to use your ND filter for long exposure images that blur water and clouds, just as we discussed earlier in the article.
Key considerations for tripod selection are weight, capacity, folded length, maximum height, material (aluminium or carbon) and the number of leg sections. Choosing the perfect tripod is about finding the best compromise between the specifications that are most important to you. At a minimum, you should look to get a tripod that extends high enough to place your camera at eye level.
When it comes to the folded size of the tripod, this will be greatly affected by the number of leg sections (usually 3, 4 or 5). The more leg sections there are, the smaller the tripod can collapse, but there's a tradeoff in overall stability. A 3-section tripod will always be more stable than an equivalent 5-section tripod, for example.
I use an RRS Ascend-14L and a TVC-24L myself, but Benro, Induro, 3-Legged Thing and Manfrotto are all great brands and offer options at a slightly lower price point than RRS. The previously reviewed Peak Design Travel Tripod is also a popular choice. The key is to understand that most people are going to screw this up and buy a cheap, crappy tripod because they don't appreciate how much of a difference it can make. If you don't make that mistake, you're doing well!
Once you have chosen your tripod, there are some additional tripod accessories that you may find useful. Some of them will help you make your landscape photos even sharper. In an effort to keep this guide a reasonable size, I have put my list of favourite tripod accessories in a separate article.
6 – Ball Head
Tripod heads come in all shapes and sizes, but the most useful for landscape photography is a ball head. In its most basic form, a ball head will have a single knob that unlocks the full range of motion. As you progress upwards in quality and price, you'll find ball heads that have a second knob to control the horizontal panning base, and sometimes a third knob that controls the tension of the ball when moving around in the un-locked position.
Many cheap tripods come with a ball head, but when you make your tripod purchasing decision, make sure that the head is of a decent quality. In the past, I have seen good tripods packaged with garbage ball heads just so that the manufacturer can say "includes ball head" in the product description. A bad ball head can ruin all the good that your tripod is doing.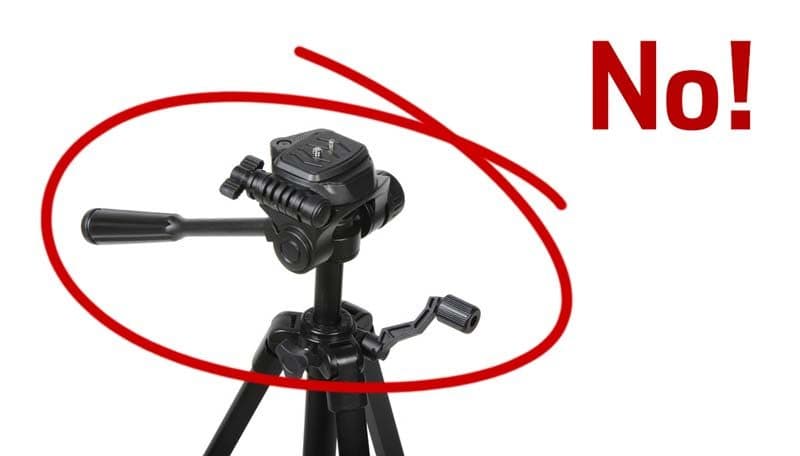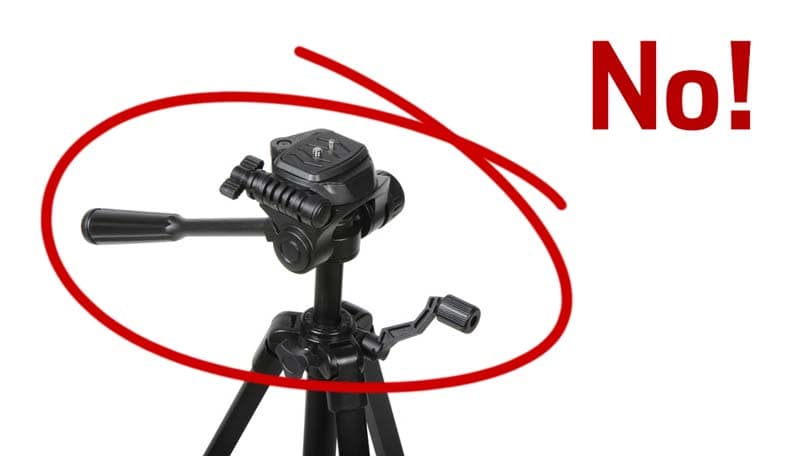 While teaching workshops, I've come across a surprising number of beginners that have cheap tripods with pan/tilt video heads. In most cases, these are hand-me-down tripods, second-hand purchases or simply the result of walking into a photo store and saying "give me the cheapest tripod you have". For landscape photography, you want a ball head 99% of the time. And you NEVER want a head that looks like the one in the photo above.
When choosing your ball head, check the weight ratings to make sure it's capable of handling the weight of your heaviest camera and lens combination, and if you're looking to do some panoramic photography then you'll want to find one with a panning base. A ball head with a panning base will have two nobs on it (at least).
My current ball heads of choice are the Acratech GXP, the RRS BH-40 and the PMG BH50.
7 – Camera L Bracket
An L bracket – sometimes called an L plate – is a quick-release camera bracket that allows you to easily switch your camera between portrait and landscape orientation on a ball head. As the image above demonstrates, when you switch orientations while using an L bracket, the camera position, and therefore the viewfinder position, barely changes. When you make the same change using the 90-degree drop-notch on a ball head, the camera makes a significant move downwards and to the side.
When exploring the available composition of any landscape photography scene, it's always a good idea to consider both landscape and portrait orientations. Sometimes one will totally outshine the other, or, even better, sometimes you can create two beautiful compositions instead of just one. I always love it when I can provide my clients with orientation options. Be it for their walls, or the pages of a print product.
Without an L bracket on my camera I would have to change the position of the tripod, and the height of the tripod legs every time I want to switch back and forth. I then have to re-frame the scene entirely. This wastes time, and if we're honest, whenever there is a barrier at a critical moment, there will always be times when we simply skip it completely.
With an L bracket on my camera, I simply use my ball head's quick-release clamp to quickly flip the camera, and then I might only need a minor tweak to the camera position. Ease of re-positioning is the primary reason for using an L bracket, but there are other reasons that are written about in my guide to camera L brackets.
Really Right Stuff makes the best brackets, albeit the most expensive. If you want something a little more wallet-friendly then check out the 3-Legged Thing Ellie L Bracket that I have reviewed in the past for mirrorless cameras, or their QR11 L Bracket for DSLRs, also reviewed here.
8 – Camera Rain Cover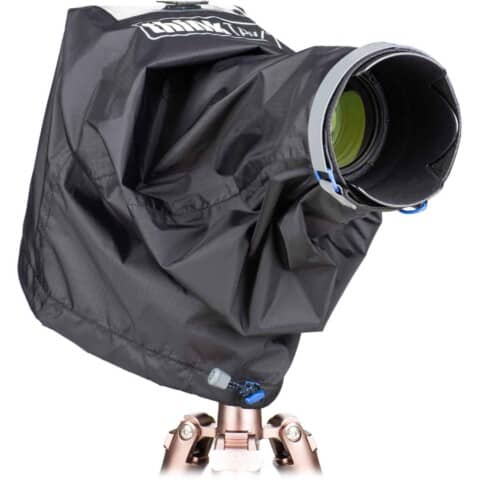 It's easy to get discouraged by bad weather, but the fact is that some of the most dramatic cloud formations can be found during those moments before and after a good storm. A camera rain cover in your backpack will keep you shooting all day – whatever the weather. If you've traveled a long way to get to your location, you must give yourself the best chance of coming home with worthwhile landscape photography.
I love the Think Tank Emergency Rain Cover series because they're small enough and light enough to keep in my camera bag at all times. The ingenious hot shoe mount keeps the cover in place, even when the wind is howling, and there's enough space beneath the cover to get your hands out of the wind and rain.
US Customers get a free gift when they spend over $50 in the Think Tank/MindShift online store after clicking this link. For more details, or if you have any issues, see this post.
9 – A Wide-Angle Lens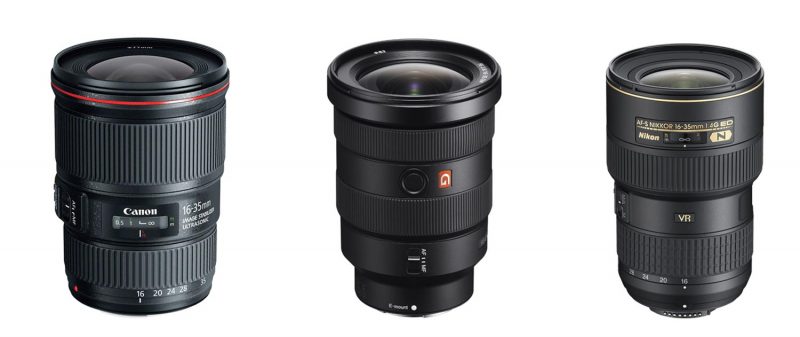 Central to most landscape photography kits should be a good wide-angle lens. Usually, something that is at least as wide as 24mm on a full-frame sensor. A wide-angle lens allows you to include and exaggerate vast landscapes in your images, as well as including close foreground objects that are useful for balancing natural compositions.
The 16-35mm focal range is probably the most beloved by landscape photographers, and every camera manufacturer has excellent options in this range. If you're using a cropped sensor camera then a 10-22mm zoom will give you roughly the same angle of view as a 16-35mm on a full-frame camera. Some excellent options to consider are the Canon RF 14-35 f/4 L, the Tamron 17-28 f/2.8 for Sony, the Nikon Z 14-24mm f/2.8 or the Fuji XF 8-16mm f/2.8 WR.
Although some of the best wide-angle lenses do have a fast f/2.8 aperture, this isn't absolutely necessary for landscape photography. In most cases, for landscape images, you will be shooting with a much smaller aperture (larger f-number) in order to increase the depth of field. As you explore the available options, don't be afraid to consider those slower f/4 lenses.
10 – A Telephoto Zoom Lens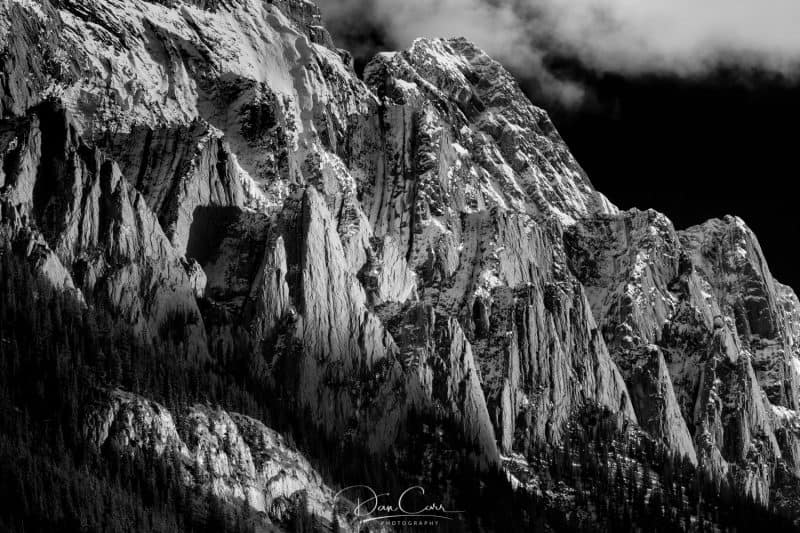 Telephoto lenses are often overlooked by beginner landscape photographers. Look into a professional's backpack though, and I'd bet you see one right away. While the wide-angle lens certainly is important – probably slightly more so than the telephoto – many of my favourite landscape photographs have been capture with focal lengths in the 70-200mm of 100-400mm range.
With a telephoto zoom lens, you give yourself greater flexibility when working a scene. You can easily pick and choose the elements that you want to appear in the photo by zooming in tighter. If there is a small patch of colour in the sky or a tiny area of interesting light, a telephoto lens allows you to punch in on that and make it the sole focus of the image. With a wide-angle lens, smaller areas of localized awesomeness can be lost amongst a broader, duller landscape.
If you work among mountains, you can use the telephoto compression of longer focal lengths to exaggerate the size of surrounding peaks, creating a beautiful layered image that draws people right in.
When selecting your telephoto focal length for telephoto landscape photography, I recommend having a lens that encompasses includes the areas around 70mm or 100mm. This includes all the 70-200mm, 100-400mm and 100-500mm lenses on the market, of which there are many. But it does not include 150-600mm lenses or the Sony 200-600mm lens. I have tried using those lenses for this purpose, and more often than not, found that I really missed that wider end of the focal range in the 70-150mm region. Sony users should also check out the excellent Tamron 35-150mm f/2-2.8, the Tamron 70-180mm f/2.8 and the Tamron 28-200mm f/2.8-5.6 for some great lenses that deliver some incredible bang for the buck.
11 – Photography Planning App for iOS or Android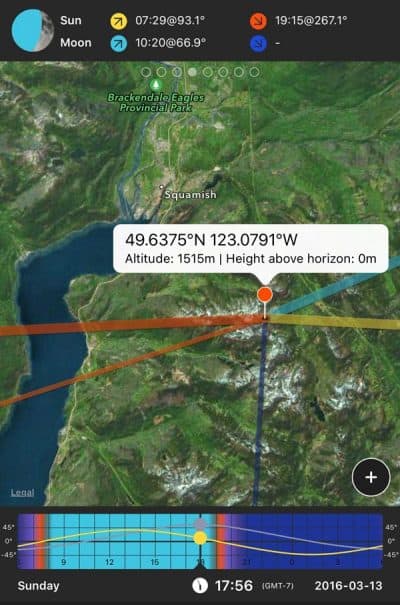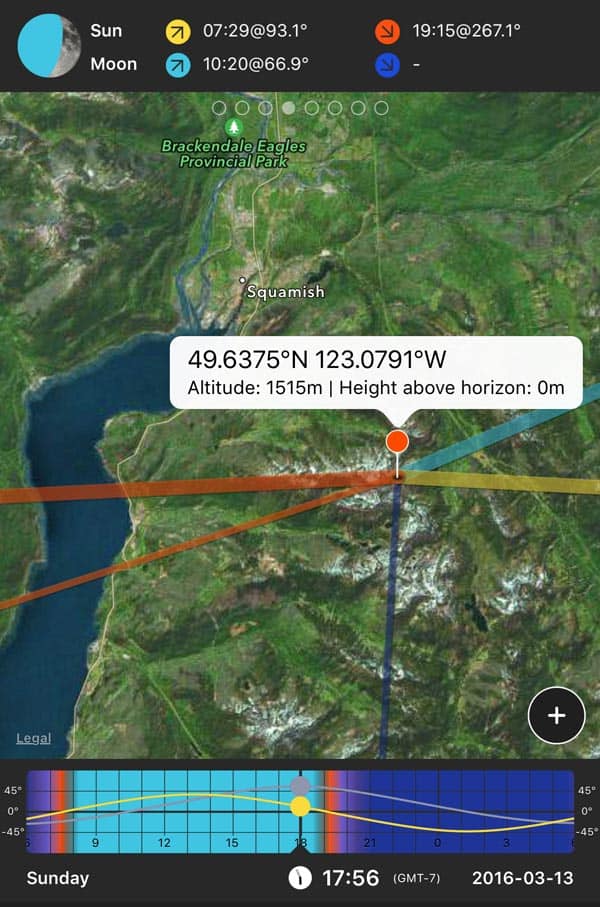 Photopills or Photographer's Ephemeris are two mobile apps that offer a similar set of features and stand out above the crowd when it comes to photoshoot planning apps. Personally, I use PhotoPills, but from studying the features of both apps, they appear to be nearly identical. Not only do the apps contain all manner of photographic calculators for time-lapses, star trails and depth of field, but they also allow you to visualize the path of the sun and the moon across any part of the world at any time in the past, present or future.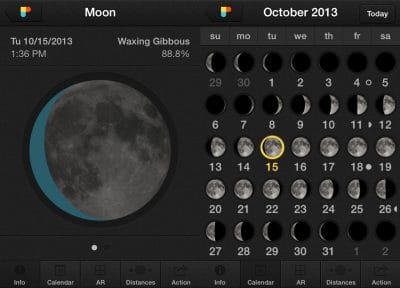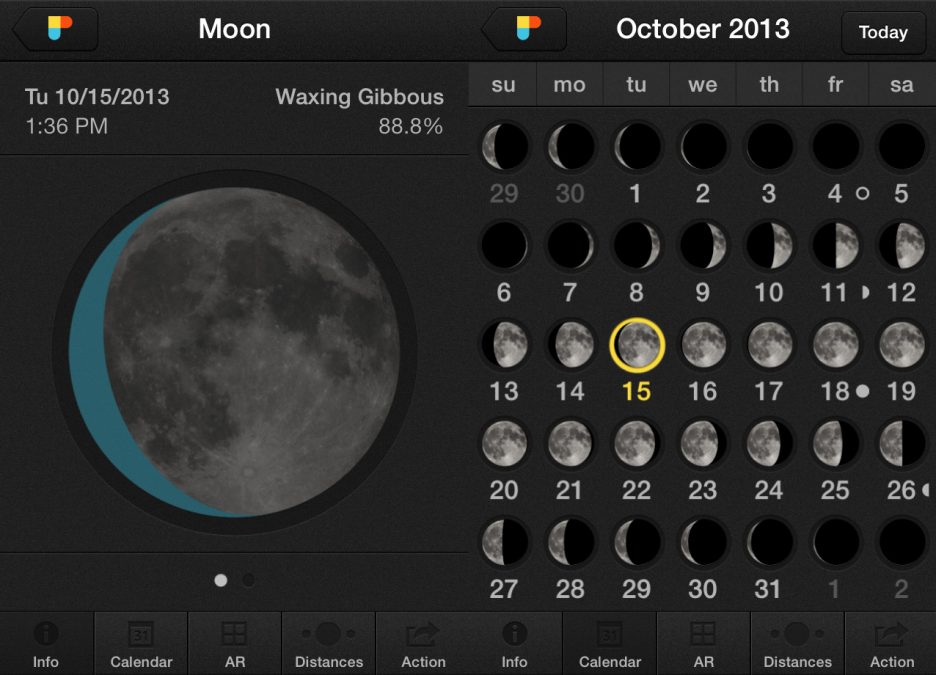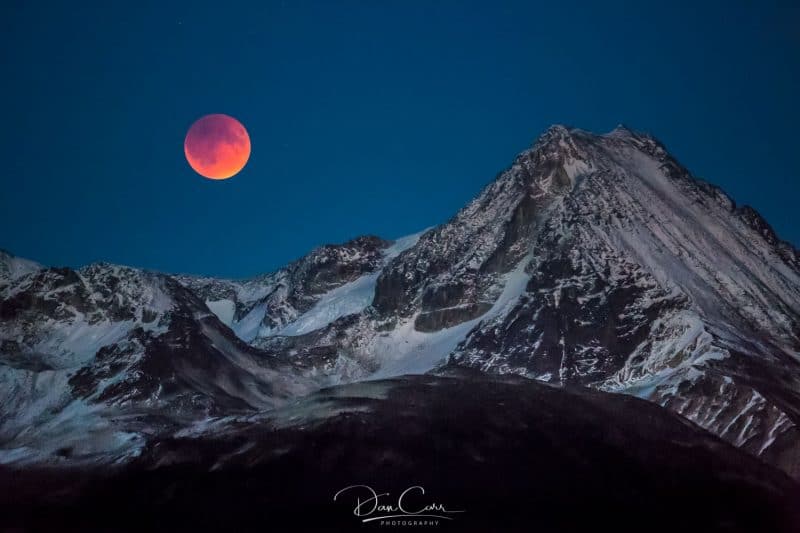 Before visiting any new location for landscape photography I load up this app and figure out when and where the sun will rise and set. There's nothing worse than wasting time figuring these things out on the fly, and then realising at the end of the day, that the location you have just arrived at would have looked much better if you had been there in the morning.
For nightscapes, the augmented reality features will even show you the path of the milky way through the night while you hold your phone up and point it at the scene. This allows precise positioning while you wait for it to rise, and means you won't get caught and have to run around in the dark trying to reposition yourself at the last minute. I have made several images in the last few years that simply wouldn't have been possible without an app like this.
PhotoPills is $13.99 from the iOS store or Android store, The Photographer's Ephemeris is $9.99 on the iOS store or the Android store.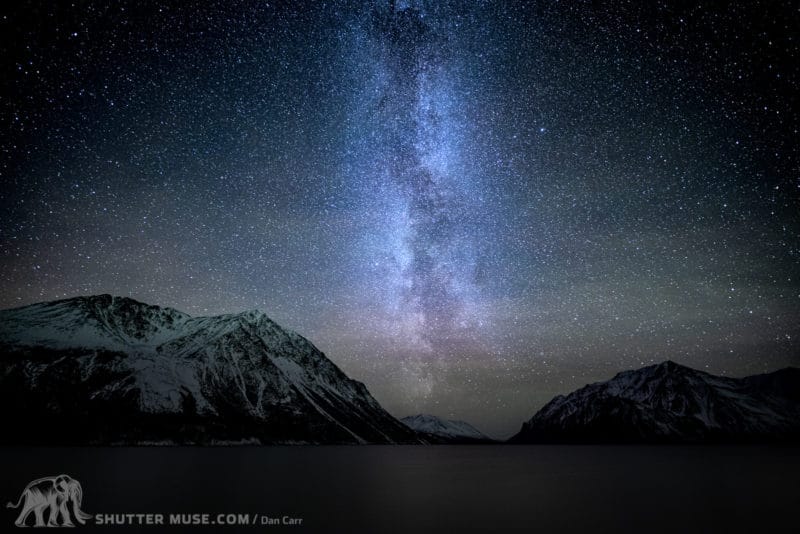 12 – Comfortable Clothing for the Environment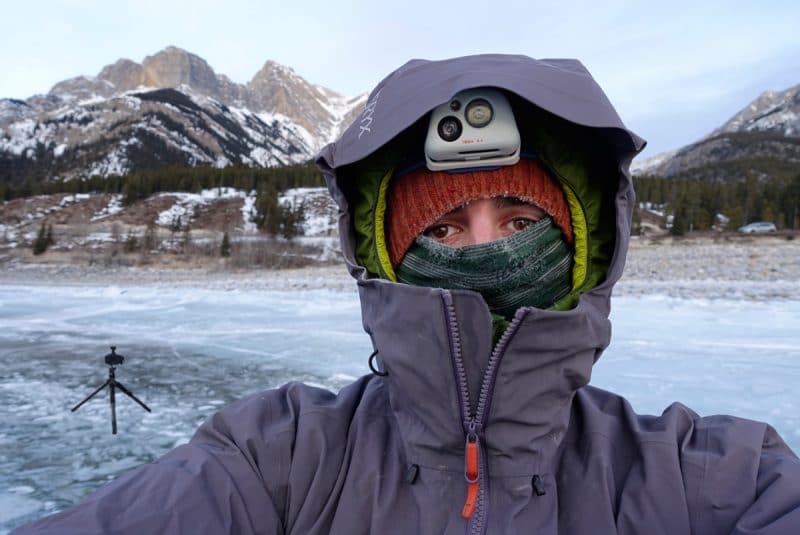 I have always maintained that it is important to be comfortable while you are out searching for beautiful photos. Landscape photography often requires extended periods of waiting outdoors and potentially hiking through a landscape to get to your destination. If you spend all of your time feeling too hot, too cold, or too wet, it's a distraction from the creative process, and you're far more likely to give up and go home too early.
Warm environments are simple to deal with — just make sure you have plenty of water, sunscreen, and bug repellant. Cold, wet environments are a little trickier because they require specialist clothing. If you want to delve deep into this particular subject, I've previously written an in-depth guide to photography in cold weather, based on my fifteen+ years of living in Western Canada, and more recently, Northern Canada in the Yukon.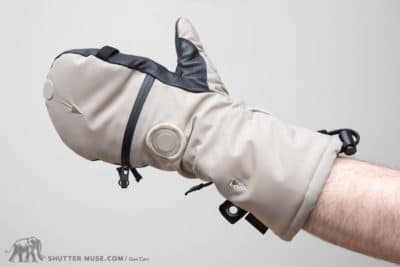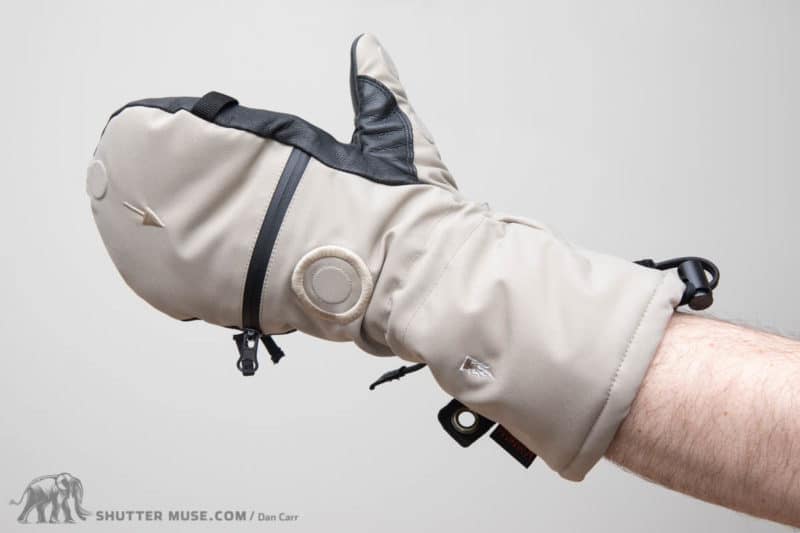 The short version is that it's well worth your time to develop a good layering system using clothing from quality brands. You don't need a lot of cold-weather gear, but a good base layer, mid-layer and shell are worth investing in and should last many years of use if you take care of them.
My own basic setup during outdoor movement is a merino wool base layer, a mid-layer with synthetic insulation, and a Gore-Tex shell. Then I'll also carry a highly packable down-filled mid-layer that can be applied when at rest, and my favourite photography gloves.
13 – Cleaning Kit + Tools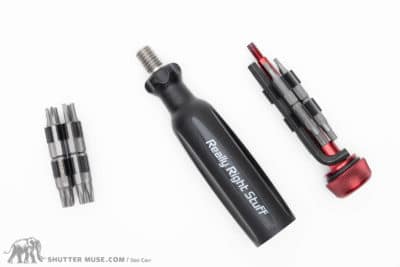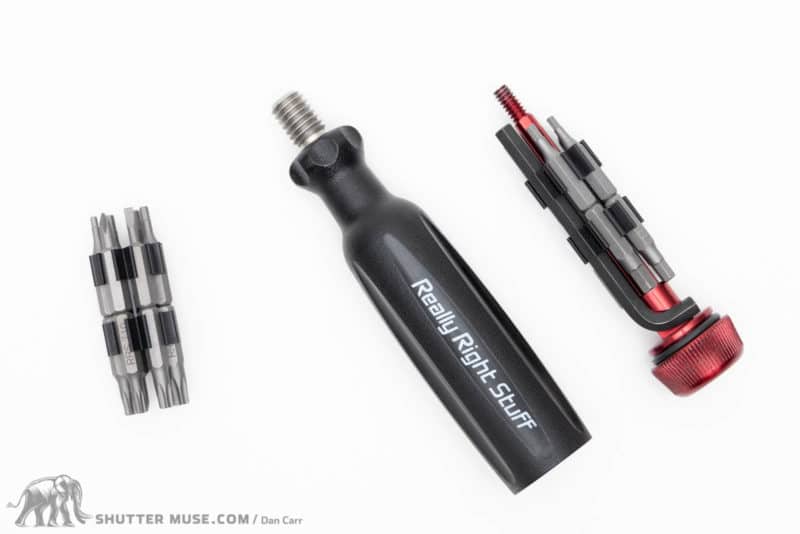 A functional tripod is an essential piece of gear for successful landscape photography, and much as I have implored you earlier not to buy a piece of crap tripod, I know there are many that will ignore that hard-learned advice. Even for those that do spend a little more on their support gear, accidents do still happen and a tripod – with its long spindly legs – will always be one of the more fragile items in your kit, especially in cold weather where materials become brittle.
To be prepared for a worst-case scenario, it's a good idea to carry a tripod tool like the RRS MTX tool for general in-the-field maintenance, and a little duct tape for emergencies. Of course, a tripod that has been fixed with tape won't have its original rigidity, but if the wind is calm and the ground is relatively steady, it'll still be a darn sight more useful than a two-legged "tripod". I simply carry a couple of feet of tape wrapped around one of the tripod legs.
I also like to carry a rocket blower with me at all times. Much as their odd shape can be annoying to pack into your bag, there are many times it has been useful. In regular shooting with a wider aperture, sensor dust doesn't show up that often. But once you stop that lens down to a smaller aperture, as you often do for landscapes, any dust will become obvious in your photos. In combination with your camera's own dust removal function, I find the simple rocket blower solves the problem 99% of the time.
Wildlife Photography Essentials
I was going to cover essential gear for general types of outdoor photography in this post, but it got a bit too long so I split it up into multiple posts covering different genres. Many landscape photographers also enjoy wildlife photography, so I'd recommend that you also check out my wildlife photography gear recommendations.
Pin This Post