In most situations a dedicated camera bag is the best way to carry your precious gear, but from time to time it's necessary to use a bag that was designed for a different purpose. The four main reasons for doing this are:
The bag you need to use has a very specific, niche functionality and purpose for a particular activity. For example when using a backcountry skiing pack that holds your skis and safety equipment, or using a fully waterproof bag for a kayaking trip.
You only need to carry a very small amount of camera gear such as a single camera and lens, amongst a larger amount of non photographic gear. For example when backpacking for multiple days, and the majority of your bag is filled with camping gear, or when flying away for a quick city break with carry-on luggage only, where your bag is mostly clothes and toiletries.
Your current non camera bag has sentimental value.
You can't justify buying a big expensive camera bag when you already have a perfectly good bag or backpack.
Over the past several years I have been collecting thoughts on this topic, and testing various solutions to the problem. Many fell by the wayside and I'm not going to waste time on those ones. Suffice to say, all of the products mentioned on this page are excellent products in their own right, but they all perform specific tasks in different ways that makes some more suited to tasks than others. Let's find you the right one for your needs!
The Shortlist
*1 Click through to Think Tank/MindShift's store and spend more tan $50 to get a free gift. More details about this offer can be found here.
---
1. MindShift Multi-Mount Holster
UPDATE: Unfortunately this great product has been discontinued. I will update this guide in more detail shortly, but MindShift's parent company, Think Tank, also make a full range of holsters.
Backpacking with a camera can be challenging because you already have a lot of weight to carry, so this is one of the questions I get most often from people considering this topic. You need a solution that offers protection, easy access to the camera for on-trail usage and also protection from bad weather.
The MindShift Gear Multi-Mount looks like a typical camera holster at first glance but the key feature is the innovative ways in which you can strap this bag to a backpack. As you can see from the photos, straps are provided to allow you to attach the camera to your front, and to the back of your bag, as well as offering a waist belt and shoulder strap. Front attachment is great in easy terrain because it allows you to quickly grab the camera, but rear attachment is also useful when you need to see your feet on rougher terrain. The Multi-Mount comes with a rain cover so you're protected in a downpour, and when you set up camp or the night you can throw the shoulder strap on it and take it for a wander around camp.
This has been my go-to backpacking solution for the past few years and whilst I've tried other options, none has come close to the versatility of the Multi-Mount. I love being able to keep the camera externally on the pack so that I can maximize internal in my trekking bag for the initial start. As food and water gets consumed, I sometimes move it internally if it helps with weight distribution. The Multi-Mount has proved to be durable and dependable, just as we'v come to expect from MindShift Gear products.
Compared to some other solutions that I've seen people use, the holster also has the benefit of a top opening lid which means that if you stuff it into a shoulder bag or backpack vertically, you can still get to your camera easily. You can't do that with with most traditional "camera block" style solutions such as the F-Stop ICUs because they are designed to work with a back panel opening on a backpack. Usage with any other kind of bag requires you to remove the ICU almost entirely from the bag to access the camera gear. I did this for several years when I used to use F-Stop products all the time, but the Multi-Mount is simply a better solution to this particular problem.
The one slight downside is the weight when compared to some of the more thinly padded solutions that I'll touch on further down the page. Since the Multi-Mount can operate as a camera bag in its own right, it's well padded and uses durable, thick nylon face fabric, as well as having a front pocket for organizing batteries and memory cards. Whilst this is a consideration, I believe it's outweighed by the versatility that this provides. I really love dumping my big heavy pack at the end of a hike and then throwing the fully-featured Multi-Mount over my shoulder for some fast and light exploration.
The Multi-Mount is available in four different sizes to suit various sizes of camera.
Get a Free Gift From MindShift Gear
As a friend of this site, you'll get a free gift at the checkout if you spend more than $50 through MindShift's online store, as long as you click through one of the links to their store on this page, like this one. More details can be found here.
---
2. F-stop ICUs
Lots of camera bag companies offer removable "camera blocks" for their bags and backpacks these days, but I don't remember that being the case until F-Stop first introduced their extensive ICU (Internal Camera Unit) lineup a decade ago. No other company has such a huge variety of sizes for this kind of camera protection, and they're also well made and lightweight. The photos here show just a tiny number of the available sizes, so you can be sure that there's something to suit the amount of gear you need to carry.
Now, these ICUs are technically designed to go into their own range of backpacks that have a back panel opening. That makes them tough to use with a lot of bags that don't have that same style of access, but they do work brilliantly with duffle bags and suitcases because those kinds of bags have huge top openings on them that allow you to easily open the lid of the ICU to get at your gear.
All the ICUs have removable padding in the lid if you feel that you want to slim things down a little, and they have metal D-rings on them to attach a shoulder strap if you need a makeshift shoulder bag at your destination.
Other similar products on this list include the MindShift Stash Master and the Peak Design Camera Cubes. The Stash Master is cheaper than the F-Stop medium ICU and offers the same features, but it comes in just a single size. The Peak Design cubes are also cheaper than F-Stop ICUs, but they are a bit heavier due to having a few extra features.
Your choice will likely come down to finding the exact dimension of product that fits your pack because all of these cubic cases are good products.
Some of the sizes are available at Amazon, and the full range is available from B&H Photo.
---
3. MountainSmith TAN Kit Cubes
The Kit Cubes from MountainSmith are designed to work with their adventure photo bag series that was designed in partnership with Chris Burkard. I liked the Tanack bag when I reviewed it, but actually didn't think the Kit Cubes were the perfect partner to it because they are a little too rigid.
Whilst that was my opinion of them when paired with that particular bag, it doesn't mean that I don't like them for other uses! In terms of modular camera protection, these things offer much more impact resistance than something like the F-Stop ICU. It's a hard thing to quantify, but I'd say they are roughly twice as hard as an ICU. Now I know you could technically go the whole hog and put a pelican case into a bag, but I've tried that and it's simply not an efficient way to pack bags because those kinds of hard cases have a lot of external protrusions.
The TAN Kit Cubes are what I would call semi-soft-sided. They have a little bit of give in them, but you really feel like your gear is protected when its inside one of these. Their square-ish shapes make packing around them easy, and the top opening makes them a good solution for adding to a shoulder bag or a backpack if you place it on the top.
Buy one of these if you are pursuing an activity where there is a risk of impact to your camera gear.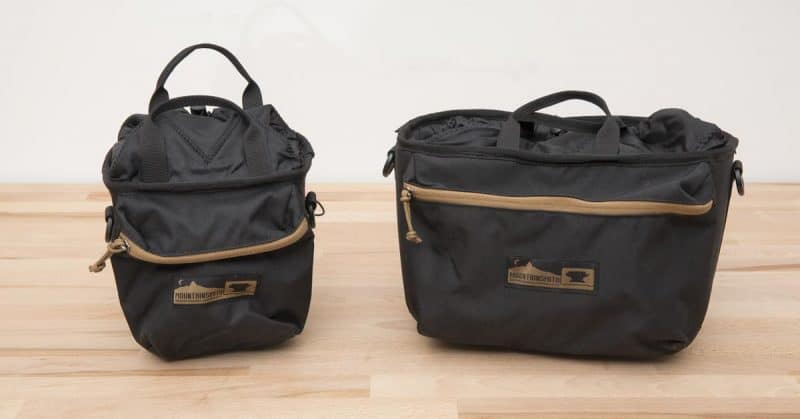 ---
4. LensCoat Bodybags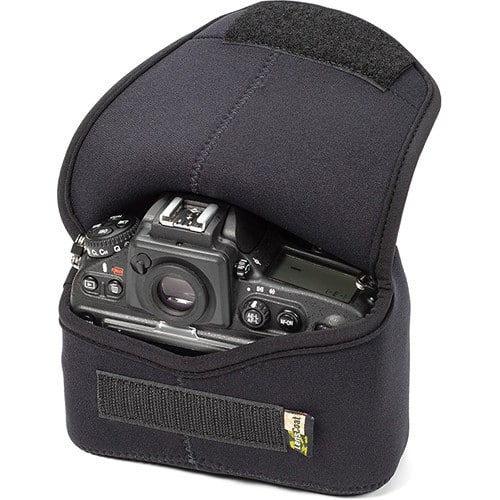 Sometimes you find that all you want to do is drop some camera gear into a bag amongst other gear and not get scratches on your lens, LCD screen or camera body. In this scenario we are talking about absolute basic bump protection, so you wouldn't want to do this if you were pursuing some sort of vigorous activity unless you also wrapped the Bodybags in something else like spare clothing.
Lenscoat makes these Bodybags in a huge variety of sizes, and whilst they are meant to be used with camera bodies, I often put lenses in them as well. I even have a couple that are designed for a camera with a lens attached.
The Bodybags are made from neoprene, available in a range of colours and camouflage patterns and starting at $20, they won't break the bank. I have been using these for over a decade and I love them!
---
5. MindShift Panorama Insert
If you have a great messenger style bag and want to carry some camera gear in it, the best solution I've found is the Panorama Insert from MindShift Gear. It's actually designed to go into their Panorama backpack, but the thin width of it and the wide top opening make it the perfect solution for shoulder bag usage. It's tall enough to fit a 70-200 f/2.8 too!
The tapered design of the top contributes to the ease of access, and things don't feel like they are getting too buried when they're at the bottom. It doesn't offer as much impact protection as the previously mentioned TAN Kit Cubes, which also work well in a shoulder bag, but for most people this will be more than enough.
Get a Free Gift From MindShift Gear
As a friend of this site, you'll get a free gift at the checkout if you spend more than $50 through MindShift's online store, as long as you click through one of the links to their store on this page, like this one. More details can be found here.
---
6. Small Pelican Cases
The rigid, waterproof Pelican cases like the Pelican 1120 in the photo above, start at around $30. Whilst there are many manufacturers of similar cases, they're often more expensive and harder to track down in stores. If you are taking your camera somewhere with the possibility of a full soaking, a small Pelican case is the way to go. The caveat with this is that after a certain size has been reached, the Pelican cases get very heavy. Using one that is any larger than a single camera and lens combination probably isn't practical to put into another bag. At that point you are better to go for a good, fully waterproof duffle or backpack, and put one of the previously mentioned protective solutions into it, like an F-Stop ICU.
---
7. Think Tank ChangeUp V2
The Change Up is the Swiss Army Knife of camera bags. You can wear it as a shoulder bag, a belt pack or a chest pack, and it's soft and small enough to cram into many backpacks, shoulder bags and duffles.
If you just want to keep your camera gear protected inside your non camera bag, any of the other solutions we've already discussed, would be better. However, if you want to carry camera gear safely to a destination and then extract the camera bag component to use on its own, the Change Up is my favourite solution due to its versatility. With a top opening, it's compatible with backpacks, messenger bags and duffle bags, and it offers much more internal organization than then Panorama Insert which is great when you want to use it on its own.
When I fly with my camera gear I try and take all camera gear on the plane as carry-on, but there's always a few less critical extra items such as a flash, camera remotes and specialized lenses such as a fisheye or macro. These go into my Change Up, which then gets tucked into my huge Osprey travel roller duffle bag. The Change Up is very supple and packable, so it's easy to squish into full bags amongst other gear. As well as offering travel protection, is also gives me extra carry options at my destination for more unique shooting situations. For example, you'll not find a better bag to work out of for aerial photography from a helicopter, or wildlife photography from a small zodiac boat. I could use something like an F-Stop ICU in my travel duffle, but the Change Up gives me those additional carry options.
Get a Free Gift From Think Tank
As always with Think Tank products, you can get yourself a free gift if you spend more than $50 in their online store having clicked through one of my links, like this one.
---
8. Peak Design Camera Cubes
Peak Design launched a range of Camera Cubes alongside the 45L Travel Backpack (read the Peak Design Travel Backpack review here). Whilst they are sized to the width of that particular backpack, you'll find that just like the previously mentioned F-Stop ICUs, they fit into many backpacks and duffle bags.
Despite being cheaper than the F-Stop ICUs, they actually have way more features and feel like a much higher end product! Not only do the Cubes open at the top as you would expect, but they also have side openings on both sides, which makes it possible to use them with a backpack that has a side zipper.
After the presence of dual side hatches, the next standout feature is the clever origami-style dividers that can be folded into shelves to allow you to stack small items on top of each other. On top of that, they also come with a divider pocket that can be used to store batteries and memory cards!
The Camera Cubes that I tested were the medium and large sizes, but the features and build would be similar with the small one as well. The only real exception is that the small Cube doesn't have a side opening hatch on it.
These are awesome, and I'll definitely be using a couple to move my gear around inside larger duffle bags when I travel.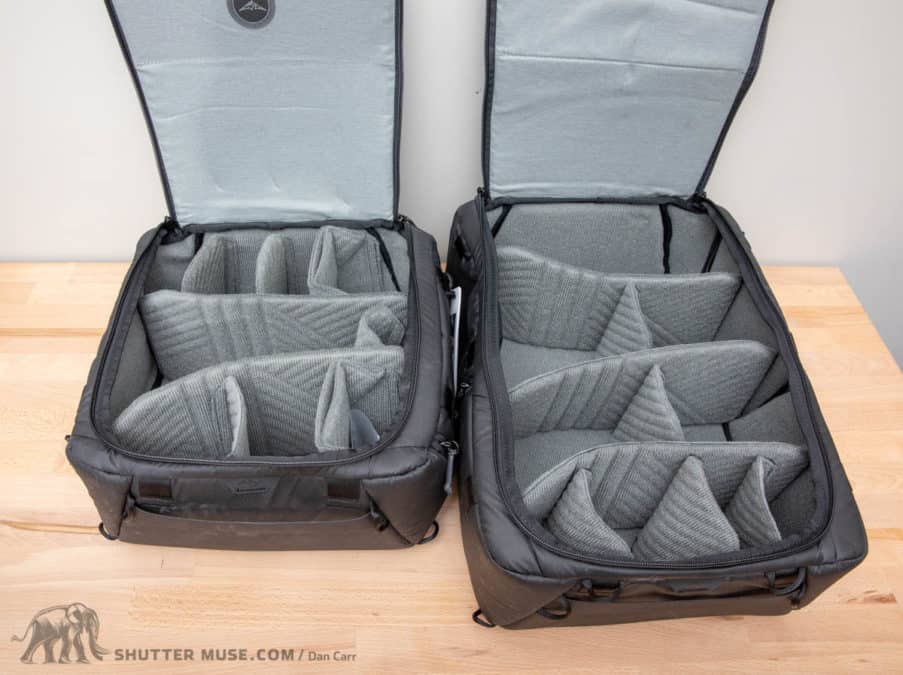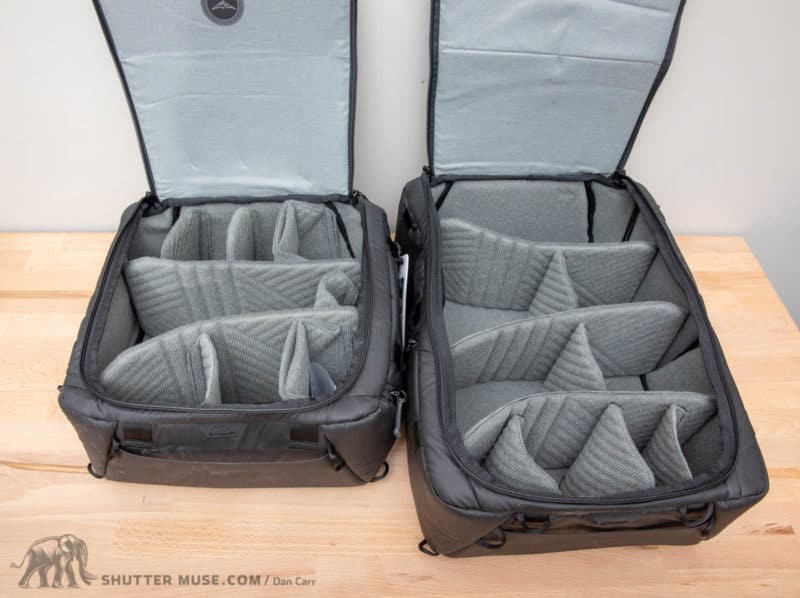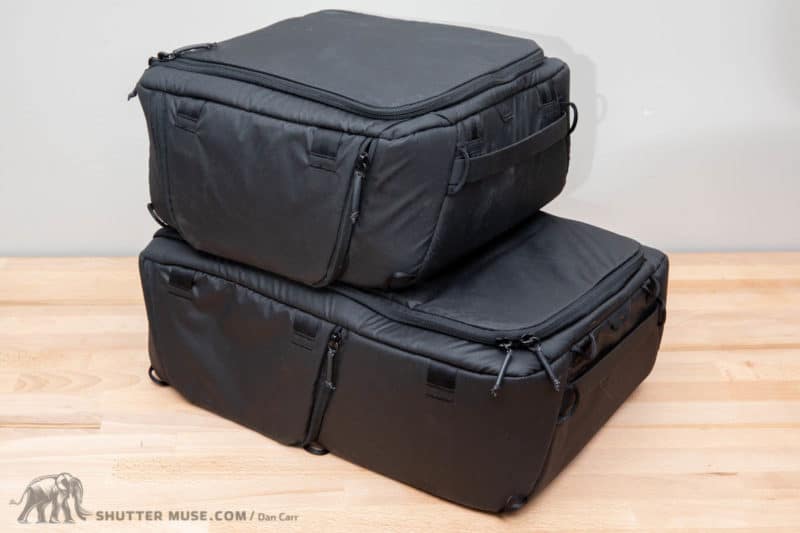 ---
9. MindShift Gear Stash Master 13L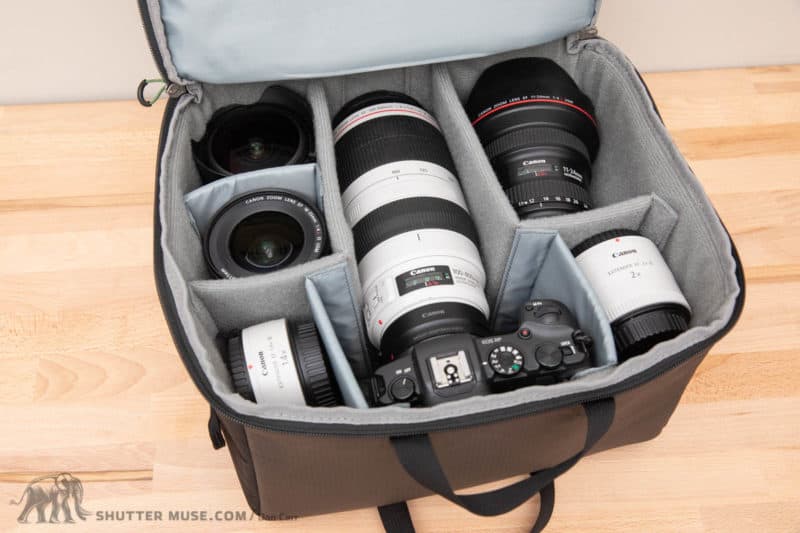 The Stash Master was designed to fit into the MindShift BackLight Elite photo pack (read the BackLight Elite review), but like the F-Stop ICUs and the Peak Design cubes it's just a generic cubic case which could work in any other large enough bag.
It's much cheaper than the similarly sized F-Stop ICUs but definitely built to the same quality and has all the same features. It's also much lighter than the Peak Design medium-sized cube, albeit very slightly less padded and lacking the side opening feature.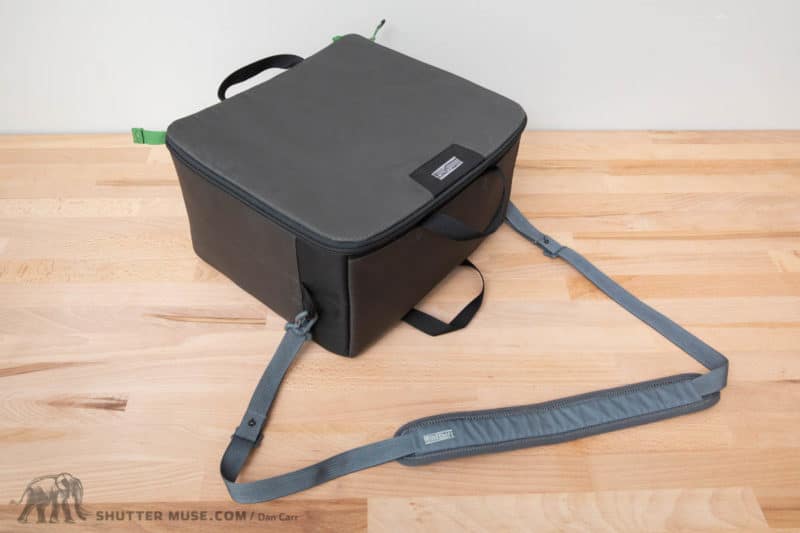 It's a bit of a downside that it's only available in the one size, but having said that I think the size is perfect for most people. It'll hold a 70-200 attached to a body, with additional room for 3-4 more lenses and several accessories.
Which Case Do You Use?
I spent a great deal of time testing and researching protective camera cases to find what I believe to be the best solutions on the market right now, but it's always great to hear from other photographers about their experiences. How do you carry your camera in a standard bag or backpack? Do you use any of the options on this page?
Leave a comment below and let me know!