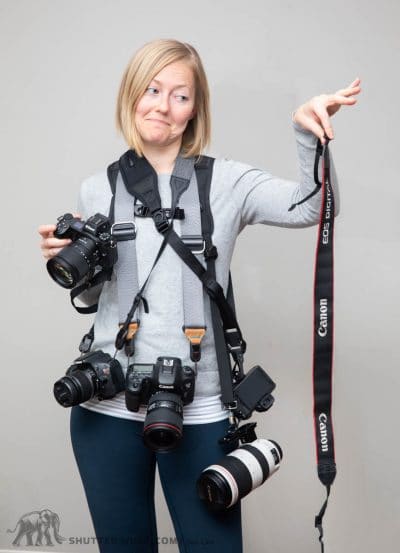 Whenever I get a new camera, the strap that comes with it always stays in the box, and I kit it with something much more discreet, comfortable and practical. Buying a new camera strap doesn't have to be expensive. There are options in this guide for as little as $12, and those are still better options than the ones that came with your camera.
These days I have a selection of straps for different sizes of cameras and sometimes for specialist uses such as event photography or backpacking (ultralight). Some of the straps I include in this guide have been with me for years, but when I set about writing this guide, I also reached out to several more strap manufacturers to test some of the other options I knew were top sellers in the market. I also polled my social media followers to see what kind of straps they were using and to get some feedback from people about the ones I had chosen.
In this guide, I'll explain all my choices in various strap categories. Then at the end of the article, there are serval smaller guides on how to adapt your favourite strap to give it a few more features, such as quick-release mechanisms and Arca-Swiss plate compatibility.
Best Camera Strap Types
Before discussing specific models or naming winners in the best camera strap guide, let's have a quick chat about the different ways you can carry your camera. I want to make sure you get the right strap for the job!
Shoulder Strap
A shoulder strap is a camera strap that mounts to your camera at two attachment points. Typically they mount to the top left and top right sides of your camera. Every DSLR or mirrorless camera comes with a basic shoulder strap, so this carry solution is the default option for most people because it's familiar.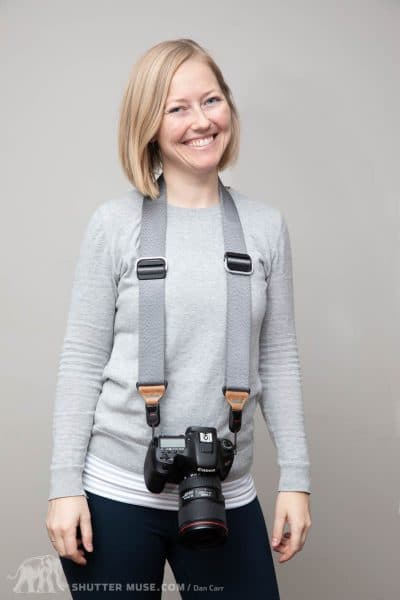 In recent years there has been a move from some strap brands to get people using the regular top left mounting point for one end of the strap and then attach the other end of the strap to a plate mounted in the tripod socket on the bottom of the camera.
Carrying a camera this way causes the lens to hang downward instead of pointing away from the body, as it does with the traditional strap mounting technique. This makes it easier to move amongst a crowd, makes it less likely for you to bang the lens on something while you walk, and dramatically reduces the bobbing motion (and resulting fatigue) caused by a longer, heavier lens.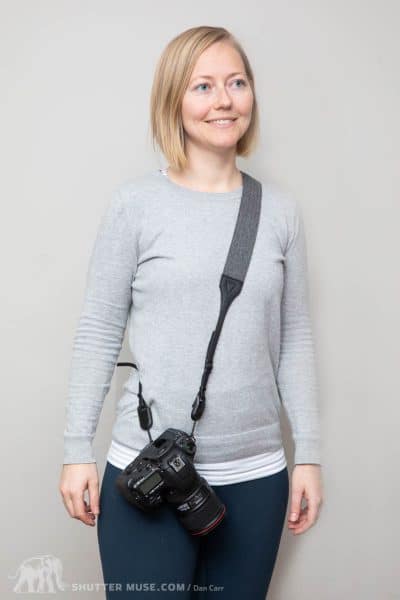 It's not necessary to use this other mounting method with tiny cameras that have small lenses, such as a Leica or a Fujifilm X100. Still, with a larger camera, once you try carrying your camera this way, you'll never go back to doing it the 'normal' way. Later in the article, I will discuss some options for converting a regular strap into something that can carry a camera in this way.
Sling Strap
A sling strap is distinctly different from a regular camera shoulder strap. While a shoulder strap has two mounting points, a sling has just one single mounting point on the camera, and both ends of the strap converge into that one point. A sling strap will come with a mounting point that screws into the 1/4 20″ tripod socket on your camera, and the strap attaches to that, usually with a quick-release mechanism.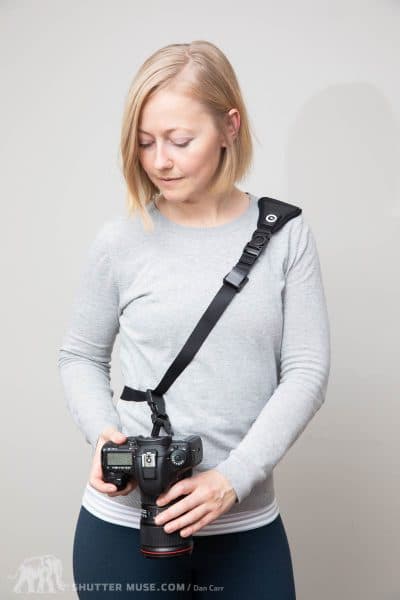 This means that with a sling strap, the camera hangs upside down by your side, as these straps are designed to be worn in a cross-body style and not just around your neck. When a camera hangs at your side, with the strap attached to its base, the lens points downwards and doesn't get in the way or cause unnecessary bobbing and fatigue while you walk.
The other massive difference between a sling strap and a shoulder strap is that on a sling, the camera isn't fixed to the strap at one point. The camera moves along the strap when you pick it up to shoot. In turn, this means that the shoulder padding on the strap always stays on your shoulder in the most comfortable position, and the strap won't get tangled up in clothing or hair when you pick the camera up. Only the camera moves! It glides up the strap and back down again when you put the camera back by your side.
Slings can be great, but the one thing to remember is that they only really work if you are using the strap across your body. I'm not a massive fan of wearing a cross-body strap in hot climates because it makes me sweat more when I can't get proper air circulation in my shirt. Your mileage may vary, but I know some people don't like having things cling to their bodies in hot weather.
It's possible to throw a sling over your outside shoulder. Still, at this point, some slings might not work as well as a regular shoulder strap because they have a curved asymmetrical design intended to be on your opposite shoulder. There are slings with symmetrical designs in this gear guide, so if you think this scenario describes you, pay close attention to those products (BlackRapid RS4 and Custom SLR Glide One).
Note: Asymmetrically designed sling straps, such as the BlackRapid Sport Breathe, are sold in both left-handed and right-handed versions.
Wrist Strap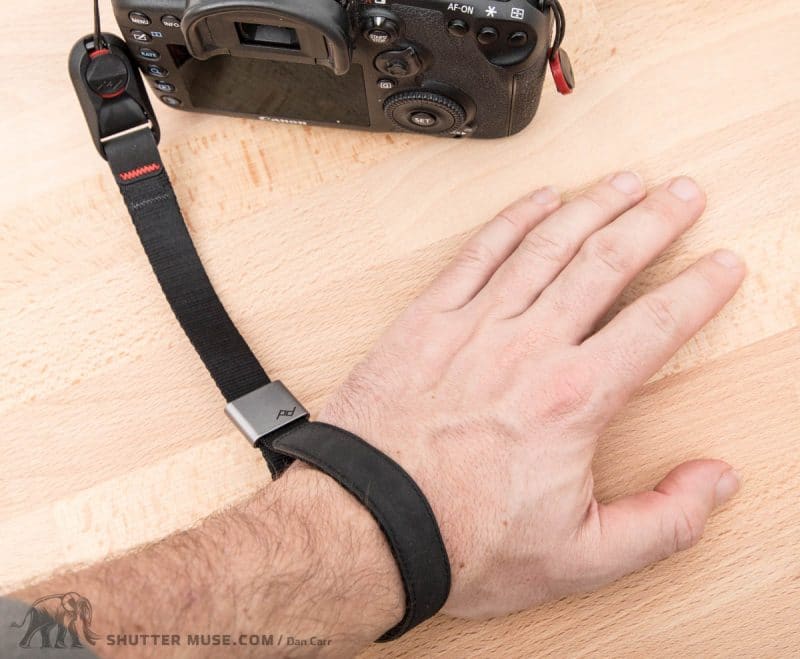 I find a wrist strap to be the best option for point-and-shoot cameras, as well as tiny mirrorless cameras with short primes lenses like the Fuji X100 series. They are also a good option for larger cameras if you plan to use a camera bag while you walk around. What is the point in having a bulky shoulder strap if you constantly reach into a shoulder bag or backpack to pull out the camera for each shot?
A better option can be a wrist strap that gives you something to pull on while extracting the camera from your bag and gives you a little security in hand. Choose a strap with a quick-release system, like those from Peak Design, and you can quickly switch between a hand strap and a shoulder strap as your needs change.
Hand Strap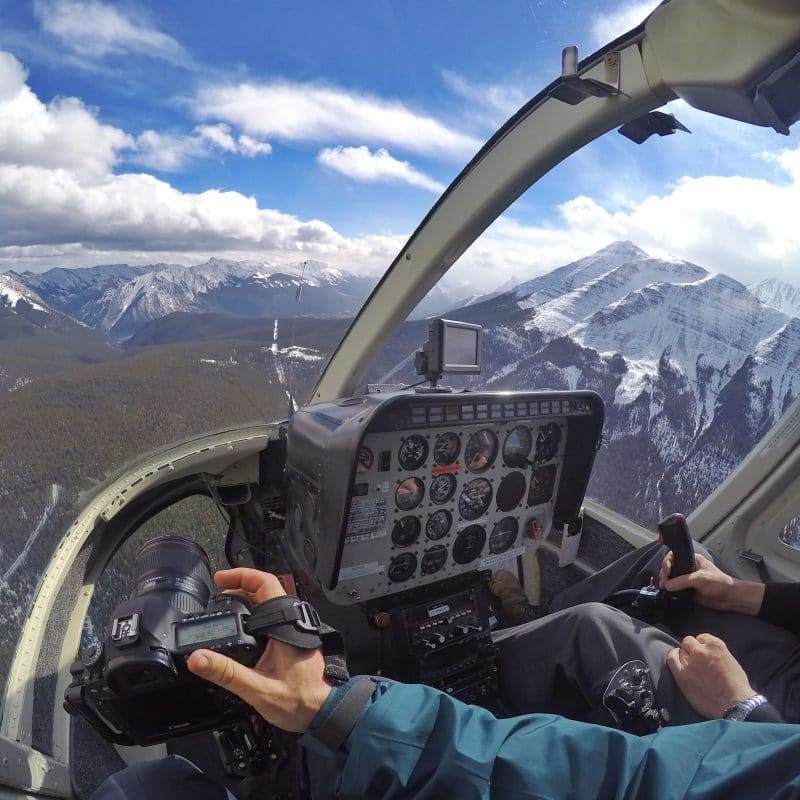 Only suitable for use with larger mirrorless cameras or DSLRs, a hand strap can achieve much of the function of a wrist strap and be used for the same reasons. The only addition I would make to that is they can also be suitable for ensuring that you don't drop your camera. Tightening a good hand strap is like glueing your camera to your hand, but they work best when the camera has an excellent chunky hand grip to grab hold of in the first place.
Carrying Clip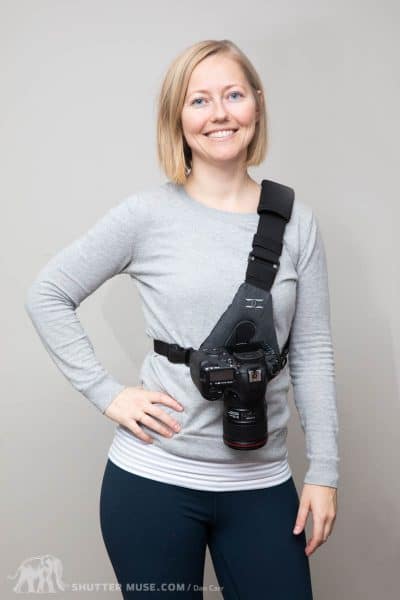 I guess calling these 'straps' isn't entirely true, but they can take the place of a camera strap in some situations, so I wanted to include the two best options in this guide. Camera carrying clips are designed to give you immediate access to your camera without having to extract it from a bag.
Their most popular usage is to have a camera to hand whilst hiking. Stopping to take your backpack off is a pain in the ass, which means that many photo opportunities pass people by because that little voice in their head says, "Nah, it's probably not worth it". With a carrying clip, your camera is always ready, and if you see Bigfoot or a unicorn jump out in front of you, you'll get the shot.
In a Hurry?
If you're in a hurry and need a quick solution without reading all the details, you can't go wrong with the Peak Design Slide Lite strap. It walks a good middle ground between weight distribution and bulk, which makes it suitable for a wide variety of camera sizes, from pro to mirrorless.
The Best Camera Strap Shortlist (In No Particular Order)
Peak Design Slide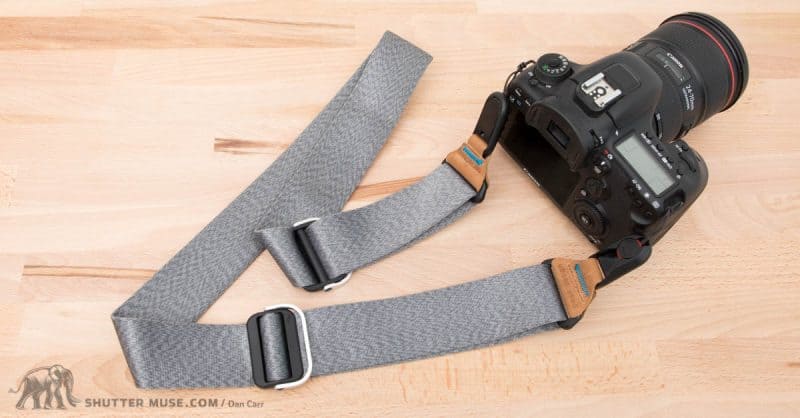 The Peak Design Slide is one of the most popular camera straps on the market for good reason. Using a pair of cleverly designed quick-adjust buckles, the strap can be lengthened and shortened in just a second or two. The advantage of this is that you can shorten it to keep the camera close to the hip while you walk, but instantly lengthen it when you want to lift the camera up to shoot. On most straps that would be a cumbersome action, but with the Slide, the whole motion is fast and smooth as the buckle slides up and down the strap once it's released.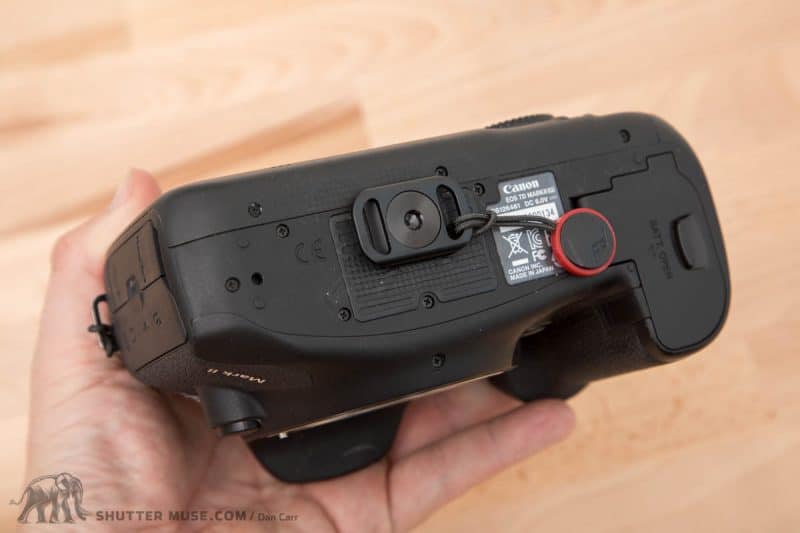 Aside from the slick functionality of the dual adjustment buckles, the Slide has two other major things going for it. Firstly, it uses Peak Design's excellent Anchor quick-release system which is extremely lightweight, yet still incredibly strong. And secondly, it comes with a base mount to allow you to attach one end of the strap to the bottom of the camera.
With only minimal padding, the Slide isn't as comfortable as some of the other options on the list if you plan on using it with heavy gear for hours at a time. What it lacks in comfort, though, it makes up in style and ease of use. You can read a more detailed review of the Peak Design Slide strap here.
---
Peak Design Slide Lite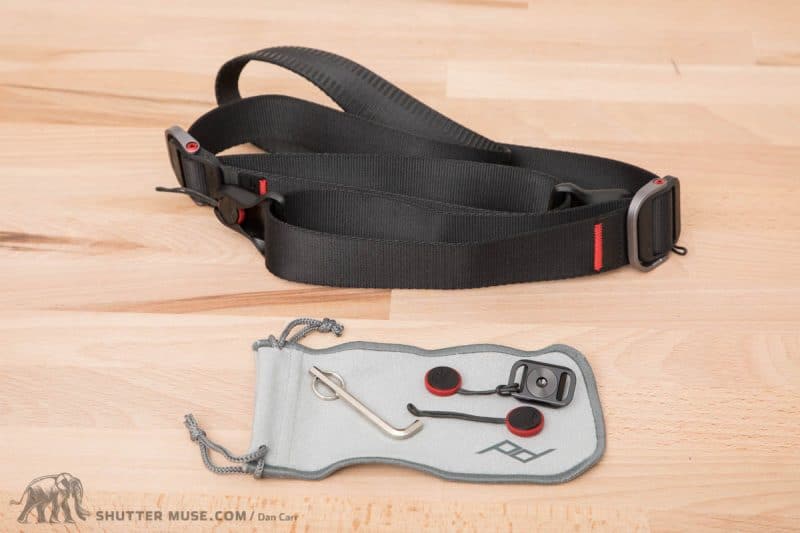 The Slide Lite is a slightly shrunken version of the Slide strap, so there's no need for me to repeat everything I have just written above. You'll see that there are a few minor design details that differer between the two, but they aren't significant enough to swing your decision one way or the other.
I would say that mirrorless camera users are probably best suited with the Slide Lite, unless you are carrying a longer lens like a 70-200mm all day long. I also think the Slide Lite will be great for most DSLR users who are using a strap for an hour or two at a time. Whilst it doesn't offer any padding, it's of a similar width to most standard shoulder straps so it's not uncomfortable for shorter periods of time with a DSLR. The size difference is noticeable when packing the strap into your bag, so if space is tight, that is worth keeping in mind.
But what about comparing this to a sling strap? There's a good reason why I marked this strap as the top overall pick in the test. I think it finds a good middle ground on price, adjustability, quick-releasability, size and weight. There are comfort and functional benefits to sling straps like the BlackRapids, but they add to the bulk of the strap and require more complex methods for attaching the straps to the camera. Ultimately, all straps on this list are great in many respects or they wouldn't have made it on the shortlist in the first place, but you'l have to be the judge of whether the additional features would be good for your style of shooting. Clearly some types of photography, such as weddings, have some specific requirements where the speed functions of a sling might win out.
---
Peak Design Leash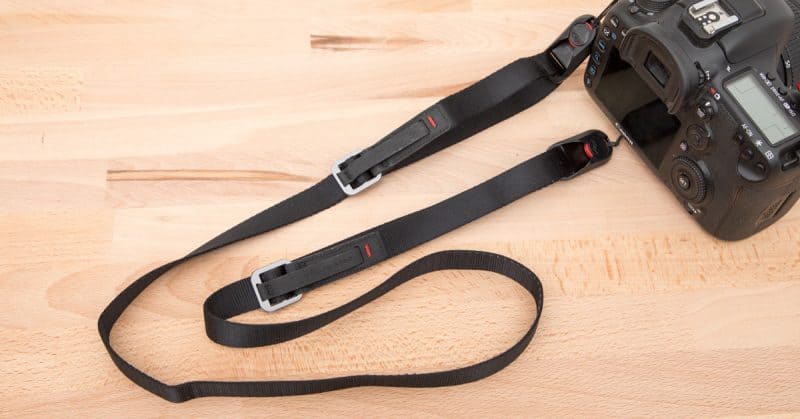 The Leash is the baby of the Peak Design strap lineup and if it makes your shortlist then you might want to check out the in-depth Leash camera strap review that I have previously posted.
Whilst it's tempting to look a this skinny strap and assume it's only good for small point-and-shoot cameras, that would be underselling by some margin. It's true that if you want to carry your camera on your shoulder al day long then for comfort I probably would limit its usage to small cameras, but you can, and potentially should use it in a different way. Let me explain…
If you're someone that usually shoot from a tripod, you really don't need a shoulder strap on your camera for that. If you're someone that usually has a huge super telephoto lens on your camera then again, you really don't need a shoulder strap on your camera then either. Hanging a 500mm lens off your camera over your shoulder will simply break the lens mount! So you can see that there are several circumstances where you might not need a strap, and for lots of outdoor photographers they might describe a lot of their shooting. But I would never want to go anywhere without any strap at all! You never really know what's going to happen during a day of photography, and that's part of the excitement for me! So I always want to make sure I have some sort of shoulder strap in my bag, even if it's just for emergencies.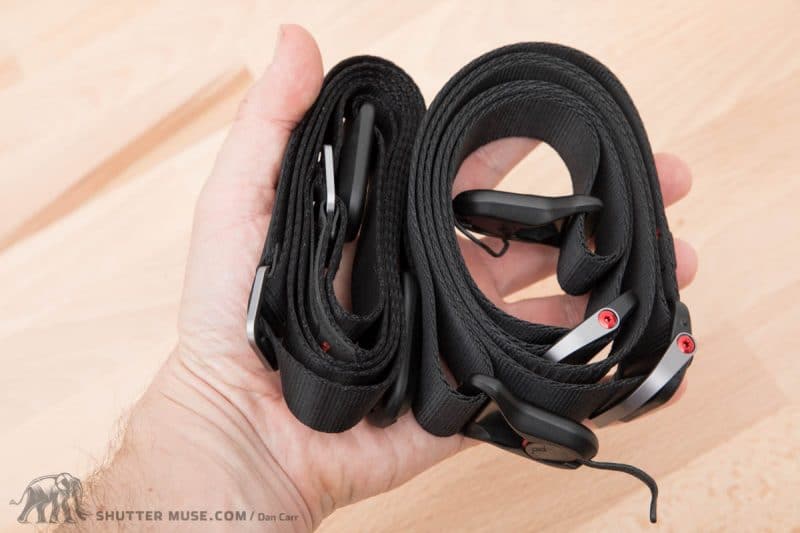 This is where a Peak Design Leash entered my kit many years ago. The Leash is small enough to stuff into a tiny pocket, and they you can simply forget it's there until that moment when you think "darn, I wish I had a shoulder strap" "oh wait! I do!"
Even if you do prefer to have a strap on the camera at all times, the Leash is light enough that it should be a consideration for avid hikers and backpackers. Your camera will be in a bag for most of the time anyway, so ultimate comfort probably isn't a necessity, and the Leash is still just fine to use for a couple of hours with big heavy gear anyway. More if you are wearing thick winter clothing.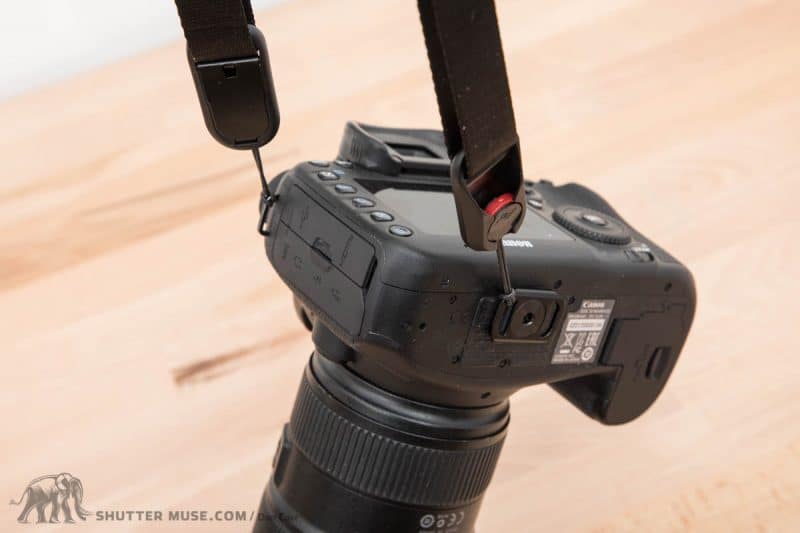 In terms of weight capacity, I have no qualms about using this with even the heaviest of gear. In fact I have slung my $14,000 super telephoto over my shoulder on this thing and I trust it, and the Peak Design Anchor system 100%. For $39.95 including the Anchor Mount, I think the price is fair and reasonable.
---
Custom SLR Glide One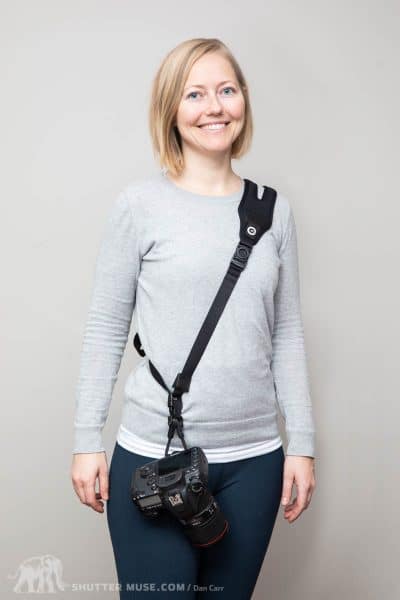 The Glide One sling strap from Custom SLR has been a popular option for many years, and I'd say that it's the most comfortable strap that I tested. Not only is the padded area very wide, but the split design means that it spreads out even more and just generally seems to conform well to all the bony bits around the shoulder. The neoprene in the padded section of the strap also helps to absorb camera bounce while you walk, and the smooth edges on the padding decreases discomfort if the wide strap happens to rub up against your neck.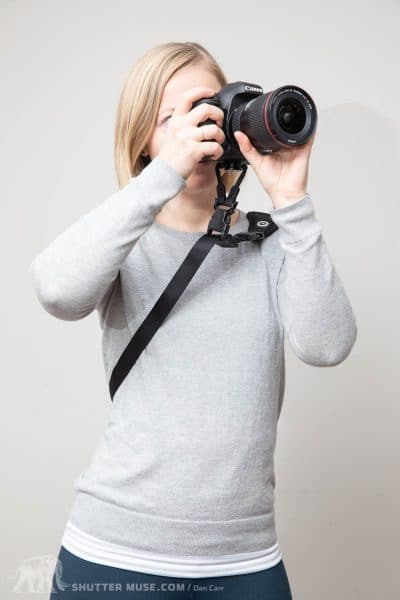 Whilst I do think it's the most comfortable strap, thats not the only consideration when it comes to choosing a sling. A sling needs a mount on the camera, and the Custom SLR C-Loop is their answer. Whilst it works just fine, it's incredibly bulky when you compare it to the similar parts on BlackRapid sling straps. Not only is the C-Loop itself very large, but so are the strap end attachments and quick release buckle. The result is that when you detach the strap, you're left with a lot of 'stuff' still stuck to the bottom of your camera.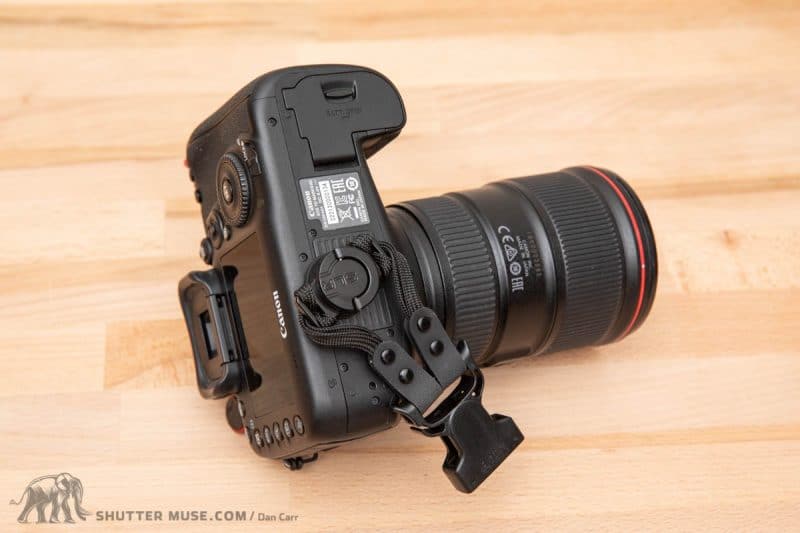 Perhaps that won't bother you, in which case the Glide One is an excellent choice.
---
Op/Tech Pro Loop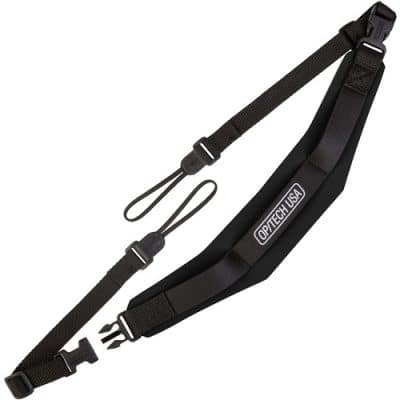 The Op/Tech Pro Loop straps are incredibly comfortable, and a pair of these straps got me through the first five or so years of my professional career. At around $20, it's a budget friendly option that's great for people that spent their budget on a new camera and forgot to set aside a little extra to kit it out with some accessories!
With 2.5″ wide neoprene for the bulk of the strap, it's easily capable of carrying pro-sized DSLRs with big heavy lenses, and the stretchiness of the neoprene acts like suspension to absorb camera bounce when you walk. Generally making life much more comfortable!
Op/Tech's Pro Loop quick connect system for removing the camera strap is strong, but be aware that the eyelets on your camera need to be quick large to feed the strap loop through them. This isn't a strap that you choose for a dainty little Leica or Fuji camera, it's much better suited with Canon and Nikon DSLRs.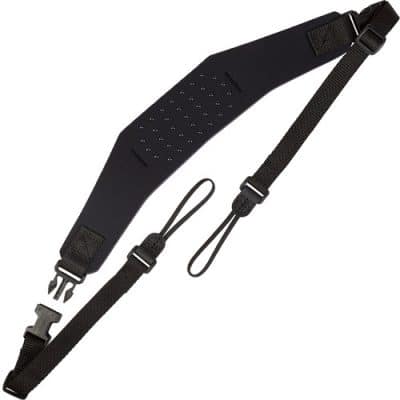 If you have more than one camera and only carry them one at a time on your shoulders, additional quick-release Pro Loop connectors can be purchased so that you can simply move the padding from one camera to the next. I always found that to be a highly useful feature during my years with these straps. I would often pack two cameras in a bag but just take one strap to save some room.
When you disconnect the shoulder pad, you can also connect the two ends of the Pro Loops together to create a useful grab handle for your camera.
---
Op/Tech Classic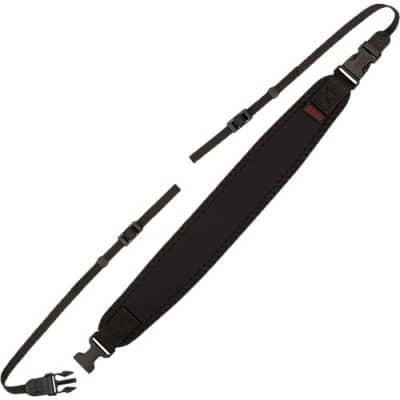 Despite the wallet-friendly price point, the comfortable 2″ wide stretchy neoprene of the venerable Op/Tech Classic is still a great step up from the basic strap that came with your camera. They are available in many colours, but one of the good reasons to ditch your default branded strap in the first place is to be a little more stealthy, so my recommendation would be to pick black, or at least a relatively subdued colour.
Amazingly at this price point, the strap features quick-release buckles to remove the bulk of the strap when you're packing it into a tighter bag, or working with your camera on a tripod. The reverse of the neoprene shoulder pad is also coated in a grippy non-slip material to prevent your camera sliding from your shoulder.
This "Classic" version is great for smaller mirrorless cameras, but if you're using a larger DSLR then it's well worth spending the extra few dollars for the aforementioned Pro Loop version with its wider strap.
---
BlackRapid Classic Retro RS-4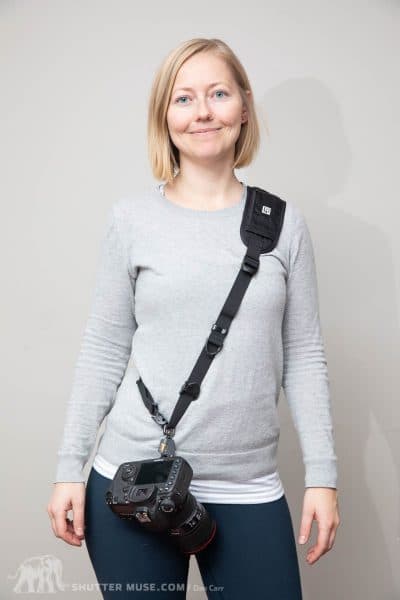 Before I embarked on this huge group test I'd never used any BlackRapid straps. After a bit of research into reviews on various online stores, as well as polling my social media followers to see what they prefer using, it became apparent that I was going to need to check these guys and try much of their lineup.
I actually tested out even more BlackRapid straps than are on this list, but in the end I narrowed it down to what I think are the three best ones. I wanted to get it down to two, but each of the three has such distinct advantages, and worked so well for their purpose, that I couldn't cut one of them from the lineup.
All of BlackRapid's straps are slings, so they mount at a single point and an attachment device called a FasternR is provided for the camera. The FastenR screws into the tripod socket on the bottom of your camera (other mount options described at the end of this guide) and a small carabiner on the strap clips through the FastenR to attach the camera. Once that initial connection is made, there's a screw-down gate to prevent the carabiner from opening, and a plastic guard that flips down to prevent the screw-gate from working its way open while you walk. Once attached, there is no way this thing is coming off! It's a very thorough and well thought out design that I like better than the more bulky C-Loop connector that Custom SLR use for their slings.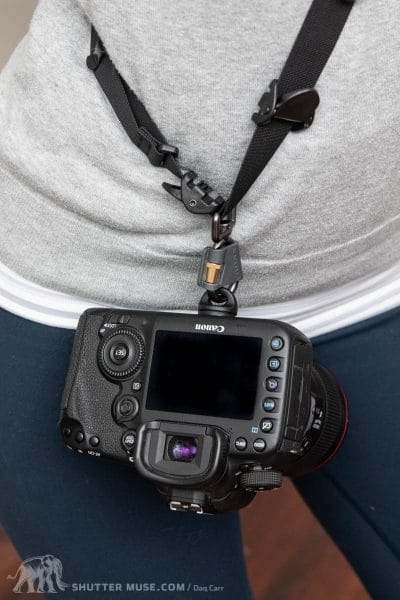 The Classic Retro RS-4 is an incredibly wide strap (2.9″) so it carries a heavy load comfortably, despite having less padding than the other options in their lineup. That lack of foam padding within the strap actually works to its advantage for some purposes, making it the lightest and most packable of the ones that I tested. You can actually roll the whole thing up and squash it into a small pocket with ease, and that sort of packability is appreciated when you have a bag that's already full with gear. There's a minor reduction in comfort compared to the ergonomically curved BlackRapid Breathe Sport, but I actually found myself reaching for this one more than the others during my month of testing their lineup.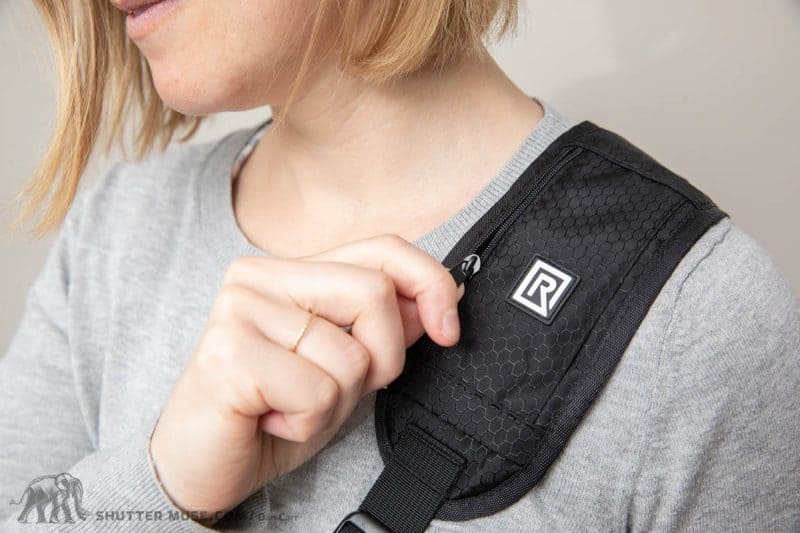 In terms of sling functionality, it has a pair of spring-loaded clips that slide up and down the strap to limit the camera's movement along the strap. The rear clip is very important because this is the one that prevents the camera from going too far back along the strap, essentially keeping it right by your hip while you walk. I found I used the front clip much less, and mostly just left it up high by the shoulder pad so that I had full range of movement to slide the camera up the strap to my eye.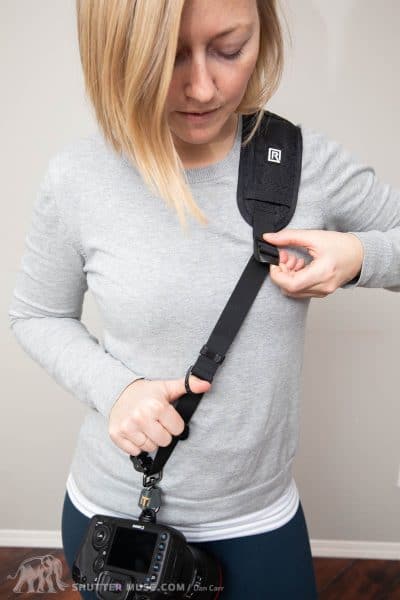 Out of the three BlackRapid slings that made it onto this list, the Classic Retro RS-4 is the only one with a symmetrical design. This means you can wear it diagonally from left to right, or right to left, and you can also just wear it hanging off your outside shoulder on whatever side you prefer.
---
BlackRapid Breathe Sport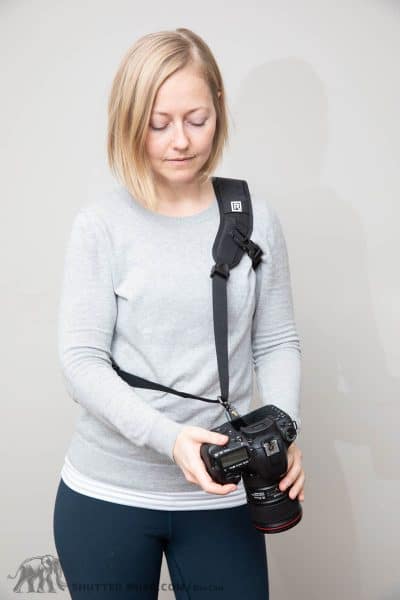 The overall sling functionality works exactly the same with this strap as it does with the Classic Retro RS-4 so I'm not going to repeat myself there. The main differences with the Breathe Sport are the ergonomically curved design, slightly thicker and more rigid padding, and an underarm stabilizer strap.
Having switched back and forth between the RS-4 and the Breathe Sport, there's no doubt that the Sport is more comfortable, but it's marginal and it does come at the expense of bulk and weight. The curved design did an impressive job of keeping the strap in place on my shoulder, and in all honesty I didn't find much need for the additional stabilizer strap when walking around with it. If you were moving faster for some reason, or perhaps crossing rough terrain, this might be of more use.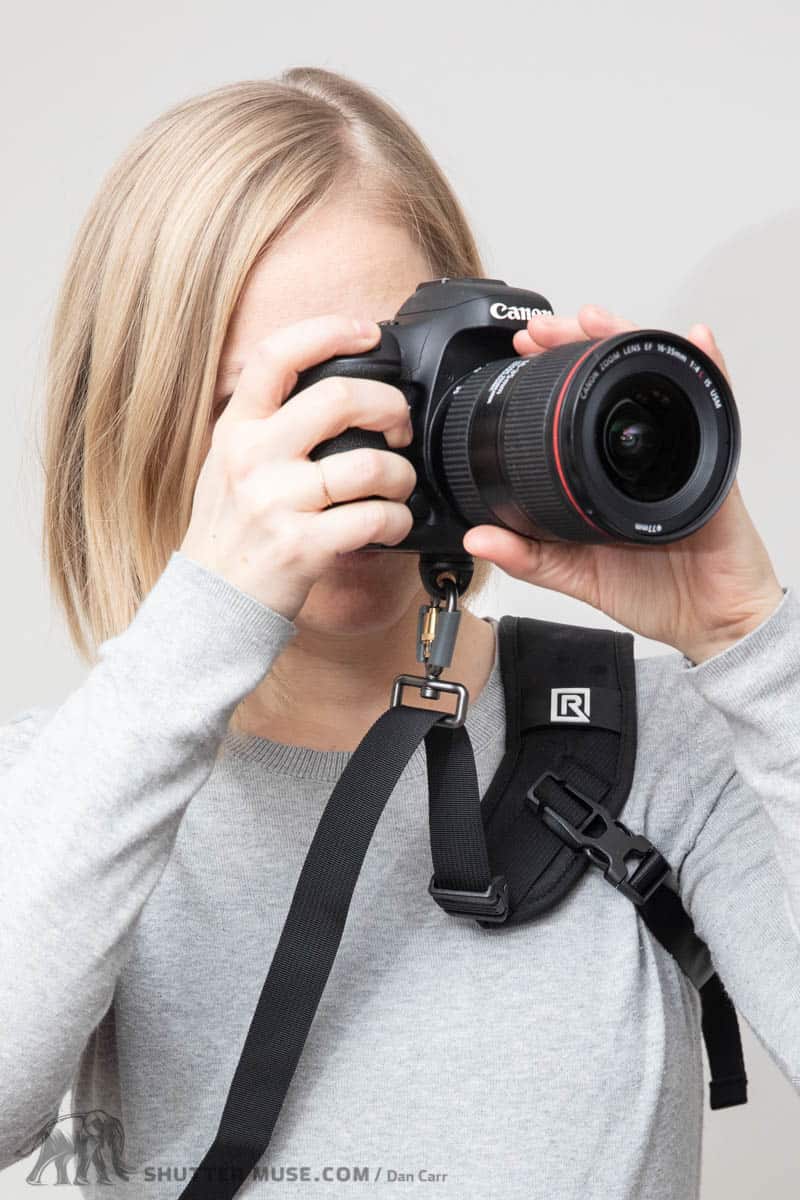 If you were trying to choose between the Sport and the RS-4 here's my thinking: Pick the RS-4 if you are going to be taking your camera in and out of a bag all day long, with shorter periods of shooting time while the camera is out. The RS-4 packs better into a bag
A left-handed version is also available.
---
BlackRapid Double Breathe Harness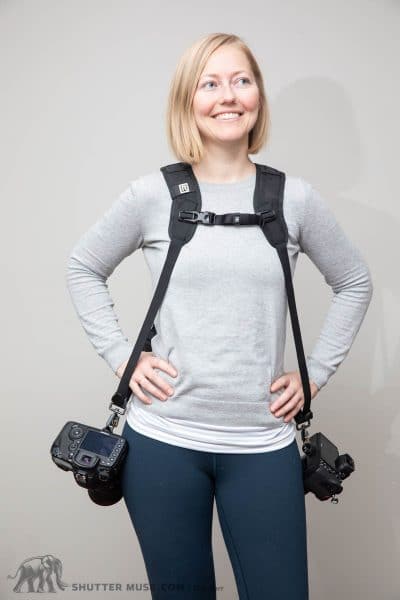 When I asked my social media followers if any of them had any BlackRapid straps, the surprising winner was the Double Breathe Harness. I wasn't surprised to see event photographers like this strap, but I also had a few landscape photographers tell me they like to use it, and an action sports photographer who uses it when he's photographing from a helicopter. I certainly wasn't expecting more people to own the double strap than the single version varieties.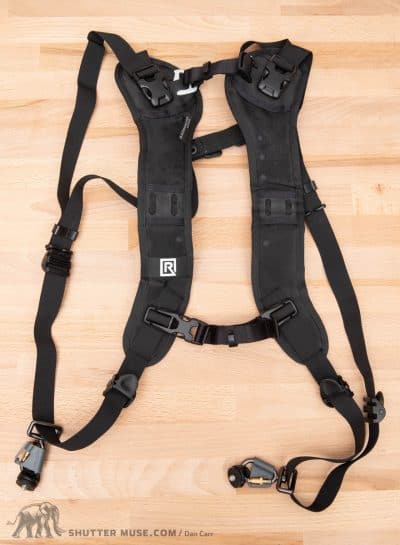 When I got my hands on the Double Breathe Harness, it became a it clearer why this was so popular. Firstly, you can always remove one of the two harnesses and then you are left with a single sling strap similar to the Breathe Sport – in this way is's kind of two products in one. Nice!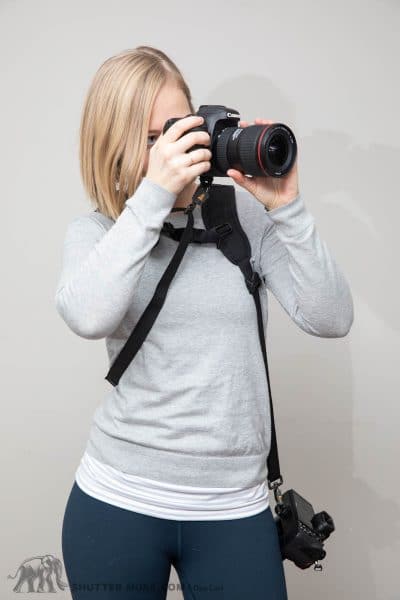 Secondly, it's incredibly comfortable. The weight of two cameras is spread over such a large area that you really feel as though you could walk around all day with a 24-70 and a 70-200 and barely break a sweat. I don't do as much event photography as I used to in the earlier part of my career, but now I feel pretty stupid for having never used this before!
Basically the Double Breathe takes all the good stuff that I've mentioned about the previous two straps, and lets you carry two cameras. I would imagine that a short zoom on one and a fast prime on the other would be a popular combination, or the previously mentioned 24-70 + 70-200 combo.
If you're shooting sports with a super telephoto lens on a monopod, there's nothing to stop you carrying the big one over your shoulder while the other two hang from the sling.
I honestly couldn't find any fault with the strap itself and the way it works, but the one downside to this setup is that on a hot day there is a lot of your body covered by straps and it might make some people sweat a little more. That said, you could always split the strap in two if that was an issue on a particular day, and then just use each half like a regular shoulder strap that's a little easier to remove between shots.
At just over $100 it's not a small investment, but I daresay that having an additional camera prepared and ready to go will more than recoup that cost.
---
BlackRapid Delta Sling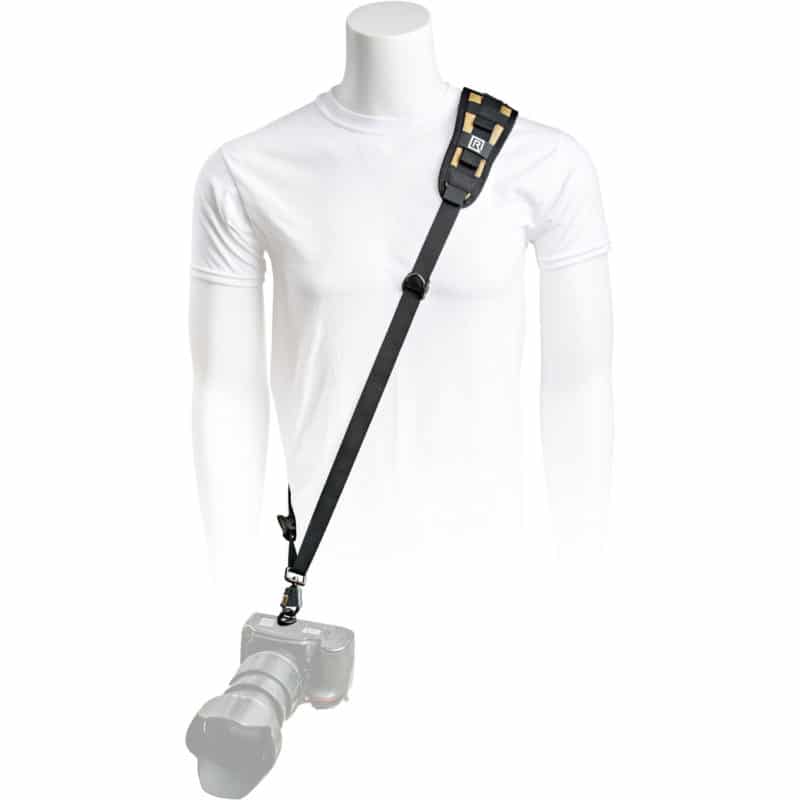 The Delta sling is the latest product from BlackRapid. It takes their tried and tested swivel locking hardware and pairs it with a super wide shoulder strap at a slightly lower price than their flagship Breathe Sport strap. This strap is an excellent option for people who are carrying heavier DSLR cameras, or mirrorless cameras with heavy lenses such as a 70-200 f/2.8 or larger.
This is very similar to the BlackRapid RS-4 Retro strap that is also in this guide, but it has a slightly longer shoulder pad to give you even more support wit heavy loads. BlackRapid's sling hardware always works well, and if you don't mind the bulk of the large shoulder pad in your camera bag, this strap would be a great workhorse for wedding and event photographers.
At $63.95 this strap is on the mid-high end of the price scale, but I find the price to be fair when you compare it to things like the Peak Design Slide.
---
BlackRapid Sport X QD Sling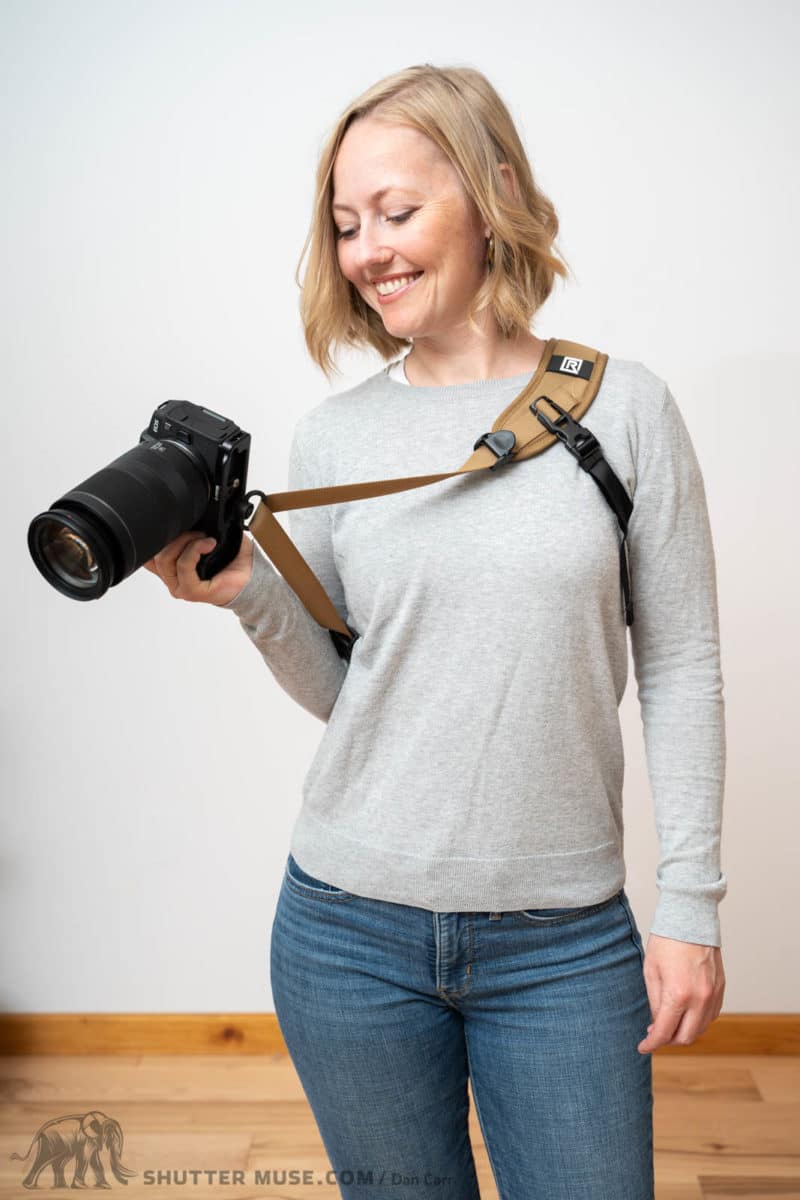 The Sport X QD from BlackRapid is similar to the regular BlackRapid Sport Breathe strap, but instead of using the swivel locking carabiner on the end of the sling, it uses the same QD (quick detachment) system seen on the Magpul MS-4 that's also featured in this guide.
Borrowed from the firearms industry, the QD system is an excellent way to attach and detach a camera strap, but it does require that you either already own a camera plate that has a QD socket, or you purchase a QD adapter like the RRS B2-FABN Micro clamp. All of Really Right Stuff's camera and lens plates now have a QD socket, as do plates and brackets from Kirk photo. I'm sure we will see more brands adopt this in the future.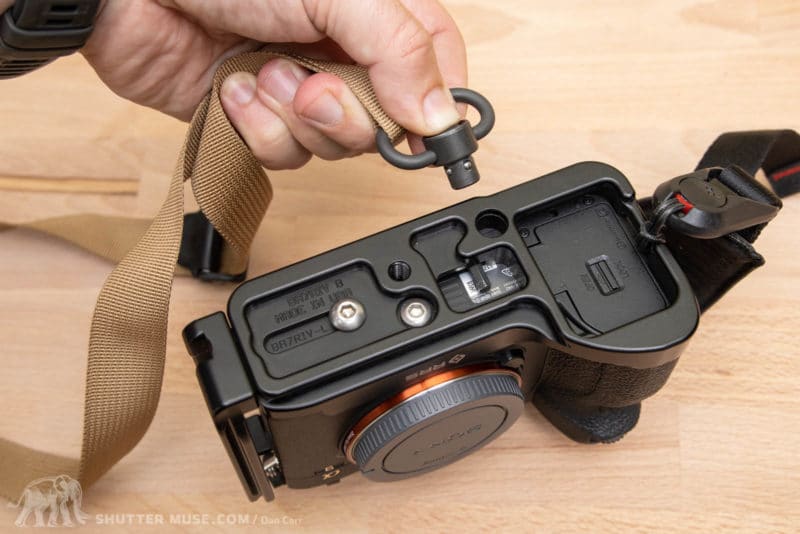 Otherwise, the strap performs identically to the Breathe Sport strap. It's comfortable, not too bulky and adjusts easily. For people that are looking for a camera strap featuring the QD system, you now have a second option alongside the Magpul MS-4. Comparing the two, I would say the BlackRapid Sport X is the more comfortable, and it's also lighter and less bulky.
>> For more details and photos I would recommend reading our detailed BlackRapid Sport X QD Review
---
Think Tank Camera Strap V2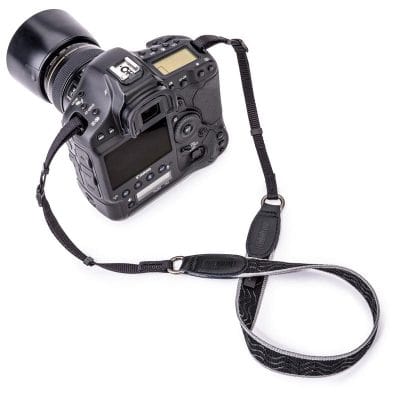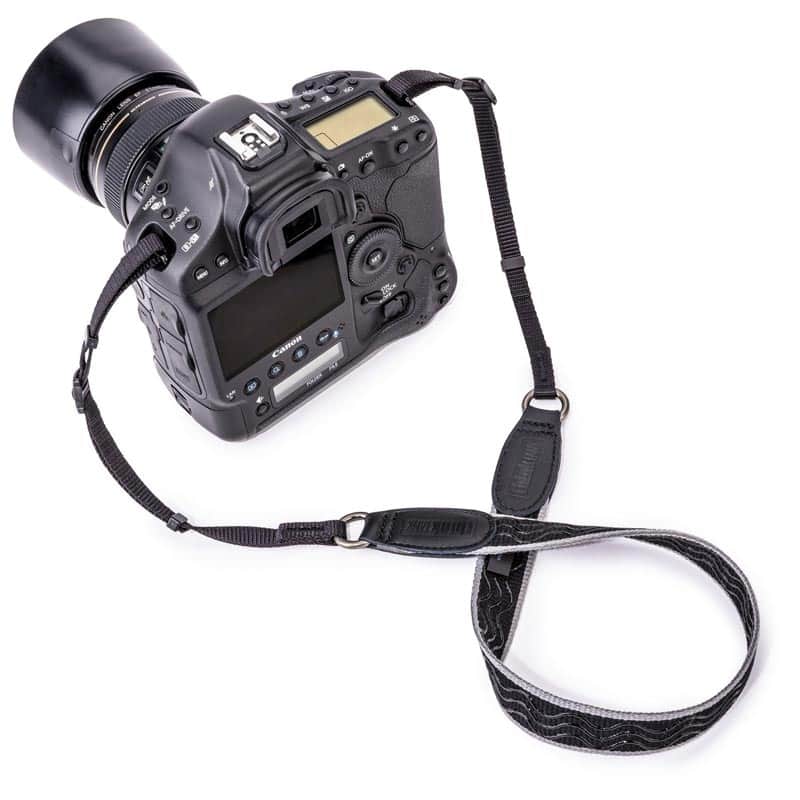 This is another nicely priced simple strap that matches the subtle aesthetic of the Think Tank brand. The Nylon strap is tough as nails, and anti-slip rubber grip is generously coated along the entire underside of the strap, and finished with leather Think Tank branded strap ends.
I don't recommend this strap for people that are going to carry a camera on their shoulder all day long. It's just not that comfortable given the skinny width and complete lack of padding. That said, it rivals the little Peak Design Leash strap as an ultralight option that doesn't get in the way when packed on a camera inside a small bag. I have always found that big bulky shoulder straps are a pain in the ass when you use a shoulder bag, because the strap sits on top and prevents you seeing what's in the bag. A skinny strap like this one is an improvement in a situation like that, and if you have a comfy shoulder bag with a big thick strap anyway, you probably don't need a thickly padded camera strap.
So, by design they are small and skinny – I can't really fault them there. The one thing I do wish is that they had some sort of quick-release mechanism, although thankfully you can retrofit Peak Design quick release buckles to them as I'll demonstrate further down the page.
Note: As always with Think Tank products, you can get yourself a free gift if you spend more than $50 in their online store having clicked through one of my links, like this one. For more details on this offer, you can head here.
---
Peak Design Cuff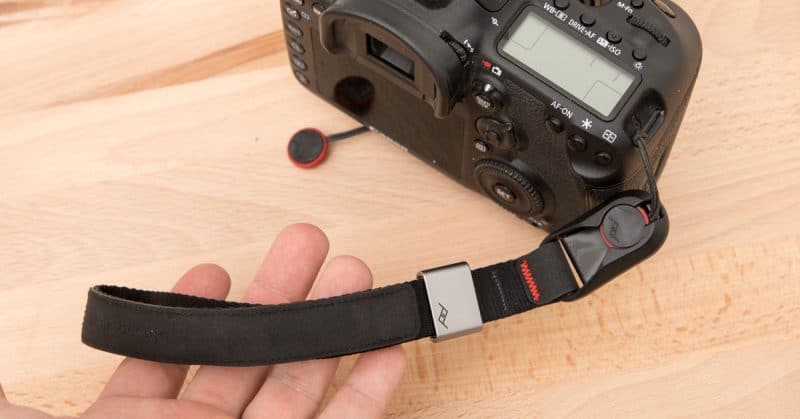 This low profile Cuff wrist strap from Peak Design is an excellent addition to your kit if you already have their quick-release system installed for use with a Peak Design shoulder strap. Unlike some larger wrist straps, this one could be easily carried in your bag "just in case" and you'd never know it was there until you needed it. Suitable for both DSLRs and mirrorless cameras.
When you don't need it, magnets in the sliding buckle can turn it into a bracelet!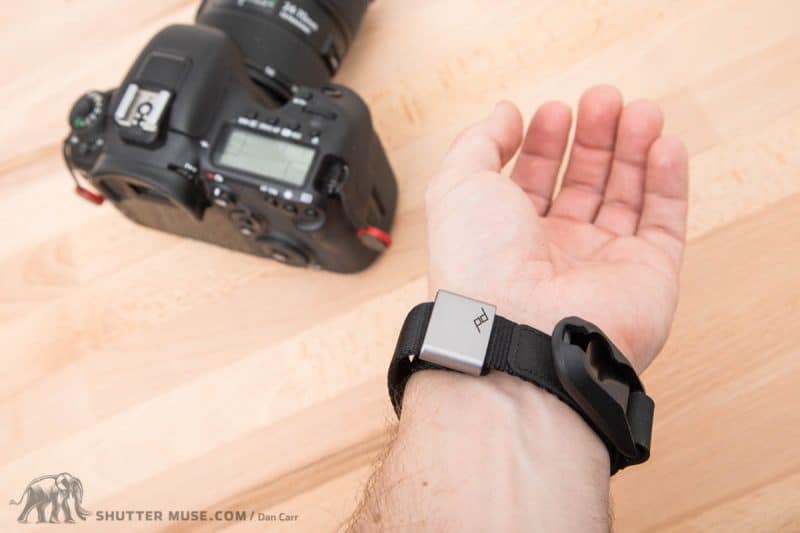 ---
Peak Design Clutch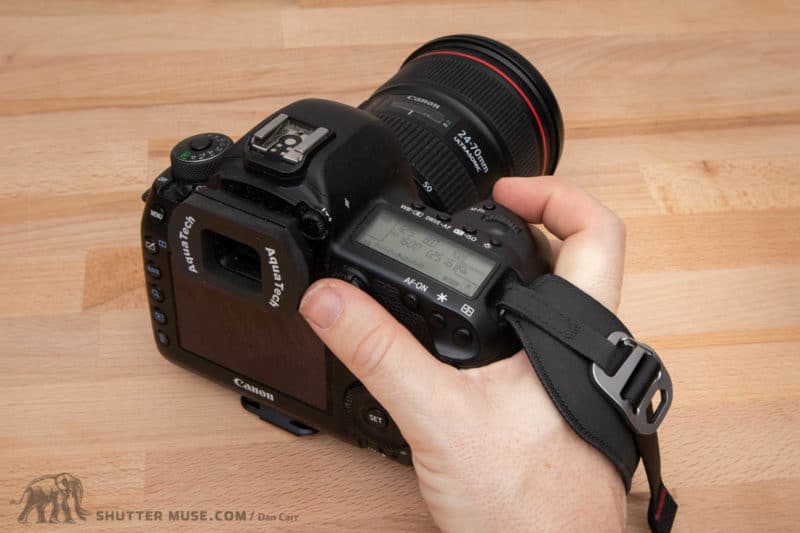 Personally I find that I use a hand strap more than I use a shoulder strap. The majority of my photography work is stuff that requires me to transport my gear in a backpack, and once I have taken the photo the camera usually goes back into the pack right away. When there's little need to use a shoulder strap, I use the Peak Design Clutch and have done for many years. (read the Peak Design Clutch review).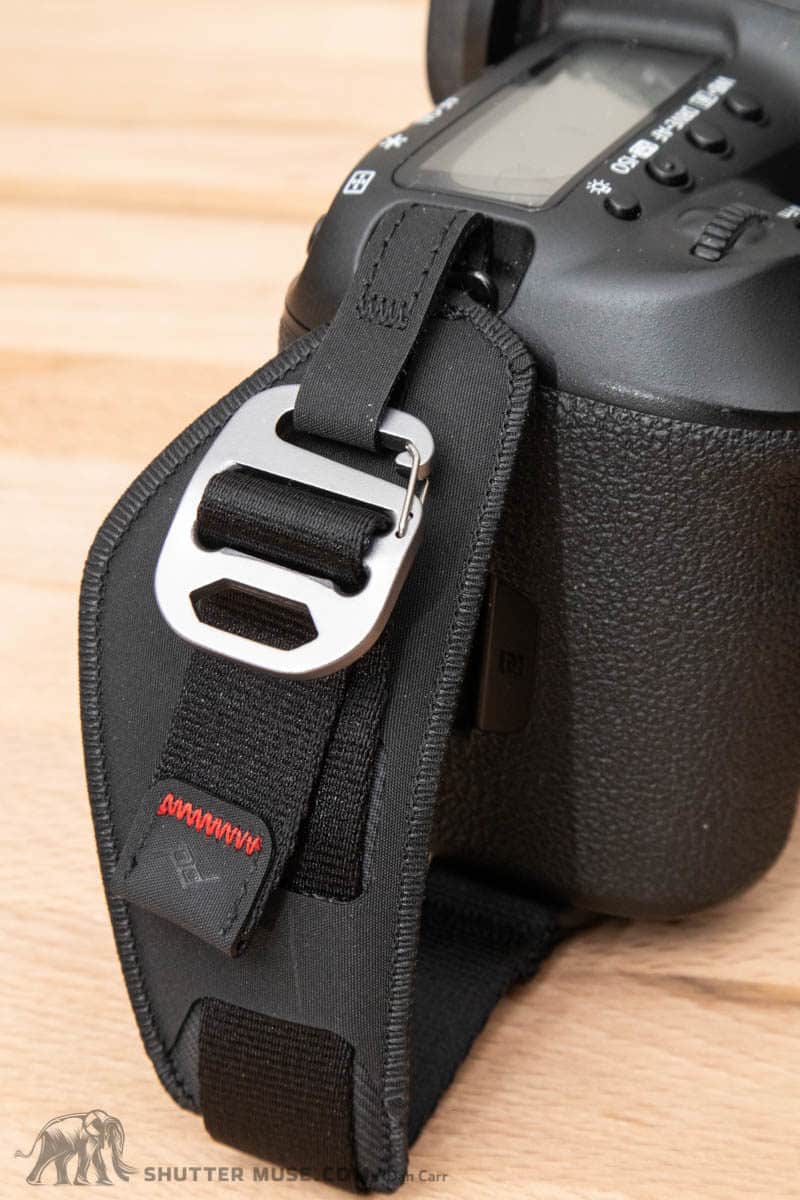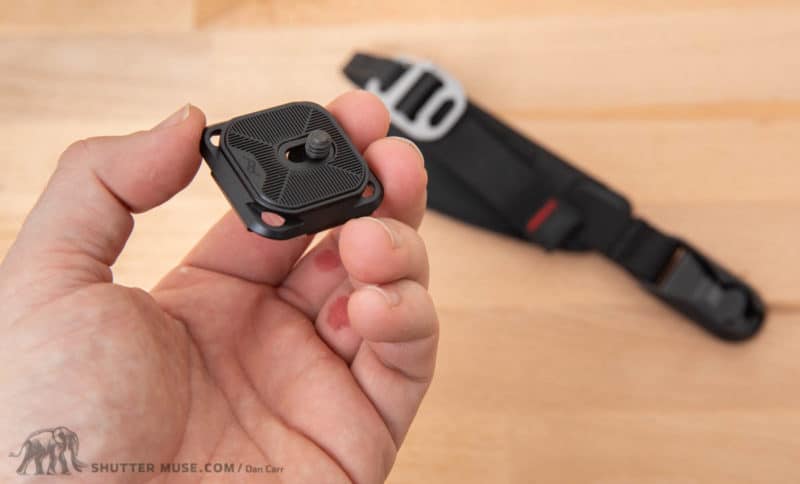 I find it useful as something grab hold of while I'm extracting the camera from the bag, and I also find it a useful and safe way to hold the camera by my side while I'm waiting for something to happen, or simply pondering the composition of the scene. While I often remind people a shoulder strap or sling isn't always necessary, I would never advocate having nothing on the camera at all. You just never know when you might need something to grab onto!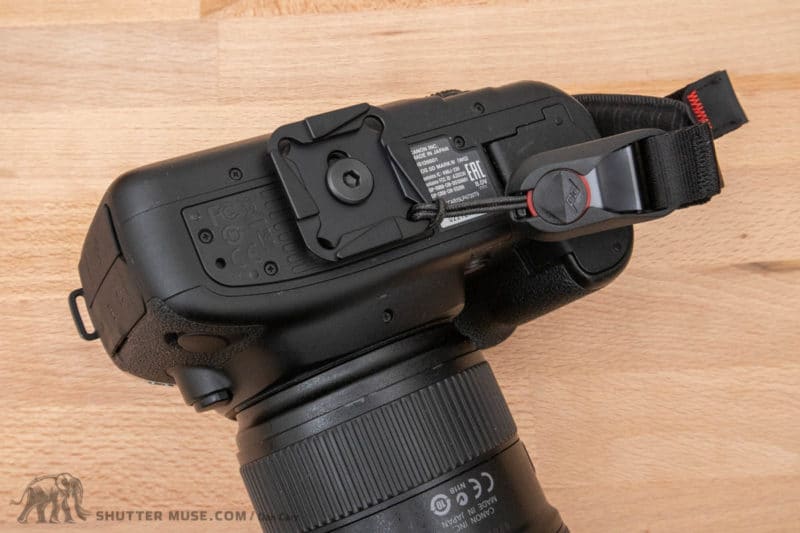 The Clutch uses the same quick-release anchor system as their shoulder straps, so when you need to throw a strap on it they can be swapped in a few seconds. Whilst it comes with a small Arca-compatible baseplate, you can also attach the Anchor itself directly to an existing tripod plate or L-bracket.
---
Gitzo Century Wrist Strap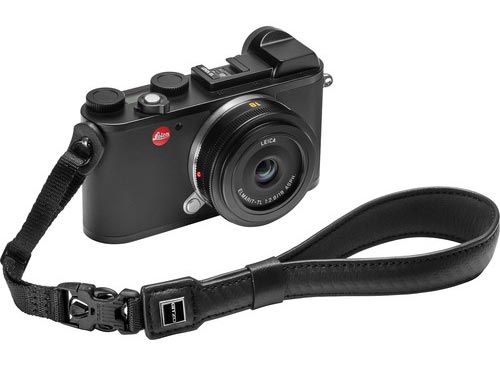 Gitzo came out with several kinds of straps in their Century lineup a couple of years ago, but the other ones looked overly bulky and complicated to me. The Century Wrist Strap, on the other hand (no pun intended), is a nice thick leather wrist strap with a quick-release buckle and a classic Italian design that mimics the pattern on their famous carbon tripods.
---
Spiderpro Hand Strap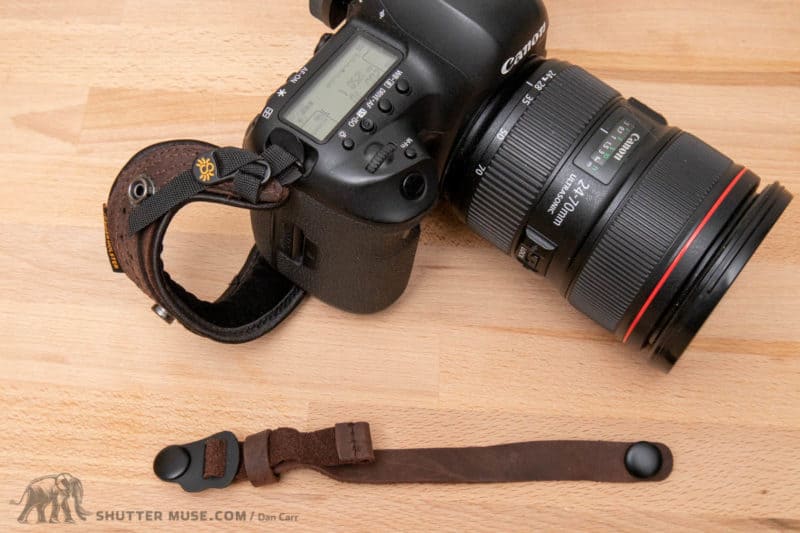 The Spiderpro Hand Strap is another strap that I wasn't actually aware of until I began to research this guide. I noticed that after well over 200 reviews on B&H Photo, the strap had an average review rating of 4.5/5! Clearly this camera hand strap was impressing a lot of people, and that's actually a slightly higher reviewer rating than the Peak Design Clutch hand strap that I have enjoyed using for many years.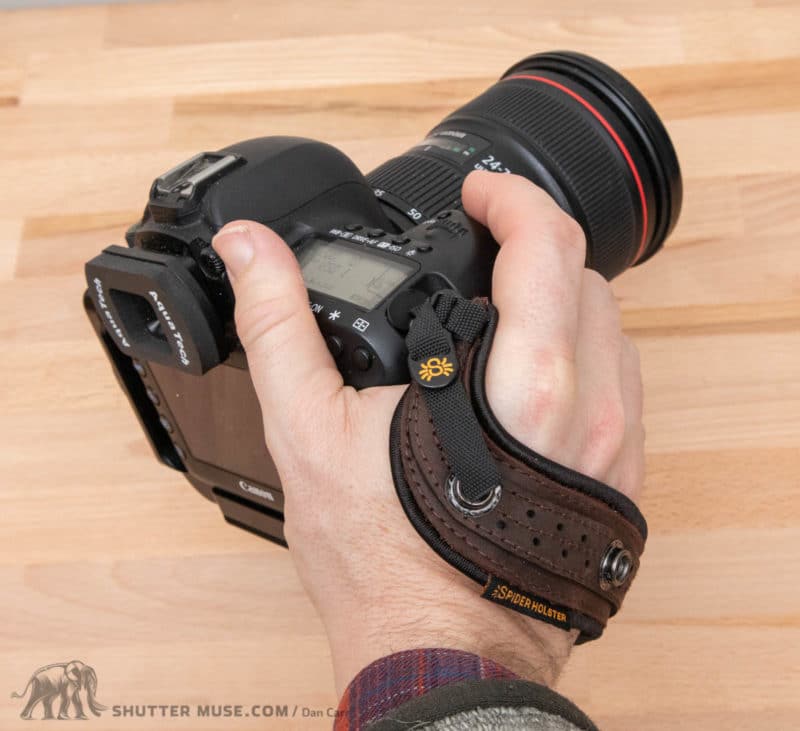 This walkthrough video does a great job of explaining how to set the strap up.
At $65 it's quite a lot more expensive than the aforementioned Clutch strap, but it actually has quite a significant design difference that might make it a better choice for some people when you consider the location of the shutter button on your camera. Most hand straps, including the Clutch, run essentially parallel to the camera grip. If your camera has a chunky grip with the shutter button on the top of that grip, that button is forward of the camera body and fairly easy to reach with a finger when your hand is in a hand strap.
On the other hand, if the shutter button is on the top of the body as it is with many small mirrorless cameras, then most hand straps can make it tricky to reach the shutter unless the strap is loosened off a little, because the strap is directly inline with the shutter button.
The Spirderpro helps this problem by having a significant dogleg in the strap that places the main part of the strap back behind the camera body and not directly inline with the shutter button if it's on the top of the body. With straps fully tightened, the Spiderpro does give your fingers more range of motion across buttons on top of the camera.
From a design aesthetic, I also think it looks awesome in the brown leather!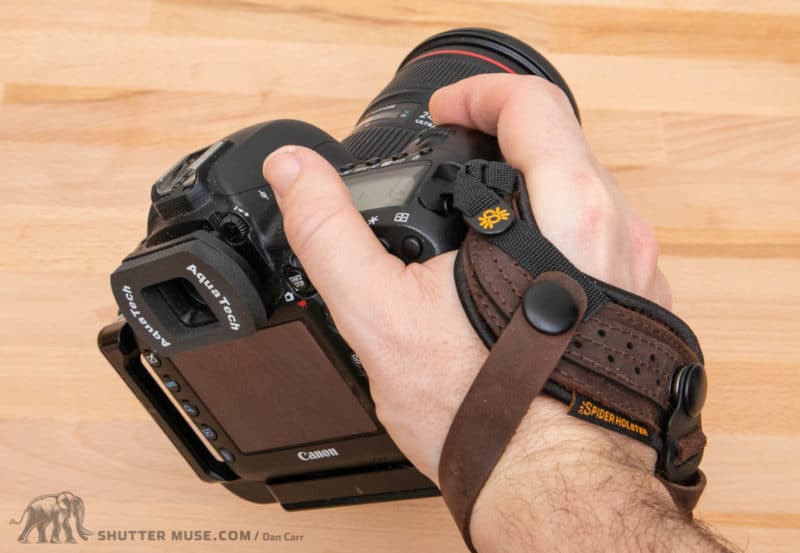 The Spiderpro also has some significant adjustability in the strap positioning by adjusting the mounting position on the base of the camera. The thin material actually fits between the camera body and your existing tripod baseplate, and a long adjustment slot allows you to choose just how much room you want to have between strap and camera at the grip, as well as making it easily compatible with larger camera bodies that have a battery grip.
Finally, an additional security strap can be fixed over your hand once it's in the leather strap to make it almost impossible to drop your camera.
---
Joby Ultrafit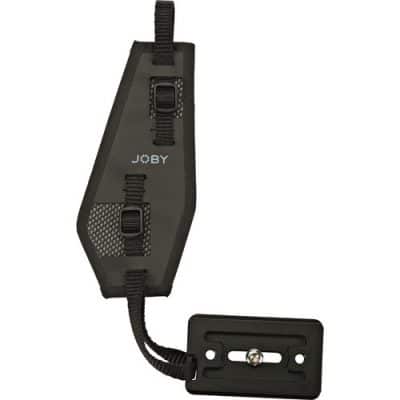 The Joby Ultrafit hand strap is the same price ($49) as the Peak Design Clutch strap, but it comes with a nice large Arca-Swiss compatible tripod plate that makes this package good value. Whilst it's often possible to attach the PD Clutch to an existing tripod plate if it has a small hole for the quick-release anchor to poke through, the Joby Ultrafit is a nice alternative, and over 100 positive reviews on B&H seem to confirm that! If you happen to be looking for a new, or simply larger Arca plate at the same time, this is a perfect option.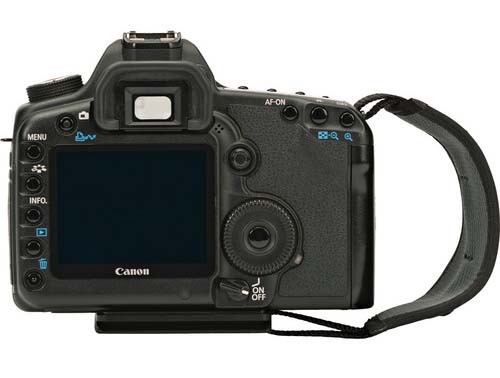 The only other thing to note is the sizing. It would most likely be too big to use on even the largest mirrorless cameras. I believe the Peak Design Clutch to be a better option for those kinds of smaller cameras because the actual padded part of the hand strap is shorter. Your camera would still nee to have a big chunk grip on it though, otherwise a wrist strap is a much better choice.
---
Aircell APS35N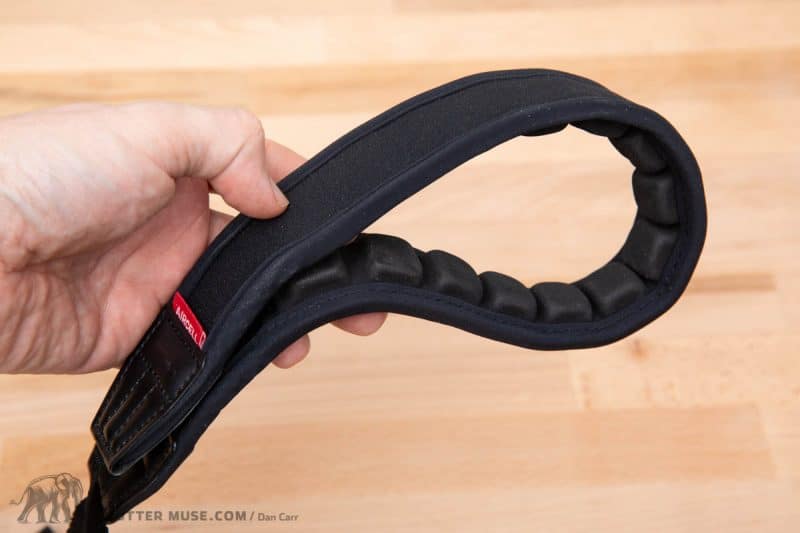 Out of all the brands on this list, Aircell is the one that I suspect most people will not have heard of. Aircell's patented design is often licensed out to third parties such as Zeiss, but occasionally you can find their own straps on Amazon. The strap itself is stretchy neoprene, but of course the big feature is the air cells that give the company their name.
These little squishy cubes almost feel as though they are filled with gel, and the result is an incredibly comfortable strap when carrying a heavy load. In fact I mostly end up using these straps to carry my heavy Elinchrom strobe packs, but you could most certainly use them with cameras of all shapes and sizes.
Usually for a heavy load you would want a nice wide strap to help spread the load, but that adds bulk to the strap when you're trying to fold it into a bag. What's cool about the Aircell strap is that it carries weight as well as, if not better than, a strap that is twice as wide. If there were a special award for a strap with the best width:comfort ratio, the Aircell would take the win.
If you happen to be a real Zeiss fan and want to shout about it, you could order the Zeiss branded version from B&H, although you already know my views on heavily branded camera straps, so it's not something I'd do myself.
These straps are also popular within the birding community as they make an excellent third-party option to carry binoculars for extended periods of time.
---
Magpul MS4 Dual QD Sling GEN2
Magpul is a company that makes straps for the firearms industry. Their straps use a quick-release mechanism called the QD (Quick Detach) system. In recent years there has been a move from camera plate manufacturers such as Really Right Stuff, Hejnar Photo and Kirk Photo to integrate this QD standard into the photo industry due to its strength and simplicity. It's a brilliant system and I think more companies will follow.
At the moment, both Kirk Photo and RRS are selling the Magpul MS4 strap under their own brands. You might see this strap pop up in a few places labelled as a product from those brands, but the reality is that they are simply reselling the MS4. There is nothing different about their versions of the strap.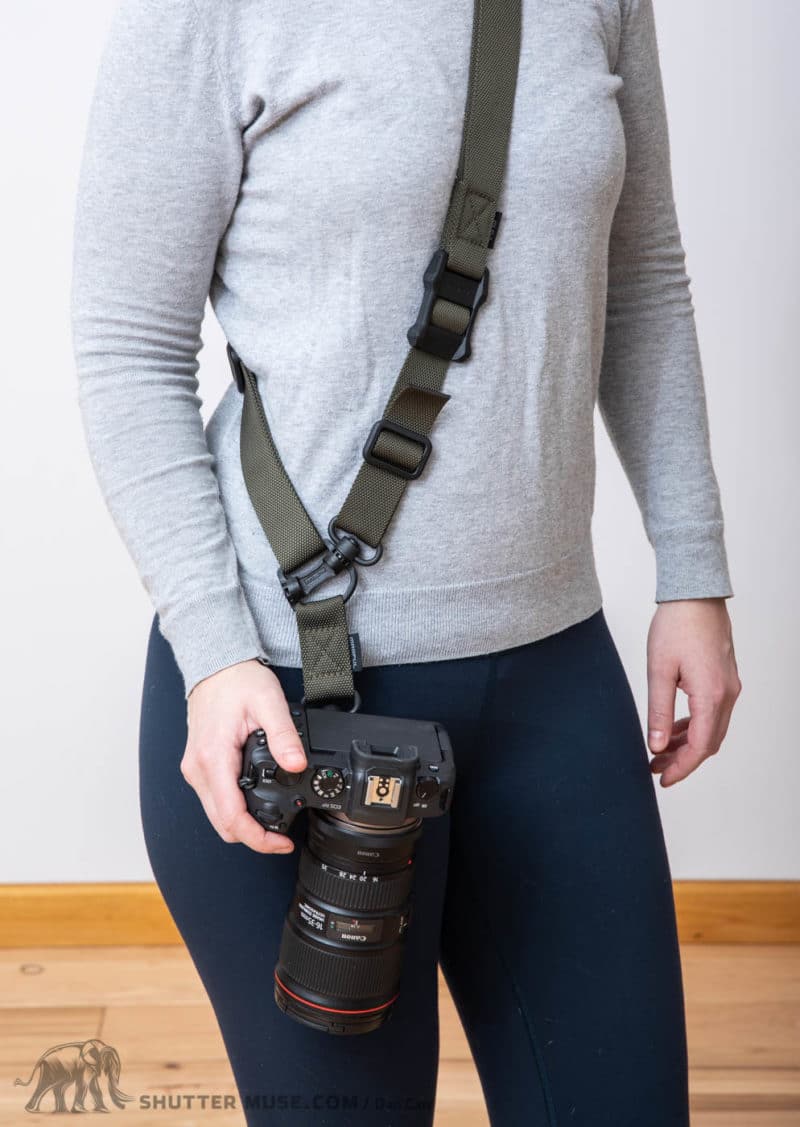 What's amazing about this strap is that it can be quickly converted from a 2-point strap to a single-point sling by connecting one end of the strap to a QD hub that's positioned near the opposite end of the strap. The photos in the gallery below do a good job of demonstrating this. Most photographers will want to use it in the single-point sling configuration, but you might want to switch to the 2-point style for carrying long lenses or heavier camera setups. Really Right Stuff's latest camera L brackets have two QD sockets on them for this purpose, but you might also use one QD socket on the camera plate and one on the plate attached to your lens foot. The RRS L85 lens foot plate has a QD socket and is designed for this purpose.
This is a slightly heavier strap solution than the others in this guide, but boy does it feel indestructible! I guess that shouldn't come as too much of a surprise since it was designed for automatic weapons in war zones. The sliding buckle to adjust strap length works perfectly, with just enough friction to lock when its weighted, but easy enough to adjust quickly when necessary.
I must admit, the longer I have this strap in my gear closet, the more often I find myself grabbing it when it's time to load up and head out shooting. The styling is going to suit people who are working weddings or corporate portraiture, but I think this is a great solution for nature and wildlife photographers.
If you don't have a camera or lens plate that has a built-in QD socket to work with this kind of strap, fear not! RRS makes a small clamp called the B2-FABN Micro that is designed to solve this problem. It will allow you to connect the Magpul MS4 to any Arca-Swiss plate or L bracket.
>> For more information I would recommend reading our Magpul MS4 camera strap review.
---
Peak Design Capture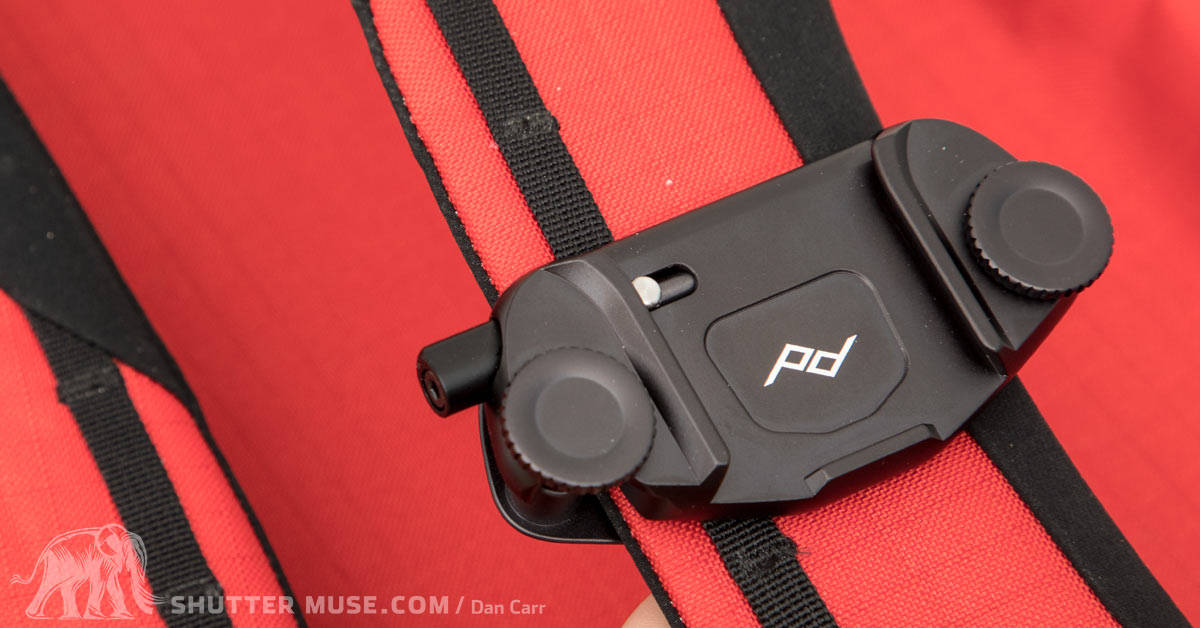 An in-depth review of the Peak Design Capture clip is available, but here's the TLDR version: This V3 version of the Capture Clip is a considerable improvement on previous versions, due mainly to the huge reduction in size. For me the older Capture clips were cool, but they were kind of heavy and bulky to carry in my kit if I wasn't 100% certain I would actually need one on a given day. The V3 changed that. It's now small enough and light enough that I just have one in my bag all the time and then it's there when I need to attach it to a backpack for a hike.
Whilst hiking, the Capture gives me fast access to my camera and I'm confident in the security of the system. There's even a lock on the camera release button so that you can prevent accidental release if you are doing something that's particularly physically demanding.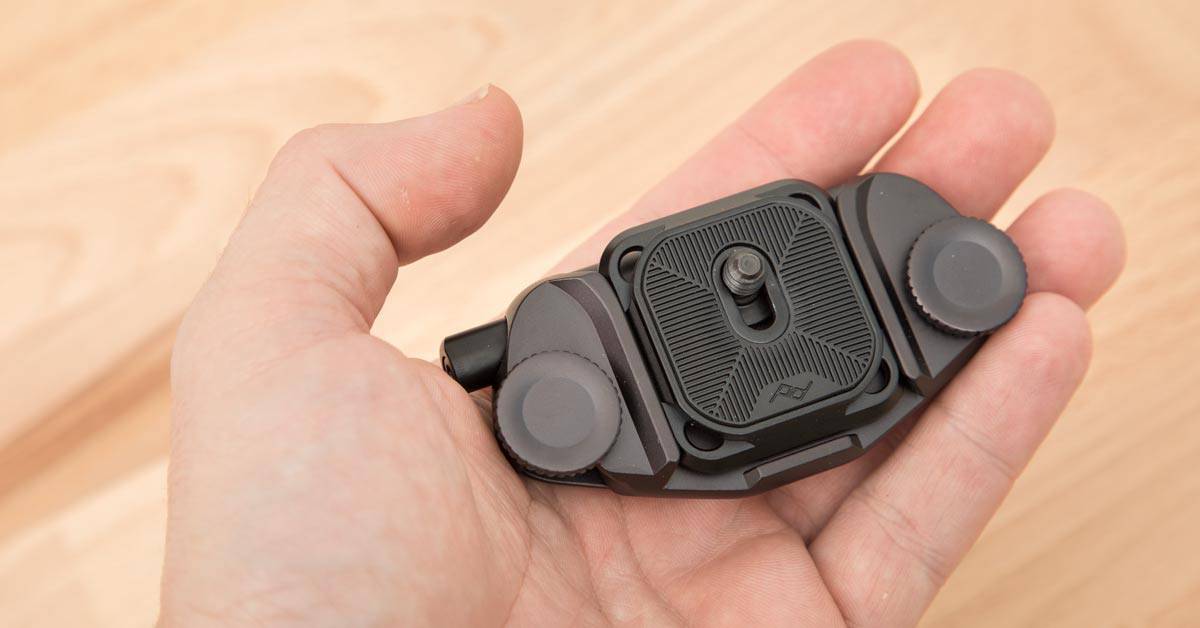 There are some limitations to the small design, though. Namely the fact that there's a size limit for how big and heavy your camera+lens combo can be. It's not that the clip can't handle the weight, simply that at some point it just feels uncomfortable to be off balance with a big heavy camera on one side of your body (wearing on a belt) or torso (wearing on a shoulder strap).
Everyone's limitations are slightly different on this, but personally I find that it's really pushing things if I'm using a full-frame DSLR with a 24-70m lens. My preference is to use it with a shorter, lighter prime lens. Better still, use it with a smaller mirrorless camera. I certainly wouldn't use it with a 70-200 or a 100-400, even if I added the Pro Pad for some additional comfort. The Pro Pad accessory is cool, but it doesn't help with the unbalanced feeling, it merely gives you a bit more cushioning at the contact point with your body.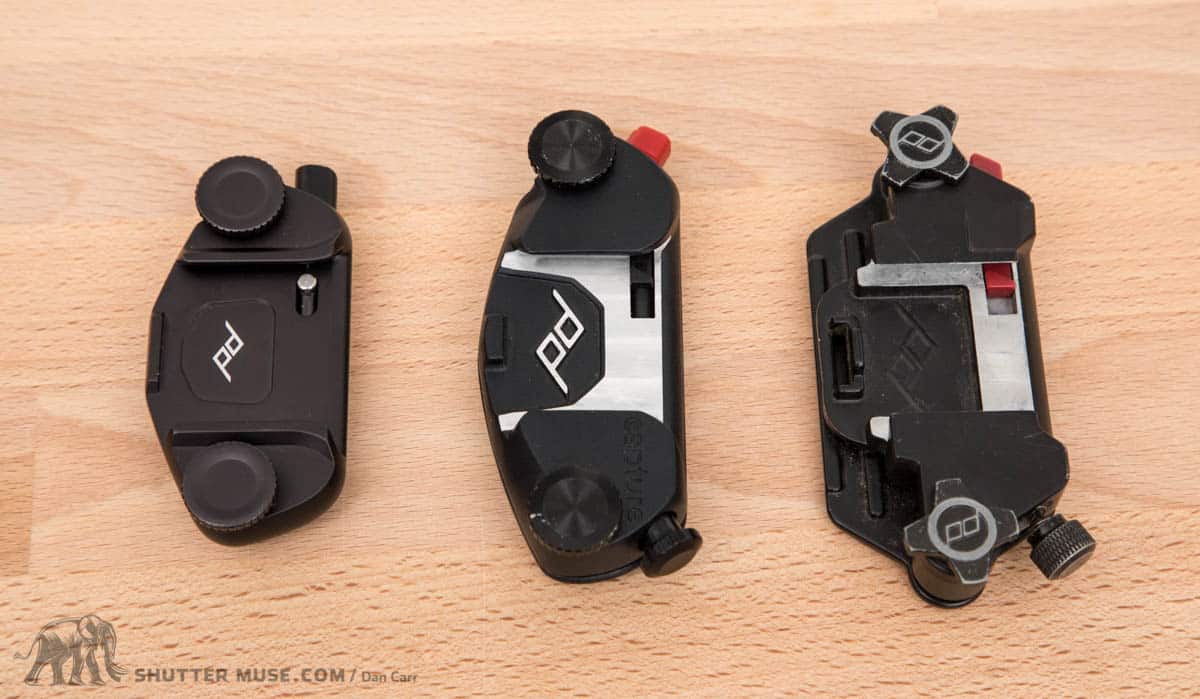 ---
Cotton Carrier SKOUT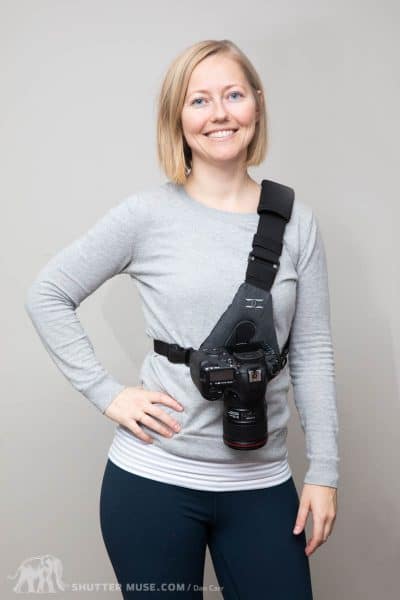 I definitely appreciate having a camera clip of some sort in my kit, but the Peak Design Capture Clip has its comfort limits in terms of camera weight. When you want to carry something heavier than short zoom, the SKOUT from Cotton Carrier is a great option. As you can see, the SKOUT mounts to your chest but it spreads the weight over a much larger area than the small Peak Design Capture Clip. There's also a padded section at the top of the shoulder strap to transfer even more weight, and elasticated sections within the waist strap to allow a comfortable range of movement.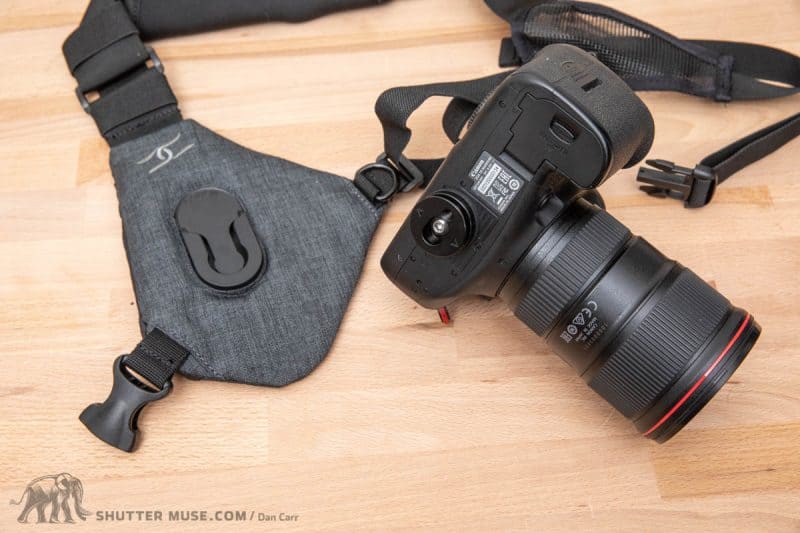 With this setup you can carry some much longer glass such as a 70-200mm, 100-400mm or Nikon 200-500mm which would be great for wildlife photography. The SKOUT also comes with a waterproof camera cover, a safety tether and there's a small zippered pocket in the padded area to store smaller items such as a phone or spare memory card.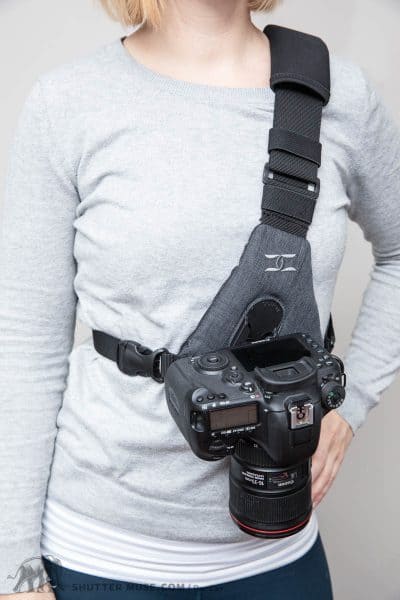 At only $10 more than the Capture Clip, you're getting a lot of bang for your buck, and it's available with a camouflage design for those that want to be discreet while searching for wildlife. This was the first Cotton Carrier product I have ever tested, and I was extremely impressed by the quality of the materials and the overall construction of this product. They have some other products that wear a little more like vests, but personally I think the SKOUT offers just the right amount of padding and comfort.
---
PolarPro Belay Strap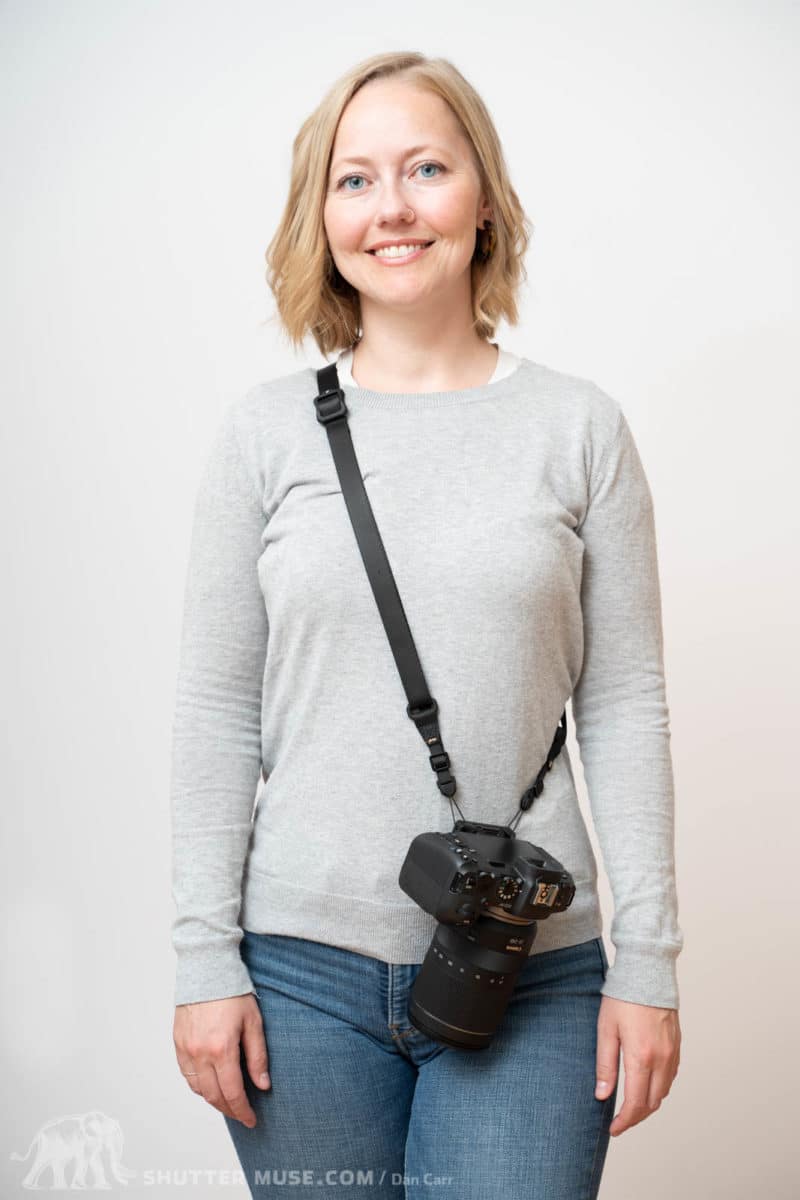 The Belay strap from PolarPro takes a slightly different approach to the idea of a quick release mechanism. The strap comes with a small, square Arca-Swiss compatible quick release plate, and the strap features a sturdy metal clamp that receives the plate. The clamp is extremely robust.
To attach the camera to the strap simply click it into the jaws on the clamp with a nice positive "click". To remove the camera, press the button on the side of the clamp and rotate the camera about 45 degrees. As you rotate, the clamp jaws will open to release the camera.
The strap comes in two sizes, with either a 0.75″ wide or 1.5″ wide option. Ignore the 0.75″ version, it's not comfortable enough. Go straight for the 1.5″ version if the rather high $79.99 price point of this strap doesn't put you off.
>> For more details I would recommend reading our detailed PolarPro Belay strap review.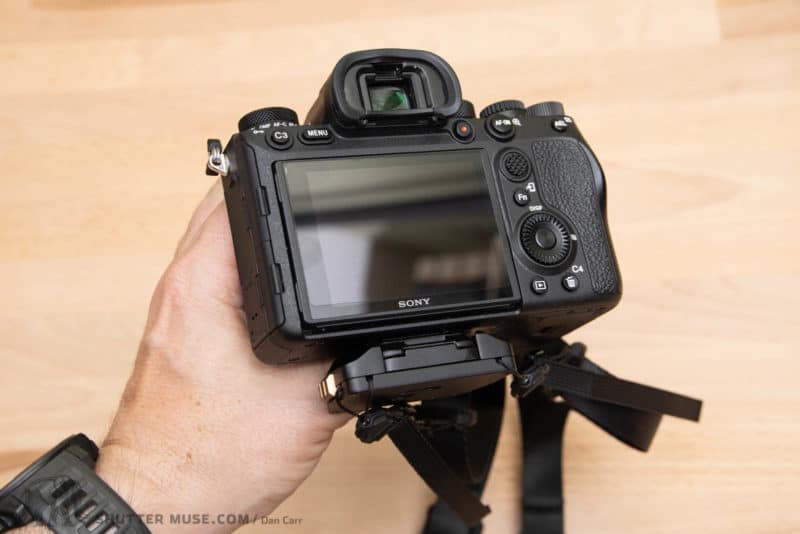 ---
How to Adapt a Camera Strap for Quick Release with Peak Design Anchor Links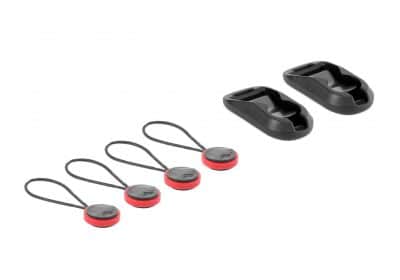 If you like the look of the Peak Design quick-release anchor system, but don't want to buy one of their straps, you have the option to adapt other straps. The Peak Design Anchor Link set is $19.95, and the links can be attached to any regular camera strap to give them the ability to quick release from a camera in just the same way as Peak Design's own straps. You could also their low profile Anchor Mount for $9.95 and create a much more comfortable carrying solution than what you get with a standard strap mount.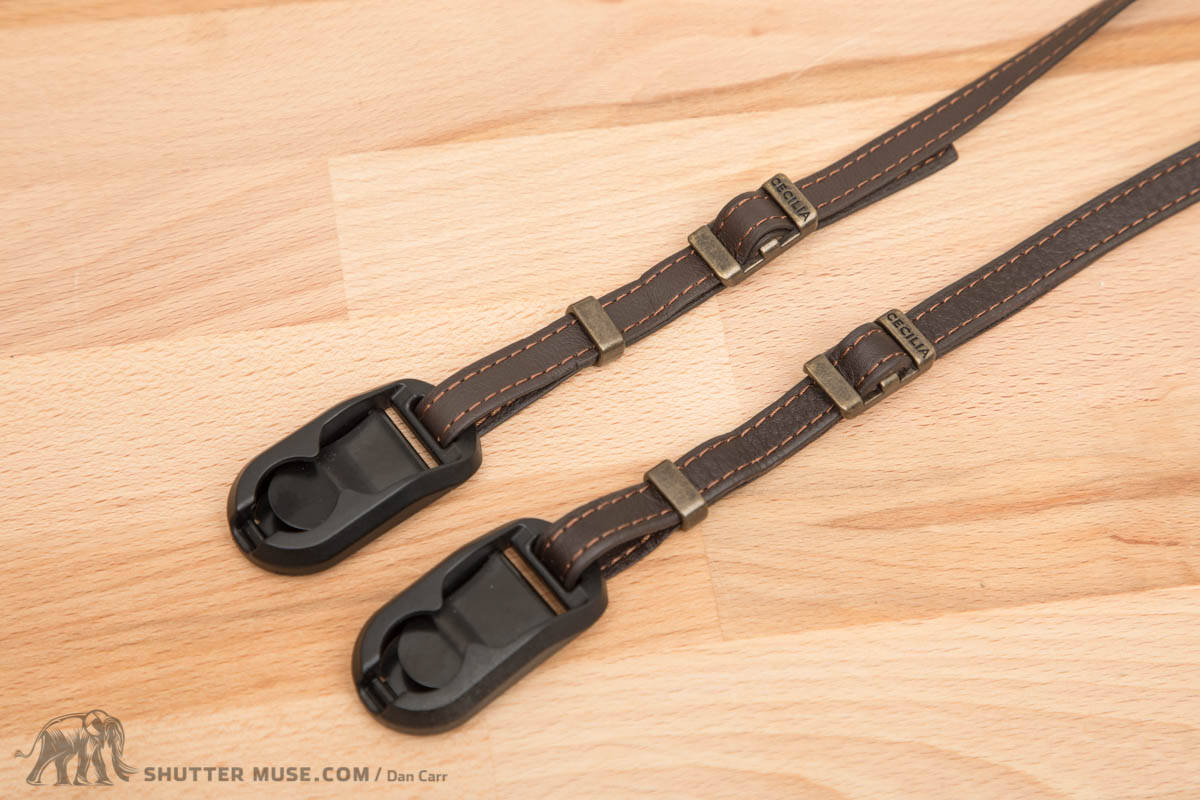 As you can see in the photo, I set this up for the Cecilia leather strap during this test, but this is something I have been doing for many years on the Thing Tank Strap and an old Op-Tech strap. I remember the first time I used a camera strap with a quick-release system, and I knew right away that I'd never ever go back to a situation where I didn't have that option.
How to Adapt a Camera Strap to Mount to the Base of Your Camera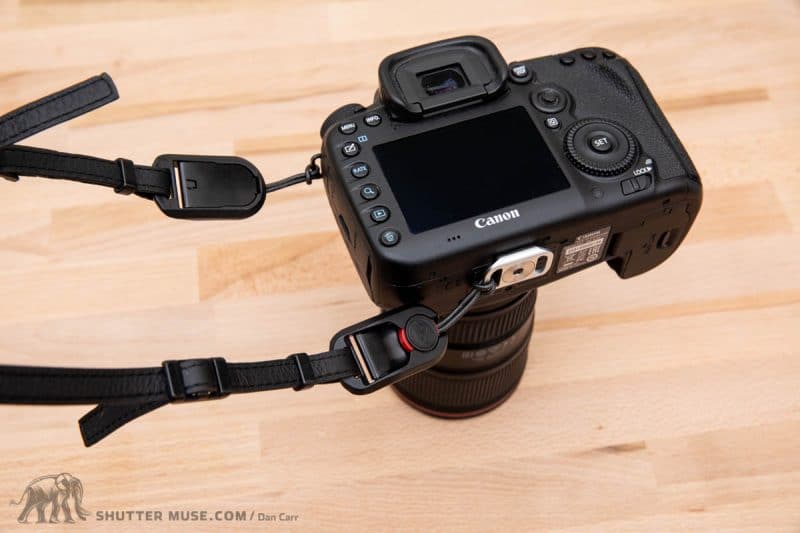 At the beginning of this guide I discussed the benefits of mounting one end of a shoulder strap to the tripod socket on the base of your camera, so that the lens points downwards while you walk. Some straps come with a base mount and everything you need for this, such as the Peak Design Slide, Slide Lite or Leash. If on the other hand you have an existing shoulder strap that doesn't support this, such as the OEM one that came with your camera, it's possible to convert it for just a few dollars.
There's four ways to accomplish this: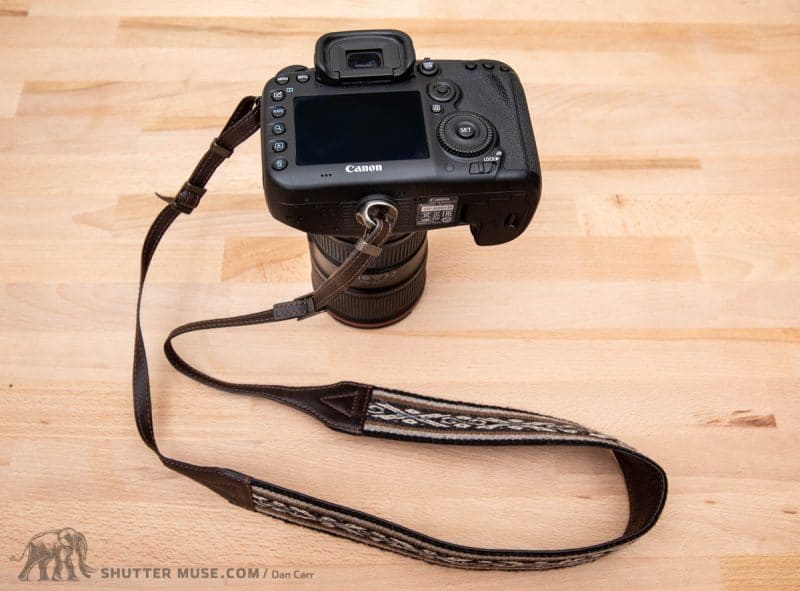 Personally I think that when you can buy something like the Slide Lite strap for not much more than adapting an old strap, it might be a better way to go. But I do realize that some people might have a particular attachment (no pun intended) to an old strap, be on a tight budget, or be purchasing a new strap like the leather Cecilia or Air Cell ones that don't come with this function straight out of the box.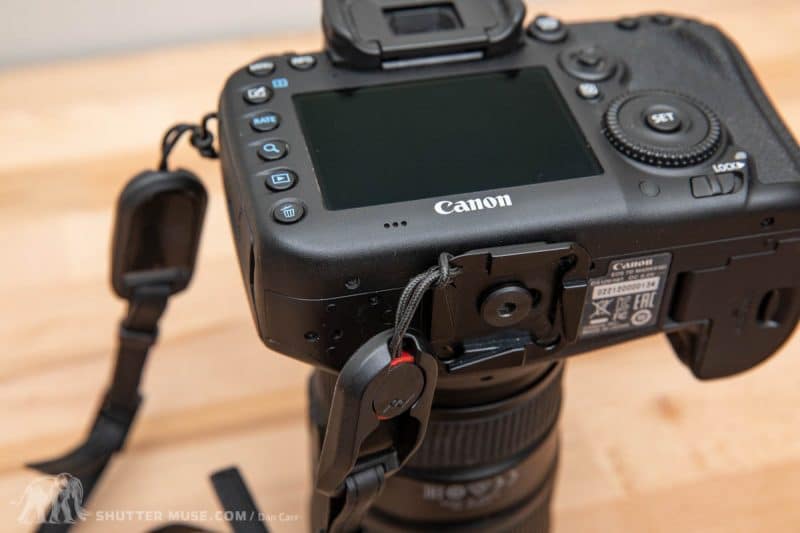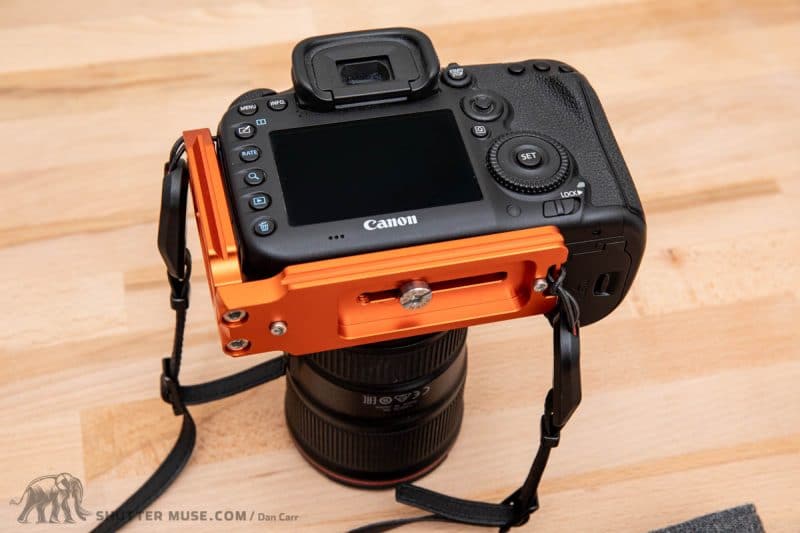 How to Adapt a Sling Strap to Quick Release From an Arca Plate or L Bracket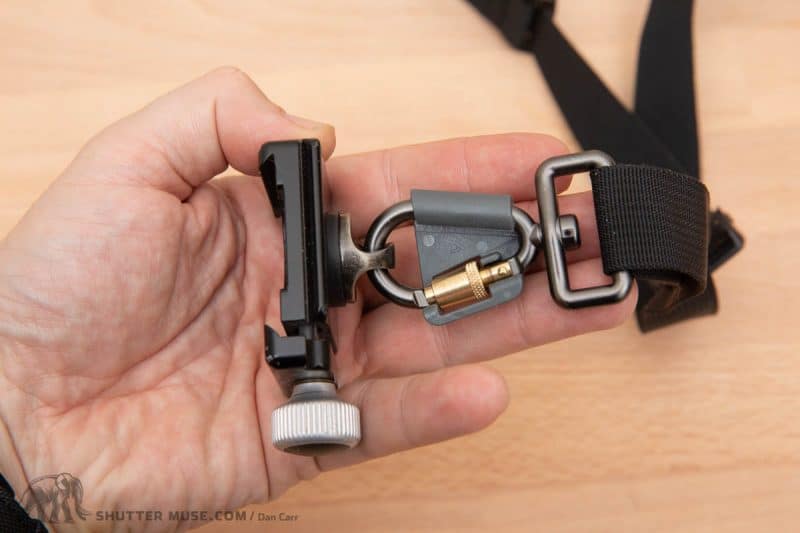 In the previous section I explained how to adapt regular shoulder straps to work well with tripod plates and L-brackets. Sling straps such as those from BlackRapid or Custom SLR require a little more thought because they come with specific mounting hardware that is designed to screw into the 1/4 20″ thread on the base of your camera. If you already have a tripod plate or an L-bracket on the camera, that threaded hole is being used!
Here's a few choices if you don't want to be constantly unscrewing plates to swap things around:
If you have a Really Right Stuff camera plate that features their QD (Quick Detach) mounting system, you can simply buy a QD swivel ($12) and attach the sling strap to that. The swivel then mounts securely into the special quick-release QD holes on their plates. A simple solution that I have tested with all the BlackRapid straps in this test, as well as the Custom SLR sling. In fact the solution is somewhat more elegant than the C-Loop device that comes with the Custom SLR strap, so it's actually something of an upgrade.
Buy a small Arca compatible clamp that has a 1/4 20″ threaded hole on the bottom, and permanently attach the sling's mounting point to that clamp. When you want to attach your sling to the camera, you simply clamp it onto the tripod plate. The one that I used in the photo is an RRS B2 FAB clamp ($60), and you can see that it pairs nicely with the BlackRapid FastenR
The third option is sort of a combination of the pervious two. You can buy the QD swivel for $12 and attach the sling to that, then you buy the B2-FABN Micro Clamp ($65) which actually has an RRS QD socket built into it. Click the swivel into the Micro Clamp and you basically end up with a sling strap that has a swivelling Arca-Swiss clamp on the end of it. Not a cheap solution at all, but it's pretty awesome if you are already invested in a good tripod plate or L-bracket.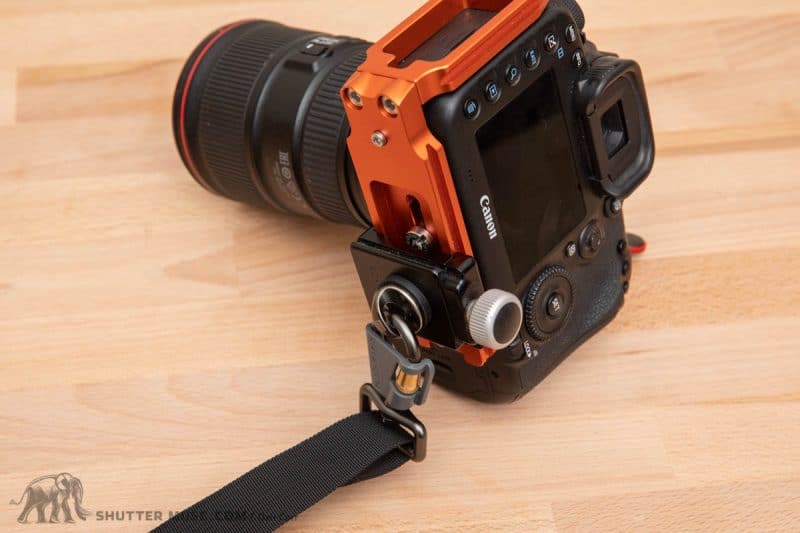 For option #2 there might be other Arca clamp options that are cheaper than the RRS one, but I just happened to have a couple lying around so they demonstrate the theory nicely. If you do go looking for a different option, DO NOT buy one with a lever camp! On a ball head a lever is great, but if you were to use it for a quick release camera strap that's hanging by your side, that lever is going to get snagged very quickly on your pants and release itself, smashing your camera to the ground. Get a screw-knob clamp and then you can confidently tighten it up and never worry about it.