Pelican makes the most popular hard-sided crush-proof cases for photographers, but the vast number of options in their catalogue can make it a daunting task to pick the best option. In this gear guide, I'll walk you through my top Pelican case picks for travelling photographers, including the best Pelican carry-on case for photography gear and the best legally sized checked luggage Pelican case. With these recommendations, you'll have everything you need to protect your cameras, lenses and accessories from bumps and knocks while on the road.
Best Pelican Case for Checked Luggage Photography Gear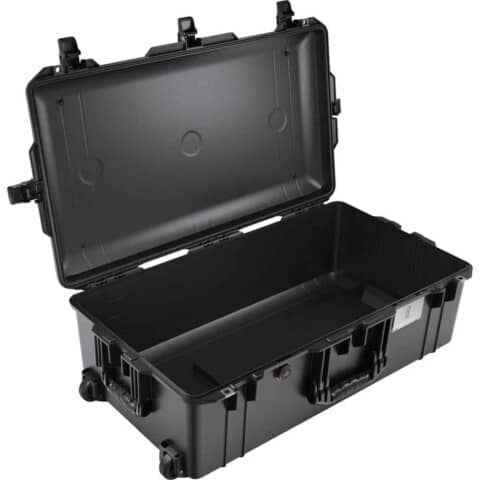 Most airlines allow checked luggage to have maximum linear dimensions (length+width+height) of 62 inches. Remember to check with your airline before you fly. Still, unless you regularly fly with an airline that has a non-standard maximum dimension, or only uses small aeroplanes, this 62-inch figure is the important one to consider when choosing a Pelican case to use as checked luggage.
Pelican cases are not cheap, and most people don't have the budget to maintain a large stock of different sizes at their homes or office. Suppose you plan to fly regularly with photography equipment as checked luggage. In that case, the best thing to do is buy the largest suitable Pelican case that is allowed within the standard 62-inch regulations. It is almost always better to have a little too much room than not enough. Any spare room can be quickly filled with foam padding or bubble wrap.
As with the carry-on compatible Pelican cases, I see no reason to look at the old Pelican Protector Cases or Pelican Storm cases. The lighter weight Pelican Air cases offer more than enough protection, and in recent years the lineup has dramatically expanded to include several excellent options for high-capacity checked luggage.
The Main Contenders
The Pelican 1615 AIR has been purposely designed to meet the 62-inch maximum dimension exactly. At this point, no pun intended; you might think this is case closed. However, after examining the other options in the AIR case lineup, the 1615 AIR is not the Pelican case I decided to purchase. First, let's look at the specifications, and then I'll tell you why I chose another option.
| Pelican Model | Exterior Dimension (L×W×D) | Interior Dimension (L×W×D) | Linear Dimension | Empty Weight | Volume | Volume to Weight Ratio lb/ft³ | Check Price |
| --- | --- | --- | --- | --- | --- | --- | --- |
| 1615 AIR | 32.58 x 18.40 x 11.02 in | 29.59 x 15.50 x 9.38 in | 62 | 14.06 lbs (6.4 kg) | 2.49 ft³ | 5.65 | Pelican / B&H / Amazon / Adorama / WEX |
| 1626 AIR | 31.12 x 17.05 x 13.33 in | 28.14 x 14.10 x 11.72 in | 61.5 in | 14.65 lbs (6.6 kg) | 2.69 ft³ | 6.28 | Pelican / B&H / Amazon / Adorama |
| 1637 AIR | 26.61 x 20.65 x 14.87 in | 23.43 x 17.55 x 13.25 in | 62.13 in | 15.20 lbs (6.9 kg) | 3.15 ft³ | 4.83 | Pelican / B&H / Amazon / Adorama |
You can't go wrong with any of these three options, but I do want to talk about some of the things you might want to consider when making your choice.
Firstly, I do not anticipate that anyone would have an issue with the 62.13-inch linear dimension of the 1637 AIR. Although this is slightly over the maximum, I would not hesitate in choosing this model if the other dimensions suited my needs. It is close enough.
Two things jumped out at me after closely examining the specifications – particularly the interior space. Interestingly, despite having a shorter linear dimension than the Pelican 1615 AIR, the Pelican 1626 AIR has a larger internal volume. If you want to make efficient use of space, you will fit more in the 1626 AIR than in the 1615 AIR. The second interesting thing was that the Pelican 1637 AIR gives you more internal volume for a minimal additional weight penalty. In terms of available volume compared to empty weight, the 1637 AIR is the winner.
What Are You Carrying?
When I first saw how much space you are getting in the 1637 AIR compared to the other two options, I immediately thought this would be the case for me. However, when I dug a little deeper into the actual dimensions and considered them alongside the items I wanted to put into the case, I changed my mind.
The 1637 AIR is a deeper, wider case. For that, you give up some length. That means longer items, such as a tripod, are more likely to fit into the 1615 AIR or the 1626 AIR. My primary tripod is a Really Right Stuff TVC-24L Mk 2 with a 23″ collapsed length. Although that would fit into the empty 1637 AIR, it would not fit lengthways if I used the case's optional padded insert and left a ball head attached to the tripod.
The same might be true for you. If you plan on putting a tripod into the case, I recommend measuring it first. You will probably find the 1615 AIR or 1626 AIR a better fit. Though you might fit a tripod diagonally into the 1637 AIR, experience tells me this is less efficient. You end up with dead space in the corners, and other square-sided items and small cases pack poorly around that diagonal item.
One of the key things I wanted to be able to do was to place an entire backpack full of photo gear into the Pelican case, so the logical thing was to look at the dimensions of those bags. When I did that, the picture became more apparent. The 1615 AIR is a little longer and wider than the 1626 AIR, but the 1626 AIR is several inches deeper.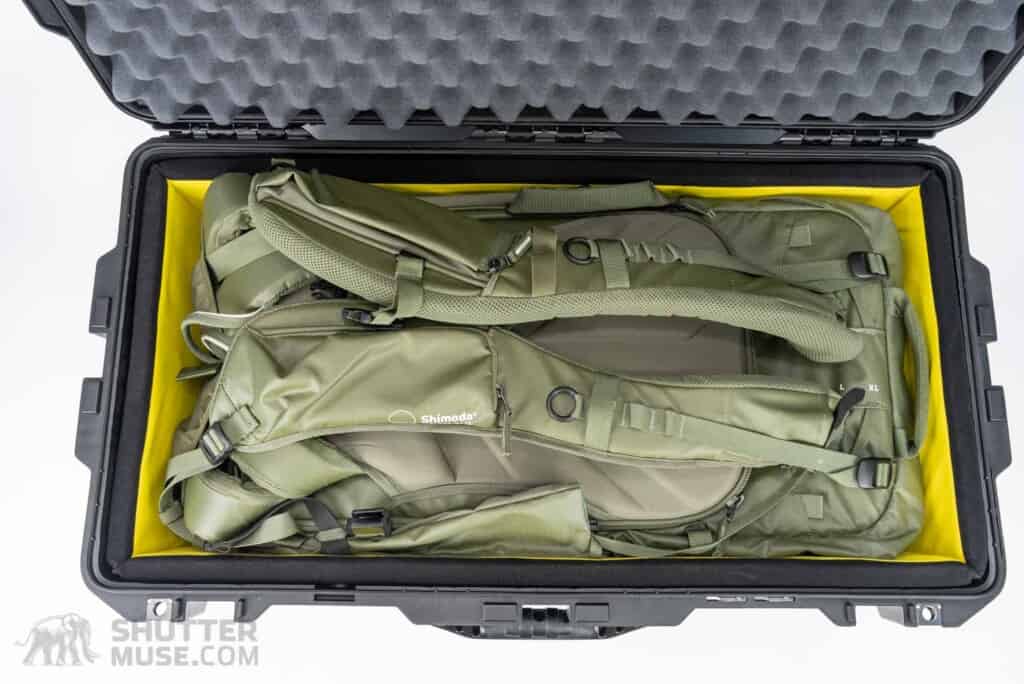 The dimensions of most of my photo backpacks were much closer to the width and length of the 1626 AIR than the 1615 AIR. For example, most photo backpacks have a width somewhere between 11 and 13 inches. If I want to load up the Pelican case with F-Stop Gear ICUs, these are all 11.5 inches wide, except the 14-inch wide Master Cine. The 14.1-inch internal width of the 1626 AIR feels like a good fit for most camera backpacks.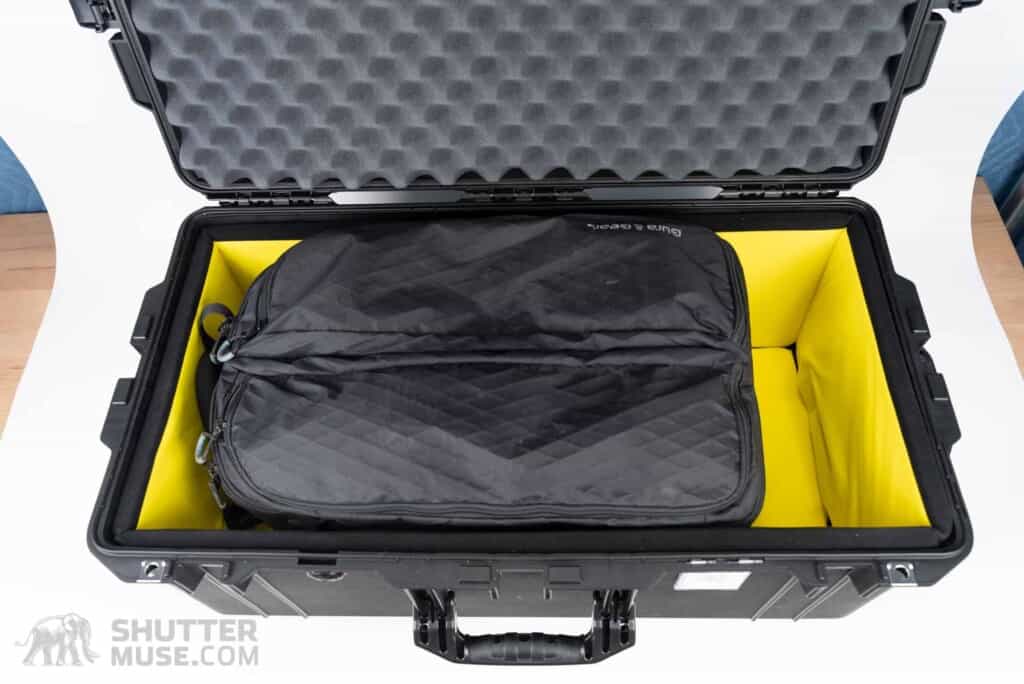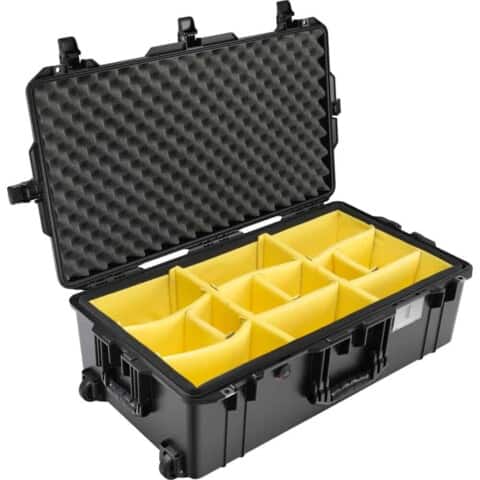 The padded divider system is another benefit of the 1626 and 1637 over the 1615. All three models have optional dividers, but only the 1626 and 1637 have a double-decker set. When I'm just carrying a backpack in the case, I use the padded shell. But when I want to take many smaller items, the organizational benefit of the stackable divider set is enough to knock the single-decker 1615 out of the equation. The padded dividers are incredibly high quality, and the mesh on the top is made from thick, durable rubber.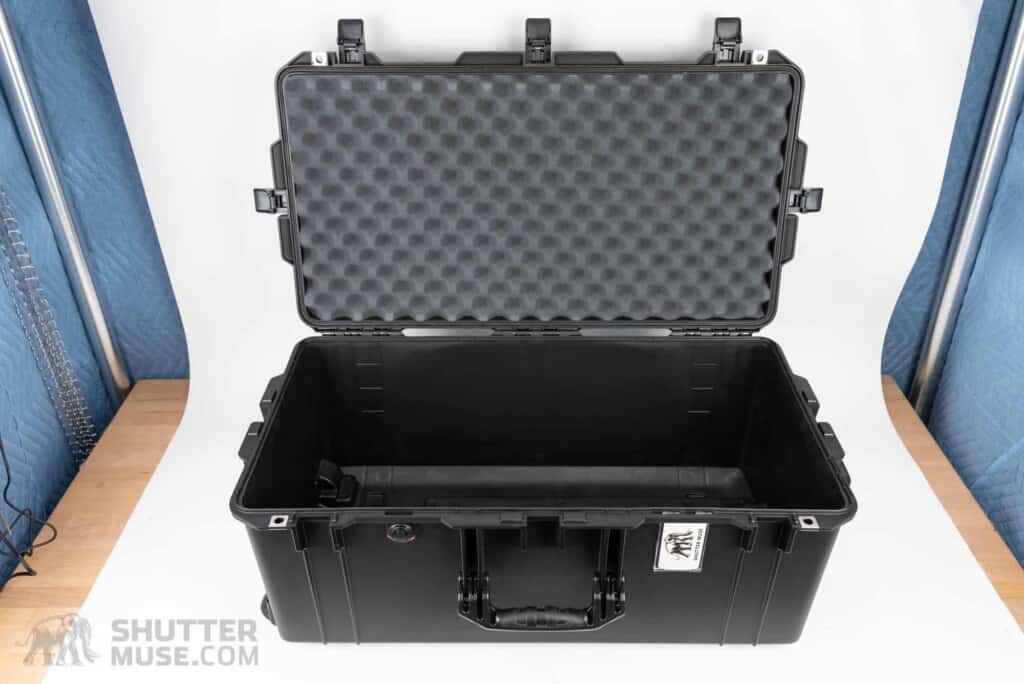 Pelican 1626 AIR Weights
I weighted my own 1626 AIR in various configurations.
Empty weight: 14.7lbs
Only foam padding in the lid: 15.2lbs
Including complete padded divider kit + lid foam: 18.76lbs
Including only the bottom padded shell of the divider kit + lid foam: 17.76lbs
In the end, the Pelican 1626 AIR turned out to be the right choice for my needs, but any one of these three cases would make an excellent hard-sided photography case for checked luggage applications. The best thing you can do is grab your measuring tape and write down the dimensions of the critical items that need to fit. Then compare these to the internal measurements of the cases. Be careful to allow for any internal dimensional loss when using the optional padded inserts for these cases.
Best Pelican Cases for Drones and Smaller Photo Gear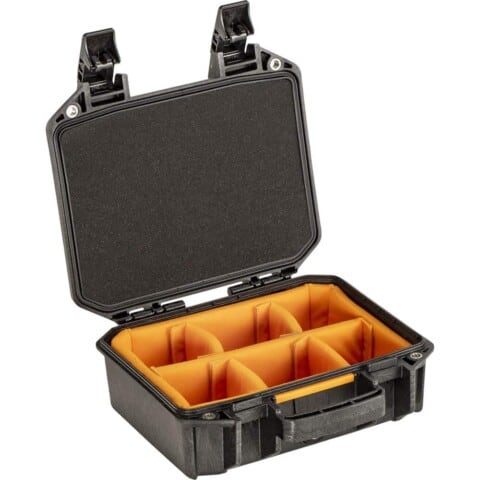 A recent addition to the Pelican case catalogue is the VAULT lineup. Initially sold as gun cases and later adapted for photography gear and drones, the VAULT cases provide protection equivalent to the Pelican Protector case lineup but at a much lower price.
VAULT cases are the opposite of Pelican AIR cases. These are relatively heavy cases that should not be considered for efficient air travel. However, they are affordably priced and come with an excellent set of brightly-coloured padded dividers. I own several VAULT cases and love to use them when I want to throw my drone or other smaller photo items in the trunk of my car. Portability is a strong point due to the variety of available sizes. They are also a great way to organize objects by type on your gear shelves.
How affordable are Pelican VAULT cases compared to Pelican AIR or Pelican Protector Cases? Let's look at one example: The Pelican Vault V525 Roller comes in at $189, including the padded inserts. Size-wise, the equivalent Pelican AIR roller is the previously discussed Pelican 1535 AIR, which has a price, including padded dividers, of $309 or $340 with TrekPak dividers!
As you can see, the Pelican VAULT cases are considerably cheaper than other Pelican cases, but somehow Pelican has managed to provide an equal level of protection. If anything, their heavyweight and bulky construction make them feel even more protective than other Pelican case lines. The downside is, of course, the weight. Keeping the same example as before, the V525 roller weights 12.15 lbs, while the Pelican 1535 AIR weighs 9.98 lbs. The thickness of the case walls also lessens the internal volume compared to thinner-walled AIR cases.
While I would not want to travel with Pelican VAULT cases, I think they are a fantastic addition to the Pelican lineup and highly recommend them as options for smaller photo gear hard cases. You can't beat the bang for buck ratio with these.
Best Pelican Case for Carry-On Luggage Photography Gear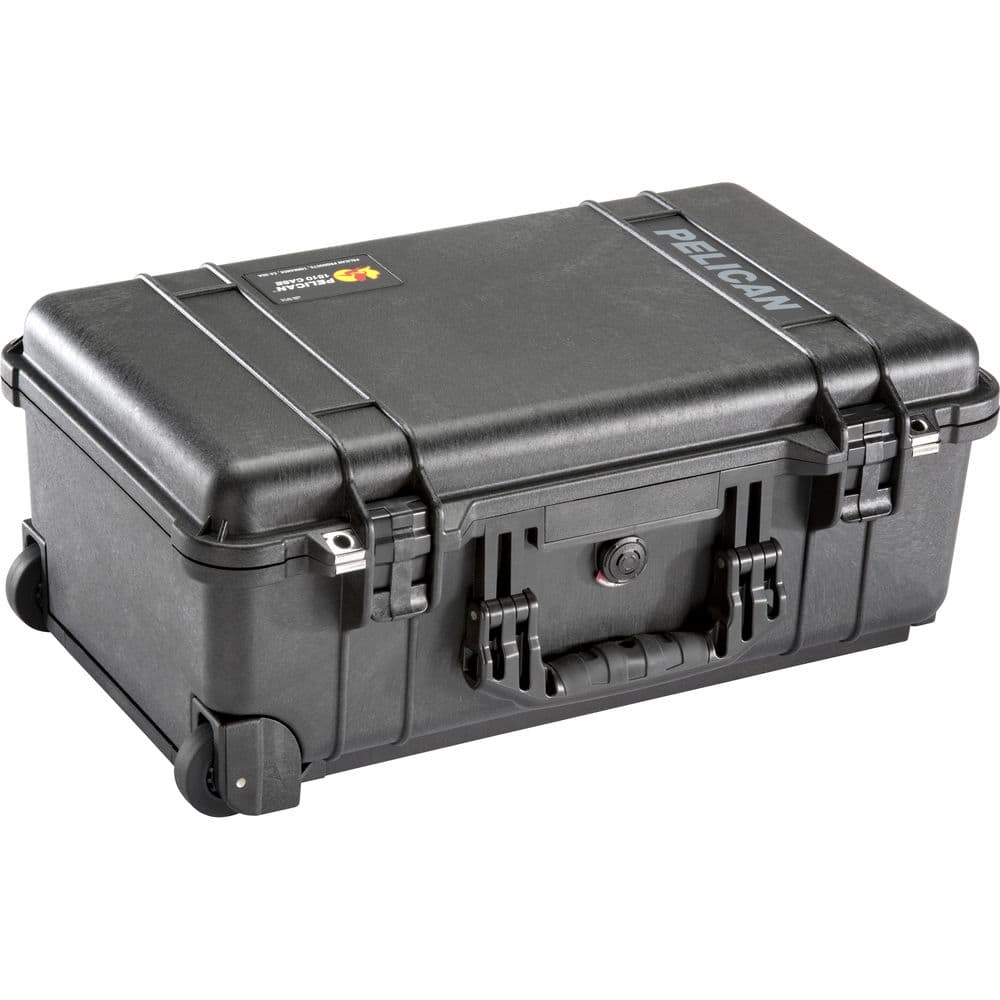 Most people think of the Pelican Protector lineup as the classic Pelican case. This made the Pelican 1510 the go-to choice for carry-on compliant rolling hard cases for many years. As airlines increasingly tightened carry-on baggage weight restrictions, Pelican developed their AIR-series cases. Using newer manufacturing techniques, the Pelican AIR cases are typically 30-40% lighter than equivalently sized Protector cases while sacrificing none of their robustness.
The Pelican 1535 AIR case should now be considered the obvious choice for a Pelican carry-on roller. Give or take a fraction of an inch here and there; it is the same size as the Pelican 1510 but 3 lbs lighter. The Pelican Storm im2500 is lighter than the 1510 but still 2.5lbs heavier than the 1535 AIR.
Not only is the 1535 AIR lighter, but it also has much improved latches and more comfortable handles. At around $210 for the empty model, it is roughly $30-$35 more expensive than the older 1510 model. In my opinion, for a rolling case that will last you most, if not all, of your career, the price difference is negligible.
Versions of the Pelican 1535
The Pelican 1535 AIR case is available in five different formats (and many colours):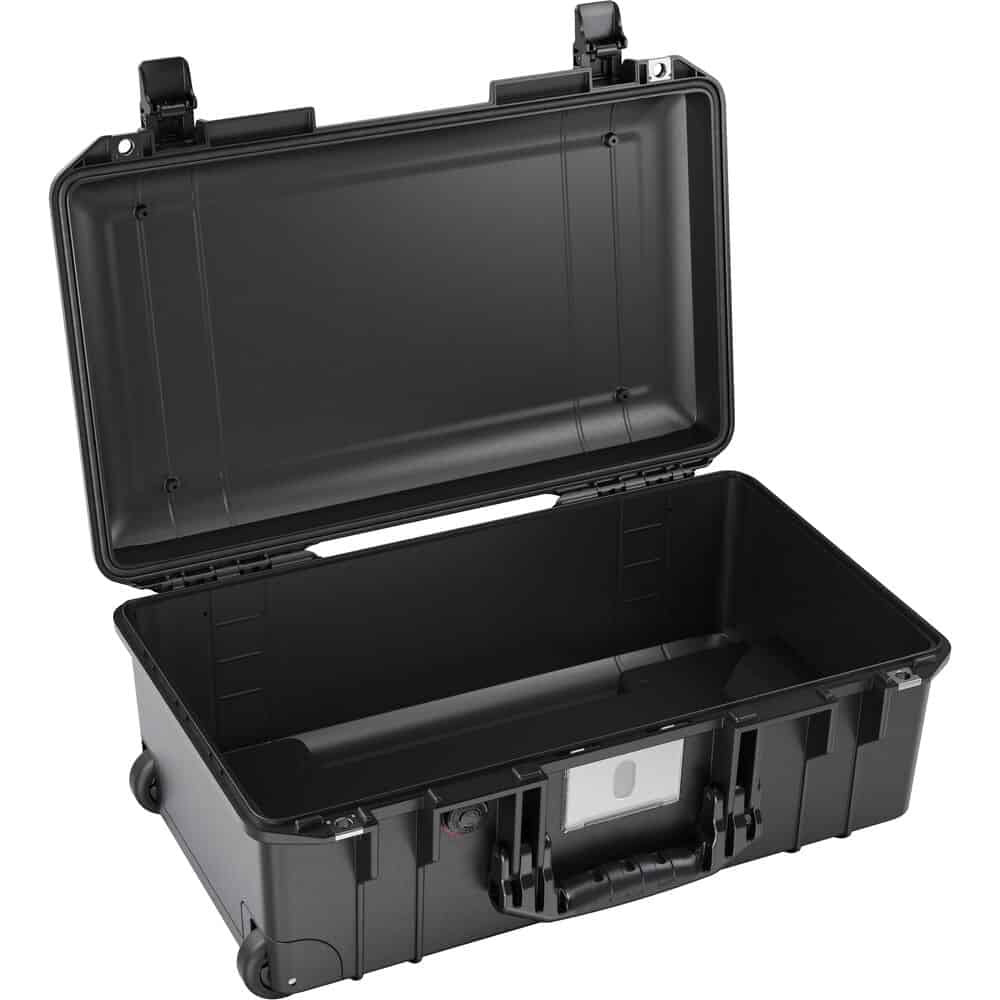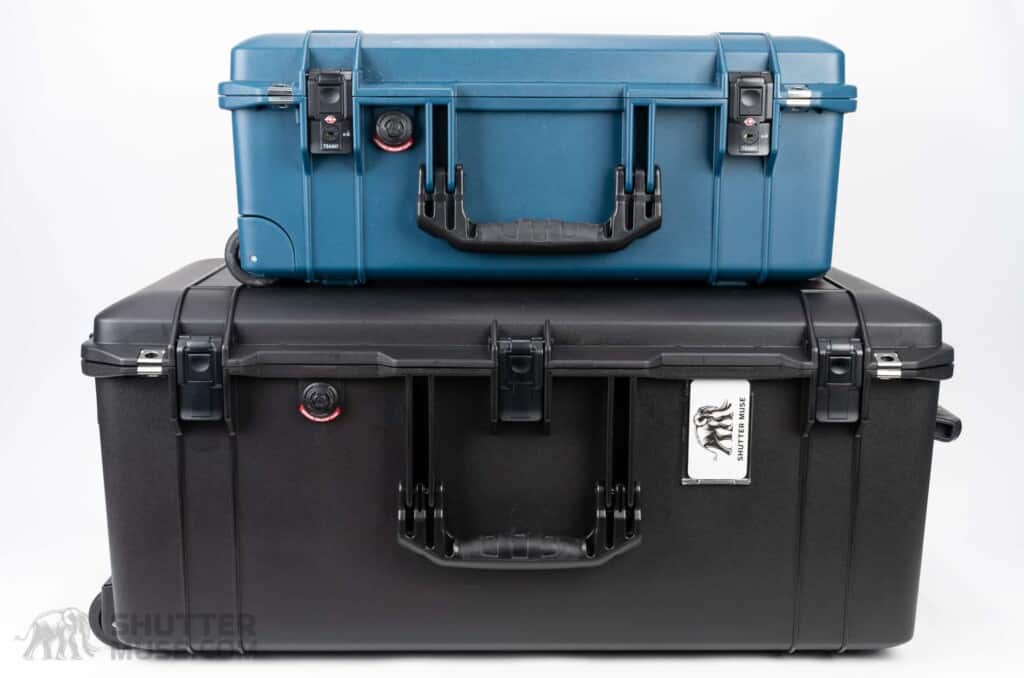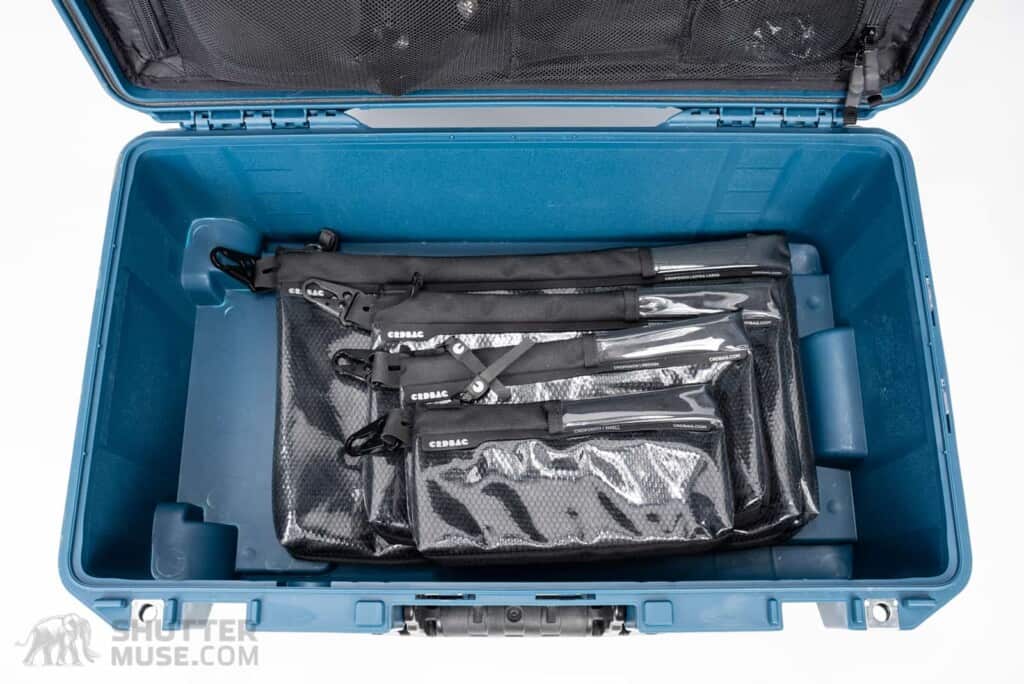 Empty, Foam, Dividers or TrekPak – Which to Choose
Pelican cases are available in up to four different configurations, and I'll discuss the pros and cons of each one in this section. While every Pelican case is available in the "Empty" or "Pick N Pluck Foam" configuration, not all cases are available with the "Padded Divider" and "TrekPak" configurations. If you decide that one of these two options is right for you, it might limit your choice of Pelican case. These options are available for all of the most popular Pelican cases, so they should not impact that many people's choices.
Empty Configuration
Buying a pelican case in the Empty configuration is self-explanatory. There is no protection inside the case, just an empty shell. Remember, this also means that there is no foam in the lid of the case either. Empty case configurations are the cheapest, and they can still be useful for photographers who want to travel with a fully-loaded camera bag inside a hard case. They are also useful if you already own a selection of padded camera cubes such as F-Stop ICUs or Shimoda Core Units.
Pick N Pluck Foam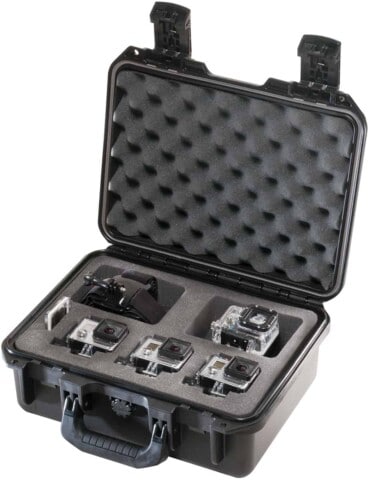 The Pick N Pluck foam configuration includes padding inside the lid and the special Pick N Pluck foam in the case's main compartment. This foam contains minor cuts that allow you to pluck small cubes from the main volume to create a bespoke cutout to fit specific pieces of equipment. Plucking the foam is somewhat laborious, but the result is a custom fit that offers the most protection of any Pelican case configuration.
The downside is that your case is tailored to specific pieces of equipment. If you're a photographer that often changes their gear, this isn't going to be a great option for you. Of course, you can always pluck more foam, but you can never add it back again! Some stores will see you a fresh set of foam for your case, but it's not as easy to get as the cases themselves, and it's not a cost-effective option.
Padded Dividers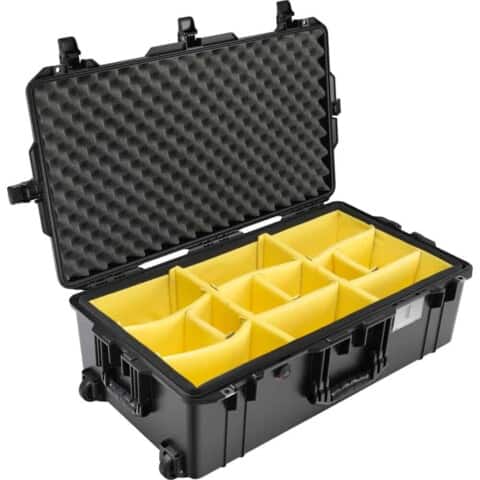 The padded divider option gives you the sort of configuration that most photographers are used to in a regular camera bag. The size of the camera and lens slots can be adjusted as often as necessary, and the bright yellow colour of Pelican's padded dividers makes it easy to locate dark-coloured items. If you are constantly using your Pelican case to carry completely different loads, the Padded Divider option makes the most sense. Padded Dividers are also available as separate purchases. If you already own a Pelican case that was purchased with one of the other configuration options, you can choose to switch to the dividers at a later date.
TrekPak
The final option is called TrekPak. The Pelican TrekPak system is a customizable set of semi-hard foam dividers that can be cut to your required lengths to create a layout that suits your camera equipment. When you buy a TrekPak configuration, the Pelican Case comes with foam lid padding, foam base padding, a TrekPak "wall" that goes around the inside of the case, and a set of long TrekPak dividers that can be easily cut with the included cutting tool. The dividers are held in place with U-shaped metal pins.
The TrekPak system sits somewhere between Padded Dividers and Pick N Pluck foam in terms of how re-configurable it is. While you will want to initially cut the TrekPak dividers to suit a specific gear layout, I found that after doing this, I could still slide dividers around to different locations and reconfigure things for slightly longer or shorter lenses. It doesn't offer the flexibility of the Padded Dividers, but it's still a great option. Having tried this system in a Pelican 1535 Air as part of a review on this site, I can see myself using this option again in the future.
An Outside Option – Think Tank Logistics Manager 30 V2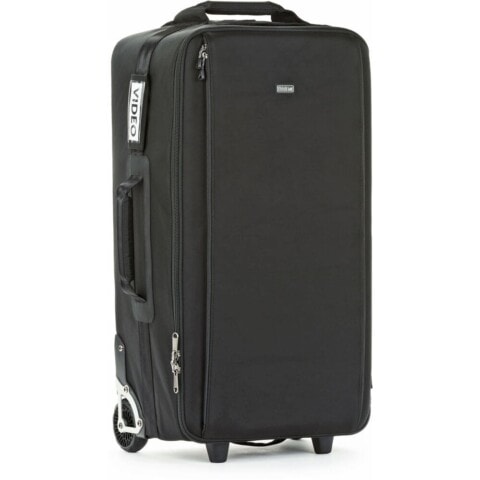 External Dimensions: 15.8" W x 30" H x 12.6" D (40.1 x 76 x 32 cm)
Internal Dimensions: 14" W x 27" H x 8.3–10" D (35.5 x 68.6 x 21–25 cm)
Linear Dimension: 58.4 inches
Weight: 16.9 lbs. (7.6 kg)
Check Price: Think Tank / B&H Photo / Amazon
The hard-sided design of Pelican cases means that they offer the ultimate protection. However, the semi hard-sided Think Tank Photo Logistics Manager 30 V2 still provides enough protection for most uses. With a linear dimension of 58.4 inches, this case also sneaks in just under the maximum allowable size for a piece of checked luggage at most airlines.
I own a Logistics Manager and a Pelican 1626 AIR, so I can speak confidently to the differences. The Pelican case makes the most sense if I want to travel with large tripods and entire camera bags. I love being able to drop a bag into the Pelican case and close it up to know it's all safe, whether that is in the trunk of my car or disappearing down the conveyor belt at the airport check-in desk.
On the other hand, the Logistics Manager 30 V2 is better for organizing camera gear that isn't already packed into another bag or a series of small cases. Think Tank provides you with roughly 50 padded dividers to configure the case to your liking, and zippered pockets help to tame all of your smaller items.
At $499, there is very little difference between the price of the Logistics Manager 30 V2 and the price of the Pelican AIR cases we already discussed, so long as you compare the total price of the Pelican case and the optional padded insert. If you do not think you need the padded insert for the Pelican Case, the Pelican options become a cheaper alternative.
US Customers get a free gift when they spend over $50 in the Think Tank/MindShift online store after clicking this link. For more details, or if you have any issues, see this post.