Leica's SL lenses with L-Mount bayonets were originally designed for the SL full-frame mirrorless camera. Before the launch of the followup SL2 camera, the L-Mount Alliance was announced. This alliance saw Sigma and Panasonic adopt the Leica L-Mount for their forthcoming full-frame mirrorless cameras and lenses, which greatly increases the number of lenses that are available for Leica SL series cameras.
The following table contains the specifications for all of Leica's own L-Mount lenses. This is a modest range of lenses but it covers a range of 16-280mm. Of course, thanks to the L-Mount Alliance, Leica SL users can also use L-Mount lenses from Panasonic and Sigma on their cameras, greatly increasing their choice and price options.
If you are unfamiliar with the names and nomenclature that Leica use for their lenses, I suggest you also read our previous article entitled Leica Lens Terminology and Abbreviations.
Leica SL Lens Data Table
By default, lenses in the table are sorted by their widest focal length, placing wide-angle lenses at the top and super-telephoto lenses at the bottom.
Use the filters to narrow down lenses shown in the table.
Use the horizontal scroll bar below the table to reveal more specifications.
Mobile users can press the + button to expand.
| Lens Order | wdt_ID | Lens Name | Release Date | Focal Length | Aperture Range | Angle of View (H) | O.I.S | Length | Diameter | Weight | MFD | MM | Lens Design | Filter | Entrance Pupil | $$$ | Lens Name |
| --- | --- | --- | --- | --- | --- | --- | --- | --- | --- | --- | --- | --- | --- | --- | --- | --- | --- |
| 1 | 1 | Leica Super-Vario-Elmar-SL 16–35mm f/3.5–4.5 ASPH | 04/09/2018 | 16-35mm | 3.5(4.5)-22 | 105.6°-64.6° | No | 4.84" / 123mm | 3.46" / 88mm | 2.2lb / 990g | 9.84" / 25cm | 0.13-0.27x | 18 Elements in 12 Groups | 82mm | 16mm:105.9mm / 24mm:101.5mm / 35mm:105.0mm | | Leica Super-Vario-Elmar-SL 16–35mm f/3.5–4.5 ASPH |
| 2 | 2 | Leica Vario-Elmarit-SL 24–90mm f/2.8–4 ASPH | 10/20/2015 | 24-90mm | 2.8(4)-22 | 82.4°-27.8° | Yes | 5.43" / 138mm | 3.46" / 88mm | 2.5lb / 1140g | 11.81" / 30cm | 0.26x | 18 Elements in 15 Groups | 82mm | 24mm:103.9 mm / 90mm:92.6 mm | | Leica Vario-Elmarit-SL 24–90mm f/2.8–4 ASPH |
| 3 | 3 | Leica Vario-Elmarit-SL 24-70mm f/2.8 ASPH | 05/06/2021 | 24-70mm | 2.8- | 82.3° to 35.3° | No | 34.8" / 123 mm | 3.5" / 88mm | 1.9 lb / 856 g | 7.1" / 18 cm | 0.34x | 19 Elements in 15 Groups | 82 mm | 24 mm:88.6 mm │ 70 mm:57.1 mm | | Leica Vario-Elmarit-SL 24-70mm f/2.8 ASPH |
| 4 | 4 | Leica APO-Summicron-SL 28mm f/2 ASPH | 02/18/2021 | 28mm | 2-22 | 75.4° | No | 4" / 102mm | 2.9" / 73mm | 24.7 oz / 700 g | 9.4" / 24 cm | 0.2x | 13 Elements in 10 Groups | 67 mm | 74.2 mm at ∞ | | Leica APO-Summicron-SL 28mm f/2 ASPH |
| 5 | 5 | Leica APO-Summicron-SL 35mm f/2 ASPH | 02/28/2019 | 35mm | 2-22 | 63.4° | No | 4.02" / 102mm | 2.87" / 73mm | 26.5oz / 750g | 10.63" / 27cm | 0.2x | 13 Elements in 11 Groups | 67mm | 66.4mm at ∞ | | Leica APO-Summicron-SL 35mm f/2 ASPH |
| 6 | 6 | Leica APO-Summicron-SL 50mm f/2 ASPH | 08/15/2019 | 50mm | 2-22 | 47.2° | No | 4.02" / 102mm | 2.87" / 73mm | 1.63 lb / 740g | 1.15' / 35 cm | 0.2x | 12 Elements in 10 Groups | 67mm | 63.2mm at ∞ | | Leica APO-Summicron-SL 50mm f/2 ASPH |
| 7 | 7 | Leica Summilux-SL 50mm f/1.4 ASPH | 09/23/2016 | 50mm | 1.4-22 | 47.9° | No | 4.88" / 124mm | 3.46" / 88mm | 2.3 lb / 1065g | 1.97' / 60 cm | 0.1x | 11 Elements in 9 Groups | 82mm | 76.8mm at ∞ | | Leica Summilux-SL 50mm f/1.4 ASPH |
| 8 | 8 | Leica APO-Summicron-SL 75mm f/2 ASPH | 01/16/2018 | 75mm | 2-22 | 31.8° | No | 4.02" / 102mm | 2.87" / 73mm | 1.6 lb / 720g | 1.64' / 50 cm | 0.2x | 11 Elements in 9 Groups | 67mm | 35.9mm at ∞ | | Leica APO-Summicron-SL 75mm f/2 ASPH |
| 9 | 9 | Leica APO-Summicron-SL 90mm f/2 ASPH | 01/16/2018 | 90mm | 2-22 | 27.3° | No | 4.02" / 102mm | 2.87" / 73mm | 1.5 lb / 700g | 1.97' / 60 cm | 0.2x | 11 Elements in 9 Groups | 67mm | 22.9 mm at ∞ | | Leica APO-Summicron-SL 90mm f/2 ASPH |
| 10 | 10 | Leica APO Vario-Elmarit-SL 90–280mm f/2.8–4 | 03/16/2016 | 90-280mm | 2.8(4)-22 | 26°-9° | Yes | 9.37" / 238mm | 3.46" / 88mm | 4.1lb / 1.9kg | 0.6-1.4m | 0.21x | 23 elements in 17 groups | 82mm | 90 mm: 130.2 mm / 280 mm: -21.1 mm | | Leica APO Vario-Elmarit-SL 90–280mm f/2.8–4 |
| | | | | | | | O.I.S | | | | | | | | | | |
Leica SL Prime Lenses
Leica APO-Summicron-SL 28mm ASPH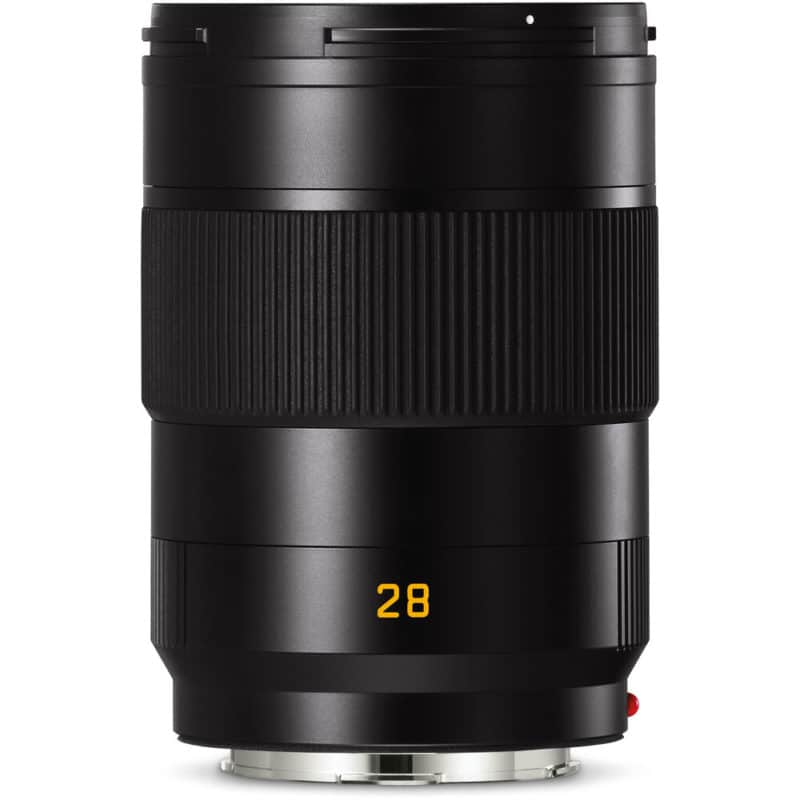 ---
Leica APO-Summicron-SL 35mm ASPH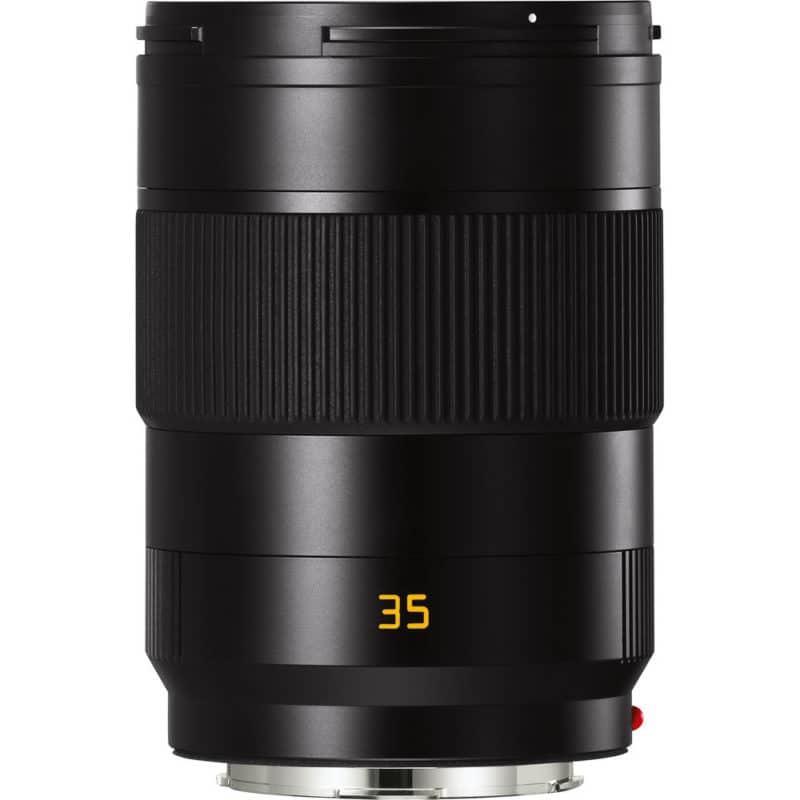 ---
Leica APO-Summicron-SL 50mm f/2 ASPH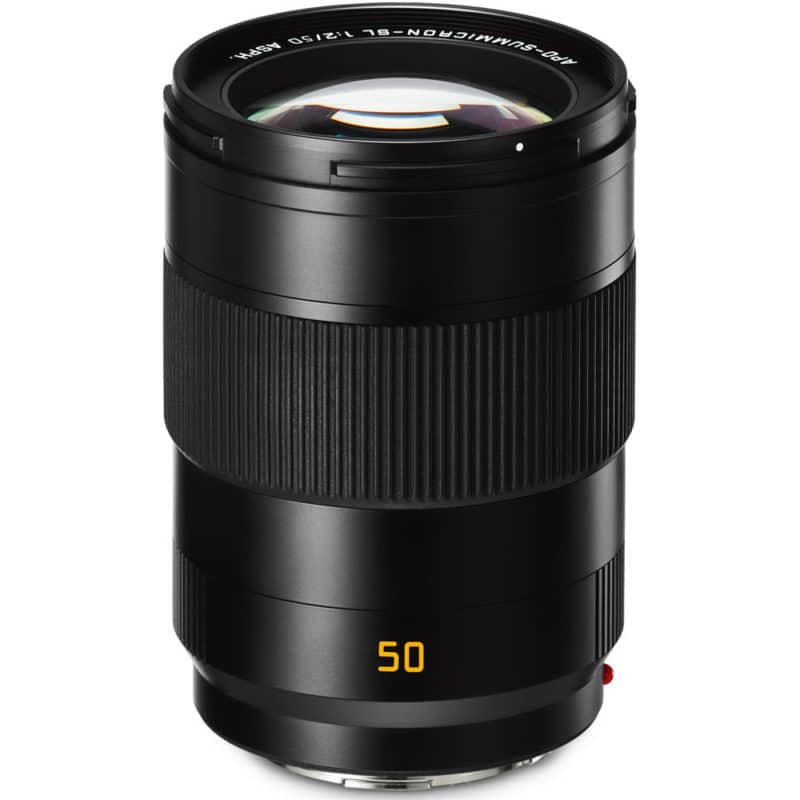 ---
Leica Summilux-SL 50mm f/1.4 ASPH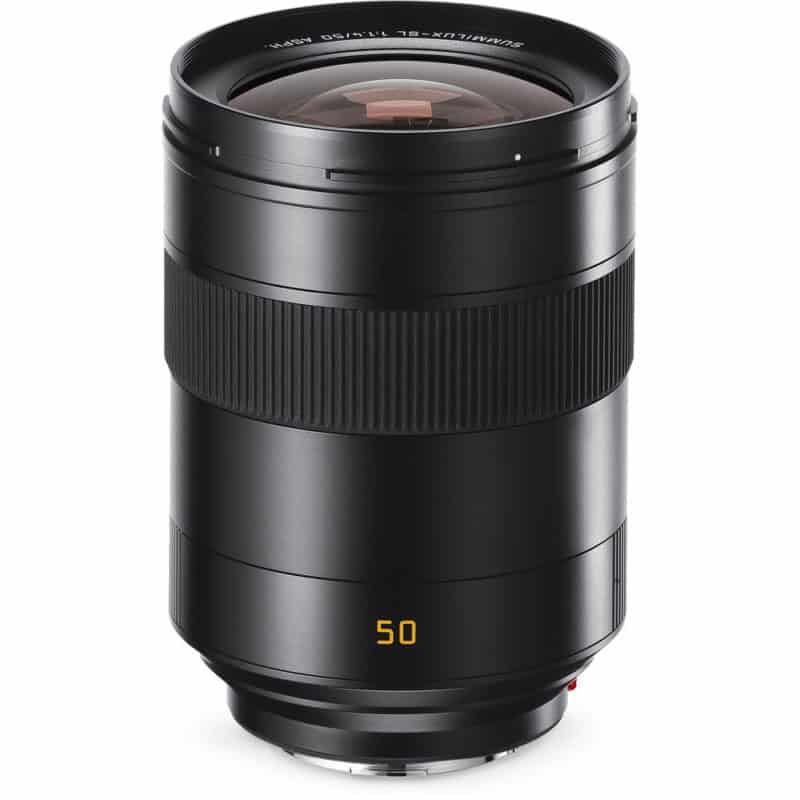 ---
Leica APO-Summicron-SL 75mm f/2 ASPH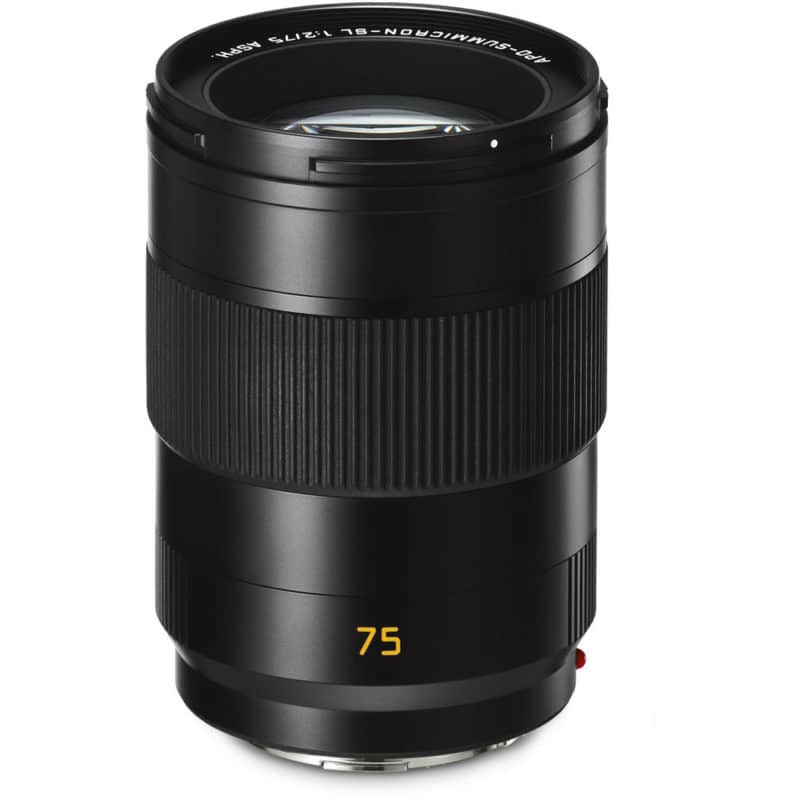 ---
Leica APO-Summicron-SL 90mm f/2 ASPH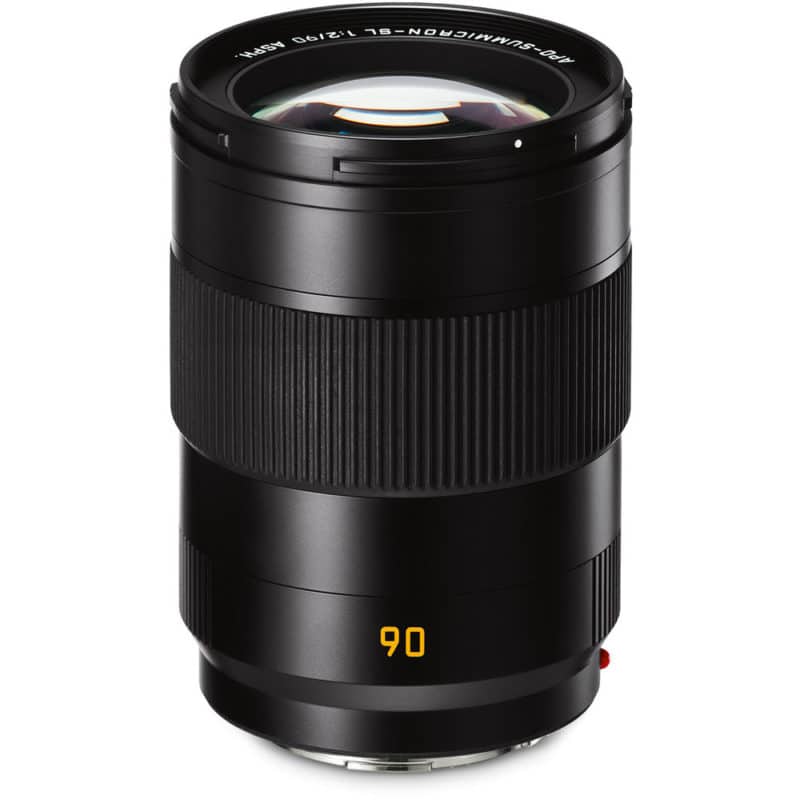 ---
Leica SL Zoom Lenses