A tripod is one of a photographer's most important pieces of gear. Whether you shoot landscapes, wildlife or even portraits, there will always be a time when you need a great tripod. Once you've made your 3-legged choice, several tripod accessories can be very useful. Some are designed to protect your expensive investment, and some can even unlock additional stability and image sharpness.
1. Tripod Spikes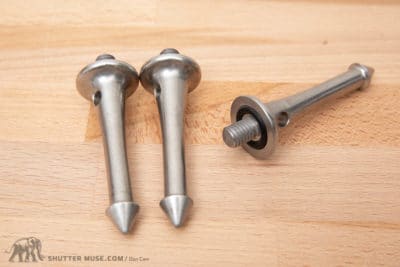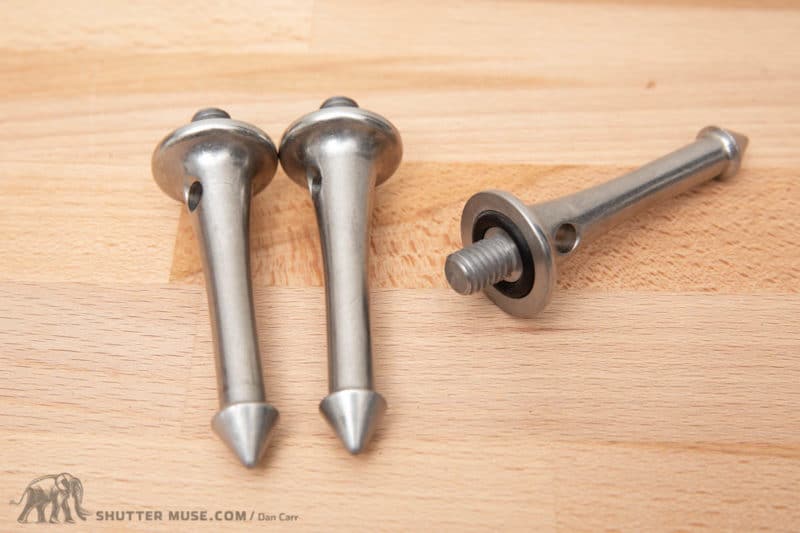 Most good tripods from major brands such as Manfrotto, Benro, Induro, Gitzo, Really Right Stuff have a 3/8″ 16 threaded female socket on the bottom of the legs for adding spikes. Tripod spikes can lead to sharper images by giving you added stability in windy conditions or on loose surfaces such as sand. In some cases, they might even prevent your tripod from being accidentally knocked over when set up in a precarious position.
For those on a tight budget, Benro makes a cheap set of spikes that are a great value option at just $20. These days I am using the much larger Really Right Stuff TA-3-FS spikes. The longer length provides better purchase in the pacific coast's wet sands, and the added height above ground level keeps nasty saltwater further from the leg threads.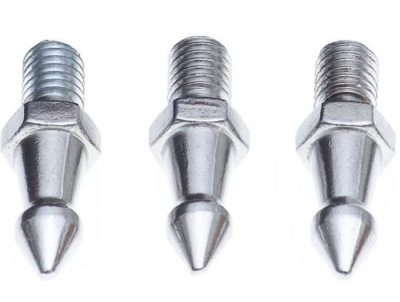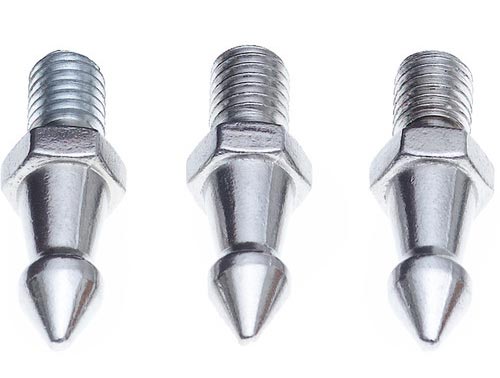 These RRS tripod spikes also have holes that allow you to use a hex wrench as a tightening lever. I always have one in my bag, so I don't need to carry an additional tool with me, as you do with others. Thirdly, the built-in rubber o-ring on them grips tight to the base of the tripod leg. These things will never come off on their own, which is good because they cost $96 per set.
Warning: Some tripod brands like Feisol use a metric thread system for their tripod feet, and it means that the more common 3/8″ 16 threads will not fit. Check your tripod specifications before making a purchase!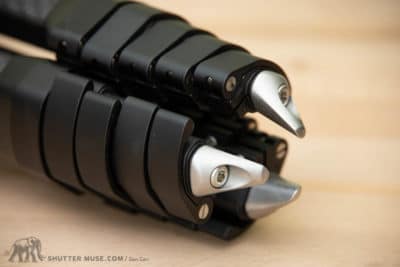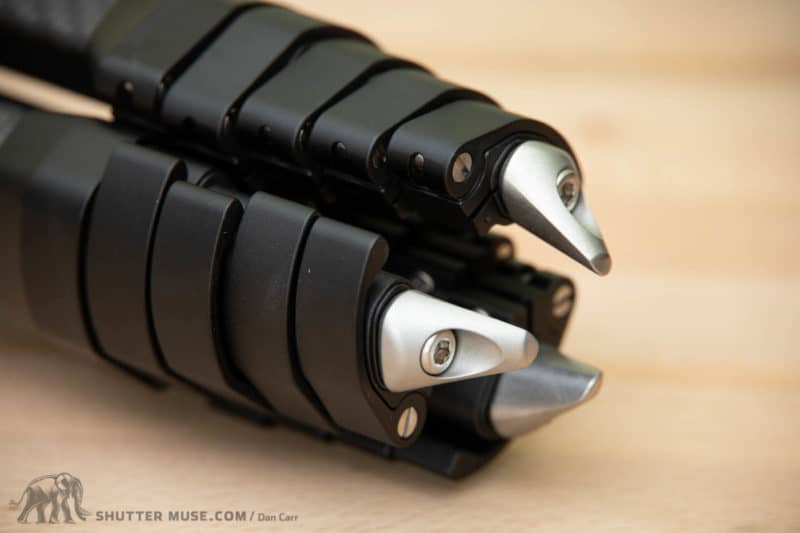 Not all tripod spikes provide the same level of grip and stability. Looking at the two examples above, I would prefer to use the Fotopro spikes over the Peak Design Travel Tripod spikes if I was trying to stabilise my tripod on compact dirt. Look at those things! They are like eagle talons.
If your tripod doesn't come with spikes and you are buying from a store, use your common sense to evaluate their spikiness for effectiveness on the surfaces you are most likely to encounter. Also, keep in mind that if you go for very spikey ones, you will have to continually remove them if you want to switch to some form of indoor shooting.
2 – Tripod Shoulder Pad
There are many different ways to carry a tripod, and it essentially comes down to a mix of personal preference and the weight of your camera bag. If you use a small travel tripod such as the Ulanzi Travel Tripod, it's unlikely that you will need a tripod shoulder pad. However, if you use larger 2-series or 3-series tripods with heavy ball heads or gimbals mounted, there can be times when this is a great comfort.
If my camera bag is already heavy and I'm using a heavy tripod, there are times when I prefer to hand-carry my tripod rather than upsetting the balance by strapping it to the side of the bag. I usually alternate between carrying with one hand or the other and hefting it up onto my shoulder when I'm doing this. Instead of trying to balance it perfectly on my bag's shoulder strap, it's much nicer to have a thick, cushy tripod shoulder pad which I can then wedge up against the strap for stability.
A tripod shoulder pad is also useful when using a super-telephoto lens on a gimbal and changing positions as you scout or follow wildlife. Extracting a large lens from your bag and setting it up perfectly on a gimbal can be time-consuming. Many photographers opt to move the whole rig in one piece, often leaving the legs extended. Believe me when I tell you that your body will thank you for the tripod padding if you ever plan on walking more than a few minutes like that. Most people don't have a lot of fat there, and it's easy to bruise.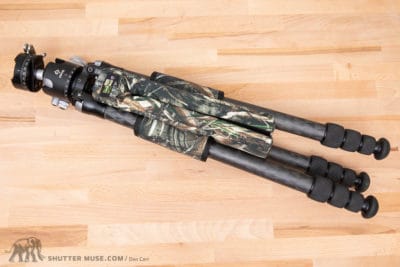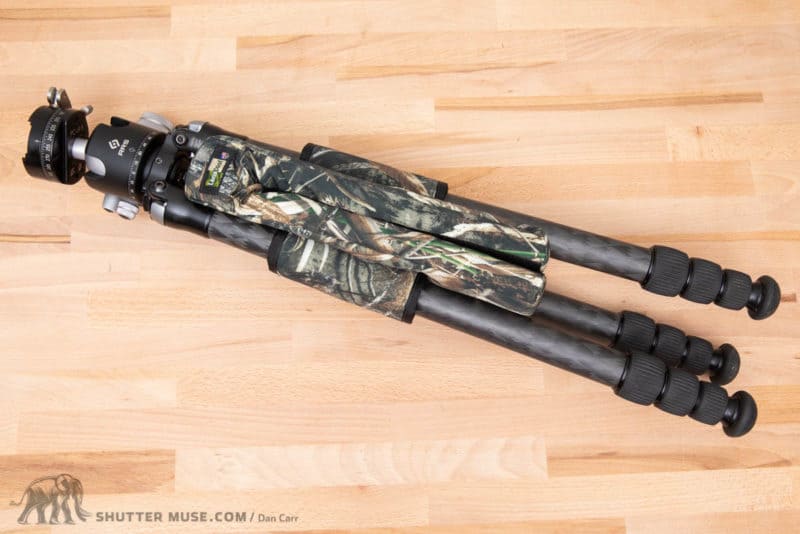 When it comes to tripod padding, the go-to solutions are going to be from LensCoat. Their basic LegCoats will cover those who want to carry the tripod on their shoulder, and they come in a wide variety of colours or patterns. For the wildlife photographers who recognise the second scenario all too well, I can recommend the LensCoat LegCusion. This clever device spans the distance between two legs, giving you a nice comfy v-shaped pad to push your shoulder into.
With your shoulder wedged between the padding, your hand can firmly grip one of the tripod legs to steady the whole setup. Not only is this a comfortable way to carry things, but it also feels a lot more secure when you're traversing tricky terrain with $15,000 of gear on your shoulder! Carrying the tripod like this also means the weight of your camera is pushing down into the tripod head, not at a right-angle to it as happens when you hang the tripod perpendicular to your body off the back of your shoulder.
3. Tripod Strap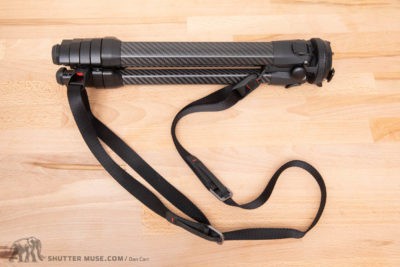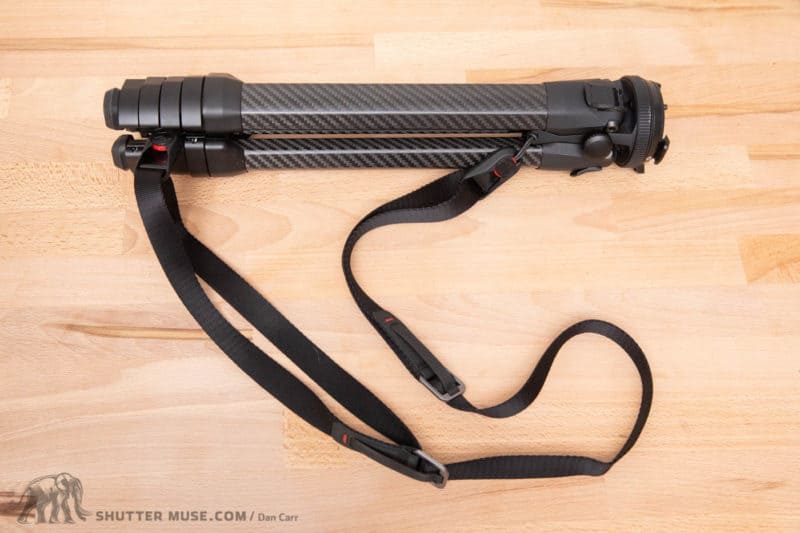 A shoulder strap can be helpful when your camera bag doesn't have a good way to carry a tripod. Camera backpacks generally have a good way to carry a tripod, but shoulder bags, camera holsters and camera sling bags are notoriously bad for this. Some tripods, such as the Peak Design Travel Tripod, have a built-in method for attaching a tripod strap. Some other companies, such as Really Right Stuff, sell optional tripod strap attachment kits.
One thing that both of these pictured tripod strap systems have in common is that the strap can be removed in a second with a quick-release system. A shoulder strap helps carry a tripod from A to B, but once it's time to get to work, you need that quick-release so that you can spread and extend the legs. Keep this in mind if you plan to cobble together a homemade solution using any spare camera straps you might have around.
If your tripod brand doesn't have a specific solution, take a look at the AirCell Universal Tripod Strap. This strap uses little pockets of air for padding on the back of a stretchy neoprene strap. They are of good value and extremely comfortable.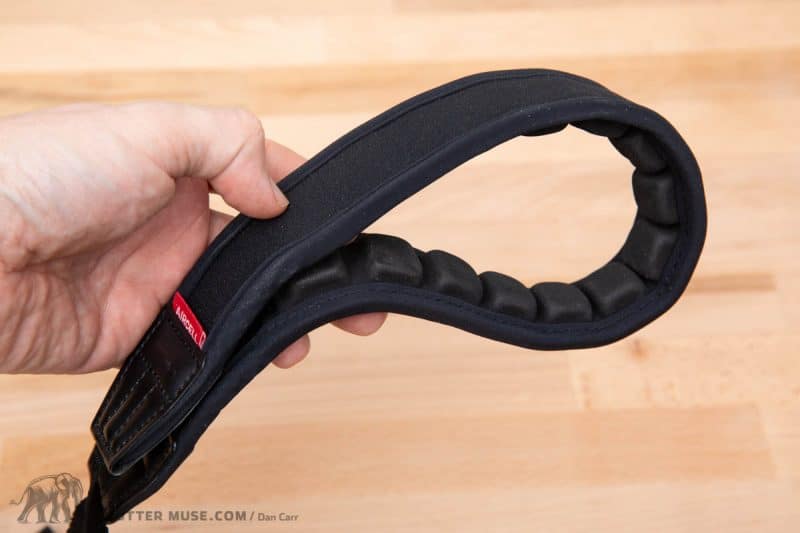 4. Tripod Hooks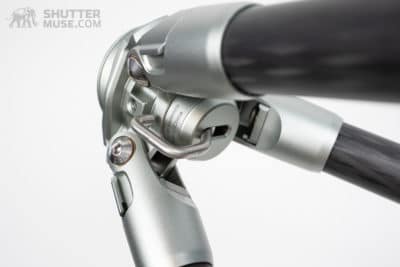 A tripod hook is used to add weight and stability to your tripod, usually by hanging your camera bag on it. Most tripods come with a hook, either on the underside of the ball head platform or on the end of the adjustable centre column. Usually, these are hook-shaped, but on occasion, you might find a closed metal loop designed to have a carabiner clipped to it.
If you have a large camera bag, getting it hooked onto something in the small space where the tripod legs converge is challenging. Using a carabiner to extend the hook will fix this problem. I used a Heroclip carabiner in the photo above to easily hang a larger camera bag on my tripod.
5 – Tripod Quick Release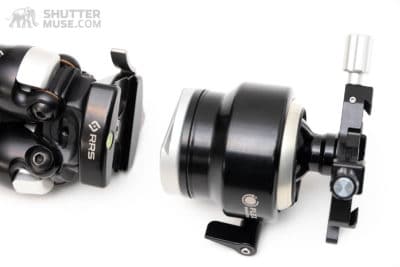 A tripod quick-release plate is perfect if you often swap between different tripod heads or want a faster way to remove a ball head for travel. A quick-release system will consist of a clamp that goes on the tripod and a quick-release plate that goes on each of your tripod heads.
You can choose either a screw-knob clamp or a lever-release clamp for the tripod side of the equation. For the tripod head, I recommend the Kirk Arca-Swiss Dovetail Ball Head Plates that come in a couple of different sizes to suit varying ball head base diameters. These are some of my favourite tripod accessories!
6. Tripod Camouflage
Camouflage patterns are popular on tripod accessories, but so far, none of the items on this list has had the express purpose of obscuring your tripod from view. I'm a big fan of being able to conceal yourself in certain wildlife photography situations. Time and time again, I see better results with certain species when I hide myself.
As usual, with this website in mind, I have experimented with several different types of tripod camouflage. Perhaps this is stretching the definition slightly, but the first one I'm going to mention is a photo blind like those made by Tragopan. Only camouflaging your tripod would be pointless; you also need to conceal yourself. A photography blind solves both problems, but they are not very portable.
A more portable solution is a LensCoat LensHide. This camouflage cover is designed to go right over you and your tripod. They are available in several different patterns, as well as other material weights to suit different climates. This is a great solution, but even the lightweight cover still adds noticeable weight to my backpack when hiking longer distances.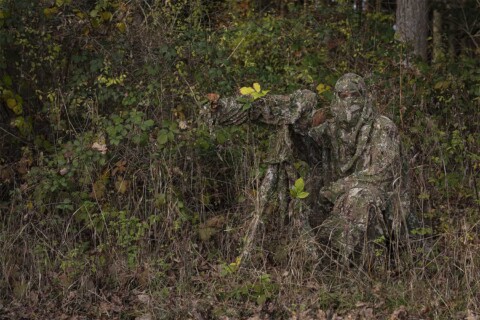 The final solution is the lightest tripod camouflage on the market. The GhostHood Tripod Camo from ConCamo is made from a particular material designed for the German military which features "25 superimposed layers that combined create a chaotic illusion". ConCamo stands for Confusion Camouflage. The material is so light and compressible that the whole thing can easily be screwed up into a jacket pocket. I haven't written my review of this gear yet, but I have been using the tripod cover, as well as a matching camera cover and poncho for several months. I'm very impressed.
Tripod Grease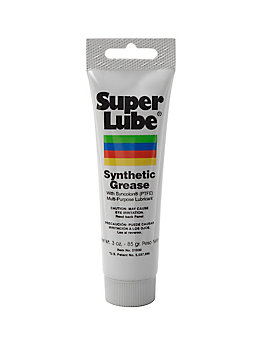 Tripods need maintaining, and the most important thing to do is occasionally dismantle the leg locking system and clean out sand and other particles from the screw-lock threads. I use an old toothbrush for this, and for some reason, find the process rather relaxing.
Once clean, the tripod leg locks need to be lubricated before putting them back together. I once asked Really Right Stuff about which grease would be the best for this purpose, and they recommended SuperLube Synthetic Grease. If it's good enough for their tripods on the assembly line, this is the stuff you want to use during your tripod maintenance. You only need a small amount for each leg locking collar, so a tube should last you a long time.
Emergency Tape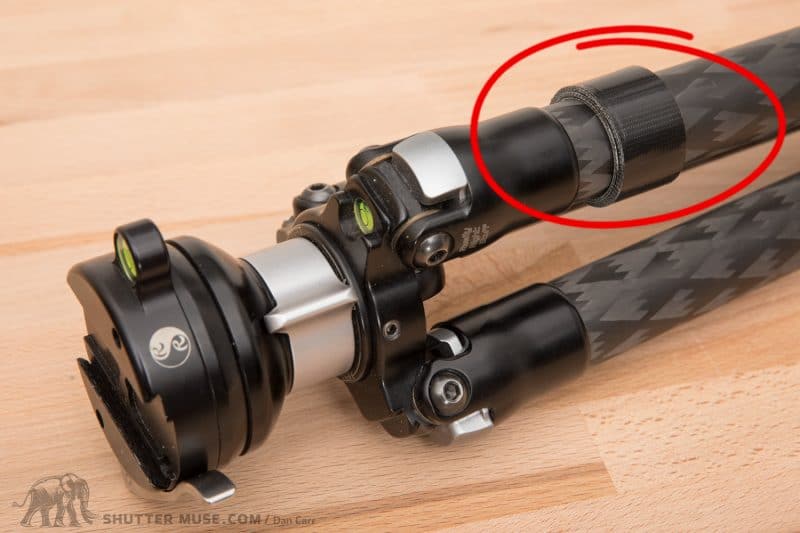 This is a simple trick. I like to keep some Gorilla Tape wrapped around the leg of my tripod just in case I break one of the legs in the field. So far, I have never needed it, but a busted tripod leg isn't the only thing that can be fixed with this stuff, so I'm sure it will come in handy one day. You could also use gaffer tape, but you might find that it doesn't hold up so well to rain and snow if you often find yourself shooting in those environments.
Tripod Bag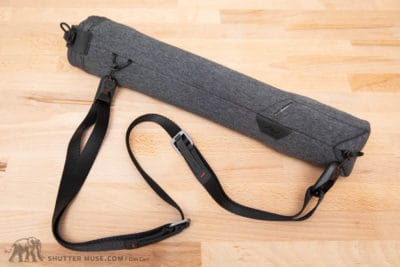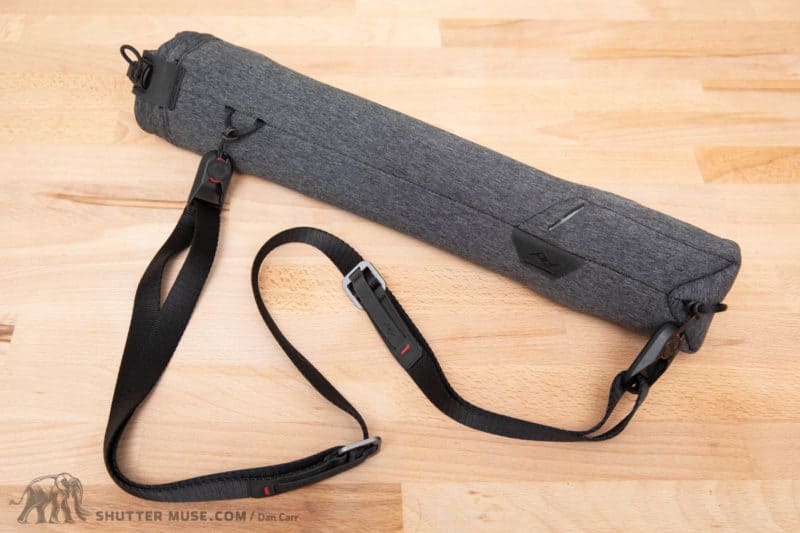 Tripod bags come in three main varieties. The first is a heavily padded bag, usually with a shoulder strap, offering real impact protection. They are helpful for at-home tripod storage and when you're packing your tripod into a larger suitcase or duffel for travel. They're also beneficial when you want to toss your tripod into the trunk of your car. Oddly, it's often the cheaper tripods that come with a padded case. If you buy an expensive Gitzo or RRS tripod, you'll have to buy a tripod bag separately. The Manfrotto Padded Tripod Bags are an excellent place to start.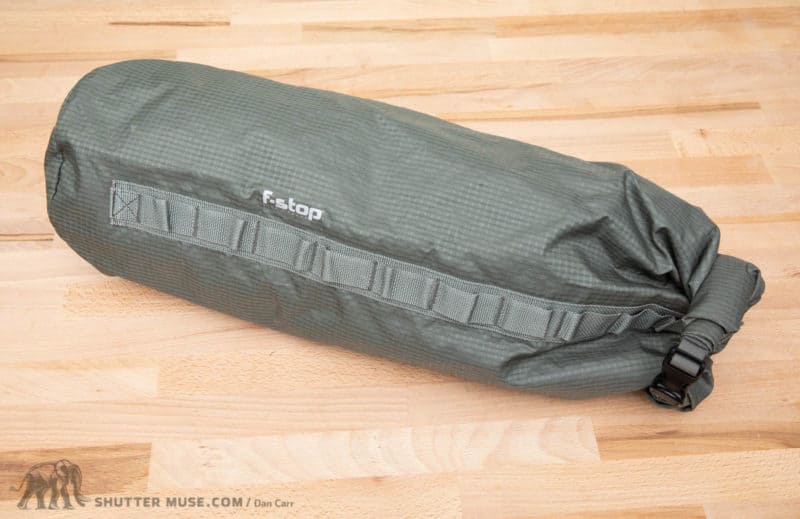 I would never walk far with one of the heavily padded tripod bags. Instead, I use what I call a tripod sleeve. This simple style of tripod bag is only designed to provide scratch protection and environmental protection (rain, sand, snow etc.).
I have used the tripod sleeve from F-Stop – available in Large and Medium sizes – for nearly a decade. Durable and water-resistant, this tripod bag has daisy chain loops down the side to help you attach it to a backpack. The roll-top closure system allows you to carry a variety of tripod sizes with the same tripod bag.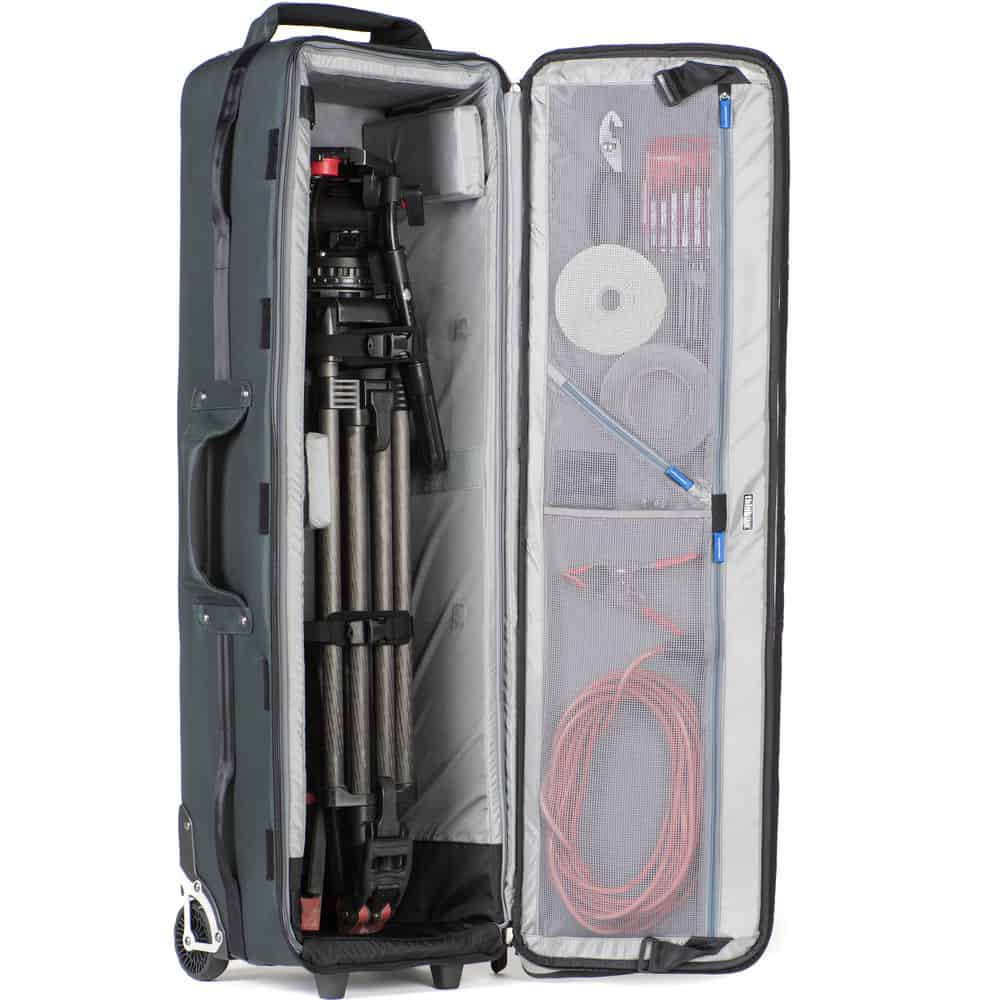 The final type of tripod bag is the large roller bag. These are usually used with much heavier video tripods, but they can be useful for serious wildlife photographers who want a travel case that will fit a large tripod and a gimbal head. The Think Tank Tripod Manager is good for video tripods, while the slightly smaller Logistics Manager 30 is a good option for carrying a photo tripod. In fact, I use this one myself and often carry several tripods in it with other gear packed around them.
US Customers get a free gift when they spend over $50 in the Think Tank/MindShift online store after clicking this link. For more details, or if you have any issues, see this post.
Tripod Waders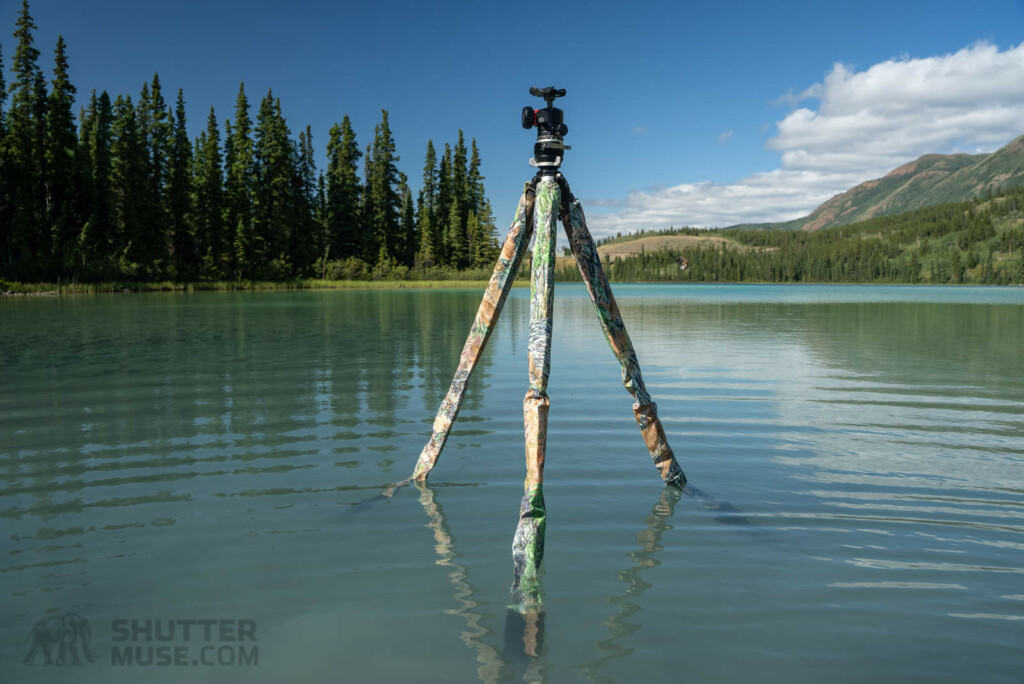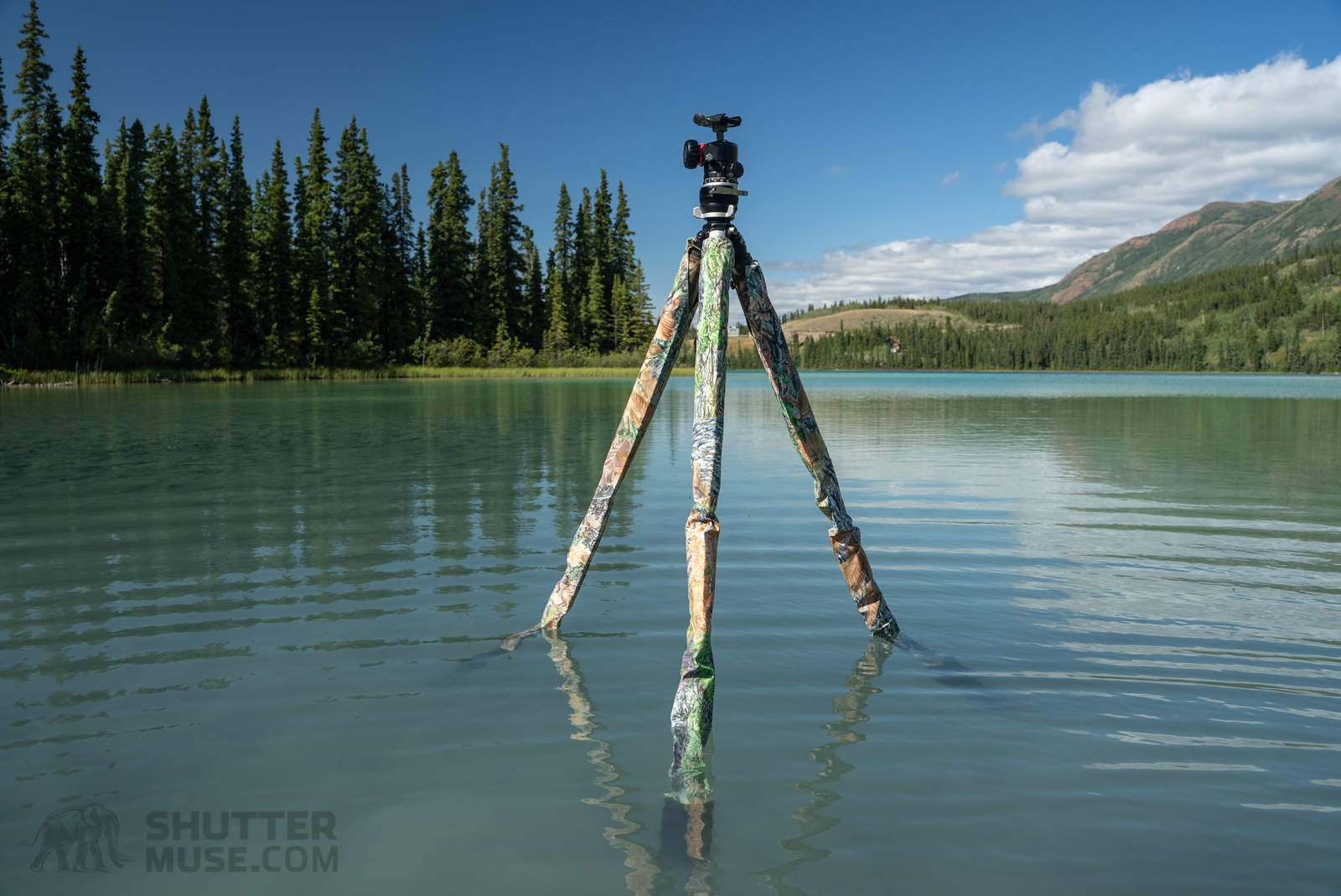 The Avocet Tripod Waders from Tragopan are a straightforward solution to the problem of getting sand and grit in your leg locks when using the tripod in lakes, rivers or at the beach. They also stop water from getting trapped in the leg tubes, which can then become stagnant and start to smell bad if you leave your tripod in the car for a while. I'm speaking from experience…
The waders are waterproof for their entire length, and the lowest portion is reinforced with extra durable PVC to ensure that rough rocks hidden under the water don't puncture them. Of course, if you're using your tripod in saltwater, you're probably well aware that salt and expensive gear never go well together. These waders will also save you from having to quickly wash down your tripod with fresh water after you're done in the ocean. This is a handy tripod accessory to have in your photo go-bag.
Which Tripod Accessories Do you Use?
I spent a great deal of time testing and researching these accessories over the year to find what I believe to be the best solutions on the market right now. Still, it's always great to hear from other photographers about their experiences. What kind of tripod accessories are you using, or which ones are you thinking of buying?