I wanted to write this post because it's something I wish I'd read myself a few years ago when I started getting into wildlife photography. The answer to the question "What is the best photography bean bag fill?" seems obvious to me now with experience, but I was getting it all wrong for a while! In this post, we will discuss the various fill types that can be used in a photography bean bag, and as a bonus, I'll also tell you which are my favourite bean bags to put the fill in.
What Is a Photography Bean Bag For?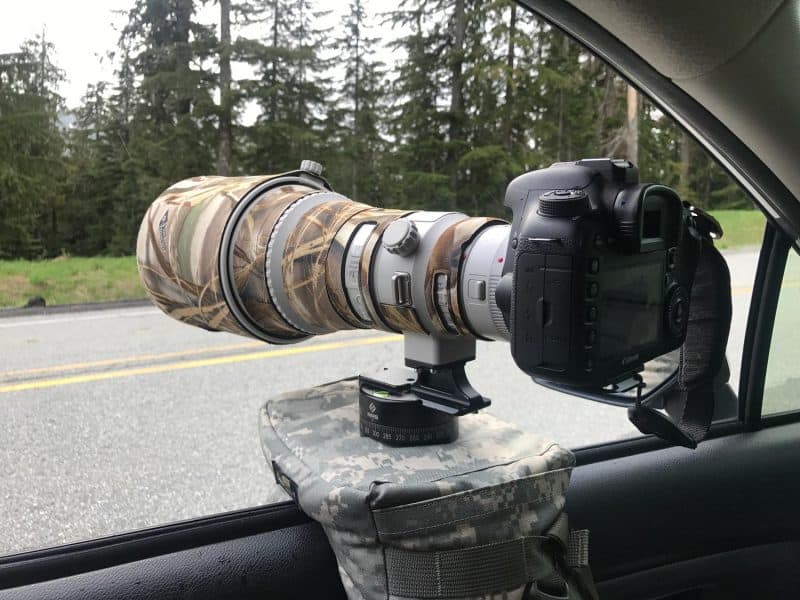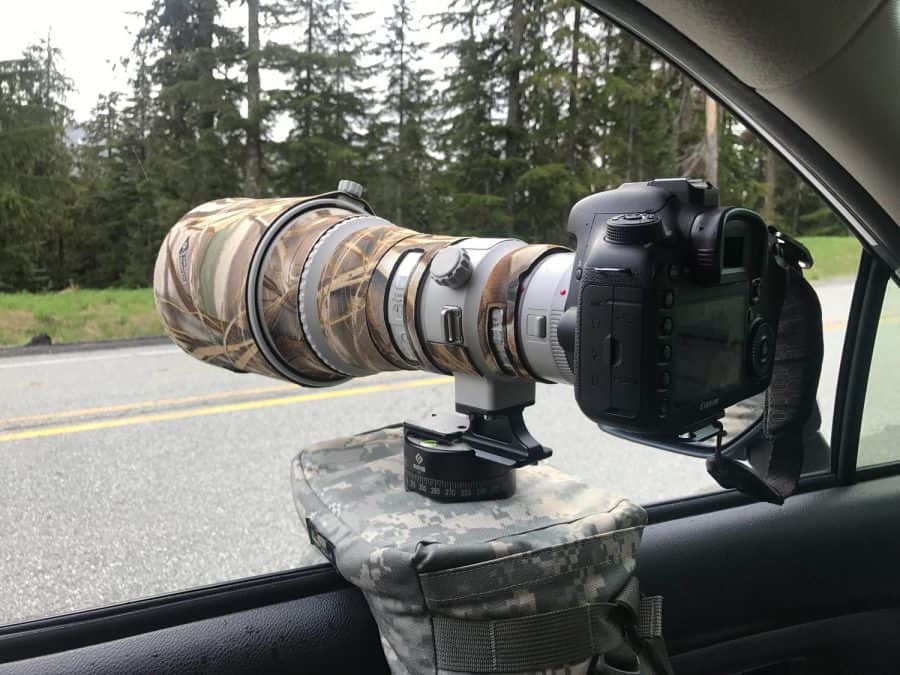 Let's start with the basics. A bean bag is the simplest form of lens support and can create a safe, soft resting place for a telephoto lens. Wildlife photographers find bean bags especially useful as they can hold heavy lenses while waiting for wildlife to appear. When the animals appear, a bean bag can help you get sharper images by cradling the lens and removing the wobble and vibration you would have if the lens were resting directly on a thinner, sharper-edged surface like a car door. For those who want to maintain the most resale value in their gear, a bean bag protects the lens from abrasive surfaces or sharp edges.
Pro Tip: Turn Off Full-Time Manual Focus Override!
If you're resting your telephoto lens directly on a bean bag, you must be aware that you are likely resting it right on the focus ring. If you have your camera set up for full-time manual focus, i.e., when you move the focus ring, the lens' focus changes, even if you are in autofocus mode, you should disable this. Failing to do so will result in occasional out-of-focus images, as the focus ring will get moved accidentally as you reposition the camera angle.
Suppose you still want the ability to tweak focus manually occasionally. In that case, the best solution is to assign full-time manual focus to the custom button on the side of the lens. This is possible with Canon, Nikon, and Sony, although the exact naming of the focus modes is slightly different in all three. Once this has been set, manual focus override will only work when holding the custom function button on the lens.
Types of Photography Bean Bag
Bean bags for photography come in two main forms. The first is a u-shaped bag that sits over your car door when the window is down. It provides a partly mouldable platform to rest your camera and lens. Usually, this kind of setup is used for wildlife photography, so the bags are generally quite large to accommodate lenses like a 500mm or a 600mm. Sometimes these u-shaped bags have a metal plate on top with a 3/8″ 16 threaded stud so that a ball head or gimbal can be attached.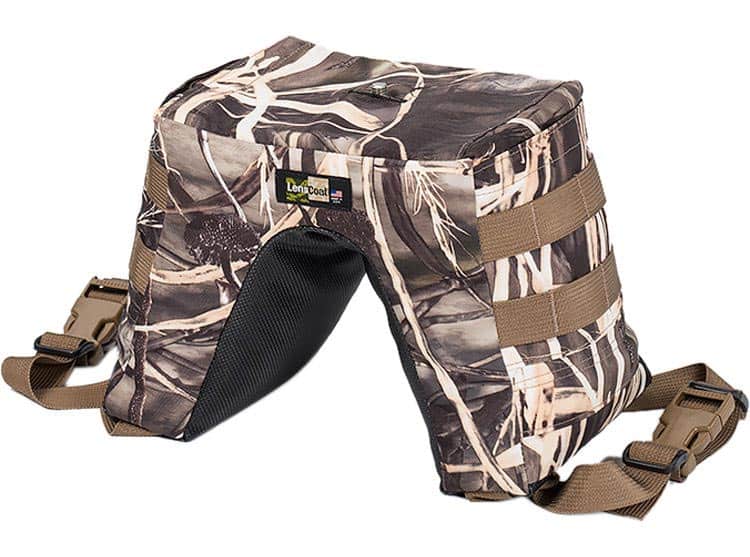 The second type of photography bean bag is smaller and flatter. With care, they can still be used on a car window, but their more mouldable shape also makes them great for supporting your camera while lying on the ground or resting on the hood of a car. This type of bean bag often includes a strap that allows you to hang it beneath a tripod or attach it to a light stand for added stability.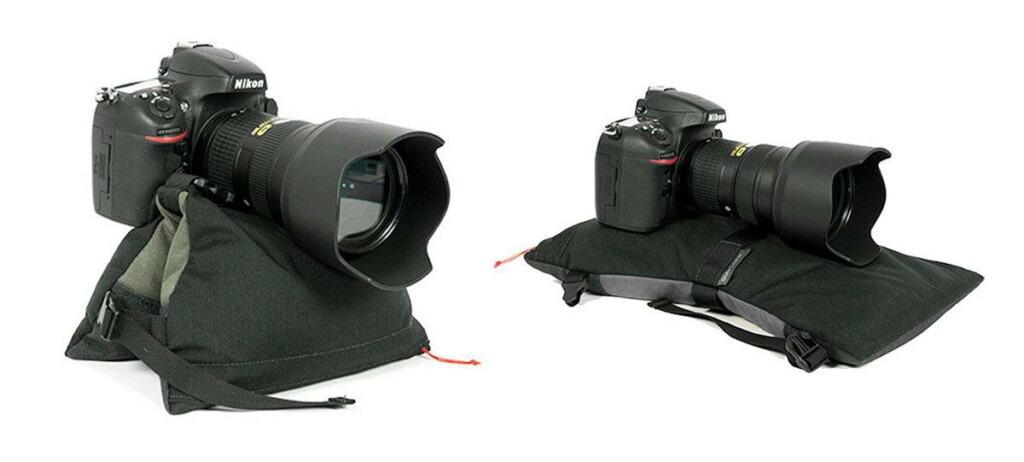 The Best Fill for Your Photography Bean Bag
When I got my first u-shaped photography bean bag, I filled it with rice, which was a mistake. Rice is far too dense and heavy. In a pinch, it works, but it's not easy to adjust the bag's shape to conform with your lens or the shape of the object you are resting on. If you are traveling on safari with a bean bag, you'll remove the fill before you travel and purchase something on location. Rice might be your only option in certain places, but hopefully, you can find something else. I do still use rice in my smaller bags that are designed for weighing down light stands, where the weight does makes sense!
In my main wildlife photography bean bag, I now use buckwheat hulls for the fill. This is substantially lighter than rice, and its more irregular shape prevents the bean bag from hardening and becoming too hard to conform to differently shaped surfaces. I can't tell you just how much better this setup is to use than when I was using rice! I feel like an idiot for persevering with the rice for so long, so I'm writing this post hoping people don't make the same mistake I did.
Another option is to use styrofoam balls, although this has some environmental concerns that I'm not comfortable with myself. On the more natural side, sunflower seeds (bird feed) are also popular. They sit somewhere between the rice and buckwheat hulls in terms of weight and density. If you don't plan to move your bean bag around too much – many people leave them in their car – this is another option. That said, seeds are a rodent attractant, so I still far prefer the buckwheat hull option.
I got my buckwheat hulls in a 2 lb bag from Amazon, and it was enough to fill a small-medium-sized u-shaped bag. There are many different sizes of a bean bag though, with many different volumes. Some, like the larger LensCoat LensSack Pro, will likely require more than 2 lbs. Thankfully, you can get anything up to a 10 lb bag from Amazon.
What Is the Best Photography Bean Bag?
In the last ten years, I have used a range of bean bags for my wildlife photography. These three are the best options on the market right now, and the only ones that remain in my gear closet today.
LensCoat LensSack Pro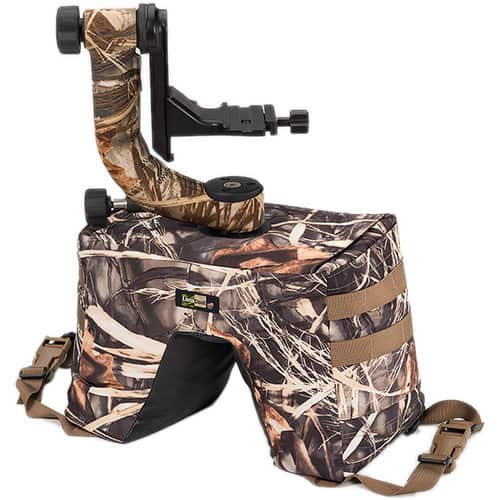 The LensSack Pro provides a stable platform for the largest super telephoto lenses such as a 400mm f/2.8, 500mm, 600mm, 800mm or 1200mm. The LensSack Pro can be configured with the included metal 3/8″ 16 studded plate should you wish to use a gimbal or a ball head on the bean bag.
---
Gura Gear Anansi Sack
I recommend the Gura Gear Anansi if you want a small, highly portable photography bean bag. I have had my Anansi sack for over ten years, and it is still going strong! Like my larger u-shaped bean bag, I keep the Anansi in my car and use it for all sorts of things, like adding stability to my tripod or supporting my camera on the ground when I'm not carrying my ground pod. The Anansi sack is much smaller than my larger LensCoat LensSacks, so that you can get much closer to the ground.
Gura Gear has offered Shutter Muse readers a 10% discount on anything purchased in their online store. Just use the discount code SHUTTERMUSE10 after clicking here to access their store.
---