A gimbal tripod head allows you to perfectly balance the weight of your camera and a super-telephoto lens so that it can be effortlessly moved vertically and horizontally while photographing wildlife. With a perfectly balanced gimbal, even the heaviest setups, such as a 600mm lens and pro-sized camera body, can be moved with only your pinky finger.
A camera mounted to a gimbal tripod head is always ready to go because you can take your hands off it without locking any of the controls. When the action starts, you need only grab the camera and spin it quickly toward your subject, saving precious seconds that might make the difference between getting or missing the shot.
Gimbal tripod heads come in a variety of shapes and sizes. In this gear guide, we'll examine the top options on the market today at various price points, and I'll make recommendations for the one that will best suit your photography.
In a Hurry?
If you're in a hurry and need a quick solution, you can't go wrong with the exceptional GKJr Katana Pro gimbal from ProMediaGear. This incredibly lightweight gimbal will easily hold any super-telephoto lens and maintain perfectly smooth motion. This gimbal's weight-to-performance ratio is unmatched, making it an easy recommendation that will suit most people's needs. I'd recommend buying directly from ProMediaGear to get free US shipping or very reasonable international shipping rates.
Photography Gimbal Vs. Video Gimbal – NOT the same!
Googling the word 'gimbal' can be confusing because you'll get mixed results talking about photo and video gimbals. If this is your first gimbal purchase, you don't want to get the two confused. Even if you search 'gimbal' on B&H Photo, you will see many video gimbals in the search results. To help you, the better search term is 'tripod gimbal' because video gimbals are not designed to go on a tripod. In contrast, photography gimbals are exclusively intended to go on tripods.
A photography gimbal – what we are discussing in this guide – doesn't have any electronic parts. It's designed to be put onto a tripod, where you can manually balance it to hold your camera and a telephoto lens without needing to lock the tilt or pan axis.
A video gimbal is a stabilizer to hold your camera level while you move it around. It contains motors, rotating gyros and a ton of electronic wizardry designed to resist the inertia of your camera while you move. Video gimbals are designed to work hand-held or sometimes attached to a moving vehicle.
TLDR; if you are shooting photos, do not buy a video gimbal from DJI, Zhiyun-Tech or any other similar product. If you are shooting video, only buy a video gimbal if you want to move around with the camera. If you're going to shoot a video of wildlife with a long lens from a static tripod position, use a photo gimbal with a fluid cartridge or a video fluid head.
Gimbal Heads: Side Mount Vs. Cradle Mount
There are two different styles commonly available on gimbal tripod heads. The first is a side mount, and the second is a cradle mount. To choose the best mount style for your photography, it's essential to understand the pros and cons of each. Some manufacturers offer their gimbals with both mounts so that you can get precisely what you want; for example, the ProMediaGear GKJr Katana Pro is available with either a side mount or a cradle mount, as are the Wimberley WH-200 and the RRS PG-02 Mk2. Some gimbals, such as the Sirui PH-20 and the Fotopro Eagle E-6H, include everything you need in the box to switch between the two mount styles.
The cradle mount is a more traditional style, where the foot of the lens is mounted onto an L-shape arm that comes down from the vertical pivot point and clamps to the lens foot underneath the lens. The side mount gimbal head style has the clamp directly on the pivot point, with the lens foot 90 degrees off where it lies with the cradle mount.
What's the difference between the cradle and the side mount?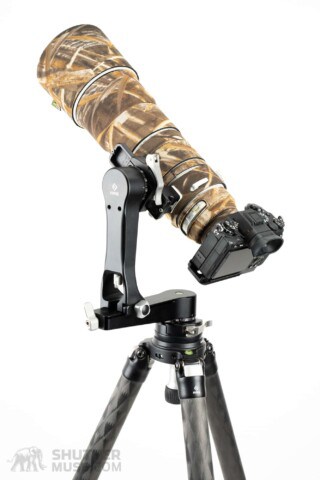 Gimbals with a cradle mount are heavier, bulkier, and usually more expensive than a side mount version of the same head. Still, a cradle mount is easier when mounting a heavy lens to a gimbal because gravity is on your side. The cradle can support the weight of the lens while you tighten the quick-release clamp. With a side mount gimbal, you must support the camera and lens with one hand while tightening the clamp with your other hand. When mounting a camera to a side-mount gimbal, there is slightly more potential for an expensive accident.
From a functional point of view, there is also a slight difference that many people are unaware of. When a side mount gimbal is perfectly balanced, letting go of your camera will return it to a horizontal position. When a cradle mount gimbal is perfectly balanced, both in the fore/aft position and in the up/down part of the cradle, letting go of your camera will do nothing. The camera will perfectly maintain its position at whatever angle you leave it.
In the latter case, with the full cradle, there may be some situations where it is beneficial to leave your gimbal unlocked but pointing upwards or downwards. Perhaps towards an animal's nest or den. Maybe this tiny time saver, not having to reposition your camera a few degrees, might make the difference between getting a shot or not when the subject finally appears.
I take the lighter-weight option nine times out of ten, but your opinion might be different. As I get older, my confidence in one-handing a 600mm lens into a side-mount gimbal without dropping it will likely lessen, too. And, should I develop arthritis in my hand or fingers, the easier mounting of the cradle gimbal will suddenly seem more appealing on a cold morning.
The Best Gimbal Tripod Heads
This table shows you the list of products I will review further in this guide. I didn't choose these products blindly, so if it made it as far as being included in this gear guide at all then it has already shown some merit. If you don't have time to read the in-depth guide, then these links might save you some time.
ProMediaGear GKJr. Katana Pro Gimbal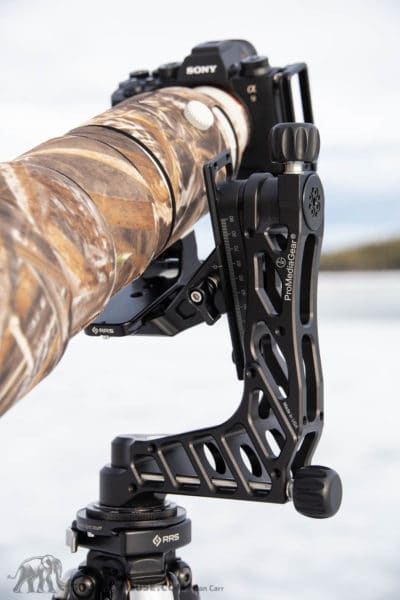 At only 2.4 lbs (1.08kg), the GKJr. Katana Pro gimbal from ProMediaGear is one of the lightest gimbals on the market. This impressive feat is achieved by machining a skeleton-like structure out of a solid block of aluminum. Despite the weight-saving design, the Katana Pro gives up nothing as far as stability is concerned. This head easily holds the biggest lenses on the market, such as a 600mm f/4. Equally, it's at home when paired with much lighter options such as a 100-400mm, 200-600mm, or the Canon 100-500mm, where some other heavy, larger gimbals feel overkill.
Not only is the GKJr Katana Pro light, but it's also relatively compact compared to heads like the Wimberley WH-200 or the Gitzo Fluid Gimbal. If you opt for the cradle mount version, the cradle is easily removed from the head to help pack it into your bag. For ultimate portability, the head's side mount version drops the weight even further to just 1.8 lbs. If you're someone that travels with your gear, weight and packability are always a concern. Check out my detailed review of the GKJr Katana Pro gimbal for more details on why this is one of my favorites.
---
ProMediaGear GT2 Tomahawk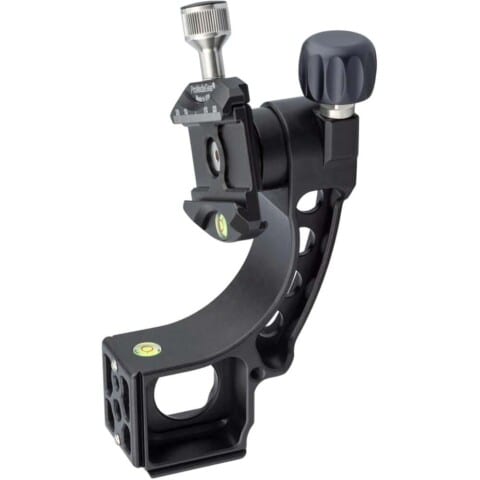 The ProMediaGear GT2 Tomahawk is best described as half a gimbal. Comparing the Tomahawk to the GKJr. Katana Pro, you can see it closely resembles the vertical part of that gimbal, using the same clamp and bearings. The dovetails on the bottom of the Tomahawk allow you to clamp it onto a ball head, thus using the ball head's panning base for the gimbal rotation.
Wimberley first developed the half-gimbal concept with their Sidekick model. ProMediaGear has taken this concept further by adding 1/4″ 20 and 3/8″ 16 female threads that allow the Tomahawk to be used on top of a monopod. This ingenious design can negate the need to carry a separate monopod head or a full-sized gimbal head if you are already traveling with a ball head.
The downside of the Tomahawk is the nearly-$400 price point. It won't be the best option for everyone when many full gimbals can be purchased for the same price or less. However, suppose you often travel with a high-quality ball head that can support a telephoto lens in this configuration. In that case, it does save considerable weight over carrying that ball head and a full-sized gimbal. The GT2 Tomahawk weighs just 15.3 oz / 434g.
---
Really Right Stuff PG-02 Mk2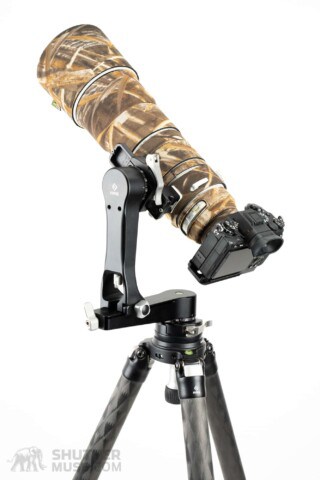 The Really Right Stuff PG-02 Mk2 is a modular gimbal head that can be configured as either a side-mount or cradle-mount gimbal. RRS calls these models the PG-02 Mk2 Side-Mount and the PG-02 Mk2 Full-Gimbal. One model can be converted to the other using a hex tool, so you're not committed to your choice if you change your mind after purchase.
Related: Really Right Stuff Ball Head and Gimbal Guide
Unique to the RRS gimbal is the option to use it as a multi-row panoramic head. This is made possible by the modular design that allows the vertical arm to be moved along the horizontal arm to place the lens' optical center directly over the point of rotation. As well as a great gimbal and panoramic head, the Side-Mount model is an excellent alternative to a ball head for any other non-telephoto shooting, such as landscapes or macro.
The new Mk2 version of the PG-02 is lighter and a little less bulky than the original version while maintaining the same stiffness and 50lb load capacity. It also features an innovative design that allows you to simultaneously lock and unlock the pan and tilt mechanisms with one hand. The design and machining are beautiful, and the gimbal's movement is buttery smooth with even the heaviest setups.
---
Fotopro Eagle E-6H
Fotopro is a Chinese manufacturer that has a broad portfolio of support products. Unlike most companies, they haven't chosen a pricing sector of the market to concentrate on. Instead, they manufacture everything from sub-$200 tripods up to $1400 tripods. This is a very different way of doing things. Imagine if Gitzo or Really Right Stuff made sub-$200 tripods and their top-of-the-line offerings, or if Ferrari made a cheap 4-door sedan?
I don't think this approach helps people's perception of the brand's products, but I'm here to tell you that their high-end Eagle Series products are the real deal, and any qualms should be put aside. The Fotopro E-6H is an excellent gimbal head and deserves your consideration, with some weight capacity caveats.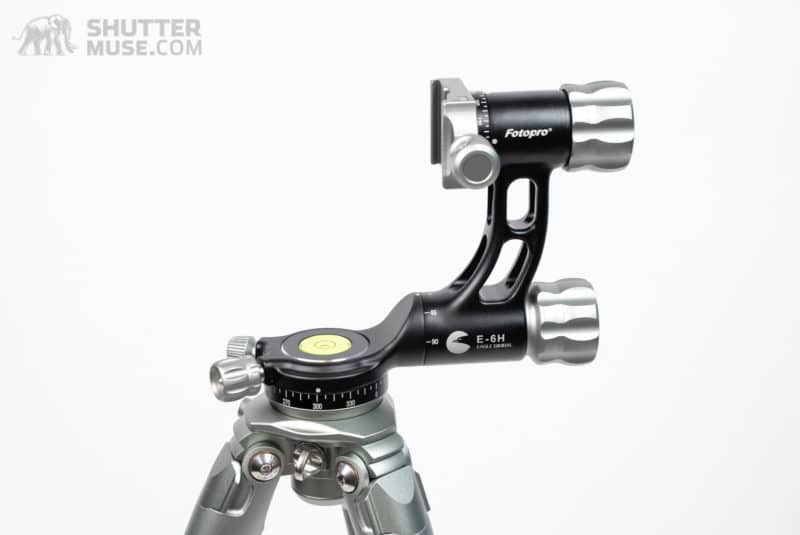 The E-6H gimbal is tiny. It's roughly half the size of any of the other gimbals in this guide, and it's easily the lightest at 911g with the cradle or a mere 700g in side mount mode. Despite its small size, it has some of the smoothest pan and tilt motions of any gimbal in this guide. It's so smooth that I had to ask Fotopro if it used fluid cartridges because it's smoother than the Gitzo Fluid Gimbal. As it turns out, it does not. But you certainly wouldn't know it by using it.
This gimbal is full of features that don't exist on other gimbals. Firstly it has click stops that can be engaged on the panning base for panoramic photographers to get perfectly repeatable results. Secondly, the vertical arm can be swivelled forwards or backwards up to 180 degrees. This means you can shoot straight up to the night sky or down to the ground for macro work. Alternatively, fold it down for more compact travel.
Other unique features include toolless swapping between cradle mount and side mount and locking screw-lock knobs on the Arca-Swiss clamps. It even comes with a panning handle so you can use the head for filmmaking. And yes, this head is smoother than many cheap video heads, so that's an entirely plausible scenario.
---
Gitzo GHFG1 Fluid Gimbal
The Gitzo Fluid Gimbal is surprising in a few ways. Firstly this is a fluid head, so fluid cartridges dampen rotational resistance of the horizontal and vertical panning joints. Fluid heads deliver a much smoother panning motion, as discussed in the RRS FG-02 fluid gimbal section. A panning bar is included in the package to aid with smooth motion when shooting video.
The relatively low price point is the second most surprising thing about the Gitzo gimbal head. Gitzo products are known to be of the highest quality, and many photographers aspire to own them, but the price point can sometimes be prohibitive. In the case of their GHFG1 Fluid Gimbal, the price is a bargain when you compare it to other models in this gear guide. It's much less than half the price of Really Right Stuff's fluid gimbal, and it's cheaper than some of the most popular gimbals, such as the Wimberley WH-200.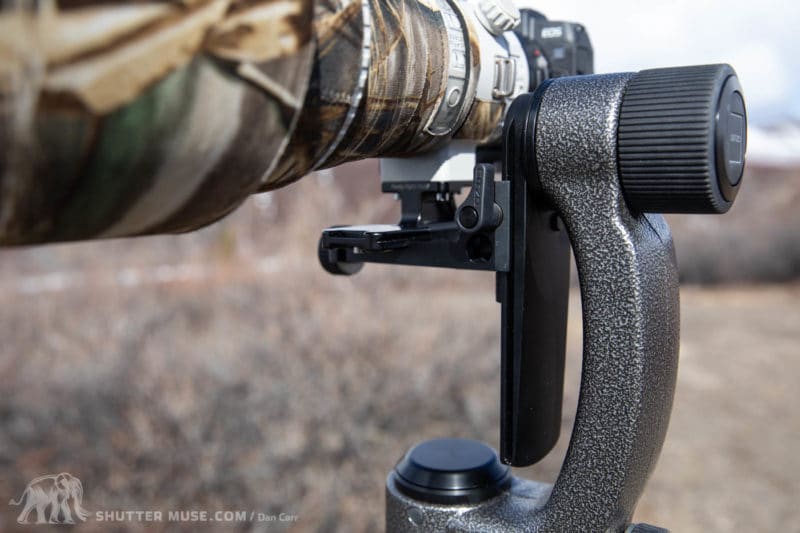 The main downside of this gimbal is that they do not offer a side mount version, which would have saved a little weight and size. The overall design is also significantly bulkier than many other options, such as the ProMediaGear Katana Jr or the Fotopro Eagle. It's also lacking a bubble level. Something that is offered by the PMG Katana Jr, the RRS gimbals, the Fotopro E-6H and more.
---
Wimberley WH-200
The Wimberley WH-200 design has been around for decades and is popular with many photographers. The design is bland, but they are among the smoothest gimbals on the market, and their durability and general robustness have been proven over time. If you tend to beat up your camera equipment in harsh environments and don't mind the sterile, industrial look, the WH-200 is one of the best options.
---
Wimberley MH-100 MonoGimbal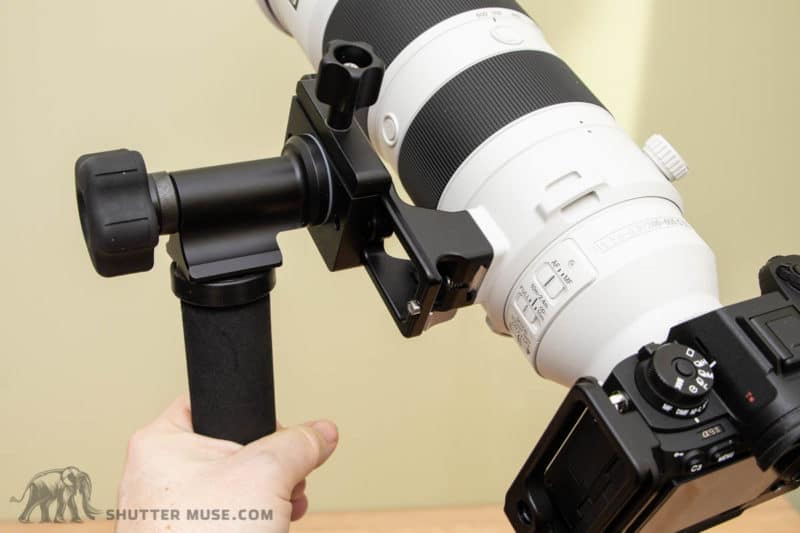 This product is an outlier in the gimbal guide, but I don't think the guide would be complete without it. The WH-100 MonoGimbal is designed primarily to act as a small gimbal for your monopod. However, the base of the head is an Arca-compatible dovetail, which means you could attach it to a regular ball head to give it some gimbal characteristics (see photo below).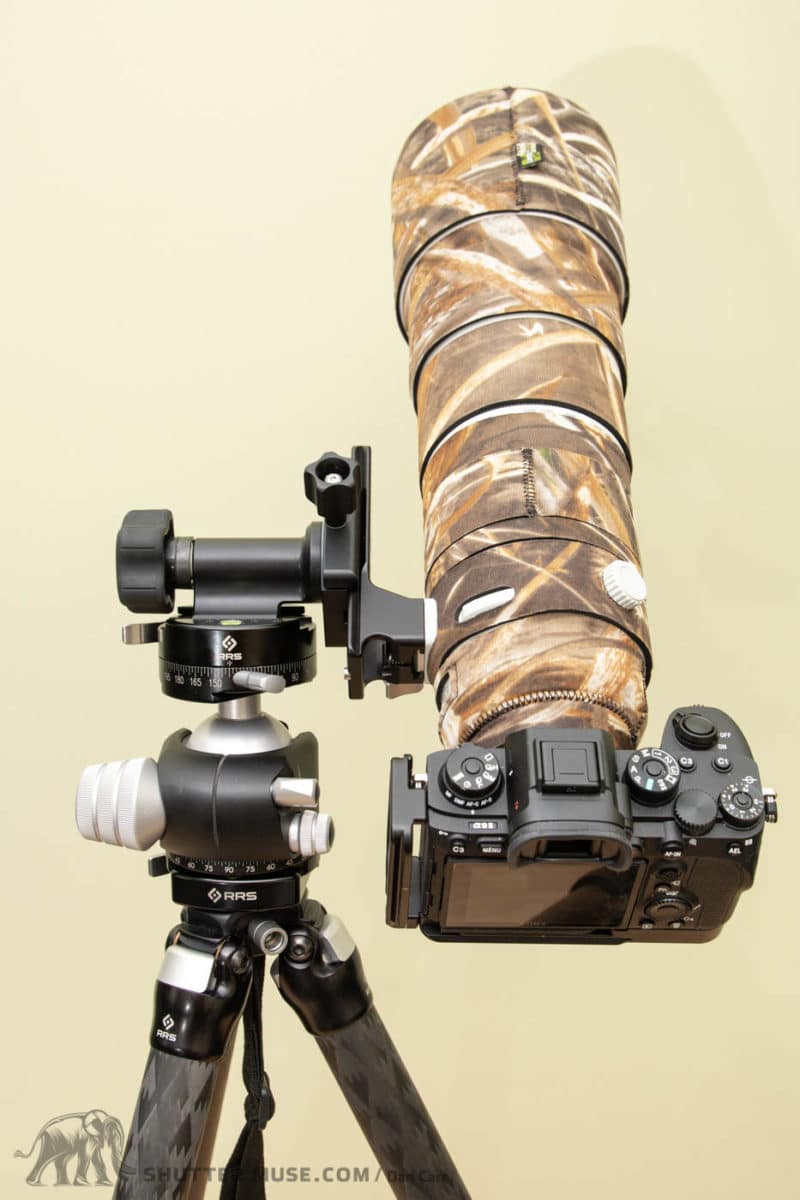 ---
Wimberley Sidekick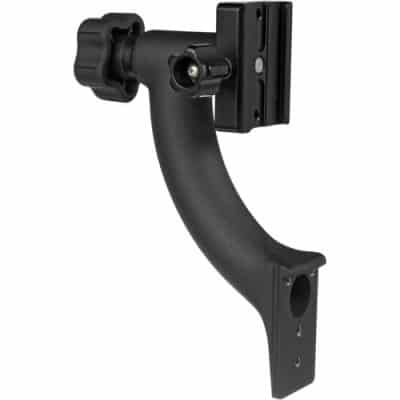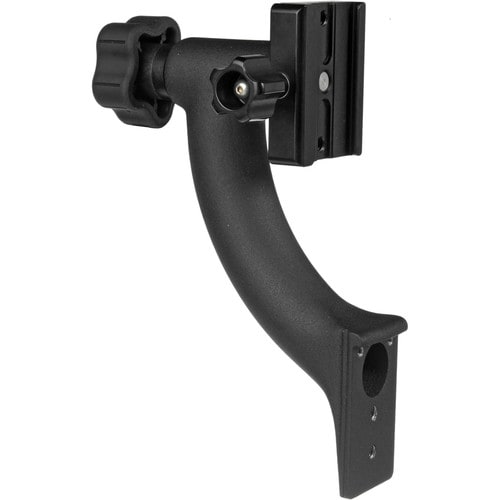 The Wimberley Sidekick is an interesting design for someone who must carry both a ball head and a gimbal head. Instead of switching heads entirely, this handy gadget converts your existing ball head into a gimbal. To do this, your ball head must have a separate panning base lock knob and an Arca-Swiss compatible clamp.
To install the Wimberley Sidekick, release the ball lock and flop the clamp into your drop notch, positioning it vertically, then tighten the ball as much as possible. Now clamp the Sidekick into the now vertical ball head clamp and loosen the ball head's panning base lock knob to rotate the gimbal.
Choosing the sidekick instead of a proper gimbal will give you some weight savings, but, as with the ProMediaGear GT2 Tomahawk discussed earlier on this page, the head's effectiveness depends on the smoothness of your ball head's panning base. Ball heads are not designed to have heavy weights levered on one side while rotating. They are designed to be locked down tightly. Even some of the best ball heads on the market struggle to deliver a smooth horizontal pan when used in this out-of-scope manner.
In my testing, the RRS BH-40 and BH-55 ball heads produced the smoothest pans with a telephoto lens and the Sidekick. Many other heads can hold the off-centre weight, but the pan fluidity is slightly compromised. Still, this might be a worthwhile tradeoff for the overall weight savings if you otherwise need to carry both a ball head and a full-sized gimbal.
At about $250, you save a significant chunk of change with the Sidekick compared to the full Wimberley gimbal ($550), but it's only really a saving if you already own a high-end ball head to pair it with. If you need to buy a new ball head, your total bill will undoubtedly be larger than the cost of the Wimberley Gimbal or the better ProMediaGear gimbal.
---
Oben GH-30
The Oben GH-30 deserves a spot on this list because it brings gimbals down to a price point that makes them accessible to many more people. At just $250, this is an excellent beginner option for people who don't do much wildlife photography but want something that will make life considerably easier for them on the odd weekend excursion. It's also a good budget option if you have booked a costly wildlife photography vacation and suddenly realize that you should take a gimbal with you but don't want to break the bank.
---
Induro GHB1
The Induro GHB1 is a moderately sized side mount gimbal with a 22lb capacity and a relatively low weight of 1.7lbs. It is suitable for smaller and lighter telephoto lenses, such as a Sony or Nikon 200-600mm, a Canon RF 100-500mm, Nikon Z 100-400mm or a Nikon Z 400mm f/4.5.
---
Sirui PH-20
The Sirui PH-20 is a carbon fibre gimbal that comes equipped with an Arca-compatible cradle and an included option to remove the cradle and convert it to a side mount gimbal. Sirui strangely does not mention the included side mount option on its website, despite being one of its best features. In full cradle mode, the PH-20 weighs 1163g or 2.56lbs. When the cradle is removed and the smaller side mount clamp is installed, the gimbal weighs 899g or 1.98lbs. These are the measured weights on my digital scapes. Ignore the lower weights suggested by Sirui.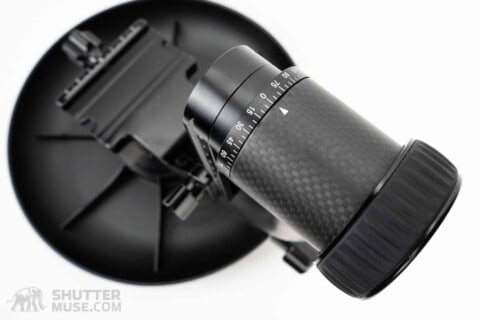 ---
Protecting Your Gimbal
Use Your Gimbal With a Skimmer
Most will use a gimbal head on a tripod, but there are many times when a lower point of view is beneficial. While it's possible to spread your tripod's legs to attain that low angle, it's cumbersome to repeatedly lift a tripod and adjust its position while lying flat on your belly. The heavier your lens, the harder this becomes.
---
Which Gimbals Do I Use?
Tripod
For many years I have used an RRS PG-02. It's built like a tank but also has the exquisite finishing that we have come to expect from RRS. I love that it can be broken down into two pieces for travel, but a significant downside is its considerable weight. When this PG-02 gimbal went out of production, I started my search for a replacement. It's all well and good having my own PG-02, but I can't very well recommend an out-of-production product to readers.
My search led me to the ProMediaGear GKJr. Katana Pro, which has now become my gimbal head of choice, and number one recommendation. The buttery smooth bearings, combined with its fantastic capacity-to-weight ratio, make this an excellent gimbal tripod head for any size of super-telephoto lens. If it falls within your budget, you won't be disappointed.
Monopod
When using a monopod for wildlife photography, I prefer to have a gimbal head on it, just as I do on a tripod. It gives me an Arca quick-release and makes it much easier to aim my lens at subjects above and below my eye line. However, gimbals designed for a tripod are too big for a monopod and create an unwieldy top-heavy setup. The solution for most people will be the Wimberley MH-100 Monogimbal. I rate this as the overall best monopod head and find the sub-$200 price very reasonable.
The second monopod gimbal I use is the ProMediaGear GT2 Tomahawk. Essentially, the GT2 Tomahawk is the top half of their top-rated GKJr. Katana Pro Gimbal and can be used on its own as a monopod head or combined with a ball head to create a gimbal tripod head. I love this head, but the near-$400 price point makes it more than twice the price of the Wimberley Monogimbal and, therefore, much harder to recommend to people who simply need a monopod head. Instead, the GT2 Tomahawk is best chosen when you also want to use its ability to convert a ball head into a gimbal head.
If ordinarily, you would travel with a tripod, a monopod, a ball head, a gimbal and a monopod head, now, with the GT2, you can simply carry the tripod and monopod, along with a ball head and the GT2. You are saving yourself the weight of the monopod head and much of the weight of a full-sized gimbal. Brilliant for travel, if you don't mind the rather steep price!