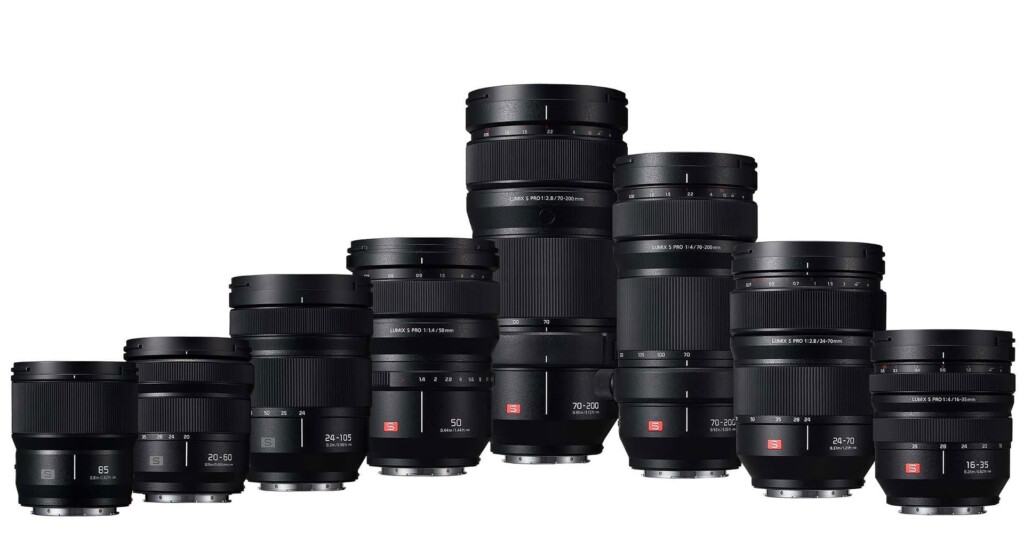 In 2019 Panasonic joined the L-Mount Alliance to produce their first full-frame mirrorless camera featuring the L-Mount. Below is a current list of all Panasonic Lumix S L-Mount lenses and their specifications. All Lumix S lenses feature an L-Mount bayonet for working with L-Mount cameras. These Panasonic S Series lenses will work on all other cameras with an L-Mount, such as those from Leica and Sigma.
While the selection of Panasonic Lumix S lenses is relatively small compared to Canon or Nikon, they have been highly praised in reviews and compete with the top full-frame lenses from other brands. Of course, suppose you have an L-Mount camera. In that case, you aren't limited to just these Lumix S lenses. You can also use L-Mount lenses from other alliance partners, such as Leica, Sigma, or DJI.
Panasonic Lens Terminology Key
Below is a brief overview of the most common acronyms and abbreviations found within the names of Panasonic Lumix lenses.
O.I.S – The lens features optical image stabilization
Lumix S – The lens is designed for Panasonic's full-frame mirrorless system
Lumix G – The lens is designed for Panasonic's Micro Four-Thirds mirrorless system (not discussed on this page)
PRO – The lens is built to the highest optical standards, with a high level of weather sealing
Macro – The lens has close focusing capabilities with a maximum magnification ratio of at least 1:2 (0.5x)
Panasonic Lens Annual Release Rate
How many new S Series lenses does Panasonic release every year? The number is variable, but the chart below will give you some historical context and a reasonable indication of what can be expected.
Panasonic Lumix S Lens Release Dates
The lens data table in the next sub-section is arranged in focal length order. Sometimes it's helpful to have a chronological list of Panasonic S lens release dates to determine which lenses offer the latest technology. In this section, you will find a list of all Panasonic's Lumix S lenses, arranged with the newest lenses at the top. Occasionally, there may be additional upcoming lenses on the Lumix S lens roadmap that have not yet been officially released.
Panasonic Lumix S Lenses – Complete Specifications
By default, lenses in the table are sorted by their widest focal length, placing wide-angle lenses at the top and super-telephoto lenses at the bottom.
Use the filters to narrow down lenses shown in the table.
Use the horizontal scroll bar below the table to reveal more specifications.
Mobile users can press the + button to expand.
| Lens Order | wdt_ID | Lens Name | Lens Type | Release Date (MDY) | Focal Length | Widest Focal Length | Aperture Range | Max Aperture | Angle of View | O.I.S | Length | Diameter | Weight | MFD | MM | Lens Design | Aperture Blades | Filter Thread | Price | Lens Name |
| --- | --- | --- | --- | --- | --- | --- | --- | --- | --- | --- | --- | --- | --- | --- | --- | --- | --- | --- | --- | --- |
| 2 | 1 | Lumix S PRO 16-35mm F4 | Zoom,PRO Line | 11/06/2019 | 16-35 | 16 | 4-22 | 4.00 | 107° to 63° | No | 3.92" / 99.6mm | 3.35" / 85mm | 1.1lb / 500g | 9.84" / 25cm | 0.23 | 12 Elements in 9 Groups | 9 | 77 | | Lumix S PRO 16-35mm F4 |
| 4 | 2 | Lumix S 20-60mm F3.5-5.6 | Zoom | 05/27/2020 | 20-60 | 20 | 3.5(5.6)-22 | 3.50 | 94° to 40° | No | 3.43" / 87.2mm | 3.05" / 77.4mm | 12.35oz / 350g | 5.91" / 15cm | 0.43 | 11 Elements in 9 Groups | 9 | 67 | | Lumix S 20-60mm F3.5-5.6 |
| 5 | 3 | Lumix S 24mm f/1.8 | Prime | 09/01/2021 | 24 | 4 | 1.8-16 | 1.80 | 84° | No | 3.2" / 82mm | 2.9" / 73.6mm | 10.9 oz / 310 g | 9.4" / 24 cm | 0.15 | 12 Elements in 11 Groups | 9 | 67 | | Lumix S 24mm f/1.8 |
| 6 | 4 | Lumix S 24-105mm f/4 Macro O.I.S. | Zoom,Macro | 02/01/2019 | 24-105 | 4 | 4-22 | 4.00 | 84° to 23° | Yes | 4.65" / 118mm | 3.31" / 84mm | 1.5lb / 680 g | 11.81" / 30 cm | 0.5 | 16 Elements in 13 Groups | 9 | 77 | | Lumix S 24-105mm f/4 Macro O.I.S. |
| 7 | 5 | Lumix S PRO 24-70mm F2.8 | Zoom,PRO Line | 08/28/2019 | 24-70 | 24 | 2.8-22 | 2.80 | 84° to 34° | No | 5.51" / 140mm | 3.58" / 90.9mm | 2.06lb / 935g | 1.21' / 37cm | 0.25 | 18 Elements in 16 Groups | 11 | 82 | | Lumix S PRO 24-70mm F2.8 |
| 8 | 6 | Lumix S 35mm f/1.8 | Prime | 11/09/2021 | 35 | 35 | 1.8-22 | 1.80 | 63° | No | 3.2" / 82mm | 2.9" / 73.6mm | 10.4 oz / 295 g | 9.4" / 24 cm | 22 | 11 Elements in 9 Groups | 9 | 67 | | Lumix S 35mm f/1.8 |
| 9 | 7 | Lumix S PRO 50mm f/1.4 | Prime,PRO Line | 02/01/2019 | 50 | 50 | 1.4-16 | 1.40 | 47° | No | 5.12" / 130mm | 3.54" / 90mm | 2.1lb / 955g | 1.44' / 44cm | 0.15 | 13 Elements in 11 Groups | 11 | 77 | | Lumix S PRO 50mm f/1.4 |
| 10 | 8 | Lumix S 50mm f/1.8 | Prime | 06/02/2021 | 50 | 50 | 1.8-22 | 1.80 | 47° | No | 3.2" / 82mm | 2.9" / 73.6mm | 10.6 oz / 300 g | 1.48' / 45.11 cm | 0.14 | 9 Elements in 8 Groups | 9 | 67 | | Lumix S 50mm f/1.8 |
| 11 | 9 | Lumix S PRO 70-200mm f/4 O.I.S. | Zoom,PRO Line | 02/01/2019 | 70-200 | 70 | 4-22 | 4.00 | 34° to 12° | Yes | 7.05" / 179mm | 3.32" / 84.4mm | 2.2lb / 985g | 3.02' / 92cm | 0.25 | 23 Elements in 17 Groups | 9 | 77 | | Lumix S PRO 70-200mm f/4 O.I.S. |
| 12 | 10 | Lumix S PRO 70-200mm F2.8 O.I.S. | Zoom,PRO Line | 11/06/2019 | 70-200 | 70 | 2.8-22 | 2.80 | 34° to 12° | Yes | 8.21" / 208.6mm | 3.72" / 94.4mm | 3.45lb / 1570g | 3.12' / 95cm | 0.21 | 22 Elements in 17 Groups | 11 | 82 | | Lumix S PRO 70-200mm F2.8 O.I.S. |
| 13 | 11 | Lumix S 70-300mm f/4.5-5.6 Macro O.I.S. | Zoom,Macro | 02/19/2021 | 70-300 | 70 | 4.5-22 | 4.50 | 8.3° to 34° | Yes | 5.8" / 148 mm | 3.3" / 84mm | 1.7 lb / 790 g | 1.8' / 54 cm | 0.5 | 17 Elements in 11 Groups | 11 | 77 | | Lumix S 70-300mm f/4.5-5.6 Macro O.I.S. |
| 14 | 12 | Lumix S 85mm f/1.8 Lens | Prime | 04/11/2020 | 85 | 85 | 1.8-22 | 1.80 | 29° | No | 3.2" / 82mm | 2.9" / 73.6mm | 12.5 oz / 355 g | 2.6' / 80cm | 0.13 | 9 Elements in 8 Groups | 9 | 67 | | Lumix S 85mm f/1.8 Lens |
| 15 | 13 | DMW-STC14 Lumix S 1.4x Teleconverter | Teleconverter | 05/31/2019 | N/A | 0 | N/A | 0.00 | N/A | No | 1.09" / 27.6mm | 2.57" / 65.3mm | 6.35oz / 180g | N/A | N/A | 7 Elements in 4 Groups | 0 | N/A | | DMW-STC14 Lumix S 1.4x Teleconverter |
| 16 | 14 | DMW-STC20 Lumix S 2x Teleconverter | Teleconverter | 05/31/2019 | N/A | 0 | N/A | 0.00 | N/A | No | 1.64" / 41.6mm | 2.57" / 65.3mm | 8.11oz / 230g | N/A | N/A | 8 Elements in 4 Groups | 0 | N/A | | DMW-STC20 Lumix S 2x Teleconverter |
| 1 | 15 | Lumix S 14-28mm f/4-5.6 Macro | Zoom,Macro | 01/04/2023 | 14-28 | 14 | 4(5.6)-22 | 4.00 | 114° to 75° | No | 3.5" / 89.8mm | 3.3" / 84mm | 12.2 oz / 345 g | 5.9" / 15 cm | 0.5 | 14 Elements in 10 Groups | 7 | 77 | | Lumix S 14-28mm f/4-5.6 Macro |
| 3 | 16 | Lumix S 18mm f/1.8 L | Prime | 09/07/2022 | 18 | 8 | 1.8-16 | 1.80 | 100° | No | 3.2" / 82mm | 2.9" / 73.6mm | 12 oz / 340 g | 7.1" / 18 cm | 0.2 | 13 Elements in 12 Groups | 9 | 67 | | Lumix S 18mm f/1.8 L |
| | | | Lens Type | | | Widest Focal Length | | Max Aperture | | O.I.S | | | | | | | | Filter Thread | | |
Panasonic Lumix S Lens Price Check Tool
Panasonic Lumix S Zoom Lenses
Panasonic Lumix S Prime Lenses
Panasonic Lumix S Teleconverters