I've just returned from a two-week wildlife photography expedition in the Chilcotin Mountains of British Columbia, where I was photographing grizzly bears from a kayak. Since the memories are fresh in my mind, it is the perfect time to craft a list of essential items for wildlife photographers.
Binoculars or a Monocular
Wildlife photography is often a waiting game and you might spend hours scanning the horizon for your intended subject. It's simply not practical or comfortable to do this with your camera and lens – a pair of binoculars or a monocular is an absolutely essential accessory for a wildlife photographer. A monocular can be a great choice when you have to hike to your location because they are smaller, lighter and fit easily onto your belt. If you are shooting from your car or a safari vehicle, then a pair of binoculars will likely be a better choice. In fact, for many people, there's good reason to have access to both options in your gear closet but I'll leave that decision up to you.
The most popular magnifications are 8X and 10X. 10X devices are physically larger but in most cases, I don't find them to be prohibitive. There is probably some math that you could do to work out the 35mm equivalent of a 10X pair of binoculars but all you really need to know is that it's a lot! A 10X set of binoculars is going to show you a far closer view than your super-telephoto lens does, and that's the important thing.
When you're looking at specifications you'll see binoculars are always represented by two numbers. For example; 10X42 or 8X32. The first number is of course the magnification, while the second number is the size of the objective lens in millimetres. A larger lens lets more light in and offers a brighter view through the eyepieces, at the expense of added weight of course. Juggling these two numbers gives rise to a huge variety of different size options. Another thing that you'll likely want to take notice of is the waterproofing. Since we can't really guarantee what the weather will be like, I would always opt for a fully waterproof setup. In most cases, this actually adds very little cost to the equation.
When you start looking at the options that are out there you'll also see a huge variation in pricing, even when comparing binoculars with seemingly similar specifications. Price is somewhat determined by the quality of the optics, and also the size of the device. It's possible to get very small 10X devices, but the smaller you make a 10X device, the more expensive it becomes to maintain good optical quality in a miniature form factor. It's a definite balancing act so you need to decide what's most important to you between price, magnification, physical size and optical quality.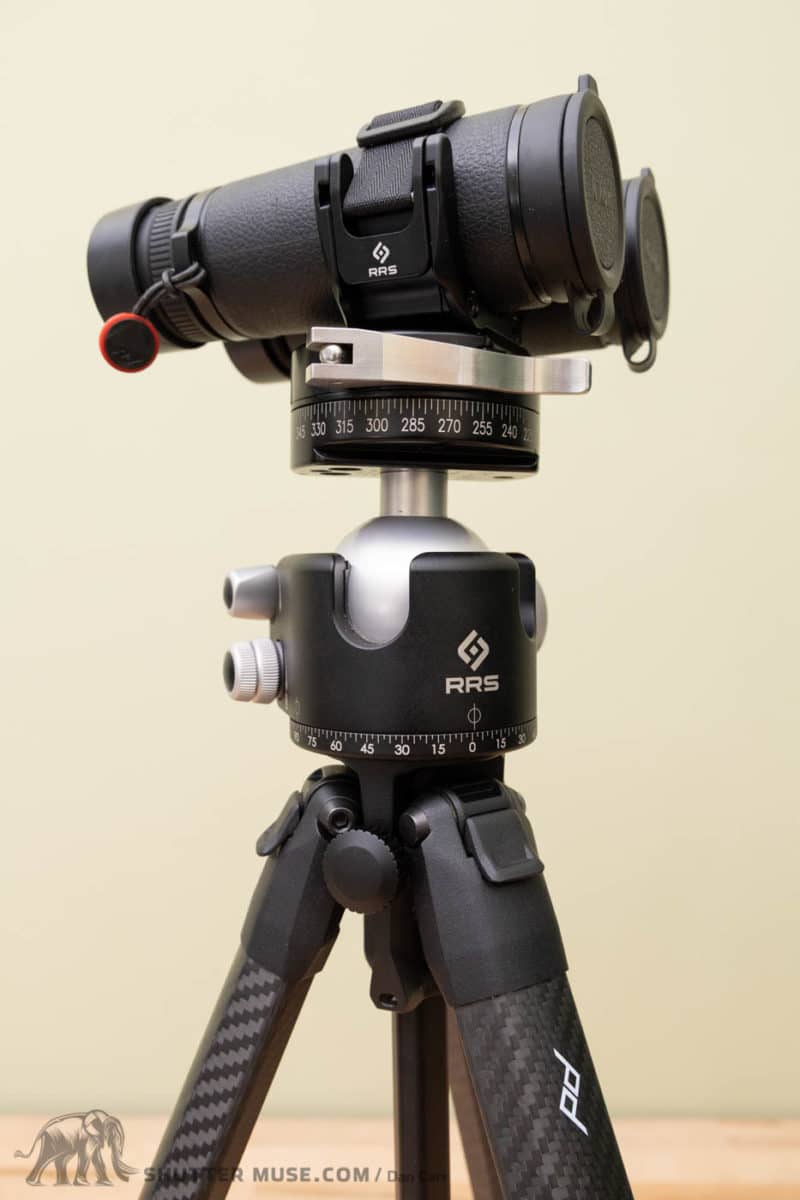 Recommended options
Binoculars
Monoculars
---
A Headlamp
The majority of good wildlife photography opportunities will be early in the morning or late in the evening when the light is less harsh. This almost certainly means that you'll spend some time in the darkness, whether it be before or after your photography session. I personally like to carry both a headlamp and a flashlight with me. The headlamp is perfect when you need two hands to rummage in a camera bag, and they also do a great job of illuminating your immediate surroundings when you are walking in the dark.
A small, powerful LED torch can be great as well though, as this allows you to light up distant objects and it can also be a handy light painting tool! I use the Petzl Swift RL. You can recharge it via USB and it also has a red LED mode which is great for illuminating closer objects, like your camera, but without affecting your night vision. For photographers, I would consider that to be a must-have feature, and you'll also find it in the cheaper Petzl Bindi rechargeable headlamp, which is like the baby brother to the Swift RL. I try to keep as many of my accessories as possible chargeable via USB so that I can top them up with my Goal Zero Venture 30 battery pack.
For LED flashlights I rely on a couple of slightly different models from Fenix. These kinds of accessories don't have to break the bank, but they can make a huge difference to the success of your photo mission!
A Telephoto Lens
There's really no escaping the fact that you're going to need a relatively long lens to achieve the kind of wildlife photos you'll likely be proud of. At a bare minimum, I would suggest having something in the 400mm equivalent range. I say equivalent because the crop factor of APS-C sensor cameras like the Canon 90D or Nikon Z50 will provide you an angle of view that's equivalent to a longer focal length lens in 35mm terms. For example, a 300mm lens on a 1.6x crop Canon camera has an equivalent angle of view to 480mm on a full-frame camera.
The Canon 100-400 IS II is a popular option for enthusiasts, as is the Nikon 200-500, the Nikon 500mm PF, the Fuji 100-400 and the Sony 200-600. Tamron also has an excellent 150-600mm lens which comes in at an astonishingly cheap price for a lens that will take you all the way to 600mm. I've actually tested this lens myself whilst shooting grizzly bears and was impressed by its sharpness.
Sigma have also released two variations on a 150-600mm lens, following the unmitigated success of Tamron's lens with wildlife photography enthusiasts. The cheaper of Sigma's two models takes direct aim at the Tamron equivalent, while the higher-end version is built to withstand the rigours of professional usage.
For Nikon users, Matt has written both a review of the Nikon 200-500mm and also a separate piece about using the 200-500 with the Nikon D500 – possibly Nikon's best budget wildlife photography setup. The recent launch of the new Nikkor 500mm f/5.6 PF lens is also an intriguing addition to the plethora of telephoto choices on the market these days. Although about twice the price of the Nikkor 200-500, the 500mm PF is smaller, lighter, faster and much sharper. Just look how it compares in size to the 500mm f/4! I expect this to be a huge hit for Nikon in the coming years, and at 500mm it's a great choice for both full-frame and APS-C users.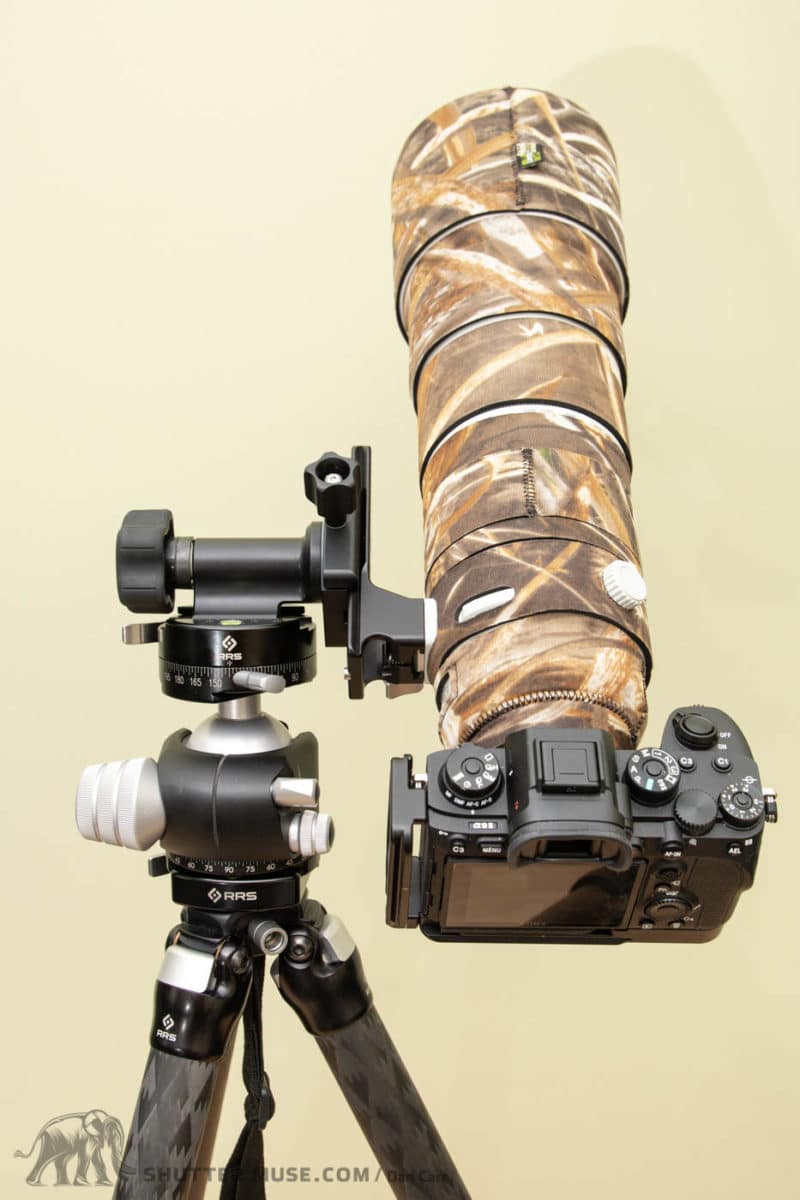 Sony user must undoubtedly consider the incredibly good value Sony 200-600mm G lens, which one the very first Sony lens I purchased myself when I moved to a Sony mirrorless system. The lens is sharp throughout the range and even works well with the Sony 1.4x extender to give you a hand-holdable 840mm lens (see above wild bison image). As far as I'm concerned, if you're a Sony user, because of the stunning value of the native 200-600mm lens there is absolutely no point in considering a third-party option in this range. The AF speed of acquisition and tracking accuracy is better with native Sony lenses, and the price is right. Sony users probably have the easiest choice!
Of course, there are always the more expensive Canon, Sony and Nikon super-telephoto lenses as well. Canon's 200-400 f/4 L IS 1.4ext (a lens that I owned myself for many years) is widely regarded as the king of wildlife lenses at the current moment, but the price of this lens is enough to cause most people to spit out their coffee. The question that often arises then, is should you bother to own a cheaper long lens option like the Sigma's or the Tamron, or should you simply spend that money on renting the more expensive options when you need them? This is a great question!
I'll tell you right now that there is a discernible difference in image quality between these two brackets of lenses if you look closely. But the biggest difference is that the apertures on the larger primes and zooms from Canon, Sony and Nikon are larger and constant. Having access to f/4 on something like a Sony 600mm f/4 GM, over f/6.3 on something like the Tamron makes a huge difference when you are shooting in low light. You can go on shooting keepers much longer with the prime lens and you'll also be shooting at a lower ISO. On paper, it looks like a small difference, but having just come off the back of a trip where I shot the Tamron 150-600 alongside the Canon 200-400 f/4, I can tell you that in the field, in practice, it makes a massive difference.
So what does this mean? Well for me it means that my advice for people taking that once in a lifetime safari trip is to rent one of the big guns from someone like Lensrentals, and not bother with these cheaper variable aperture zoom lenses. If on the other hand, you are shooting wildlife more regularly, and not just on one-off safaris, then definitely consider the Tamron and Sigma options as well as the native Nikon, Sony or Canon ones.
The variable aperture telephoto zooms also occupy a great space alongside the super-telephoto lenses if you have a second camera body. For example, if you have a rented 600mm on your primary camera, it's nice to have a 100-400 on a second body right next to you so that you can grab some wider scenic shots, or react quickly if an animal decides to investigate your safari vehicle at a closer distance.
A Bean Bag
Bean bags are an excellent way to support your camera and lens combination where a tripod just isn't practical. They are often used in safari vehicles, but of course, they work just as well in your own vehicle! LensCoat LensSacks are the perfect answer and they come in a couple of different sizes. Their design means they rest easily over a car door, or provide a perfect lens cradle when being used on the ground for low angle shooting. The idea is that you empty the sacks for travel, then fill them up with whatever you can find when you get to your destination. Buckwheat hulls work well for bean bag fill, or you can simply use rice in a pinch.
I keep one of these in the back of my car at all times – you just never know when you'll come across something interesting to shoot. As with many of the items on this list, they are inexpensive and don't take up a lot of room, yet have the ability to really enhance your wildlife photography experiences.
The LensSack has a threaded stud on the top so you can attach a clamp or ball head. I like to use the RRS Panning Clamp. That way I have a perfectly smooth panning motion with a heavy setup, but it's much less bulky to set up than using a full gimbal in my car.
---
A Tripod
Hand holding longer lenses can work for birds in flight, but that's about it. Many of the best wildlife photography opportunities happen early in the morning or late in the evening when light levels force you to use a very slow shutter speed. Combine this with the magnified shaking effect of longer focal lengths and a tripod is really an essential item.
I regularly find myself shooting well under 1/200 second with focal lengths in the 400-600mm range. Even a 5-stop image stabilizer isn't going to help you get consistent results in that area without a tripod. The other reason for getting a tripod is simply to prevent fatigue. On a day of shooting, many hours can be spent watching and waiting. Save your energy and use a tripod to have your gear ready and waiting right in front of you.
Choosing a tripod could be the subject of a very very long post on its own, but I'll offer a few tips here and tell you about some of my favourite options. The two biggest mistakes I think people make when choosing a tripod are to buy one that's too cheap and buy one that's too short. I've made both these mistakes myself! Pay close attention to the height of the tripod when it's fully extended.
The trap most people fall into is getting one that appears to correctly put their camera at eye level. The problem with this is that it assumes flat ground! When have you ever found flat ground outside? In reality, you'll want to have the ability to have one downhill leg extend longer and still have the camera at eye level. I'm not a tall guy (5'10") but I still find that the Really Right Stuff TVC-24L is a great tripod for me and I regularly rejoice at the height I can extend it to. I previously had a TVC-33S but the constant hunching over to my camera quickly drove me nuts so I had to switch it for something taller.
Related Reading: The Ultimate Guide to Really Right Stuff Tripods
The other mistake I've made is buying a cheap tripod and then constantly having to deal with problems and breakages. In the beginning, it's all too easy to think a tripod is a place you can save money. It's perfectly possible to get good photos using a cheap tripod, right up to the point at which it breaks, and then you're screwed! Please, please do not buy the cheapest tripod that will "do the job". You'll regret it. Trust me!
In the end, you'll only have to replace it and then you might as well have just started with a good one in the first place. A well maintained, high-quality tripod will last ten years or more. Yes my tripod is a pricey choice, and I'm not saying you have to pay RRS prices, but I take great satisfaction in the sturdiness of it and knowing that it's going to be with me for many adventures to comes.
If funds can't stretch to RRS pricing then I'd take a look at Induro's carbon tripods and the ever-present Manfrotto 055. I have a carbon Induro monopod that I've been using for 10 years now and I love that thing. Is carbon worth the extra cost? I believe it is. You get superior vibration dampening, considerable weight savings and vastly improved strength. On a long day where you're already carrying a heavy lens and camera setup, you'll be thankful for the weight saving. Gitzo tripods, particularly the 2-series and 3-series legs, are also worth a good look. They are about 80% of the price of RRS tripods, though their capacity/weight ratio isn't quite as good.
---
A Gimbal Head
A gimbal head is a device that sits on top of your tripod and perfectly balances your camera and lens combination, allowing you to pan and tilt it in any direction with almost zero effort. For wildlife photography with any lens of 400mm or more, I would consider this an essential item. Ball heads are designed to be positioned and then locked for the photo, but when shooting wildlife you are often following your subject and a gimbal makes this much easier.
In the past, Wimberley made the only gimbals worth considering, but today there are actually a few excellent options out there. My personal primary choice is the ProMediaGear Katana Junior because I believe the stability to weight ratio is unmatched in other options on the market. This gimbal weighs just 2.4lbs but can easily support the largest photo gear on the market. For more info, read my ProMediaGear Katana Junior gimbal review.
The Wimberley WH-200 is another great option and it's definitely the one I've seen on fellow photographer's tripods the most. It's a little cheaper than the RRS option, but it's buttery smooth and equally well built. It also features a bottom mount cradle which is an additional $100 option on the Really Right Stuff PG-02 Mk2. I personally don't mind a side-mount and I happily use it with my heavy beast of a Canon 200-400 f/4, but I know it perplexes some folks when used with heavier lenses.
One of the latest additions to the gimbal market is the Gitzo Fluid Gimbal Head, which is actually priced very attractively at $499. Unlike most other gimbals which rely on bearings, the Gitzo gimbal is a fluid head, however, this head has some quirks so I would recommend reading my Gitzo Fluid Gimbal review before committing to this particular head.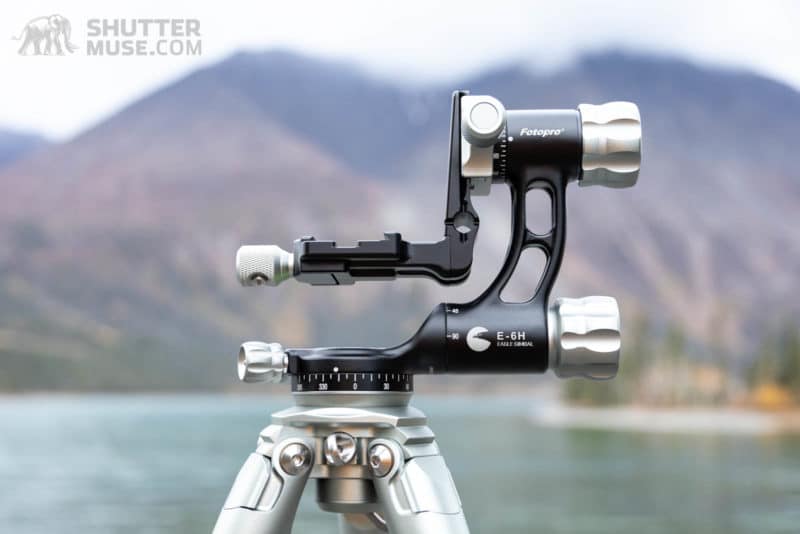 For smaller primes like a 300mm, or zooms such as the Sony 200-600mm or Tamron 150-600mm, the Fotopro Eagle E-6H would also be an excellent option. Looking for more options for different budgets? Check out my guide to the best gimbal heads on the market this year.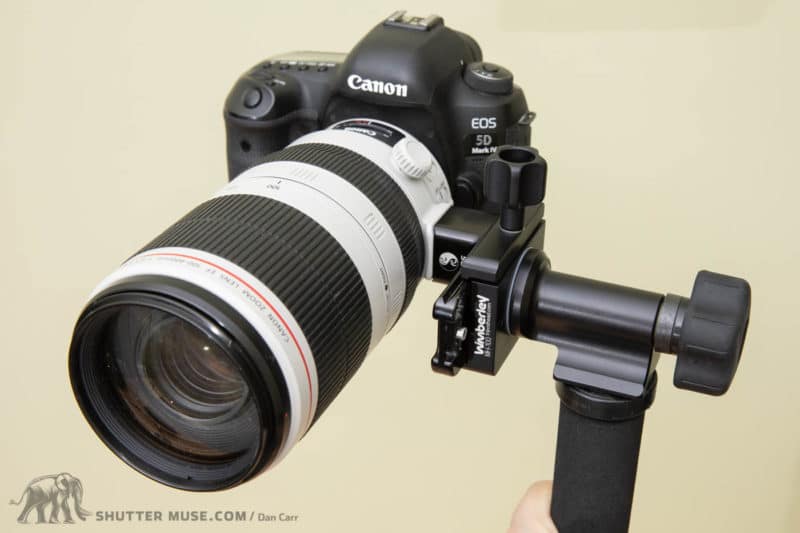 If you are an avid monopod user for times when you need to travel light, you must not overlook the Wimberley MonoGimbal. In fact for monopod-touting wildlife shooters, I would consider this relative cheap accessory a "must-have" item. Essentially it gives you that gimbal feel and range of motion, but on a monopod! You can read my full Wimberley MonoGimbal review here.
A Camera Bag For Long Lenses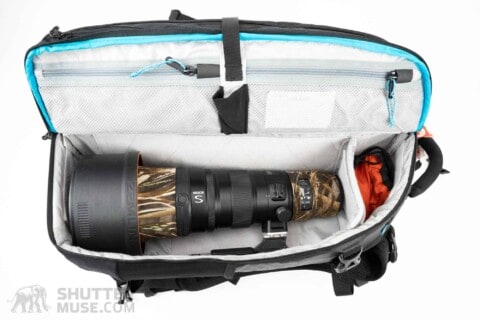 You're going to need a rugged camera bag that's capable of carrying large telephoto lenses. Shoulder bags and slings don't offer enough size and support, so a good backpack is what I would recommend. The following bags are my current recommendations for those carrying big super telephoto lenses:
Let's take a closer look at why I think these are the best options.
Gura Gear Kiboko 2.0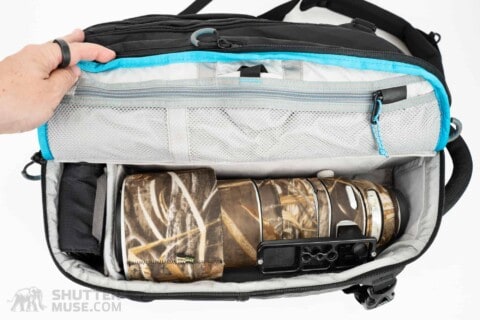 The current king of long lens backpacks is the Gura Gear Kiboko 2.0, available in four sizes: 16L, 22L, 30L, and 30L+. The two-sided design of these bags allows you to carry two cameras with long lenses attached and ready to go. The largest Kiboko backpacks will carry up to a 600mm f/4 or 800mm f/5.6 lens. For a detailed look at all four sizes of this bag, see my Gura Gear Kiboko review.
Gura Gear has offered Shutter Muse readers a 10% discount on anything purchased in their online store. Just use the discount code SHUTTERMUSE10 after clicking here to access their store.
Think Tank FirstLight+ Series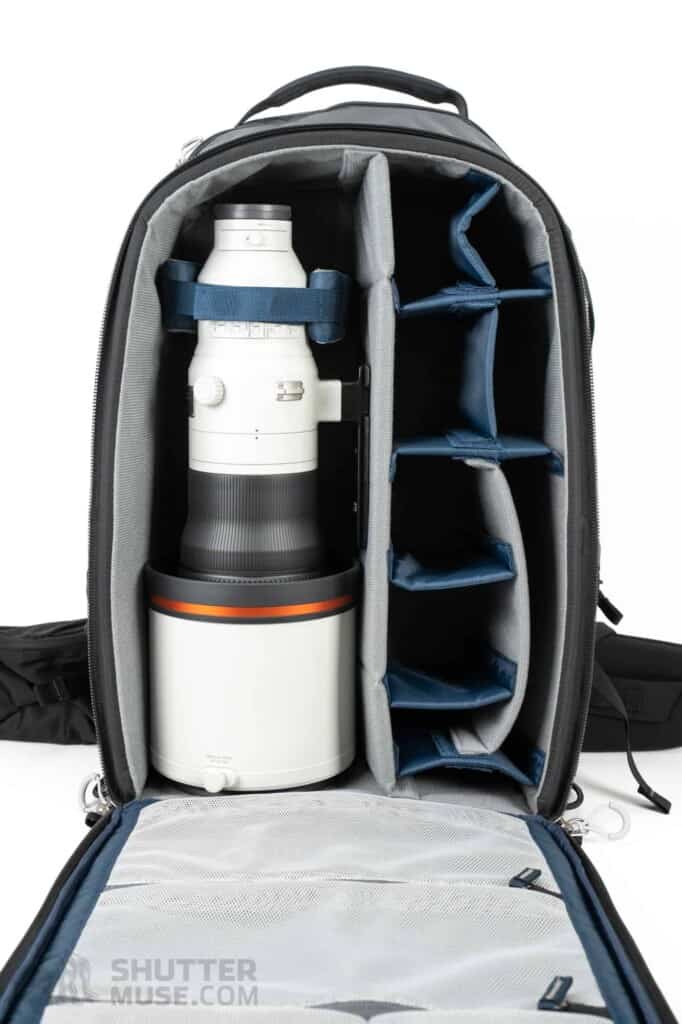 If you need more comfort for hiking, I recommend the Think Tank FirstLight series, available in 35L+ and 46L+ sizes. The FirstLight 46L+ pack holds a similar camera payload to the Gura Gear Kiboko 30L (not a typo). Still, it has a more traditional opening system and a much beefier harness that includes adjustable torso length. This pack will also carry super-telephoto lenses like a champ and includes a special padded collar for securing them. Check out my Think Tank FirstLight+ pack review for more details.
US Customers get a free gift when they spend over $50 in the Think Tank/MindShift online store after clicking this link. For more details, or if you have any issues, see this post.
MindShift BackLight Elite 45L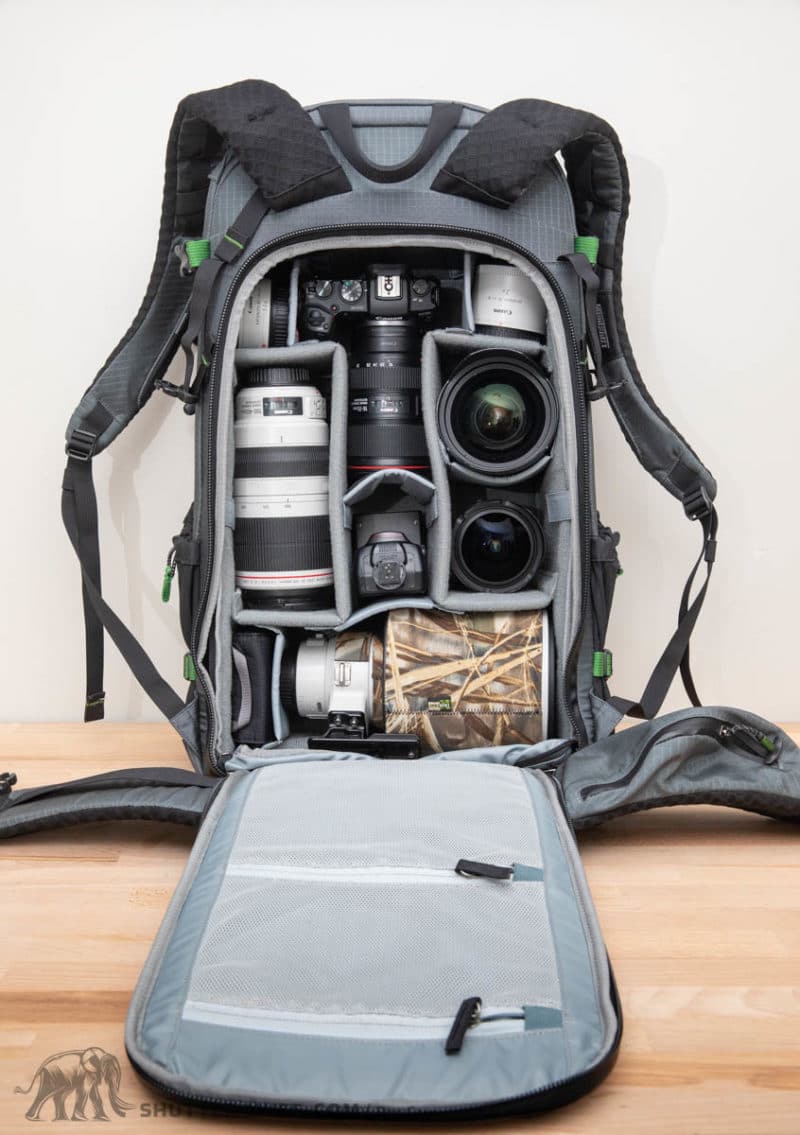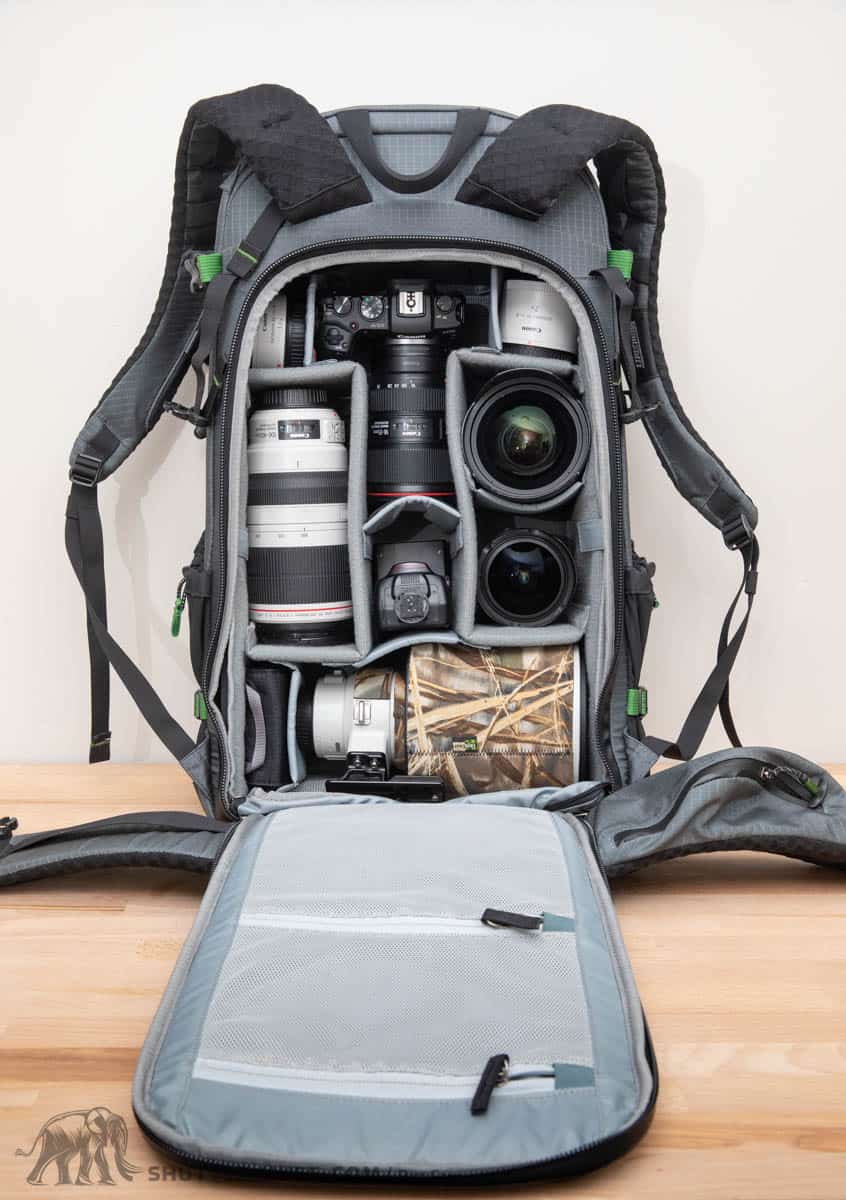 Another great option is the top-of-the-line MindShift Backlight Elite 45L. This would suit someone looking to carry one smaller long lens, such as a 200-600mm or a 300mm f/2.8, with a selection of other lenses and outdoor gear. It's made from excellent materials and has more features than any other camera bag I have ever reviewed. You can read the Backlight Elite 45L review here for more details.
Think Tank Rollers
If you need a simple case for your long lens, check out the Think Tank Glass Limo. If you need a rolling camera bag specifically for airline travel with your long lenses, check out the entire Think Tank roller range, but pay specific attention to their ultralight Airport Advantage XT. If you're carrying a big heavy lens, it's nice to pair it with a lightweight bag when some airlines are enforcing 7KG weight limits for carry-on bags.
Shimoda Action X70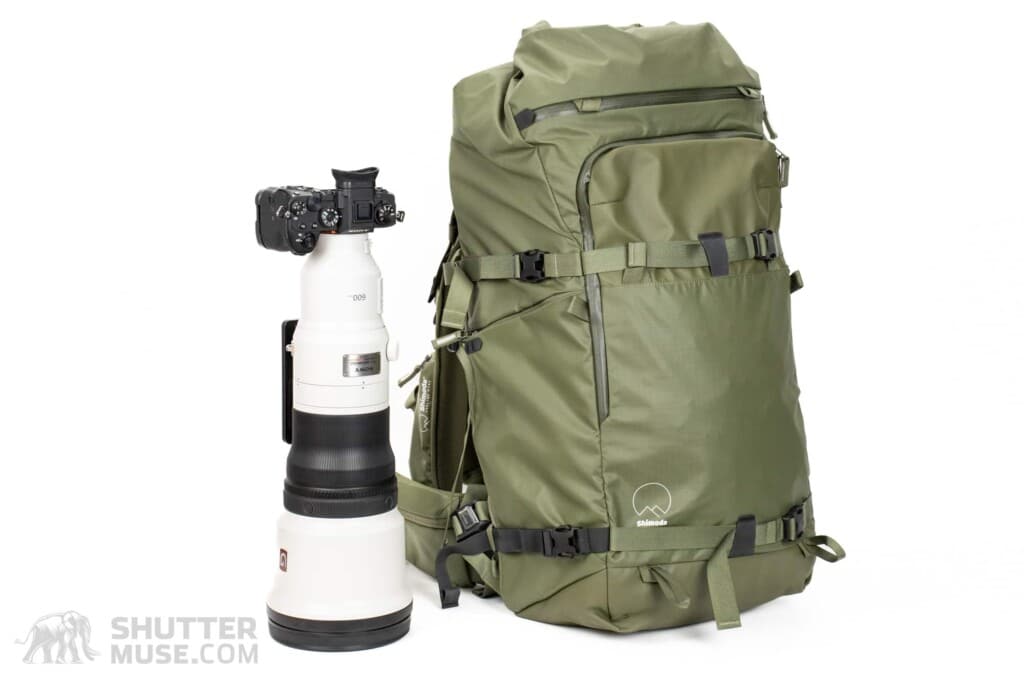 The Action X70 HD is the largest of Shimoda's camera backpacks. Choose this bag if you need to carry a ton of additional gear alongside your telephoto lens. If I want to carry a tent and a sleeping bag alongside a 600mm lens, this is the bag I pull from my closet. It starts with a 70L volume, but the roll-top design takes that even further if you need it. Check the Action X70 HD review for more details.
Shimoda Designs has offered Shutter Muse readers a 10% discount on anything purchased through their online stores. US, UK, French, or German residents should use the discount code ShutterMuse10 after clicking here to access the store. Australian readers should use the same code on the local Shimoda distributor's site, Maxxum, instead.
LensCoat Xpandable Bag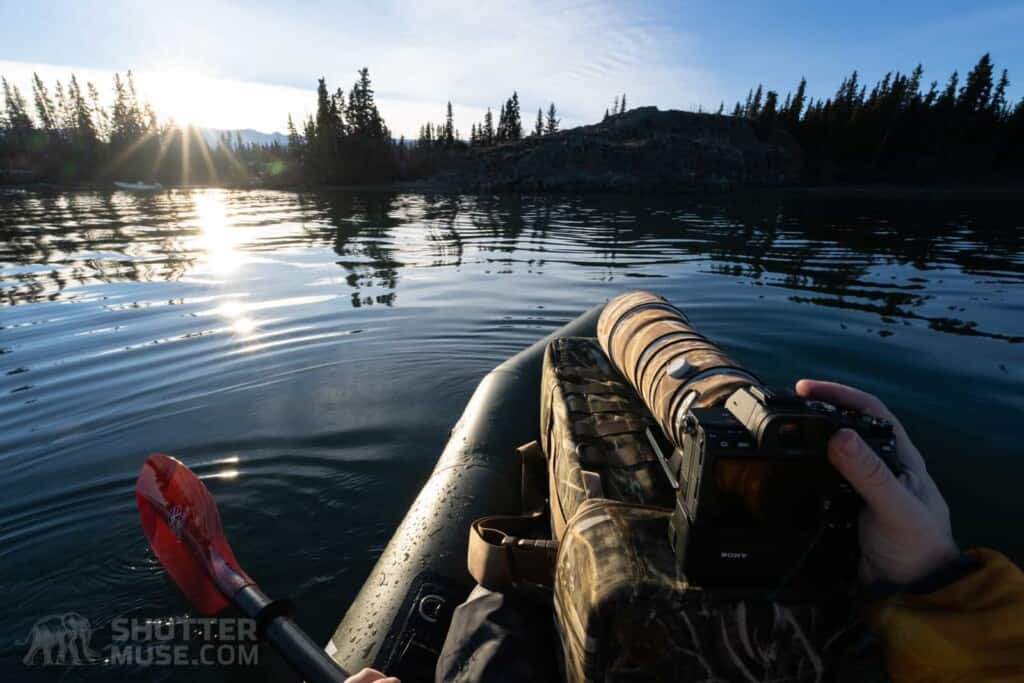 The LensCoat Xpandable bag is a unique long lens carrying solution. The bag expands to hold telephoto lenses when the hood is attached, and when you aren't using it, the whole thing collapses flat for storage or travel. It's a great bag to use in a safari vehicle or a boat. Please read my full review of the LensCoat Xpandable bag for more details.
---
A Long Lens Rain Cover
When considering your lens's cost, a waterproof camera cover should be a no-brainer. Since it is impossible to guarantee the weather, it's inevitable that you'll be caught in the rain while trying to find your chosen wildlife subject. There aren't a whole lot of options out there for quality long lens covers, but the Think Tank Hydrophobia 300-600 V3 is the best-known one for super-telephoto lenses, and the Hydrophobia 70-200 V3 is the best one for telephoto zooms such as a 70-200mm or 100-400mm.
Think Tank's products are universally well-made. I've owned a Hydrophobia for my long lenses for over a decade, as they have worked through various iterations and improvements to get to this V3 version. They have even reduced the price of this cover with the latest V3 version, which makes it an even better purchase than before.
The cover surrounds the lens and camera body entirely, and the LCD screen and controls can be viewed through the clear back panel, while lens controls have their own clear top panel. It also comes with a front element cover, which is tethered to the main cover and useful when waiting for long periods or moving around with the lens on your shoulder.
US Customers get a free gift when they spend over $50 in the Think Tank/MindShift online store after clicking this link. For more details, or if you have any issues, see this post.
---
Teleconverters
Teleconverters, sometimes called extenders, are a great way to extend the reach of your long lens when photographing smaller animals, or ones that you simply can't get close to. As I wrote in a previous article, extenders are a vital part of my wildlife photography kit.
Unfortunately, there's a lot of misinformation out there on the internet when it comes to extenders, much of which is based on old technology and incorrect technique. The fact is that extenders from the major brands are all very good when used properly with compatible lenses. They do affect AF speed, contrast and sharpness, but there are ways to mitigate that if you really understand the limitations. I've previously written what I believe to be the most in-depth guide to extenders on the internet: The Ultimate Guide to Extenders or Teleconverters. In that free guide you'll learn everything there is to know about extenders, and I share a ton more photos that were created by using them.
What I really want to do is to reassure people that it is perfectly possible to get stellar images when using an extender. Many of my favourite images have been shot with extenders, and that even includes 2x extenders, which some people would have you believe are garbage! Take this shot of the bear eating barnacles, for example. This was taken with a Canon 2x extender and using proper techniques it's tack sharp!
Whilst I would never buy a lens with the sole intention of using it continuously with an extender on it, they can be an incredibly handy tool to have in your back pocket for occasional extra reach and compositional variation.
Replacement Telephoto Lens Cap
The lens caps that come as standard with super telephoto lenses are usually bulky and fiddly to deal with in the field. You can solve this problem by buying a replacement lens cap from Zemlin Photo. These lens caps are made from fiberglass-reinforced plastic and deliver several benefits compared to standard super tele caps.
Firstly, they are much quicker to attach and detach in the field. Secondly, they are usually lighter than the standard caps and take up much less room in your backpack. Finally, unlike the standard cap that came with the lens, you can slip it into your pocket while you're shooting. I love these, and Zemlin Photo makes them for almost every super-telephoto lens from Canon, Sony, Nikon, Sigma, Fujifilm, and Olympus. Read the review for more details.
Shorter Travel and Vehicle Friendly Lens Hoods
---
Shorter Travel and Vehicle Friendly Lens Hoods
As well as their excellent super-telephoto lens caps, Zemlin Photo also manufactures replacement lens hoods for super-telephoto lenses. This includes all large telephoto lenses from Canon, Nikon, Sony, and a few other manufacturers. For each lens, hoods are available in multiple lengths. You can choose to have one the same size as the original lens hood, or you can choose to go shorter. Shorter hoods are lighter and consume less room in your bag while traveling. They are also far easier to handle in the confines of a vehicle. I love the short hood I got for my Nikon 800mm lens!
As a bonus, these hoods start at around $150, compared to the $500-$1000 prices charged for original hoods. This makes it a much more acceptable risk to throw the hood in your checked luggage, saving you even more weight and space in your carry-on. Read the review for more details.
---
A Ground Pod
Getting low to the ground almost always improves wildlife photos. It creates a more intimate-feeling image and creates greater separation between your subject and the background. While most tripods will allow you to get down to a very low angle, they are difficult to maneuver in this position. The Skimmer ground pod from Naturescapes is designed to easily slide across dirt and sand while still maintaining a solid shooting platform.
If you're belly-crawling across the ground, the Skimmer will make it much easier to adjust your angle and slowly creep slower toward your subject. In my review of the Skimmer, I extensively discuss the best heads to use with a ground pod. Gimbals, ball heads, and 2-way tilt heads have pros and cons in that situation.
---