I recently undertook a three-week photographic expedition to Southern Australia and Tasmania. Reaching Tasmania from my home in the Canadian Yukon Territory required four flights on various aircraft types. As seems to be the norm these days, the airline baggage allowance– checked and carry-on –caused me some pre-trip headaches. Every item in my kit needed to be scrutinized. Was it really needed? Were there any lighter-weight alternatives?
As I worked through my packing list, some choices were obvious. I was taking my big Sony 600mm lens for wildlife photography, and that requires, at a minimum, my RRS TVC-34L Mk2 tripod. However, where I got hung up for a while was my choice of the tripod head.
A gimbal head would have been the obvious choice if the trip were purely about wildlife photography with my big 600mm lens. The problem was I also planned to spend time on astrophotography with an ultra-wide lens and landscapes with a new Sony mid-range zoom being tested for a review on this site. Usually, a ball head would be the choice for those subjects.
I knew I wouldn't have enough baggage allowance to pack one alongside a gimbal, so the question was, what was the best all-in-one head for my tripod, suitable for various photographic subjects? To me, that sounded like a good idea for a new post.
This guide will explore the best all-around tripod heads I've found while writing reviews for this site. I'll discuss the pros and cons of each solution, as well as make recommendations for the best options to suit a variety of photographic balances. By that, I mean I'll answer questions such as: What is the best tripod head if I spend 80% of my time shooting landscapes and 20% shooting wildlife? Or, which is the best tripod head for someone who wants to shoot an even split of wildlife and landscapes while capturing photos and video?
Table of Contents
The Ideal Tripod Head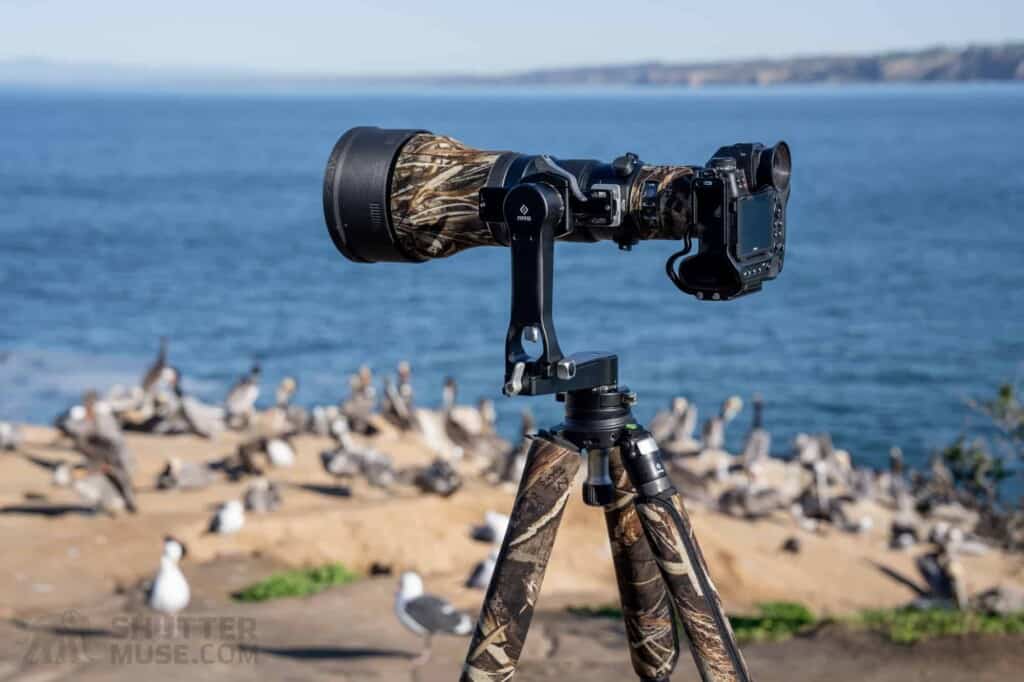 Ball heads are great for landscape photography from a tripod. Gimbal heads work better for wildlife photography with large super telephoto lenses. 2-way tilt heads work best when using a monopod, and fluid heads work best for shooting video. Knowing this is all well and good, but what if you want to photograph a wide variety of subjects and can't afford to buy four different heads to support your camera? Or, what if you're heading off to some far-flung location with a limited baggage allowance? If you're forced to choose one single head for various photographic needs, which one is best?
The Contenders
While I was trying to make a decision for the trip to Tasmania that inspired this article, overall tripod head weight was a primary concern. Perhaps it will be for you, so I thought a quick table would be a helpful place to start.
Acratech Long Lens Head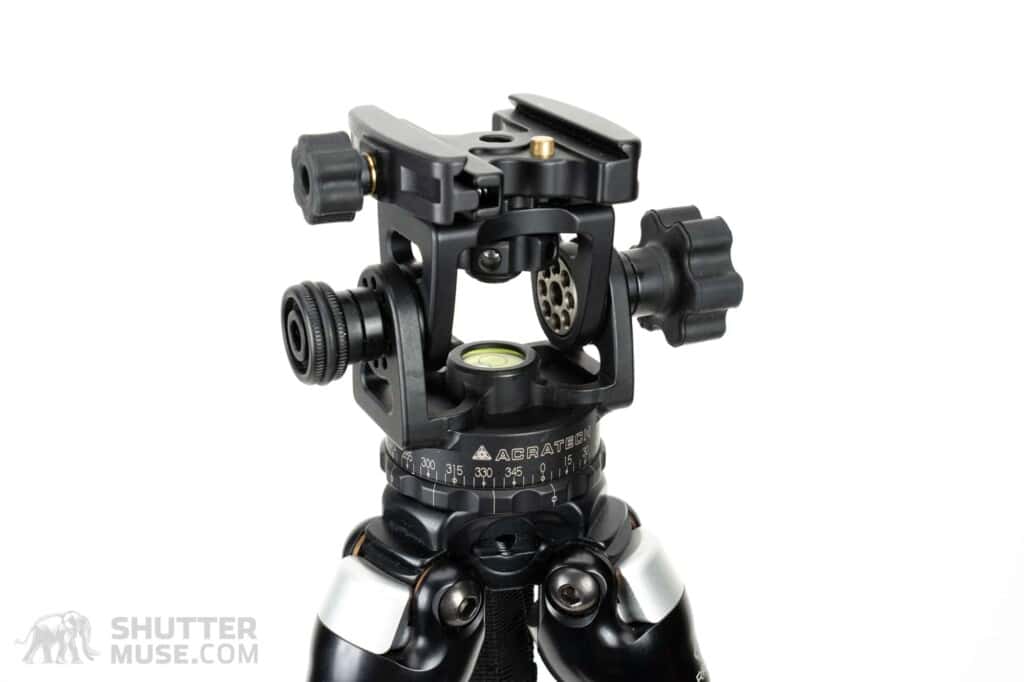 The Acratech Long Lens Head is a 2-way tilt head with an integrated panning base. As the name suggests, it is designed primarily for super-telephoto lenses. However, paired with a leveling head and an L plate on your camera, it makes an excellent alternative to a ball head. Some landscape photographers prefer this setup to a ball head because it decouples the tilt and roll movements, allowing more precise composition.
For wildlife photographers, the skeletonized design of this head makes it a much lighter option than even the most lightweight gimbal head. This open design, washable under a tap or in a bucket, also lends itself well to photography in harsh and dirty environments. I know for a fact that some of National Geographic's photographers use these heads for that very reason.
Best for: An even mix of landscape and telephoto wildlife photography where weight restrictions dictate the lightest option must be chosen. Also great when you need one head to switch between a tripod and a monopod.
Acratech GXP Ball Head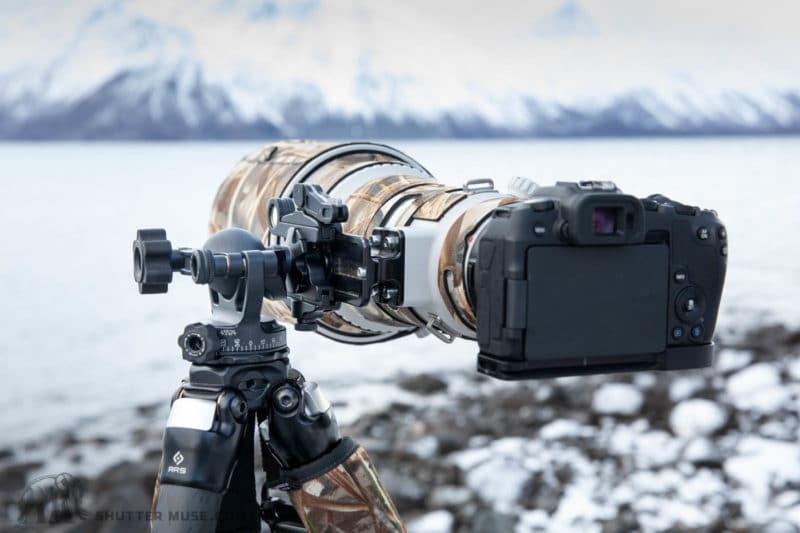 The Acratech GXP ball head has one of the best capacity-to-weight ratios of any ball head on the market. This is one of my favorite landscape ball heads in its own right, but the Acratech GXP also has a trick up its sleeve for wildlife shooters. When the clamp is flipped into the 90-degree drop-notch, a ring around the ball's neck slips into a groove on the drop notch. At the same time, a brass pin on the underside of the ball slots into a groove opposite the notch. Acratech call's this "gimbal mode."
With the pin transferring lens weight to the opposite side of the head and a silicon insert in the opposite notch reducing friction when the clamp is at 90 degrees, a side-mounted super-telephoto lens can tilt up and down smoothly while panning with the ball head's panning base. The motion will never be as smooth as a dedicated gimbal, and you must be careful of the unbalanced weight on your tripod. Still, the GXP works better in this configuration than any ball head that doesn't incorporate these clever additional design tweaks. Learn more in my Acratech GXP review.
Best for: A trip predominantly focussed on landscape photography, with a slight possibility of wildlife encounters using up to a 400mm lens.
Really Right Stuff PG-02 Mk2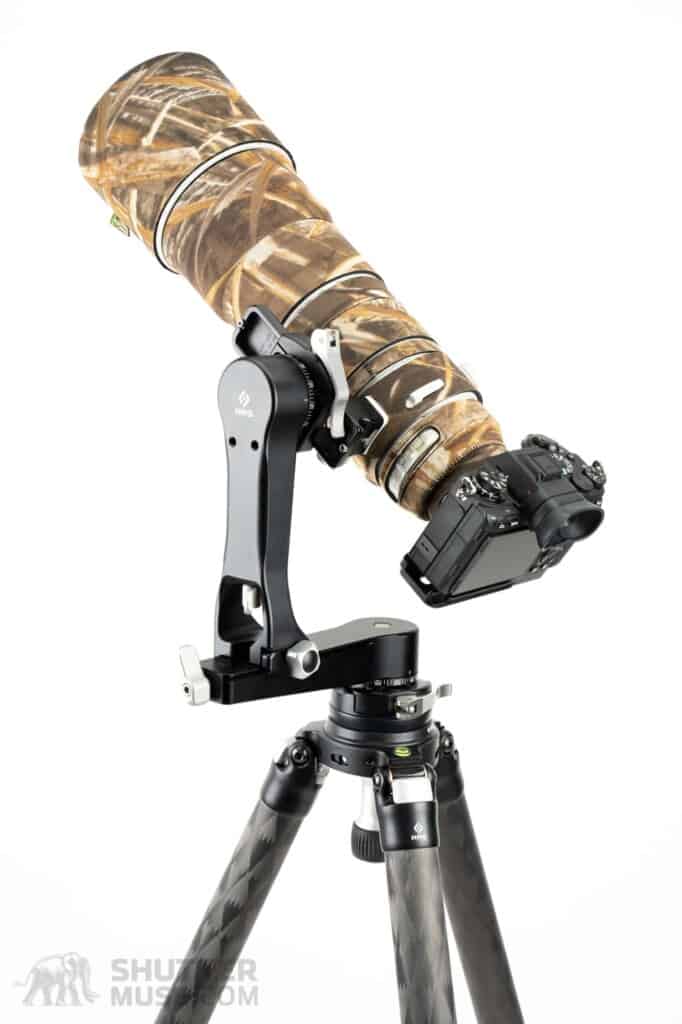 If price is no concern, the RRS PG-02 Mk2 is the best gimbal head for wildlife photography with super-telephoto lenses. The multi-piece design makes for a compact solution when packed in your checked luggage, and the side-mount variation, paired with a leveling head and an L plate, is a joy to use for landscape photography. The leveling head controls your horizon for landscape shooters, while the individually adjustable gimbal bearings handle pan and tilt. The included pan control arm on the Full-Gimbal version makes it relatively easy to collect a few smooth video clips along your journey, although they won't rival the smoothness of a good fluid video head. Learn more in my RRS PG-02 Mk2 review.
Best for: A trip that primarily requires a sizeable super-telephoto lens, such as a 600mm or 800mm, while maintaining the ability to shoot landscapes or multi-row panoramic photos and occasional video clips.
FlexShooter (Mini or Pro)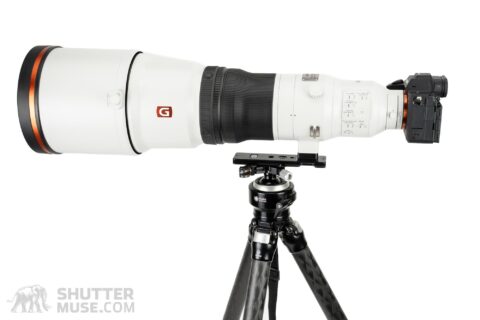 The FlexShooter heads use a heavily sprung internal counterbalance that holds your camera and lens at any angle without tightening any knobs. The end effect is similar to using a gimbal head in that you can go hands-free without locking the head. The counter-balanced pan and tilt movement can also be locked, turning the FlexShooter into a regular, sturdy ball head for landscapes and travel photography.
The FlexShooter is available in three sizes, but most photographers will be happy with the Pro or Mini. If you shoot with a 100-400mm, 100-500mm, or 200-600mm lens, or lightweight primes like the Nikon Z 400mm f/4.5, get the FlexShooter Mini. For bigger super-telephoto primes like a 400mm f/2.8, 500mm, 600mm, or 800mm, get the FlexShooter Pro. The FlexShooter Extreme has a ludicrous weight capacity that far exceeds any normal camera configuration. You won't need it.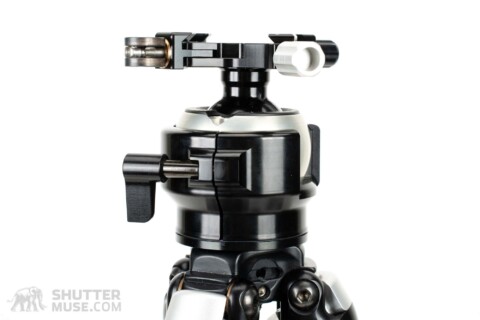 When considering the question of tripod head weight and the FlexShooter, you must consider that your tripod will not need a leveling base on it, as you would do if you chose a gimbal or a 2-way head. With the FlexShooter, the leveling base is built into the head. Deleting a leveling base from your tripod and replacing it with a flat base will save you an additional 300-500g.
Best for: A trip heavily focussed on wildlife photography but with reasonably strict size or weight restrictions. Or a trip that features an even mix of landscape and wildlife opportunities. Also worth highlighting is that the FlexShooter Mini is my top pick for travel photographers carrying a do-it-all lens kit and occasionally using a medium-sized telephoto zoom lens for wildlife. If you travel the world with a 100-400mm lens, gimbals such as the RRS PG-02 are overkill. The FlexShooter Mini gives you that gimbal-like feeling in a lighter package that is no bulkier than a standard ball head.
ProMediaGear GT2 Tomahawk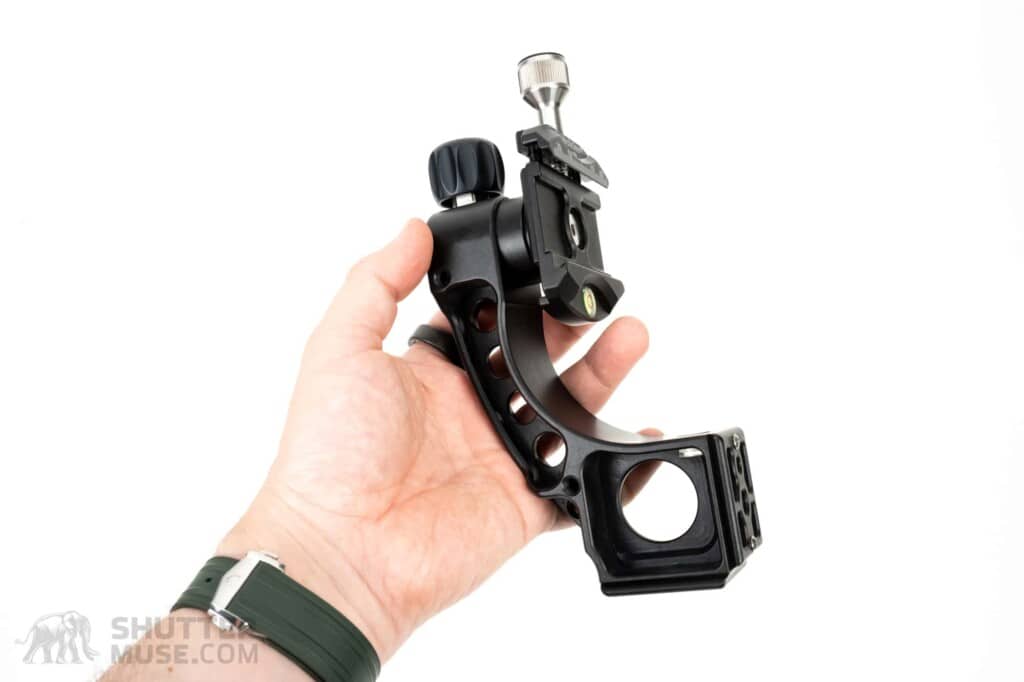 The ProMediaGear GT2 Tomahawk is slightly different than the other solutions on this list as it requires a ball head to unlock the universal functionality needed for inclusion in this guide. Here, you're looking at the vertical part of PMG's famous GK Jr Katana gimbal head, with an Arca-Swiss dovetail on the bottom for attaching it to a ball head clamp. When combined with a ball head, you get all the features of a full gimbal without giving up the features of your favorite ball head. The 3/8" thread on the bottom of the additional dovetail can also mount the head onto a monopod.
Best for: Someone looking for a support solution that works well for both a tripod and a monopod. Someone who already owns a great ball head. Or someone planning a trip that will primarily focus on landscape photography using a ball head, but also needs an exceptionally smooth gimbal for any size of super telephoto lens.
A Fluid Video Head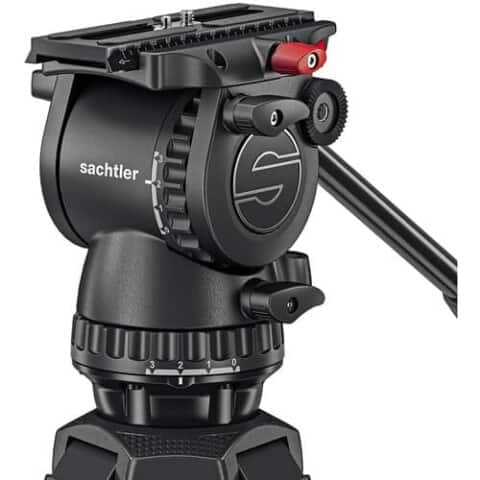 So far, my recommendations have been for specific models with certain features not found on competitive products. When it comes to fluid heads, that's a little harder. No fluid video heads I'm aware of have features that make them stand out as a better all-in-one solution than any other fluid head. Rather, all fluid heads could be used for any type of photography, although the price, size, and weight would certainly prohibit some from being practical choices.
Fluid heads are designed for shooting video, but also work well with super telephoto lenses. The heavy weight of those lenses is dampened by the fluid cartridge, and if you get the centre of gravity and the internal counterbalance set correctly, you can go hands-free without tightening any knobs. Just like a gimbal head or the FlexShooter.
Fluid heads are 2-way heads, so you have a panning base and tilt controls. To level your horizon, roll is handled by rotating the lens in its lens collar if it has one. Otherwise, a leveling head is needed beneath the fluid head. The downside to a fluid head is its weight. They are much heavier than any other head type for comparable camera capacities. Using an L plate and a levelling base, you could also use a fluid head for landscape photography like the Acratech Long Lens Head.
Specific fluid head recommendations are difficult. You need a fluid head that offers the capacity for your video setup. If your videos are travel-related using mid-range zoom lenses, the fluid head you need will be significantly smaller than one capable of filming wildlife with a 600mm lens. I always start by looking at Sachtler heads like the FSB series or Aktiv series, as well as Manfrotto's Nitrotech lineup. 
Best for: Someone that needs to produce professional quality, perfectly smooth video on a trip where they also want to capture occasional still photos with the same equipment.
What Using About a Regular Ball Head for Everything?
It could be argued that any regular ball head can be used for all types of photography. I agree with that, but knowing how many better options there are for telephoto lens users, I would not recommend using a ball head for more than occasional telephoto wildlife photography.
The main disadvantage of using a ball head with a telephoto lens is the total lack of support when both the ball and the lens collar are unlocked. All you end up with is a floppy mess that will fall to the ground if you take your hands off it. Effectively using a ball head with a telephoto lens requires constant unlocking of either the ball or the lens collar. It wastes time and will eventually cause you to miss a great shot. There's a good reason you never see a professional wildlife photographer using a ball head.
Best for: Landscape photographers that might shoot wildlife with a telephoto lens once in a blue moon.
What I Chose for My Trip to Tasmania
Although I had very specific and personal needs on my trip to Tasmania, I'm sure some of you will be wondering what my tripod head choice was. In the end, I went with the FlexShooter Pro and it turned out to be a great choice. My trip was an even split between landscapes and wildlife, and while this head is neither that best ball head or the best gimbal (because it's not really a gimbal), the compromises on either side were minimal enough for me to work through them for the significant weight savings.
On that trip, I used the FlexShooter Pro head for everything from astrophotography photography at 14mm to bird photography at 1200mm (600mm + 2x extender). It never let me down from a stability standpoint, and I was glad for the overall travel-friendly solution. Although the head was a little heavier than the Acratech Long Lens Head, choosing the FlexShooter allowed me to delete the leveling head from my tripod, which made it the lightest solution capable of supporting my gear.