Aside from the big items such as cameras, lenses and a tripod, there will always be a huge number of smaller accessories in everyone's photo kit. This includes everything from remote cables, filters, batteries and memory cards, to tripod tools, cleaning kits, card readers and bundles of charging cables. Unless you enjoy being frustrated, all these things need to be well organized.
Of course, camera bag manufacturers know this and all of the various types of photograph accessory pouches. If you look at what's available there's actually a surprising amount of variability in the design and function of these bags and pouches, so in this guide, I'm sharing my favourite photo gear pouches for a variety of specific uses.
Shimoda Accessory Pouch – Best For Camera Batteries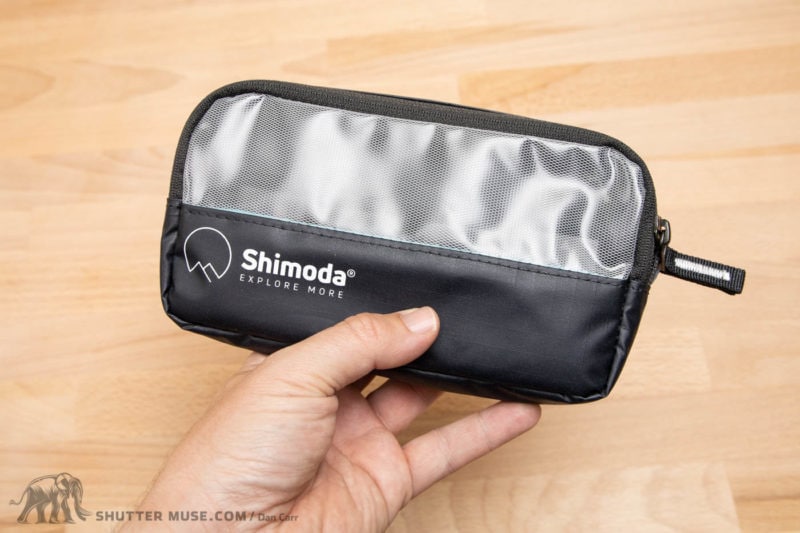 The Shimoda Accessory Pouch makes the perfect camera battery case. Inside the main compartment is a zippered pocket that is made from stretchy elasticated nylon. This means the pocket can hold much more than it initially appears, and it makes it perfect for battery organization. When my batteries are fully charged they go in the main compartment, but as they get used up, I put the dead ones in the zippered compartment so there is never any confusion about what needs to go on the charger when I get home.
If you want to read more about this you can read my Shimoda Accessory Pouch Review.
You can also save 10% on all Shimoda orders from their website by using the discount code ShutterMuse10. More instructions about the Shimoda discount code here if needed.
Shimoda Panel Wraps – Best For Small Items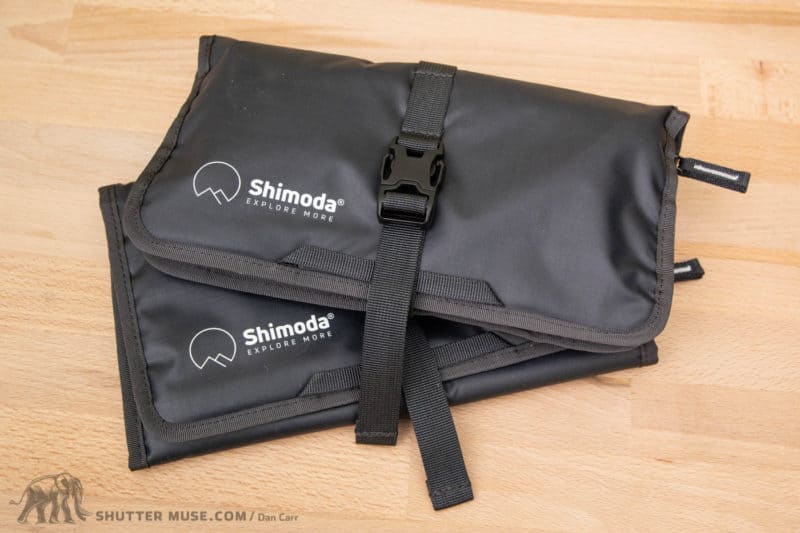 Available in three different sizes, the Shimoda Panel Wraps are absolutely ideal for smaller items because the many zippered compartments will help you to separate things into logical groups. The clear pocket panels also remind you quickly what is where, which is both useful for ensuring everything is packed for your shoot, and finding things in a hurry when you need them. The three different sizes probably make this product the most versatile organizer in this guide.
If you want to read more about these you can read my complete Shimoda Panel Wrap review.
You can also save 10% on all Shimoda orders from their website by using the discount code ShutterMuse10. More instructions about the Shimoda discount code are here if needed.
Peak Design Tech Pouch – Best For Hard Drives, Card Readers and Cables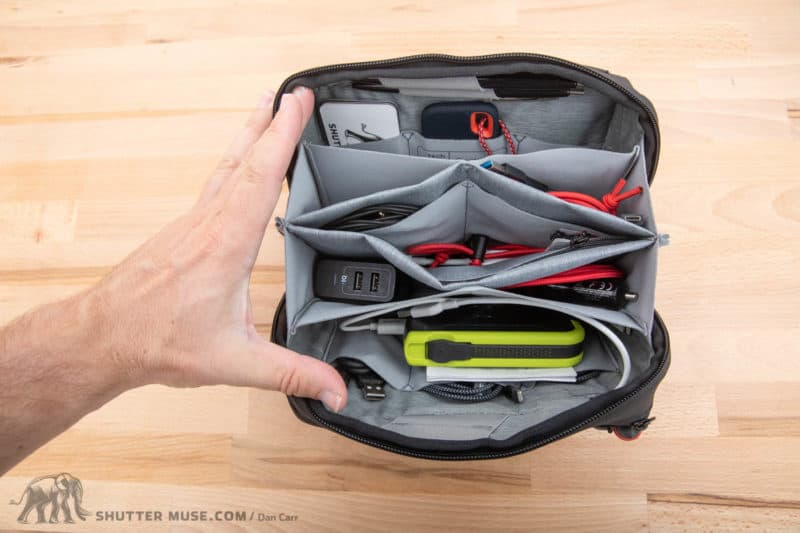 The Peak Design Tech Pouch is ideally designed to handle the hard drives, card readers and computer-related cables and dongles required by any travelling photographer. Out of all the products in this guide, it has the most internal organization, but the clever accordion design still manages to keep everything easily accessible.
If you want to read more about this you can read my Peak Design Tech Pouch Review. Also, see our secret Peak Design x Shutter Muse offer here.
Tech Pouch Hands-On Video
Peak Design Field Pouch V2 – Best For Also Carrying a Camera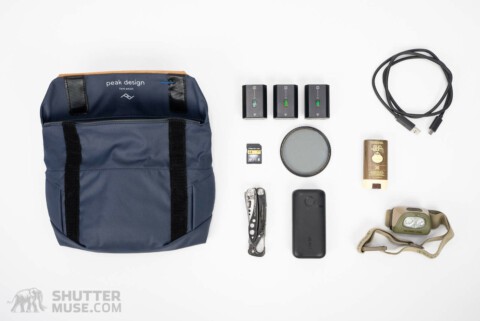 The Field Pouch V2 from Peak Design is a small accessory pouch that also comes with a shoulder strap. The bag is large enough to hold small cameras such as the Fuji X100 or Sony RX100, or you can mount a camera externally by adding a Peak Design Capture camera clip. See our review of the Peak Design Field Pouch V2 for more details. Don't forget about that secret Peak Design x Shutter Muse offer here.
Field Pouch Hands-On Video
MindShift Filter Hive – Best For Filters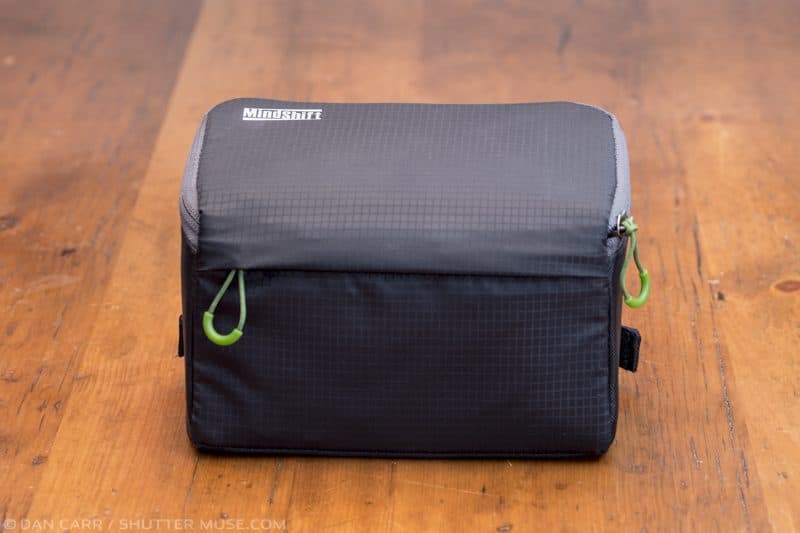 The MindShift Filter Hive is easily the most fully-featured filter case on the market. It has slots for up to 6 screw-on filters, as well as colour-coded slots for 6 square or rectangular filters. The internal filter sleeve can be removed for semi-permanent installation into your camera bag, or you can keep it in the pouch which also has a zippered pocket, roof for a filter holder, a belt look and a strap to hang it on your tripod while you're working.
If you want to read more about this you can read my MindShift Gear Filter Hive review.
Think Tank Secure Pixel Pocket Rocket – Best For Memory Cards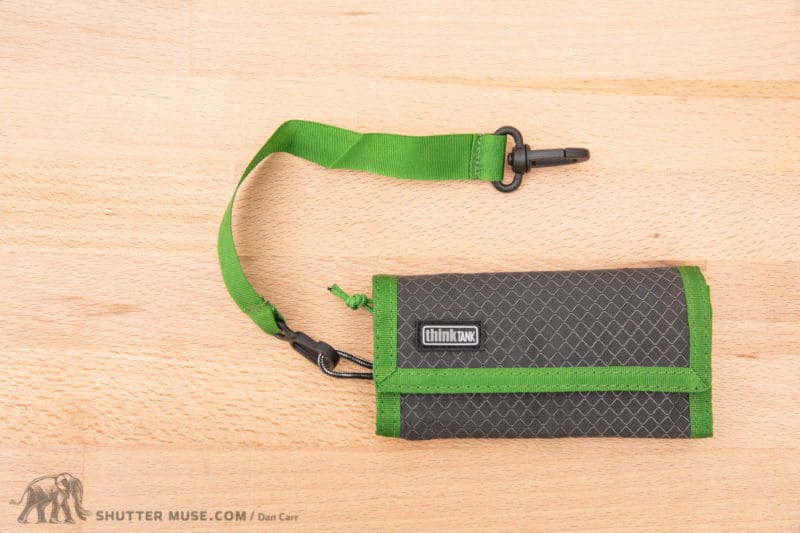 The Secure Pixel Pocket Rocket features three zippered pockets that are each divided into two sections. This card wallet is a universal design that will hold everything from CFexpress cards to SD, CF, CFast and Micro SD. I find this extremely useful because I can carry one card wallet for use with my cameras, drones and GoPro. The bright green colour is easily identifiable in my bag.
If you want to read more about this you can read my Think Tank Pixel Pocket Rocket Review, or our Gear Guide roundup of the best SD card holders on the market this year.
Think Tank Cable Management Bags – Best When You Need a Lot of Them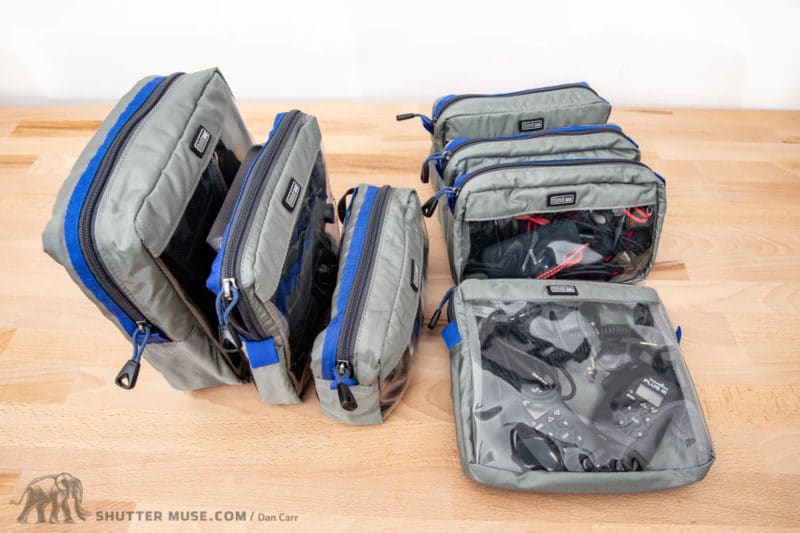 The Think Tank Cable Management bags come in three different sizes and they are ideal for situations where you want to use a large number of the same bags to organize your gear. What makes them ideal for this is the large clear windows that help you identify the contents, as well as the small-windowed pocket on the back that holds a nice large label. For example, you might use one to hold all your microphone cables, one to hold your GoPro mounts or one for your tripod plates. The largest of the three sizes is even capable of holding a pair of strobes. My own collection of these bags expands every year. I think I'm up to 12 now!
F-Stop Accessory Pouch M – Best For Battery Chargers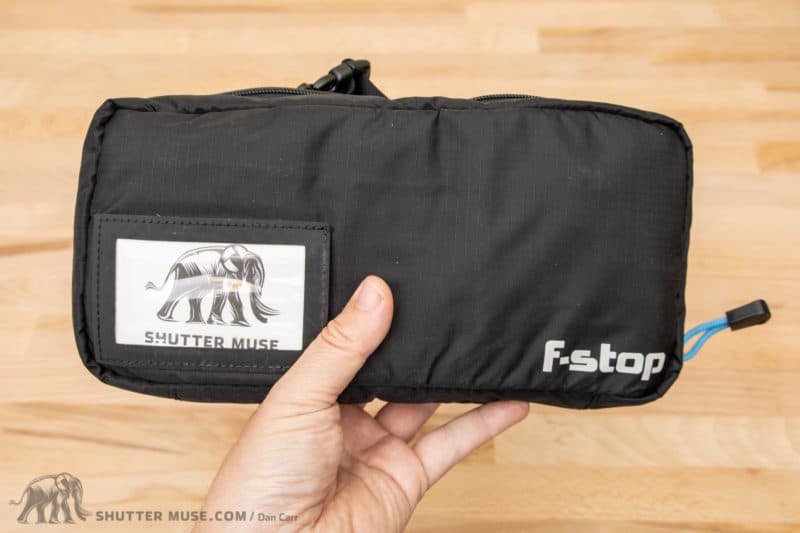 The F-Stop Accessory Pouch M is the perfect design for holding your camera chargers while you travel. One side of the pouch has a set of tiny dividers that perfectly hold and protect standard camera chargers, while the other side has a set of mesh pockets that hold the necessary power cables and travel plug adapters. Although it could hold all manner of things, the size and shape of this pouch really suggest that the designers had this in mind as a perfect charger case.
You can read more about this in the F-Stop Accessory Pouch M review.
Tamrac Goblin Cases – Best For Lens Adapters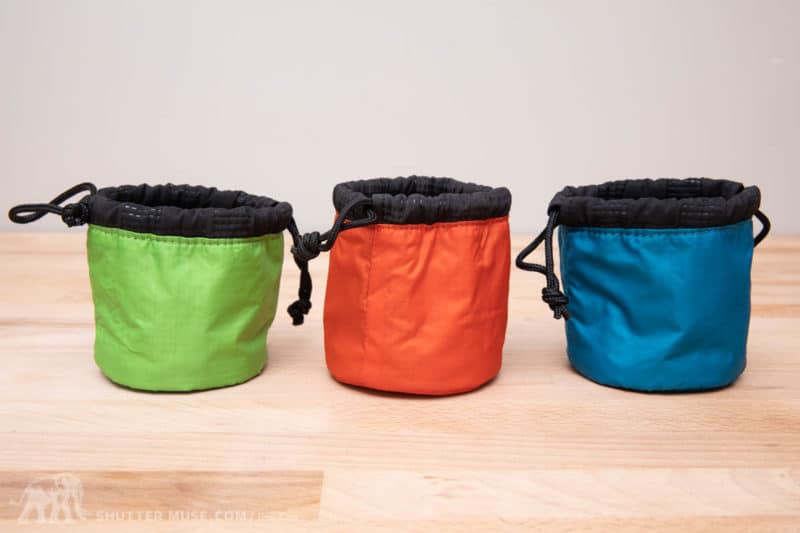 One thing that I have noticed over the last few years is that my collection of lens mount adapters has been slowly growing. The main reason for this is that we are in a period of massive transition from DSLR cameras to mirrorless cameras, but we want to keep using our older lens collection with our newer cameras. I have several adapters from Canon to use EF lenses on the RF mount, and I also have an adapter to use Canon lenses on the Sony E-mount. Tamrac's lightweight Goblin pouches come in a huge range of sizes and they offer just enough protection without being overly bulky. I use these all the time to fill in the gaps in my camera backpacks and stack adapters on top of other items.
If you want to read more about this, check out the Tamrac Goblin review.
CineBags Monitor Pack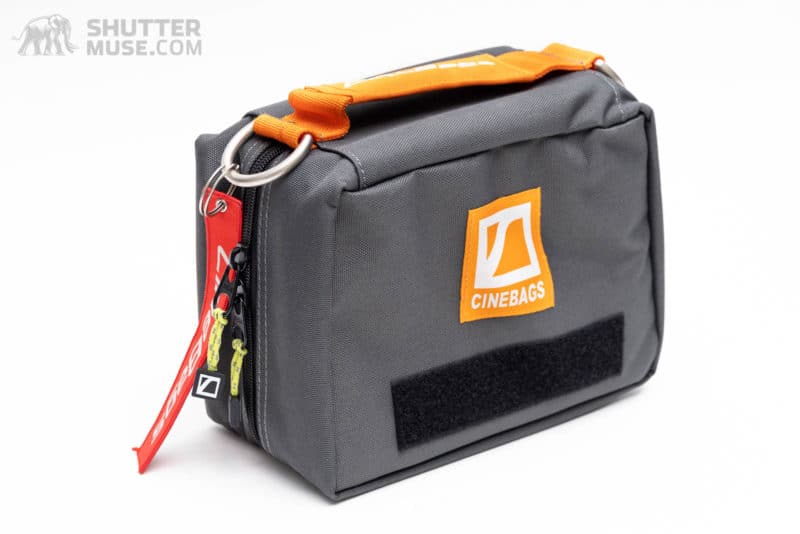 Don't let the name of this product fool you. Although the Monitor Pack is designed with on-camera monitor protection in mind, it's extremely useful for all manner of photo and video accessories. One half of the case is heavily padded, while a zippered pouch makes up the second half. This is perfect to organize things like microphones, lav mics, monitors or larger battery chargers. Personally, I have one that organizes video-related accessories, and a second one that organizes audio accessories.
For more details, please read my CineBags Monitor Pack review.