Fujifilm's medium format GFX series of cameras has been top-rated among landscape and portrait photographers since the launch of the original Fujifilm GFX 50S. With the launch of the GFX 50S II for the very reasonable sum of $3999 and the GFX 100S for $5999, Fujifilm has managed to deliver a medium-format(ish) camera system for the same price and, in some cases, less than a full-frame camera. It's a remarkable achievement in a relatively short space of time. For those stretching the budget a little further, the GFX 100 II delivers incredible specifications.
While the GFX lens range for the camera's G Mount was lacking for the first couple of years, it has steadily been filled out with a range of focal lengths and apertures. The GFX lens range now features everything from ultra-wide 20mm to telephoto 250mm, and includes wide apertures such as the stunning GF 110mm f/2 and GF 80mm f/1.7. This guide features everything you might want to know about entire Fujifilm GF lens lineup.
A Note On Lens Nomenclature – G Mount, GF or GFX?
Fujifilm GFX cameras use the G Mount. Fujifilm generally refers to their lenses for the GFX system as G Mount lenses, but sometimes also refers to them as GF lenses in their documentation. In common parlance, they are often referred to as GFX lenses or sometimes GF lenses. Me? I probably flip-flop back and forth, much as Fujifilm do on their website. Also, if you are unfamiliar with the names and terminology that Fujifilm uses to describe their lenses, I recommend you read our previous article entitled Fuji Lens Terminology and Abbreviations.
Fuji GFX Lens Terminology Key
This key will help you decipher the abbreviations and acronyms FujiFilm uses when naming their GFX lenses.
GF – A GF at the beginning of the lens name means the lens is exclusively designed for the medium format GFX system's G Mount. These lenses cannot be attached to Fuji's X Series cameras.
LM – These lenses include a Liner focus Motor to deliver faster, quieter focus acquisition and tracking.
OIS – These lenses include Optical Image Stabilization.
R – Fuji GFX lenses with an R at the end of the product name include an aperture Ring.
WR – The letters WR in a Fuji GF lens name indicate the lens is Weather Resistant.
Fuji GFX Crop Factor
If you are used to focal lengths for 35mm full-frame cameras, the GF lens focal lengths will seem slightly because the GFX sensor is much larger than full-frame 35mm. I have previously written a quick tutorial about calculating the GFX series crop factor that will fill you in on this a little more if you aren't familiar. The TLDR version is that the GFX crop factor for these not-quite medium format cameras is 0.79x. If you don't want to do the math, the lens specification table further down the page includes the 25mm equivalent focal length of all GF lenses.
Fujifilm GF Lens Release Dates
Sometimes it's helpful to know how old a lens is; many people are most interested in buying the newest lenses. For this reason, I have created a table that shows the FujiFilm GF lens release dates, with the latest lenses listed right at the top.
A Complete List of GF Lenses and Specifications
Fujifilm GF Lens Roadmap
Unlike some camera brands, Fujifilm is usually reasonably open about upcoming lens releases, and they publish a lens development roadmap. Currently, two unreleased lenses appear on the Fuji GF lens roadmap.
GF 500mm f/5.6
GF Power Zoom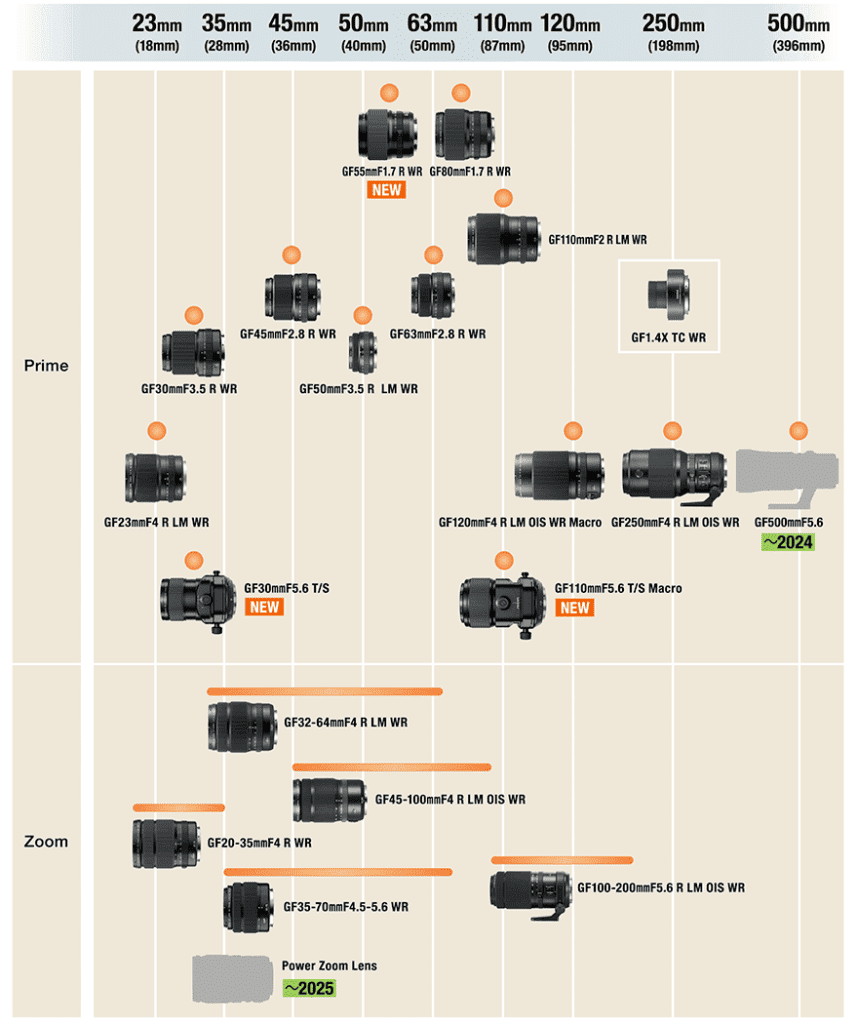 Fujifilm GF Lens Details
Fujifilm GF Zoom Lenses
Fujifilm GF Prime Lenses