When you've booked the photography trip of your dreams, or a client has sent you halfway around the world to shoot your next assignment, you won't want to be without these essential items. It might seem like a pretty long list but thankfully many of the items are simple, small and inexpensive. Bookmark this list for reference before your next trip!
This list evolves. Items may be added, and some items may be replaced as I learn about new things, or manufacturers discontinue previous products. On occasion, despite the name, there have even been more than 21 items on it :p
Quick Reference List
Further down is a detailed explanation of why each of these items is on my list but if you just need quick links then here you are!
Customs Documentation
Strobe Documentation
Insurance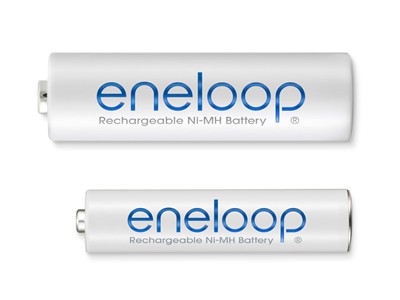 I've no doubt that there's at least one item in your kit list that needs AA batteries, and maybe AAAs too. When you get to your destination, the last thing you want is to have to waste time going in search of batteries.
I used to have a real mix of rechargeable batteries but when Panasonic's Eneloop brand came along a few years ago I threw everything else out and switched over to these amazing NiMH batteries. What's so special about them? If left unused, they last forever – well, as near as makes no difference. Gone are the days when a set of unused rechargeables would lose power over time. With the Eneloops I can grab a set that I haven't touched in 12 months and know that there is still juice in them for the job. In fact after a year of stagnation, Panasonic says they maintain 85% of their power which is extremely impressive. These days I pretty much always throw another 4-pack in my shopping cart every time I make an order from B&H Photo.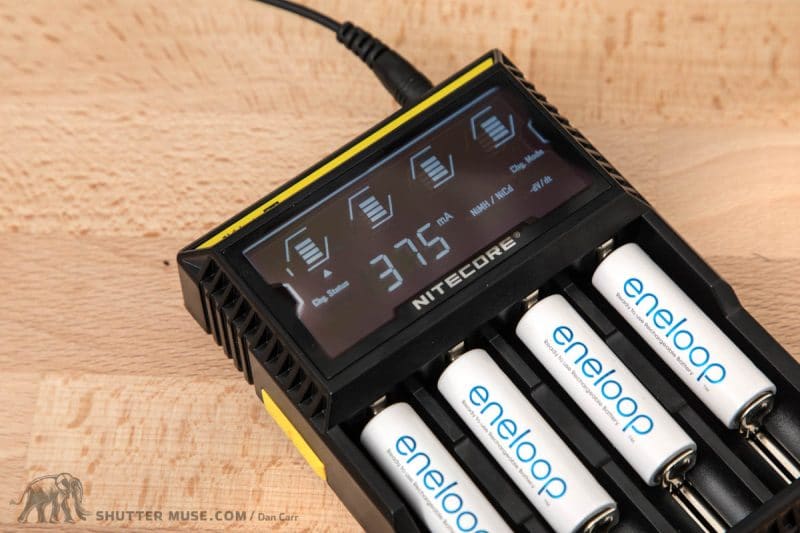 The best battery charger I have ever found is the Nitecore D4, and I keep all my sets of batteries in the awesome Think Tank AA Battery Holders which, despite their name, also work very well for AAA batteries too!
---
It goes without saying that you'll need a way to backup your images on the road. Once again, if you've spent the money to get somewhere there's no point in trying to save a few bucks by buying the cheapest drive you can find. Go straight for something which is built to last, and for me that means using the excellent LaCie Rugged drives. I've been using these things for over a decade, and even though some of them have dents that make them look like they've been to war, they just keep on ticking.
At the moment I'm using a Rugged RAID, which has a pair of drives inside it, and also a Rugged Thunderbolt drive. Both of these drives have a built-in Thunderbolt cable which is great, because that's one less thing to have to remember.
My advice is to always have at least two external backup drives and either use Lightroom or Photo Mechanic to import your cards to both of them, or use Carbon Copy Cloner to mirror the drives every evening. Whilst you travel, keep one on you at all times, and another in your checked luggage to protect you from thieves.
---
3. At Least One Short Prime Lens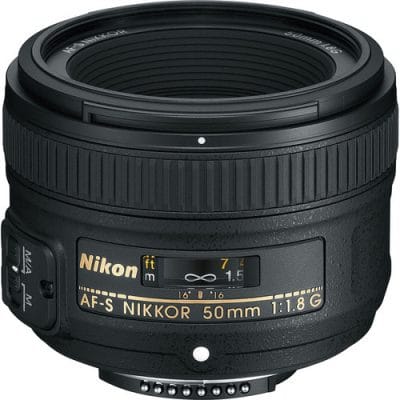 It used to be the case that the prime lens was king when it came to sharpness and contrast. Much has changed in the last few years though, and more and more people are piecing kits together with zooms instead of primes. My go-to kit is the Canon 11-24mm f/4 L, the Canon 24-70 f/2.8 L II and the Canon 100-400 f/4.5-5.6 L IS II. In three lenses I have an 11-400 mm range and all of them produce images with sharpness that rivals, and sometimes exceeds, prime lenses that I have used.
So why am I suggesting you still pack a prime? Well, to start with let's define my suggestion a little more. When I say "short prime lens" I'm thinking particularly in the 24mm – 50mm range. I'm also thinking of lenses that are faster than f/2.8. So maybe a 24mm f/1.4 (my usual pick – also great for astrophotography) or maybe something much cheaper like a 50mm f/1.8.
There's two reasons, and the first is low light usage. I almost always find myself shooting in very low light at some point on a trip. Whether it's inside a church or other interesting building, or outside wandering a city at night. Whilst it's true that high ISO shooting has come on leaps and bounds in the last few years, it's always nice to able to get a higher shutter speed if it's needed.
The second reason for having a fast prime is that a wider aperture offers a very different look than most zoom lenses – a much shallower depth of field when used wide open. Note that this does not have anything to do with it being a prime lens, it's just that a zoom lens with such a wide aperture would be hugely expensive and physically impractical, so they just aren't made. If you (or your client) have spent a great deal of money getting you to a far-flung location, you'll want to come away from that with a broad selection of images. Adding a prime lens to your kit is a quick way to widen that selection and bring back something with a different look to that which is achievable with with zooms, particularly standard kit zooms with maximum apertures in the range of f/3.5-4.
If you are using a kit lens like a 17-55 then a 50mm f/1.8 would be a great choice and these can be had for well under $200 for Canon, Nikon and others. M4/3 users have many great options like the 17mm f/1.8 Olympus lens and Fuji users should look at the 35mm f/1.4.
---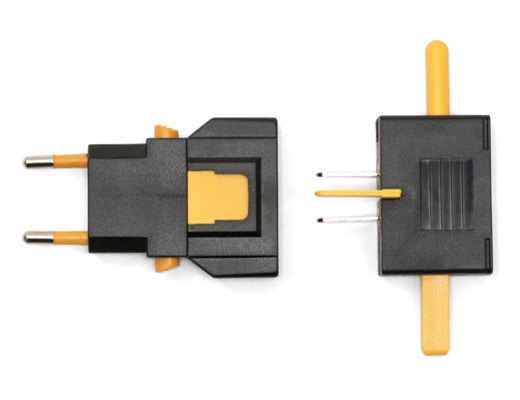 Plug adapters don't have to be big bulky things. I have three of these and I can fit them all in my pocket simultaneously! They cost under $10 from amazon and you should just go out and buy a handful right now. The ones I have are branded Kikkerland, but you can also find the exact same thing branded APC and a few other things as well. They originate from Japan, and it used to be the case that you had to import them directly from the manufacturer but thankfully some Western companies have finally started to see the value in this design. They are so small and flat that you can easily stick them in pockets all over your bags. So far I've not been to a country where I haven't been able to use these successfully. An absolute must-have item!
---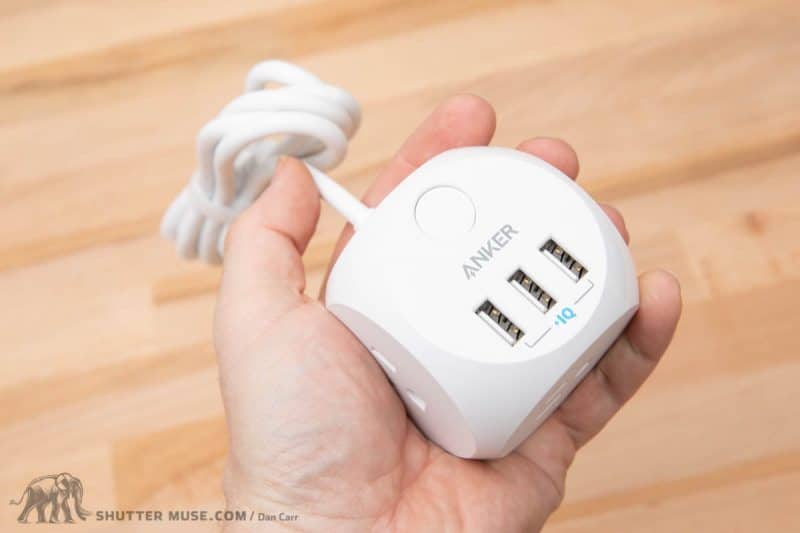 Hotels and motels with only one power socket happen. On safari you might be in a camp with a generator that will only have one outlet as well. If you bring some kind of power strip with you then you'll only need to use a single plug adapter on that strip and then you can charge 5 or 6 devices at the same time.
The key thing here is to remember that if you want a true international solution then you need something that is rated to take up to 240v. In N.America we only use 110v but many places use more than this and a 110v power strip will get instantly fried in those places.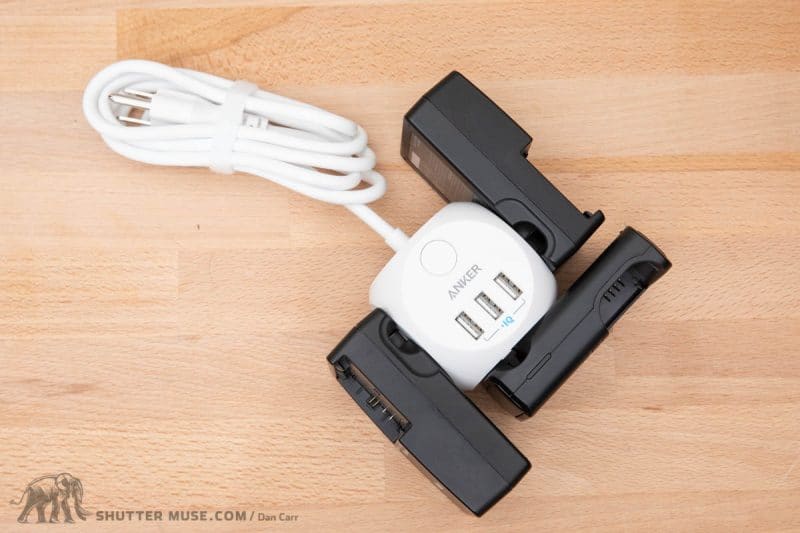 Unfortunately it's not always that easy to figure out if your strip or block will work abroad, so it's important to do thorough research into your chosen product before you travel – or in this case, let me do it for you.
The Anker PowerCore Cube is the perfect travel solution for photographers. Not only is it rated for 90V – 264V, the cubic design also makes it easy to charge multiple camera batteries at the same time. Something that's not always possible with side-by-side sockets. It even has three USB ports for keeping phones and smaller camera charged.
One important think I need to mention is that on the device itself, and in the manual, it says "Input:125VAC". This makes it sound as though it's not rated for 240v overseas, but I spoke to Anker directly about this and word from their product engineers is that the 125VAC marking are simply to satisfy some US regulatory standards. They told me that this is absolutely rated for 90V – 264V, meaning you can use it anywhere in the world. Simply pair it with one of the previously mentioned plug adapters and you're good to go.
---
Every year I seem to add another thing to my bag that charges via USB.  When you get to your hotel it can be a struggle to find enough power sockets and we've all experienced the situation where the one nearest the bedside table is actually under the bed so your phone ends up charging on the floor beneath you. The fact is, a lot of places were designed before our reliance on such devices.
These Anker USB chargers have a power cord attached to them so you can easily position the actual USB ports in a convenient spot on a table, and then run the cable to the wall outlet.  It's a simple product but it does the job admirably and also means you won't leave any USB devices behind in your room because you plugged them in under a bed or desk and didn't see them when you were packing up.  Yep…… speaking from experience here!! The latest versions from Anker even have USB-C power delivery, so you can use them to power a laptop such as a Macbook.
These items so far are what I would consider to be "the essentials". If you've booked a once in a lifetime trip, perhaps even a photo workshop with me, then this stuff should be in your bag. The total price of it all is minimal when compared with the overall cost of your trip.
What follows next is what I'd call the "luxuries". These are items that I take with me, and for ME they are essentials and come on every trip, but I'm sure that some people who don't necessarily make a living from their photography might find them a little over the top to be called "essentials". Nonetheless I do recommend them because for me there is nothing worse than having gear trouble when all you want to be doing is enjoying a new culture and making images.
---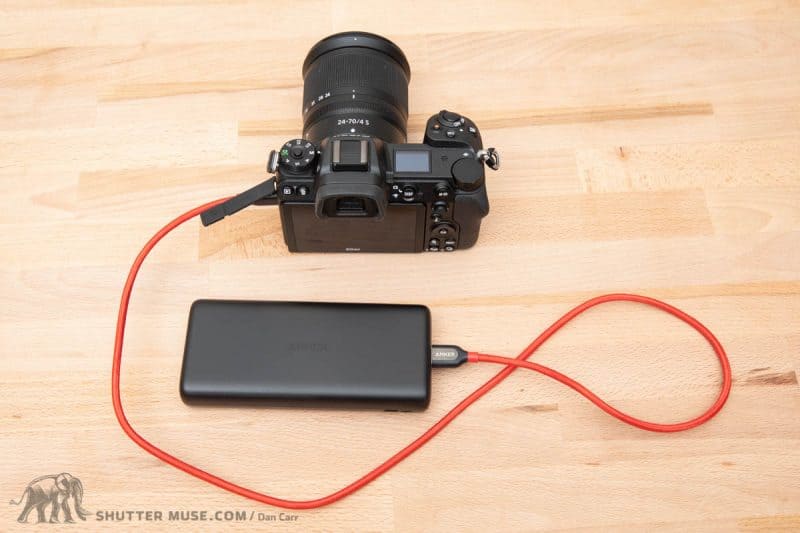 The Powercore Lite 20,000 mAh battery pack from Anker is a newer model that is, as the name suggests, much lighter than previous batteries with such a high capacity. DSLR and mirrorless camera batteries typically have a capacity of under 2,000 mAh, so you could potentially recharge your camera ten times with this thing! Of course the caveat is that your camera needs to be capable of accepting a charge via USB, but that's something which is becoming increasingly common these days, and it's a standard feature on all the recent mirrorless camera that have come to market.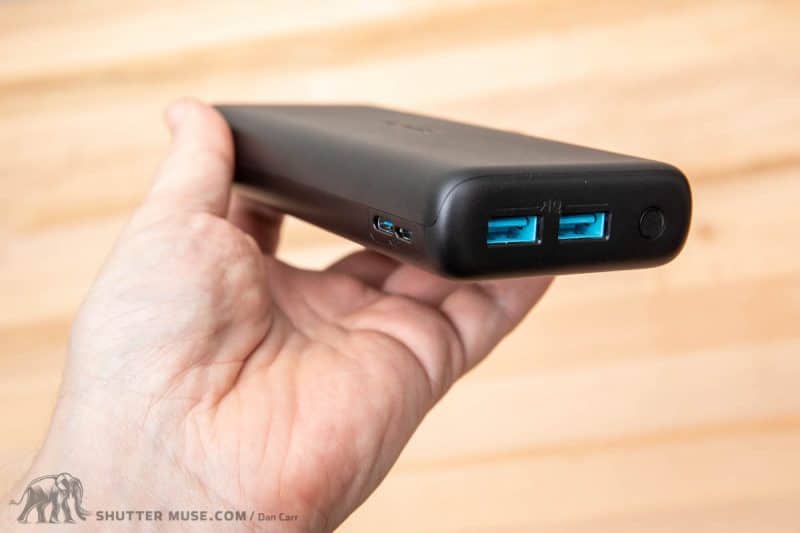 The battery can be recharged using either USB-C or micro-USB and two USB type-A outputs allow you to charge your camera and a phone or other USB device at the same time. For a lot of travellers this could mean you don't need to take charger or spare batteries with you on a short trip at all! Even if you used it to charge your phone 3-4 times and your camera 5 or 6 times that's certainly going to be enough for a few days. It's pretty incredible how light and affordable battery technology has gotten in the last few years!
---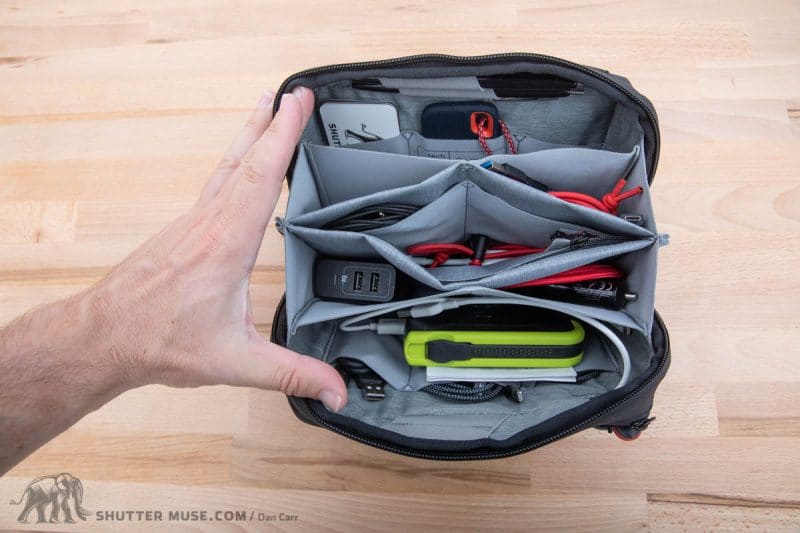 The Tech Pouch is a brilliantly designed accessory organizer that'll keep all your cables, chargers and small accessories organized. There's even a pass-through for a charging cable so you can things outside of the pouch while keeping a small USB battery pack inside it.
I actually use two of these on my travels. The black one is used for charging and computer peripherals, while the green one is used for all my camera accessories like batteries, memory cards, shutter release cables, cleaning kit and filter accessories. One lives in my camera bag and one lives in my laptop bag.
The Peak Design Tech Pouch is available for $59.95.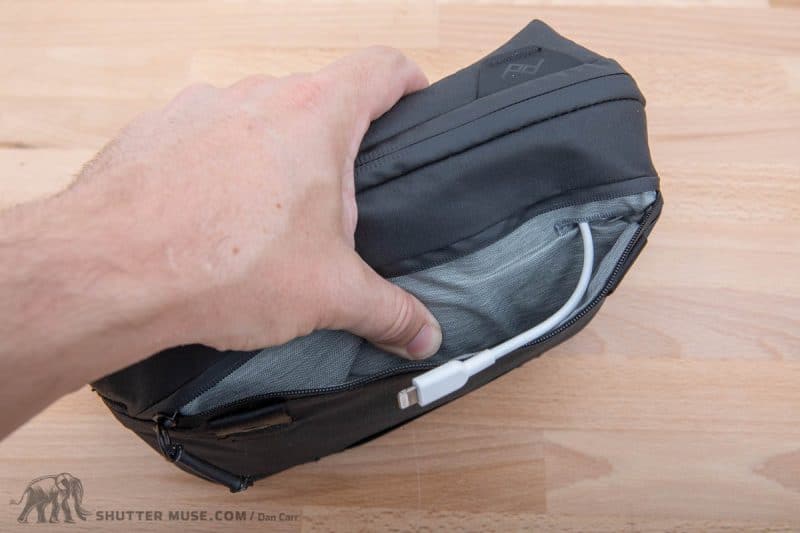 ---
There's not much that needs to be said about this particular item. Each to their own with card brand choice, personally I have always used Sandisk Extreme cards and I've never had a failure. Just make sure you take a couple more than you think you might need, to allow for the potential loss or failure of one. I use the Lexar USB 3 reader because USB is a more universal standard than Thunderbolt and that way if my Apple laptop dies then I can connect the USB reader to pretty much any kind of computer I can find. One other thing I will note is that the USB reader lives in my laptop bag permanently. No excuses. I used to take the one from my office and use that on the road but you only need to forget that once to realize that it's well worth paying the extra $30 to have a guarantee that there's one in your bag.
---
The tripod police are out to get you these days! It's all too common to visit a tourist attraction or even a public space and see the "No Tripods" sign. Sometimes it's not enforced and sometimes it is so you should always have a plan-B. There's two options: A tabletop tripod or a small clamp system.
If I'm not sure what situation I'll encounter then I take the tripod but sometimes I know ahead of time that the clamp is a better solution. The Really Right Stuff TFA-01 Ultra tripod is sturdy enough to take pro-sized cameras, unlike most of the cheaper options from the likes of Manfrotto. Yeah it's not cheap but if it makes the difference between getting the shot and not, just one time, then it's worth it for me. Don't think of it just as a tripod for use on tables either, you can just as easily use it against a wall to brace yourself for a longer exposure. I pair mine with the RRS BC-18 Microball, and I've actually found that it holds heavier weights far better than the larger BH-25 ball head.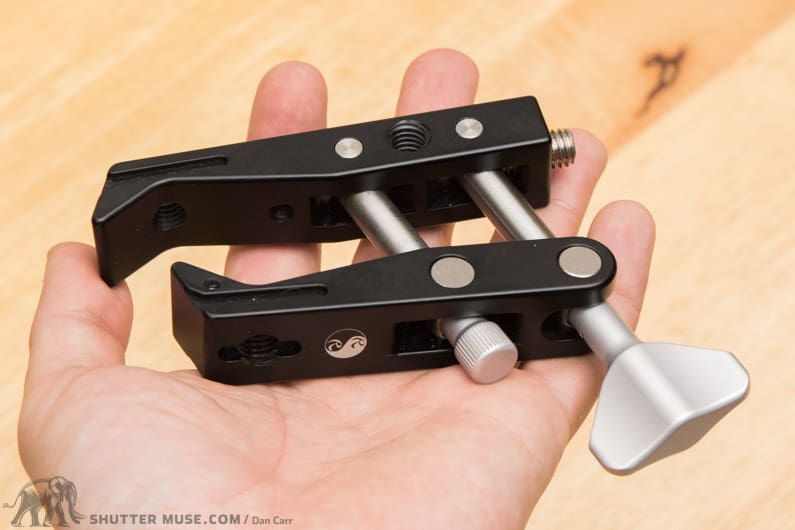 These days I'm also taking the Really Right Stuff Multi Clamp with me, but the Manfrotto Nano clamp is pretty neat too, and a bit cheaper. These work really well when there are safety railings around, and all these options are small enough that you can put them in your carry-on bag. That way if the airline loses your checked luggage with your larger tripod in it, you've got something to get you started. The RRS Multi Clamp has threaded sockets all over it for attaching a ball head, or the BC-18 Microball. B&H Photo actually sell what they call the Travel Clamp Kit, which is the Microball paired with the MultiCamp.
---
11. Camera Rain Cover
As well as various power solutions, you'll notice many items on this list related to maximizing photographic potential on your travels. A good camera rain cover is another such accessory. In a lot of hotter climates, rain is a daily occurrence in the afternoon, and the dramatic skies of monsoon season in Asia are actually a good reason to choose that time for a trip. Wherever you are in the world, though, you'd be lucky to spend a couple of weeks there without some precipitation. Taking a rain cover allows you to experiment in these conditions, and while it is typically harder to get great shots in the rain, you often find something great that you would otherwise have missed.
The Think Tank Emergency series is the best camera rain cover for most people. Available in three sizes, these waterproof, lightweight, well-made, packable, and reasonably priced covers include an ingenious hot shoe mounting method that secures the camera in windy conditions. I always have one of these three sizes in my bag:
---
I've spent a very long time looking for the ultimate travel pillow, and I've finally found it with the Fillo by Nemo Design. This little pillow features a layer of memory foam that sits on top of an inflatable cushion inside a super comfy pillow case. Honestly, it's nearly as good as the pillow on my bed. Can you tell I like this thing by my very enthusiastic video?
If you're on a photo specific trip then chances are you're going to be up before dawn, whether it's on safari in Africa or shooting landscapes in Iceland. Some form of illumination is a must-have item because you don't want to drop a filter or a precious memory card and not realize it. I always have a headlamp on me and my current favourite is the USB chargeable Petzl Reacktik +, although the slightly cheaper Actik is also an excellent option. The main thing to look out for is finding one that has a red LED option. Red light doesn't mess up your night vision so it's a great feature to have when you're shooting at night.
I find that having a flashlight is also very useful. A headlamp has a pretty wide beam, but a flashlight with a tighter beam can be used for light painting, and also for focussing on foreground objects in night time shots. Just put the camera in live view at 100% magnification and then shine the light on the object to focus manually. Works a treat! I pack at least one of these two items into my carry-on bag just in case the airline "misplaces" my checked luggage.
For my flashlight I'm currently using the Fenix UC35. Like the headlamp, it's USB rechargeable so I can always top it up from a car charger or even my laptop if necessary. At 960 lumens, it packs a serious punch!
---
When I travel I like to enjoy the excitement and anticipation, and not stress about things like overweight bags and re-packing at the check-in desk. I keep a small digital scale in my travel "go bag" and make sure everything is evenly distributed around my luggage before I leave the hotel. They don't cost a lot, weigh next to nothing and other people are always asking to borrow it!
I've written in great depth about flying with photography gear, and that post has links to baggage regulations for every major airline.
---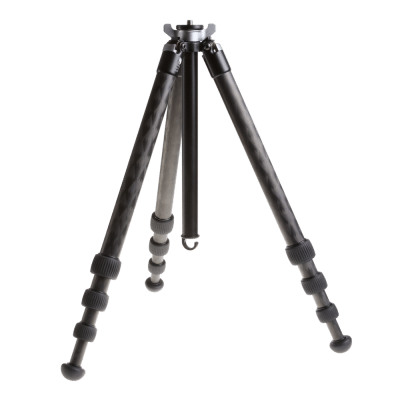 I have a couple of tripods but my favorite is the utterly brilliant Really Right Stuff TFC-14. A small carbon fiber 4-section tripod which is far more stable than it deserves to be for something so lightweight. It's a pricey option, but it'll last a whole lifetime.
I do appreciate that many folks won't want to spend that much on a tripod though so you might also want to check out the Benro Travel Angel II series or the Manfrotto BeeFree series. In my opinion it's worth getting the carbon versions of these.
Travel tripods are typically 4 or 5 section tripods that are much smaller and lighter than regular tripods. These days I really appreciate the weight savings and love to use one if I'm not taking any of the big supertelephoto lenses with me. Always remember to use a cable release so that you don't introduce vibrations from your hand into the system when doing longer exposures.
---
16. Non Branded Camera Straps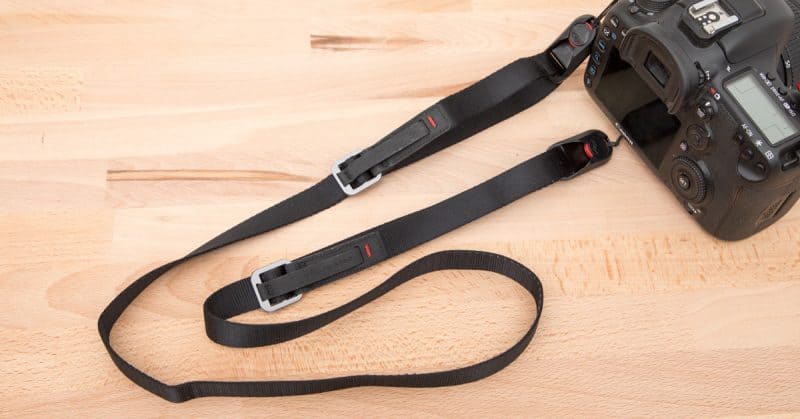 It's best not to wander around places with gear that screams CANON or NIKON, it'll only make you a target for thieves. Take the original camera strap off and replace it with something simple and black. For me, the huge wide neoprene ones are too hot for many Eastern climates and also unnecessarily bulky in my bag. I use the excellent quick release straps from Peak Design (read the Peak Design Leash review here). They cost less and fold up small enough that you can stash a couple in your bag without even knowing they are there. They also work with the previously mentioned Field Pouch from #6.
The Peak Design Leash is available for $39.95
If you want something that offers a little more comfort, check out the slightly wider Slide the Slide Lite straps that I have also reviewed on this site. These ones range from $49.95 to $64.95.
---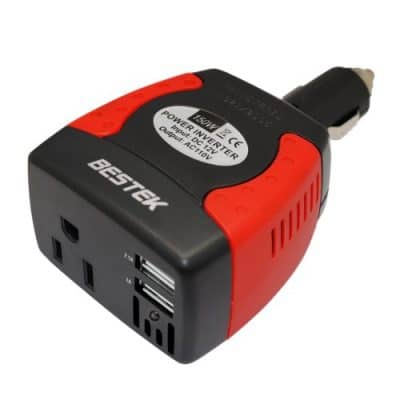 Powering your gear can be a challenge in some places and that's why so many of the items on this list relate to that in some way. One thing you can nearly always be sure of is that somewhere there will be a car and that means there's a 12v battery. I always carry this simple inverter with me wherever I go and it has saved my ass more than once when I've simply forgotten to put my camera on charge the night before. It's pretty lightweight and it'll also power your phone via USB so you can make use of the GPS and mapping apps to get to where you need to go. Some of the options on Amazon even come with crocodile clips so you can connect them directly to a 12v battery.
---
18. Customs Documentation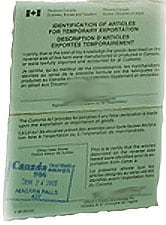 This is one of those slightly less than helpful situations where I have to preface this section with the caveat that this will vary depending on where you live, so it's hard to be too specific. If you are traveling with very large amounts of equipment then you should use an ATA Carnet. Essentially this amounts to a passport for your gear. When you enter a country you have it checked to make sure that what's on your Carnet is actually with you, and then the same is done again when you leave. This prevents you from selling any of it during your visit.
To get a Carnet, in theory you have to put up a huge sum of money as a guarantee that you will return with your gear. This isn't hugely practical though so you can use an official brokerage company who, for a fee, will guarantee your gear for you. Carnets are valid almost everywhere. The process will take time at the airport though so make sure you factor this in.
Do you absolutely NEED a Carnet? The answer is probably no, especially if you are not a professional. The "official" rules for your country and destination should be studied before coming to your own conclusions but in general my rule tends to be that if I can carry it in my carry-on bag then I'll go without it. If i need to start shipping stacks of pelican cases then it's time to get a Carnet for that trip.
In Canada (where I live) there is one other thing you can do that I ALWAYS do. You can go to the customs office before you leave and fill out a form with all your camera and lens serial numbers. It's called the Y38 form ("Identification of Articles for Temporary Exportation"). The customs officer will then look over your gear, stamp it and sign it. Effectively this goes some way to proving that when you return back to Canada with the gear, they know you didn't buy it while you were abroad since you have some proof of its prior existence in the country. NOTE: There are no guarantees though. You may still be asked to provide proof of purchase. I believe that a similar system is in place in the USA (Customs form 4457) as well, and likely in other countries too.
---
19. Documentation For Your Strobes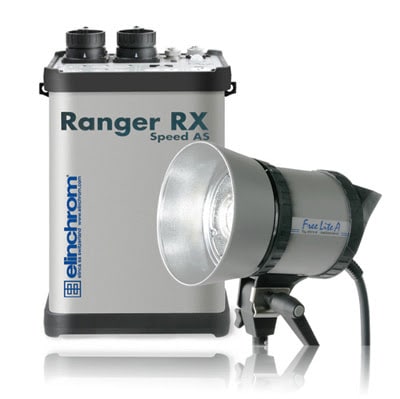 You only need to pay attention to this one if you plan to travel with larger battery packs and strobes. If you just use speedlights then you won't have any issues, but for those of us who occasionally travel with something larger, there's a whole world of frustration to get into if you forget to bring a few pieces of paper with you.
Whilst most flash manufacturers take great care to make sure their products are ok to fly with, the airport personnel you come across might not know this, or they might not speak the language that's written on the battery pack. Even when they do, sometimes they just think they know better. Once when travelling back from New Zealand with a sealed Lead-Acid battery from an Elinchrom Ranger I was actually marched off a full 747 that was just about to leave. I was then driven at speed to the other side of the airport to the security department where they then proceeded to take my Ranger pack from me and refused to send it on the plane!
A similar situation also occurred in Japan but thankfully that time I was prepared with the paperwork in hand. Most manufacturers will supply you with the necessary details on the battery pack. I advise that you take 4 copies with you. Tape one copy to the battery pack itself, along with a copy of the instruction manual. In some countries though, security is not allowed to open baggage at all, so this doesn't work. That's why you also give a copy to the airline when you check in. Then you keep two copies in your carry-on bag as a backup. You may never need them, but having published this same advice on my own personal blog some years ago I have been inundated with people who have thanked me and "saved their ass" with this advice.
(Yes I did eventually get my Ranger pack back from New Zealand after about a month. I had to get the manufacturer to fax them details on the battery before they admitted that it was legal.)
---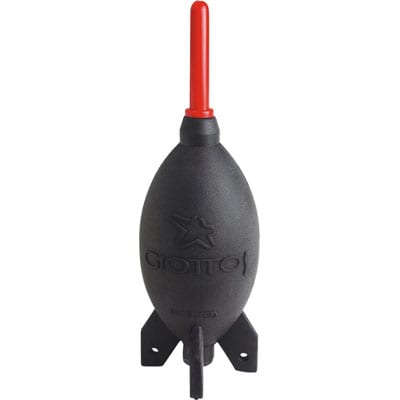 Don't get stuck halfway around the world with a big speck of dirt on your sensor! All cameras these days have sensors that vibrate when you turn them on and off, and whilst this does keep the majority of dust particles at bay, every now and then something bigger will lodge itself in there and you don't want that to be on day 1 of your big trip!
Personally I just take the standard rocket blower with me and an Arctic Butterfly brush. The brush spins under battery power to statically charge the bristles and then you can use that charge to lift particles off the sensor. There's a ton of options out there when it comes to cleaning, all you need to be aware of is that you should take something with you.
---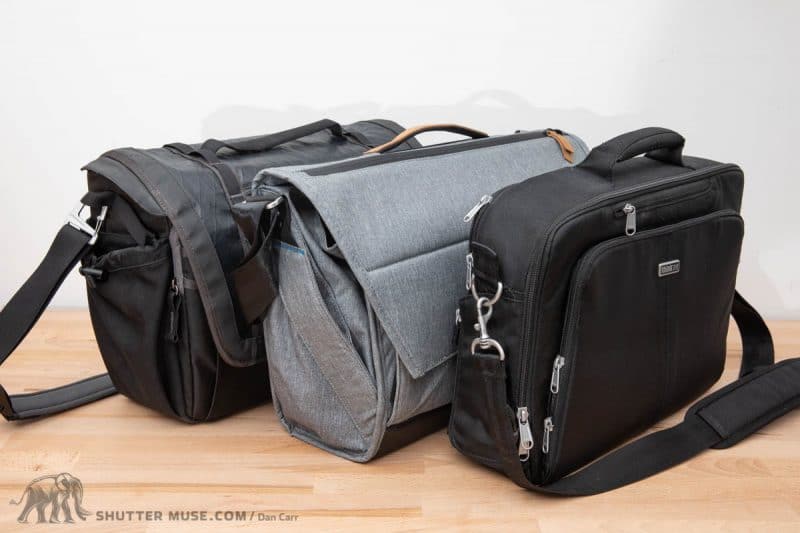 Most photographers struggle continuously with airline carry-on limits and this makes a good laptop bag very useful as your "personal item" alongside your main camera bag. My three current favourites are the Peak Design Everyday Messenger, the MindShift Exposure 15 and the Think Tank Retrospective 30 V2. All three of these bags will carry your laptop and computer accessories, with varying amounts of additional space for camera gear.
Reviews: MindShift Exposure 15 review — Peak Design Everyday Messenger review — Think Tank My 2nd Brain Briefcase review.
---
22. Insurance
You should always have your gear insured whether you are travelling or not, but you must be careful that any policy you do have covers you for your intended destination. The type of policy you have will also likely be dictated by whether you are considered to be a "professional photographer". Different insurance companies might have varying definitions of that as well. If you are not a professional then it's usually possible to add your camera gear to a household policy but make sure you check with them to see if there are any geographical limitations.
You might also have to add a rider onto your policy to up the single amount that's covered for one item. If you have a $10,000 lens you don't want to find out that the policy will only pay up to $2000 per item. Read the small print and ask a LOT of questions to be safe!
Another thing to double check is whether your gear is covered when it's locked in an unattended car. Some policies will not cover this and sometimes it's just impractical to say that you just won't do it. Move on and find another insurer.
Here in Canada I get a policy for professional photographers from a company called CG&B in Toronto. It has some very specific benefits, like being able to claim the cost of rental equipment should I need to rent if the airline loses my bags (again).
---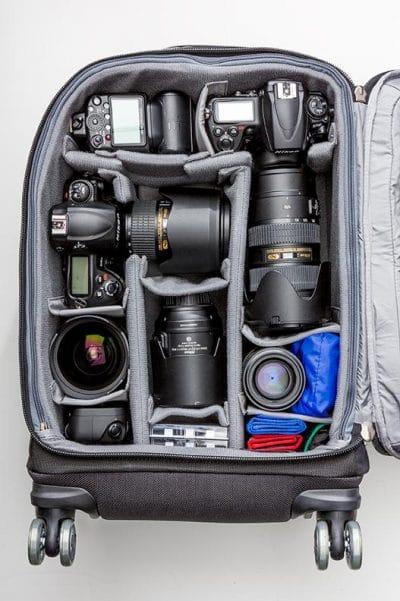 Think Tank roller bags have become the de facto standard in the photography world. Walk into a press room at a major event and you'll see them stacked from floor to ceiling. They totally dominate the market, and for good reason! Whenever I can, I try to use a roller bag when I'm flying. Any way I can make the travel process a little easier! Lugging 40lbs of gear to gate 497 gets pretty tedious in hot countries. Having said that, sometimes it's not a practical solution when you get to your location, but if I can, I roll!
Think Tank have a hug range of rollers to suit a variety of carry-on regulations, but the award-winning lightweight Airport Advantage XT really catches my eye at the moment, as well as the new V2 version of the Airport Takeoff which also includes backpack straps. Buy any of these rollers directly though the links on this page, and get a free gift from Think Tank.
I really can't comment on other roller brands since I've always been so happy with Think Tank ones that I've never had the inkling to try anything else in this department.
---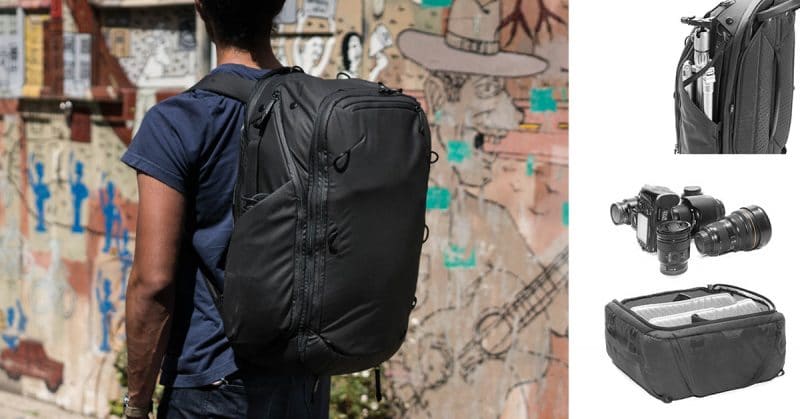 The Travel Backpack from Peak Design is unique in the photography world as it the only bag on the market that offers accessories to both customize it for camera gear and the rest of your travel gear. Adjustable in volume from 30-45L, a series of three Photo Cubes are available for your cameras and lenses, as well as additional packing pouches, a tech pouch and even a wash bag among other things.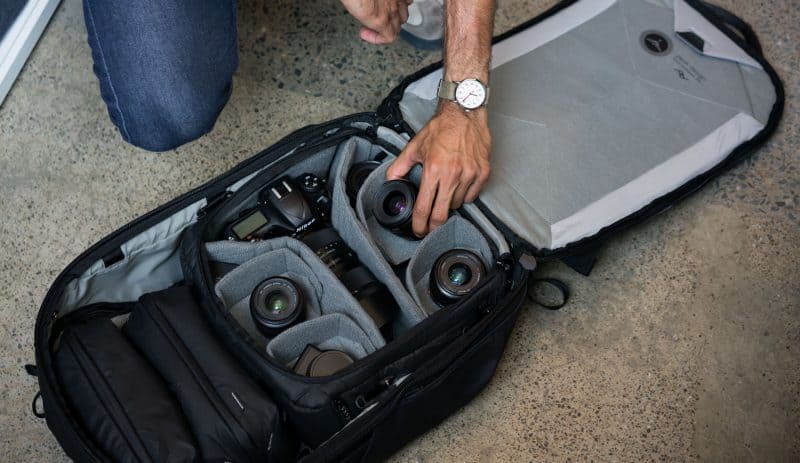 If you just want to travel with one bag, this is the best bag on the market to achieve that goal. I have already done a full review of the Peak Design Travel backpack which you should read for more details.
Do you have anything to add to the list? Leave us a comment below!