Monopod heads add stability and function to an already valuable piece of photo gear. Still, if you aren't fully aware of the different options on the market and the features of those options, you can easily buy something that won't suit your needs and could end up hurting your photography.
I had always worked with a monopod head during my career when it made sense to do so, and I have tried and tested a wide variety of options. In this post, I'm going to walk you through everything you need to know about monopod heads and review all the best options on the market right now.
In a Hurry?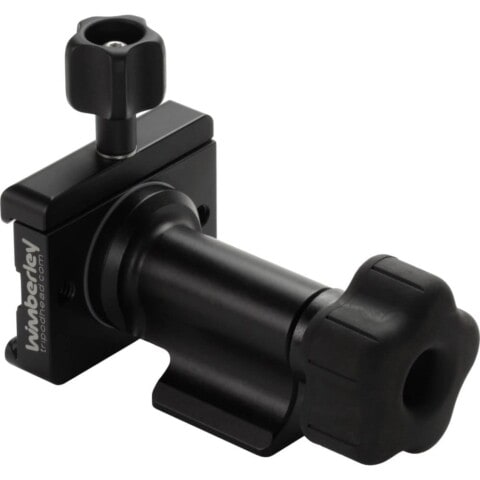 If you're in a hurry and want to get an instant recommendation, the Wimberley MonoGimbal is my top pick for the best monopod head for most people. I would encourage you to read on and find out why and learn about the other great options on the market if you have the time, but if you don't, there you have it.
Why Use a Monopod?
A monopod can be a valuable piece of equipment when using heavy zoom lenses and large telephoto prime lenses for sports and wildlife photography. Both types of photography often require you to stand for a long time with heavy gear, and particularly in the case of wildlife photography, you can often find yourself needing to use slow shutter speeds in low light. That's tricky to do at any time but increasingly difficult with longer focal lengths.
A monopod provides stability, which will directly help you get sharper images and save you from fatigue, which will indirectly help you get sharper images—no more tired, shaky arms right at the critical moment.
In this post, I'm going to start by explaining why a monopod head can improve your shooting even more than just using a bare monopod, and then I'll talk about the best monopod heads that I have found on the market this year.
Recommended reading: Monopod Vs Tripod – How to Choose and When to Use
Why Use a Monopod Head?
On their own, monopods work well from a standing position when the viewfinder is at the same height as your eye, and you are photographing something roughly at the same height as you. In this instance, the monopod is vertical or very close to it. A good example would be shooting football from the sidelines or motorsports from the side of a track. I would not bother to use a monopod head; I would mount the camera directly to the monopod.
Things get a little more complicated when you want to use a monopod to photograph something above or below you. It's not practical to adjust the height of the monopod all the time, so without a monopod head, you have to tilt the whole monopod forward or backwards. If you give this a try, you'll find very quickly that your own body has limitations as to how far you can comfortably go in each direction, and those limitations will only increase as time goes on.
Tilting the camera upwards without a monopod head requires you to crouch down awkwardly while at the same time leaning back and angling your head to try and match the now off-angle viewfinder. Tilting the camera forwards might be even more complex because you almost need to grow a few inches to get yourself up and over the camera as your whole setup leans forwards away from you.
A monopod head solves this issue and allows you to comfortably angle your longer lenses up and down without contorting yourself into awkward positions.
Types of Monopod Heads
There are three distinct types of monopod head on the market at the moment, each with its pros and cons. Before we get down to the reviews of individual heads, I want to talk about these distinct head types as the guide contains contenders from all three.
Tilt Head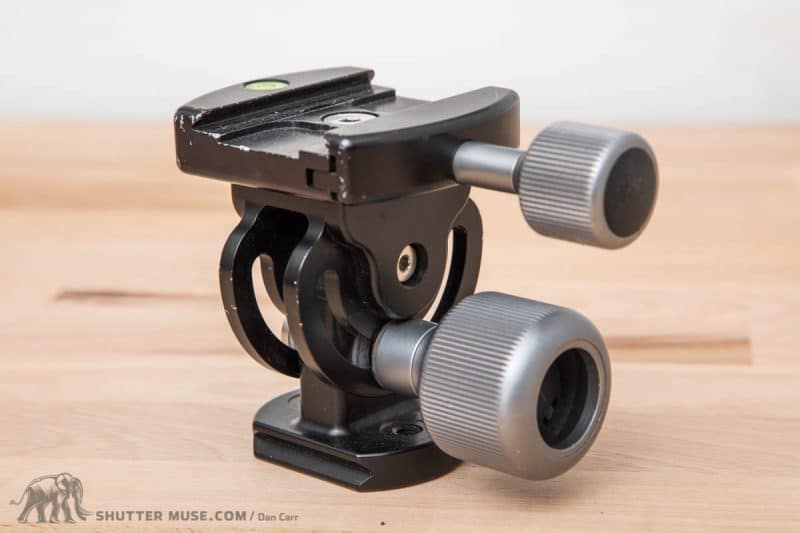 A tilt head is probably what most people imagine when thinking of a monopod head. They typically have a large locking knob on one side, and when that is unlocked, the camera can tilt forwards and backwards. Sometimes there is also a tilt friction knob on the opposite side to the locking knob.
Generally, the quick-release clamp of a monopod head runs in the fore/aft direction, in line with the tilt axis. This is because monopod heads are primarily used for telephoto lenses, including a tripod foot, so it is the foot of the lens that is being clamped to the head and not the camera body.
Some of the more expensive monopod tilt heads in this guide feature a rotating clamp that can be moved by 90 degrees to accommodate a horizontal camera base plate instead of a lens foot.
2-Way Head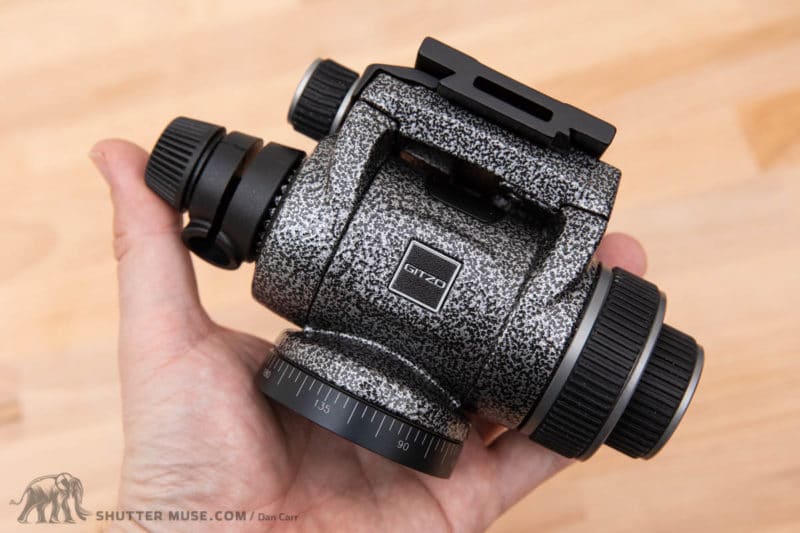 A 2-way head is essentially a tilt head with a rotating panning base on it. The panning base is pointless for still photography on a monopod since you can rotate the monopod to adjust your angle. However, a smooth panning base like the Gitzo 2-Way Fluid Head can be helpful for people who are shooting video while using a monopod, as it will undoubtedly produce a smoother pan.
Another reason for adding a panning base is the potential to use the head on a tripod instead of a gimbal. These heads are typically much smaller and lighter than a gimbal, and while you would not get the effortless balance of a gimbal, good ones like the Acratech Long Lens Head will still do a good job. Acratech sells that head more as a tripod head than a monopod head, so confident are they in its ability to support long lenses in that way.
The third reason for having that panning base is to negate the need to bring a second head (tripod ball head) with you when you need to transfer from monopod to tripod. If your tripod has a leveling base on it, and your camera has an L plate, a 2-way head is all you need to compose just about any image when on a tripod.
The leveling base takes care of your horizon line and small left/right roll adjustments, the 2-way head obviously has a tilt function to angle your camera up or down, and the panning base gives you left and proper rotation with the L bracket seeing to the swap from portrait to landscape orientation. If you want to travel light, with one head that can do anything on both a monopod and a tripod, a 2-way head is a very smart move, and I know more than a few pros that work that way.
Monopod Gimbal
This category of head is both new and very small. In fact, for now, it consists of just one product: The Wimberley MonoGimbal. I deliberately say "for now" because the MonoGimbal has been so well received that I'm sure other companies will be ripping off the design very soon.
As the name suggests, the MonoGimbal acts like a gimbal for your monopod. Once the lens is balanced in the fore/aft direction on the clamp, you can safely let go of the camera without having to tighten the locking knob, and the camera will sit there. With all other monopod heads, you must tighten the locking knob before taking your hand off the camera. Otherwise, the camera will suddenly tilt either forwards or backwards.
The downside of this head style is that the off-centre balance of the whole setup does take a little getting used to, but I'll talk more about that when we get down to the review section for this specific head.
Screw Clamp Vs. Lever Clamp on Monopod Head
A monopod head will have a quick-release clamp on top of it. Most of them will conform to the Arca-Swiss standard of dovetail plates, except the Manfrotto 234RC head, which uses the vastly inferior Manfrotto standard.
In some cases, you will not have a choice between the type of quick-release clamp, and in other cases, you will be presented with the option of using either a screw-knob clamp or a lever-release clamp. I always opt for a lever-release clamp on a ball head for a tripod, even though they are a little more expensive. They are much faster and easier to use in the field.
On a monopod, however, I never use a lever-release clamp, and it all comes down to how I carry my monopod. Most of the time, while I'm shooting with a monopod, I'll hoist it up onto my shoulder with the lens hanging out behind my head while I move positions. I'm usually wearing a backpack while doing this, which means that there are many straps and backpack pockets in the vicinity of the monopod head. With a lever-release clamp, should any of those straps catch on the quick-release lever while I move the monopod off my shoulder, it could send $20,000 of camera and lens crashing to the ground.
Perhaps this potential for disaster won't bother you, but once I had envisioned it, I could never use a lever-release clamp on a monopod again. Most monopod heads will have a screw-knob clamp as standard, and my advice is to stick with that.
Monopod Head Vs. Ball Head on a Monopod
As you will have learnt in the section describing the different types of monopod heads, the key feature is that their range of motion is linearly limited in the fore-aft direction. With a monopod head, you can tilt the camera directly forward or backwards. If you need to rotate left and right, you turn the monopod. If you need to rotate the camera around the axis of the lens to switch from landscape to portrait orientation, you rotate the lens within the lens collar.
As far as I know, every lens for which it might be worth considering the use of a monopod has a tripod collar. If you want to use smaller lenses on a monopod for some reason, use an L bracket to switch the orientation. In other words, with a monopod head and the movement of the monopod itself, you have every axis of movement covered to get your camera pointing in any direction you desire.
Now you might be asking, "Ok, I see that I can use a monopod head. But what if I want to use the ball head that I already own?" Simple answer: Don't.
Longer answer: It's a terrible idea. Even a cheap monopod head will give you a better experience than using a ball head on a monopod. A ball head offers too much movement. To have a decent amount of control over the camera position while unlocking the ball head, you need to lock the rotation of the tripod collar; otherwise, your whole camera and head will turn into a big floppy mess. A floppy mess that you have to try and wrestle with one hand while your other hand holds up the monopod.
How do you hold the monopod, wrestle the camera and lock the ball head locking knob simultaneously? Tricky at best. Such situations are not a problem on a tripod where the camera can be held with one hand while a second hand unlocks or tightens knobs. Still, it will lead to quick frustration and quite possibly an expensive accident on a monopod.
While you likely already own a tripod ball head, look at the price of your telephoto lens and then look at the cost of a good monopod head. It's a small investment and one that will last a lifetime because monopod heads are so simple that there's very little that can go wrong if you buy a good one. How do you buy a good one? Just read on…
Best Monopod Heads – The Shortlist
This table shows you the list of monopod heads that I will be reviewing further in this guide. I didn't choose these products blindly, so if it made it as far as being included in this gear guide, then it has already shown some merit. If you don't have time to read the in-depth guide, these links might save you some time.
---
Kirk MPA-2
The Kirk MPA-2 is a beautifully built product with large glove-friendly controls and an incredibly smooth tilting action based around self-lubricating Delrin composite bearings. These composite bearings are excellent when you want a product to be simple and maintenance-free.
The Arca-Swiss quick-release clamp can be rotated by 90 degrees so that a camera plate or a forward-facing lens footplate can be mounted to the head. This clamp rotation can be quickly performed in the field using the hex key that is cleverly hidden inside the clamp itself.
---
Acratech Long Lens Head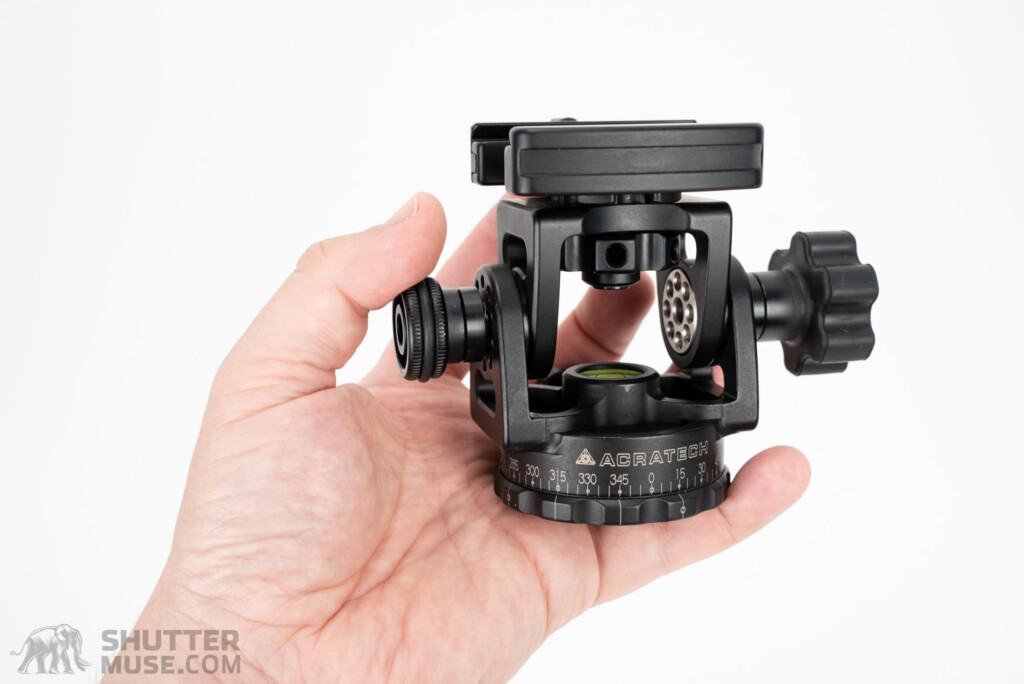 The Acratech Long Lens Head is a made-in-the-USA 2-way head featuring both pan and tilt motions controlled by individual knobs and an additional knob for adjusting the tilt tension. Acratech doesn't market this head specifically as a monopod head, but it can certainly be used in that way if you lock the panning base and use the tilt axis. The benefit of this robust design, and the inclusion of a panning base, is that the head can also be mounted onto a tripod and used instead of a gimbal.
While it lacks a gimbal's weightless feeling and doesn't move quite as smoothly, it is a whole heck of a lot smaller and lighter than a gimbal, making it a good option for wildlife photographers who need to travel with the most lightweight and most compact setup available.
Recommended reading: Acratech Long Lens Head Review
The downsides of this head are the weight and the price. Although Acratech's ball heads are some of the lightest on the market for their rated capacity (see Acratech GXP ball head review), this Long Lens Head weighs in at 1lb, which is heavier than the dedicated monopod heads on this list. Not by much, sometimes just a few ounces, but sometimes by a quarter of a pound in the case of the Wimberley MonoGimbal.
At around $360 from B&H, this is also significantly more expensive than every other option on the list. If its potential ability to take the place of a tripod gimbal adds enough value to this head for you, it's a good purchase. Still, I would only recommend it if you see yourself using it as a one-head-for-everything solution on both a monopod and a tripod.
---
Wimberley MonoGimbal
If you haven't seen this before, I'm sure that the unusual design of the Wimberley MonoGimbal has already caught your eye in this guide. It breaks the mould in the niche of monopod head design.
Wimberley have always been best known for their WH-200 gimbal, so I guess it was natural for them to try and recreate some of that feeling in a head that was small enough to fit onto a monopod. Amazingly, they managed to do it.
With a standard tilt-head monopod head design, the camera sits directly above the pivot point and is essentially balanced on a knife-edge. Tilt heads are not designed to have your hand removed from the camera before first locking the tilt lock knob. If you don't lock a tilt head before taking your hand away, the slightest movement of the monopod will set the balance point fore or aft of the pivot, and the camera will flop quickly forward or backwards. With large lenses, this can put significant strain on mounting points and jolt the whole setup out of your hand.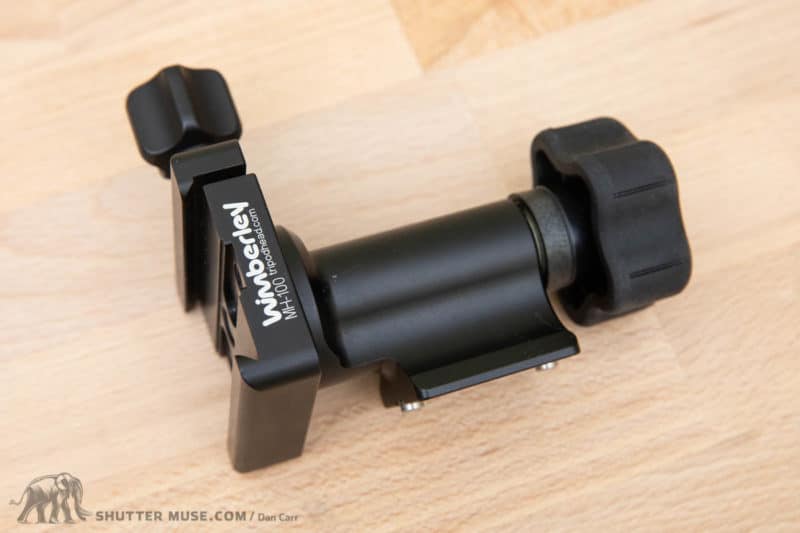 With the MonoGimbal, Wimberley has pretty much solved this problem. You can perfectly balance the setup by hanging the camera off to one side by sliding your lens foot back and forth in the screw-knob clamp. Once balanced, you can safely remove your hand from the camera, as long – of course – as one hand remains on the monopod. At this point, the whole camera appears to float next to the monopod.
Recommended reading: Wimberley MH-100 MonoGimbal Review
The movement of the monopod at this point does not induce significant movement in the camera, so you can safely move around to change your position. For no other reason than it looks cool, you can even spin the whole camera around 360 degrees like some crazy telephoto windmill. Note: If you do this near any other photographer, you will generate some perplexed looks!
In photos, the offset position of the camera relative to the monopod looks a little weird. You might imagine that the whole setup feels unbalanced and awkward, but in fact, it takes very little getting used to. With heavy lenses, a slight tilt of the monopod to one side is enough to counterbalance the offset camera, and after a couple of hours of use, it becomes second nature.
---
Really Right Stuff MH-01
The Really Right Stuff MH-01 was the first monopod head that I owned, and it has now been in my kit for over a decade. The real beauty of its design – a design that has now been copied by many other people – is its simplicity. The MH-01 requires no lubrication, instead relying on plastic bushings that slide alongside the curved rails.
This choice, and the open architecture of the design, make it incredibly robust. You never need to worry about throwing this thing down in the dirt because there are no hidden bearings or cartridges for dirt to get into. If it gets dirty, just run it under a tap or dunk it in a lake. I have regularly used mine to submerge an underwater camera housing into the water off the side of boats and kayaks. Honestly, I never even bother to dry it or clean it afterwards. I have hammered this thing over the years, and it just keeps on ticking.
Although the RRS MH-01 doesn't have a friction adjustment knob, just a single locking knob, I count this as a plus. I don't see a lot of point in a dedicated friction adjustment knob on a monopod head because, either way, you need to lock it to remove your hand from the lens. Adding a dedicated friction adjustment knob complicates things on a head like this.
Recommended reading: The Ultimate Really Right Stuff Ball Head, Gimbal and Monopod Head Showdown.
Most brands put the friction adjustment on the opposite side of the locking knob, but that requires you to switch the hand holding your lens to adjust the friction. With the simple design of the MH-01, you keep one hand on the lens and one hand on the nicely oversized (works great with gloves on) locking knob, which offers a certain amount of friction adjustment as you begin to tighten it. Simplicity and lack of features can sometimes be a feature in and of itself.
RRS sells this monopod head with a lever-release clamp and a screw-knob clamp. For reasons discussed earlier in the guide, my recommendation is to go with the screw-knob version, which also happens to be slightly cheaper. Currently, the MH-01 is $240, which is $60 more than the Wimberley MonoGimbal. The RRS MH-01 is a more robust option and my favourite of the tilt head style of monopod heads. If that extreme robustness is vital to you, or you want a head that can be submerged in water, it's likely worth the extra $60 for you.
---
ProMediaGear HM1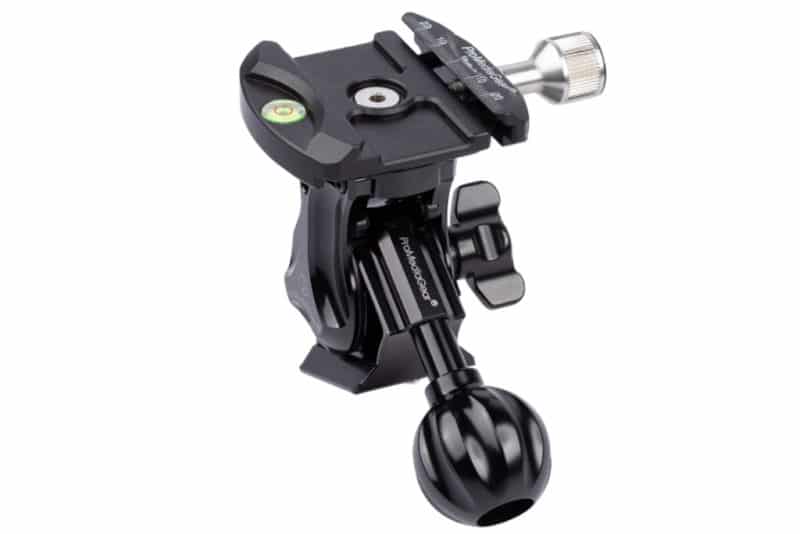 ProMediaGear is another USA-based company making exceptional camera support equipment, and the ProMediaGear HM1 monopod head ticks all the right boxes. The clamp can be rotated by 90 degrees to hold either a camera plate or a lens plate; the base of the head is both an Arca-Swiss dovetail itself and contains a 3/8″ 16 thread for direct monopod attachment. Finally, the tilt locking knob is pleasingly large and tactile for ease of use when your eye is up to the viewfinder or when wearing gloves in the winter.
I do not find that I need a dedicated tension adjustment knob on a monopod head, but if you do, the HM1 has one. If you don't like it, you can ignore it, so it's not a big issue to me apart from adding slight complexity to their design.
---
Manfrotto 234RC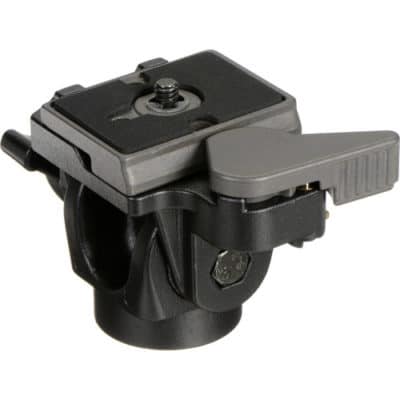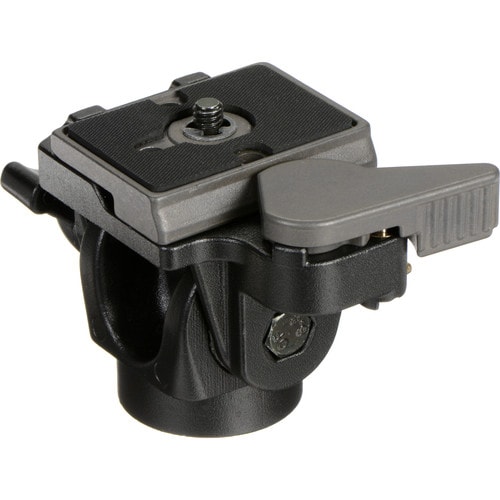 The Manfrotto 234RC is the original monopod head. It has been around for decades, and it has remained unchanged in that time as far as I can tell. It has a relatively light 5.5 lb weight limit (some other monopod heads go up to 75 lbs), but it still works well with a lightweight setup. There's a reason it has 4.5 stars on Amazon after over 1000 customer reviews! It gets the job done in a no-frills sort of way.
If you already use a Manfrotto tripod ball head on your tripod, the fact that the 234RC comes with a Manfrotto quick-release clamp will mean that you can use the quick-release plate to swap between your tripod and monopod as needed. If you have a different clamp standard on your tripod head, this might lead to some frustration as you will have to keep switching plates as you change your support.
It is worth pointing out the relatively small tilt locking knob on this head and the very similar Oben head for people working in cold climates. It is not easy to work with thick gloves, compared to most of the other heads on this list that feature giant locking knobs.
---
Oben VH-R2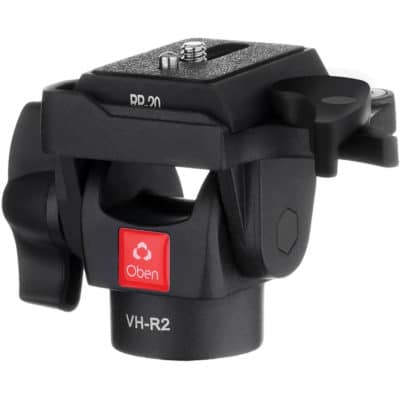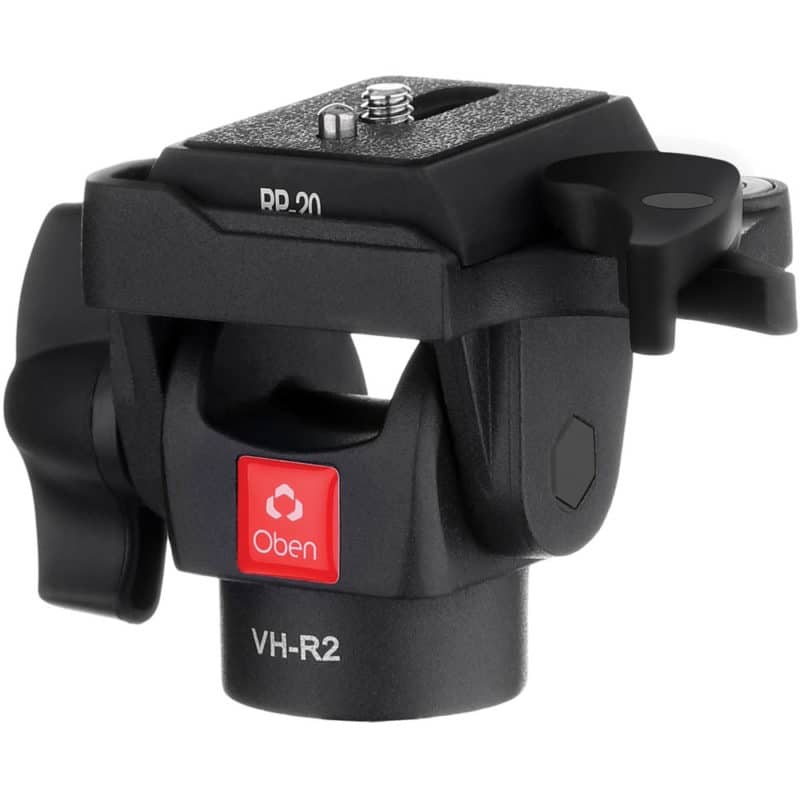 The Oben VH-R2 is pretty similar to the Manfrotto 234RC, but the capacity is rated at 11 lbs, compared to the 5.5 lbs of the Manfrotto. The MSRP of this head is also about $10 cheaper than the MSRP of the Manfrotto. The Oben is a newer product, and it looks and feels nicer in hand than the very basic design of the Manfrotto 234RC.
One of the big things you must consider is that these cheaper monopod heads from Oben and Manfrotto do not use the Acra-Swiss standard for their quick-release plates. Instead, they use the Manfrotto standard. If your camera or lens has an Acra plate on the bottom or an L bracket, then you would end up having the screw the Manfrotto plate to the bottom of your existing Arca-Swiss plate whenever you want to use your monopod.
For me, that would be a pain in the ass. For those that have read my article entitled "4 Times When Using a Monopod Is Perfect for Wildlife Photography", you will know that having to screw a different plate onto your camera to use the monopod would completely ruin at least one of the things (#1) I discuss in that article.
---
Sirui L-10
The Sirui L-10 lifts more than a few design cues from the RRS MH-01, but at just under $100, it comes in at less than half the price and sits in an excellent middle pricing ground between the other heads in this guide. With its Arca-Swiss compatible clamp, Acra dovetail foot and large tilt lock knob, this head delivers a considerably better user experience than the cheaper, smaller Oben and Manfrotto monopod heads.
Is it as good as the RRS head it tries to copy? No, it's not. But considering it is less than half the price, it certainly does more than half the job. As with all things, marginal gains near the top of the field cost almost exponentially more money. So the Sirui might be 80% as good, but for 40% of the price. It's not as smooth, not quite as well polished (figuratively) and just not quite a Really Right Stuff product, but for under $100, it's the best value of the contenders.
---
Gitzo 2-Way Fluid Head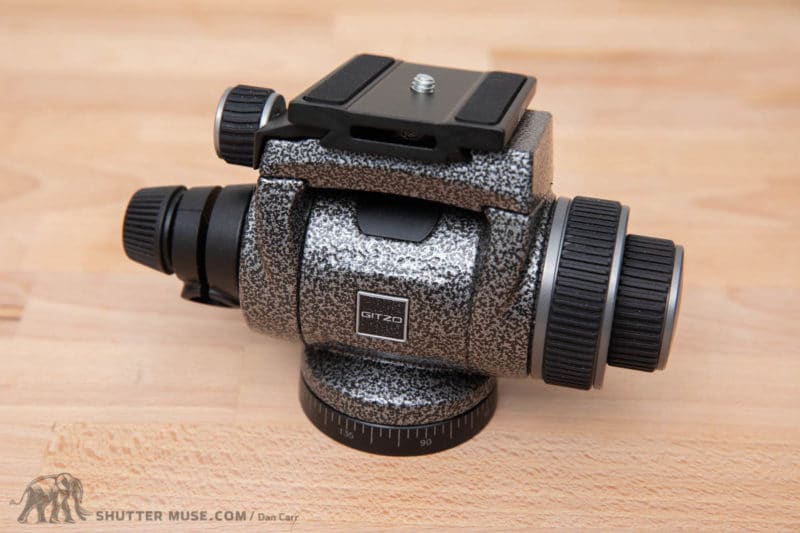 The Gitzo 2-Way fluid head is by far the largest head on this list, but I wanted to include an excellent option for people who shoot video, and this is it. The head uses fluid dampened cartridges to provide an incredibly smooth pan and tilt motion, and both axes can be locked independently. Tilt tension also has its own control, and the head features a counterbalance system that returns the camera to the level position when released.
At around $260 MSRP, it represents decent value for a product with the Gitzo label and excellent build quality. When you consider that it's a little cheaper than some of the other monopod heads on the list while offering the complexities of a proper fluid head, that value is underlined even further.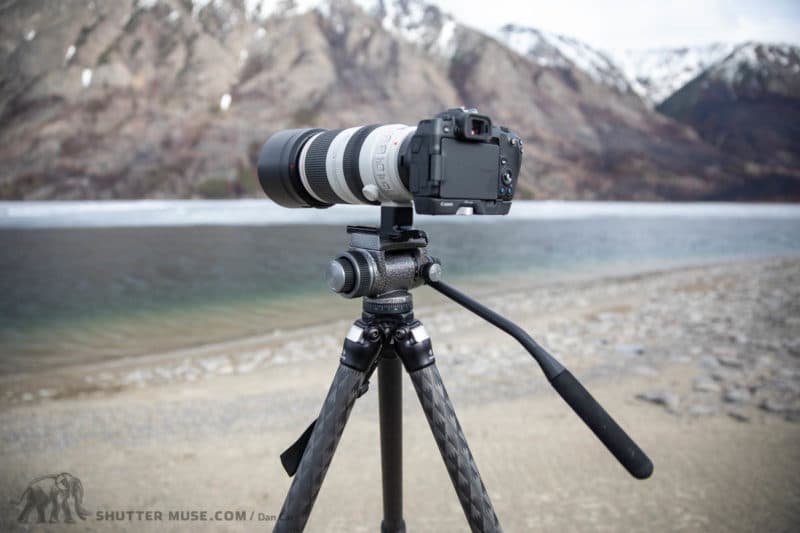 If your primary function is shooting video, and you sometimes value a lightweight monopod setup to do that, the Gitzo 2-way Fluid Head is a fantastic option. Although it might be seen as large compared to the other monopod heads on this list, it's a relatively small head for being a fluid video head, which makes it ideal for monopod video usage. It's also equally at home as a video head on a smaller tripod.
---
Conclusion
Monopod heads are a great way to improve the usefulness and stability of an already essential piece of gear. Although the Wimberley MonoGimbal is my top pick for the best monopod head, every other head on this list also has considerable merits. I always make sure to include products in my guides that suit different budgets, and if you can't stretch to the price of the MonoGimbal, the Sirui L-10 offers excellent performance for the price.
If your monopod usage is highly infrequent and you want a cheap head for a relatively lightweight camera setup, i.e. not a massive 600mm prime lens, the Oben VH-R2 will get you started. If the price is less of an issue for you, and you want the most rugged, built-like-a-tank option on the market, check out the RRS MH-01.