Thanks in large part to the efforts of Sigma and Tamron, the world of third-party lenses has really been thrown wide open in the last few years with both those manufacturers elevating their innovation, lens quality and pace of new products. Tamron has now introduced a 17-35mm f/2.8-4 Di OSD lens in full frame Canon and Nikon mounts that weighs just 460g (16.2oz), making it a great option for lightweight travel and landscapes that involve a lot of hiking. Unheard of in a lens of this price-point ($599), is that the lens also features weather sealing at critical points, to provide what Tamron call a moisture-resistant design (see diagram further down the page). For landscape photographers this is always a welcome feature. Nice one Tamron!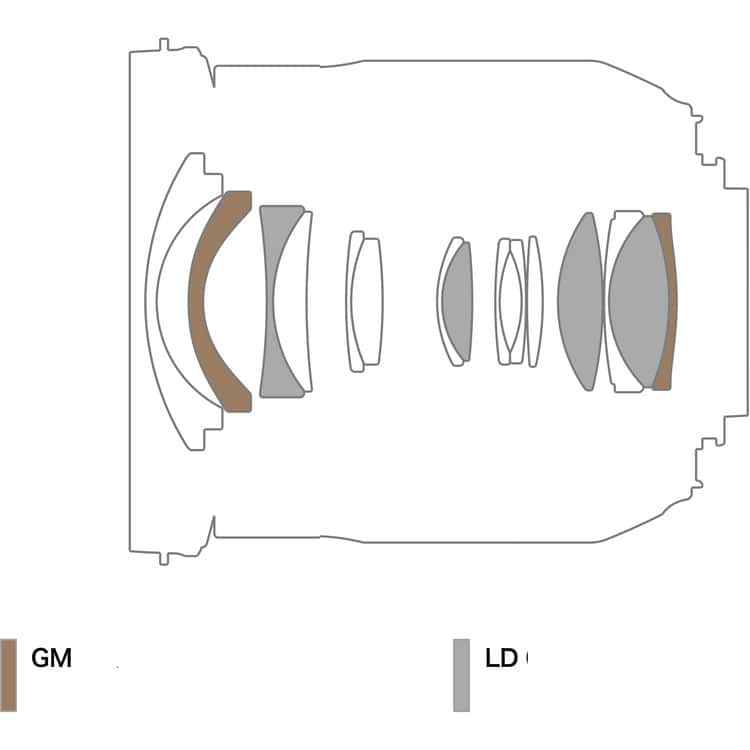 The variable aperture saves some weight, but I love that it's still f/2.8 on the wide end because this makes it a plausible option for nightscapes. It also has rounded aperture blades for smoother bokeh, and since it has an odd number of aperture blades (7) it will produce some lovely 14-point sun stars in your landscapes. Whilst it lacks the stabilization of it's bigger brother, the 15-30mm f/2.8 Di VC, it's about half the price and much less than half the weight! Image stabilization is much less necessary at wide angles anyway, so this seems like a solid tradeoff of features to me, if the goal is to make an ultralight lens.
In fact, the Tamron 17-35mm f/2.8-4 is the lightest ultra-wide lens in it's class, and by the specs it looks like a winning combination of size, weight and lens design. You can pre-order from B&H Photo now, and I'm so curious about this lens that I'll definitely be borrowing one to review it when they hit the store shelves.
From Tamron
Tamron Announces the Smallest, Lightest Ultra-Wide-Angle Zoom Lens in its Class
A sophisticated balance of outstanding optics and matchless mobility
August 6, 2018, Commack, New York— Tamron announces the launch of a new ultra-wide-angle zoom lens, the 17-35mm F/2.8-4 Di OSD (Model A037), for 35mm full-frame DSLR cameras. The vision behind the Model A037 is that of an ultra-wide-angle zoom lens that has a separate concept from SP 15-30mm F/2.8 Di VC USD (Model A012), with superb image quality and easy portability. At just 3.5 in in length and 16.2 oz. in weight, it is the smallest and lightest in its class. The focal length ranges from an ultra-wide 17mm that is suitable for professional landscape photography to a standard 35mm perfect for snapshot photography. As for F-stops, the wide-angle end is a large aperture F/2.8, and at the telephoto end is a fast F/4. The Moisture-Resistant Construction and Fluorine Coating help to enhance the user's photographic experience. For those looking to try out an ultra-wide-angle zoom lens for the first time, as well as having a lens that is easily portable, the A037 is the definitive choice. The lens will be available in Nikon mount on September 4, 2018 at a suggested retail price of $599. The launch of the Canon mount model will be announced at a later date.
PRODUCT HIGHLIGHTS
1. High-performance imaging for shooting vast landscapes in sharp detail
The optical construction (15 elements in 10 groups) uses four LD (Low Dispersion) lens elements to minimize axial chromatic aberrations that can occur with ultra-wide-angle zoom lenses. With two properly positioned GM (Glass Molded Aspherical) lenses, distortion and other aberration can be satisfactorily corrected as well. Being the smallest and lightest in its class and dedicated to high quality imaging, the engineers have paid particular attention to size. The lens has also been carefully designed to allow peripheral point image reproducibility and thereby facilitate a high degree of sharpness and contrast. The Minimum Object Distance (MOD) for the entire zoom range is a short 11 in., so background blurring is still possible when opening the aperture and approaching the subject close-up with this ultra-wide-angle zoom.
2. Advanced coating technology along with proprietary ghosting analysis simulation technology enabled the high level of backlighting control
Resistance to backlighting is extremely important for wide-angle lenses as they are often subjected to strong light sources. The Model A037 has a high level optical construction that repeatedly employs comprehensive ghosting analysis simulation. The BBAR (Broad-Band Anti-Reflection) Coating is highly effective in reducing reflection, allowing ghosting and flare throughout the entire zoom range to be controlled.
3. OSD (Optimized Silent Drive) enables both excellent AF speed and drive noise reduction
The AF drive system employs an OSD (Optimized Silent Drive) to ensure quiet operation. Through the innovative optimization of the system that includes AF system speed reduction gear, Tamron could greatly reduce the drive noise in comparison to conventional AF types with built-in DC motors. AF performance and speed have also been vastly improved. Thus, even if silence is required, AF can be employed without having to worry at all about noise creation. The Model A037 can provide superlative AF precision for exact focus even when shooting moving objects, as well as outstanding trackability.
4. Circular aperture to produce a smooth-edged bokeh
A 7-blade diaphragm is configured to retain a smooth, circular-shaped aperture opening even when stopped down by two stops from the wide-open aperture. This produces a smooth-edged bokeh in background light spots and avoids rugged aperture geometry.
5. Moisture-Resistant Construction
Seals are located at the lens mount area and other critical locations to prevent infiltration of moisture and/or rain drops to provide Moisture-Resistant Construction. This feature affords an additional layer of protection when shooting outdoors under adverse weather conditions.
6. Fluorine Coating
The surface of the front element is coated with a protective fluorine compound that has excellent water- and oil-repellant qualities. The front surface is easier to wipe clean and is less vulnerable to the damaging effects of dirt, dust, moisture or oily fingerprints, allowing for much easier maintenance. The coating also provides an enhanced level of durability, and will sustain its effectiveness for years.
7. Compatible with TAMRON TAP-in ConsoleTM, an optional accessory
The new A037 is compatible with the optional TAMRON TAP-in Console, an optional accessory product that provides a USB connection to a personal computer, enabling users to easily update a lens's firmware as well as customize features including fine adjustments to the AF.