The 5DayDeal Video Creator Bundle is back for 2022, and as usual, it features an entirely new set of incredible products. For $98, you can get over $2000 worth of digital training and video editing tools. This includes royalty-free audio tracks, LUT packs, title templates, sound effects, eBooks and hours upon hours of top-tier training from the best filmmaking educators in the world, including Fstoppers, BorisFX, Shane Hurlbut, FilmPac, Premiere Gal, Steve Ramsden and many more.
The folks from 5DayDeal understand the importance of quality education, and they made it their mission to find world-class educators and tools so that those who want to continue the growth of their art or career can do so at an affordable price. With every bundle featuring a whole new set of products, previous customers can safely buy this year's bundle and continue their growth in the world of filmmaking.
Charity Impact
10% of bundle sales go directly to charity. During checkout, you can even choose which of the charities you want your contribution to go towards. Over the years, 5DayDeal has generated over $2.2million for its charity partners!
How Do You Access The Content?
The 5DayDeal crew have worked hard to make it easy to access your content. Once you have purchased the bundle, you will be sent a login for their online learning system where you'll find all the products. If you want to download them to your computer, you can. Or, if you want to stream them directly from their system, their integrated learning management system will help you navigate the treasure trove of content, marking things as "complete" once you have finished each course.
My preferred method is to use their learning system to watch the courses the first time. Then, if there is one that really jumps out at me as something I will want to re-visit again at a much later date, I mark that one for download and keep it on my computer.
What's New?
With three bundle options and nearly 40 products in total, I don't have time to tell you about ALL of them, but I have had access to the bundle contents for the last week and wanted to highlight my favourites.
In the main bundle, I enjoyed the Cinematic Drone Secrets by Drone Pro Academy. It's a great beginners course for someone like me who flies smaller drones such as the Mavic Pro 3 or the DJI Mini. I also found the Budget Maximizer 2.0 course by Studio Sherpas a real eye-opener. This course is designed to help you create accurate budgets and estimates for your filmmaking projects, as well as help you price your services. Honestly, for people who want to get into filmmaking professionally, this one product alone will easily save you more than the $98 bundle price! The Ultimate Hyperlapse Course by Matthew Vandeputte is also exciting and has inspired me to give this challenging technique a go over the summer months.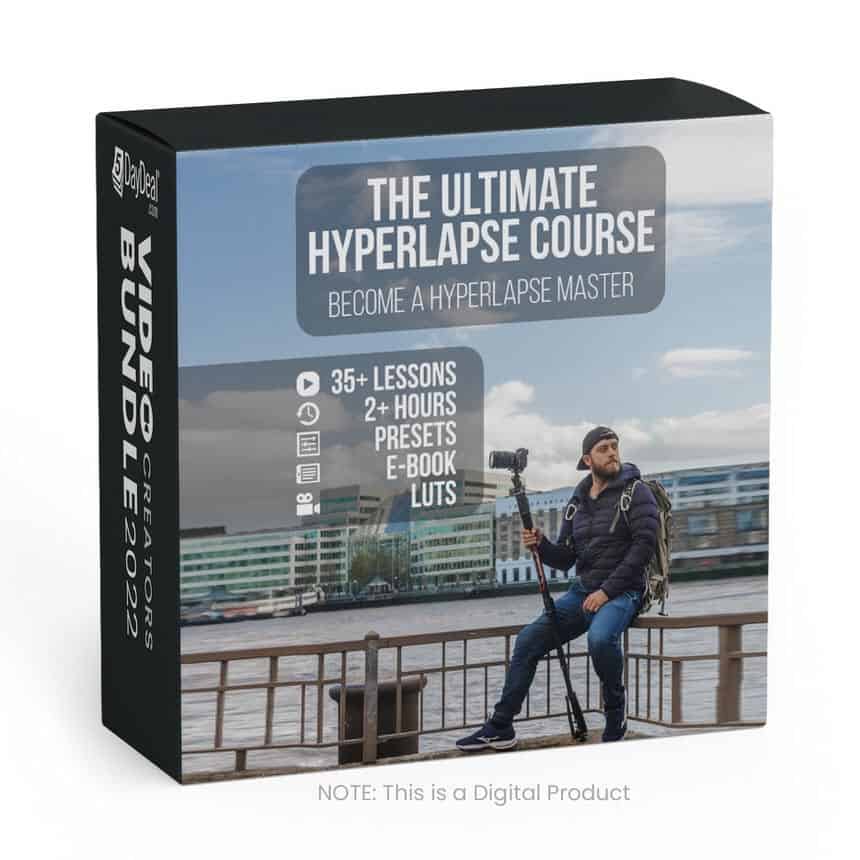 The Pro Upgrade includes a ton of textures and LUTs which I haven't tested yet, but I did start watching some of the Editing Secrets course from Film Editing Pro. These guys edit shows for NBC Universal, Disney, ESPN, Amazon Prime and the BBC, so they have a lot to share! This course is normally $207, and again, it's basically worth the $98 price of entry for this one item!
In the Charity Upgrade Pack, the standout course for me was YouTuber Pro by Parker Walbeck. Parker has over 1.5 million YouTube subscribers and made $178,602 from YouTube ads alone last year on his channel. His course includes 35 videos that break down everything he does on his channel. Very cool!
Product List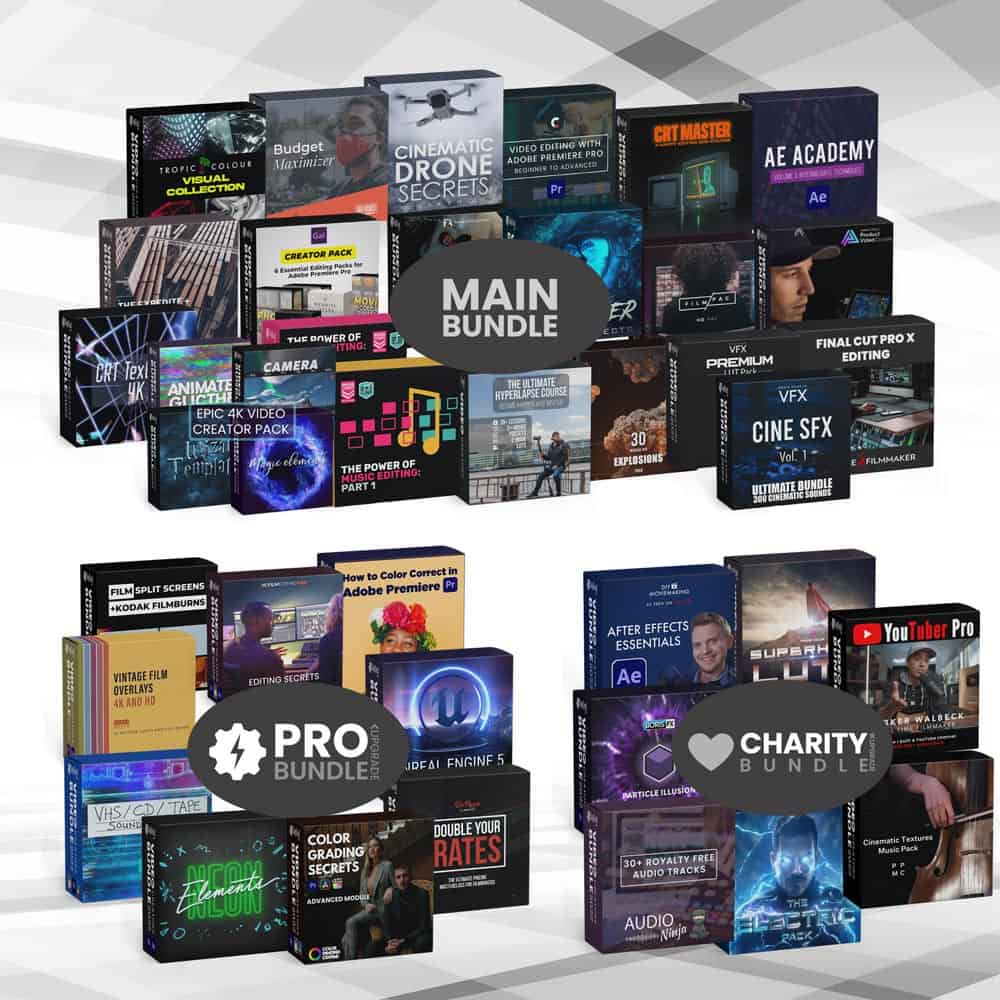 For $98 you get all of the products in the main bundle, listed below and worth over $2,000. The Pro Bundle add-on is an extra $39, but it gives you $1000+ of additional products. The charity bonus add-on is an additional $29, but it gives you an extra $1000+ worth of products.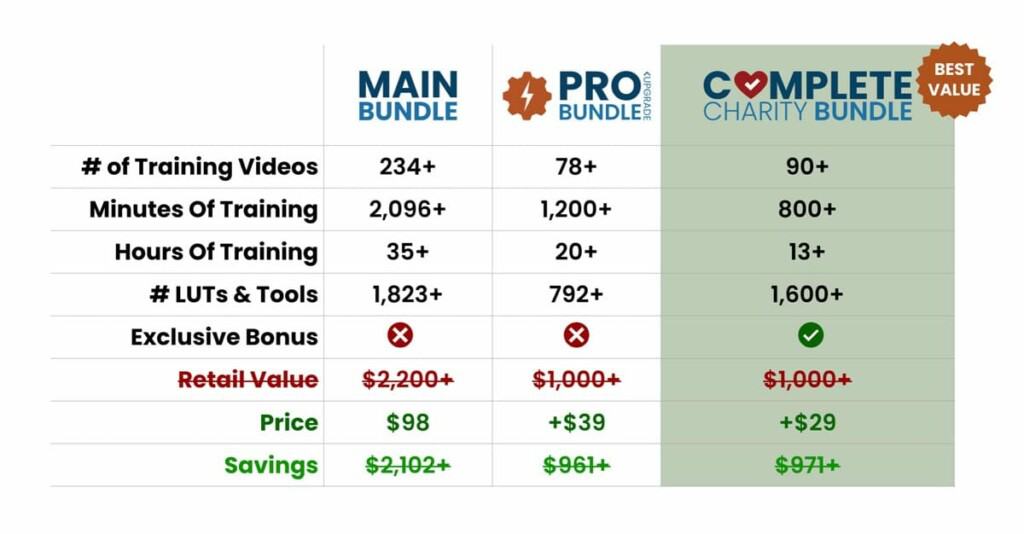 Main Bundle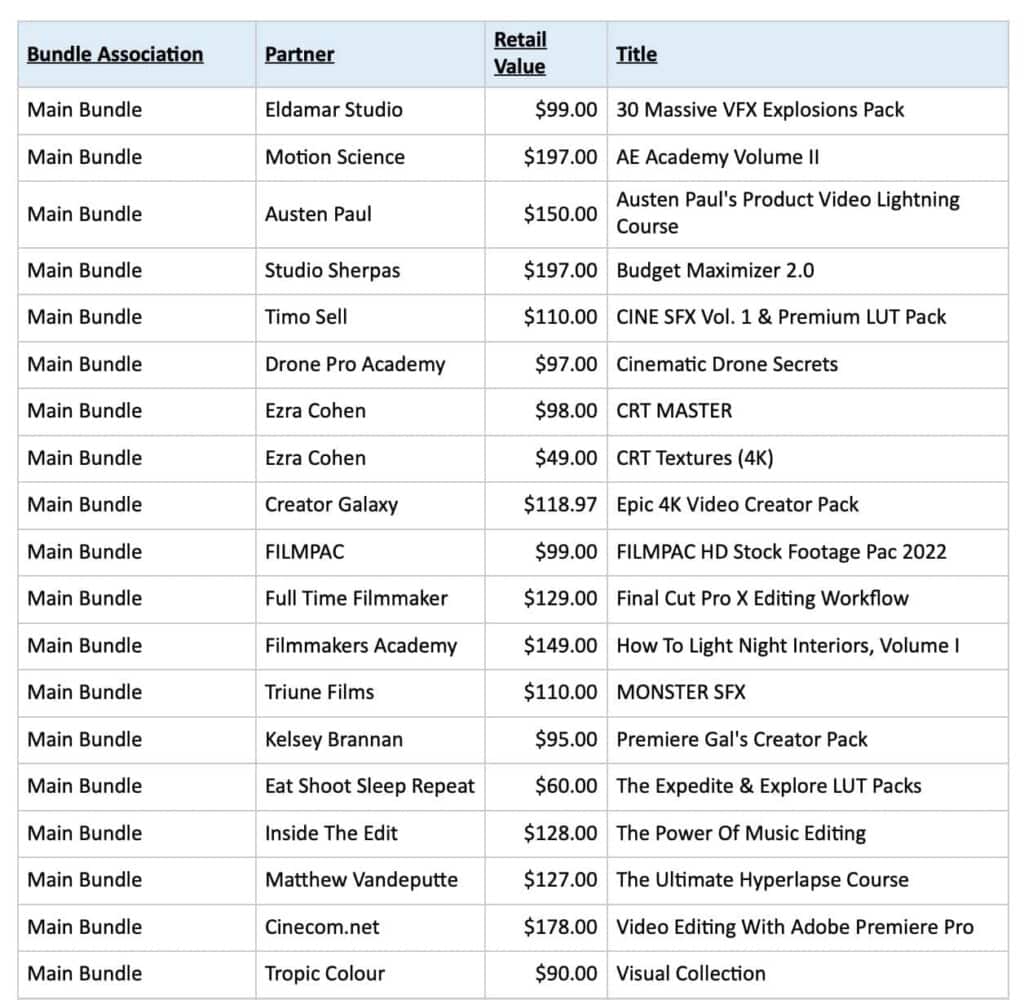 Pro Bundle Add-On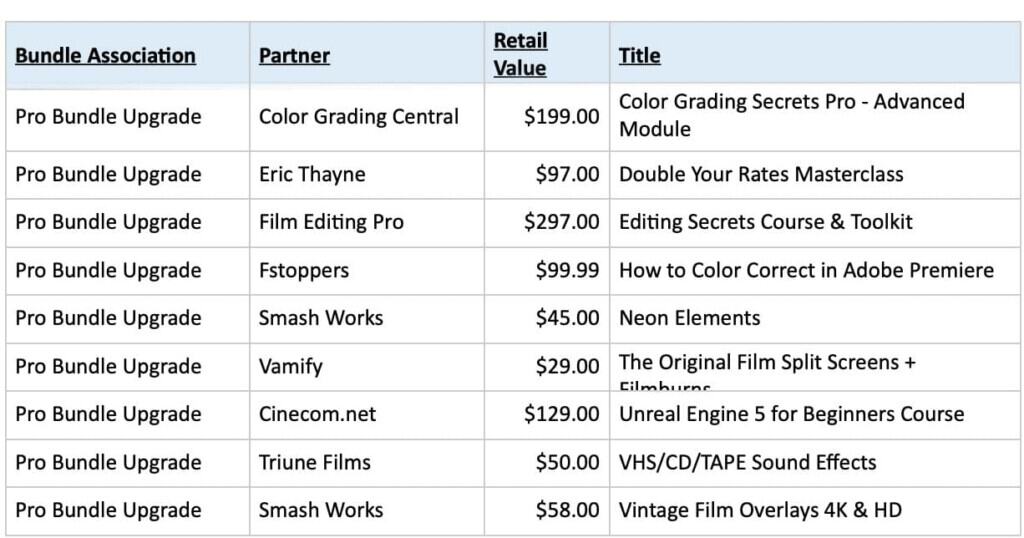 Charity Bonus Add-On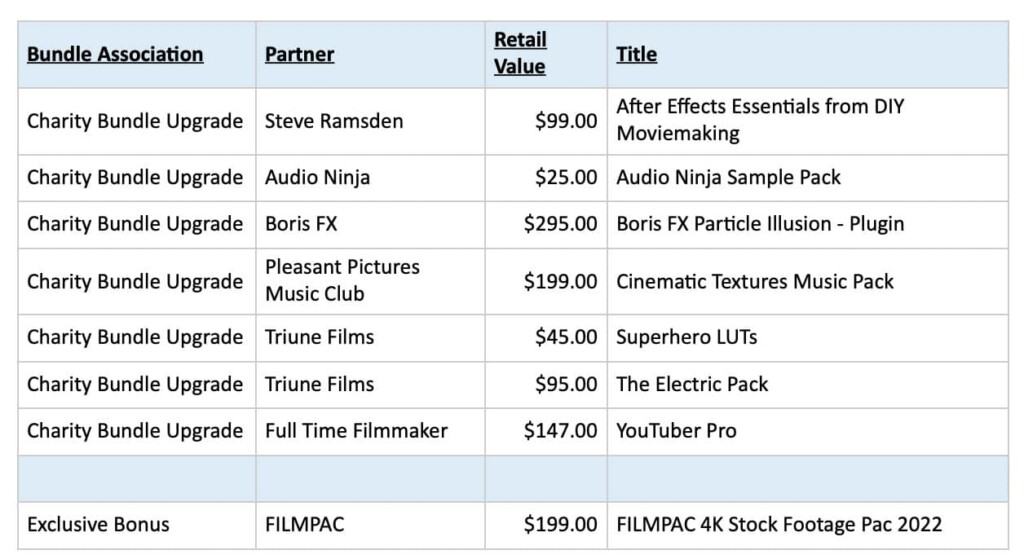 Limited Time
The sale ends June 14th at 12:00 PM Pacific (3:00 Eastern). That means, if you miss out, it will be at least another year before you have the chance to get another video bundle this prolific. Learn from the pros and obtain top resources to improve your filmmaking.
Customer Testimonials
Here's what previous Bundle customers have had to say. Taken from the 5DayDeal customer review page.
This 5 day deal has been a really great purchase so far. Between the software, the training materials and the extra content for my videos like music and effects, I'm really impressed with the quality of the content for such a great price! Plus being able to help support a charity by participating in this deal has been excellent. Thank you!

Justin Vachon | Canada
What a boatload of great resources! I am always looking for rich teaching materials and 5 day deals gives me exactly that. What is great about it is that you get a wealth of material that you don't find on YouTube or anywhere else! Many of the materials come from experts in the field of video production and draw on years of personal experience!

David Anderson | United States
I am amazed at the amount of value in the 5 day deal package! I am so stoked I bought into this and will most certainly be learning a great deal with so much content on hand. The price is unreal and what I love most is you are able to download your content right away. I also really like how they have got on board with so many different charities.

Michael Perkins | South Africa