Canon has announced the RF 200-800mm F6.3-9 IS USM lens, a super-telephoto zoom lens with an attractive $1900 price point.
Table of Contents
The RF 200-800mm zoom lens is designed for wildlife, airshow, and outdoor sports photographers who need a lightweight, hand-holdable lens with a flexible focal range. With a price point well below the $2900 RF 100-500mm L-Series lens, this new RF 200-800mm lens will excite photographers seeking super-telephoto focal lengths on a budget.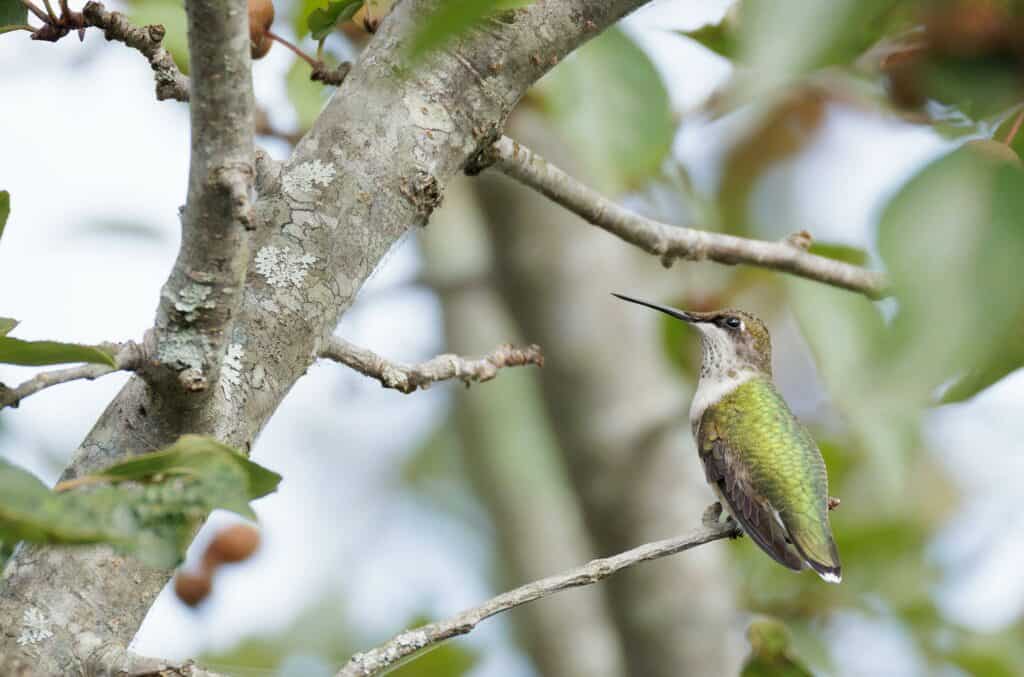 For those seeking even more reach, the RF 200-800mm lens is compatible with Canon's RF 1.4x and 2x extenders, giving users access to 280-1120mm f/9-13 and 400-1600mm f/13-18 lenses. Given the lens's slow native maximum aperture of f/9 and subsequently lower maximum apertures with extenders, most users will struggle to get fast enough shutter speeds to shoot sports and wildlife with this lens while using extenders. Still, the option is there for those desperate for reach and willing to ride out the much higher ISOs needed to stop movement at those apertures. Note that autofocus area coverage will be reduced when this lens is used with extenders, as seen in the RF 600mm f/11 and 800mm f/11 prime lenses.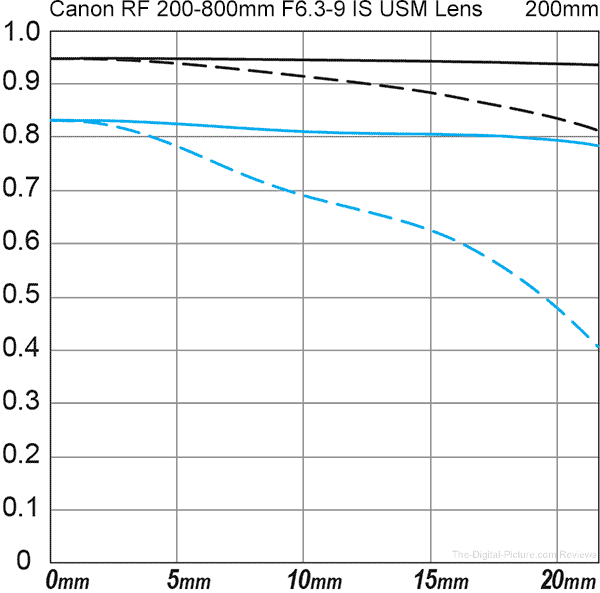 Canon RF 200-800mm Specifications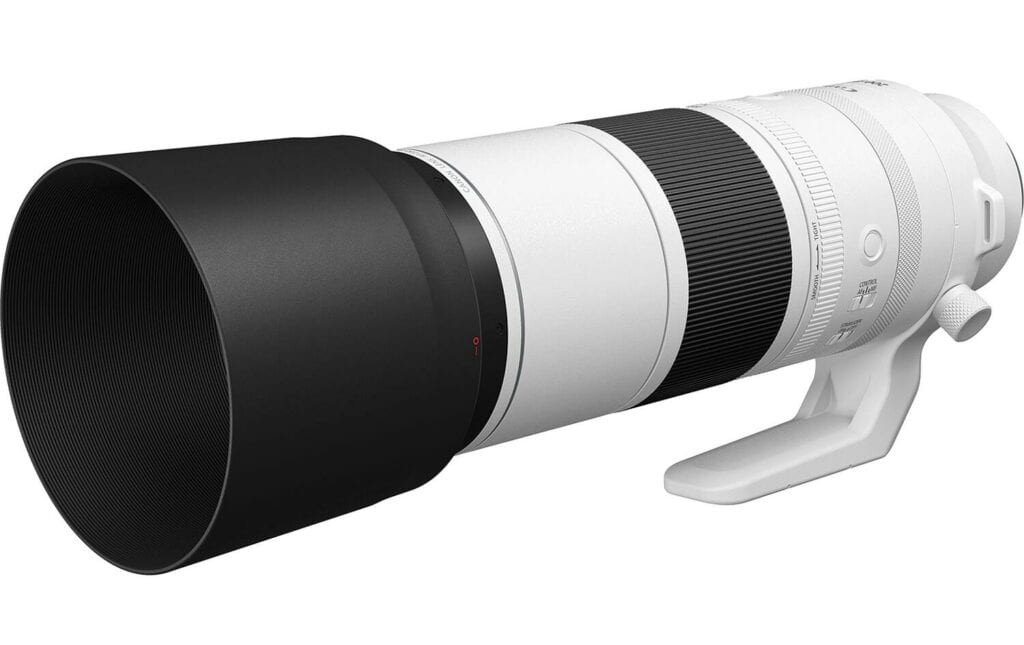 This lens' specifications, and all other Canon mirrorless lens specifications, can also be found in our Canon RF Lens Guide.
Maximum Aperture: f/6.3 to 9
Minimum Aperture: f/54
Angle of View:12° to 3° 5′
Minimum Focus Distance: 2.6′ / 80 cm
Maximum Magnification: 0.25 to 0.2x
Optical Design: 17 Elements in 11 Groups
Aperture Blades: 9
Image Stabilization: Yes, 5.5-stops
Filter Size: 95mm
Lens Hood Included?: Yes
Weight: 4.5 lb / 2 kg
Dimensions (ø x L): 4 x 12.4″ / 102.3 x 314.1 mm
Price: $1900
Variable Aperture Details
The RF 200-800mm lens has a variable aperture from a reasonable f/6.3 to a slow f/9. To give you more detail, the lens stays at f/6.3 from 200 to 300mm, then slows to f/7.1 from 300mm to 400mm. From 400mm to 600mm, the lens delivers a maximum aperture of f/8 before finally dropping to f/9 for focal lengths between 600mm and 800mm.
There will be many who would have preferred Canon design a lens with a wider aperture. Achieving high enough shutter speeds to freeze fast action, particularly birds in flight, will require sunny weather or extremely high ISOs. Still, the tradeoff is a relatively lightweight lens and a focal length that many would otherwise not be able to afford. As a result, I'm sure even more people will be perfectly happy to accept the compromise.
Notable Canon Firsts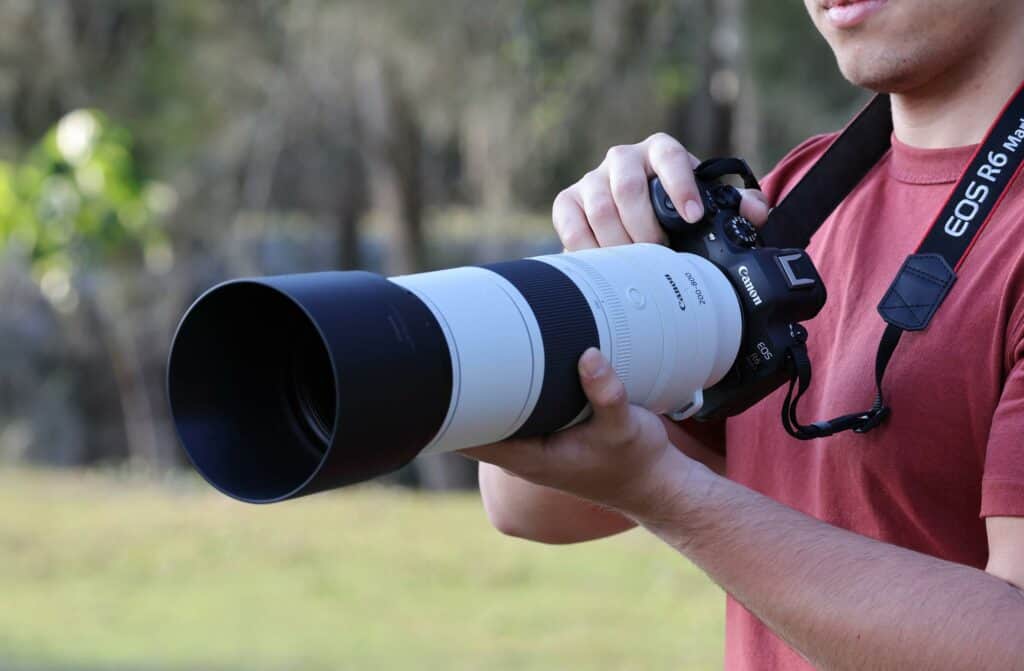 This lens's specifications, features, and price point will please many Canon shooters who have longingly looked over at Sony shooters with their exceptional 200-600mm G lens and Nikon users with their Z 180-600mm lens. Make no mistake, this lens is a direct response to those lenses and the success Sony and Nikon have had with them.
The features seen on those Sony and Nikon lenses have also led Canon to do a few unusual things with the RF 200-800mm lens. Firstly, this is the first non-L-Series lens to come with a lens hood. It wouldn't look good if you got a lens hood with the Sony or Nikon lens but not the Canon, would it? Secondly, to my knowledge, this is the first non-L-Series Canon lens to feature some weather-sealing. Again, this is a feature seen on the Sony and Nikon lenses, which has clearly forced Canon's hand.
The RF 200-800mm is also the first non-L-Series lens to feature Canon's trademark "big while" lens color, although Canon says it is not the same infrared-reflective paint. While the lens' paint color doesn't affect performance, it has long been synonymous with professional-grade lenses in the Canon (and Sony) lineup. White paint on the RF 200-800mm lens makes it look much more expensive and on par with the white-colored Sony 200-600mm G Lens. I know some of you will roll your eyes at this, but I guarantee that making this white lens will help it sell better.
Canon is usually content to do its own thing, and we can still see shades of that in the focal range choice and high maximum aperture of this lens compared to the popular Sony and Nikon options. However, for the first time in a long time, we can also see Canon reacting directly to the success of a competitor's lens and being forced to match some of those expectations. Nikon had to do the same thing when they launched their Z 180-600mm lens as an alternative to Sony's 200-600mm.
I don't have access to Sony sales figures for their 200-600mm. Still, anecdotally, I have seen that lens more than any other in the hands of wildlife photography enthusiasts over the past couple of years, including meeting several people who jumped ship to Sony purely for that lens. When it launched a few years ago, a $2000 200-600mm f/5.6-6.3 lens was a real revolution. Now that Nikon and Canon have comparable alternatives, the brand hopping should subside.
Price and Availability
The Canon RF 200-800mm F6.3-9 IS USM can be ordered using the links below. I expect this lens to be very popular, so I suggest a pre-order. The lens will begin shipping in December 2023.