Canon gave us a hint of what's to come for the RF lens system in the coming year or two, stating that 7 lenses are planned for 2020. The roadmap is a little bit vague compared to some lens roadmaps we have seen from other brands. However, I think anyone is happy to hear whatever information there is about upcoming Canon RF lenses so I'll share it just as I have done with other brands.
Note: If you want to view a list of all current Canon RF lenses and their specifications, I have created a database here.
Canon's Official RF Lens Roadmap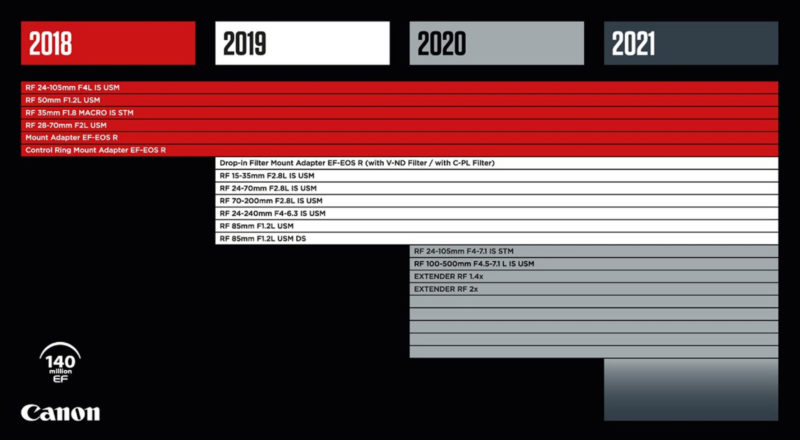 Rumored 2021 Lens Roadmap
As reported by Canon Rumors, the following is likely to be the unofficial list of Canon RF lenses that we should see in 2021. Note that TS-R lenses are autofocus tilt-shift lenses.
Canon TS-R 14mm f/4L
Canon TS-R 24mm f/3.5L
Canon RF 10-24mm f/4L USM
Canon RF 14-35mm f/4L IS USM
Canon RF 24mm f/1.8 IS STM Macro
Canon RF 35mm f/1.2L USM
Canon RF 100mm f/2.8L Macro IS USM
Canon RF 135mm f/1.4L USM
Canon RF 100-400mm f/5.6-7.1 IS USM
Canon RF 400mm f/2.8L IS USM
Canon RF 500mm f/4L IS USM
Canon RF 600mm f/4L IS USM
Canon RF 800mm f/5.6L IS USM
Canon RF 1200mm f/8L IS USM.