Canon has unveiled the new RF 10-20mm f/4 L IS STM, an ultra-wide rectilinear zoom lens with full-frame coverage. Compared to the old EF 11-24mm f/4 L lens it replaces, the new RF lens is less than half the weight (570g vs. 1180g) and significantly cheaper, with an MSRP of $2299. More than a few eyebrows have been raised by this lens, so let's break this down and look closer at the specifications.
Table of Contents
Canon RF 10-20mm f/4 L IS STM Specifications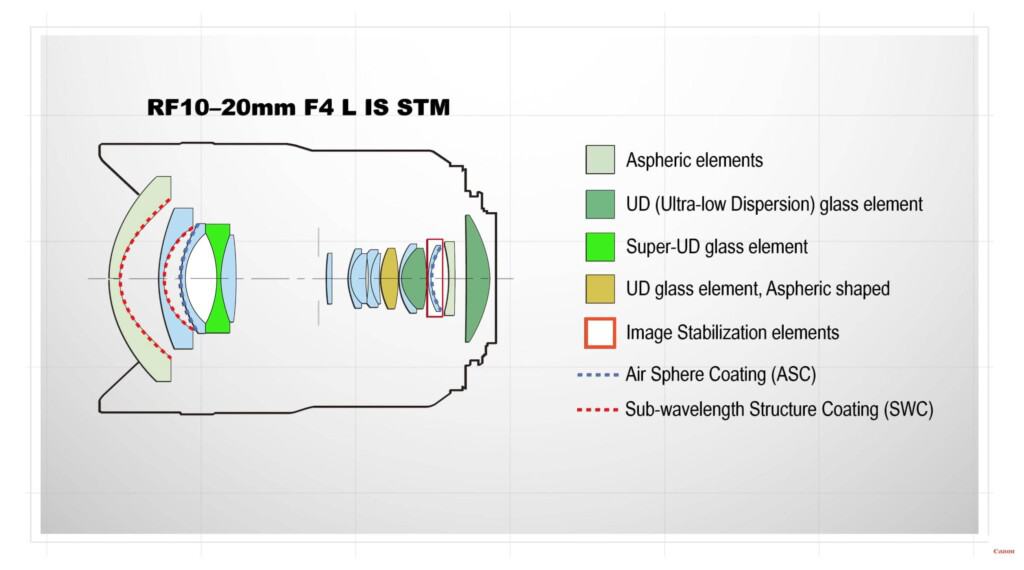 Below are the new RF 10-20mm zoom lens specifications. If you want to see these in context with the specifications of all other RF lenses, refer to our comparative data table in the Canon RF lens guide.
Focal range: 10-20mm
Aperture Range: f/4-f/22
Image Stabilization: Yes (5-stops)
Sensor Coverage: Full-frame
Focus Motors: STM (stepping motor)
Minimum Focus Distance: 9.8″ / 25 cm
Maximum Magnification: 0.12x
Weight: 1.3 lb / 570 g
Dimensions (ø x L): 3.3 x 4.4″ / 83.7 x 112 mm
Filter Use: Rear gel holder
MSRP: $2299
Availability: November 2023
Key Features
Here are the key things you need to know about the new RF 10-20mm f/4 L IS STM lens. The good and the bad.
This is the first L-Series lens to feature an STM motor. Canon highlights this in the release but does so in a way that will make most people think this is a great new feature. It's a clever marketing tactic. In fact, STM motors have previously been reserved for Canon's cheaper lenses. We usually see the much more powerful and faster Nano USM motors on L-Series lenses. This likely contributes greatly to the lens' lower-than-expected weight and price.
The lens is the first to feature new Image Stabilization (IS) technology, called Peripheral Coordinated IS, that helps minimize wide-angle "fluttering" at the outer areas of the frame. For currently unknown reasons, this feature is limited to the Canon R5. Canon has been extremely vague about this new technology. It is mentioned in a Canon USA video but not on the product listing on the Canon USA website.
Per Canon's Rudy Winston, the lens features "both optical and

digital

corrections for linear and other distortions." In other words, this lens will rely heavily on digital distortion correction, unlike its larger predecessor, the EF 11-24m f/4 L. Relying on the need for digital correction enabled Canon to make this lens incredibly small for its focal range. Unfortunately, squashing and bending the pixels digitally will degrade the image quality. It's always a trade-off.
The lens is weather-sealed to full L-Series standards to "satisfy the demands of professionals."
The optical design includes one super UD element, three UD elements, and three aspheric elements (including large-diameter aspheric and UD aspheric elements), as well as Subwavelength structure coating (SWC) and Air Sphere Coating (ASC) to reduce ghosting commonly seen on wide-angle lenses.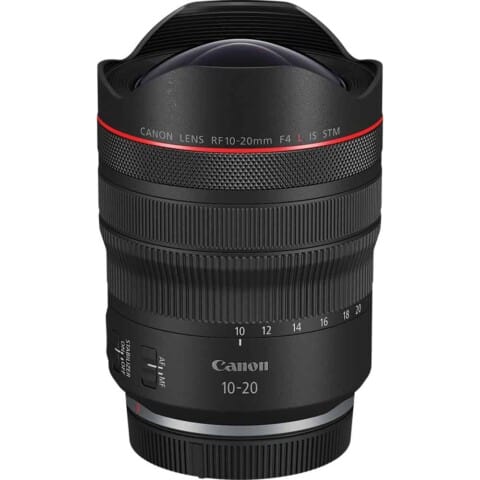 Introduction Videos
A True Replacement for the EF 11-24mm f/4 L Lens?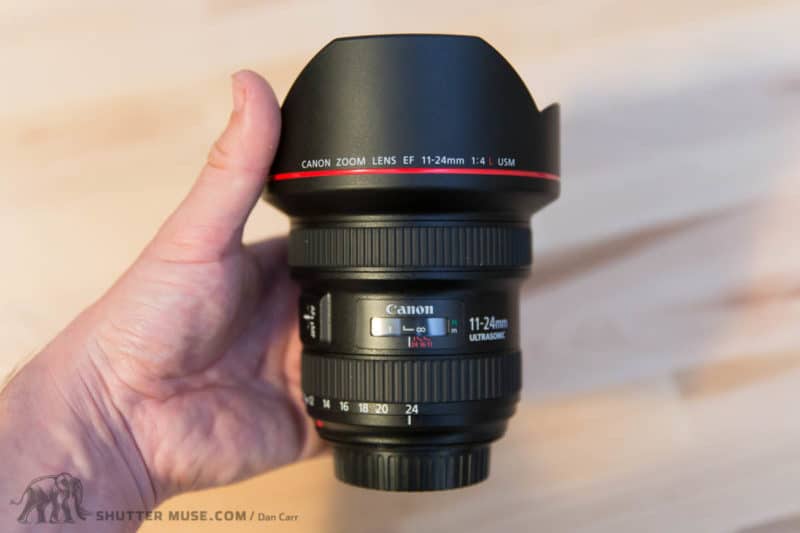 The EF 11-24mm f/4 L lens was one of my all-time favorite DSLR lenses. It produced stunning sharpness across the image, but your wallet and your back paid the price for adding this lens to your kit. This time around, Canon has decided to tackle both of these issues. The new RF 10-20mm f/4 L IS STM lens is less than half the weight and about 25% cheaper than its predecessor. Canon has achieved these differences in four main ways:
They're using a lighter and cheaper STM focus motor instead of the faster Nano USM motors usually seen on L-Series lenses.
They have reduced the focal range from 11-24mm to 10-20mm.
Instead of trying to make a lens that is optically corrected for distortion, images taken with the RF 10-20mm lens will need digital distortion correction applied as a default by image editing software.
The RF mount has a shorter flange distance than the old EF mount, allowing the rear lens element to be closer to the sensor, allowing for a smaller diameter front element.
Lens design is always a trade-off. You can't reduce a lens' weight by more than 50% without cutting some corners. The question is, will any of these trade-offs be deal breakers? The STM motor seems like a reasonable idea. Don't expect this lens to focus as quickly as a lens equipped with a Nano USM motor. Still, the intended subjects of this lens are not the same as a lens like the RF 135mm f/1.8, and focus groups on short-range wide lenses don't usually need to move that far. I don't anticipate any real-world issues with this change.
The change in focal length is an interesting compromise. Most photographers will likely pair this lens with an RF 24-105mm f/4 or an RF 24-70 f/2.8, leaving an odd gap between 20mm and 24mm. Sure, you can crop a 20mm lens to achieve a 24mm-equivalent field of view, but no discerning landscape or architectural photographer will want to guestimate their 24mm composition while looking at a 20mm FOV in the viewfinder.
And what about the forced digital distortion correction? It used to be that manufacturers tried their hardest to correct barrel and pincushion distortion optically – a challenge that gets harder and harder as the focal length gets wider. These days, Canon seems happy to compromise on optical performance in favor of building lighter, smaller lenses. The trick is that what you see in the EVF or on the LCD screen is inaccurate. The image you are presented with is digitally stretched and squashed to fix the distortion caused by the optical design.
When you load the image onto your computer, the distortion correction is baked into a JPEG and forced by the editing software if you shoot RAW. Canon isn't the only brand doing this, but it's worth understanding that pixel manipulation comes at the cost of potential sharpness. This doesn't necessarily mean the 10-20mm will be softer than the old 11-24mm. If Canon starts with a sharper image before distortion correction, the corrected image may still match the sharpness of the older lens.
As someone who owned the big, heavy EF 11-24mm f/4 lens, I would gladly give up a tiny bit of overall sharpness to get a lens that weighed half as much and cost significantly less money. So, the compromises Canon has implemented to create a 10-20mm zoom that weighs only 570g appear worthwhile for my use. Your mileage may vary, but let's not forget they also squeezed a 5-stop IS system into this lens.
Pre-Orders
As always, I would greatly appreciate placing your pre-orders through our links below. I expect this lens to be popular. A pre-order would be wise if you want to get your hands on it anytime close to the eventual launch date in November 2023.
Canon RF 14-35mm f/4 L IS USM – B&H / Adorama / WEX (UK)
Press Release
GOING WIDE: CANON INTRODUCES THE RF10-20MM F4 L IS STM TO ITS LENS LINEUP
MELVILLE, NY, October 11, 2023 – Today, Canon U.S.A., Inc., a leader in digital imaging solutions, announced the launch of the RF10-20MM F4 L IS STM lens, a full-frame ultra wide-angle lens that can help the work of a professional photographer or serious enthusiast stand out from the crowd.
Opening the door to supreme full-frame visual possibilities, the RF10-20MM F4 L IS STM lens continues Canon's respected reputation for optical excellence associated with L-series lenses. This new addition enhances optical performance with a modern mirrorless lens design that is fully equipped with key features, including:
New Image Stabilization (IS) technology, to help minimize wide-angle "fluttering" at outer areas of frame
Impressively compact size and light weight (1.25lbs/570g) at half the weight of EF series 11-24mm f/4 L lens
Super quiet Canon STM focus drive motor, which is ideal for video and marking the first time this technology appears in a Canon L-series lens
Speaking directly to the professional video and stills visual storyteller, the RF10-20MM F4 L IS STM features a built-in lens hood and lens function button on the barrel for customizing functions such as AF settings, Pre-Recording, Zebras and more. For landscapes, cityscapes, architectural, real estate and weddings, the RF10-20MM F4 L IS STM lens is a widely important lens for any professional to have at the ready.
Price & Availability
The Canon RF10-20MM F4 L IS STM lens is expected to be available in November for an estimated retail price of $2,299.00*.
# # #
† Based on weekly patent counts issued by United States Patent and Trademark Office.
* Specifications, availability and prices are subject to change without notice. Actual prices are set by individual dealers and may vary.