A photography blind, sometimes called a photography hide, is a great way to get photos of skittish wildlife. It's also a comfortable place to wait out the weather and just enjoy being immersed in nature while you wait for wildlife to show up at your location. Of course a blind will physically hide you and your gear, but an often overlooked point is that it can also help to mask your smells from being taken so obviously downwind.
Tragopan makes a range of photography blinds to suit different situations. In fact, while they do make a few other accessories to help hide in the wilderness, photography blinds are very much their speciality. To my knowledge, they are the only company out there that makes a complete range of photography blinds, so when I went looking to buy a blind myself, I naturally ended up looking at their products. If you are reading this, you're probably in the same situation.
In this guide, I want to talk about the four different blinds they offer, and based on my research and experience with my own Tragopan blind, I'll make some recommendations to help you choose the best one for your own wildlife photography needs.
Tragopan Photography Blinds Vs. Hunting Blinds
Before we get into specifics about the individual models that are available, I want to talk about the topic of hunting blinds vs. photography blinds.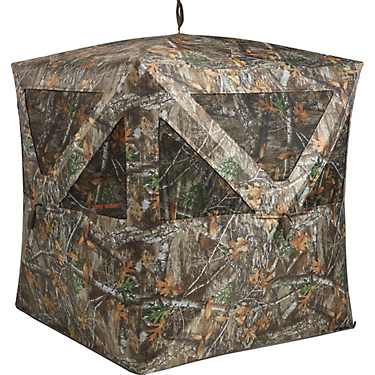 Hunting blinds are readily available from all major hunting stores, and this makes them far more prolific than photography blinds. At first glance, many of them look very similar to the Tragopan Grouse V+ hide design, and I'm sure for many years photographers used hunting blinds as a half-decent solution to hide.
What you'll quickly notice about hunting blinds is that they either have no large openings to poke your lens through, or they have giant openings spanning the entire side of the blind that seriously reduce your ability to hide you and your gear. A skinny rifle muzzle is much easier to hide than a huge super-telephoto lens.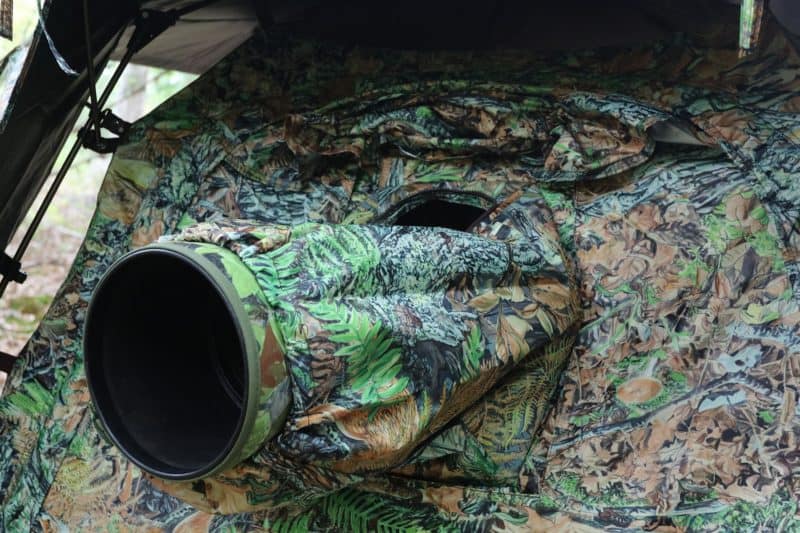 A dedicated photography blind will not only have specially shaped holes and hoods for long lenses, but it will also have openings on all sides at both eye level and ground level, allowing you to get those low-level shots that look so good. A good photography blind will also take into account the fact that you'll most likely be using a tripod, and allow for the extension of a tripod leg through the wall of the blind so that you can position the camera and lens up against the interior wall.
You'll also find that hunting blind camouflage is specifically targeted at autumn when most hunting takes place. Tragopan's own unique camo pattern is more general, and much more suitable for spring and summer.
Finally, the fabrics in the Tragopan blinds are superior to that which you'll find in most hunting blinds, making them stronger and much less prone to collapsing under strong wind or snow. In particular, the Monal V2 and Tragopan V6 even feature a silver reflective isotherm coating on the inside of the blind. This coating keeps warmth from your body in the tent during the winter and reflects solar heat outwards during hotter months.
Yes, in a pinch you could use a hunting blind, but what I'm saying is that a photography specific blind is a far better option! In many cases, the price points are very similar anyway, and even when the most expensive photography blind is a little more expensive than a more basic hunting blind, you're probably looking at a difference of around $100. How much is that wildlife photography setup of yours worth? Tripod, camera and lens… $7000? $12,000? Even $15,000?
You get my point. It's worth buying a proper photography blind! Wildlife photography is not easy at the best of times, and you should always look to stack the odds in your favour. A well built, well-designed photography blind will do just that.
Lens Openings on All Tragopan Blinds
The Tragopan blinds come with a selection of removable window accessories to customize the way you shoot. Some of the windows have a simple slit to shoot through, some have larger mesh ventilated sleeves that work with big super-telephoto lenses and allow a view from the blind above the lens, and some are fully waterproof sleeves for shooting in bad weather. These window options are secured with simple plastic clips and can be changed as necessary in a few seconds.
Tragopan Photography Blind Options
| Blind | Weight (lbs) | Packed Dimensions (inches) | Erected Dimensions (inches) | Customizable with accessories? | Price |
| --- | --- | --- | --- | --- | --- |
| Tragopan V6 | 7.3 | 8 x 9 x 28 | 51×45 perimeter, 56 height at centre | Yes – many accessories available. | $248.95 |
| Monal V2 | 13.2 with accessories, 6.7 without | 9.5 x 10 x 32 | 55×87 perimeter, 55 height at centre | Yes – Screen door available. Everything else already comes with it. | $349 |
| Grouse V+ | 9 | 3.5 x 20 x 20 | 50×50 perimeter, 54 height at centre | No | $159 |
| Hokki Ground Blind | 5.8 | 8 x 8 x 22 | 38×90 perimeter, 30 height at centre | No | $189 |
Tragopan V6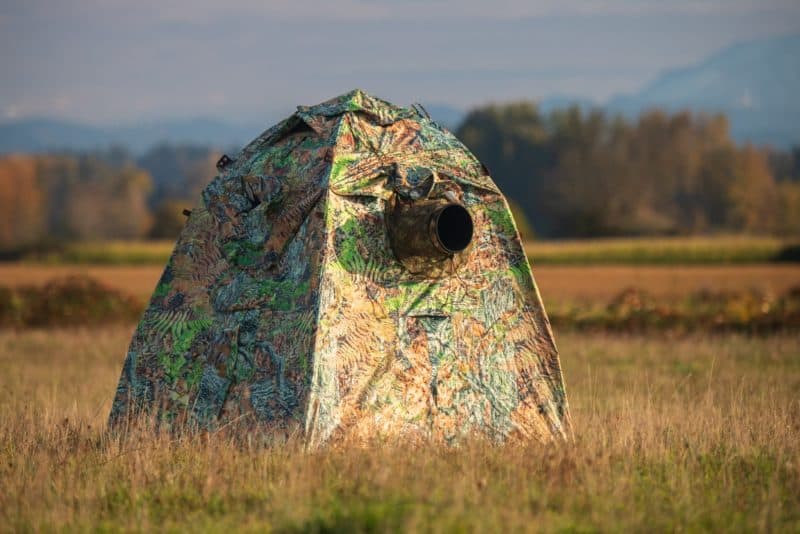 As you can tell by the V6 model designation, the Tragopan is the original photography blind from this company and it has been iterated many times towards the product you see today. The size of the blind is perfect for one person, a comfy chair, a camera bag and a tripod with a long lens and gimbal.
As standard, the Tragopan is fully waterproof but includes roof vents to reduce condensation. You also get the usual selection of window options, and these can be installed on all four sides of the blind to give you the ability to shoot in any direction. A zippered opening at the base of each side also allows you to extend a tripod foot externally, or shoot from a lower level.
Another very cool feature of the Tragopan V6 and the Monal V2 is the opening mechanism for the standard window covers. From the inside, you simply pull on a pair of strings weight side of each window and the window cover silently lifts to give you a view or allow you to install the lens sleeve. The silent operation of this opening mechanism is very cool, and a clever feature for people that are trying to remain quiet and discreet.
Tragopan V6 Accessories
The Tragopan V6 is designed with a modular approach that allows you to tailor it to your specific needs, either on a permanent basis or on a per shoot basis. This is accomplished with a wide array of accessories:
Tunnel – The tunnel allows you to connect multiple Tragopan V6s together. This is handy if you happen to have a friend that also has a Tragopan and you want to create one large blind. I guess you could actually connect even more together and create an interconnected village if you wanted to! If you always want to shoot alongside a friend, the 2-person Monal is going to be a better choice, but this is a cool accessory nonetheless.
Awning – The awning attaches to one side and slopes down to the ground to give you some additional space to store gear. It does not have a floor so while it provides protection from rain, it's not good for wet ground or if you want to lie down in your Tragopan. For that you need…
Vestibule – The vestibule is like the awning, but it has a built-in floor so that you can comfortably lie on the ground for a low angle shot, or even roll a sleeping mat out and sleep in your blind. Personally, I think this added versatility makes it a much better accessory purchase than the basic awning, and I think most people will appreciate the added protected space to spread gear out and open bags on the ground.
Rain Canopy – The rain cover extends out over your lens to offer added protection from a downpour, and with its elevated design above the blind it also increases airflow to help with condensation dispersal.
Screen Door Lens Sleeve – While all the Tragopan hides come with a selection of different lens sleeves, the screen door option is much larger and increases airflow in the blind during hot weather, as well as providing a much wider field of view.
One thing to note about the awning and the vestibule is that they are not freestanding. Once either of these accessories is attached to your blind, you must peg out a short guy line at the end of the blind to keep the vestibule or awning erect. Take this into consideration if you plan to set up on soft ground such as sand and snow. If you need more space, and something that is entirely freestanding then the larger Monal V2 would be a better choice.
Also consider the overall cost of the Tragopan and your required accessories, compared to the cost of the Monal. The Monal comes with a rain cover, and with its added internal space there is no need for a vestibule. Plus it is freestanding and comes with a floor. In order to get a floor in the Tragopan, you have to purchase the Vestibule.
Cost of Tragopan, vestibule and rain cover: $377.85
Cost of Monal: $349
Just something to keep in mind! It made a difference to my own purchase decision.
Monal V2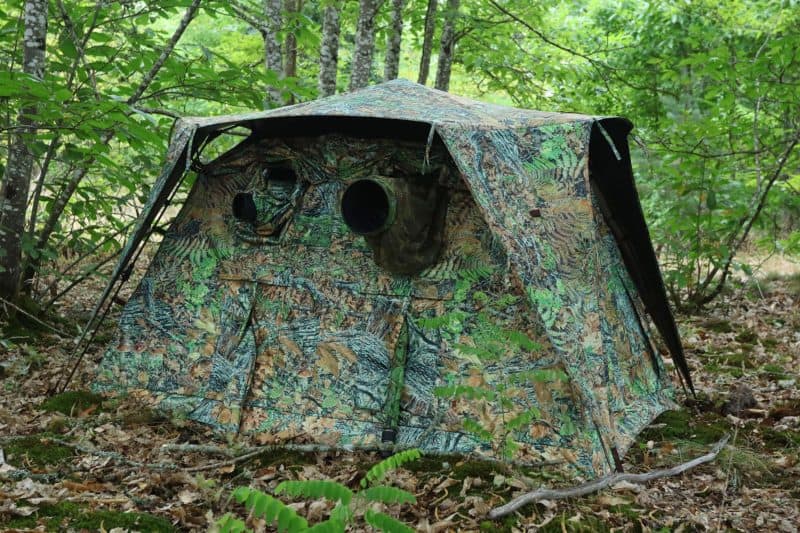 I chose the Monal V2 to be my photography blind. And no, this isn't a sponsored post, I bought it at full price from the Tragopan store just like anyone else.
The Monal is best described as a larger version of the Tragopan V6 that includes a rain cover and removable floor as standard. The larger size can be used to house a second photographer, and for that, there are two side-by-side lens openings on both of the longer sides of the blind. Or, you can simply use the additional space to sleep in or store more equipment.
The Monal is fully freestanding and uses the same hub design as the Tragopan and the Hokki which allows you set it up in just one or two minutes.
Fully packed with all the accessories, the Monal V2 weighs quite a bit more than the base weight of the Tragopan, but you can lower that weight considerably if you don't need the floor, the rain cover or all of the various window accessories, of which there are many! There are a total of ten different removable window covers of various types, and once you know what you prefer to use, it's easy to leave some of that behind.
For me, the Monal was an easy choice. I wanted to be able to use it in the snow in the winter, so the built-in (but removable) floor was essential to keep everything dry. While you can add a floor to the Tragopan V6 using the vestibule, it requires guying out with a line on one end, and in deep snow, I think that could be annoying. Also, once you add the Vestibule weight and price to the Tragopan V6, you are getting close to the Monal V2 anyway. Add a rain cover to the Tragopan and, as I explained earlier, it actually becomes cheaper to just buy the Monal.
The setup time for the Monal and Tragopan is identical since they both use the same clever hub design. Simply pull up on the hub and the whole thing pops up in a few seconds. I love this feature! Once the main body of the blind is erect, the rain cover is attached by clips on each corner and 4 poles to provide the small awnings that stick out over the lens holes.
In hot weather the Monal can be vented easily by either lifting the 6 window covers, opening the full-size doors on each end or installing the optional screen door accessory that also works on the Tragopan V6. While that adds airflow, take note that it will be open season for the bugs! Certainly, where I live in Northern Canada, I'll have to make the usual bug protection preparations if I plan on venting the blind.
If you need the added space, either for a friend, sleeping or more gear, the Monal V2 is the choice for you.
Grouse V+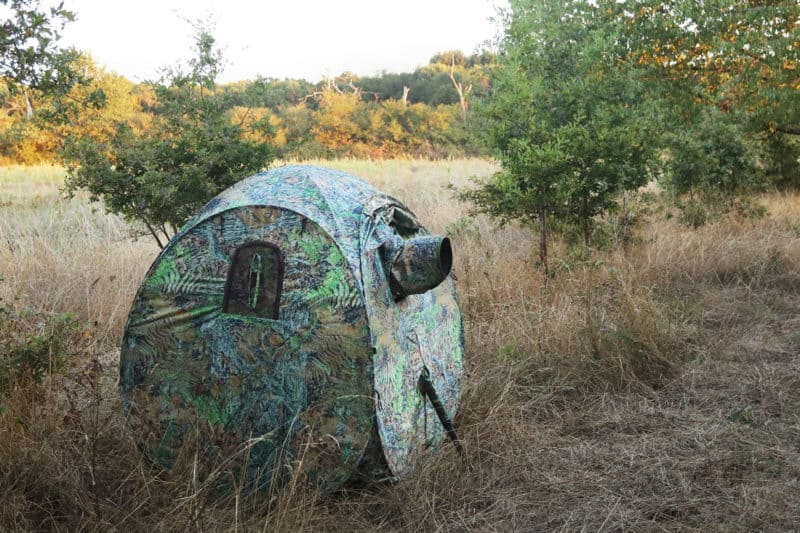 The Grouse V+ is a pop-up tent that can be set up in a matter of seconds. Just pull it from the bag and the tension in the metal hoops will take care of the rest. There is one main shooting window with the usual variety of lens sleeves, but openings on the other three sides would also permit shooting if your subject surprised you by coming from a different direction. A large screen door on one side can help with ventilation on a hot day, which is necessary because there are no vents on the top of the blind. A ground-level zipper allows tripod usage with the one main window and low-level shooting.
At only $189, this blind represents excellent value for money. The main downside is the higher packed weight (9lbs) than the Tragopan V6, the Hokki or even the Monal V2 if you leave behind some of the accessories. The slightly more awkward round shape of the packed blind is also worth consideration. All other Tragopan blinds are packed into standard tubular-shaped bags like a normal tent, which makes them easier to attach to the side or bottom of a photo pack.
It's clear that the other Tragopan blinds provide advantages over the Grouse V+, but there are still good reasons why you might choose this one. Firstly, the price represents excellent value for money so it would be a great choice if you have a limited budget. Secondly, you may want a second blind as well as one of the other more complex ones. For example, despite already owning the Monal V2, I can see myself potentially buying a Grouse V+ one day to have something simple to pop up in my yard to photograph birds, or to have something that I can keep in the car "just in case".
The Grouse V+ is considerably better than similar looking pop-up hunting blinds that you can find at your local Cabelas. Those pop-up hunting blinds don't give you the ground level shooting zipper, the dedicated long lens sleeves to conceal your large lens or a way to easily use a large tripod.
Hokki Ground Blind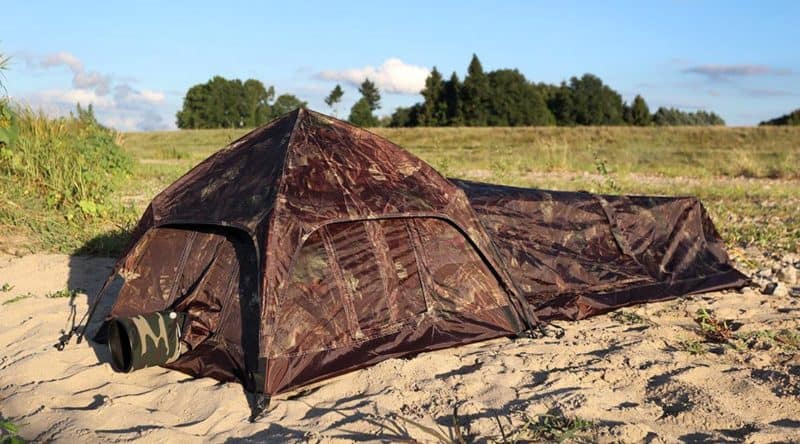 With a packed weight of 5.8lbs, the Hokki is the lightweight option in the Tragopan range but the small size does bring obvious limitations. If you're shooting in an area with a lot of ground vegetation, you'll struggle to get a clear view from the ground-level lens opening. If you plan on spending a lot of time in it, you'll also find it less comfortable than sitting in a chair because you'll have to prop yourself up and bend your neck upwards to constantly keep a lookout through the screen. If you plan on using it in the winter, you'll also need some good ground insulation to keep you warm.
The best use for the Hokki is going to be shooting on the open shores of a lake, or lying on a beach shooting shorebirds and waders. In those situations, the lower profile of the Hokki will be less conspicuous, and frankly, if I'm going to lie on my stomach all day I'd rather do it on a soft sandy beach!
For general purpose wildlife photography, I would recommend most people choose either the Tragopan V6 or Monal V2 as they have far fewer limitations than the Hokki. However, if you are heavily focused on wetland birds or shorebirds with your photography, the Hokki would be a great choice.
Need Somewhere to Sit?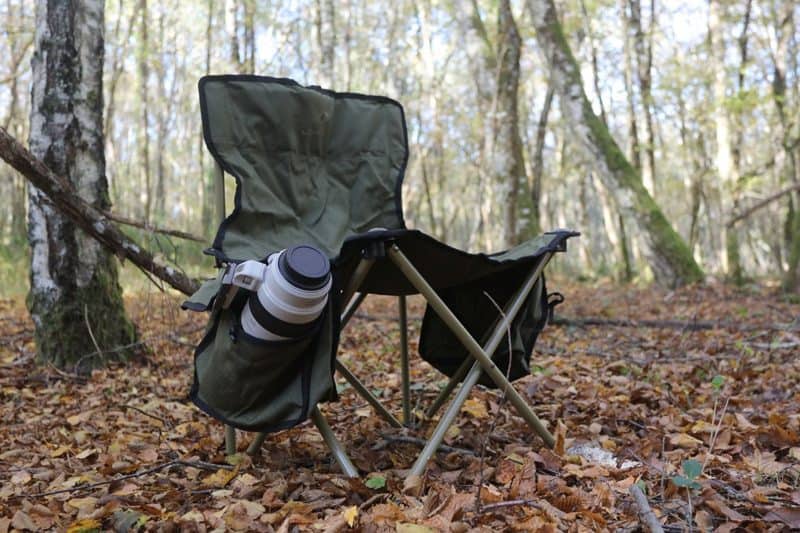 Another related product of note is the Tragopan Koklass chair. This collapsible chair includes huge side pockets to give you instant access to additional lenses (or snacks) and makes the perfect addition to the Tragopan V6, Monal V2 or Grouse V+ blind. It will not fit in the Hokki blind.
Available from Tragopan for $48.95
Conclusion
The great thing about Tragopan is that there are options for everyone, and the entry-level Grouse V+ price point is easily accessible for people that need to stick to a tighter budget.
I also think they've done a great job at spacing out the models and their features so there isn't a huge amount of overlap. You have the standard 1-person Tragopan V6, the Monal V2 if you need extra space for more gear or a second person, the Grouse V+ for people on a budget and the Hokki as a lightweight, albeit smaller option. If any of the limitations of one model prevent usage in your desired situation or location, those limitations are always solved by one of the other models in the lineup.