Alongside the new Canon R8 and R50, Canon has launched two new lenses that will be available as kit options for these cameras. These new lenses feature compact, retractable designs and relatively wallet-friendly price points.
The first lens is the full-frame RF 24-50mm F4.5-6.3 IS STM. This compact, retractable kit zoom will be available as a kit with the Canon R8 or separately for $299 in the spring of 2023. The lens features a focus ring and a zoom ring alongside switches for focus mode and image stabilization. A plastic body and lens mount keep the weight down to a paltry 210g (7.4oz). Fully retracted, the lens measures just 58mm (2.3″) with a 58mm filter thread.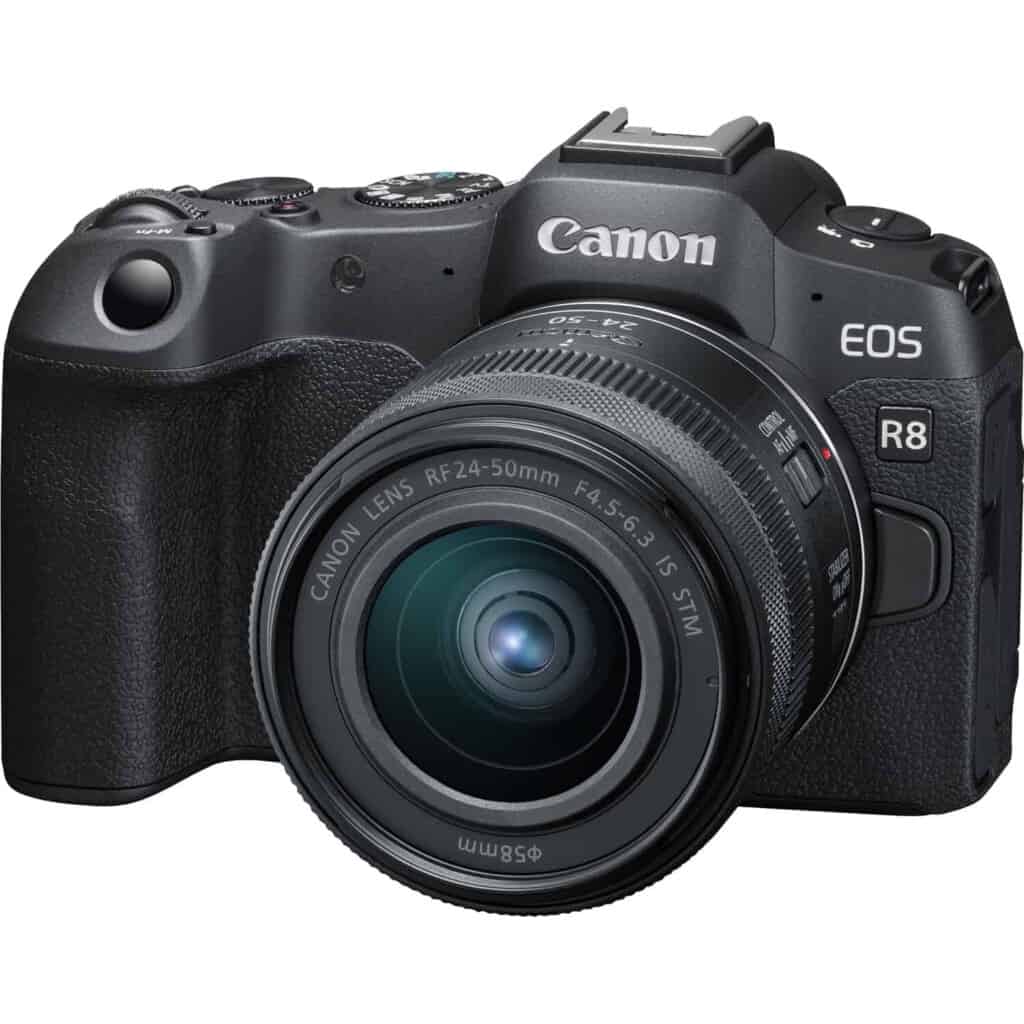 The second new lens is the RF-S 55-210mm F5-7.1 IS STM for Canon's APS-C sensor mirrorless cameras. This new lens is the third RF-S lens in the Canon RF lens catalog and will be available in a kit with the R50 and RF-S 18-55mm or separately for $349.99 in the spring of 2023.
The lens features 4.5 stops of optical image stabilization and a not-too-shabby 0.28× magnification at the long end of the zoom for some close-focus fun. With a weight of 270g (9.5oz) and a retracted length of 9.4cm (3.7″), its most impressive feature is perhaps its focal length-to-size ratio. The lens has a 55mm filter thread and a plastic mount and does not come with a lens hood. A separate Canon ET-60B hood can be purchased for $30.
While I don't expect either of these new RF lenses to deliver spectacular performance, having a few more lightweight lens options to temp people over from the Canon DSLR Rebel cameras and the popular EOS M mount M50 Mark II doesn't hurt. Though not explicitly stated by Canon, I'm sure the appearance of this new M50 spells the end of the EOS M series, just as the R8 likely spells the end of the EOS RP.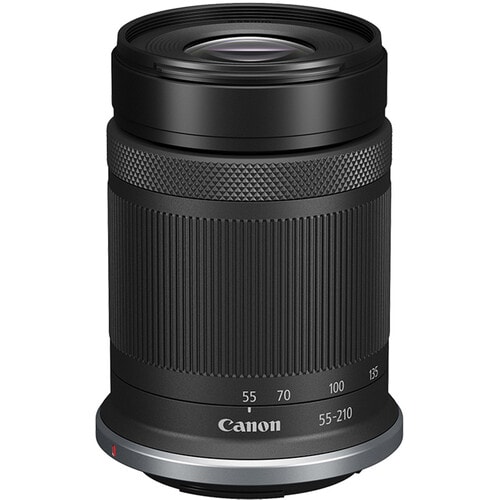 Where to Buy
As always, it is appreciated when you use our links for your camera gear purchases.
Press Release
Canon ADDS EOS R50 and EOS R8 TO THE GROWING EOS R MIRRORLESS Camera SYSTEM
Plus, Image Story Telling Through R-Mount Lenses Is Ramped Up With Additions of the New RF-S55-210mm F5-7.1 IS STM and RF24-50mm F4.5-6.3 IS STM Lenses
MELVILLE, NY, February 7, 2023 – Canon U.S.A., Inc., a leader in digital imaging solutions, announced today the launch of the new EOS R50 camera body, ideal for entry level users, and the EOS R8, an extremely compact, full-frame camera aimed at advanced amateur photo and video enthusiasts looking for budget-friendly options that don't sacrifice performance. Additionally, two new RF-Mount lenses are being introduced to the ever-growing R-mount lens lineup.
EOS R50
Compact, lightweight and ideal for those looking to step up their video quality, the EOS R50 provides an impressive movie-shooting experience thanks to the APS-C sensor, with 4K video, uncropped 4K capture (at all frame rates), and outstanding Dual Pixel CMOS AF technology. With the addition of whole area tracking, subject detection, and movie-prerecording, difficult photo and movie opportunities can be easier to capture with a 24.2-million-pixel, APS-C sized image sensor. In addition, the EOS R50 is equipped with an eye-level electronic viewfinder to help achieve shot steadiness and ease viewing in bright sunlight conditions. A great camera for those who are looking to lean into interchangeable lenses, the EOS R50 camera can capture travel adventures, family portraits, sports, wildlife and even help a small business with marketing imagery. For those who are budding content creators, the EOS R50 will be available later in 2023 as part of a Content Creator Kit – packaged with a microphone, lens and grip. Overall, the EOS R50 is truly a jack of all content creation trades.
"The first time I picked up the EOS R50, I noticed how light it was. When I saw the footage, I wondered how the quality can be so good when it's this lightweight in my hand. My mind was blown!" Bianca Matisse Taylor – Content creator and blogger
EOS R8
The EOS R8 — affordable and functional — is a full-frame mirrorless camera aimed at the up-and-coming video or photo enthusiast. This camera comes with class-leading autofocus while still extremely capable for everyday and general photography use. Equipped with a 24.2-megapixel CMOS image sensor and DIGIC X image processor, the EOS R8 is optimal for full-frame RF lenses — allowing enhanced wide-angle field of views when compared to APS-C sensor cameras. Extremely lightweight and compact, the EOS R8 shoots up to 6-fps with 1st-curtain Electronic shutter, and up to 40-fps with full electronic. For users who've already explored interchangeable lens cameras but haven't yet broken into mirrorless, the EOS R8 should be the camera that takes them over the threshold to capture events, weddings, still life, travel and pets.
"My work is a lot about movement and not missing a beat with the fast shutter on the EOS R8 is so important to me as an artist." Jasper Soloff – Photographer and Director
Additional product specs include:
Video performance
Uncropped 4K video to 59.94p (29.97p with EOS R50) (with 6k oversampling)
Full-HD to 59.94 fps, and High Frame Rate to 119.8 fps (Full HD 180p EOS R8)
Dual Pixel CMOS AF, with subject detection for people, animals and vehicles
Up to 2 hours of continuous recording (one hour with EOS R50); no 30 min limit
Focus breathing correction
Enhanced usability for video correction
Vertical Video Metadata
Movie Self Timer
Audio Noise Reduction (only in EOS R8)
UVC/UAC Support, for USB livestreaming
Recording Emphasis
Aspect Markers
Connectivity
Easy wireless connection from camera to compatible smartphone
Camera Connect with USB connection to compatible smartphone
USB streaming direct to computer via Zoom™, Teams™, or Skype™
MFI Certified (Apple); WPA3-Personal protected access
Convenient firmware updates via compatible smartphone
Cloud RAW processing
Alongside the camera bodies, Canon will release two new lenses. The RF-S lens line, optimized for the smaller APS-C sensor size, expands with the Canon RF-S55-210mm F5-7.1 IS STM lens. This is a telephoto zoom, giving coverage equivalent to an 88–336mm lens on a full-frame camera. The lens opens the door to telephoto photography and videography, with 4.5 stops optical image stabilization, and close-focusing that can fill the frame with a subject roughly 2×3 inches in size (at its 210mm zoom setting, and minimum focus distance). And it does all this in an incredibly lightweight and compact package.
The Canon RF24-50mm F4.5-6.3 IS STM is a new, compact standard zoom lens for full-frame EOS R-series cameras. Ranging from true wide-angle to traditional "standard lens" coverage at 50mm, the lens is a travel friendly design with an extremely compact exterior. The RF24-50mm F4.5-6.3 IS STM lens is just over 2 inches long when fully retracted, and under 3.5 inches when extended — weighing less than half a pound. Optical Image Stabilization, with 4.5 stops of shake-correction, further enhances its appeal for video and still-image shooting. It's also useable on an APS-C sensor Canon camera, where the lens' effective coverage is equivalent to what a 38–80mm would deliver on a full-frame camera.
Price & Availability
The Canon EOS R8 camera body will be available for an estimated retail price of $1,499.00*. The Canon RF24-50mm F4.5-6.3 IS STM lens with the EOS R8 will have an estimated retail price of $1,699.00*. The Canon EOS R50 camera body will be available for an estimated retail price $679.99*. The EOS R50 with the RF-S18-45mm 4.5-6.3 IS STM lens will be available for an estimated retail price of $799.99.* The EOS R50 with the RF-S18-45mm 4.5-6.3 IS STM and RF-S55-210mm F5-7.1 IS STM lenses will be available for an estimated retail price of $1,029.00* The RF24-50mm F4.5-6.3 IS STM lens will be available for an estimated retail price $299.99* while the RF-S55-210mm F5-7.1 IS STM lens will have an estimated retail price of $349.99*. All products are currently scheduled to be available in Spring 2023.
For more information, please visit usa.canon.com.
* Specifications, availability and prices are subject to change without notice. Actual prices are set by individual dealers and may vary.