Sony has launched their long-awaited FE 300mm f/2.8 GM lens, the lightest 300mm f/2.8 lens ever made. Given the development announcement in January 2023 and the high-resolution leaked images we obtained and published in August 2023, there aren't many surprises here. Still, it's good to finally get the price ($5999), the full specifications, and the Spring 2024 launch date.
Table of Contents
Sony 300mm f/2.8 GM OSS Specifications
Maximum Aperture: f/2.8
Focus motors: 2 XD Liner Focus Motors
Minimum Aperture: f/22
Optical Design: 20 Elements in 16 Groups
Aperture Blades: 11
Maximum Magnification: 0.16x
Image Stabilization:
Weight: 51.9 oz / 1470 g
Dimensions (ø x L): 4.88 x 10.4″ / 12.4 x 26.4 cm
Price: $5999
Preorder starts at 9am ET, Wed Nov 8
Aside from the image quality, Sony's big selling point for the 300mm f/2.8 GM is the weight. Here are a few comparisons, as you can see, for a 300mm f/2.8 lens, it is in a league of its own:
Sony FE 300mm f/2.8 GM OSS – 3.24lbs / 1470 g
Canon EF 300mm f/2.8 L IS II – 5.29 lb / 2400 g
Canon RF 100-300mm f/2.8 L IS – 5.7 lb / 2590 g
Nikon AF-S NIKKOR 300mm f/2.8G ED VR II – 6.38 lb / 2900 g
Nikon AF-S 120-300mm f/2.8E FL ED SR VR – 7.15 lb / 3250 g
Sony A-Mount 300mm f/2.8 G II SSM – 5.15 lb / 2340 g
Sony FE 400mm f/2.8 GM – 6.4 lb / 2895 g
Sony FE 600mm f/4 GM – 6.7 lb / 3040 g
Sony FE 70-200mm f/2.8 GM II – 2.3 lb / 1045 g
Initial Thoughts
This is a lens that Sony sports and wildlife photographers have been waiting on for a long time. It doesn't offer any huge surprises, yet at the same time, it doesn't disappoint. They've delivered a modern, designed-for-mirrorless telephoto prime lens with features that closely mirror those of the Sony 70-200mm f/2.8 GM II. It slots into the Sony GMaster lineup nicely above the venerable 70-200mm zoom and below the 400mm f/2.8 GM and 600mm f/4 GM primes.
The only small surprise from the final announcement is the relatively low $5999 price point. Many expected this lens to be closer to $7000 or more. At only $5999, this lens is the same price as Canon's years-old EF 300mm f/2.8, in a world where most other lens prices have increased significantly. Though $5999 is a lot of money, this is an aggressive price, particularly when Canon sports photographers have to fork out $9499 for the new RF 100-300mm f/2.8 lens.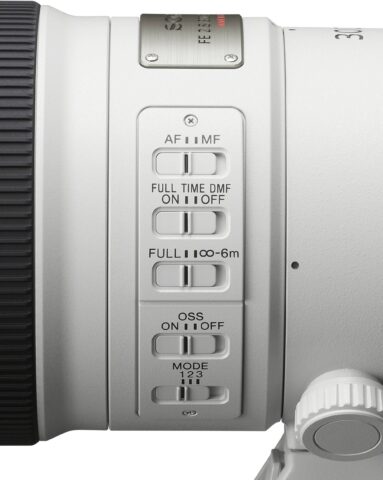 Performance with the Sony 1.4x and 2x extenders must be exceptional for this lens to meet many people's expectations. Sony says it was designed for those combinations, but we'll have to wait for real-world testing to confirm how true that is. Given the class-leading performance of the 400mm f/2.8 GM and 600mm f/4 GM lenses with extenders, I don't have any particular worries about this. Still, a 300mm f/2.8 prime's performance with extenders is perhaps more important than that of a 400mm or 600mm lens, with many people opting for a 300mm to provide them with the flexibility of having 300mm, 420mm, and 600mm focal length options when used with those extenders.
No Zoom, No Built-In Extender
When Canon announced their RF 100-300mm f/2.8, people said Sony needed to copy them. When Nikon announced their 400mm and 600mm primes with built-in extenders, people said Sony needed to include a built-in extender in their upcoming 300mm f/2.8. In the end, Sony did neither. They chose their own path and focussed on making the lightest ever 300mm f/2.8. Something that wouldn't have been possible if the lens had been a zoom or included an extender. Will Sony users be disappointed?
There's no doubt the Canon RF 100-300mm f/2.8 lens is a marvel, but the complexity of the design has led to a higher weight and a significantly higher (1.58x) ($5999 vs $9499) price compared to the Sony 300mm f/2.8 GM. If Nikon's eventual contender in this 300mm f/2.8 segment includes a built-in extender like its bigger 400mm and 600mm siblings, that feature will also have a hefty price and weight premium. Look at the price difference between Sony and Nikon's 600mm f/4 lenses. Some Sony users may lament the lack of these features. Still, given time to consider the savings, I think most will be satisfied with this compromise, and many, myself included, have always hoped Sony would stick to an ultralight prime. My pre-order has already been placed with a local dealer.
Canon RF 100-300mm f/2.8 L IS $9,499
Sony 300mm f/2.8 GM OSS $5,999
I think this difference alone will make Sony users very pleased.
Thinking about this a little more, it all makes perfect sense to me as someone who shoots Canon, Nikon, and Sony kits. Every Sony lens I own is smaller and lighter than any Canon or Nikon equivalent, which is what Sony users have come to expect. More than that, it's why many people choose to shoot Sony in the first place. When I select the kit I will use on my next trip, my starting point is often, "Do I have a weight limit that needs sticking to?" And if the answer is yes, I almost always reach for the Sony kit. All three companies are making great lenses right now, and I like that they're all approaching things in slightly different ways.
Who Is This Lens For?
Sports and wildlife photographers will primarily use the Sony 300mm f/2.8 GM lens. On the sporting front, 300mm isn't a long enough focal length for field sports like soccer or football. Instead, I'm sure we'll see this as a popular option for indoor sports like ice hockey, basketball, swimming, diving, gymnastics, and track and field events.
Action sports event photographers will also love this lens at events like X-Games, Crankworx, and UCI downhill mountain biking. When I worked in that field for over a decade, the 300mm f.2.8 was my go-to lens alongside a 70-200mm. I daresay they'll also be used by photographers at road cycling events, marathons, and multi-disciplinary races like Ironman—all events where you can get relatively close to the action.
Regarding wildlife photography, a 300mm f/2.8 lens in the DSLR days was historically a popular option for enthusiasts and professionals who couldn't afford to buy the hugely expensive 400mm f/2.8 and 600mm f/4 lenses. Paired with 1.4x and 2x extenders, a 300mm f/2.8 lens gives you a 420mm f/4 and a 600mm f/5.6 lens in a lightweight, flexible package. Will that market still go for the Sony 300mm f/2.8 lens when the Sony 200-600mm f/5.6-6.3 G lens exits?
I think we'll see a mix. The Sony 200-600mm lens only costs $2000, which undoubtedly opens it up as an option to people who would never buy the 300mm f/2.8. While the focal range may be somewhat comparable, the new 300mm f/2.8 GM offers some significant benefits if we take a closer look at apertures. At 300mm, the prime lens is f/2.8, and the 200-600mm is at f/5.6. A 2-stop difference is significant when you need a fast shutter speed to stop motion in low light. At 420mm, the 300mm+1.4x extender has a 1.3-stop advantage over the 200-600mm, which has already hit its f/6.3 aperture. At 600mm, the 300mm+2x extender combination still holds a 1/3-stop advantage at f/5.6 over the 200-600mm zoom at f/6.3.
While the aperture benefits over the 200-600mm diminish as we get to 600mm, the differences at 300mm and 420mm are significant enough to make this a difficult decision for wildlife photographers who can afford either lens. Do you choose the flexibility of the zoom or opt for the faster shutter speeds and lower ISOs afforded by the wider aperture of the prime lens? For now, there's also the unknown image quality factor. Of course, the prime will blow the 200-600mm lens away at 300mm, and I would expect the same at 420mm. At 600mm with the 2x extender, I'm less confident about the size of that gap.
As someone who owns the 200-600mm and has ordered the 300mm, I'm excited by the low-light capabilities of the prime and particularly looking forward to pairing it with my 600mm f/4 GM lens. I anticipate using it for birds in flight, where the 600mm is often too long, but the 200-600mm sometimes forces very high ISOs at dawn and dusk. Depending on the real-world performance I see with the 2x extender, it may get some use as an ultralight 600mm setup with the big 600mm f/4 GM is unpractical. However, the excellent Nikon 600mm f/6.3 VR S lens on my shelf might have something to say about that. That would be an interesting comparison for another day, wouldn't it? I'll put it on the to-do list.
Price, Pre-Orders and Availability
As always, it is appreciated when you use our links for your purchases and pre-orders. The Sony FE 300mm f/2.8 GM OSS will ship in the Spring of 2024 for $5999. Preorder starts at 9am ET, Wed Nov 8.