Guest post written by Chase Teron and Jenni Lisacek from Artica Studios
Having been in the African bush for a week photographing the wildlife at Erindi Private Game Reserve, Donal Boyd (American) @DonalBoyd, Jenni Lisacek (Canadian) @JenniNaturally and Chase Teron (Canadian) @Chase.Teron are now stuck in Namibia due to the current travel restrictions and a countrywide lockdown.
Here's the current situation from our wildlife photographer's paradise.
We were saved by Erindi Private Game Reserve as they have allowed us to stay here for the time being. The wildlife still needs protecting on this vast land, and to give back we are working with the Erindi team on their anti-poaching drives.
We are stuck in Namibia for at least 30 days starting March 26th.
We are the only guests staying at Erindi Private Game Reserve Safari – which is 5x the size of Manhattan Island.
We have a Land Rover and a guide.
All of the wildlife are fully surrounding us – including cheetahs and cheetah cubs, wild dogs and wild dog pups, prides of lions, leopards, giraffes, hippos, elephants and more.
We are filming the first in field safari photography course while interacting with the wildlife and recording our complete workflow and editing instruction.
Due to this unique and unprecedented situation, all of our regular commercial work has been postponed. Instead of putting our feet up, we decided to create a project that could bring people along on a virtual safari so that when they decide to go – whether that's for the first time or 20th time – they will be prepared. Our aim is to teach in-field techniques and camera settings, as well as managing the animal behaviour, lighting and weather conditions, working with guides and managing their workspace in the safari vehicle.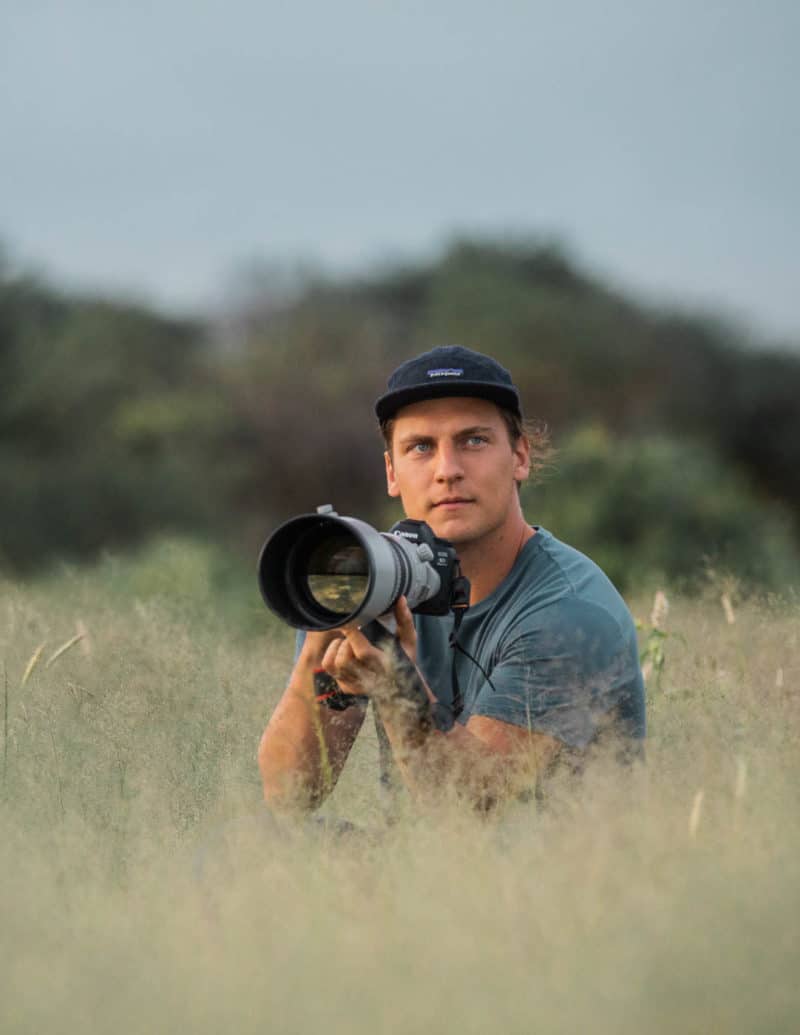 Let's rewind…
Two months into 2020, Jenni was brainstorming what she wanted to photograph most this year. Africa was a place we have both always wanted to visit, but until this point our photography had been taking us to the Arctic regions of the world and Africa just never seemed to work out for us timing wise.
Jenni decided she would make Africa happen this year for her birthday in October, and in order to make that happen she decided she should start by planning which countries we should visit on the trip. To get some advice on this, she sent a message to Donal Boyd through Instagram.
From Donal's collection of photos it was obvious he had spent a lot of time in numerous African countries, so she figured he was a good place to start. He also seemed to share many of our own values with regards to wildlife conservation and environmental initiatives.
As luck would have it, Donal was actually preparing for a workshop that he was hosting in Namibia in just three weeks time, and he invited us to join him. Three weeks was not a lot of time for us to prepare, and we had also read that the dry season, later in the year, was the best time to visit Africa.
After a few days of back and fourth with Donal, he told us that this was actually his favourite season to photograph because of all the greenery and plants that flourish after the rainy season, so we decided right then to be spontaneous and join his workshop! On March 4th 2020, we flew from Vancouver to Frankfurt, then Frankfurt to Namibia. At that time Coronavirus was just starting to creep into Italy, and Canada hadn't experienced the scare yet. There were no confirmed cases in the whole country, and we couldn't have imagined at that point, how this would end up impacting our trip…
The workshop was held at Erindi Private Game Reserve. While the whole world was immersed in chaos from the spread of the virus, our group of photographers were oblivious in the middle of the African bush. Our days started before sunrise and ended well after sunset. We were out in the bush in our Land Rover searching for wildlife, and that was our entire life for the whole week.
We were seeing cheetahs, prides of lions with young cubs and even the more elusive leopards. Giraffe, zebra, elephants, wildebeest and impala all with young. The workshop was called "New Life" and we were consumed with excitement, feeling a beautiful sense of harmony and optimism while witnessing so many animals thriving in the lush surroundings that are so commonly devastated by extreme drought.
After the workshop was complete, we drove back to the main Namibian city of Windhoek to start our next leg of the trip to the dessert in Sossusvlei. As we arrived at our guest house and caught up with the news from around the world, we were shocked to find out that virtually every country was now being effected by the virus.
Travellers were being called back home by their governments and people were panicking. The radio was filled with virus updates, "ways to protect yourself" and frantic people calling in to the stations, wondering what they should do. We felt completely polarizing emotions. Just a few hours earlier in Erindi, we had been peacefully watching a herd of elephants play in the grass.
No Way Home
Reconnecting to the internet, ww found that we had heaps of messages from friends and family who were worried about us, urging us to take the next flight home. When we looked into the flight possibilities, though, we found that we couldn't fly out of Namibia because their flight route to Canada was through Frankfurt, and they were banning all flights to and from Germany.
We tried calling Lufthansa and Flight Network over and over again, but there was literally no way to connect to the airlines to reschedule our flights. As we looked into flight routes home, the various border closures and flight restrictions were often not updated very quickly. Choosing an alternative flight could simply lead Jenni and I to be stuck in a different, unknown destination where the virus could be rampant. On top of that, there was also the possibility that fellow travellers might already be infected. Tough decisions had to be made soon.
We had previously intended to go to the Sossusvlei desert for five days, but we were fearful of being out of the loop again if things got worse. That night we did manage to piece together a potential route home: We could fly from Namibia to South Africa, South Africa to South America or Europe, and then home to Canada. We felt some comfort knowing that we had a few options. Or so we thought.
The next morning the South African government imposed a travel restriction on entering the country. No one who had been to Germany within the last fourteen days was allowed to enter South Africa. Our only way home gone! We called Donal, who was still at Erindi awaiting some guests for another workshop he was hosting, and he told us that he had to cancel the workshop because the guests couldn't make it to Namibia. With Donal unable to travel for the same reasons as us, it was suddenly clear that the three of us were stuck in Namibia for an unknown amount of time.
We were invited back to stay at Erindi by the owner, so we could have time to reconvene and see what would unfold. At that time Namibia had only two cases of Coronavirus, both of which were from travellers who had been isolated, recovered and returned home. Both Canada and the US were getting worse by the day, so we were at least relieved to be away from it all.
The first thing we had to do was to disconnect from Facebook and the panic that was happening in our internal networks. It was time to be resourceful and to be calm. Making rash decisions or emotional decisions would only lead us to more trouble. Our basic needs covered by the lovely, welcoming people of Namibia and Erindi.
What Do 3 Photographers do for 30 days in the middle of the African bush?
Well let's face it, for us it is not the worst place to be stuck. We got creative and decided that while everything is shut down and we are the only "guests" at Erindi, we had to do something epic.
It was the perfect opportunity to create an opportunity.
We decided to create the ultimate in-field wildlife photography course. The core essence of the course is practical examples. Whether that is on foot with a cheetah, or in the Land Rover meters away from a pride of lions, we are going to walk you through our process for capturing the perfect photo.
This photography course will be the first and only one of its kind as we have complete access to the reserve with our guide Stephen Croucamp (@Caprivi_Steve), a Land Rover, and endless wildlife that includes new born cheetah cubs, wild dog puppies and the entire array of African wildlife.
We are making the course suitable for anyone who is interested in wildlife photography, from beginner to expert. Learning the theory of photography through our application of techniques in the field will propel you as a photographer and enable you to capture powerful images on your next wildlife safari trip. For the experts, we teach advanced camera and editing techniques that will improve your in-field results, portfolio and workflow.
The course will include all safari preparation, wildlife photography gear, post processing and editing. You'll learn about the animal's behaviour, wildlife conservation and the thought process behind the images we capture. A huge part of our lives as photographers is to capture subjects without a voice. As we have been creating this course we hope to inspire others to care about the conservation efforts of both local wildlife and African wildlife and their respective habitats. If you're keen to hear from us and have updates on our situations, and to be notified when the pre-order for our wildlife photography course is available we have a list you can sign up for here https://www.ultimatephotocourse.com/
Our current daily schedule is simple: wake up to go on a game drive and capture amazing wildlife images. Throughout the day we are working on the course and filming non-stop. You can get a look behind the scenes in a series of vlogs that we are also releasing on Youtube. The first ones will be posted at the bottom of this post!
We want to say huge thank you to Erindi Private Game Reserve for welcoming us with open arms, and giving us this opportunity to create something truly unique. As well as thank you Dan for sharing our story here on shuttermuse.com – we figured this may be some positive news during these crazy times.
Jenni, Chase and Donal

VLOG Episodes From Namibia
As everything was unfolding, we decided to start vlogging some of these amazing experiences. Here's the first couple of episodes, but there's more to come!
Episode 1
Episode 2