LensCoat is best known for creating camouflage protective covers for cameras and telephoto lenses, but they also have a range of wildlife photography accessories, including a very interesting product called the LensCoat LensHide. I have mentioned these in a few other wildlife photography tutorials in the past, but I thought it was about time I drew some more specific attention to them.
The LensCoat LensHide is essentially a camouflage cover that you throw over the top of you, your tripod and your lens. There's even enough room beneath it to accommodate a collapsible chair. Once under the cover, you'll find that there is a large mesh viewing window so that you can see what's going on in front of you. There's also a hole to poke your lens through.
LensCoat LensHide Options
Material Choice
When choosing your LensHide, the first choice you have is to choose between Lightweight or Water-Repellant:
Water-Repellant LensCoat LensHide: 2.8lbs
Lightweight LensCoat LensHide: 1.7lbs
With over 1lb of difference between the two, this decision needs careful consideration because most wildlife photographers already find themselves with heavy backpacks. During my testing of the LensCaot LensHide, I used both options, and found myself preferring the Lightweight option in almost every situation.
The water-repellent version does not breathe very well, so you get hot and sweaty very quickly. This version also has a clear TPU plastic window over the mesh viewing window, and this semi-rigid window makes it much harder to fold up into the attached travel pouch. When you combine this with the added weight, I think most people are going to prefer the Lightweight LensHide.
One possible exception to this is when working in a winter environment. In this case, the added warmth of the water-repellent version can be seen as a positive feature that I was occasionally happy to have when I was testing it in the -30C temps of the Canadian sub-Arctic. That said, I never enter those environments without the necessary clothing to stay safe, regardless of whether I have the LensHide with me or not, so I would not consider it to be essential for comfort.
The same could be said for using the water-repellent version in wet climates, too. If I'm working in a place where it might rain, I have a waterproof jacket with me anyway. In which case, I could always just wear that beneath the Lightweight LensHide and save some weight. Either version is going to require hanging up at the end of the day for drying.
Camouflage Choice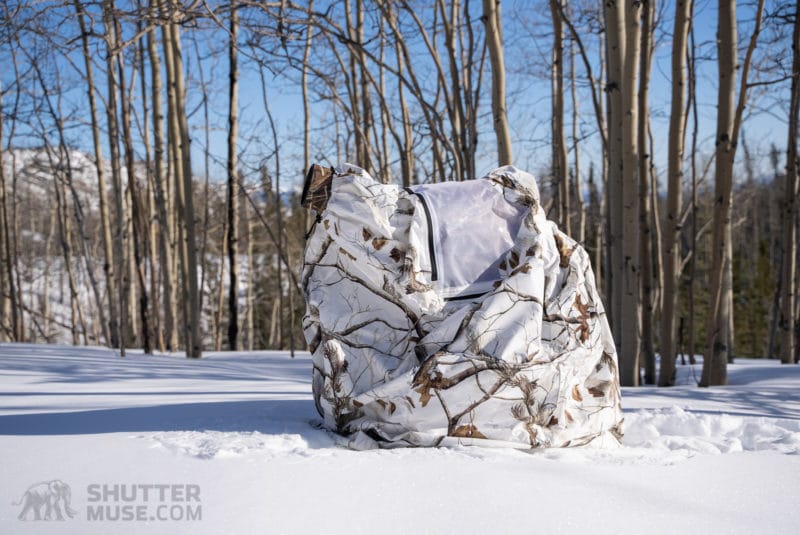 Each LensHide is available in three different camouflage patterns:
Realtree Max4
Realtree Max5
Realtree AP Snow
In the photos on this page, you can see my own LensHides in AP Snow and Realtree Max4. The choice between Max4 and Max5 is going to be a personal one, based on the terrain you generally find yourself in. However, there isn't a huge difference between those two, so don't lose too much sleep over the decision. All my other LensCoat gear is Max4, so that was an easy decision for me.
The AP Snow option is a useful one if you plan to work in extremely white environments, but it should be noted that just because there is snow on the ground, doesn't mean you should automatically choose the AP Snow option. I have tried to demonstrate this in the photos for this review. Despite there being 5ft of snow in my yard, I think we can probably all agree that it's actually the Realtree Max4 LensHide that looks the best.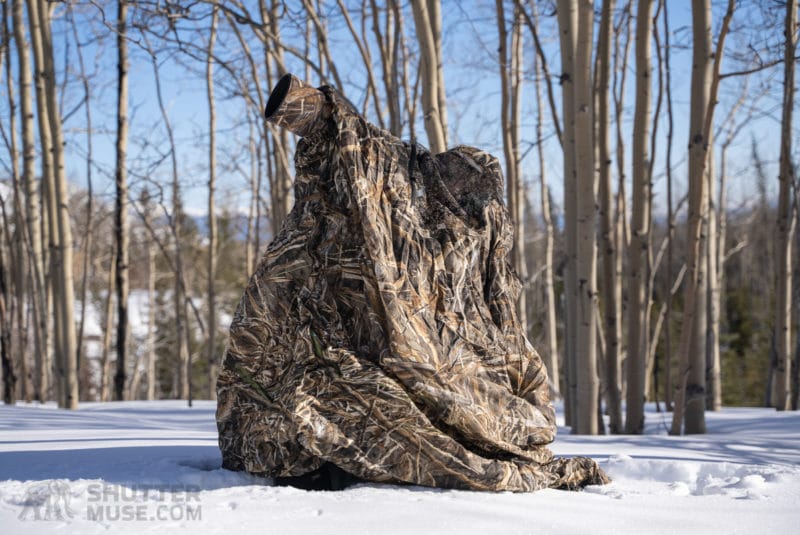 Of course, this all comes down to the background. There is a reasonable match between that background and the Max4 pattern. I think this does a good job of demonstrating that the AP Snow option is best used on very vast snowy landscapes, such as Arctic tundra, where you will not have a wooded background very close to you.
Size Choice
The final choice you have is whether to opt for the "Tall" version of the LensHide, based on your own height.
LensHide Regular: 77 x 68″
LensHide Tall: 89 x 68″
LensHide In Use
The LensHide cleverly folds into its own pocket. Once deployed from this pocket and thrown over the top of yourself and your tripod, this same pocket is then positioned on the inside of the cover so that it can be used to store accessories. It's a handy place to stash a teleconverter, or perhaps a water bottle if you're settling into a spot for a long haul.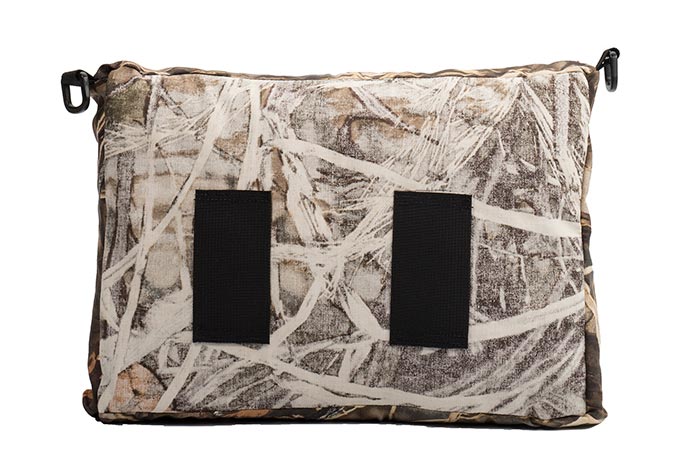 On the back of the travel pouch, you will find a pair of loops that are designed to be used as an attachment point for your backpack. Once packed, these LensHides are certainly not small, so I always make use of these straps to secure one to my pack.
Once you are ensconced in your LensHide, a couple of additional benefits to the design suddenly become obvious. Firstly, if you live in a bug-infested part of the world, the cover will do an excellent job of keeping the bugs off you. Mosquitos are a nightmare where I live, and the LensHide does a great job of protecting you.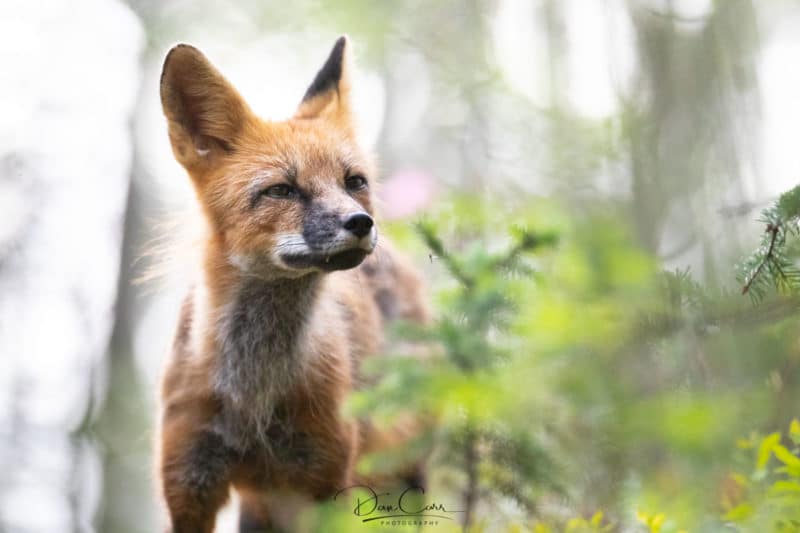 The second thing you quickly realize is that you are still quite manoeuvrable. Unlike a pop-up style photo blind which is very much rooted to one place once deployed, you can still move around with the LensHide over top of you. In fact, for these fox photos that I'm showing you, I was actually lying on the ground and slowly shuffling around in the undergrowth. Of course, movement after LensHide deployment is all the more possible if you are not using a tripod.
Conclusion
If you are looking for a lightweight and portable camouflage cover for wildlife photography, the LensCoat LensHide is an excellent option. My preference is definitely the Lightweight LensHide option, and I find the Realtree Max4 to be an excellent all-around pattern that can even work well in some winter environments.
While there are some excellent pop-up photography blinds out there from the likes of Tragopan, those sorts of options are bulkier, heavier and take longer to deploy. They offer more comfort for longer duration wildlife watching but definitely limit you in terms of locations. On the other hand, I find the Lightweight version of the LensHide can be carried practically anywhere. At just $119, they are also fairly friendly on the wallet compared to tent-style blinds. Something often appreciated by beginner wildlife photographers who have already invested a lot of money into a camera and lens.