The subject of autofocus (AF) at an f/8 maximum aperture is something that often comes up in my writings about cameras, lenses and telephoto lens techniques for subjects like sport and wildlife. It's an often misunderstood subject in itself, but it also continuously raises questions about which cameras will still provide AF when used with a lens+extender combination that delivers a max aperture of f/8.
For now, I'm providing this information for Canon lenses because the majority of my lens and camera reviews in the past have been about Canon gear. In the future, I'll also create a similar resource to tackle other relevant manufacturers such as Nikon.
A Two-Part Question
Whether a camera will autofocus with an f/8 max aperture actually doesn't tell the whole story these days. Every year, Canon is expanding the capabilities of their AF systems and the result is that more and more cameras do feature AF at f/8, but to varying degrees. Some cameras will only allow the AF to work with a central AF point, and some will allow AF with the full gamut of AF points. The table below will tell you whether any sort of AF is possible with your camera at f/8, but it will also try to provide up-to-date notes on which AF points work. This last part has become a little more complex in recent years because there are now some newer lenses that deliver such improved AF performance, that they allow more AF points to be used at f/8 than some older lenses.
Is Your Lens f/8?
To find out the maximum aperture of your lens+extender combination, you first need to know the maximum aperture of the lens in its native form. This will be written on the lens, and in the specifications. The most common are f/2.8, f/4, f/5.6, f/6.3.
Next you need to know that that a 1.4x extender will increase the max aperture by 1-stop, and a 2x extender will increase the max aperture by 2-stops. For more information on extenders, and the math behind this increase, you can read my ultimate guide to extenders and teleconverters.
If you are a bit rusty on your f-stops, then you can refer to my f-stop chart in order to count either 1 or 2 stops up the chart from where your lens is.
Examples:
Canon 70-200 f/4 L IS + 2X Extender -> f/8
Canon 800mm f/5.6 L IS + 1.4X Extender -> f/8
Canon 500mm f/4 L IS II + 2X Extender -> f/8
Canon 100-400 f/4.5-5.6 L IS II + 1.4X Extender -> f/8
"Wait! My Camera Isn't On the List!"
If you don't see your camera listed in the table, such as an EOS Rebel camera, it does NOT deliver any kind of autofocus with an f/8 max aperture combination. Sorry 🙁
Special Note About the 5D Mark III
When this camera was first launched, it did not provide AF at f/8. This ability was added in a firmware update in April 2013, when the firmware was bumped up to V 1.2.1. If you have a 5D Mark III that does not appear to be working for AF at f/8, perhaps you have not got the firmware up to date. This is especially possible if you purchased a second-hand camera. Check that firmware number in the menu system!
Special Note About the 1D X
The 1D X also launched without the ability to AF at f/8, but this was quickly addressed with a firmware update in October 2012 to Version 1.1.1. If your 1D X doesn't appear to be delivering AF at f/8, please check your firmware!
"Tricking" Cameras With 3rd Party Extenders
I'm aware that in some cases, it's possible to trick some older cameras into providing some sort of basic AF with f/8 lens combinations. In particular, the 70D and 7D come up in conversation quite often when used with Kenko extenders, or by taping over the contacts of a Canon extender so the camera isn't aware exactly what is attached to it. This sort of non-recommended functionality is pretty much impossible to comment on because there are too many permutations. The information contained in the table below, and the footnotes, are the official word from Canon. Whilst some other things may be possible with some fiddling and trickery, you are simply not going to get reliable AF in those situations, nor an AF speed that's anything comparable to that which is officially supported. I simply wouldn't bother with them, that's my 2-cents. Cameras that do officially offer f/8 AF are available on the second-hand market for such great prices these days that it's not worth faffing around with sub-standard options.
AF at f/8 Data Table
| | | |
| --- | --- | --- |
| Camera | Autofocus Possible at f/8 max? | Which AF points are available? |
| 1D X Mark II | Yes | Up to 61 points (with Version III extenders) See footnote. |
| 1D X | Yes | Centre cross-type AF point, or centre+ surround. |
| 1D C | Yes | Centre cross-type AF point, or centre+ surround. |
| 1D Mark IV | Yes | Centre AF point only (linear point) |
| 1D Mark III | Yes | Centre AF point only (linear point) |
| 1D Mark IIN | Yes | Centre AF point only (linear point) |
| 1D Mark II | Yes | Centre AF point only (linear point) |
| 1D | Yes | Centre AF point only (linear point) |
| 1Ds Mark III | Yes | Centre AF point only (linear point) |
| 1Ds Mark II | Yes | Centre AF point only (linear point) |
| 1Ds | Yes | Centre AF point only (linear point) |
| 5DS | Yes | Centre cross-type AF point, or centre+ surround. |
| 5DS r | Yes | Centre cross-type AF point, or centre+ surround. |
| 5D Mark IV | Yes | Up to 61 points (with Version III extenders) See footnote. |
| 5D Mark III | Yes | Centre cross-type AF point, or centre+ surround. |
| 5D Mark II | No | N/A |
| 5D Mark I | No | N/A |
| 6D | No | N/A |
| 7D | No | N/A |
| 7D Mark II | Yes | Centre cross-type AF point, or centre+ surround. |
| 80D | Yes | Centre AF point only, except for two lenses which can deliver 27 points. See footnote. |
| 70D | No | N/A |
| 60D | No | N/A |
| 50D | No | N/A |
Footnotes
1D X Mark II & 5D Mark IV
61 AF Points
EF 100–400mm f/4.5–5.6L IS USM (lens versions I and II) + EF 1.4x III
EF 200–400mm f/4L IS USM with built-in 1.4x + EF 1.4x III
EF 200–400mm f/4L IS USM + EF 2x III
EF 400mm f/5.6L USM + EF 1.4x III
EF 400mm f/4 DO IS USM (lens versions I and II) + EF 2x III
EF 500mm f/4L IS USM (lens versions I and II) + EF 2x III
EF 500mm f/4.5L USM + EF 1.4x III
EF 600mm f/4L (all lens versions) + EF 2x III
13 AF Points
EF 300mm f/4L USM (IS and non-IS) + EF 2x III
EF 70–200mm f/4L USM (IS and non-IS) + EF 2x III
9 AF Points
EF 70-200mm f/4L USM (IS and non-IS versions) + EF 2x I and II
EF 100-400mm f/4.5-5.6L IS USM (lens versions I and II) + EF 1.4x I and II
EF 200-400mm f/4L IS USM (with built-in 1.4x) + EF 1.4x I and II
EF 200-400mm f/4L IS USM + EF 2x I and II
EF 300mm f/4L USM (IS and non-IS) + EF 2x I and II
EF 400mm f/5.6L USM + EF 1.4x I and II
EF 400mm f/4 DO IS USM (lens versions I and II) + EF 2x I and II
EF 500mm f/4L IS USM (lens versions I and II) + EF 2x I and II
EF 500mm f/4.5L USM + EF 1.4x I and II
EF 600mm f/4L USM (all lens versions) + EF 2x I and II
EF 800mm f/5.6L IS USM + EF 1.4x I, II and III
EF 1200mm f/5.6L USM + EF 1.4x I, II and III
EOS 80D
Lenses providing this broader 27-point coverage at f/8 effective maximum apertures with the EOS 80D are:
EF 100–400mm f/4.5–5.6L IS II + Extender EF 1.4x III
EF 200–400mm f/4L IS Extender 1.4x lens + Extender EF 2x III (built-in extender not used)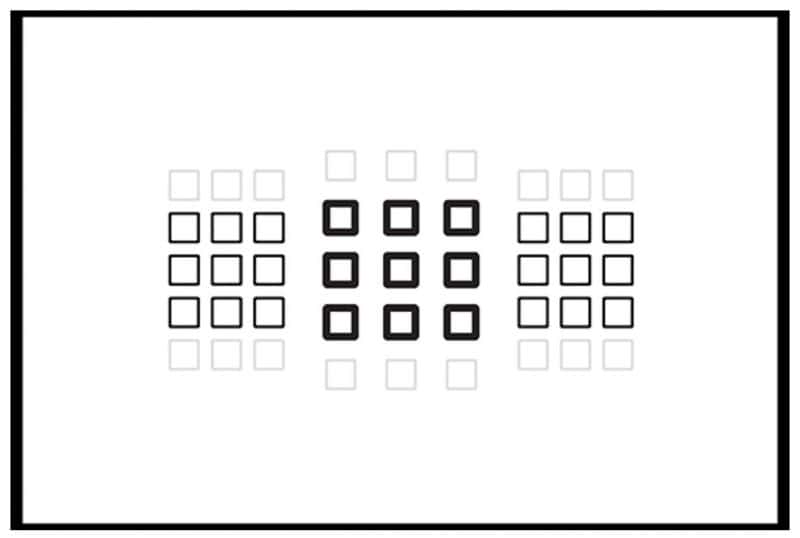 ---