The 5DayDeal Photography Bundle is back for 2022, and as usual, it features a completely new set of incredible products. For $98 you can get over $2200 worth of digital training and video editing tools. This includes things like eBooks, Lightroom presets, Photoshop actions and hours upon hours of top-tier training from the best photography educators in the world, including Fstoppers, Matt Granger, Piet Van den Eynde, Nick Page, Ryan Dyar, Serge Ramelli, PHLEARN and many more.
The folks from 5DayDeal understand the importance of quality education and they made it their mission to find world-class educators and tools so that those who want to continue the growth of their art or career, can do so at an affordable price. With every bundle featuring a whole new set of products, previous customers can safely buy this year's bundle and continue their photography growth.
Charity Impact
10% of bundle sales go directly to charity. During checkout, you can even choose which of the charities you want your contribution to go towards. Over the years, 5DayDeal has generated over $2.2million for its charity partners!
How Do You Access The Content?
The 5DayDeal crew have worked hard to make it easy to access your content. Once you have purchased the bundle, you will be sent a login for their online learning system where you'll find all the products. If you want to download them to your computer, you can. Or, if you want to stream them directly from their system, their integrated learning management system will help you navigate the treasure trove of content, marking things as "complete" once you have finished each course.
My preferred method is to use their learning system to watch the courses the first time. Then, if there is one that really jumps out at me as something I will want to re-visit again at a much later date, I mark that one for download and keep it on my computer.
Also worth noting is that if you have purchased previous 5DayDeal bundles and use the same email to purchase again this year, your entire collection will all be visible in one learning dashboard. No need to manage multiple logins.
What's New?
With three bundle options and 50 products in total, I don't have time to tell you about ALL of them, but I have had access to the bundle contents for the last few weeks, and I wanted to at least highlight my favourites.
Amanda Diaz's masterclass on creative photography shoots is incredible. She covers her entire process from shoot planning to wardrobe selection and post-processing. This course alone usually sells for $597, so to get it included in a $98 bundle is a real treat.
I also learned a ton of great stuff watching The Art of Digital Blending by Jimmy McIntyre. This course goes through the tricky topic of luminosity masking, and Jimmy does a great job at making this an accessible topic for everyone that wants to step up their landscape photography editing.
Another course that caught my eye was Eli Jones' crash course The 5-Day Real Estate Photographer. I wouldn't call myself a real estate photographer by any means, but on occasion, I have been called upon to do some hotel interior work and corporate locations. Eli's course taught me a few extra tricks that I will definitely use on future shoots.
As I said, this is just skimming the surface, and there are 47 other courses available. I know I'll be working my way through them for months to come.
Product List
For $98 you get all of the products in the main bundle, listed below and worth over $2,200. The Pro Bundle add-on is an extra $39, but it gives you $1400+ of additional products. The charity bonus add-on is an additional $29, but it gives you an extra $1,300+ worth of products. If you buy the complete bundle (Main+Pro+Charity) you will also get the bonus add-on worth over $500.
Main Bundle
Pro Bundle Add-On
Charity Bonus Add-On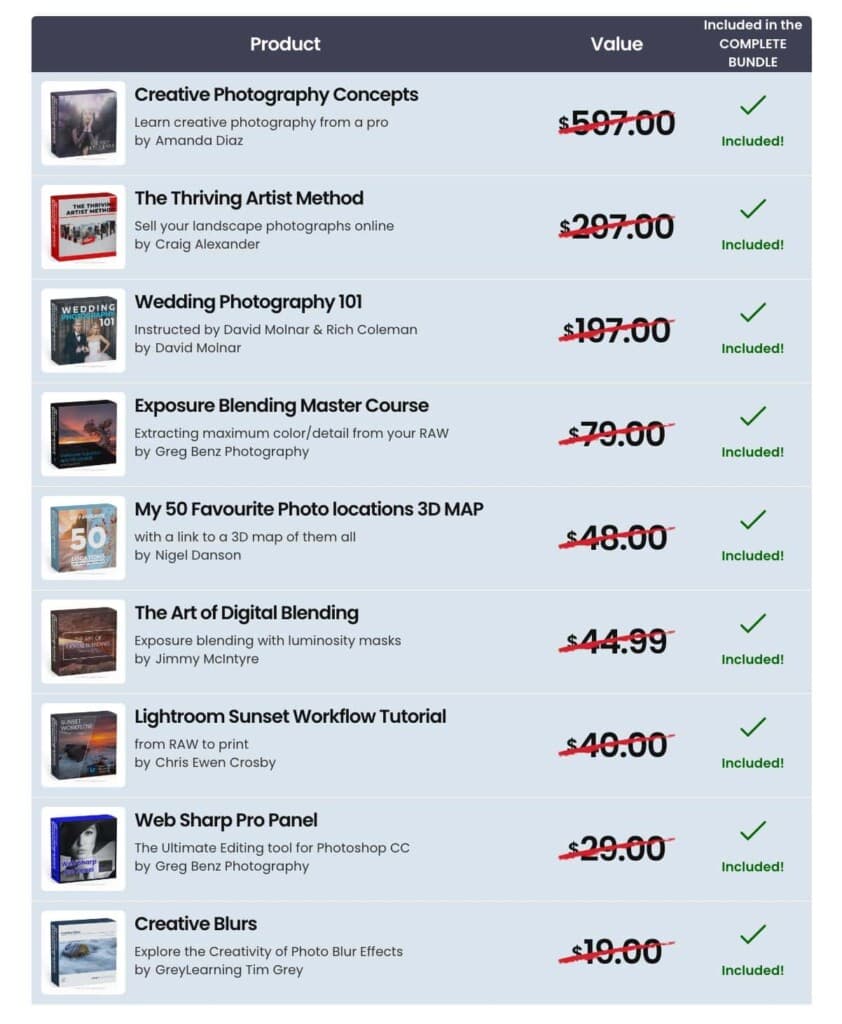 Bonus Complete Bundle Add-On
Limited Time
The sale ends October 18th at 12:00 PM Pacific (3:00 Eastern). That means, if you miss out, it will be at least another year before you have the chance to get another video bundle this prolific. Learn from the pros and obtain top resources to become more efficient in your video
making.
Customer Testimonials
Here's what previous video bundle customers have had to say. Taken from the 5DayDeal customer review page.
This 5 day deal has been a really great purchase so far. Between the software, the training materials and the extra content for my videos like music and effects, I'm really impressed with the quality of the content for such a great price! Plus being able to help support a charity by participating in this deal has been excellent. Thank you!

Justin Vachon | Canada
What a boatload of great resources! I am always looking for rich teaching materials and 5 day deals gives me exactly that. What is great about it is that you get a wealth of material that you don't find on YouTube or anywhere else! Many of the materials come from experts in the field of video production and draw on years of personal experience!

David Anderson | United States
I am amazed at the amount of value in the 5 day deal package! I am so stoked I bought into this and will most certainly be learning a great deal with so much content on hand. The price is unreal and what I love most is you are able to download your content right away. I also really like how they have got on board with so many different charities.

Michael Perkins | South Africa