Every year I update our guide to the best photography gloves on the market to make sure it stays current. Sometimes that means removing gloves from it that are no longer available, and sometimes it means adding a new glove that has come to market. This year, RucPac added a new photography glove to their lineup, so I got my hands on (and in) a pair to test them out.
I have previously reviewed RucPac's other glove, the RucPac Photography Tech Glove, and found it to be an excellent low-priced option for people who don't shoot in extremely cold temperatures. In fact, I awarded it the 'best budget glove' title in the group photography glove test. I was excited, then, to see that RucPac had added a second model to their lineup this year. Ones that are designed for use in much colder temperatures than the first model.
RucPac calls this glove the Extreme Tech Glove, but let's be clear, they are a photography gear company and they are designed first and foremost for photography. These gloves are what I call a Full Mitt Flipper. The mitt and the thumb fold back to reveal all your digits, allowing you complete control over your camera gear.
Gloves of this type are incredibly versatile. If they are thick and well-constructed, they do a good job of keeping out the cold, but also allow you excellent dexterity. The downside to this design is that they are not a good option in falling snow because there is no watertight boundary in the area where the mitt folds back. If you also happen to put your hand down in deep snow, they tend to act like a scoop and trap snow in the forward mitt section against your now-cold and wet fingers.
This isn't a fault of the RucPac gloves. It happens with other gloves of this design, too. Such as the Heat 2 Softshell glove from The Heat Company. The important thing is that potential buyers understand when and where it is best this type of glove, and also to understand that if they really do need a fully waterproof/snowproof photography glove, those options do exist on the market, and are detailed in the photography glove group test.
Personally, I think most serious winter photographers are likely to end up with two pairs of photography gloves: One which is lightweight, dexterous and likely not waterproof, such as this RucPac glove, and another which is a full-on winter warrior such as the Heat 3 Shell Mitten from The Heat Company.
RucPac Extreme Glove Fit, Feel and Function
The first photos I saw of these gloves did not do them justice. They didn't look much more than mitten-shaped glove liners, but they are actually much more than that. When I unboxed the package that was sent to me by RucPac, I was surprised to see just how thickly padded these gloves are. These are not a liner-style glove that could be worn inside another glove. They are far too thick for that.
This thickness is a good thing. Their surprisingly substantial nature means they are comfortable in very cold weather. Living in the Yukon as I do, it was no trouble to put this to the test, and I found I was comfortable wearing them down to around -18 degrees Celsius (0F) for prolonged periods, as long as there wasn't a strong wind or blowing snow.
Regarding temperature recommendations, I always have to add the caveat that I do live in the very cold part of the world, and it's likely I have gotten somewhat used to cold conditions. This makes it hard to say, with any certainty, what sort of temperatures you would be comfortable with. However, I certainly rate their warmth as better-than-average, far better than I expected and better than a lot of the more well-known leather photography gloves from brands like Valleret. When you consider that they only cost $59.99, this is impressive.
Once the thumb and mitten are folded back, magnets hold the flaps in place. I'm told that final production versions of these gloves will also feature a small piece of hook and loop to close the thumb and mitten a little tighter when they are not in the folded back position. This will help to keep the wind out, and some blowing snow if you get suddenly caught in a blizzard.
In order to remove the gloves, you'll need to make use of the pair of elastic handles sewn onto the back of the two middle fingers. Normally with a regular glove, you would grab and pull the fingertips, but of course, on these gloves, they don't exist. The elastic loops are the solution, although I did find the elastic to be a little tighter than I wanted it to be, making it somewhat tricky to grab.
Overall, I was very pleased with the comfort that was provided by these gloves, and the dexterity that was available when the fingers and thumb were exposed. It should be noted though, that these gloves are only very mildly water-resistant. I don't think this will be a problem for most people, because people rarely shoot in the rain, but it's something that is worth remembering when choosing your handwear for the day. Again, if it's snowing heavily outside, this isn't the right glove for that moment.
One more thing I want to point out is that the gloves offer very little resistance to abrasion. The outer material is a very soft fleece-like material that will easily catch on sharp objects, or be worn down by repeated action on abrasive surfaces such as nylon rope or rough metal. If this is something you might be affected by, you should choose a glove that has a leather palm to it, such as the previously mentioned Heat 2 Softshell glove.
Rubber Grip Pattern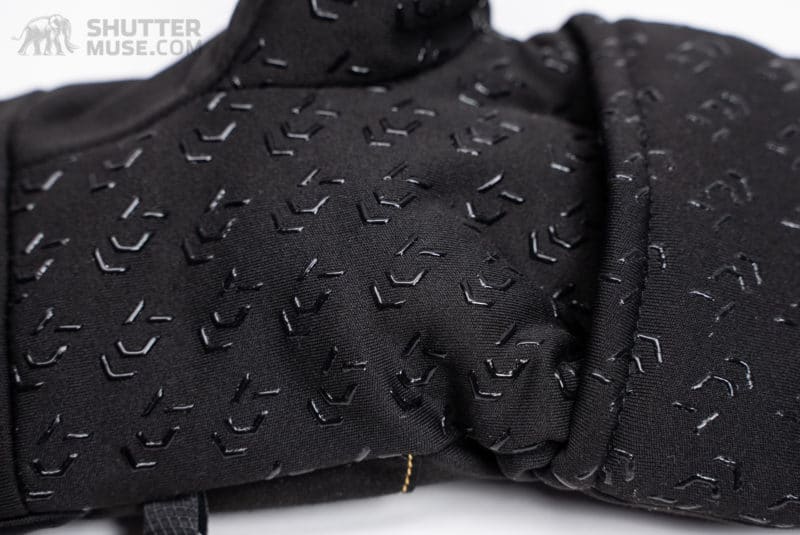 In the review of the RucPack Professional Glove, I commented on the excellent grip that's provided by the sticky patterning on the palm of the glove. For the RucPac Extreme, nothing has changed. It uses the same pattern and still provides much more grip than you would expect. Just make sure you don't pet your dog while wearing these gloves. I made that mistake and then had to spend 15 minutes trying to pull hairs off them before taking the photos for the review!
Conclusion
RucPac has done a great job with these gloves. Particularly as they have a wallet-friendly price of just $59.99. They aren't for extreme weather conditions such as heavy snow, high Arctic winds or torrential rain, but they are suitable for very cold, dry temperatures. Your mileage may vary on their temperature limit, but I was very comfortable in them down to -18c (0F).
Mittens have, in my opinion, always made the best option for photography gloves because you can quickly expose four fingers. With a regular glove, you would need to expose individual fingers one-by-one to get the same kind of dexterity. It would be painstaking and fiddly. With a flipper-style mitt, you can quickly expose the fingers, get the shot and get your fingers back in their cosy covering before they get cold.
Unless the weather is totally wild, this style of glove is my go-to every time I leave the house in the winter. Although my previous favourite, the Heat 2 Softshell from The Heat Company, offers a little more protection against moisture than these RucPac gloves, I find the RucPac Extremes to be more comfortable. Moving forward, it's going to be tough to choose between the two.
Where to Buy
RucPac does not sell directly to consumers. You can purchase the RucPac Extreme Gloves from B&H Photo for $59.99. For international customers, don't forget that B&H ships to Canada for free, and for very reasonable rates to almost anywhere else in the world.