I spent months testing photography gloves this past winter in order to find the best ones for a variety of different scenarios and climates. The results of that huge test can be found in the the group test: Best Photography Gloves.
You should check that post out if you want detailed reviews of specific gloves, but in this post I'm going to show you the different types of photography gloves on the market, and because nobody else has ever bothered to name them, I'll try and come up with useful ways to describe them myself.
Just a bit of lighthearted fun! Feel free to chime in with your own naming ideas in the comments below.
Skinny Finger Flipper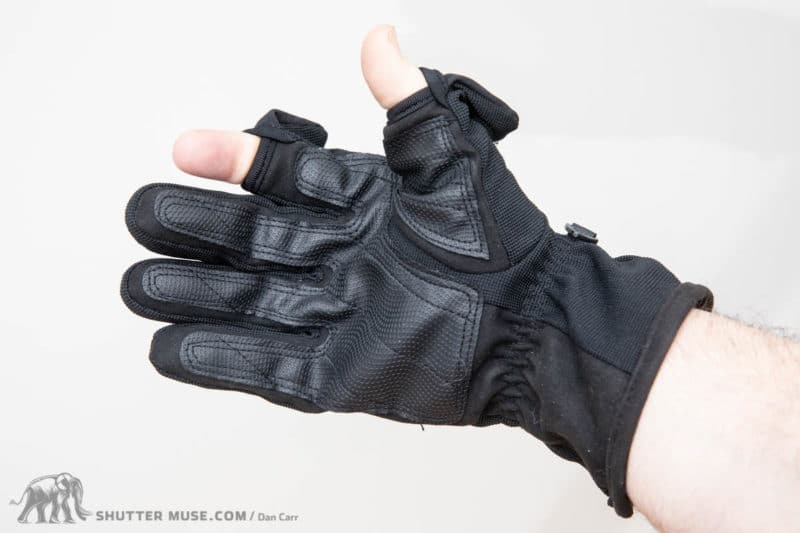 This is a relatively lightweight single layer glove that features an index finger and thumb that flip back to allow direct touch of your camera's control or touchscreen.
Example: Freehands Stretch Thinsulate Glove
Fat Finger Flipper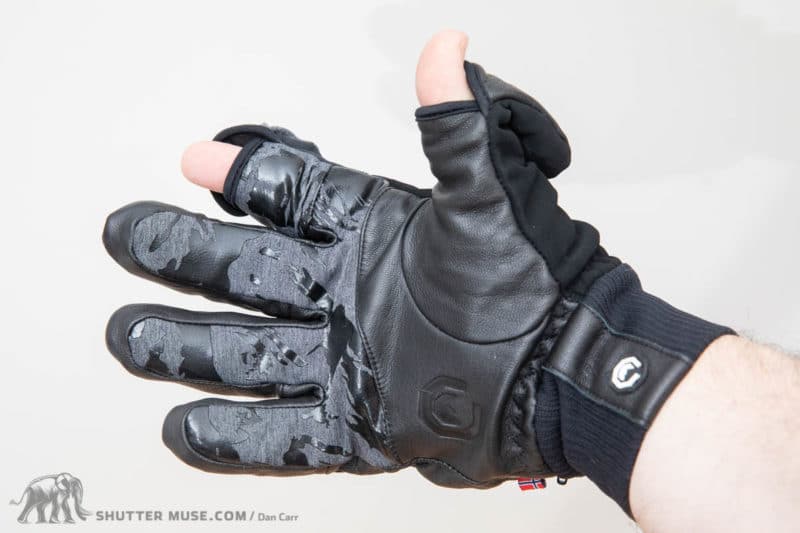 Functionally the same as a Skinny Finger Flipper, but with a multi-layer insulated construction to withstand colder temperatures.
Example: Vallerret Ipsoot | Vallerret Markhof Pro Model 2.0
Skinny Touch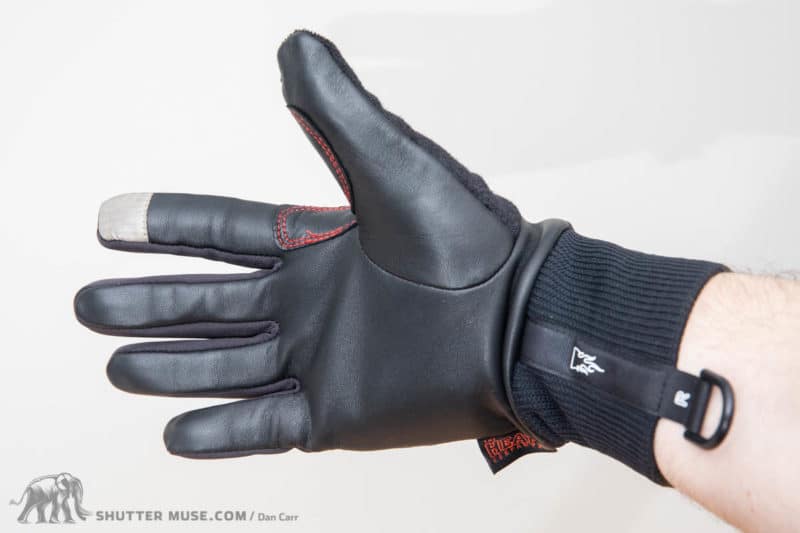 The Skinny Touch style of photography glove doesn't have any finger flipping features at all. It's a thin full glove that has material sewn into the index finger, and sometimes thumb, to allow touchscreen operation. They can be worn on their own in milder climates, or combined with a Mitt Zip Flipper in colder climates. They're generally slightly warmer than a Skinny Finger Flipper as there aren't any gaps for cold air to flow through.
Example: The Heat Company Polartec Wind Pro |The Heat Company Merino Liner | The Heat Company Tactility Glove | COOPH Photo Glove ORIGINAL
Single Finger Mitt Flipper
A mitt that flips open at the front to reveal regularly gloved fingers, except for the index finger which is left open to operate the camera's shutter button.
Example: POW Transfilmer
Full Mitt Flipper
Similar in style to the Single Finger Fist Flipper, the Full Mitt Flipper is a mitt that folds back to reveal your insulated fingers. The difference being that all fingers are open, not just the index finger. This makes it ideal for complex, fiddly tasks in cold but dry climates.
Example: The Heat Company Heat2 Softshell
Full Mitt Zip Flipper
Somewhat similar to a Full Mitt Flipper, but with the addition of a waterproof zipper across the palm to seal off your fingers from the weather. Designed for colder and wetter environment than most Mitt Flippers.
Personally I find this to be the best type of glove for very cold weather shooting, and I awarded the Heat3 Shell glove the top award in the photography glove group test. You get some real versatility with this kind of glove because it's designed to be layered with one of the Skinny Touch style gloves which come in many different warmth levels. The one possible criticism that could be levelled at this style of glove is that the thumb opening is prone to letting in the cold and moisture. Well, if you're in really severe weather, they sell the waterproof Polar Hood which covers the entire glove. You can really tune things nicely to your situation.
Example: The Heat Company Shell Mitten |The Heat Company Shell Full Leather
Mitt Zip Flipper No Thumb
The Mitt Zip Flipper No Thumb is the same as the Full Mitt Zip Flipper, except there is no thumb hole. In arctic conditions this can make it warmer than the Full Mitt Flipper, but it also makes it harder to work back-of-the-camera buttons such as an AF-ON button for those that use back-button focus techniques.
Example: The Heat Company Shell Pro Full Leather |Vallerret Alta Over-Mitt
Fixed Finger Mitt Zip Flipper
Similar to a Full Mitt Zip Flipper, but with a Skinny Touch sewn permanently into it! This makes it a little harder to regulate temperature compared to a Mitt Zip Flipper but has the advantage of being an all-in-one solution so you don't need to think about bringing separate liners with you.
Example: COOPH Photo Glove ULTIMATE | The Heat Company Heat3 Smart Mitten
Fingerless Hand Sock
This is a type of photography glove I really wasn't aware of until I began my research. The Fingerless Hand Sock is best used to add core warmth inside a Mitt Zip Flipper or Mitt Zip Flipper No Thumb, but can also be useful on its own to take the edge off a chilly sunrise shoot in warmer climates.
Example (and to be honest, the only one I know of): The Heat Company Polartec Heat Tube
Which kind of glove is right for you?
---
A Note About Buying The Heat Company Gloves
You'll see quite a few products mentioned on this page from The Heat Company. In my testing of all the major photography glove brands on the market they came out on top in multiple categories. Seriously, they make fantastic products, but there is an issue… It's frustratingly complicated to buy some of the damn things if you live in North America!
When deciding to buy any pair of The Heat Company Gloves your first port of call should be checking the available styles on B&H here. They stock a lot of the gloves (including the Heat 3 Shell Mitten which is my favourite), and some are also listed on there for special order which means they aren't stocked but you can place an order and they'll get them for you ASAP. In most cases you'll also get free shipping. If you can get the ones you want at B&H, it's 100% the best way to do it.
Annoyingly, B&H don't stock the fabulously useful Heat 2 SoftShell glove for some reason (I'm trying to get them to change that). If that is the glove you want, you need to buy directly from the US importer here. Their website is incredibly clunky though and the payment is only done through PayPal for some reason. You might be best to just call them and sort it out over the phone because I also had issues getting the shipping set up correctly in my testing. If you were to try Googling to find their site you probably wouldn't make it there. It's well hidden, so just follow that link above (not an affiliate link).
To make things more complicated, some of their gloves are neither stocked by B&H or by the US importer, such as the Polartec Heat Tube and a few of the other liner styles. In that case you'll have to buy them direct from the The Heat Company's European website. Thankfully the site is great and shopping experience is just fine, but the shipping price is quite high, albeit fast to the US or Canada.
Some of the gloves also seem to be sporadically available on Amazon, but they come up in limited styles from a whole bunch of different companies with weird names. I don't know what is going on there, but it's not a reliable place to find them.
Never before have I had to add a tutorial on how to buy specific products, but here we are. And here's hoping these guys can all get together at some point and simplify this so everyone can painlessly buy their products! In most cases they really are making the best photo gloves in various categories so it is worth tracking them down.