Hasselblad's made-for-digital H System lenses are available in a vast range of focal lengths from the ultra-wide 24mm to the telephoto 300mm. According to Hasselblad, all of these lenses outperform the fabled Zeiss-made CF lenses that made up the lens selection for the famous medium format film 500 series cameras (the V System).
While H System lenses are much larger than Hasselblad XCD lenses, due to their need to cover the larger image circle of full-frame medium format sensors in the H System range, the lenses can still be used on X system cameras using the Hasselblad H System Adapter. It's unlikely you'd ever want to buy an H System lens specifically to use on an X System camera like the X2D or the 907x because they are so much larger and more expensive than the native XCD lenses for those cameras. However, if you have some H System lenses, it's nice to use them on these new smaller cameras.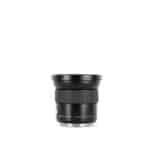 Hasselblad H System Lens Specifications
By default, lenses in the table are sorted by their widest focal length, placing wide-angle lenses at the top and super-telephoto lenses at the bottom.
Use the filters to narrow down lenses shown in the table.
Use the horizontal scroll bar below the table to reveal more specifications.
Mobile users can press the + button to expand lens details.
| wdt_ID | Hasselblad H System Lens | Aperture Range | Equivalent 35mm Focal Length | Angle of view (diag/hor/vert) | Length | Diameter | Weight | Filter Thread | MFD | Maximum Image Scale | Entrance Pupil Position (in front of image plane) | Price Check | Lens Name |
| --- | --- | --- | --- | --- | --- | --- | --- | --- | --- | --- | --- | --- | --- |
| 1 | HCD 24mm f/4.8 | 4.8-32 | 18mm | 104°/92°/76° | 99mm | 100mm | 810g | 95mm | 0.38 | 1:9.7 | 136mm | | HCD 24mm f/4.8 |
| 2 | HCD 28mm f/4 | 4-32 | 21.2mm | 95°/83°/66° | 102mm | 100mm | 850g | 95mm | 0.35m | 1:7.3 | 134mm | | HCD 28mm f/4 |
| 3 | HC 35mm f/3.5 | 3.5-32mm | 26.2mm | 82°/70°/55° | 124mm | 100mm | 975g | 95mm | 0.5m | 1:9.6 | 152mm | | HC 35mm f/3.5 |
| 4 | HCD 35-90mm f/4-5.6 | 4-32 | 26.6-63.8mm | 83°/70°/55° (39°/31°/24°) | 167mm | 102.5mm | 1410g | 95mm | 0.65m | 1:13 | 187mm@35mm178mm@50mm193mm@90mm | | HCD 35-90mm f/4-5.6 |
| 5 | HC 50mm f/3.5 II | 3.5-32 | 37.2mm | 63°/52°/40° | 116mm | 85mm | 975g | 77mm | 0.6m | 1:8.8 | 134mm | | HC 50mm f/3.5 II |
| 6 | HC 50-110 f/3.5-4.5 | 3.5-32 | 37.9-79.4mm | 62°/52°/39° (31°/25°/19°) | 152mm | 103mm | 1650 | 95mm | 0.7m | 1:10.8 (1:5.2) | 164mm@50mm161mm@80mm173mm@110mm | | HC 50-110 f/3.5-4.5 |
| 7 | HC 80mm f/2.8 | 2.8-32 | 60.4mm | 41°/33°/25° | 70mm | 84mm | 475g | 67mm | 0.7m | 1:6.5 | 79mm | | HC 80mm f/2.8 |
| 8 | HC 100mm f/2.2 | 2.2-32 | 73.3mm | 34°/28°/21° | 80.5mm | 87.5mm | 780g | 77mm | 0.9m | 1:7.2 | 68mm | | HC 100mm f/2.2 |
| 9 | HC 120mm f/4 Macro II | 4-45 | 87mm | 29°/23°/18° | 166mm | 96mm | 1410g | 67mm | 0.39m | 1:1 | 149mm | | HC 120mm f/4 Macro II |
| 10 | HC 150mm f/3.2 | 3.2-45 | 110.2mm | 23°/19°/14° | 124mm | 86mm | 970g | 77mm | 1.3m | 1:6.8 | 68mm | | HC 150mm f/3.2 |
| 11 | HC 210mm f/4 | 4-45 | 154.8mm | 17°/13°/9.6° | 168mm | 86mm | 1320g | 77mm | 1.8m | 1:7 | 68mm | | HC 210mm f/4 |
| 12 | HC 300mm f/4.5 | 4.5-45 | 214.1mm | 11.9°/9.6°/7.2° | 198mm | 100mm | 2120g | 95mm | 2.45m | 1:7.5 | 13mm | | HC 300mm f/4.5 |