The Canon 100-400mm f/4.5-5.6 L IS is quite possibly my most used Canon EF lens ever. The 100-400mm focal length makes it versatile enough for landscapes and wildlife photography, as well as portraiture, and even close-to-macro work with its incredibly short minimum focus distance. It's a true all-rounder, with image quality to match the versatility. If you just purchased this lens, congratulations!
Over the years of using this lens there are several awesome accessories that I want to tell you about, and I'll explain why you should consider buying them for your own lens.
Wimberley MH-100 MonoGimbal Head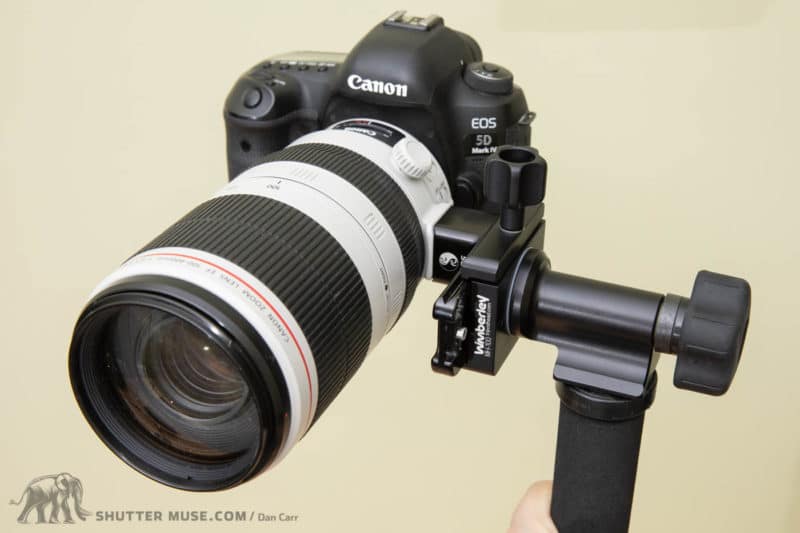 There's something so elegantly simple about the MH-100 MonoGimbal head from Wimberley, and you wonder why nobody had thought about it before! Until recently, all monopod heads were simple 2-way fore-aft tilt heads. They got the job done but you couldn't just let go of the camera until you had tightened the head otherwise it would fall violently backwards or forwards. No more! Now you can get a tiny gimbal for your monopod.
With the Wimberley MonoGimbal head, you can adjust the fore-aft balance until the lens is in just the right spot and then comfortably let go of the camera when you need to. Although you must, of course, always keep hold of the monopod with the other hand…
The large rubber knob locks the head as necessary, and when loosened you have a perfectly smooth vertical tilt. By using the rotating collar of the 100-400, and rotation of the monopod, you have all axis covered with a simple and lightweight solution.
At first it looks as though this whole thing might feel uncomfortably off balance to one side, but actually the left-right balance of the monopod can be centred with a slight tilt of the 'pod and the whole thing just feels incredibly natural.
When Wimberley came out with this head they simply were not prepared for how popular it would be, but suddenly wildlife photographers all over the place were trying to get their hands on them (myself included) and stocks ran dry for a time! This head breathed new life into my desire to use a monopod as a lightweight, but still practical support solution for longer lenses. I have used it with my 100-400mm, but also much larger super telephoto prime lenses as well and I absolutely love it. It's generally not necessary to use a full-sized gimbal head for a lens as light as the Canon 100-400, but the MonoGimbal head pairs wonderfully with it.
LensCoat Lens Cover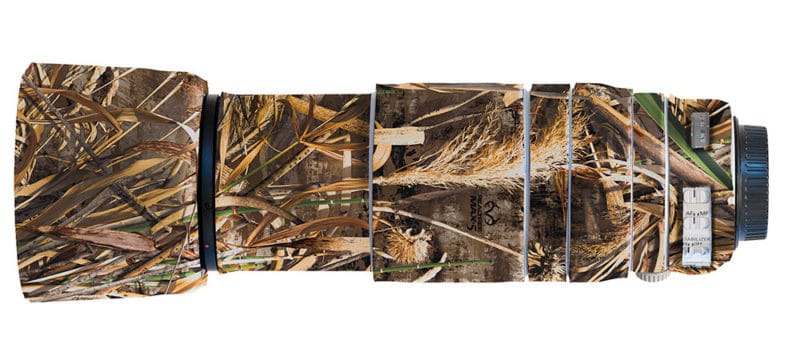 For wildlife photography I always put a LensCoat Lens Cover on my bigger lenses to increase my odds of success. Wildlife photography is hard, and you need patience by the bucket load. I'll always choose to give myself the best chance possible, and if that means a little added camouflage so that my bright white lens doesn't' immediately signal my position to the animals, I'm 100% fine with spending a few dollars on that.
I also find I spend a fair amount of time lying in the dirt or balancing my lens on things like tree stumps that I'm hiding behind. The Lens Cover protects my lens from scratches, and that means I'll get bette resale value if I ever have to sell it.
I like the RealTree Max5 pattern for the locations that I most often find myself shooting in, but LensCoat has a variety of patterns for different seasons and environments, as well as some plain patterns solely for lens protection purposes.
LensCoat TravelCoat
I always make sure I have a TravelCoat for all of my bigger lenses. As you can see in the photo, my preferred pattern is Digital Camo for these, but they are also available in an array of different patterns including the Realtree Max4 and Max5. I have a system going: Digital Camo for TravelCoats, RealTree Max5 for Lens Covers. That makes it easier to identify at a glance whether a lens only has its Lens Cover on, or whether it's also safely tucked up into its TravelCoat.
I use these TravelCoats on my bigger lenses for two reasons: Firstly, it means that when I'm packing my bags, I can comfortably stack other things on top of these lenses in the bag. Usually it's spare batteries or teleconverters, but sometimes it might be a gimbal head or even ice spikes for my shoes if its winter. With the lens protected in a TravelCoat, it can't get scratched, and I appreciate the extra protection over the thinner LensCoat Lens Cover that I'll also have on it. The Lens Covers are a great first line of defence against lens scratches, but there are necessarily small areas between the different sections where metal items could rub on the paint during prolonged stints of travel.
The second reason I have TravelCoats is that sometimes I like to go ultralight with my setup and just throw a camera and a couple of lenses into a lightweight hiking pack. Usually it's a 24-70mm and the 100-400mm because I swear I could do 90% of my work with these two lenses. With the 100-400 in the TravelCoat, it's nicely protected and I usually just nest it into a jacket in the bottom of the pack.
Protecting your lenses from scratches will add a lot of extra value to them when it comes time to sell them. For $50, I think it's a no-brainer purchase.
Really Right Stuff Replacement Foot
Most tripod feet for Canon's larger lenses can be easily removed with a screwdriver, and that means you can add a third-party foot like this one from Really Right Stuff. The foot features an Arca-Swiss standard dovetail in it that means you can instantly clamp this into most ball head quick release clamps.
The RRS feet also have what's called a QD Socket on the bottom of them that allows you to use Magpul straps, or any other camera strap that has been adapted with these QD swivel adapters. I have all my straps set up this way, and I love being able to quickly disconnect a strap from a camera and connect it directly to the lens foot. This QD quick connect system was originally designed for firearms, but it is now being widely adopted into the photography industry with brands such as Kirk Photo and Really Right Stuff building the QD socket into all their latest lens and camera plates.
The added bonus of a lens foot like this one is that the foot tends to take the brunt of damage when you put a lens down on the ground. After a while it's normal for them to gather scratches, but if you take the original Canon lens foot off and store it safely, you can put that back on if you ever sell the lens and it'll be as good as new, especially if you also used a LensCoat. Using these techniques I always get top dollar for my lenses when I have to sell them, and the extra money I get usually covers the cost of things like the replacement foot, so it's a win-win situation.
Breakthrough Photography Circular Polarizer
The Canon 100-400mm f/4.5-5.6 L IS II was the first zoom lens from Canon that featured a small sliding window in the lens hood, designed to be used for adjusting a circular polarizing filter! Simply slide the window open, and you can then stick a finger through the hole to spin the polarizing filter around to adjust its effect. I put this feature to great use with my landscape photography, and sometimes even my wildlife photography as you can see in the sample photos below.
The best circular polarizer is the X4 CPL from Breakthrough Photography, and I wouldn't leave home without it if my 100-400 is in the bag. You can't afford to put a crappy, cheap polarizer on a sharp lens like this Canon 100-400. You need a super sharp CPL to match it, and the X4 is fantastic.