In the past on this site I have reviewed a few canvas and metal print services, but until recently I hadn't had the opportunity to try another interesting medium called acrylic face mounting. As you'll see in the photos in this post, the process essentially sandwiches your prints between a back plate and a thick sheet of glossy acrylic. Much like canvas and metal prints, the process creates a ready-to-hang product that requires no additional framing.
Bumblejax is a Seattle-based printer with 10 yeas of experience, and in reading their website I discovered they were one of the first websites in the USA to offer acrylic face mounting as a print option. Whilst they do offer several other types of prints (canvas, wood, aluminum), once they approached me to see whether I would like to review their services, it only made sense to try the acrylic option since it was clearly their speciality.
I opted to print one of my recent wildlife images of a black bear because it contained a range of dark black tones, some fine fur detail, some wet highlights and a range of colours.
The photo arrived well packaged in a cardboard box, and cradled in bubblewrap. Since in live in the Canadian Yukon, the box had likely taken a couple of different flights to make it to me, but shipping was quick and the print was clearly well protected for such journeys.
On this page you'll see some images of the product I received, which was a 16×24 Acrylic (1/4″ thick) with diamond polished edge, metallic paper and aluminum subframe/cleat hang system.
A note from Bumblejax on choosing metallic paper for acrylic face mounted prints:
For most images that are face mounted to acrylic, the metallic paper is going to be a great choice because it provides a bit more depth and pop to the image particularly when paired with the vibrancy of the acrylic (an extra tip would be to highlight it with good art lighting which will make it pop even more). The only time we typically don't recommend metallic paper is when the photos are featuring people such family portraits or when the image has soft, muted colors.
The retail cost for the print options I selected would be $258 + shipping. To put that into perspective, I searched a few other popular online printers to see what the cost would be if you printed an image at that size onto archival fine art paper. Taking an average from several printers, you'd generally be looking at about $75 for a quality paper print. Bumblejax themselves charge $80 for a print of this size on Hahnemuhle Silk Baryta. For an additional $178 then, you're getting a complete ready-to-hang product.
Personally I think that's a good deal, and with my business hat on, I think you can get better margins on your sales when you are selling a ready-to-hang product over a simple rolled paper print in a tube. Offering paper prints already framed in a traditional way is tough because you can't know what frame would look good in your client's space. This is definitely one reason why canvas, metal and acrylic prints are popular with people who are selling from their websites, rather than in a physical gallery. And from the client perspective, there's something great about being able to unbox something and hang it up right away.
At this point I also want to make a point of mentioning the Bublejax print shipping prices, because I think their system is brilliant. Shipping is 10% of product price within USA (excluding Hawaii & Alaska). For Canada, Hawaii & Alaska it's 25% + of product price + $10.
If you sell prints as a professional, and don't do the printing yourself then there will come a time when you need to calculate pricing for one-off prints, or a whole range of prints to set your rates for standard sizes. In the past I have always found shipping costs to be a pain in the ass to deal with, because until you know the size of the print and its exact destination you can't provide an accurate price for your clients. Well, with the Bumblejax system you can, and it couldn't be simpler. Just find the cost for all the sizes you want to offer, add the 10% (or 25% shipping cost) and then factor in your own print sale profit margin. Now you can offer prints to your clients with easy shipping costs revealed, or build the shipping cost into your print pricing and offer "free shipping" to your clients. This is so much easier! Nice one, Bumblejax.
The quality of the print I received was fantastic. Colours were accurate, and tones across the bear's dark fur were exactly as I would have expected from a good printer.
As you can see from the photos, the rear of the print is also very nicely presented, and a hanging kit was provided along with a cloth and a bottle of acrylic cleaner. This sort of thing is extremely important for me because when I'm selling prints, I want my clients to unbox something that not only looks great, but also feels like an expensive product. There's no way I can charge 4-figure sums for prints if the client feels like they are getting some flimsy, cheap print product, even if they love the image. Presentation and product quality are important! On this front, Bumblejax definitely lives up to the quality of the printing, so this is the total package and I was really smiling when I unboxed this.
Having never had an acrylic face mounted print doe before, I was not sure how the edges of the print would look. Would they be clear? Opaque? Textured? Rough or smooth?
The answer, as you can see if you click the images below to expand them, is that they are smooth and clear. There is not even a hint of misalignment between the printed back panel and the 1/4″ acrylic sheet on the front. Frankly I don't know how they do it so cleanly, but it looks brilliant and it feels nice in the hand when you pick it up. The whole thing is really solid.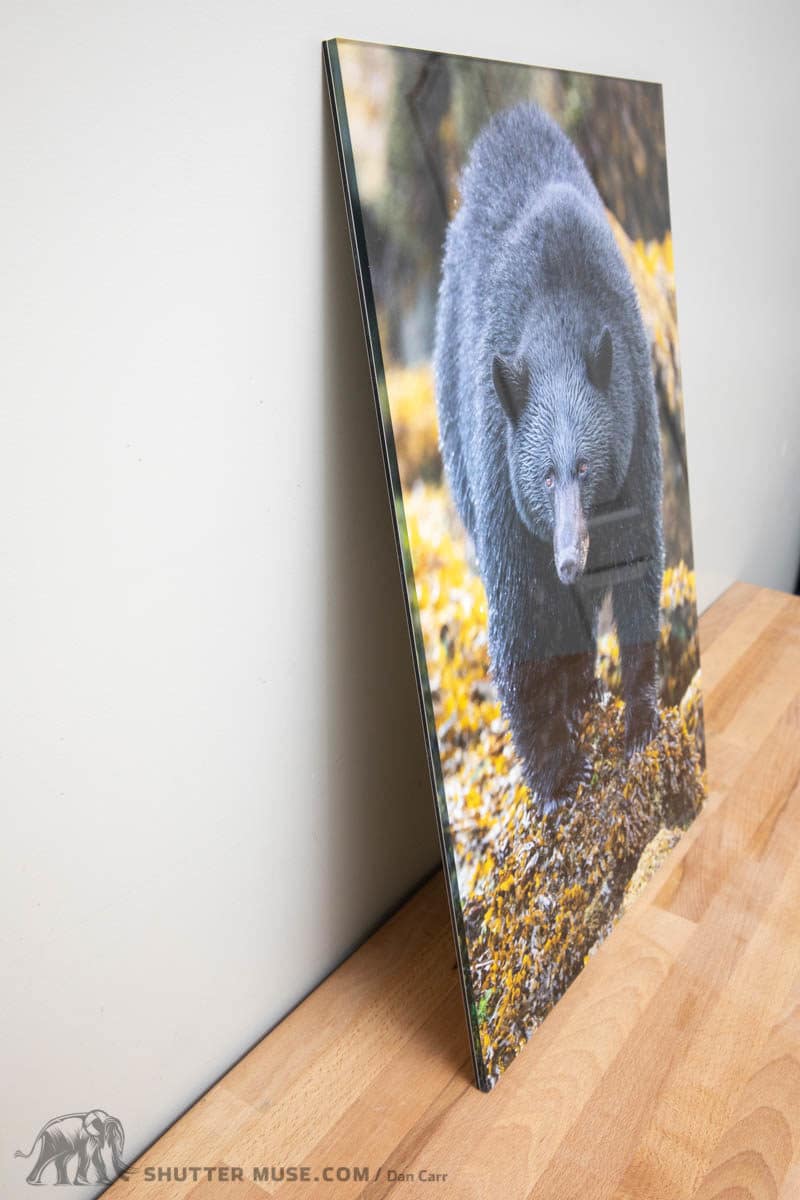 Conclusion
For hobbyist photographers who want to make occasional prints for their own enjoyment, it's relatively easy to jump on Google and find an online print service that will deliver cheap and passable results. However, as a professional photographer or discerning amateur who needs prints of the highest quality, and product presentation to match it, it can be hard to sort the wheat from the chaff in those search results. I've been there myself!
With Bublejax you'll get friendly service from a company that's able to produce a wide variety of products, and if you have questions about anything you can simply pick up the phone and give them a call. Their printing is done in-house in Seattle and from what I've seen their products are excellent. I'd be more than happy to order more prints for my clients from them in the future, and I'm intrigued to try out some of their other print mediums.
If you haven't tried acrylic face mounting as a medium before, I'd definitely urge you to give it a go with Bumblejax. Much like metal prints, the images can appear much more vibrant than canvas and paper, and the thickness of the acrylic adds an intriguing depth to the viewing experience.
Deal: Save 35%
If you are a professional who is selling your prints and you'd like to try Bumblejax's services, you can click this link here and save 35% on your first order, and 15% on all subsequent orders.