I was recently approached by a specialist metal printing company called Shiny Prints, who asked whether I would be interested in trying out their print services and sharing the experience with my readers. I've always been curious about printing on metal, but to be honest I had a lot of questions about it and without an easy way to get answers to those questions, I never followed through with my curiosity. After a bit of digging around on their website, and a great back-and-forth email chat with Will Heinitz, one of the company owners, I had all the answers I needed and was definitely excited to give their service a try.
In this article I'm going to share those questions and answers with you, and we'll take a close look at the experience and products I received when ordering metal prints from Shiny Prints.
In chatting with Will, one of the things that became immediately obvious was his passion for the products he's creating, and his knowledge on the subject of printing. It was refreshing to deal with a smaller company like this where you're able to get right to the answers you need by simply picking up the phone or sending a quick email to the people who are actually going to be doing your printing.
Will explained to me that most companies offering metal printing services are using cheaper converted Epson 9890 printers, but Shiny Prints is using newer Epson F-Series printers which gives them a competitive advantage over most, with only one other photo service in the US currently using the same setup. Epsom F-Series printers are specifically designed for dye sublimation printing on chromaluxe metal panels, they deliver a sharper print and also have a much wider colour gamut (much closer to Adobe 1998) than a converted 9890. Detailed information like this really made me feel at ease with the process – I knew these images were in good hands!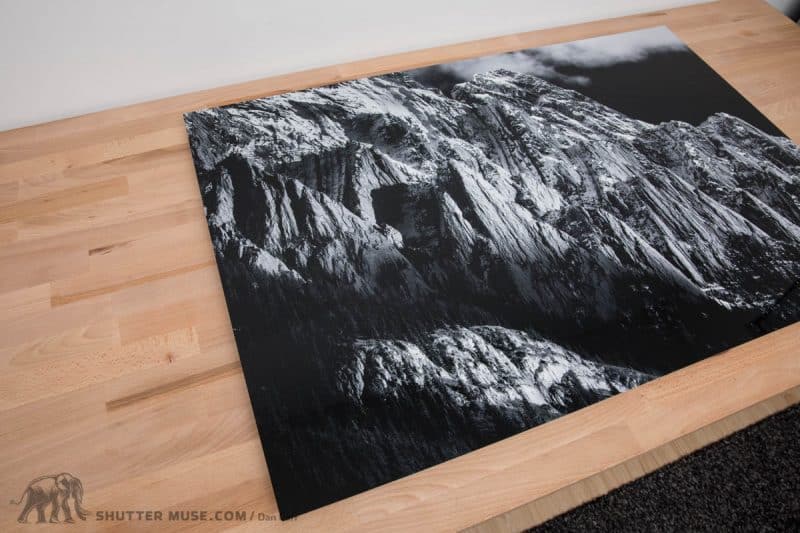 Customer Experience Evaluation
As someone who makes their income from photography, it's not just the print quality that I'm going to assess when I get the first print from a new supplier. I'm also looking carefully at the overall experience of receiving the product from the printer, as well as trying to evaluate the first impressions that a customer of mine might have if this had been delivered directly to them.
Is it well packaged? Is it easy to hang? Does it feel like a valuable product?
That last part is something I have struggled with in the past with some forms of printing. If someone wants to buy a matted image in a beautiful frame, that's great. I'm confident that my local framer can do a stunning job, and deliver a final product that can meet even the highest expectations. A custom framed print isn't a cheap product, but the perception of value is there when a customer walks away with a beautiful heavy frame that they can immediately hang on their wall.
On occasion, people have asked to buy rolled, unframed prints from me because they live a long way away and shipping a framed print is impractical. These prints still cost hundreds of dollars though, and there's only so much you can do to elevate the purchasing experience of someone who is unrolling a piece of paper from a cardboard tube. I much prefer to ship someone a beautifully finished product because I can't help feeling that their experience will that much better.
From time to time I've also used canvas prints that are stretched onto a wooden stretcher bars but the results from suppliers are best described as "mixed". Print quality is often fine, but the way that suppliers deal with the canvas wrapping varies greatly. For example, anyone that read my recent review of the CanvasPop service will have seen the messy way that they finish things off. A customer might love the image, but ultimately if they spend a lot of money on buying it from me, I don't want them to receive a product that could be described in any way "cheap feeling".
So how do the prints from Shiny Prints fare…? Let's take a close look!
Packaging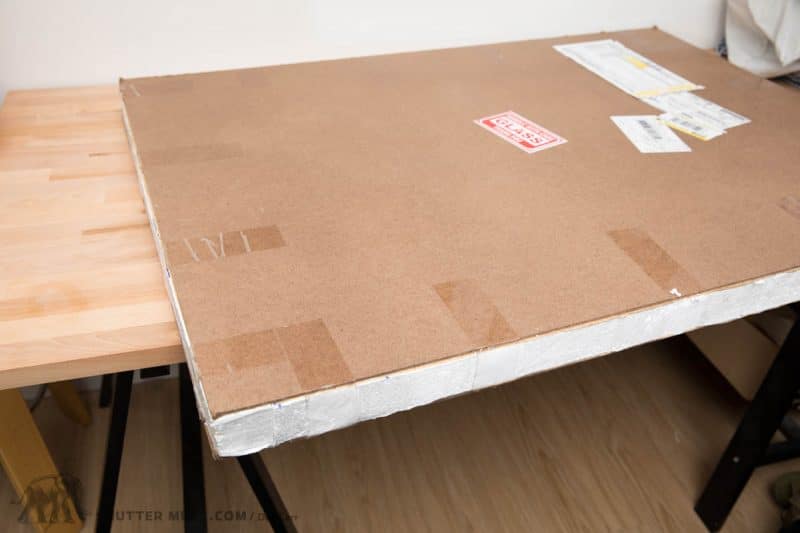 All three of the prints that I received were expertly packaged, and they arrived in pristine condition after the long journey from Florida to the West Coast of Canada. Prints are first laid out onto thick flat cardboard, then they are stuck down from behind and tightly cocooned in plastic wrap. The plastic-wrapped prints are then laid out in a protective shipping case that appears as though it could withstand even the roughest treatment from couriers and airport personnel. The shipping boxes were also labelled with "Fragile Glass" stickers, and even though there was no glass in them, I'm sure that this leads to gentler handling of the packages. Excellent thinking, Shiny Prints! In all cases, even armed with a sharp knife, it took several minutes to extract each print. From a shipping standpoint I have to hand them top marks, these were the best packaged print products I have ever received.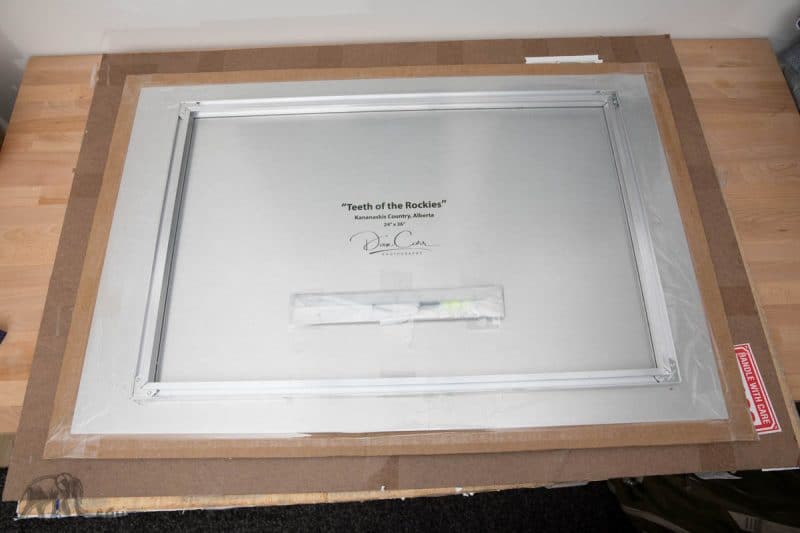 I was also delighted to find a very solid hanging kit included included with the larger Frame Mount products. This included a metal wall bracket that perfectly slots into the frame, as well as screws and a bubble level. This definitely scored highly in my evaluation of the product as something that I might want to ship to a print customer. The fact that these are so well packaged, and can include a solid hanging kit, means that I would be confident having these shipped directly to someone who had purchased a print from me.
The smaller, lighter Box Mount products have a hole on the back of them that can accommodate a simple picture nail or hook. Whilst neither was included with this product, I think I can let them off on that one. Most people have those things lying around the house, and hanging something so light is relatively trivial. It's only when you get into the larger prints that have the Frame Mounts that a really solid custom metal bracket is going to be a benefit or even a necessity.
International Shipping: Prints up to 24×36″ in size can be shipped internationally, but you will need to place the order over the phone.
Mounting Options
For my sample prints I elected to go with the Frame Mount on the two larger prints, and the Box Mount on the smaller one. The Box Mount is only available on prints that are 20″ x 30″ and smaller, and it should also be noted that you won't be able to add the Backstamp option that is detailed a little further down the page. The Box Mount is fine for smaller prints, and it's definitely easier to hang because you can just use a single picture nail instead of installing the mounting rail that's necessary for the larger frame options. That said, I do much prefer the look of the frames, so I'd be using one of those every time if I was selling the prints on to my own clients.
Mount Details
Box Mount – For sizes 20″ x 30″ and under. No Backstamp option. Print floats 3/4″ off the wall and uses a single nail for hanging.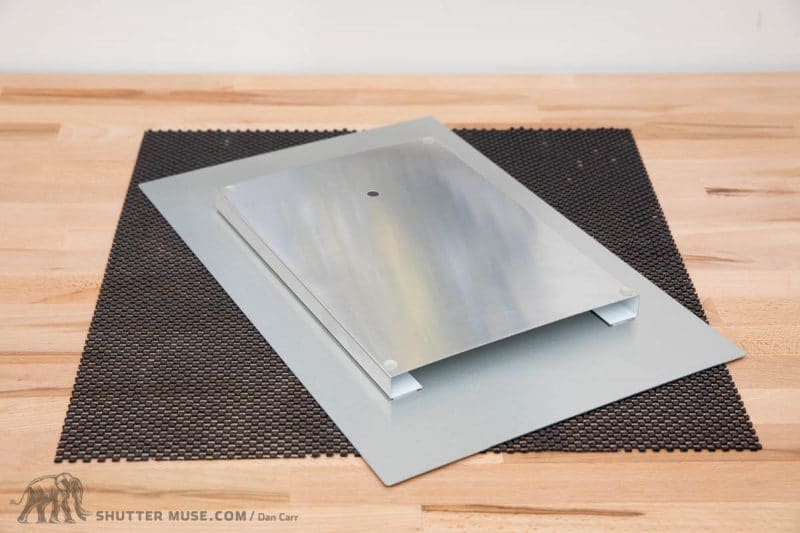 Float Mount – Base option for sizes over 20"x 30". 1 inch thick aluminum tube floats the print 1″ off the wall and maintains a straight side profile for larger prints. All hanging hardware included.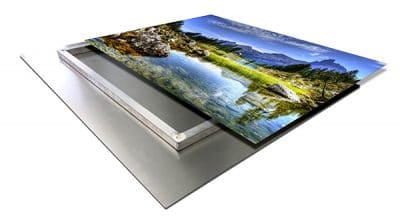 Frame Mount – A good upgrade from the base Float Mount if the appearance of the rear is important when showing prints to potential clients. Frame Mounts float the print 3/4″ off the wall, and if you look at all the photos of my sample Frame Mounted images I think you'll agree that they looks extremely neat and professional. All hanging hardware is included, even a level! Backstamp option available.
Edge Mount – This frame is adhered right up to the edge of the print, so it doesn't give the same "floating" effect of the other mounts. Frame is 1.3″ thick, all mounting hardware and level are included, and the signature Backstamp is available.
Tuxedo Mount – Similar to the Frame Mount but with a 1/4″ black polystyrene backing that adds some weight and improved feel to the image when being handled. A black 3/4″ thick frame completes the all black look and improves the side appearance of the print. Backstamp available, and hardware included.
The Frame Mount samples that were sent to me already look fantastic, so I'm looking forward to ordering something with a Tuxedo Mount in the future to test these out as well. I personally like the floating style that comes when the frame is set back from the edge of the print, so I suspect I'll prefer that to the Edge Mount option which creates more of a hanging box, similar to what you get with a canvas print wrapped around a wooden frame.
Size Options and Custom Shapes
Shiny Prints can print up to 48″ x 96″ in a single sheet which really blew me away. I'm definitely imagining a 96″ wide panoramic print! On the other end of the spectrum, they'll go down as small as an 8″ x 10″, and using CNC machines they're able to prints completely custom shapes.
Glossy Vs. Matte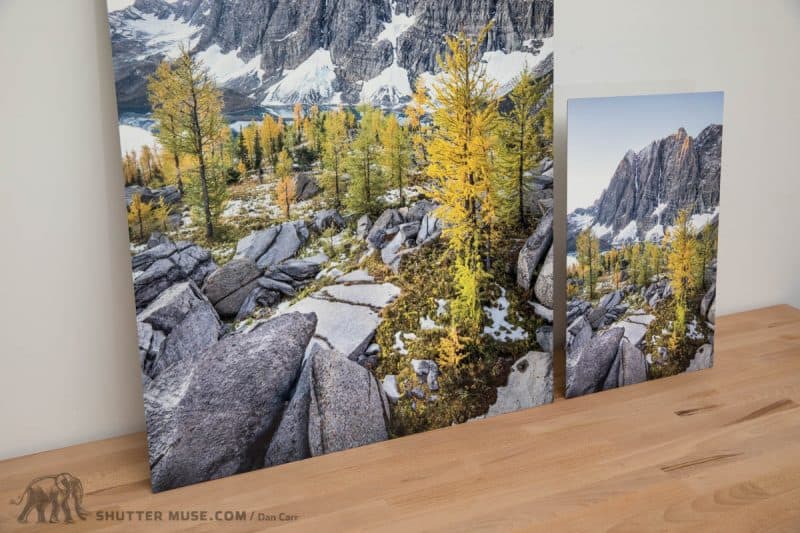 I'm used to printing on matte fine art paper or canvas, so prior to ordering, my initial reaction was to go with matte metal prints as well. Will told me that the vast majority of their orders are for glossy prints though, and he suggested that these would look better. Given his obvious knowledge on the subject I decided to take his advice, although he did arrange for a small matte print to be sent for comparison alongside a glossy one.
When I first unwrapped the prints I was surprised at how much more I preferred the glossy ones to the matte one! Whilst it's true that the glossy ones do reflect a lot lights and windows from your room, and require somewhat careful placement because of this, the end result is quite spectacular. There's a three dimensional quality to these glossy metal prints that I've simply never seen before – a real depth that somehow seems to draw you in.
I quickly hung them up in my living room so that I could spend some time with them, and over the course of their first weekend on the wall I was totally captivated by them in a way that I haven't been before with my own work. Honestly, sometimes I just stood and stared at them, and this is coming from a guy that doesn't usually print his own work for home decoration. As the daylight's direction and colour temperature shifted throughout the day, so the prints changed ever so slightly to reflect it. Prior to seeing the prints on my wall, I wondered if this behaviour from the glossy metal finish would leave me feeling like they were somehow a less accurate representation of my vision, but it wasn't the case. Instead it just made me stop and look at them over and over again and appreciate them slightly differently in the varying light – almost as if time was passing and light was changing within the photo. A recent house guest also made the exact same remark to me after visiting for a few days!
Pricing
Full pricing details for all sizes and mount styles can be found on this page. As a point of reference, a 24×36″ like the ones in my photos costs $230 with the Frame Mount. Considering the obvious craftsmanship that goes into these, and the stunning results, I think the pricing is more than fair.
Backstamp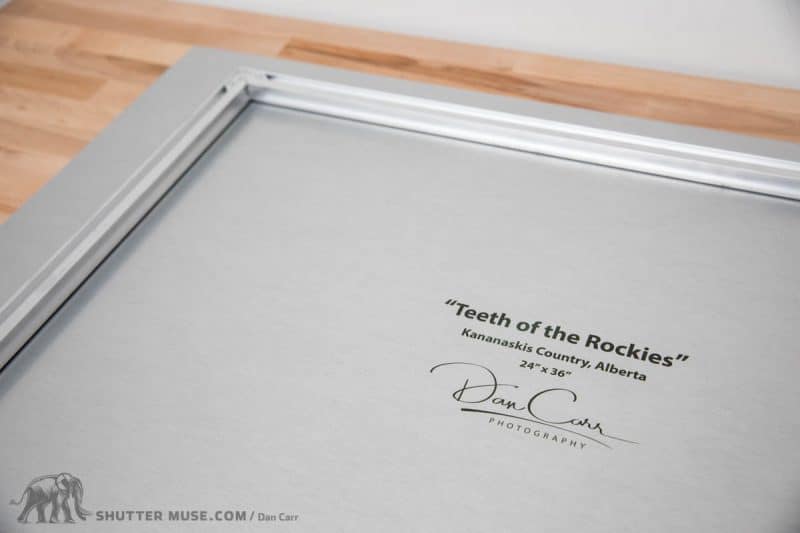 Another option that Shiny Prints offers is to have an image title and signature (or logo) applied to the back of the print for a $20 upgrade. Just give them the title, and any other details you wish to include, such as limited edition run, along with a logo file. Backstamp templates can be created in the website ordering wizard and saved for later usage.
I have a few logo variations that I use for my business but I elected to use a signature logo that I usually use for watermarking my images before web distribution. I think the end result is fantastic, and I'd recommend you consider doing the same thing if you try out the Shiny Prints service. The signature was created for me in just 48 hours by a company called PhotoLogo, who specialize in custom hand-drawn logos for photographers. You can read more about that in my PhotoLogo review if you are thinking about getting one done yourself.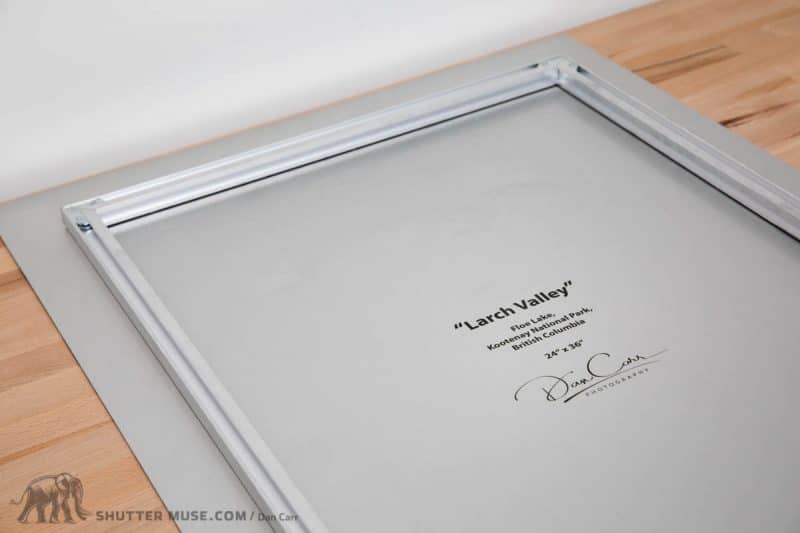 Whenever I showed this to someone it was met with a "Wow!". Much like the quality of packaging and overall presentation, this feature really adds to the feel and experience with the product if you are looking to sell your prints to clients. In the past I have simply used a pencil to add titles, locations and dates to the back of prints, but this properly printed backstamp takes things to another level of professionalism.
Catering to Professionals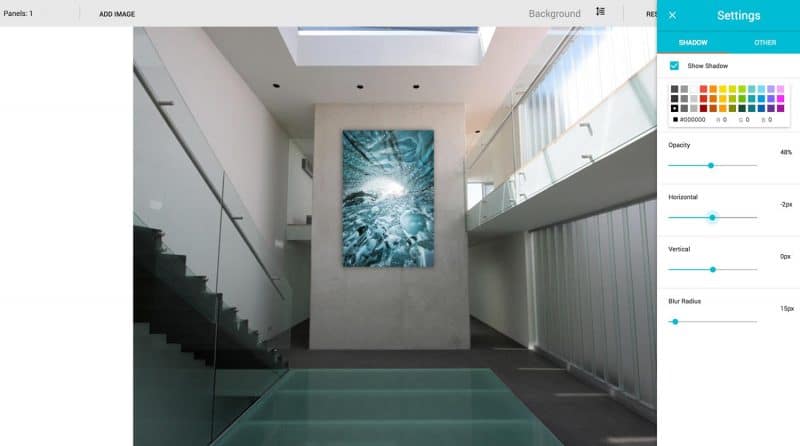 If you're a professional who is reselling prints, give them a call or send them an email to get your account upgraded to pro pricing. I know that they are also working on a print visualization tool as well, which will allow you to mock up your prints and see them hanging in large selection of virtual rooms. I do something similar on my own website already, so it's great to see someone thinking about how they can better assist their professional customers with sales. If you need immediate access to the tool, drop them an email and I'm sure they can help you out. Alternatively, I've actually written a Photoshop tutorial about creating print renderings a few years ago that'll get you the same results if you already have images of a specific room.
A Question About Longevity
In the comments a reader asked about the longevity of metal prints, so I followed up with Shiny Prints and this is what they had to say:
Chromaluxe published their lab testing here. The metal prints last a long time. Obviously, direct sun will fade them at a much faster rate, the sun will fade anything. We did a sign for our previous location in this metal and did not notice any fading until we took it down over a year later. With that said, Chromaluxe does now offer an outdoor product suitable for outdoor hanging, and offer a 3 year warranty on it. We have a few sheets on hand and the results look great, same as regular Chromaluxe. Customers can order this through us but it would need to be through email or phone as we don't currently offer it through our website.
Any benefits to adding any "archival" sprays that I have seen some giclee printers offering?
No there are no spray options for the metal… don't think anything could adhere properly to the surface.
Conclusion
Getting my first set of metal prints was a really educational and surprising experience. Shiny Prints' confidence in their product and knowledgeable service had already prepared me to be impressed, but the results still exceeded my expectations. The obviously smooth surface of the metal printing process doesn't lend itself well to fine detail reproduction, so my recommendation would be to skip the smaller sizes and go big. The 24×36 samples that I had done are wonderful, but I feel like the 12×18 is just too small to really see the benefits of this print medium.
If you're like me and have predominantly printed on matte fine art photo papers in the past, you might initially be temped to "play it safe" and order the matte metal print to test the waters. In my opinion this would be a mistake, and I'm glad that they talked me out of doing this with the larger samples that were sent to me. I've never been a fan of gloss photo paper in the past for printing, but there's something pretty special about these metal prints when they're printed this way, and I love watching the light and colours change on these throughout the day. The colours feel richer and there's a depth to it that just isn't quite the same in the smaller matte metal sample that I also tested.
If you've ever thought about getting a metal print done but haven't yet plucked up the courage to try something new, I urge you to give these guys a call or pay their website a visit. Whether you're printing for yourself, or printing your work to sell onwards to your own clients, you won't be disappointed!